Latest posts by Vanessa Nirode
(see all)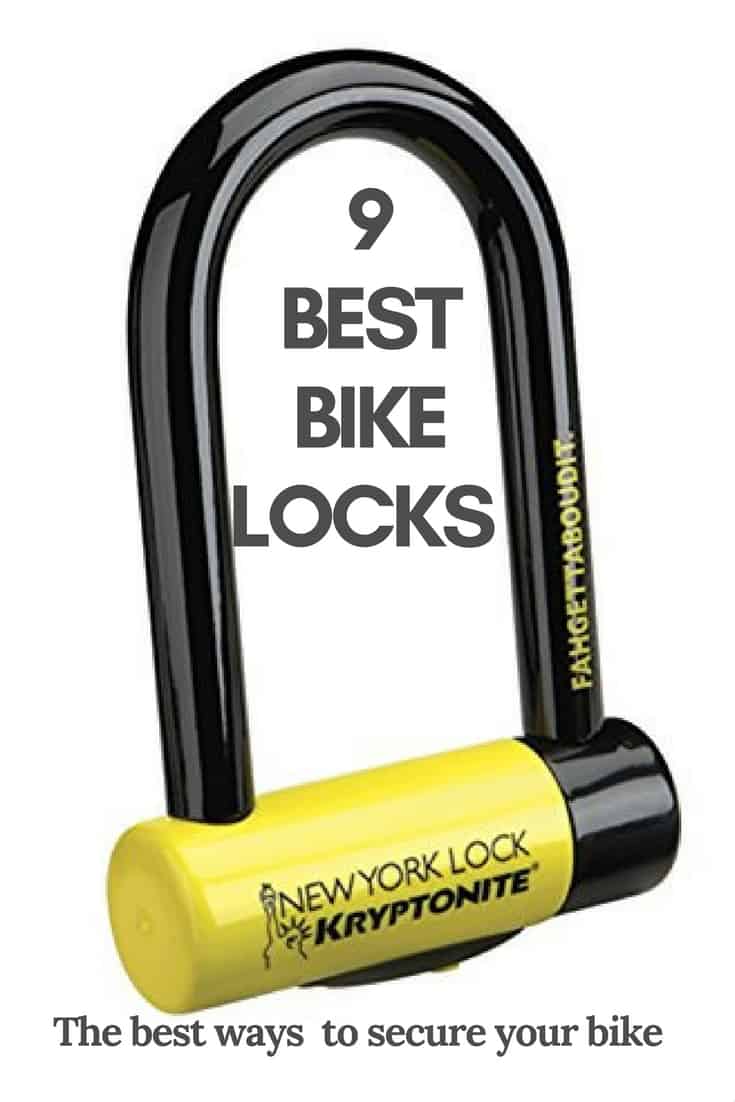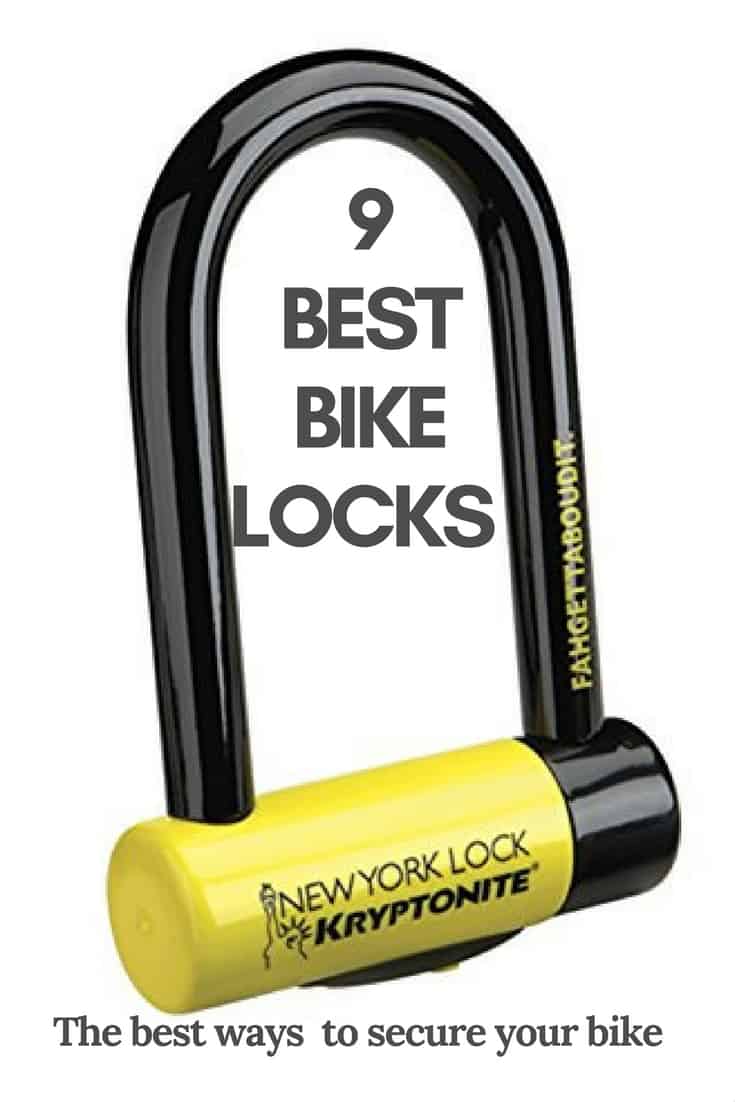 If you're a commuter, someone who likes to run errands by two wheels, or a person who attends most social obligations with a bike helmet stuffed discretely into your bag, you've probably locked your bike up somewhere. There are various styles of bike locks on the market and numerous things to take into consideration when purchasing one. Here are the best bike locks for keeping the wheels on your bike and your bike where you left it. 
How to Lock your Bike
In order to properly lock your bike you need to secure both wheels, the frame, and your seat. To do all of this, you usually need at least a two-part combination of lock and chain.
Secure the back wheel and the frame with a lock that can accommodate a sign post or pole along with the wheel and frame. Then lock the front wheel to the bike frame with a chain lock. To avoid someone stealing your seat, lock it to your frame as well.
Remember, you are only buying time. The more difficult it is for a thief to steal your bike, the more chance that they'll just move on to the next one.
Tips to keep your bike secure:
Don't lock to scaffolding or anything that is wobbly or temporary.
Even if you do not have a quick release seat and wheels, they are easy to remove with the proper tools and you should still secure them.
Locking up on a quiet side street is a bit safer than locking on a busy street as, on a quiet street, someone stealing a bike is actually more noticeable.
Keep in mind that no lock is 100% secure against theft.
For more tips, check out these videos from Hal at Bicycle Habitat in New York City where he gives bike locking grades.
The Best Bike Chain Locks
Thick, core hardened steel chains and quality locks are probably the best way to secure your bike. Chains though can be heavy and cumbersome. Sometimes they work best as a second, stationary lock that you leave wherever you regularly secure your bike. Chain locks range in price from around $45.00 to $500.00 for the thickest and heaviest ones.
Abus Granit Extreme Plus 59 Chain Lock – 55in.x 12mm
The Abus Granit Extreme Plus is one of the strongest locks available on the market. It is a bit pricey at about $280.00 – but it does buy you some piece of mind.
Kryptonite New York Legend Chain 1515 – 5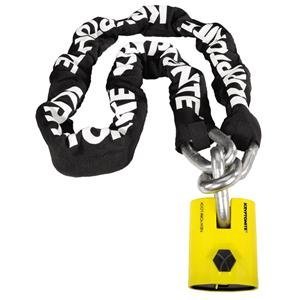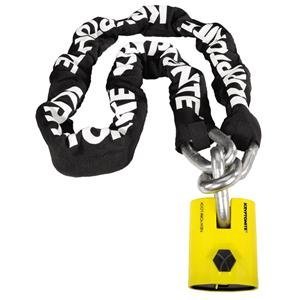 At just under 16 pounds, this lock is certainly not the most portable choice but when it comes to making sure your bike isn't easily portable into someone else's hands, it is an excellent choice.
Many commuters opt for an integrated lock as opposed to a separate lock and chain, which you'll find with something like the OnGuard Mastiff. While this lock and chain is rated as very secure, it's also heavy and not as easy to use as a chain with an integrated lock.
And speaking of portable – most chain locks can be rather unwieldy but, as most New York City Bike messengers know, the best way to transport your chain lock is to wear it as a belt. This fashion accessory has long been recognized as the sign of a true, hard core, working, NYC bike messenger.
One company decided to even market their chain lock as such with the Mighty Click Wearable – which also happens to have reflective strips to make you more visible during night rides. It's important to note though that the Mighty Click only has an 8mm chain and the lock isn't really all that mighty thus, while it may be a great fashion choice, it isn't that great of a lock choice. 
Kryptonite New York Legend 1515 15mm Chain Bicycle Motorcycle Disc Lock | Amazon
This features massive 15mm round chain links made of 3T hardened steel with a protective nylon cover held in place with hook-n-loop fasteners. Comes with great features and support programs including key safe, Anti-theft protection, and lifetime make Kryptonite bicycle locks the best choice for protecting what you value
Buy at Amazon.com
We earn a commission if you click this link and make a purchase at no additional cost to you.
08/22/2022 08:41 pm GMT
ONGUARD Mastiff Chain with Padlock | Amazon
The chain is reinforced with titanium and the Boxer U-lock can also be used alone as a disc lock. Lock contains 5 laser cut keys, 1 with LED micro light.
Buy at Amazon.com
We earn a commission if you click this link and make a purchase at no additional cost to you.
08/22/2022 07:56 pm GMT
Mighty Click Wearable Bike Chain Lock Belt | Amazon
Best idea ever. This thing works great, easy to wear, doesn't get in the way, and that chain is thick. The Mighty Click has a reflective strip along the back of the lock! If you're riding at dusk or at night, it will light up like crazy when a headlight shines on it, keeping you safer.
Buy at Amazon.com
We earn a commission if you click this link and make a purchase at no additional cost to you.
The Best U lock
Quality U-Locks provide a good balance between price, practicality and security. They tend to be cheaper, lighter and a bit easier to use than chain locks but still offer a high level of protection.
Kryptonite 997986 18mm New York Fahgettaboudit U-Lock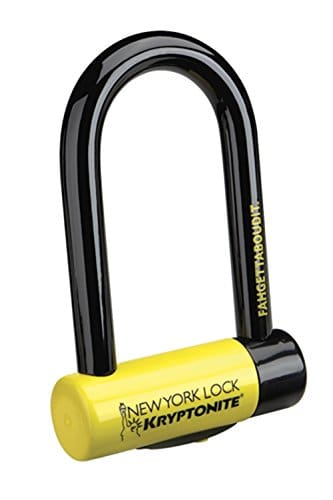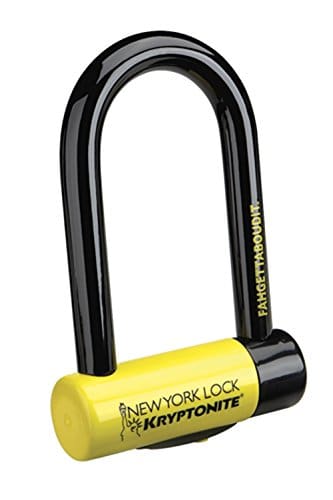 U-locks, if they have a diameter of at least 16mm, resist hammers, chisels, and manual bolt cutters. Diameters less that 13mm can be cut with medium sized bolt cutters and those with 13-15mm diameters can be broken with only the largest bolt cutters.
The horseshoe shape of the U-bolt is meant to limit leveraging so a thief cannot insert a crowbar and manage enough oomph to break it.
This Kryptonite lock has a diameter of 18mm, meaning it can't be cut with manual bolt cutters.
It doesn't have a mounting bracket though so you'll have to carry it in your backpack or bungee it to a back luggage mount if you have one.
The Best Cable Lock
There really isn't one. Cable locks are normally made up of many strands of long, thin steel, braided together inside a plastic tube. They are not an option if you actually need to protect your bike from thieves. You will deter someone just walking by who might be inclined to make off with a bike that isn't locked up at all but anyone with the intent to steal a bike can easily free one from any cable lock.
Cable locks are versatile and adaptable (they are easily wrapped around all sorts of poles, posts, and the like) but bolt cutters can cut through most of them with little effort, They definitely offer less theft deterrence than U-locks or chain locks. You might be able to get away with one in a low crime area.
They could be used in combination with a U-lock to secure a seat or possibly a front wheel (again if you're leaving your bike in a relatively low crime area).
The Lightest Bike Lock (that actually provides some security)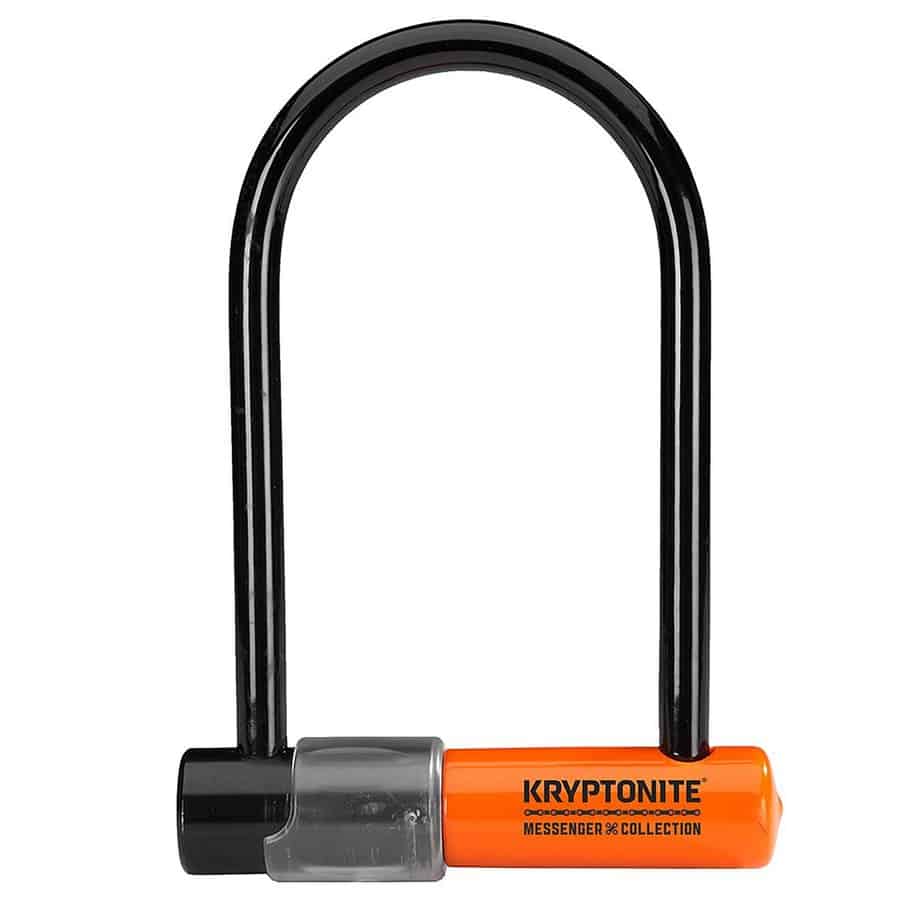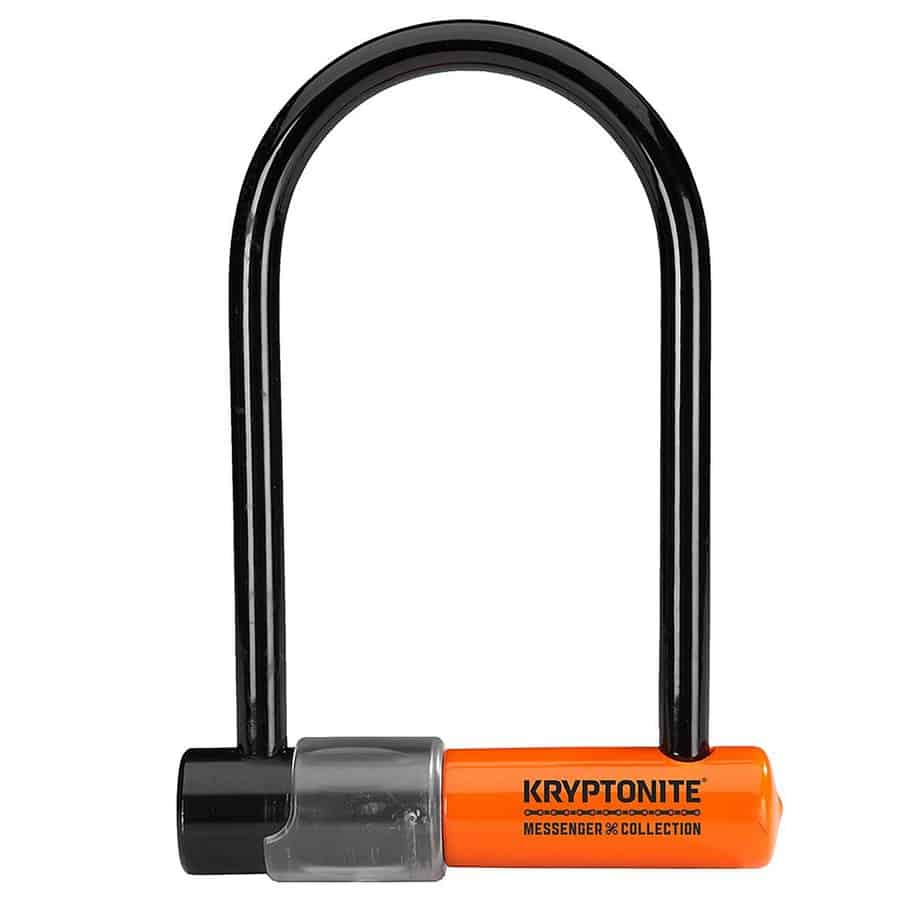 Kryptonite Messenger Mini U-Lock  (around $55) weighs under 2 pounds and still provides a respectable level of security if you're in a low crime area and aren't leaving your bike unattended for extended periods of time.
Best Cheap Bike Lock  
Kryptonite Kryptolok Series 2 Standard Bicycle U-Lock – around $38
Another great option from Kryptonite, the Series 2 U-lock is under $50.00 and provides adequate security. It also comes with a mounting bracket you can attach to your frame.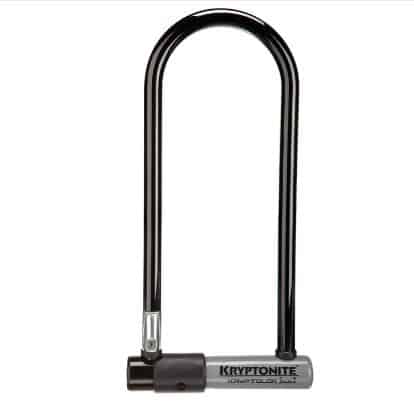 Kryptonite Series 2 U-lock | Amazon
With a 13 mm hardened steel shackle, the Kryptolok should repel all but the biggest bolt cutters. The reinforced, hardened crossbar is pretty heavy-duty and won't be easily defeated by hammers or other brute force attacks.
Buy at Amazon.com
We earn a commission if you click this link and make a purchase at no additional cost to you.
Folding Bike Locks
Folding locks are a series of metal plates attached together with rivets that allow the plates to be rotated and folded into a small compact package or out into a shape to fasten around your bike. They are very easy to carry and offer flexibility as to what you can lock your bike up to.


Abus invented these locks. The Abus Bordo 6000 is a great mid security option. It's under 3 pounds and is available in two different lengths. They start at $95.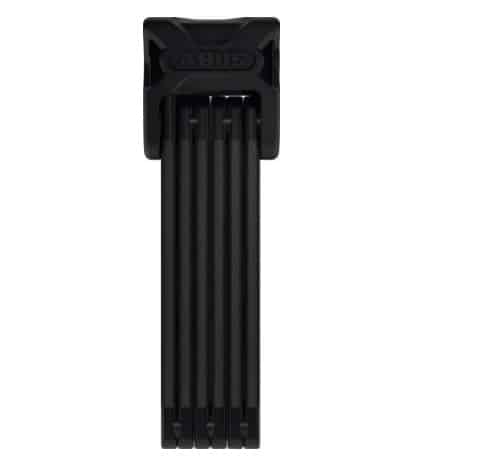 ABUS Bordo 6000/90 Folding Lock | Amazon
With its 5mm hardened steel bars and connecting rivets, the ABUS Bordo 6000 folding lock is a design classic that packs a super powerful, ultra secure punch to ward of potential bike thieves.
Buy at Amazon.com
We earn a commission if you click this link and make a purchase at no additional cost to you.
08/22/2022 05:26 pm GMT
A few final thoughts on locks:
When choosing a lock, you need to consider seriously what level of security you desire with weight, price, and portability. If you live in a low crime area and don't intend to leave your bike locked up on the street for extended periods of time, you are probably fine to go with a mid level lock. If you're in a high crime area or leave your bike unattended for extended periods of time or overnight, you really need to invest in a quality high security lock.
This also probably goes without saying, but it's never really advisable to lock your fancy all carbon racing bike outside anywhere if you're not going to be within eye sight of it. As Hal, from Bicycle Habitat in NYC says, "The best lock is always, 'owner watching'."
Be safe out there everyone!