We're enthusiastic about everything to do with cycling – it's our passion! And we're here to share our findings with other cycling geeks. From new cyclists through to experienced pros, we welcome everyone here, and we have something for you, from reviews to buying guides to hints and tips.
If you're new to this, we know how overwhelming it can be. How do you even know where to start. How can you find the right gear? What do those specs actually mean?
How can I find a bike that feels fun to ride, but will last a long time? And even if you already have a bike, there's a lot of gear you'll need to go alongside it. Then there are the upgrades – how can you find the best deals if your cycling hobby is starting to get expensive?
We're here to point you in the right direction. Our in-depth guides will help you to find the best gear possible, from mountain bikes under $2,000 through to the most awesome bike helmets.
If you're considering buying a particular model, our in-depth reviews can help you to make that decision. Plus, if you're looking for discount codes or sales, we can help you out there too. Smart shopping means you can keep tinkering with your bike to your hearts' content!
How This Works
We write fair, honest reviews, based on our own experiences on what you'll actually need when you're out cycling. We'll give you our honest thoughts on each product, including pros and cons, and all the specs you need to know about.
Here's what to expect from us:
Reviews – our in-depth reviews will give you the lowdown on what you need to know about a product. We don't just cover bikes (like our Pivot Mach 5.5 Carbon review) – we also look at gear (like our Thousand Helmet review). We'll give you our honest thoughts about what we think, including the features we think could be improved, and we'll give you key specs too.
Daily Deals – cycling can get expensive pretty quickly. Once you start tinkering with your bike, chances are you'll get addicted and you won't be able to stop! We can point you in the direction of the latest deals and offers to help keep the costs down.
We know how incredible cycling can be for your mental and physical health, and we've made plenty of friends and happy memories in our journeys so far. That's why we're passionate about helping beginners to get going, as well as helping more experienced cyclists find the latest and greatest gear.
Our Core Values
Passion, enthusiasm, honesty, expertise. We're obviously super passionate and enthusiastic about what we do. We're also committed to giving you our honest opinions – we know what works and what doesn't when it comes to bikes, and we want to be transparent with you if we think a bit of kit isn't worth the investment.
We also want to share our tips and expertise with you, to make your lives a bit easier when you next hit the trail.
About the Team
We're a group of writers and cyclists. Some of us love to hit the trail at the weekends, putting our mountain bikes through their paces. Others on our team love to use hybrid bikes to commute to work. Others are committed to improving their mental and physical health via cycling.
We have years of experience between us. We have the patience, time, and energy to devote to finding the best gear out there. We know how big of an investment buying a new bike can be, which is why we want to avoid anyone making costly mistakes by buying the wrong gear for their needs.
Jodie Chiffey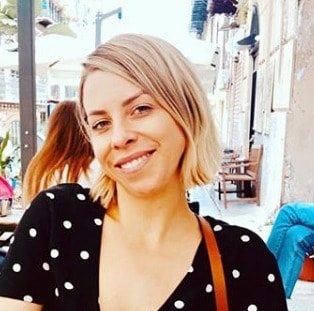 Jodie's passion revolves around writing and mountain bike riding. Every spare moment she has, she can be found in the great outdoors on dirt trails.
Besides admiring the views, she's also tested the capabilities of some of the latest bikes on the market. She was fortunate enough to test Trail, XC, and DC models, to mention a few, manufactured by some of the best brands in the industry.
So, if she's not on a trail, she's most likely at home writing about her experiences and impressions of the latest mountain bikes and equipment she's tested.