Latest posts by Vanessa Nirode
(see all)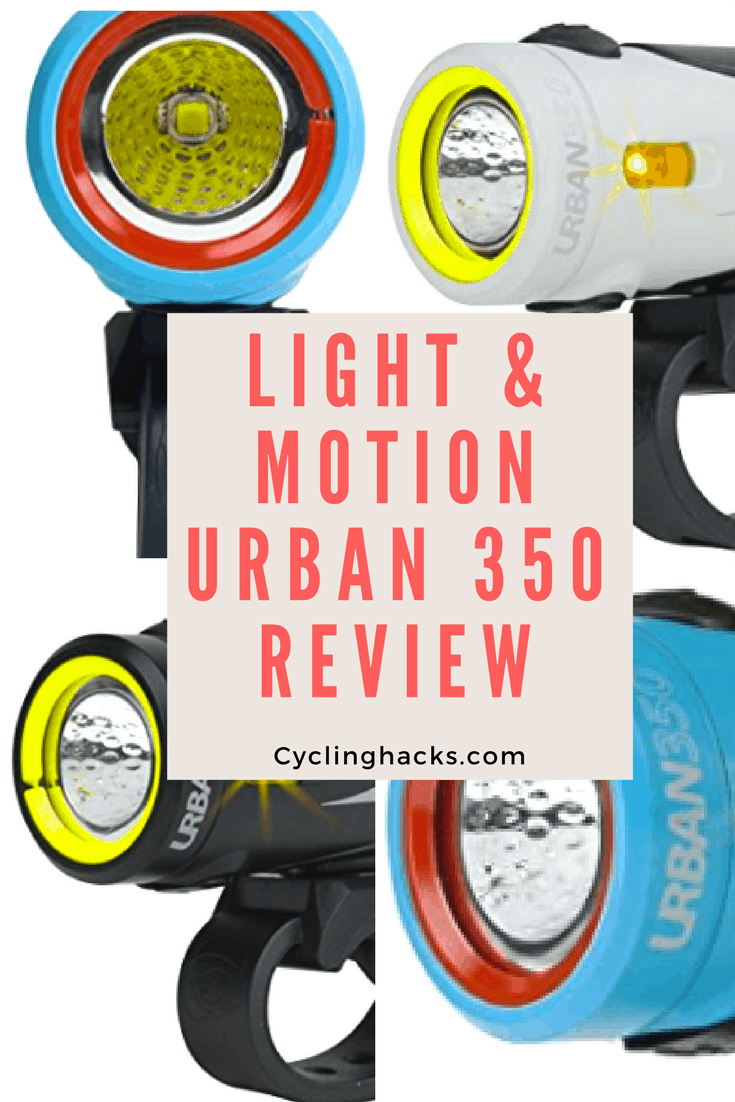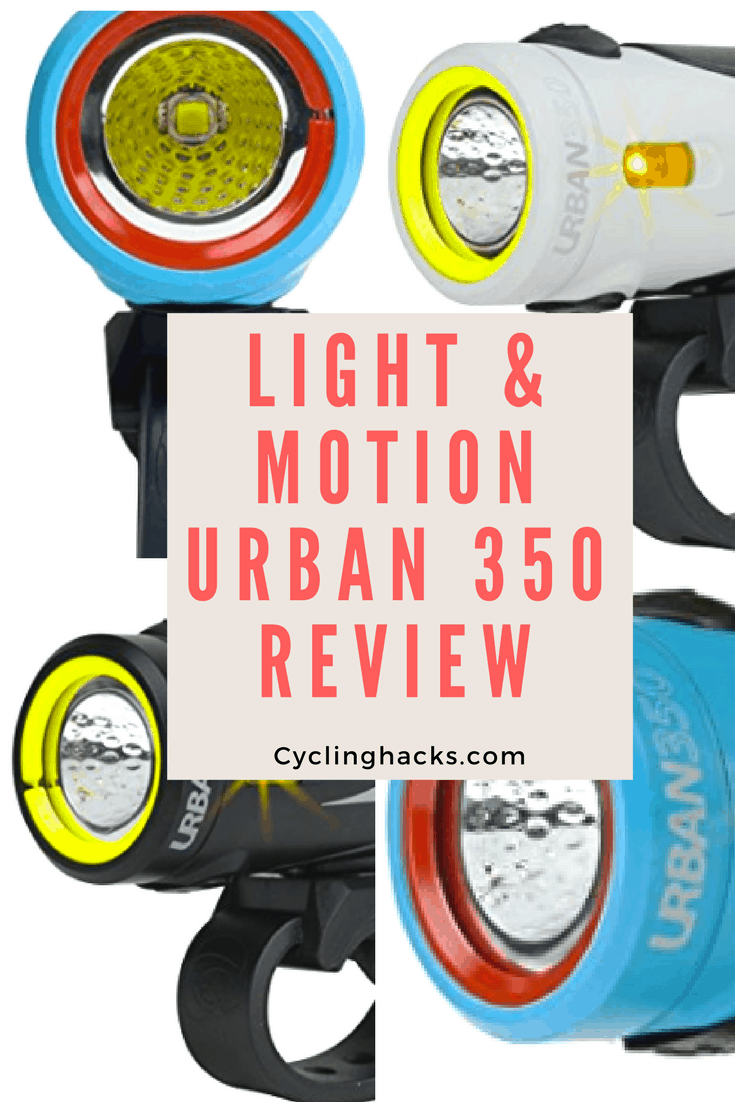 If you're a bike commuter like me, you know how important it is to have a good, reliable light. Bike lights provide two functions, both equally important. One is to be seen and the other is to allow you to see. There are a lot of options out there so it can be hard to know which one to go with. If you're still trying to decide on a light, check we've rounded up and reviewed our favorite head and tail lights here.
First off, in case you were wondering, those little blinking lights don't do much at all. They're normally not bright enough to cut through rain or fog or haze. As a daily New York City commuter, I can attest to the fact that you really need to invest in a light with at least 350 lumens at its brightest. You want a light that you can operate at varying intensities and patterns – flashing, strobing, always on – depending on what conditions you're biking through. And
You want a light that you can operate at varying intensities and patterns – flashing, strobing, always on – depending on what conditions you're biking through. And it's super helpful if your light is waterproof.
The Urban 350 Bike Light from Light and Motion offers all of these things.
The Urban 350 is an extremely visible LED light that uses some of the same innovations as more expensive lights, like amber-colored side lighting for 180-degrees of visibility.
The light has a low, medium, and high mode, controlled via a single button.
The strategically engineered lens evenly distributes the light, helping you to see both near and far. Compared to other lights with similar specs like the Serfas USL-305, the Urban 350 seems to put out a lot more than just 50 additional lumens.
Mounting System
The 350 has a flexible mounting system that allows you to attach the light to your handlebar or your helmet. It's easily removable for when you need to lock your bike up on the street and don't want to donate it to some opportunist passerby.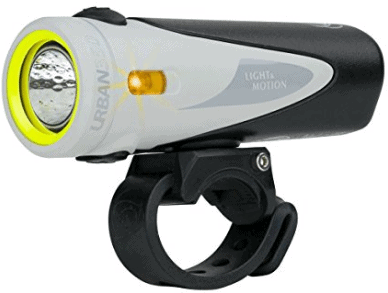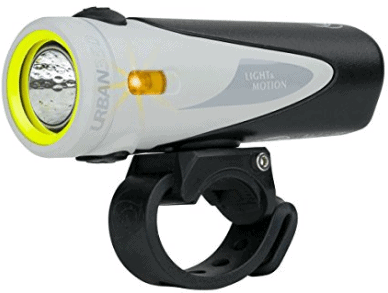 When detaching, the mount easily comes off and stays with the light. Which can be handy if, like me, you have more than one bike and transfer your light between them.
Getting it Wet
The IP67 waterproof rating means the light can still function while submerged under one meter of water for up to 30 minutes. Most of us do not routinely (if we can help it) submerge our handlebars under water for any number of minutes so, unless you find yourself caught in a tsunami or a hurricane, your light is going to be just fine.
If you do have the unfortunate experience of finding yourself on the bike in a tsunami or a hurricane, I'd wager that whether or not your light is working is not going to be your first concern anyway.
Rechargeable Battery
The lithium internal battery of the urban 350 is, like most lights these days, rechargeable with a USB cord. Many users complain that the battery doesn't last very long when operated at its maximum brightness. In my experience, this is the case with most every bike light when you use it on high.
You'll likely have to charge it most every day. A small LED on the back of the case changes from green to orange to red to flashing red as the battery life drains. This gives you plenty of warning so, hopefully, you won't get stuck out in the dark. Some users do mention that the LED is difficult to see when riding since it's on the back of the light, not the top.
Mounting the Light
The Urban 350 doesn't have as many flash options as some other lights like the Cygolite Metro and Streak. The Cygolite options though have more complicated mounts that can be annoying to switch from one bike to another.
And the Urban still offers the widest and smoothest optics. They do have side visibility cutouts but, they're not quite as bright or visible from as many angles as the separate side visibility ports on the Urban.
Overall Impressions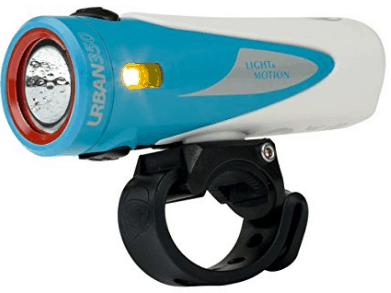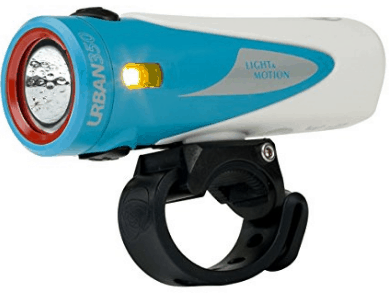 For around $50, the Urban 350 is well worth its price. It has one of the widest beams of any other light in its class while still illuminating what is right in front of you. And the bright amber sidelights make you extremely visible to others.
The mount is simple and easy to use. The Urban 350 is also available in multiple colorful styles, which means you can pick one that reflects your own personal style. Add to this IP67 waterproof rating and hand manufacturing in the USA, and this light is an excellent choice.
One More Thing: How to Practice Proper Strobe Etiquette: Or How to Not be That Annoying Cyclist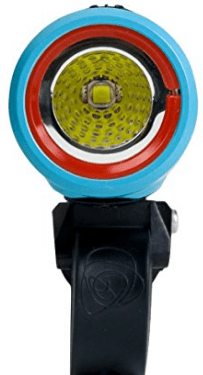 I'm going to add just one note on the strobing feature of super bright bike lights: please be aware that if you've got your light turned all the way up and it's pointed directly in front of you, you're probably momentarily blinding every cyclist and motorist that is going in the opposite direction that you are (as well as any unsuspecting runner who is just out for their morning jog.)
It's important for people to see you but, if you blind them, they're going to run into you anyway. I can't tell you how many times on the narrow bike path of the 59th Street Bridge, I've been blinded by someone's light coming from the opposite direction.
It's especially disconcerting it they've attached their light somewhere other than the front of their handlebars as I can't see past the light to the actual bike and rider.
On especially dark mornings or when I want to light up the road or path in front of me, I position my light slightly downward so it doesn't shine directly into the eyes of oncoming traffic. One time when I forgot to do this I was cycling through Central Park in the wee hours of the morning and, as is normal, passed a runner going the other way. He greeted me from a couple hundred yards away with a resounding rendition of Manford Mann's Blinded by the Light.