Latest posts by Vanessa Nirode
(see all)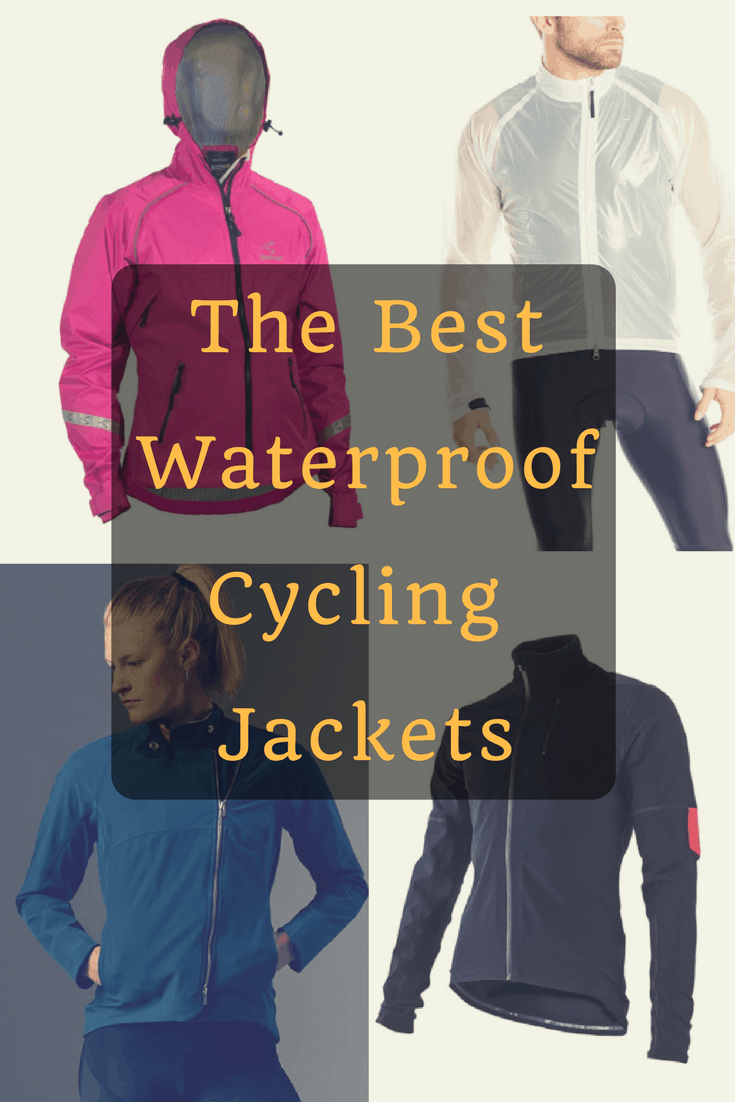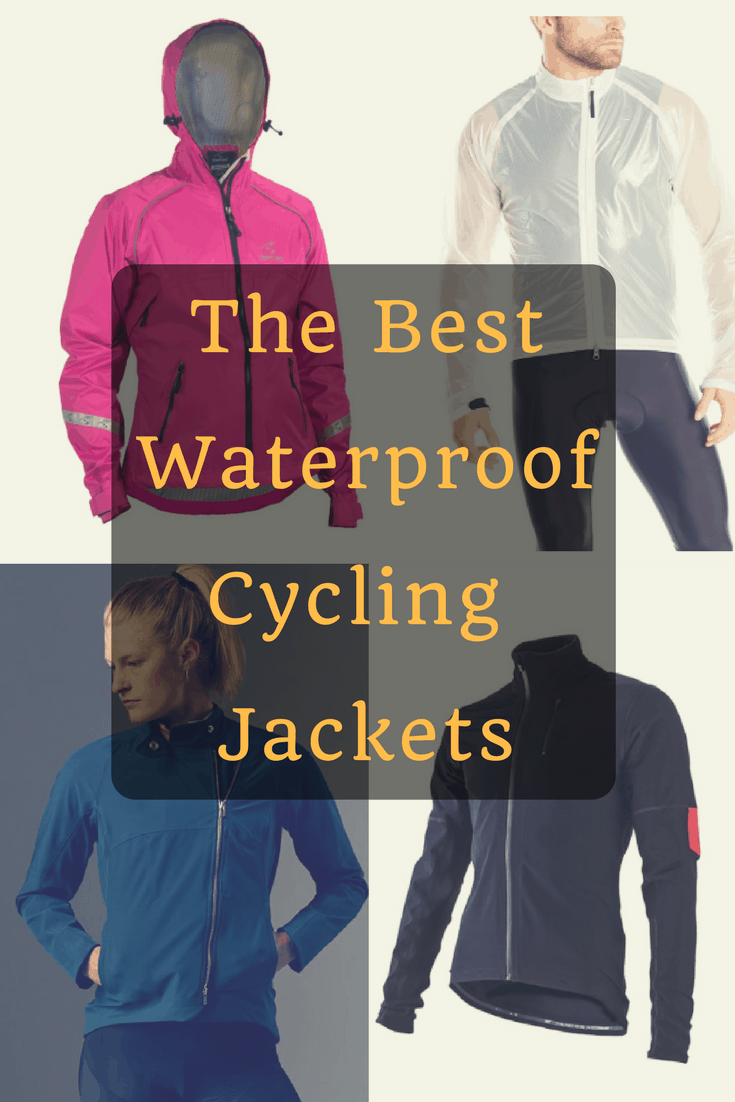 Many cyclists say they don't enjoy riding in the rain but, if you're a daily commuter (in all weather, just like the postman) or the kind of rider that will opt for a day outside over the indoor trainer, you'll likely need — and want — a good waterproof cycling jacket.
There are many options out there and some of them get very expensive. So let's clear up any confusion and figure out what the best waterproof cycling jacket is for you.
Below you'll find our more detailed reviews; you can also click the links above to check prices or read customer reviews. 
Considerations
The first thing to understand is the difference between waterproof, water repellant and water resistant.
The lightest and most breathable options have a waterproof treatment applied to the actual weave of the fabric. Some have a Durable Water Repellent (DWR) layer that causes water to bead up and roll off, and others have a membrane sandwiched between several layers.
Related: A Quick and Dirty Guide to Biking in the Rain: 24 Tips to Stay Dry
Waterproof Jackets
Waterproof jackets are made from an actual waterproof fabric with taped seams. It's not hard to make a waterproof fabric. Making a waterproof fabric that is also breathable enough to let the sweat out is a much more difficult thing, though not impossible.
A good waterproof jacket is made from a fabric that allows water vapor produced from sweat to pass through pores in the fabric that are too small to allow water to get through as a liquid. Many also have vents you can open under the arms.
Waterproof jackets normally come with a waterproof rating of at least 10,000mm, multiple layers, taped seams and stormproof zippers.
Most waterproof jackets are made with a hard shell fabric combined with a waterproof, breathable membrane with a water repellent coating to make water run off.
All of this technology does tend to send the price up pretty high but, when it comes to true waterproof jackets you really do get what you pay for.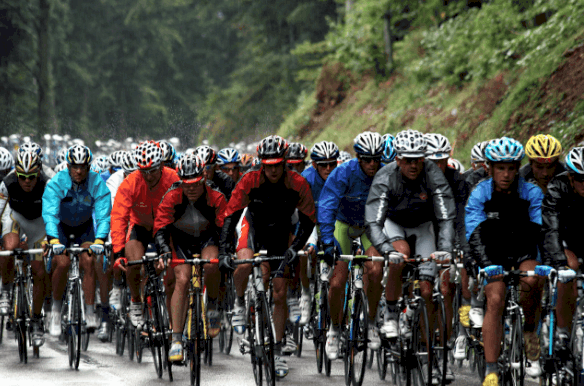 Water Repellant Jackets
Water Repellant Jackets are typically treated with a coating that causes rain to bead up and roll off the fabric. These jackets will often need reproofing as the years go by – a fairly easy process that usually involves running the jacket through a washer with the proofing product.
Water Resistant Jackets
Water Resistant Jackets are just that: they resist water but eventually you will get wet. These kinds of jackets are okay for short, light showers but won't do you much good in a heavy, prolonged downpour.
A few other things to keep in mind 
Taped Seams Are all the seams taped or just the key ones? Fewer seams provide fewer opportunities for water to get in, but more seams allow for a better, more shaped fit.
Dropped tails are especially handy to keep your lower back and bum covered when you're in a crouched riding position. Some jackets even have stowable tails.
Look also for draw cords to cinch up the bottom and collar and cuffs that are close fitting with elasticized or adjustable openings.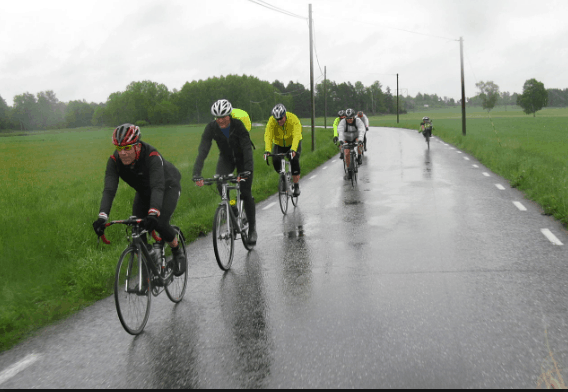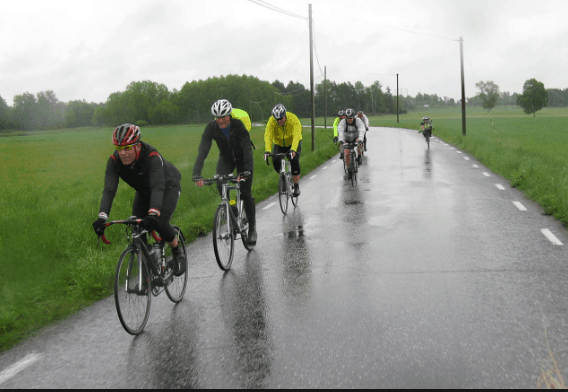 Mesh linings are used to help remove the moisture created by sweating. They make a jacket less clingy on bare arms but add some weight and bulk to the jacket.
Ventilation options allow moist air from sweating to escape from under the jacket. Some jackets have zippers on the sleeves and armpits to add ventilation. Extra zippers cost more money.
Packability is also something to keep in mind if weather conditions are variable. You'll want to be able to shove the jacket into a pocket.
Fully waterproof jackets are often heavier and bulkier and don't pack down small enough, while water-resistant options can fit into even the smallest rear pocket.
Top Cycling Rain Jackets
Below you'll find our more detailed reviews; you can also click the links above to check prices or read customer reviews. 
Best Budget Cycling Rain Jacket: B'Twin 500 Hi-Viz Waterproof Jacket From Decathlon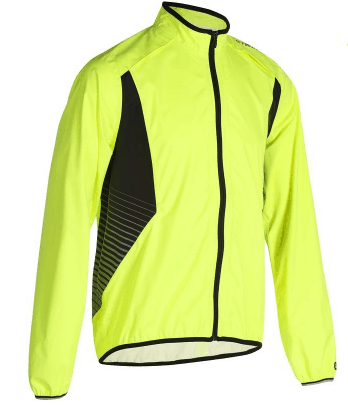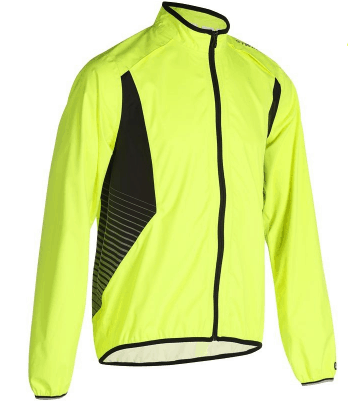 Decathlon is known for their range of affordable own-brand gear for cyclists and if anyone can put out a good budget product, it's them.
The B'Twin 500 comes in bright yellow, orange, and black hard shell fabric. At this price, it's no surprise there's no waterproof zipper but, there is a good storm flap and all the seams are taped.
Decathlon makes no claims for highly breathable fabric. Instead, they rely on chest vents – a small one on each side and one across the full width of the back.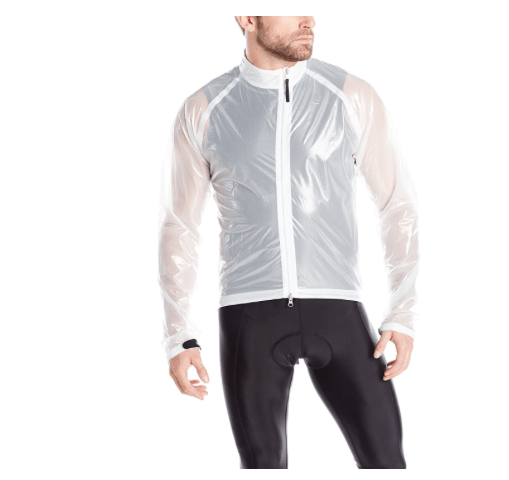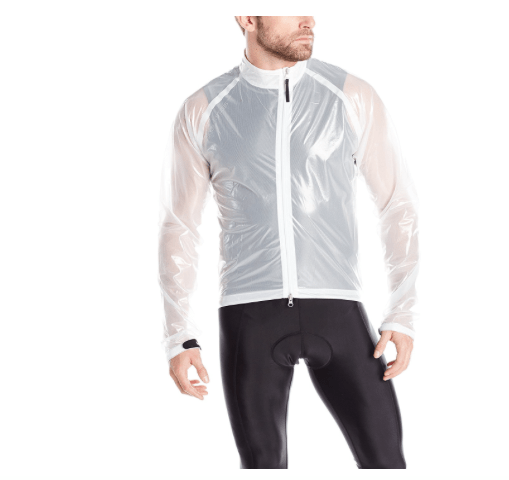 The Pro Tech ST is a lightweight, clear race jacket, so you can stay dry and your club or team kit can still shine through. Showers Pass are from Portland, Oregon so they know a bit about wet weather.
The jacket has fully taped seams and a good length that covers a jersey. The soft fleece material of the collar stands up to a good height. It has an ultra lightweight membrane, a handy two way front zipper, and venting on the back.
The race cut and stretch fabric lend themselves to a contoured fit, though the sleeves are a bit baggy.
All in all, the Pro Tech is a rather well thought out emergency training or race day waterproof jacket.
Showers Pass ProTech ST Jacket | Amazon
The Showers Pass Pro Tech ST is a light weight, clear race cape, so that when the heavens open you can stay dry and your club or team kit can still shine through on race day or just on a training ride.
Buy at Amazon.com
We earn a commission if you click this link and make a purchase at no additional cost to you.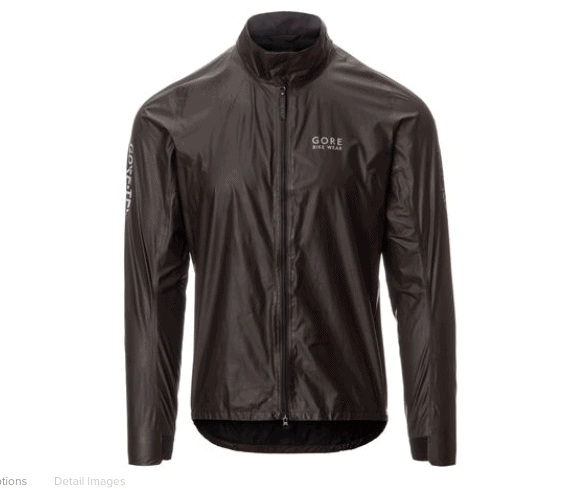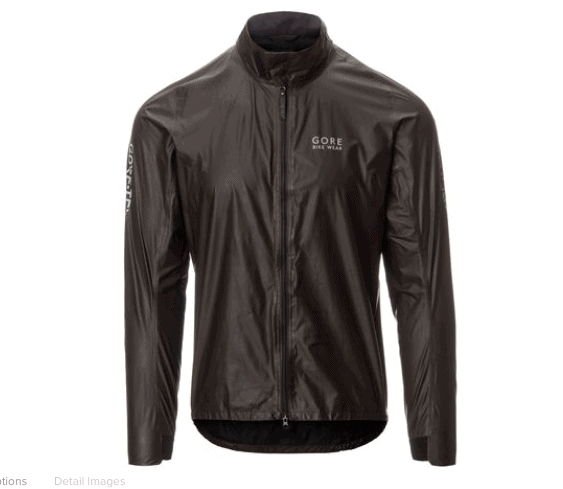 The Gore ONE 1985 Gore-Tex Shakedry has the versatility of an emergency lightweight rain cape and the performance of a hard shell waterproof. It's a lightweight, packable, waterproof jacket specifically designed for cycling.
Gore-Tex has been engineering their own fabrics for years and the result is a completely waterproof garment that retains the breathability traditional Gore-Tex clothing is renowned for, while reducing the layers of fabric to decrease weight and increase packability.
Constructed from Gore's Active Gore-Tex fabric, the Gore ONE uses a permanent beading surface on the outside, which eliminates the need for a durable water resistant coating. What this ultimately means is that the fabric can be reduced from three layers to two.
Active Gore-Tex fabric is still the most technologically advanced material available while also being the best performing when it comes to breathability and beading. Gore ONE really is on par performance-wise with a dedicated hard-shell waterproof. However, the low weight and high packability is comparable to a lightweight emergency rain jacket – the best of both worlds.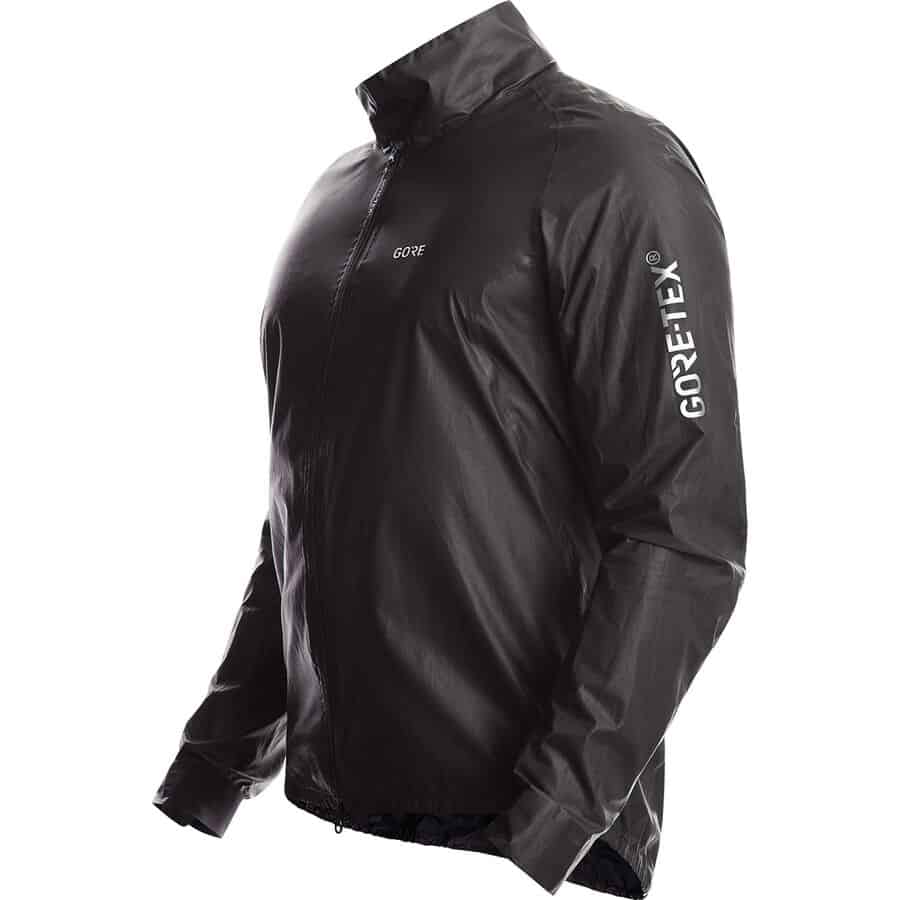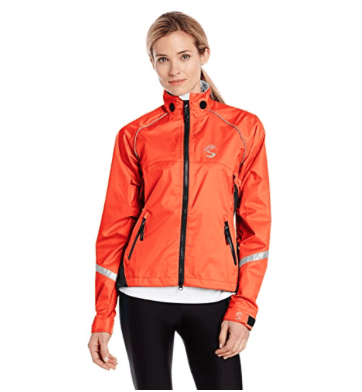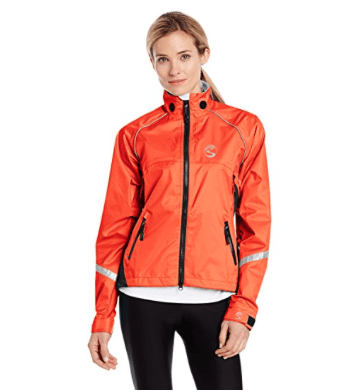 The Club Pro jacket comes in orange, yellow, and is made with a 2.5 layer ARTEX shell fabric. The jacket has reflective trim visible from every angle, front pockets, and pit zippers for ventilation. The women's specific fit skims the body nicely while still allowing room for layers underneath. And the jacket works surprisingly well fro its mid range price tag.
Showers Pass Women's Club Pro Jacket | Amazon
Our versatile, affordable waterproof and breathable jacket for commuting, training, or weekend rides. Made with front cargo pockets and a 2.5 layer fabric for added comfort and durability. Core and back vents prevent overheating.
Buy at Amazon.com
We earn a commission if you click this link and make a purchase at no additional cost to you.
Best Waterproof Cycling Jacket for Commuters and Riding at Night: Proviz Nightrider Jacket for Men and Women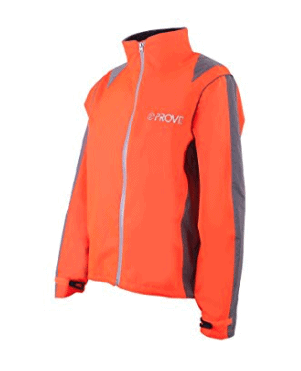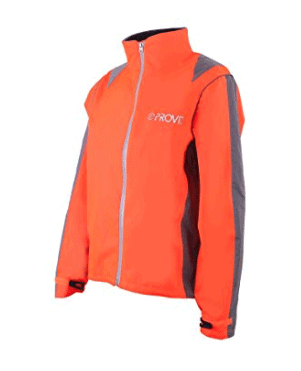 If you do a lot of riding in the dark and are concerned with others seeing you, the Proviz Nightrider Jacket, with multiple reflective strips and a light up detachable Triviz triangle on the back, is one of the most reflective jackets available. And it's waterproof.
Proviz jackets have a good reputation for quality waterproofing and the Nightrider, with stormproof zippers and seam seals, is no exception. As always, the waterproofing does affect breathability, but the pit zips and internal mesh help.
The jacket comes with a Velcro triangle which allows you to switch between a plastic reflective triangle and the Triviz light and has a more generous cut, so consider a size down than what you normally buy.
Proviz Mens Nightrider Jacket | Amazon
It's made from two types of material: super-loud yellow high-vis and Proviz's REFLECT360 fabric at the shoulders and tail. This means, whether you're cycling in daylight or darkness, as long as a source of light bounces off the jacket from somewhere, you'll be seen.
Buy Men's
Buy Women's
We earn a commission if you click this link and make a purchase at no additional cost to you.
Best Women's Waterproof Jacket when you want to stay dry on and off the bike: Showers Pass Women's Crossover Jacket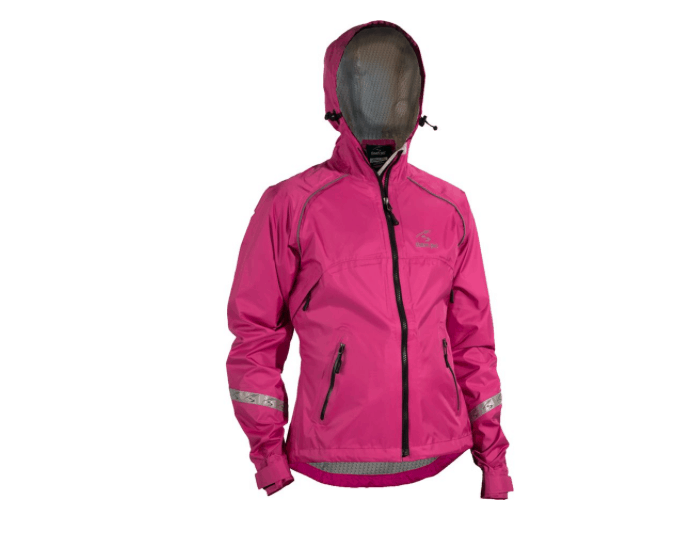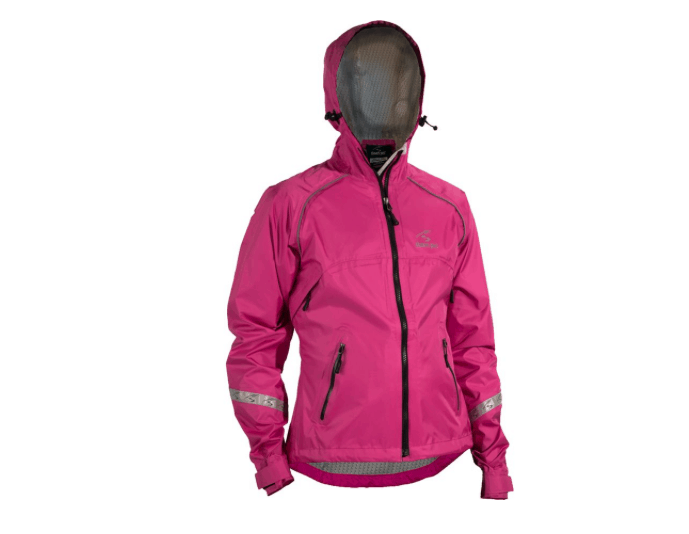 If all you want is a jacket that will keep you dry on and off the bike, the Crossover is a great choice. Like other Showers pass jackets its made from Artex fabric with taped seams.
It has a cycling specific dropped tail and, unlike most other jackets designed for bike riding, a hood – which means it's a great choice for rainy walks and hikes too.
Originally designed for elite athletes (hence the name), The Elite jacket is widely embraced by cyclists of all kinds. It's one of the most durable jackets out there and often described as the gold standard in rain jackets.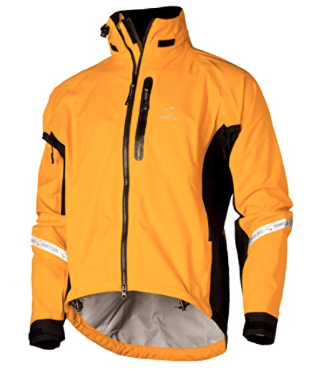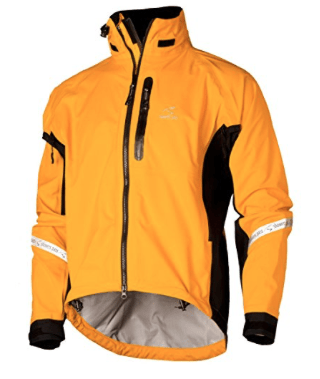 It features Velcro-adjustable gusseted cuffs, a two-way front zipper, pit zippers, a fleece lined high collar, and a large back vent and zippered back pocket. The Elite jacket is made from eVent, a highly breathable waterproof fabric that has (according to some US military testing) a 50% increased vapor transmission over all other fabrics.
One final thought on waterproof cycling jackets for commuters:
I live in New York City and commute about 22-25 miles per day by bike, from Harlem to the old Navy Yard in Brooklyn. We get snow, rain, hail, ice, torrential downpours, single digit Fahrenheit temperature, and all kinds of crazy winds blowing in from the ocean or down (and up) the Hudson and East Rivers.
Except for one day when pretty much all businesses were closed in the city, I've ridden those 25 or so miles every single day for the past few years in all kinds of weather. I have cycling specific rain jackets for long day rides or races but, when I commute, nothing beats my North Face Gala Triclimate 3-in-1 jacket (most often with the inner insulated shell removed).
The jacket has a removable hood as well though I tend to keep it on. The best features of the jacket are its roomy high collar that you can tuck your chin into when you're cycling across a bridge into 16mph headwinds and the zippered pockets – one on each side and one on the sleeve (intended, of course, for a ski pass).
As long as you're not striving to be aerodynamic and want the option of fitting more layers under your jacket, one such as this is a great choice. Don't be afraid to try out clothing made for skiing and the like if you're just commuting around town in the elements.