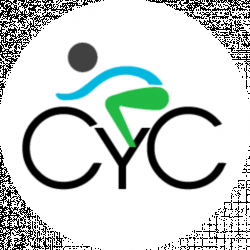 Latest posts by Cycling Hacks Team
(see all)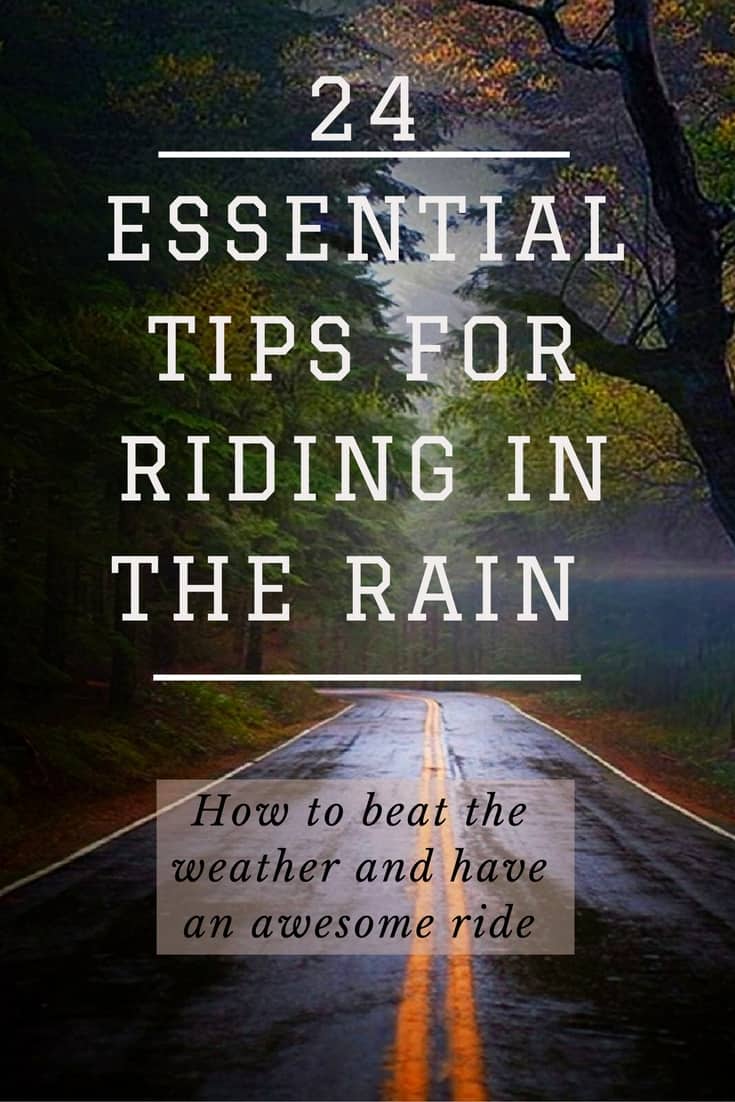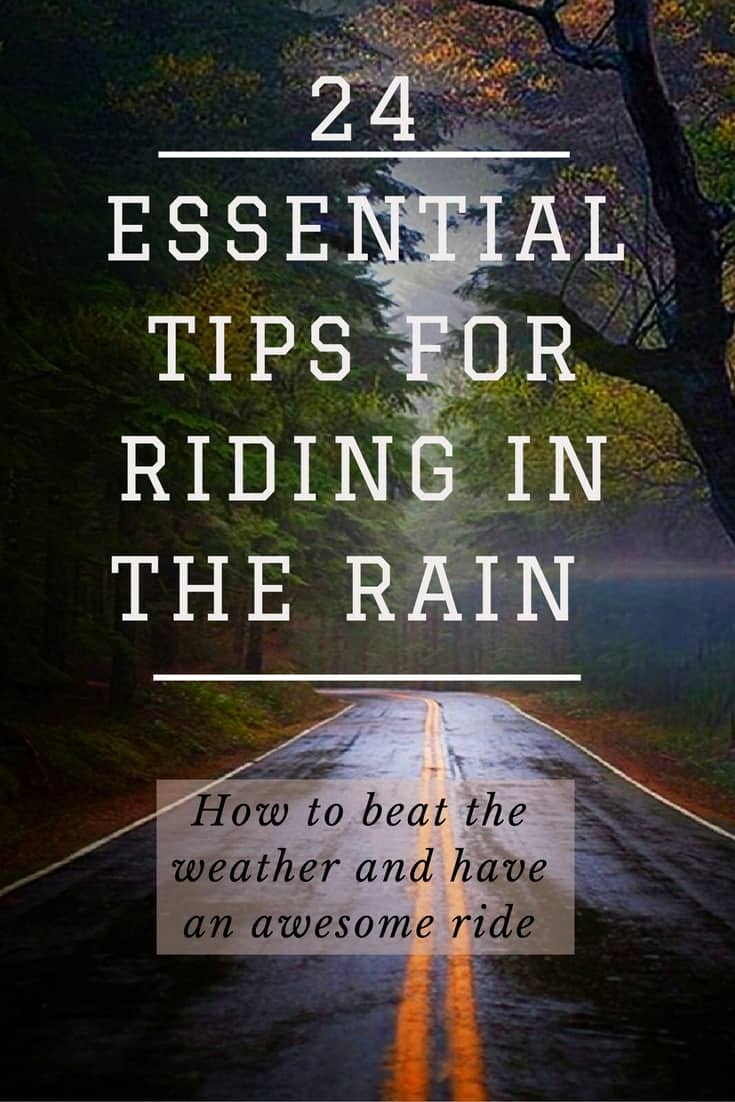 What's the best plan for the days when your training plan, weekly group ride or that Fondo you paid top dollar for, don't coincide with a sunny weather forecast? Some days you just have to kit up and ride in the rain. When the pros do it, it often leads to some of the most action-packed stages. Biking in the rain takes a few additional skills, but if you dress accordingly and follow a few tactical tips, not only will you discover what you're truly capable of, but you'll learn to enjoy and embrace those rainy rides. 
To quote the sage words of Velominati:

How to Dress for a Rainy Ride 
1.   When it comes to jackets, look for breathable materials and a jacket with a tail to keep your back and butt from getting drenched from road spray. If you go with something waterproof, be sure it's breathable. I'd recommend something like the Endura FS260-Pro Adrenaline Rain Jacket, which is waterproof, breathable and very affordable for a waterproof jacket. Need extra protection? Try a rain cape. They'll keep you and your laptop bag dry during the commute. I like the Brooks Cambridge Rain Cape with reflective piping and a comfortable hood that fits snugly over a helmet. It also rolls up, making it highly portable.
Brooks Saddles Cambridge Rain Cape | Amazon
The Cambridge Cape is the lighter as it's made out of waterproof nylon, designed to be easily carried inside your Brooks Cycle Bag or folded into its own reflective pouch and attached to the rear loops of your Brooks Saddle.
Buy at Amazon.com
We earn a commission if you click this link and make a purchase at no additional cost to you.
2.   Prioritize keeping your hands and feet dry and warm. On cool days, add a wicking base layer to keep your core toasty, which will, in turn, warm the hands and feet.
3.   Keep your feet dry by pairing an overshoe with a neoprene bootie. Gore Bike Wear's Gore-Tex City Overshoes will keep your feet dry.
Gore Bike WEAR Universal City Gore-TEX Overshoes | Amazon
Ideal for MTB and leisure shoes but also perfect for every day commuting as, with the adjustable Velcro strap, they fit neatly over ordinary shoes. GORE-TEX products enable high performance during changeable weather conditions.
Buy at Amazon.com
We earn a commission if you click this link and make a purchase at no additional cost to you.
4.   Add a cap. It'll mitigate some of the road spray to your face and keep your head a little warmer.
5.   Grab full finger gloves. They're excellent for grip and will keep hands warm. They also better protect the hands in the case of a fall. Related: Top all-weather cycling gloves
6.   Kit up. Wear bright colors and be visible to motorists. Look for jackets, booties and kits with reflective detailing. Here are our picks for the best waterproof rain jackets.
7.   Wet clothing promotes chaffing, especially where your butt contacts the saddle. Save your nether region by using chamois cream. Avoid excess sweating by saving the intervals for a dry day.
8.   Just because the sun isn't shining doesn't mean you should skip the glasses. Keep water and debris out of your eyes by using glasses with clear or yellow lenses. Add an anti-fogging agent to the mix to keep vision crisp.
Prep Your Bike for Rain
9.   Avoid the rooster tail by installing a mud guard, like the SKS Chromoplastic, which are lower profile than fenders and will allow your buddies to draft sans road spray.
10.   Be seen! Visibility can be utterly crappy in the rain, so add a front white and blinking rear red light to your bike. You don't have to spend much on a decent light. Here are my picks for the best front and rear bike lights.
11.   Reduce tire pressure by 5-10psi for increased surface contact.
12.   Ditch the patch kit. Use a spare tube instead, which isn't affected by water.
13.    Use the right lube, especially for frequent rainy rides. Finish Line Wet Chain Lube is great for the rain.
Finish Line Wet Bike Lubricant | Amazon
Highly recommended for extreme conditions. Formulated with high viscosity synthetic oils, water repelling polymers, and advanced anti-wear additives.
Buy at Amazon.com
We earn a commission if you click this link and make a purchase at no additional cost to you.
08/22/2022 06:56 pm GMT
14.   Check the brake pads. Because grit accumulates in the pads faster in the rain, be aware that brake pads may need to be replaced more often.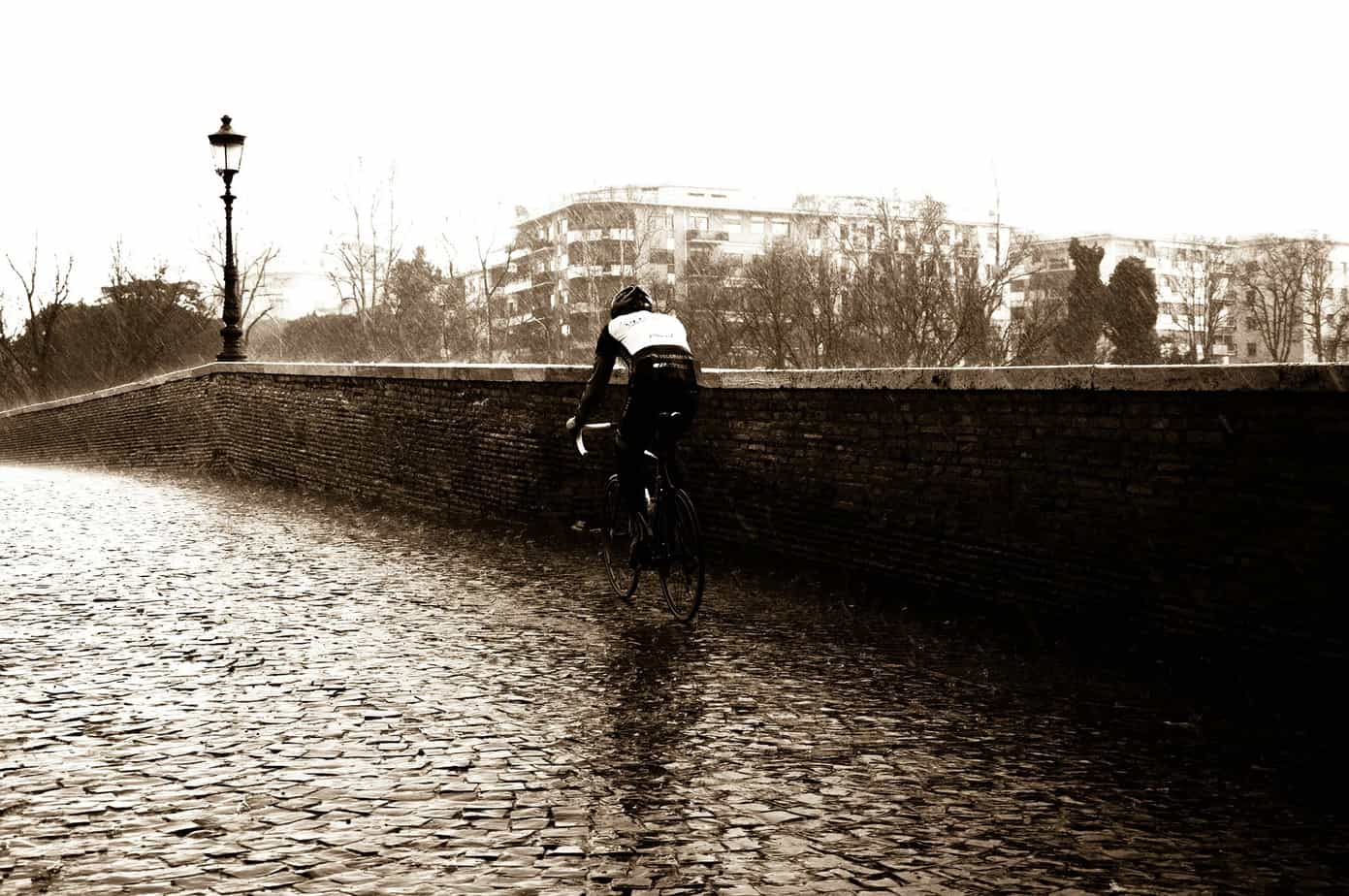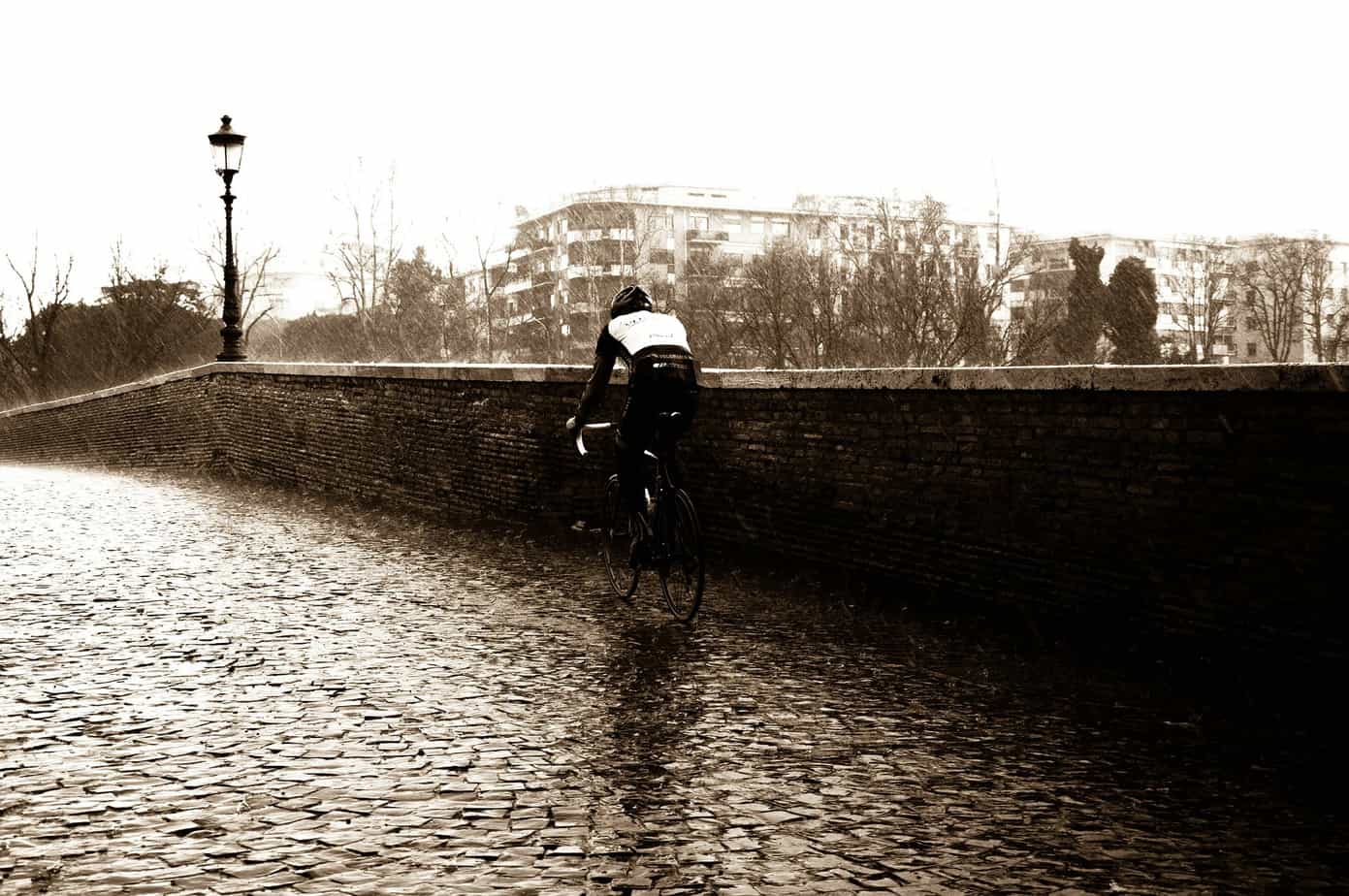 Tactical Tips for Biking in the Rain
15.   Brake early and often. Wet rim brakes increase the time it takes to slow down. Hit the brakes frequently to scrub water and check their stopping power. Then brake 50% earlier than you normally would.
16.   Don't brake suddenly! This could cause your wheel to lock up and slide out.
17.   When cornering, avoid leaning the bike too much. Instead, shift your weight to the outside pedal, stay centered over the rear wheel, keep your head up and carry your speed through.
18.   Slow down for turns to prepare for any gravel that has washed into the apex and brake well before the turn.
19.   Stay seated when climbing steeper grades or, if you must stand, keep your weight further back over the rear wheel to keep it from slipping.
20.   Resist the urge to ride through puddles. There might be a giant pothole lurking underneath!
21.   Stay off painted lines and wet leaves and be on the lookout for any patches of oil. Avoid manhole covers, brick, steel grates and steel-top bridges and railroad tracks, which also become very slick.
22.   Save the long climbs and ripping, fast descents for a sunny day. You'll likely sweat on the climb and then get chilly on the downhill. Pick a route that's rolling instead.
23.   Keep your head up, always on the lookout for potential hazards, which may not be visible from a distance.
24.   Don't destroy the trail! Bicycle tires produce ruts on soggy trails, so avoid mountain biking until the bike path or trail isn't susceptible to damage.
Final thoughts:
Riding in the rain isn't necessarily bad for your bike, but it does warrant some additional maintenance in order to keep the drivetrain functioning properly and to avoid excess wear. If nothing else, quickly wipe the bike off after your ride and keep the brake pads (or rotors) clean and free of debris. Wipe down the chain and you're good to go!
Related: Get Fast! How to Find the Best Wheels for Your Road Bike