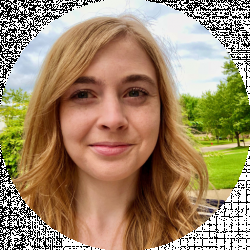 Latest posts by Erin Jamieson
(see all)
Everyone's been told to wear a bike helmet— whether it's just been for a casual ride, a daily commute, or intense mountain biking. But the Hövding bike helmet is offering new technology that may blow other helmets out of the water. This review will investigate: is Hövding's helmet as remarkable as it seems, or just expensive?
Whether you're an amateur or professional bike rider, bike helmets are a must. Even if you feel confident about tackling a trail, environmental factors and other bikers mean you should also protect yourself as much as possible.
A rough average of 750 cyclists dies in accidents every year in the United States, with nearly 9,800 deaths reported from 2007 to 2019, as reported by the Federal Highway Administration. Of course, it's easy to dismiss if you compare 750 deaths per year vs 3,700 deaths per day on average from car accidents (CDC).
But bike fatalities are very easy to prevent. A cyclist not wearing a helmet increases their risk of mortality by three times. Even if you do survive, your risk of brain injury is another important factor. Bike helmets may reduce the risk of brain injuries by as much as 88 percent.
But will just any helmet from Amazon do? Or are some helmets better than others? I'll discuss how to choose the best helmet for you, then review Hövding's helmet. I'll discuss the claims behind this innovative model– and whether it's a great choice or just hype.
Pros
Superior Safety Ratings
Innovative Air Bag Technology
Less Confining than Regular Helmets
Syncs with a Safety App
Adjustable for a Comfortable Fit
Cons
Not Available for Children and Certain Bikes
Not Reusable
Expensive
Air Bag May Inflate Due to "Safety Margin"
Is a Helmet Mandatory for Bikes?

Maybe you're an expert rider who's confident in their riding. Maybe you only bike smooth paths, with next to no traffic.
Whatever the reason, there's some hesitation about wearing a helmet, mostly amongst non-competitive bikers. While a helmet is not required for bikes, that doesn't mean you should dismiss wearing a helmet.
How do Helmets Help in Saving Lives?
There are different types of helmets, but the principle is the same. Helmets protect from everything from cuts to skull fractures, concussions, and serious head injuries or brain damage. Helmets contain a solid outer shell and usually some type of foam lining inside.
The impact of a fall or crash thus is applied to the outer shell, and the lining is meant to cushion and further reduce direct force. It's important to note that wearing a helmet does not promise 100 percent protection but can reduce your risks of serious injury.
What are the Disadvantages of Wearing a Helmet?
There are some disadvantages to wearing a helmet– mostly if you're wearing a helmet improperly or one that isn't catered to your needs. Some potential disadvantages include reduced side visibility (for full-face helmets), ear pain, and skin irritation.
Luckily, discomfort and skin problems can both be resolved by finding the best helmet for you and one that fits properly. All told, the advantages of wearing a helmet far outweigh the disadvantages.
What Are the Different Types of Helmets?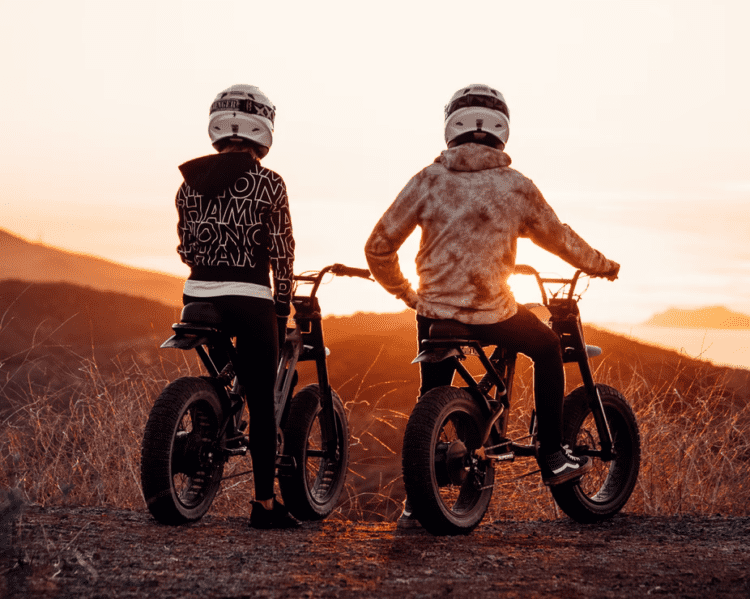 Not all helmets are created equal, but it's also true that different types of helmets have different purposes. So here's a breakdown of different types of common helmet styles you may need to choose from.
What's a Modular Helmet?
Modular helmets combine elements of open and full-face helmets. They're also known as flip-up helmets and are more common amongst motorcyclists vs road and trail biking. The idea is to provide fuller face protection, but with the versatility of getting fresh air when you stop. While this is a nice feature in terms of flexibility, there's been mixed reviews as to whether a flip helmet is safe.
They shouldn't be used for racing or competitive events. They still offer protection, but they're certainly not the same as a full-face helmet. And some may prefer just opting for an open helmet, which is lighter, less bulky, and useful for everyday riding.
Which Helmet is Better: Open Face or Full Face?
Type of Helmet
Pros
Cons
Open Face

Clear Visibility
Great Airflow
Lightweight
Affordable

Less protection against weather
Less crash protection
Mostly suited for casual riding

Full Face

More protection for crashes
Protection against weather elements
Suited for competitions and mountain biking

Heavier
Can be confining
Reduced visibility

Hybrid/ Flip

Versatile
Blend between full and open face features

Not as protective
More expensive than open face
Fewer options
I'll discuss the main differences between open-face and full-face helmets below, but you can also see the pros and cons summarized in the table above.
Open face helmets have many advantages, and it's easy to see why they're commonly used, especially for casual riding. Lightweight helmets tend to be more comfortable and useful in many ways. You'll be able to hear more, and side visibility may be improved as well. For long bike rides, you'll find the fit more comfortable.
And, of course, open-face helmets are generally cheaper than full-face helmets. On the other hand, you're more susceptible to weather elements, from sunburn to rain to dust, dirt, and debris. There's also less protection when you crash.
Full-face helmets are more protective, and that's true for both crashes and riding. Some include special features like visors. You'll get more protection from the sun, dirt, inclement weather, and more. Of course, full face protection can feel confining for some, and they're much heavier and more expensive. For casual riding, they're not commonly used.
What are Good Helmets Made Of?
I also carefully inspect the materials that helmets are made of. Sometimes it's worth paying more– and there is a difference between materials. From durability to protective capabilities, here's what you need to know.
Is Polycarbonate Good for Helmets?
Polycarbonate is the most common and affordable material for a biking helmet. Commonly used for budget helmets, polycarbonate is known to have a good impact on weight ratio, and it's easily produced.
It's fairly strong and suited for outdoor use, but it's heavier than fiberglass and doesn't last as long. These helmets, if lined correctly, can protect you, but they are vulnerable to scratches and other damage and not the most durable of options.
Which is Better: Polycarbonate or Thermoplastic?
Thermoplastic is simply a form of plastic that's been heated to become flexible before it cools. Truthfully, thermoplastic helmets are normally made out of a form of polycarbonate, and you'll experience much of the same pros and cons.
Are Fiberglass Helmets Good?
Fiberglass helmets are made with glue (resin) and fiberglass pieces of varying thickness and length. They are praised for being lighter than plastic helmets.
Due to the rigid structure, these are commonly used for racing, as they can handle higher-speed crashes vs polycarbonate. They last about 5 years with normal use. While they are better at protecting upon high-speed crashes, they are also more likely to break upon impact.
Are Carbon Fiber Helmets Safer?
Carbon and Kevlar helmets are another option. This material is known for its toughness and ability to withstand weather elements. Unlike polycarbonate, these helmets are very difficult to scratch, and they also happen to be more lightweight than polycarbonate. They're considered safe for regular use and higher-speed crashes. They are less likely to crash than fiberglass, yet still lightweight and durable. The biggest downside is the higher price point.
How do I Choose a Helmet?
Beyond materials and type of helmet, color, price point, and size all play into choosing the best helmet for you.
Are More Expensive Helmets Safer?
I'd never go on price points alone for how safe a helmet is. You don't have to spend on the most expensive helmet possible to make a great, safe purchase. That said, the cheapest helmets tend to be cheap for a reason.
Cheap helmets tend to be made out of flimsy materials, less durable materials. A good rule of thumb is to shy away from the cheapest materials possible and fully inspect to see if a more expensive helmet is worthwhile.
Which Color Helmet is Best?
Helmet color is sometimes an afterthought, but it can impact your comfort and safety. Yellow and orange helmets are the best for safety and visibility. Bright colors, in general, are more visible. When it comes to classic white vs black, white and lighter colors, in general, will be cooler.
A black helmet may be less comfortable in hot climates. That isn't to say black is a terrible choice, but it ranks low in both visibility and holding off heat.
How do I Know my Helmet Size?
Size is key to having a safe and comfortable helmet. To determine your helmet size, use a measuring tape around the middle of your forehead. You should select the standard size that is closest to your measurement, keeping in mind that the fit should be snug and secure. If your helmet wiggles, it's likely too loose.
What is the Standard Helmet Size?
The standard sizes for US helmets are usually generally sized, XSmall to Extra Large. However, measurements may differ slightly amongst brands, so it's best to pay close attention to the measurement vs the standard size.
I'd also recommend against any one-size-fits-all helmets. Road bike, trail bike, and mountain bike helmets also differ slightly in these measurements. Click Here For a Chart of Common Standard Bike Helmet Sizes.
Is the Hövding Helmet Worth It?
The Hövding helmet is not any ordinary helmet– and that's clear immediately from their dramatic demos on a brightly-hued website. They go so far as to claim that the "world's safest helmet isn't a helmet." But what's behind these claims and the high sticker cost?
How Does the Hövding Helmet Differ from Normal Cycling Helmets?
Hövding invented the airbag helmet. It's unique by using airbag technology, not unlike what you'd want in a car, versus reducing the collision impact based upon a hard shell. This unique technology requires charging and adjusting and will take some getting used to vs your normal bike helmet.
How Does the Airbag Helmet Work?
The Hövding helmet uses airbag technology within a collar. It's worn around the neck as you ride. It's more like a neck wrap as opposed to a regular helmet, leaving your head and ears uncovered during riding.
Once charged, the airbag detects abnormal motion. In the event of a collision or crash, the airbag inflates in a mere 0.1 second to protect your head. It also syncs with Bluetooth for an optional app to alert emergency contacts.
What Causes the Airbag to Inflate?
Luckily you can move and bike as you normally would without worrying about activating the airbag. However, the company does mention what they call a "safety margin." which means it is possible that it could inflate outside of an accident.
The airbag has been programmed with a comparison of normal cycling movements and thousands of tests to determine what is a dangerous movement pattern. At that time, the airbag will inflate around the head and neck.
How tight is a Hövding helmet?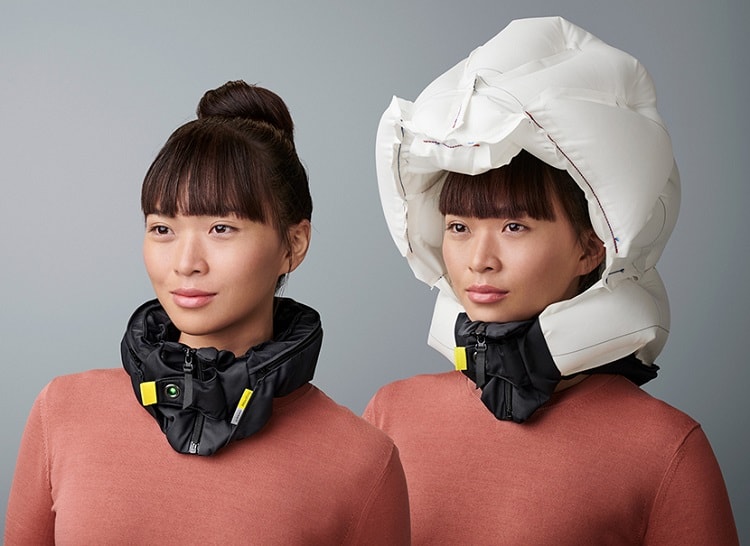 The helmet is adjustable, but as is the case with regular helmets, the fit is meant to be snug and secure, not overly tight. It is just comfortable to wear but not too loose to risk slipping off. Getting the right size is the first step.
What's the Right Size for a Hövding Helmet?
Children can't wear the Hövding helmet, as it's only approved for those 15 and older. Sizes S, M, and L are available for heads 20 ½ to 23 inches in circumference.
Unfortunately, if you have a larger head, the Hövding helmet isn't approved for you, as it hasn't been tested for safety. To select the right size for you, factor in the closest size according to your neck size. All helmets are adjustable for up to 23 inches head circumference.
| | |
| --- | --- |
| Recommended Size | Neck Size |
| Small | Less than 14.5 inches |
| Medium | 13.5 to 16.5 inches |
| Large | 15 to 17 ¾ inches |
How do You Adjust the Hovding Helmet?
The latest model (3) allows you to adjust to size with a wheel system. The BOA® Fit System is manipulated in a clockwise fashion until you have a snug fit. Simply pull the wheel system out, adjust, then lock with an easy press down button.
Can You Wear Other Accessories With the Hövding Helmet?
Scarves, knitted hats, sun hats, and veils can all be worn with the helmet– another advantage over regular helmets. But it's important to not obstruct the device. Veils need to be tucked within the device, not outside of the collar. Don't have any zippers directly near your neck, and scarves should not have seams right where the helmet will inflate.
Does this Airbag Helmet Work With Any Type of Bike?
| | | |
| --- | --- | --- |
| Bike Type | Compatible | Not Compatible |
| Standard and E-Bikes, Folding Bikes | X |   |
| BMX, Recumbents, Monocycles, Cargo Bikes, Electric Kick Bikes, Segways |   | X |
| Racing Bikes with Ergonomic Layout | Partially |   |
Some bikes will not work with an airbag helmet at this time. Two-wheeled standard bikes and folding bikes work. They mention that racer bikes with ergonomic orientations are compatible but not ideal. See the chart above for what bikes it's compatible with. I would love to see this technology available for most or all bikes sometime in the future.
How Durable is the Hövding Helmet?
The Hövding is not made out of any typical bike helmet materials, but instead nylon. Thus nylon fabric is strong and durable for a time. However, the company mentions how much you wear and use the helmet will impact its life.
Over time, the fabric can wear and even tear. The battery also has a limited life. The battery can charge for 300 cycles before it starts to decline. And if your battery breaks, you can't replace it– you'll have to buy a new device.
Are Faulty Batteries Covered?
When you receive your new Hövding helmet, a self-test will be activated. That self-test will ensure that the airbag and battery are in good working condition, then it will automatically shut off. In the case of faulty batteries or faulty mechanics of any kind, you're asked to file a complaint form online.
Is the Hövding Reusable?
This is the biggest downside. Since the helmet uses an airbag, it simply is not reusable once an accident has occurred. You can recharge–and should– after your battery gets low. But once activated, it cannot be reused.
How do You Charge Hövding?
Every helmet comes with a USB port, located at the back of your helmet's collar. The USB port should be inserted into an external charging cable– it does not appear that you get a charging cable with your purchase. You'll need a micro USB cable, not a standard cable.
The 2.0 model takes around 3 hours to charge. An LED light at the front of the collar shows your current battery level, and a sound will emit as a warning when there's one hour of charging time remaining,
Is Hövding Helmet Safe?
It's difficult to judge the Hövding helmet, as it is truly revolutionary. It challenges so many things we think about in terms of bike helmets and cycling safety in many ways. So instead of relying on their claims, I wanted to look at the research behind the design and other bikers' experiences.
What Does the Research Say About the Hövding Helmet?
So far, research seems to hold up the company's claim. The Institute Certimoov at the University of Strasbourg, an independent testing center, rated the airbag helmet above all other cycling helmets.
The test included nearly 50 helmets, where the Hövding was awarded a 5/5 for full protection upon impact. Meanwhile, oblique lateral, oblique frontal, lateral, and front scores were 4.5/5 for protective qualities. Potential impact on the brain was also factored into their results. By comparison, other helmets tested 4 stars or less on all metrics. Read the Full Report Here.
What do Other Bikers Think About the Hövding Helmet?
On TrustPilot, there's a healthy sample size of 1,000 ratings for the helmet, though this does include older models as well. The helmet earned a mixed 3.4 out of 5-star rating, with a split of 54 percent awarding a 5-star rating but 19 percent giving it a 1-star rating.
What Customers Loved
Positive reviews mentioned positive customer service, with quick delivery and quality shipping. Excellent design, functionality, and a more freeing feeling than your typical helmet also earned praise. One compelling review mentioned that they now have their second helmet. The first protected them during a fall, and they fully feel confident biking with a device.
What Customers Disliked
Since poor and bad reviews (1 and 2 stars) comprised over 20 percent of reviews, I wanted to take a closer look at complaints. One person mentioned that their device never charged, though they did buy not directly from Hövding, a separate cycling store. Some said the safety margin was too hideous, resulting in the airbag being triggered when cycling on cobblestone.
Many concerns were with shipping or FedEx, which I wouldn't fault the company for. I did notice that Hövding answered nearly all complaints on TrustPilot, which I don't often see. The biggest takeaway here is that the safety margin may be too generous for some, and it may not work if you're cycling on uneven surfaces.
Though this is not directly stated by Hövding, I could see the possibility of a rough trail triggering an unusual mode of movement and triggering the airbag prematurely.
Final Buying Recommendations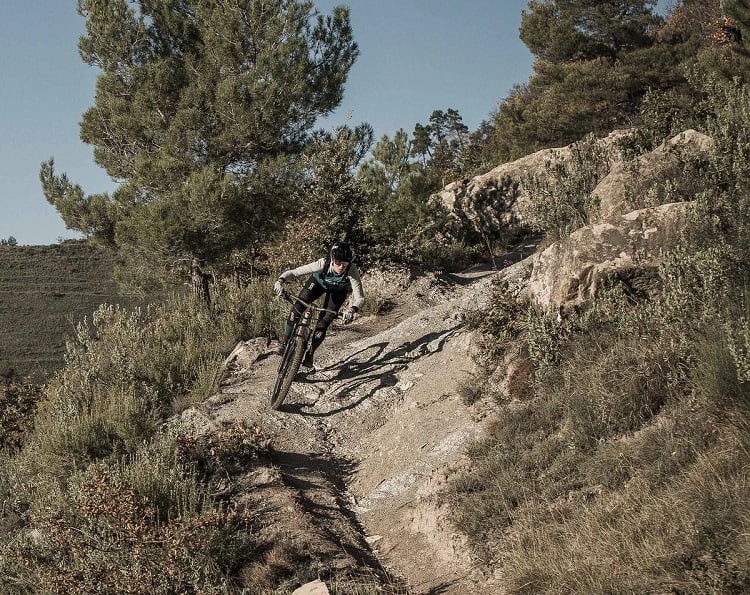 Looking for a helmet that offers great protection but isn't yet sold on airbag technology? One good way to find the safest helmets is, of course, to look at verified and professional safety ratings. Remember that regardless, your bike helmet should be replaced every 5 years or 3 years for less durable materials.
Topping safety ratings included helmets like the Bontrager Rally MIPS, various models of Wavecal Helmets, the POC Tectal Race Spin, and the Specialized Echelon MIPS.
And at least make sure that your bike helmet is relatively safe for casual use. I recommend reading this Consumer Report on Bike Helmets Failing to Meet Federal Safety Standards.
Frequently Asked Questions
Question: Can You Wear Glasses Under a Helmet?
Answer: Glasses may be worn with full-face helmets, but they must be fitted properly. Glasses should be evenly aligned and worn straight across the face. The best glasses for wearing under a helmet have thinner frames, and padding near the ears can reduce irritation.
Question: Are Modular Helmets Safer Than Full Faces?
Answer: Modular helmets are not inherently safer than full-face helmets but have pros and cons. In the case of an accident, fall, and/or collision, modular helmets potentially do not offer quite as much protection. But at the same time, modular helmets can provide greater visibility, airflow, and hearing for traffic near you.
Question: What Are Crash Helmets Made Of?
Answer: Crash helmets are typically made out of a form of plastic, though some may be constructed from carbon fiber or Kevlar. Fiberglass is another option, though it tends to be fragile upon impact.
Final Thoughts
There's no doubt about it: Hövding is truly innovative, and its bike helmets are perhaps a stepping stone for improved technology in the future. The safety features are fantastic, and I love that helmets come synced with an app to automatically contact loved ones in the event of an accident.
At the same time, I do think several things need to be refined. I'd like to see it made available for more bike types and the ability to replace batteries. It's plausible that the safety parameters might one day be adjusted for rougher terrain or other factors that might trigger unusual biking patterns. And while I understand a high price point, it does add up, seeing as it's not reusable.
There's no doubt that this helmet is revolutionary in terms of safety, and for casual riding and especially urban riding, I see a good promise. I'm just hesitant to recommend it for all riders, especially if you're deep into mountain biking. Hopefully, the models will continue to be refined and tweaked, as I greatly admire what this company is trying to achieve.