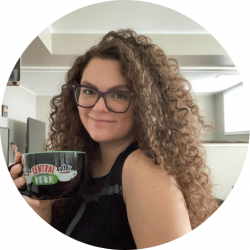 Latest posts by Candace Osmond
(see all)
Have you ever wanted a quality city bike but found that good models have exorbitant prices? Then allow me to show you how that's not only the case. There is one brand that revolutionized the way we purchase bikes. In this Retrospec Bikes Review, we'll talk about the best Retrospec bikes and see what this brand has to offer.
About the Retrospec Brand
Retrospec was founded back in 2009 just outside of L.A. It focuses on delivering multi-sport equipment that ranges from children's bikes to beach cruisers.
The company began with a modest $16,000 investment and quickly went to prominence by offering superior value through direct-to-consumer shipping.
The company also manufactures skates, alpine gear, paddles, and fitness accessories. As a result, they are entirely dedicated to the outdoor lifestyle. It is most known for creating entry-level fixie, single-speed, and commuter bicycles and manufactures other types of bicycles.
However, the biggest feature of the business is undoubtedly the price range of the items, with the majority of models priced between $120 and $460 and the e-bikes priced between $1,200 and $1,400.
What Does Retrospec Offer?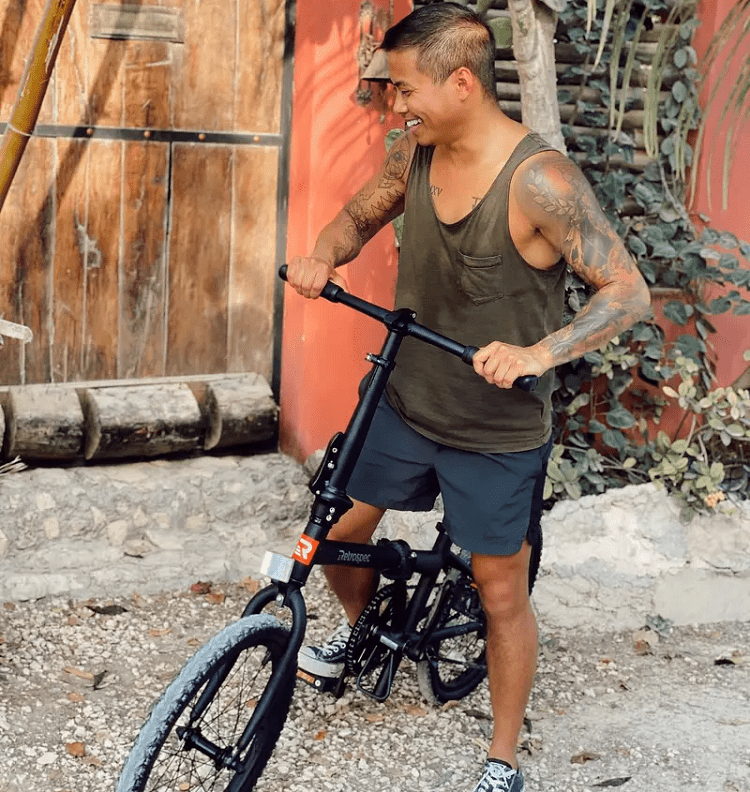 There are plenty of Retrospec bikes that will cover the need of plenty of people who love to get around on two wheels.
Bikes – Retrospec sells a lot of bikes from different categories, such as single-speed, folding bikes, hybrids, and beach cruisers.
E-bikes – You can also choose from different e-bikes, including beach cruisers, folding bikes, and even e-bike parts and accessories.
Water Sports Equipment – For water sports lovers, you have different paddleboard categories and even inflatable kayaks and docks.
Skateboarding Equipment – You can find quality longboards for as low as $70 in this category.
Snowboard Equipment – You can find quality snowboarding equipment, from snow helmets to snowshoes.
Exercise Equipment – Exercise lovers can feast on the offers for foam rollers, yoga mats, and even exercise balls.
Protective Gear – From knee and elbow pads to wrist guards, you and your children can stay protected with products from this category.
Bikes for Toddlers and Youth – Retrospec has a rich offer when it comes to bikes for kids, trailers, skates, scooters, and others.
What Sets Retrospec Apart From Other Bike Brands?
Retrospec bikes may look like your average commuter bike, but some things set this brand apart from the others.
Warranty
Retrospec bikes have been in the industry for a while, and, as a result of their vast experience, they give a warranty on their bikes. The frame and fork of the bike are covered by a one-year warranty, while a 60-day warranty covers the components.
Return Policy
Retrospec bikes offer a 50-day return policy. If you are dissatisfied with your purchase within 50 days, you can easily return it and receive a full refund.
However, there is a catch: if you intend to return the bike, it must be in good condition; if it is not, they will not refund you. Additionally, ensure that you have the bike's original packing; it will not be accepted without it.
Bike Types
The final factor to consider is the surrounding landscape or your location. The type of area where you reside will dictate whether you purchase a single-speed or multi-speed bike.
An important note: Retrospec bikes are not suitable for mountainous terrain due to their construction.
Best Retrospec Bikes
Check out some of the best models available.
Retrospec Beaumont-7 Seven Speed Men's Urban City Bike: Best for city rides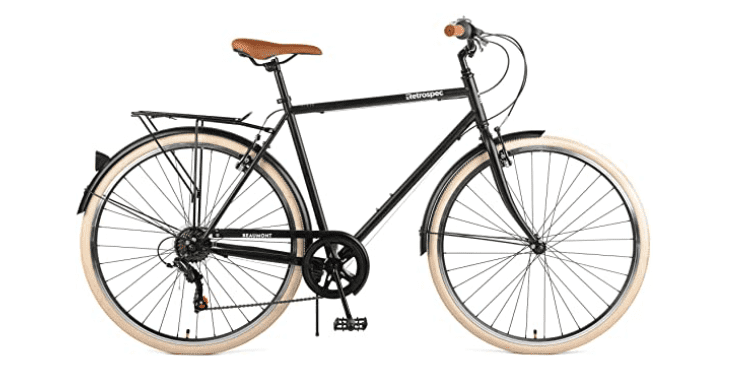 If you're searching for a terrific city bike on a budget, the Retrospec Beaumont 7-Speed City Bike is the way to go. As the name implies, this bike features a seven-speed step-through transmission, which means that even girls can use it as their primary bicycle.
Price Range: $300 – $400
Tires: Kenda 700x35C
Type: urban city bike
The bike's form is incredibly rigid, which puts you at ease immediately. Due to the thinner tires, the rider is promised increased performance. Regardless of the surface, the bike will perform admirably.
Pros
Quality Shimano 7-Speed gear set.
Precise RevoShift twist shifters.
Sturdy brakes system.
Cons
The frame is very lightweight.
Retrospec Baby Beaumont Kids' Balance Bike: Best for Toddlers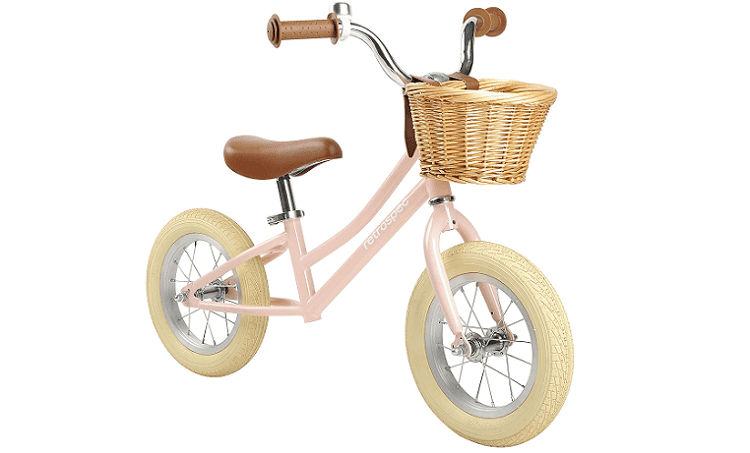 Beaumont Baby is the ideal children's bike for riders aged two to three years. The lack of pedals encourages children to rely on their own bodies for balance and coordination. It contributes to their confidence-building and gets them started on their path to riding a bike.
Price Range: $100 – $200
Tires: 12×2.125 tires
Type: balance bike
It has a durable steel frame that manages to be lightweight and easy to maneuver. It features thick air-filled 12×2.125 tires for good stability, a safety bell, and even a front-mounted basket.
Pros
Stabile tires.
Safety bell.
Adjustable seat.
Cons
Retrospec Children's-Bicycles Koda: Best for kids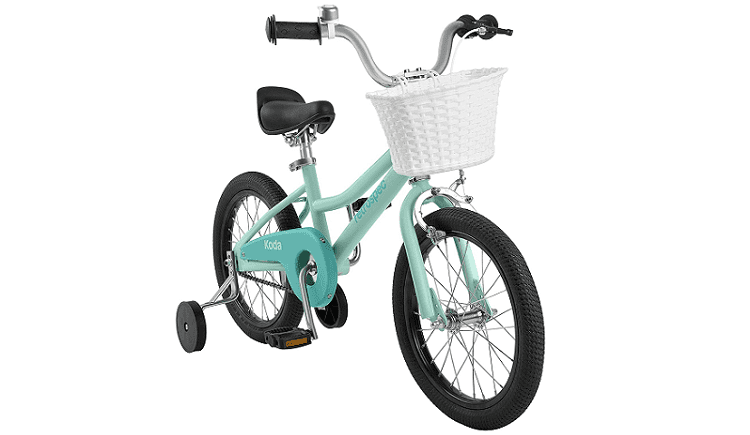 Your novice rider aspires to travel with the big kids, but not without a little assistance. This speedy bike is ideal for young riders who want to hurry off to the races. It features a high-back saddle with a handle that allows parents to clutch the bike if needed.
Price Range: $100 – $200
Tires: 12 (16) x 2.125
Type: children's bike
When your child is ready to drop the training wheels, Koda seamlessly converts to a two-wheeled bike. Combine this with Koda's strong steel frame, and you've got a bike that's up for any learning curve. A chainguard shields children's legs as they bike off to the next pursuit.
What's more important is that you have three bike sizes to choose from, depending on your kid's age.
Pros
Three sizes to choose from.
Wide, grippy tires.
Comfortable saddle.
Cons
Harper Fixie Bike: Best for commutes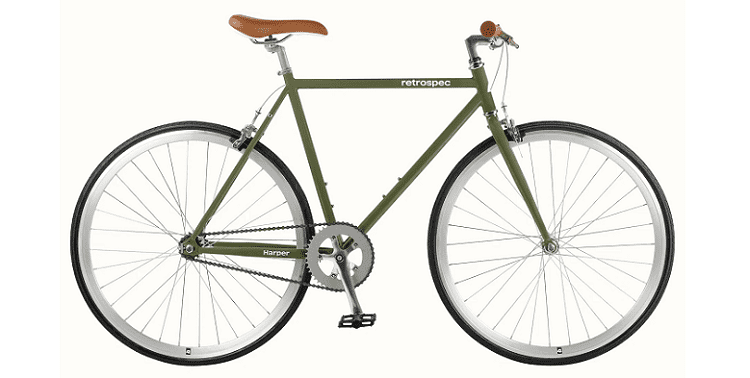 Harper is a city bike. Tires with grooves grab the pavement and disperse water. Reliable front and rear brakes provide instantaneous stopping power at unexpected red lights. With no toe overlap, you can make sharp turns.
Price Range: $200 – $300
Tires: Retrospec 700 x 28C all-season, P/V valves
Type: single-speed bike
Harper is our two-in-one fantasy ride. Maintain single speed or convert to a fixie for a guaranteed exercise with a turn of the back wheel. As straightforward as it gets.
Single-speed bicycles feature fewer components than multi-gear bicycles, making them lighter, simpler to maintain, and more convenient to ride. Enjoy a simple ride devoid of bells and whistles.
Pros
Multiple size options.
Low maintenance bike.
Switch between fixed and single-speed.
Cons
Not for heavyweight bikers.
Judd Folding Bike: Best folding bike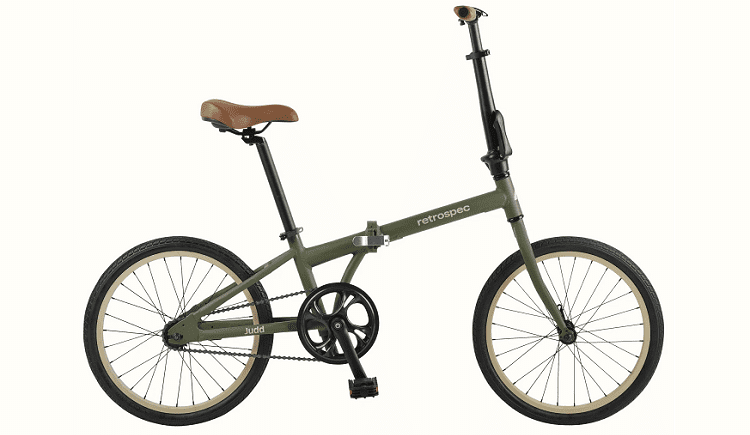 If you're looking for a simple, low-maintenance bicycle that will get you from point A to point B without the use of cables, this is it. Judd's foldable handlebar, top tube, and pedals pack down to a tiny 10×3″ size.
Price Range: $300 – $400
Tires: 20″ Kenda Kwest Commuter Tires
Type: folding bike
The little but formidable 20-inch tires feature a rounded tread pattern and wide water dispersion grooves to ensure traction in a variety of circumstances.
This foldable bike's components make it lightweight and easy to transport. Additionally, this single-speed bicycle with fewer gears is lighter and easier to maintain.
Pros
Easy to store.
Great for students.
Low-maintenance product.
Cons
Ascent 26″ Mountain Bike: Best mountain bike
With Ascent's mechanical disc brakes, you can cruise quickly and decelerate quickly. And if you choose not to brake before a turn, the grippy tires of this mountain bike give you the traction to tackle any corner.
Price Range: $500 – $600
Tires: Kenda K1153 27.5/26 x 2.10 (or Wanda 27.5/26 x 2.125 P1197A), S/V
Type: mountain bike
With 21 gear options, quickly ascend steep slopes and traverse varied terrain, whether dirt or gravel. Additionally, Ascent's Shimano Tourney derailer with simple Rapidfire shifters allows for a swift, intuitive shifting.
Ascent has a sleek frame, stainless steel spokes, and a matte finish that will make people stare before they even get to the trail. Hardtail mountain bikes made primarily of aluminum are lighter and easier to maintain than other types of mountain bikes.
Pros
Excellent brakes system.
Good suspension.
Sleek and beautiful design.
Cons
Traction feels better on mountain bikes from other brands.
Beaumont Rev Electric City Bike: Best e-bike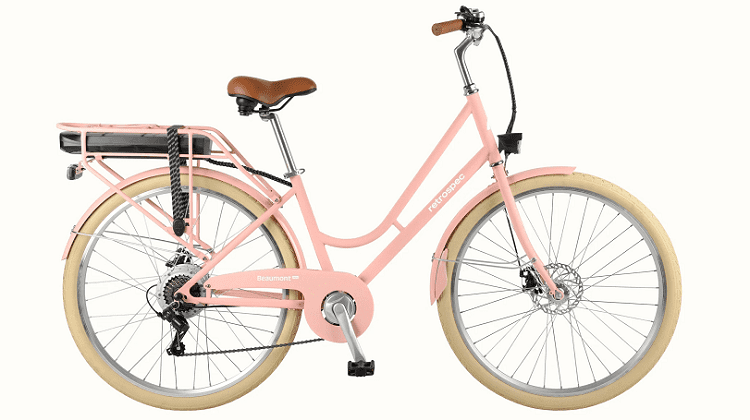 The Beaumont Rev City E-Bike combines modern E-Power with a classic look. With six degrees of pedal aid, on-demand throttle boosts, and seven speeds, this step-through electric bike will enhance your everyday commute or leisurely ride.
Price Range: $1,000 – $1,200
Tires: 700 x 45C, S/V
Type: e-bike
Carry everything on your bike with a rear rack, keep visible with front and rear lights, and ride in different types of weather with protective fenders.
Some other important features include the walk-assist, the LED handlebar-mount display, and the lithium-ion batteries that offer enough juice for up to 37 miles.
Pros
Convenient LED display.
Integrated pedal-assist.
Easy start.
Cons
The brakes are pretty loud.
Retrospec Bike Accessories
No bike is complete without some essential accessories to make the ride easier.
Retrospec Detachable Steel Apollo-Lite Lift-Off Front Bike Basket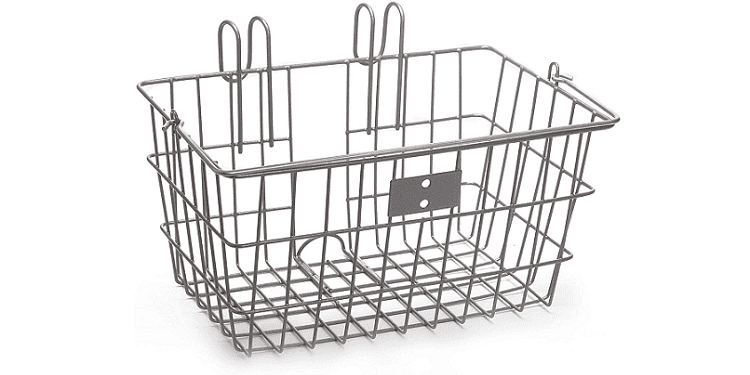 If you feel that your bike needs some storage for groceries, backpacks, or other goods, consider the Apollo-lite. It measures 9.5″ x 14.5″ x 7.5″ and is made from weather-proof steel, making it less prone to rust.
Price Range: <$50
Category: bike accessories
Good For: extra storage
Apollo-Lite is a compact, lightweight alternative to larger baskets. Integrated hooks secure the basket to the handlebars with ease. Apollo-Lite is perfect for running brief errands and transferring little items. The maximum recommended weight is ten pounds.
Pros
Weather-proof construction.
Integrated hooks for easy attachment.
Lightweight design.
Cons
The basket doesn't feel stabilized on all models.
Retrospec Bike Helmet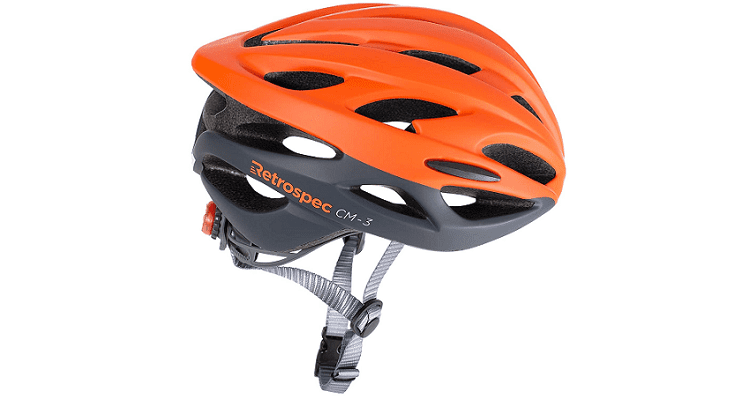 The CM-3 helmet is equipped with top-of-the-line safety features, providing the wearer with the peace of mind that they have chosen one of the most affordable helmets available without sacrificing protection.
Price Range: <$50
Category: protective gear
Good For: safety
When it comes to protecting the rider, the helmet's fit is just as critical as the materials used to construct it. That is why Retrospec put the ergo knob adjustment dial into the design. It provides riders with a secure, comfortable, and unique fit at the turn of a dial.
Pros
Twenty-four vents for air circulation.
LED light with three settings.
EPS protective foam body.
Cons
Complaints about light longevity.
Retrospec Rover Kids Bicycle Trailer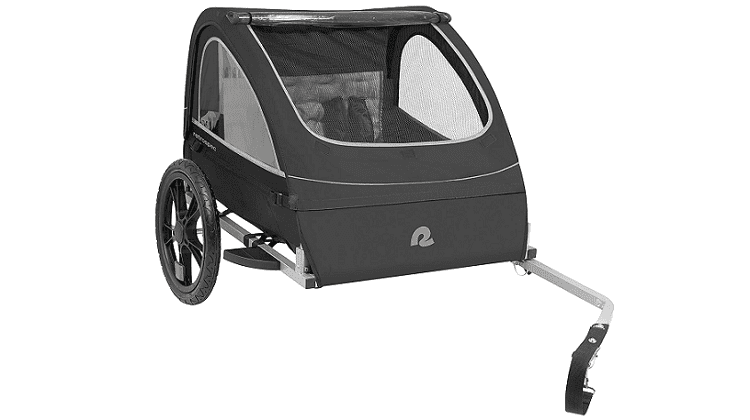 Rover accompanies to ensure that no one is left behind. Rover is designed for the active, on-the-go family. It comes supplied with the hardware necessary to attach to practically any adult bicycle.
Price Range: $150 – $170
Category: bike trailer
Good For: kids
Choose from a one- or two-seat configuration to meet your family's needs. Both variations are available in three complementing hues to complement your personal style. Additionally, our Rovers include deep back pockets for additional storage regardless of the destination.
Pros
Weather-resistant fabric.
5-point padded safety harness.
Deep rear storage compartment.
Cons
Questionable fabric durability.
FAQs
Question: Is Retrospec a Good Brand?
Answer: It depends. Retrospec is a really good brand of affordable bikes for commuters, joyriders, and fitness enthusiasts, but you can't use them for off-road challenges.
Question: Where are Retrospec Bikes Made?
Answer: Retrospec bikes are made in China.
Question: Who Owns Retrospec?
Answer: Retrospec Bicycles was founded in 2008 on the USC campus. Ely Khakshouri, the company's founder and CEO, was a student at USC when he noticed how popular fixed-gear bicycles were becoming on campus and learned that converting a road bike was both time-consuming and pricey.
Question: How Much does a Retrospec Bike Cost?
Answer: Retrospec bicycles range in price from $199.99 beach cruisers to $459.99 for upright gravel/commuter bikes.
Final Words
Aside from the really good price of Retrospc bikes, I love how this brand has a little something for everyone. While it's not the best brand for off-road biking, they offer excellent city bikes for adults and children alike.
Want more great tips? Check out our guide to the best hybrid bikes under $500.