Latest posts by Alison Ingleby
(see all)
One man's meat is another man's poison. But we're not just talking about food…
If you've ever asked your mates for their opinion on the best bike tires, you'll know that there's no "one size fits all". Tires are a very personal choice, and the best tires for you will depend on your riding style and what type of terrain you cover. You may even choose to have different rear and front tires or separate tires for riding in different conditions.
So this article isn't so much about giving you a definitive guide to THE best fat bike tire on the market, but more helping you work out which are the best fat bike tires for you.
The Best Fat Bike Tires for Every Terrain
| | | | | | | |
| --- | --- | --- | --- | --- | --- | --- |
| | Surly Bud & Lou | Schwalbe Jumbo Jim | Kenda Juggernaut Pro | 45NRTH Dillinger 4 Studded Tire | Maxxis Minion Exo | Vee Speedster |
| Best for… | Snow | Sand | Dirt | Ice | Winter | Road |
| Tire width | 4.8" | 4.8" | 4.0" | 4.0" | 4.8" | 3.5" |
| Weight | 1585g/ 1558g | 1429g | 835g | 1375g | 1661g/ 1578g | 1070g |
| Price | $$ | $$ | $ | $$$ | $$ | $ |
Before we get into the detail of which tire width and tread type work best on different terrains, let's cover a couple of basic questions.
How Do Fat Bike Tires Differ from Mountain Bike Tires?
The most obvious difference is the size. Fat bike tires are much wider – usually between 3.8" and 5". This means they have a greater surface area and volume and run at a lower pressure.
Why is this important? Well, there are a couple of reasons:
The increased footprint means that the load (you + bike) is distributed over a greater area. This makes it possible to ride over terrain such as loose sand and snow, which would be impossible with a standard mountain bike.
High volume low-pressure tires absorb the impact of technical terrain, making it feel as if you're floating over tree roots and rocks.
The low-pressure tires are better at sticking to the ground, give you more traction when climbing.
On the downside, the larger surface area means more rolling resistance, so riding is more tiring and can feel slow, particularly on roads.
If you bought your fat bike primarily to deal with snowy winter conditions, then you may be able to replace the tires with skinny versions for summer.
Some manufacturers sell specific slim wheelsets for their bikes or, if you want to do a DIY job, check out this series of videos from Park Tool on retrofitting summer tires to a fat bike.
What's Wrong with the Tires That Came with My Bike?
There isn't a huge market for fat bike tires, so if you want a tire for all around use, then the ones that came with your bike may be sufficient. But if you ride mainly on the beach or in icy winter conditions, then it may be worth investing in a tire that's specifically designed for these conditions.
Some people also prefer to have different tires for summer and winter, particularly if they use their fat bike for commuting. Riding on tarmac is a very different experience to riding on snow.
What's the Correct Tire Pressure for Fat Bikes?
Possibly the most contentious topic of conversation among fat bikers is what tire pressure to use.
Truth is, there's no set formula for finding the best pressure for fat bike tires, and although there are guidelines, a lot of it comes down to personal preference. It's worth playing about with your tire pressures on different terrains to get a feel what happens when you increase or decrease the pressure.
Some people run their rear tire 0.5-1 psi higher than their front tire, as more of your weight comes onto the back tire.
It's also worth noting that if you have a tubeless setup you can drop the pressure a bit lower than if you're using tubes. With tubes, lower pressures give an increased risk of pinch flats. To help prevent these, pump the tires up to a decent pressure, then let air out until you reach the pressure you want.
As a general rule, the softer the conditions, the lower the pressure you're likely to use. If you usually ride on snow and a love a bit of math. 
Fat bike tire pressure guide
Snow – 5-8 psi
Sand – 4-8 psi
General trail use – 8-12 psi
Road and urban – 15-20 psi
Most bike pressure gauges aren't sensitive enough to accurately measure the low-pressures fat bike tires use. If you're not confident judging tire pressure by feel, consider investing in a specific fat bike gauge, such as the Accu-Gage 30 psi gauge.
Buying the Right Tires for Your Fat Bike
Tubed or Tubeless?
If you want a tubeless system, this doesn't have to be a limiting factor when choosing a fat bike.
Although most fat bike wheels aren't set up for tubeless tires, many can be converted to a tubeless system. But why would you want to?
To save weight – fat bike tubes weigh around 450-500g each. So by ditching both tubes you can make your bike significantly lighter.
No risk of pinch flats, even when running your tires at very low pressures.
If your rims aren't designed for tubeless systems, then you can convert them yourself following the instructions in this handy video:
Although there are lots of fans of tubeless tires, that doesn't automatically mean it's right for you. A couple of tubeless sealants (Stan's No Tubes and Orange Seal Subzero) are rated for sub-zero temperatures, but if your winters are particularly harsh, you may be better off sticking with tubes. If you do get a flat then it's much easier to deal with a punctured tube than a tubeless failure in freezing conditions.
Choosing the Right Tire Tread Pattern
We'll talk about specific patterns for different conditions and terrains in our tire recommendations below, but here are some general principles that it's worth bearing in mind when looking at different tire treads and knobs.
Large knobs provide more traction in mud and soft surfaces.
Small knobs are good for fast riding on hard-packed surfaces as there's less rolling resistance.
Ramped knobs have a sloped front part for easy rolling and a vertical back part for strong braking.
Tire patterns are usually split into two rows of outside knobs, separated by the center knobs.
Large knobs on the outside of the tire will offer extra grip when cornering. If there's a channel between the outside and center knobs, this will help the tire dig in even more around the turns. This kickback might take a bit of getting used to.
Center knobs are often smaller to reduce rolling resistance.
The tighter the spacing between knobs, the better the tire will be on hard-packed surfaces. But on mud, those spaces will easily get clogged up leaving the tire slick.
A tire with wider-spaced knobs will be much grippier in mud, snow and other loose surfaces.
Tire Widths and Rim Widths
As a general rule, wider tires are better for floating over soft snow and sand and will make easy work of technical obstacles. But not all wheel sizes and rims are set up for the widest tires and trying to force a wide tire onto a narrow rim isn't a great idea.
As a general guide:
8" tires are best suited to 65 mm rims
4-4.6" tires best fit 80 mm rims
6-5" tires are best on 100 mm rims
Other Things to Consider…
Tires are often directional, i.e. they're designed to run one way. This will usually be indicated by an arrow on the tire.
Some tires are designed to be front specific or rear specific.
Tire performance can also be affected by the rubber compound – some are stickier than others. If you ride a lot in winter then it may be worth looking for a tire with a specific rubber compound that won't harden in cold temperatures.
You may want to choose a grippier tire for the front of your bike to help with steering and one that runs a bit more easily on the back.
So how does all this come together when choosing a tire for different conditions? We've researched some of the most popular fat bike tires on the market to find the best fat bike tire for every type of terrain.
Best Fat Bike Tires for Snow: Surly Bud & Lou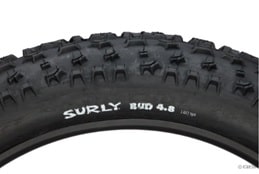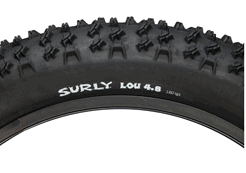 Tire width: 4.8"
Wheel size: 26"
Weight: 1585g/1558g
I'm allowing myself to cheat a bit and offer two top tires in this category, but only because they were made to be together. Load your bike up with Bud on the front and Lou on the back and you'll by swooshing over the snow all winter long.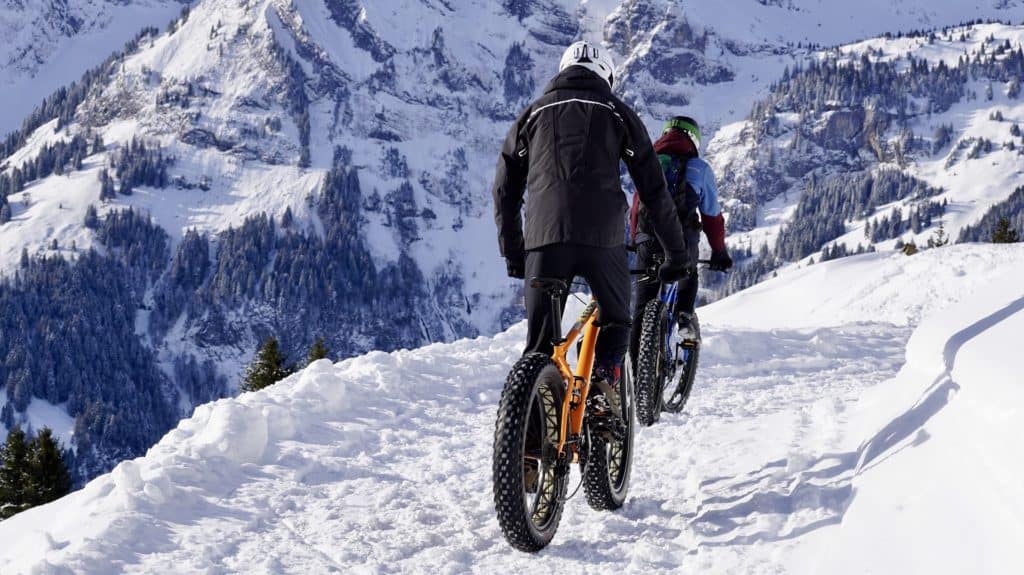 The Surly Bud is an aggressive, front-specific tire with tall (7mm) spaced knobs that are designed to shed mud and snow. On the back, the Surly Lou has a similar tread, but the focus is more on stability when braking and accelerating. Together, they make a formidable pair, helping you tackle loose snow, mud and wet technical terrain with ease.
Tip! Riding on snow takes a bit of getting used to. Even with aggressive tires, you're likely to experience some sliding, so if you're trying new tires on snow for the first time, take it easy. 
Surly Bud 26 x 4.8" 120tpi Folding Tire | Amazon
Bud's aggressive mud- and snow-shedding tread is characterized by tall (7mm), siped knobs, arranged in a pattern ideal for the unique requirements of steering and braking.
Buy at Amazon.com
We earn a commission if you click this link and make a purchase at no additional cost to you.
Best Fat Bike Tires for Sand: Schwalbe Jumbo Jim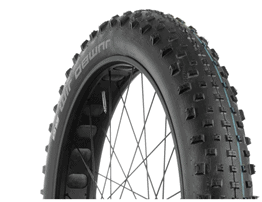 Tire width: 4.8"
Wheel size: 26"
Weight: 1429g
Knobbly tires won't really help you in sand – you want a wide tire with low rolling resistance. The Schwalbe Jumbo Jim is about as big as tires come with a 4.0" and 4.8" option.
The super-wide tires mean your weight's spread over a larger surface area to help you float over the sand and the small, widely spaced knobs in the center will give less resistance on sand, pavements and hard packed trails.
Tip! Riding on sand is a real workout. Keep your tire pressure as low as you can go to help you float across the surface and stick to wet sand wherever possible. Running low tire pressures is where tubeless tire excel.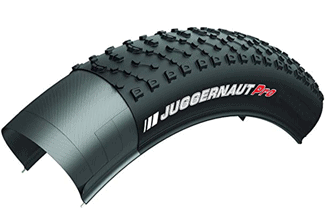 Tire width: 4.0"
Wheel size: 26"
Weight: 835g
If you're looking to shed some weight for summer riding then look no further than the Kenda Juggernaut Pro – the 4" version is almost half the weight of the Surly Bud & Lou combo.
You do sacrifice some durability – the side walls are pretty thin – so if you're prone to punctures, you may want to look at a heavy, thicker tire, but they hold up pretty well on dry trails. The low tread height makes them fast but the side knobs dig in well on the corners.
When it comes to snow and mud, the Juggernaut's performance takes a tumble. But as a summer tire for gravel and dirt riding, they're a great value option.
Tip! Riding with thinner tires at a slightly higher psi will make you roll faster, but the ride won't be as smooth over the bumps.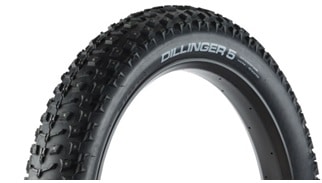 Tire width: 4.0"
Wheel size: 26"
Weight: 1375g
When you want maximum grip, for example on ice or mud, you can't beat studded tires. You properly won't want them on your bike all year round, as the studs will wear down if you use on pavements or hard packed ground but if you spend your winters commuting on icy roads and trails then it's well worth investing in a pair of specialist tires.
The Dillinger 4 tires are equipped with 258 carbide-tipped studs to bite into ice, mud and tree roots. The outer knobs are aggressive to help with cornering with the center tread pattern designed to give a balance between traction and speed.
They're not cheap, but they're one of the best tires for icy conditions.
Tip! Whereas very wide tires work better on powder snow, slightly narrower tires help studs bite better on ice.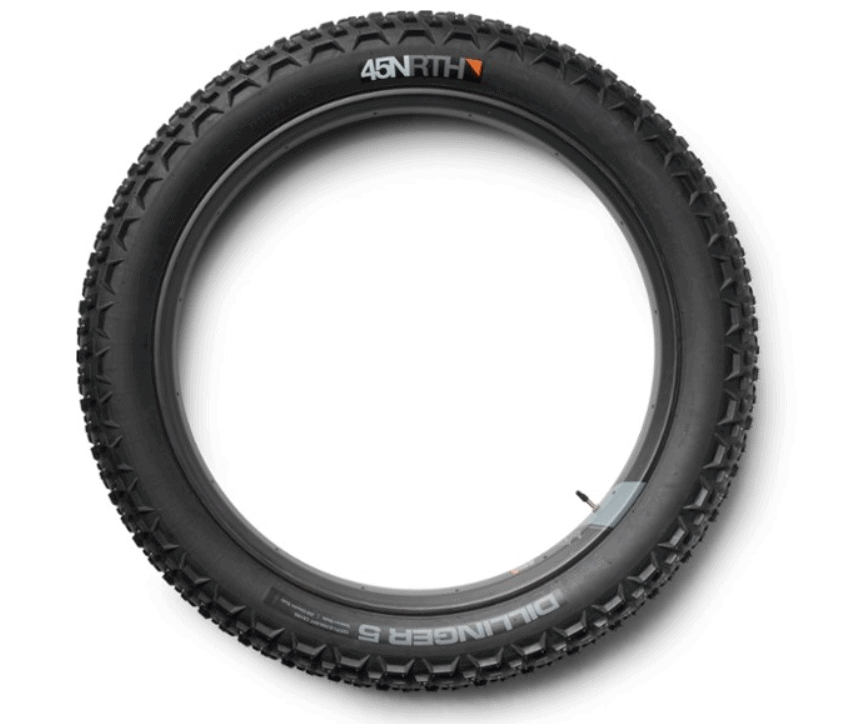 Best Winter Fat Bike Tires: Maxxis Minion Exo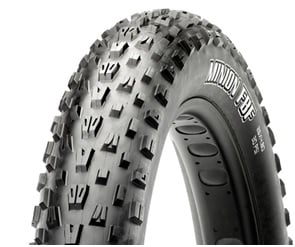 Tire width: 4.8"
Wheel size: 26"
Weight: 1661g/1578g
We've looked at the best tires for soft snow conditions and studded tires for ice, but what about if your winter conditions are a bit more mixed? Designed for loose and wet conditions, the Maxxis Minion tire is a good option for those whose winter bike rides feature more rain than snow.
The square knobs on the outside edges will dig into the corners, and the ramped knobs in the center help keep the rolling resistance down. Like the Surly Bud & Lou, the Minions come as a pair with a front and rear specific tire.
These tires are a bit sticky if you do a lot of road riding, but for muddy trails and mixed conditions, they're the bee's knees.

Tire width: 3.5"
Wheel size: 26"
Weight: 1070g
You're unlikely to buy a fat bike purely for road biking but if you commute all year round, it makes sense to buy some slicker tires for summer.
As the name suggests, the Vee Speedster tires are designed with speed rather than traction in mind. They're lightweight and about as skinny as fat bike tires get at 3.5" wide.
The shallow diamond-patterned tread will stick to dry roads, but you'll want to take care in the wet as cornering and braking won't be as effective as when using tires with a deeper tread.