Latest posts by Alison Ingleby
(see all)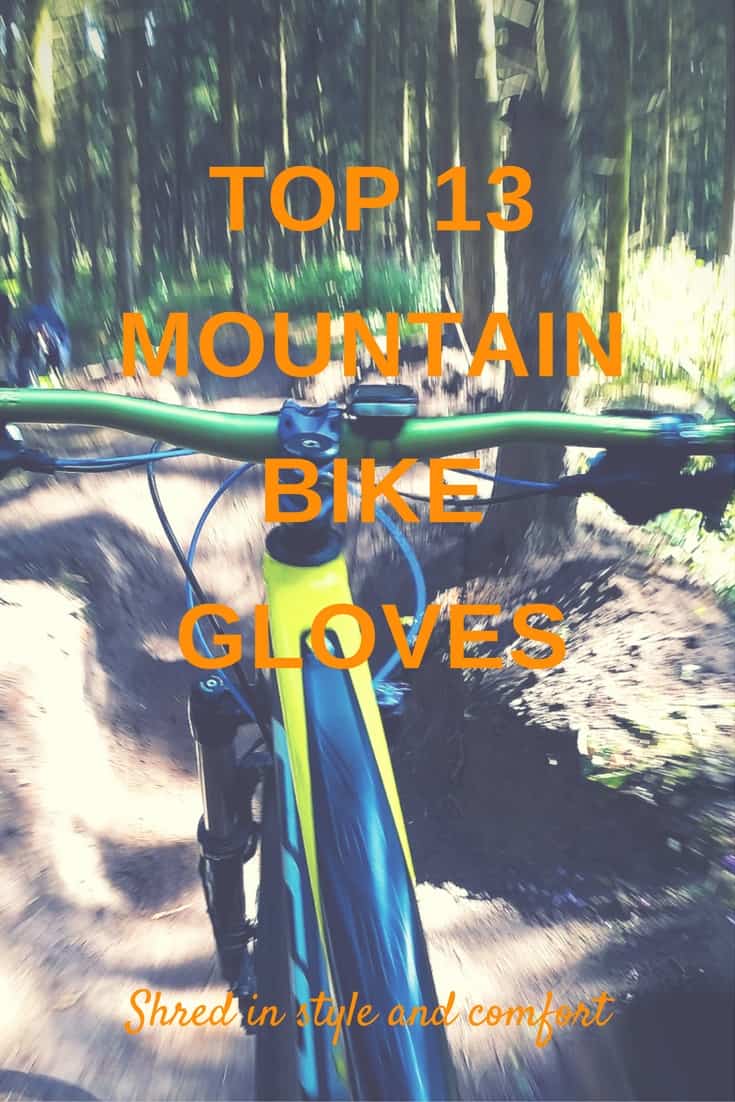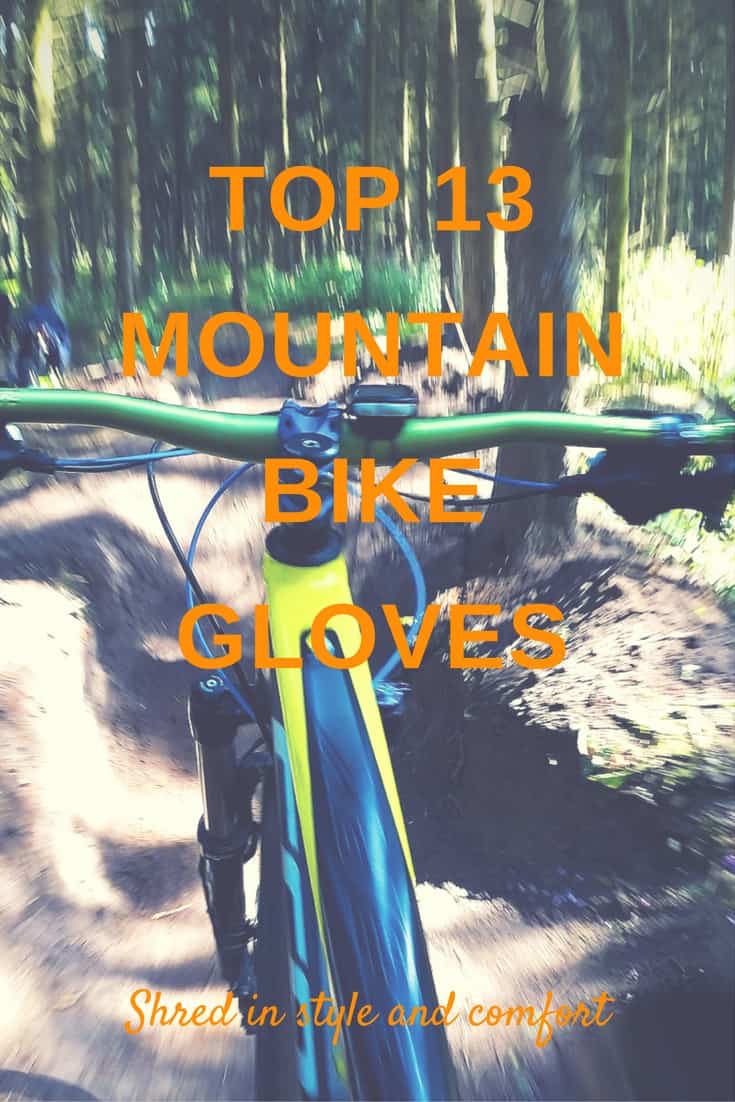 Whether you're a dirt-jumper or an 80km cross-country rider, your mountain bike gloves are likely to be dear to your heart. This humble piece of kit has to meet many needs: protecting your knuckles, letting your hands breathe, and helping avoid the dreaded numbness. Once you find your perfect pair, you'll never want to let them go.
There are so many styles and makes of gloves out there that it can be hard to know where to start looking. And let's face it – we're all different. What works for me, may not be the best choice for you. So we've reviewed the most popular mountain bike gloves on the market to find the perfect glove to suit every rider and every budget.
Here are our personal picks for the best mountain bike gloves. Keep reading for our reviews and recommendations.
Up Front Best Gloves for Mountain Biking 
Best Budget Mountain Bike Gloves
Mountain biking can be an expensive sport, but luckily for those on a budget, there are some great gloves to be had that perform way beyond their price tags. Here we've focused on the best bang for the buck, with gloves that will still be durable enough to not need replacing every season.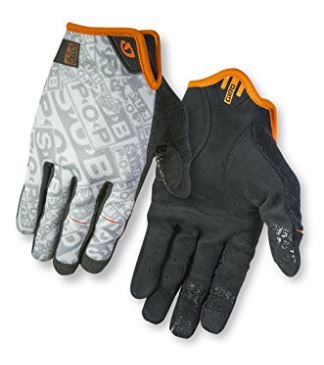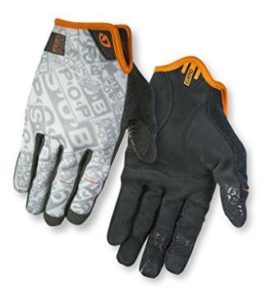 The Giro DND Glove is proof that a top quality glove doesn't have to break the bank. A staple of many mountain bikers' kit, the DND (Down and Dirty) Gloves have a simple design and a great fit.
The upper material is tough enough to handle whipping branches but contains a 4-way stretch mesh, thin enough to aid breathability. There's no additional padding on the back of the hand. The AX Suede synthetic leather palm has extra reinforcement in key areas with a good level of flexibility and silicone grippers help your fingers stick to your brake levers. This is due in part to the "Super-Fit" engineered construction of the three-panel palm, which improves the feel of the bar, but keeps the material from bunching up. The thumb contains  soft chammy on the thumb for runny noses and silicone strips on two fingers for easy smart phone use.
These gloves are like an old friend: reliable, trustworthy and set to stick around for years. There's also a Women's version and a Kid's version available, if you're kitting out the family.
Best Full Finger Mountain Bike Gloves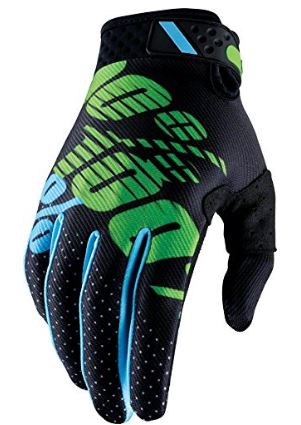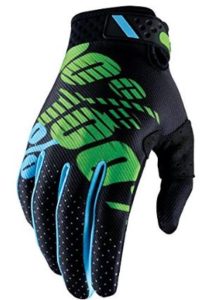 The 100% Ridefit Gloves fit so well, it's easy to forget you're wearing gloves at all. They're a minimalist style of glove that combines lightness, resilience, and breathability.
The single layer palm gives great bar grip and the polymesh fabric on the back of the hand helps wick sweat away and keeps your hand cool.
Plus they come in a range of great colors. A good glove for warmer conditions and super affordable.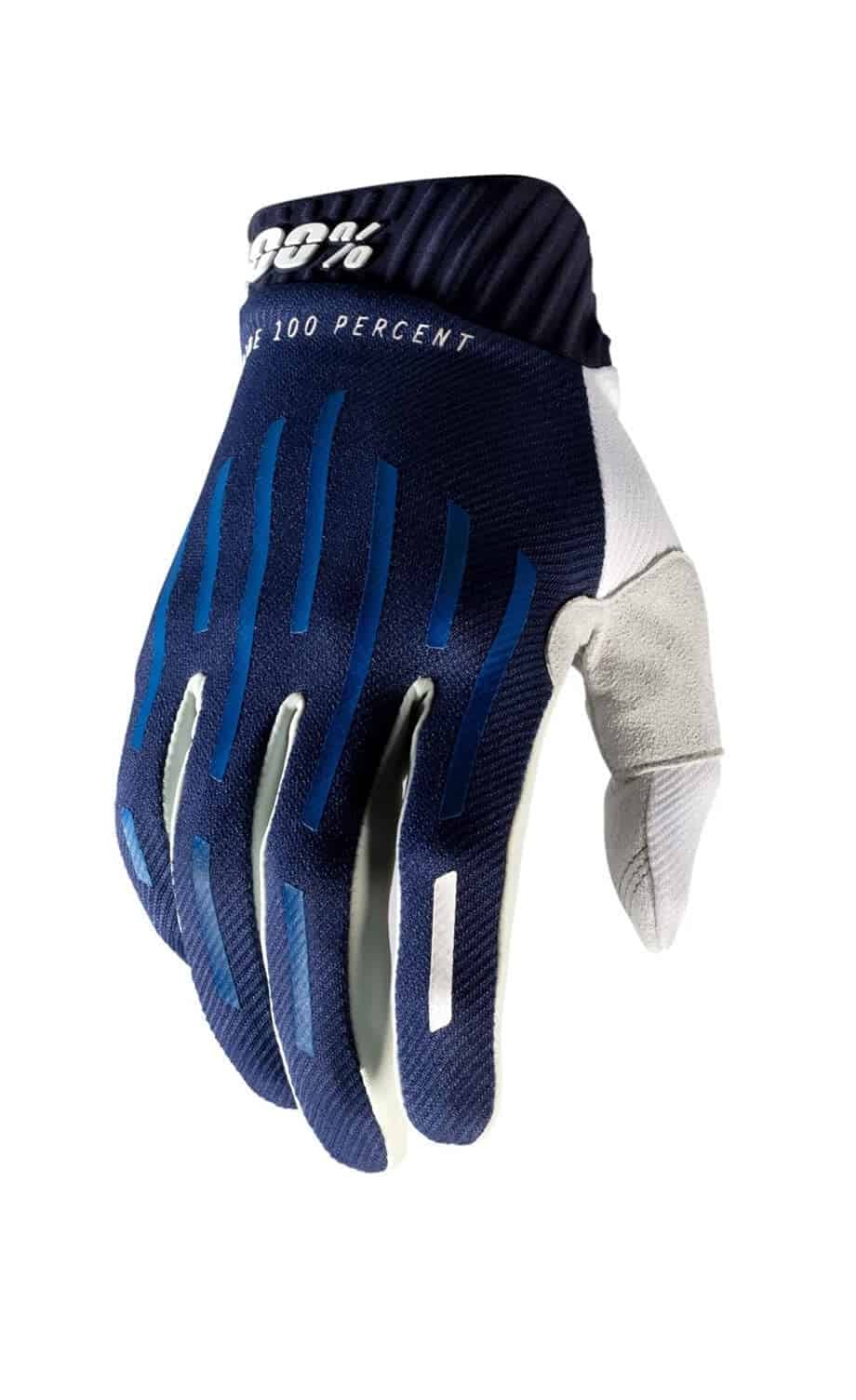 Best Downhill Mountain Bike Gloves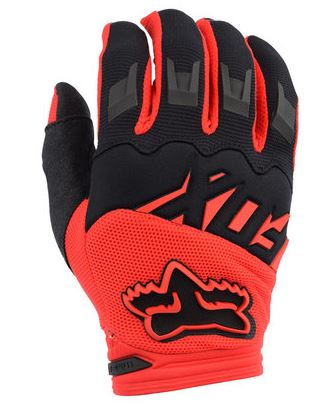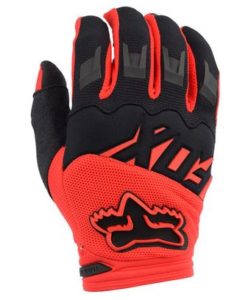 If you're after a bit more protection for downhill racing, then look no further than the Fox Dirtpaw Race Glove. With full padded knuckles, you'll protect your fingers from close encounters with bushes, and the padded palm gives great grip and durability.
The gloves have silicone fingertips for added lever grip and an air mesh upper fabric to help with airflow. At this price, they're a bargain and deservedly popular.
2014 Fox Head Men's Dirtpaw Race Glove | Amazon
A High Performing Glove without the High Price Tag. The freshly-renovated Dirtpaw uses a completely padded knuckle, padded palm and superior flex-point comfort to remain the top choice for the entry-level rider.
Buy at Amazon.com
We earn a commission if you click this link and make a purchase at no additional cost to you.
08/22/2022 06:46 pm GMT
The Best MTB Gloves for All-Day Cross-Country Rides
When you're riding all day, comfort is the number one concern. And while we don't generally recommend fingerless gloves for downhill riding, if you're riding in the heat on less technical terrain, you may find them more comfortable.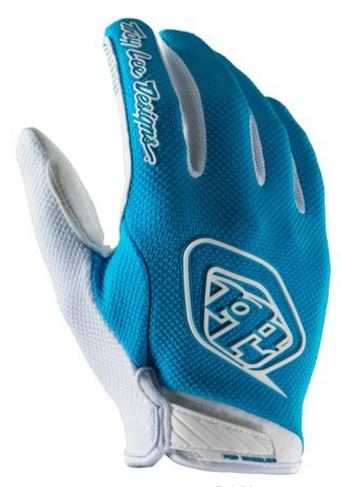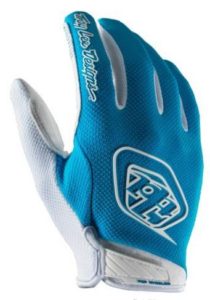 The Troy Lee Designs Air Glove has been a favorite of mountain bikers for many years and with good reason. They're lightweight, comfortable for long rides, and come in a wide range of colors.
The polyester and mesh upper helps breathability and with a light Airprene cuff, they're a good full finger glove for hot summer rides.
The Clarion synthetic leather palm gives a great grip and they're touchscreen compatible (to keep friends updated on your progress). There's a Kids version which has the same great build quality, which may also suit women with small hands.
Best Fingerless MTB Gloves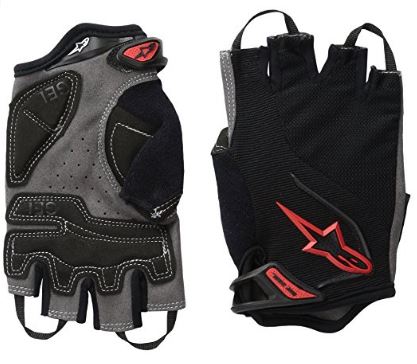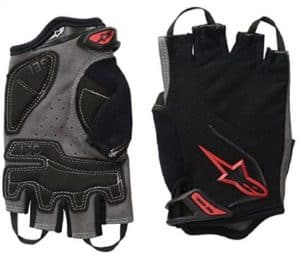 If you're after a fingerless pair of gloves for all-day riding you can't get much better than the Alpinestars Pro-Light Short Finger Glove. With a flexible mesh upper to keep the air flowing, sweat is quickly wicked away, and strategically placed gel padding on the palm gives extra cushioning for your hands.
The exit loops on top of the fingers are a nice touch and help get the gloves on and off. The sizing is a bit on the small side, so you may want to go up a size to get the perfect fit.
Alpinestars Men's Pro-Light Short Finger Gloves | Amazon
A specifically styled glove designed to give all mountain riders maximum contact with the bike, the pro-light short finger glove is light yet rugged enough to deal with the toughest terrain. Strategically placed gel padding gives extra comfort while a snug velcro cuff closure ensures a secure fit.
Buy at Amazon.com
We earn a commission if you click this link and make a purchase at no additional cost to you.
08/22/2022 08:22 pm GMT
The Best Womens Mountain Bike Gloves
Finding technical, well-fitting gloves for women can be tough. Our top tip for ladies with small hands and short fingers is to look out for kid's gloves. These often have the same spec as the adult versions but may fit better and have a much lower price tag. Here are our top picks for gloves for the girls.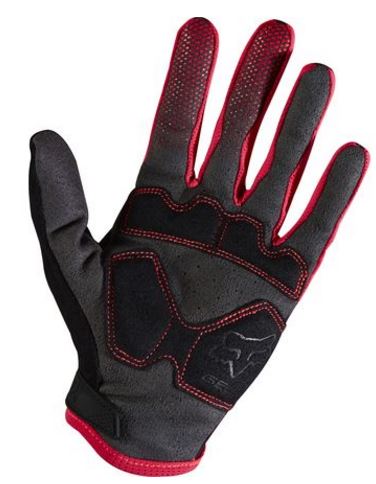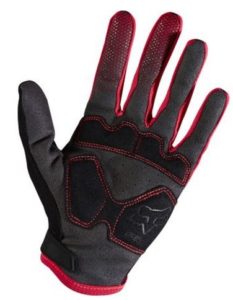 The full finger Fox Racing Reflex Gel gloves have a double layer Clarino palm for grip and gel palm inserts for extra cushioning.
The silicone grips really help your fingers stick to levers and shifters and there's an absorbent micro-suede material on the thumb for wiping sweat away.
They fit well (a bit on the small side) and are comfortable for all day rides. The only downside is that as they're not particularly insulated you may want a separate glove for winter rides, but as a lightweight all-rounder, they're hard to beat.
Best Womens Gloves for Winter Riding
If you're after a glove that can stand up to winter conditions AND still let you feel your bars, then look no further than the Pearl Izumi Women's ELITE Softshell glove. The outer fabric provides wind and water protection and the Primaloft Gold insulation should keep your hands toasty in all but the harshest winter conditions.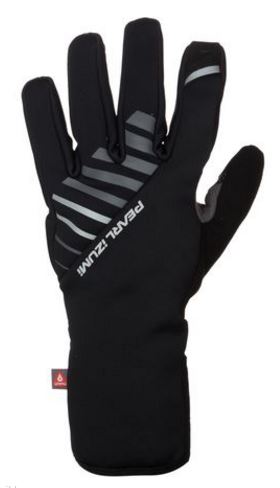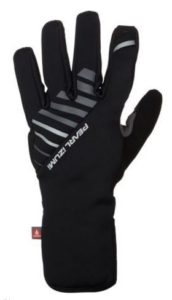 The insulation does make them slightly bulky on the fingers, but the palm provides good grip. A nice bonus is the conductive synthetic leather on the thumb and index finger which means you can send a text without having to expose your skin to the elements.
Although these will do the job for most winter riders, if you regularly ride in freezing temperatures you may want to opt for an extra-warm glove such as the Sealskinz Women's All Weather Cycle Glove.
Also available in a men's version.
Pearl iZUMi Women's Elite Softshell Gel Gloves | Amazon
The winter sibling to our best-selling summer model, these gloves conquer cold and windy conditions without excess bulk. Long gauntlet design keeps wrists warm and prevents air leakage. With 100g Prim aloft Gold insulation provides optimal warmth without bulk.
Buy at Amazon.com
We earn a commission if you click this link and make a purchase at no additional cost to you.
The Best Winter Mountain Bike Gloves 
When temperatures start to plummet, it's hard to keep your extremities warm. And losing the feeling in your fingers is not ideal when you're navigating steep, complex terrain. Choosing the right pair of winter gloves is a bit of a dark art – they need to be warm enough to keep your fingers moving but give enough flexibility of movement so you can actually control your bike.
For really cold conditions, we'd recommend investing in a good liner glove such as the Smartwool Merino Glove Liner. Wear them under your main winter glove or on their own if things start to heat up. They're also touch screen compatible.
Here are our top picks for winter gloves to help keep your fingers on your levers. You can also find our full winter mountain bike gloves review here.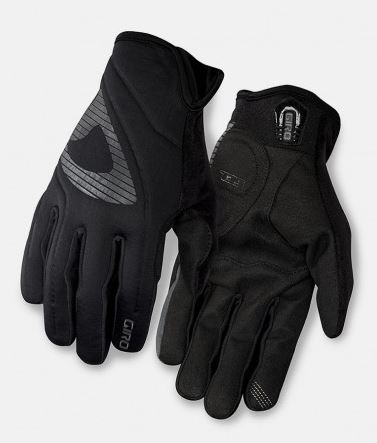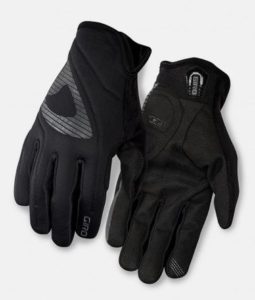 One of the most popular gloves for cool weather, the Giro Blaze gloves have a minimalist design, a high level of water resistance and a competitive price tag. They fit well and offers a great compromise between warmth and dexterity.
The Clarino synthetic leather palm gives good bar grip and the gloves have a decent level of breathability, though if there's a freezing wind your hands may get chilly.
Giro Blaze Unisex Winter Cycling Gloves | Amazon
Giro's Blaze gloves feature a mid-weight, insulated soft shell upper with an AGrid thermal fleece interior that offers the warmth and dexterity needed for riding in cool conditions.
Buy at Amazon.com
We earn a commission if you click this link and make a purchase at no additional cost to you.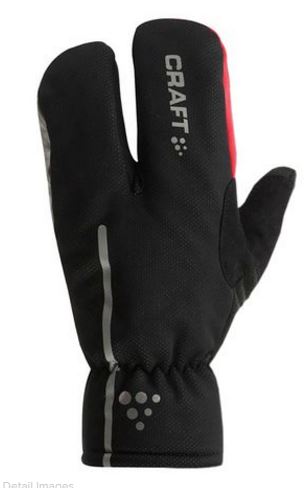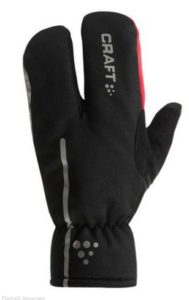 Lobster gloves: you either love 'em or hate 'em. If you're in the former camp, take a look at the Craft Siberian Split Finger Glove. Designed for the coldest conditions, the outer VentAir X-Wind shell does an admirable job of keeping the rain off and the polyester and fleece insulation layers will keep your fingers toasty and warm.
The split glove design inevitably sacrifices some dexterity, but the fingers and palm have silicone grippers to help them stick. They come up pretty tight, so consider going up a size particularly if you're planning on wearing a liner glove underneath.
Craft Siberian Split Finger Glove | Amazon
Made for low temps, the Siberian Glow Split Finger Glove is an incredibly warm, wind/waterproof glove with fleece lining and silicone print in the palm for added grip.
Buy at Amazon.com
We earn a commission if you click this link and make a purchase at no additional cost to you.
The Best Mountain Bike Gloves for Hot Weather
Mountain biking in hot weather demands almost as much from your gloves as cold winter conditions. They need to offer sufficient protection with super breathability and grip with sweaty hands. Here are our top picks for summer riding.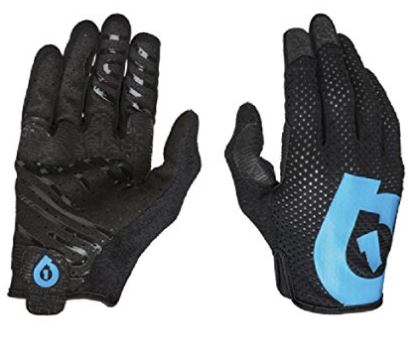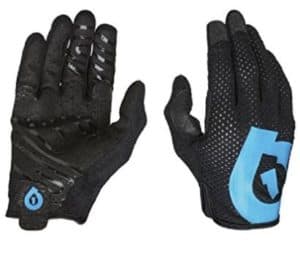 The full-finger SixSixOne Raji Gloves have an ultralight mesh upper, making them super breathable. They should keep your hands well ventilated on all but the hottest rides and the silicone tips will prevent sweaty fingers slipping off brake levers.
As they're lightweight they may not be as durable as heavier gloves, but that's part of the trade-off you make for summer comfort.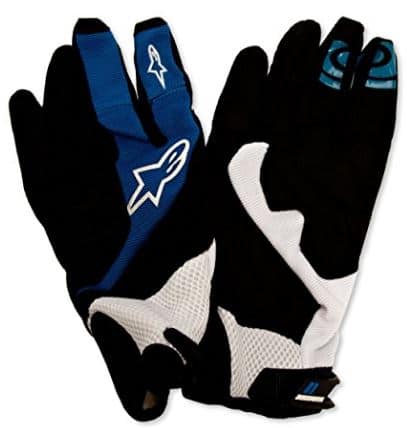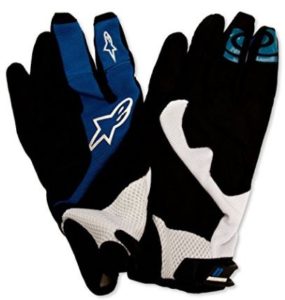 Finding a glove that provides both protection and ventilation for hot weather dirt riding can be tough. Alpinestars designed their Moab Gloves for the rocky desert singletracks of Utah and for the most part, they do the job.
In terms of protection, padded knuckles and shock absorbing foam on the wrist help protect against falls and impact as well as fending off branches. The main part of the glove is mesh/spandex construction, which offers some level of ventilation.
They're never going to be as breathable as a lightweight, single-layer glove but they'll take the rough and tumble of mountain biking for longer. That said, they've proven to be very effective at managing sweat and provide a good protective option for hot weather conditions.
Alpinestars Moab Cycling Gloves | Amazon
The Moab is a lightweight, durable mesh riding glove with high levels of ventilation and silicone fingers for a no-slip grip. A double Clarion layer with a Kevlar reinforced landing zone protects palm and padding absorbs chatter.
Buy at Amazon.com
We earn a commission if you click this link and make a purchase at no additional cost to you.
08/22/2022 10:31 pm GMT
Best Padded Mountain Bike Gloves
If downhill racing, dirt jumping, and technical trails are your thing then you're likely to want a glove that focuses on protection and dexterity. Knuckle protection is a must and you may want to go for a glove that provides a level of wrist support if you tend to spend a lot of time hitting the ground.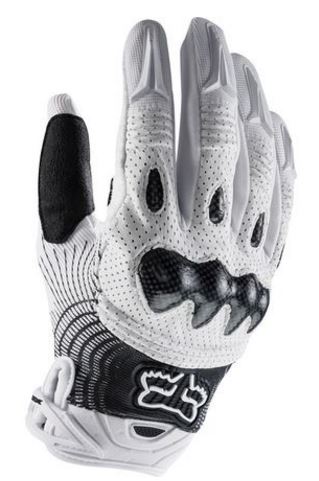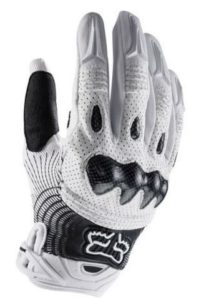 The Fox Head Bomber Glove is the bee's knees of tough, innovative mountain bike gloves. An individually molded polycarbonate ballistic plate forms hard knuckle pieces to protect your delicate fingers from anything you'd care to hit.
They're super comfortable and fairly lightweight and the Pittards leather upper helps your hands breathe on warm days.
There's a silicone gripper on the finger tips and the double-layer Clarino palm provides some protection from vibration. An extended hook and loop wrapped cuff helps keep your wrist safe in minor impacts.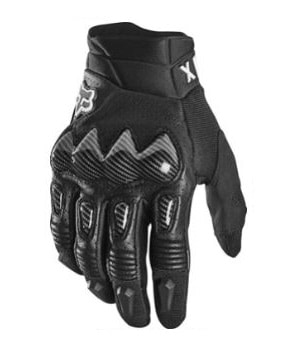 Fox Racing 2020 Bomber Gloves | Amazon
The Bomber Glove spares no expense in providing extreme durability and coverage from the fingers to the cuff. The molded plastic knuckle and finger armor protect from rocks and branches, and the extended hook and loop cuff keeps your wrist safe from all but the heaviest of impacts.
Buy at Amazon.com
We earn a commission if you click this link and make a purchase at no additional cost to you.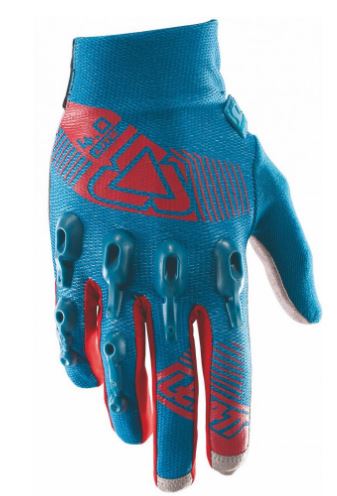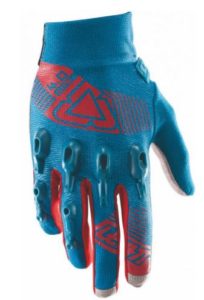 Leatt is known for its focus on extreme protective equipment, from neck braces to full-face helmets, so it won't come as a surprise that the Leatt DBX 4.0 Lite gloves are designed to look after your hands.
The flexible Armorgel knuckle and finger protection safeguard your skin from any tree branches you may encounter when hurtling down narrow singletrack while allowing your hand to flex naturally.
But the best thing about these gloves is the fit. The gloves have a super thin 'NanoGrip' palm that almost makes you feel like you're not wearing gloves at all.
As a result, it has next to no padding, but for most serious riders, the unimpeded grip will make up for this. If you're after a bit more warmth for cool spring and fall rides, Leatt also produces a Windblock version, which has a windproof and water resistant upper.
It's worth going down a size to get a snug fit – the material will stretch if they feel a little on the tight side to start with.
Key Features of the Best Mountain Bike Gloves – Buying Guide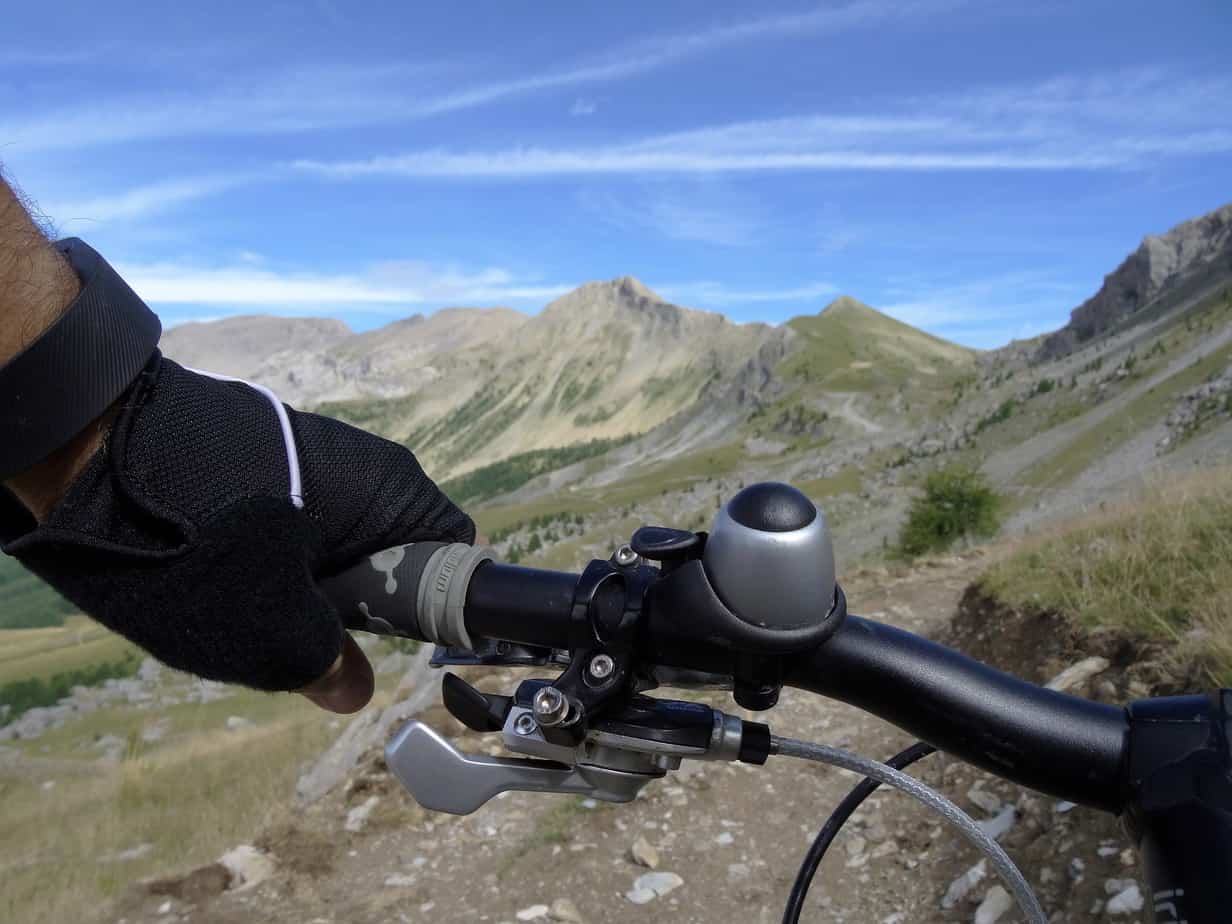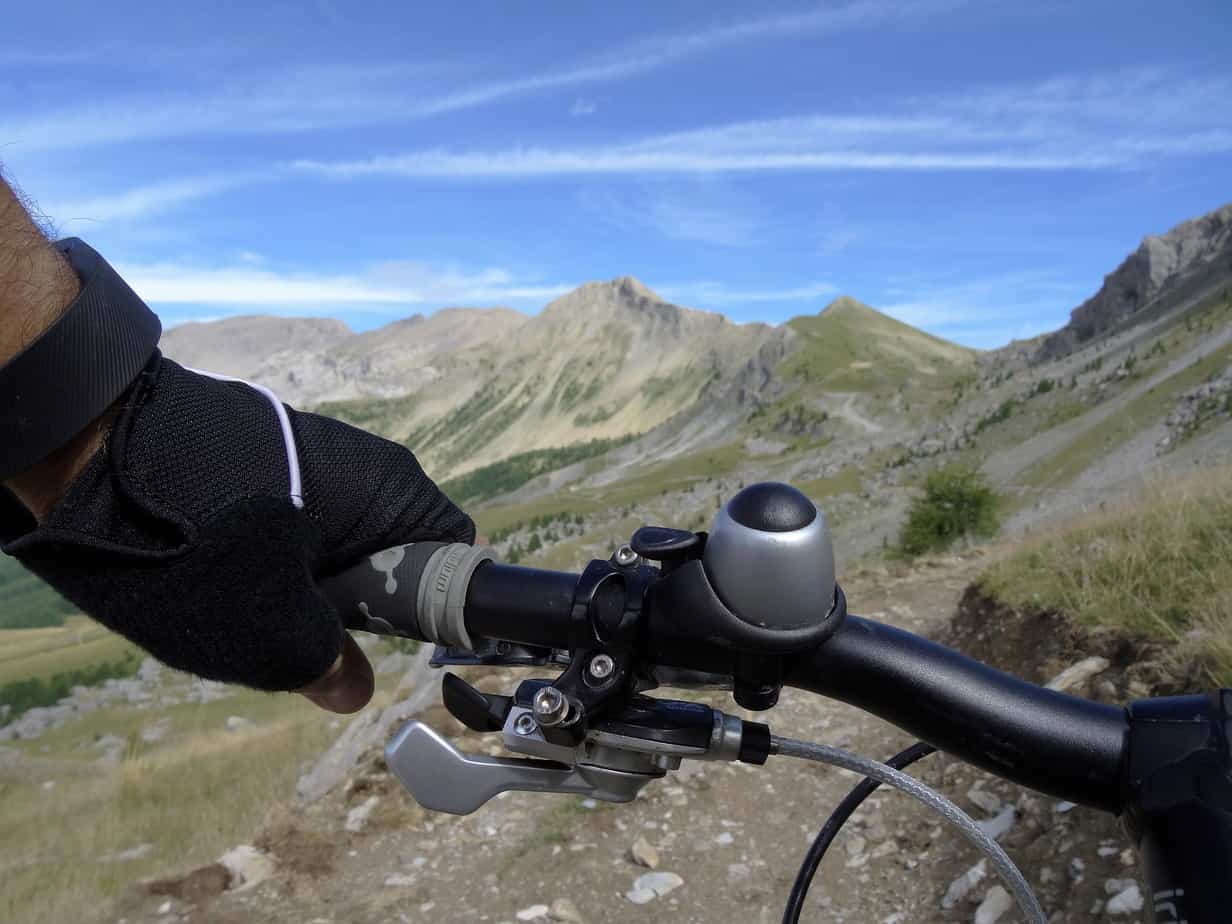 Mountain bike gloves need to offer the right level of protection, along with breathability, padding, and grip. Many gloves come with a list of features as long as the credit list of a film, but depending on the type of riding you're into, some features will be more important than others.
Here are some of the key things we look at when choosing a mountain bike glove:
Comfort:
Most gloves are made from a stretchy polyester fabric, some with more breathability than others, depending on if it's designed to keep hands warm or cool. Just because gloves are made from the same fabric, doesn't mean they're equally comfy. The stitching plays a big roll in comfort and how many seams the gloves have. This is why investing in a more expensive glove could score you more comfort because they tend to have fewer seams. The gloves we tested have in-stitched seams, meaning they are sewn on the inside. You'll notice this by looking at the fingertips.
Knuckle protection:
If you're a downhill rider, you'll know that your hands take a beating. Knuckle protection can vary from simple padding to full armor plating. The level of protection you need will depend on how extreme you want to ride. (Or how often you're likely to fall off!)
Padding:
Some form of padding on the palm is necessary for comfort, protection from vibrations and to help relieve the pressure on your ulnar and median nerves. Many gloves incorporate some kind of gel padding, but this doesn't suit everyone.
Touch Screen Compatibility:
More glove manufacturers are adding special silicone tips to gloves so you can grab a quick photo of your friend sending it or shoot off a text without removing your gloves. The Fox Ranger gloves are a great example of this with silicone fingertips and conduction threads.
Grip:
Good grip is essential, even when your hands get sweaty or it's chucking it down with rain. Leather or synthetic leather palms are standard, but some gloves may have a sticky or textured palm to improve grip in poor conditions.
Secure Fastening:
Most gloves will have some kind of fastening system; typically either a hook and loop or Velcro closure, for a snug fit around the wrist.
Silicone Grips:
When you're flying down a section of technical singletrack, the last thing you want is your fingers slipping off the brakes. Many gloves have silicone grips to keep your fingers glued to your levers.
Ventilation:
Most riders will have a winter glove and a summer glove. For a summer glove, good ventilation is a huge consideration and our list breaks down the gloves with the best ventilation. Look for a light glove with breathable fabric on the top and vents in the palm of the glove as well.
Full Fingers vs Fingerless:
For most mountain bikers, full-coverage gloves are a must to protect your hands and fingers. However, if you're biking in summer on less technical terrain then you may opt for fingerless gloves. This really comes down to personal preference. Gravel and cyclocross riders and racers will also tend to wear full finger mountain bike gloves in order to protect their hands in case of a fall.
Unisex vs. Womens Mountain Bike Gloves: 
For the sake of this article, we consider to be most of the gloves unisex, unless otherwise specified. The fit of MTB gloves varies between companies, so personal preference is key. Women should consider a women's specific glove, as these will feature shorter fingers and have a smaller fit overall. But really, it's up to the rider to decide if unisex or women's fit best. Many companies offer gloves in both women's and unisex. Aside from a smaller glove, women's gloves may feature different colors and designs. If you're a woman looking at a unisex glove, you can also try sizing down, as most unisex gloves are cut to fit a man's larger hand and longer fingers. Women's gloves also come in an XS.
How to Care For Mountain Bike Gloves:
Here are some tips for cleaning your mtb gloves. Always follow the manufacturer's care guidelines. In general, wash your gloves in the washing machine on cold with detergent, but do not bleach. Then allow the gloves to air dry. If they're especially funky, add 1/4 of a cup of white vinegar to the load. You can also wash them by hand with cold water and a mild soap. Add 1/8 of a cup of vinegar and then allow to air dry.
Mountain bike glove
Sizes available
Colors available
Recommended for
Fox Bomber Glove
S,M,L,XL, XXL
Black/Orange, Black, White, White/Black,
Downhill, all-weather riding
Leatt DBX 4.0 Lite Gloves
S,M,L,XL
Black/White, Lime/Blue, Orange/Teal, Fuel/Red
Downhill, summer riding
Troy Lee Designs Men's Air Glove
S,M,L,XL,
XXL

Black, Blue, Flo Green, Flo Orange, Flo Pink, Flo Yellow, Light Blue, Orange, Pink, Red, White, Yellow
Cross-country rides



Alpinestars Men's Pro-Light Short Finger Gloves
XS,S,M,L, XL,XXL
Black, Black/Grey, Black/White, Black/Blue, Black/Lime, Black/Yellow
Cross-country, summer rides
Fox Racing Reflex Gel Mountain Bike Gloves
S, M, L, XL, XXL
Flo Yellow, Blue, Red, Black, Flo Green
Summer riding (women)
Pearl iZUMi Women's Elite Softshell Gel Gloves
S, M, L, XL
Black, Fluoro Pink
Winter riding (women)
Giro Blaze Glove
XS,S,M,L, XL,XXL
Black, Highlight Yellow / Black
Winter riding (moderate)
Craft Siberian Split Finger Gloves
XXS,XS,S,M, L,XL,XXL
Black, Fluoro Yellow / Black
Winter riding (extreme)
Six Six One Raji Glove
XS,S,M,L, XL,XXL
Black/White, Red/Black, White/Green
Summer riding, cross-country
Alpinestars Moab Glove
XS,S,M,L,XL, XXL
White/Green, Blue/Black, White/Black/Red, Black/White, Red/Blue, White/Yellow, White/Red
Downhill, summer riding
Giro DND Glove
XS,S,M,L,XL, XXL
Black, Blue Jewel, Vermillion, Sub Pop White/Orange/Black, Mil Spec Riptide, Mountain/Sea Blue
Moderate downhill, cross-country
100% Ridefit Glove
S,M,L,XL
Supra Teal, Yellow/Black, White/Navy, Black/Lime, Corpo Blurred Camo
Cross-country, summer riding
Fox Dirtpaw Race Glove
S, M, L, XL, 2XL
Orange, Black/White, Navy/White, Blac, Green, Navy, Red/White, Yellow, Red, Blue
Downhill, all-weather riding