Latest posts by Alison Ingleby
(see all)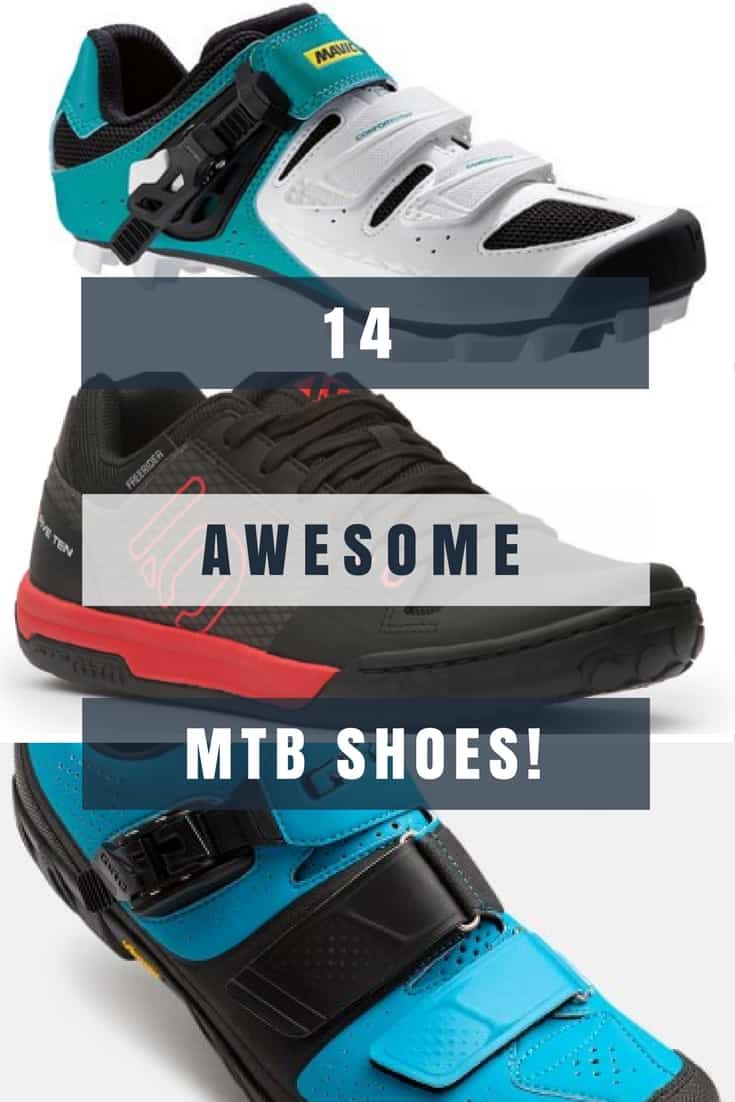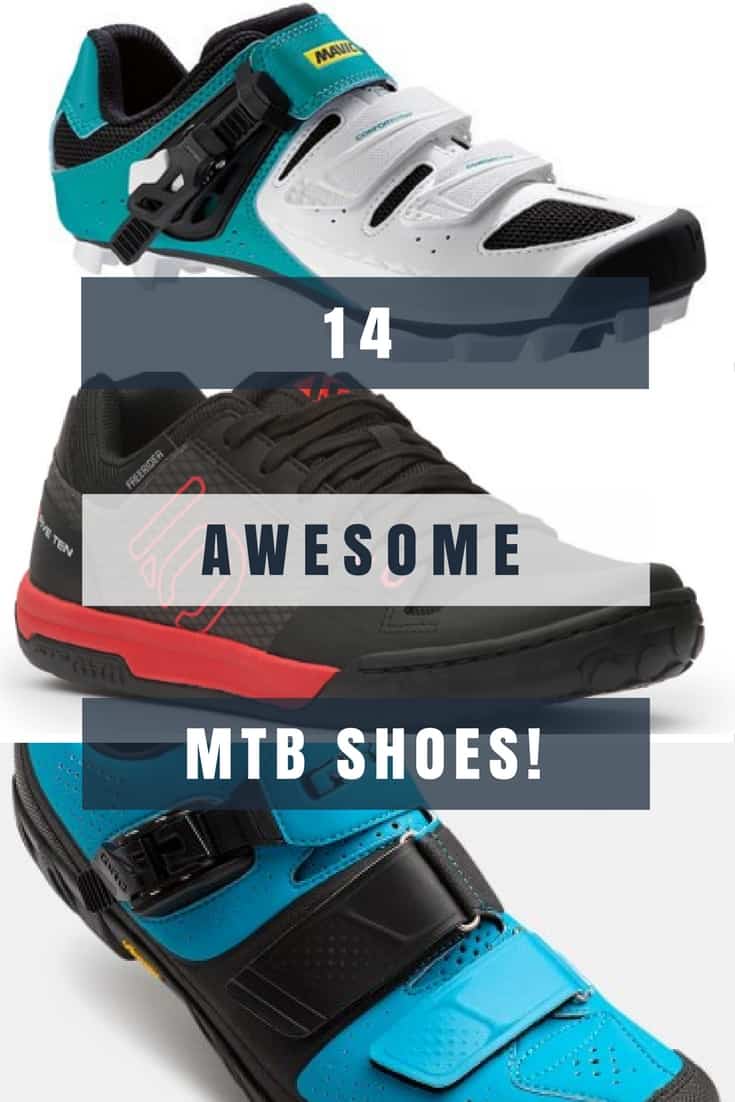 Updated 10/11/21
When you first start mountain biking, an ordinary pair of running or hiking shoes will probably do you just fine. But once you've decided this is the sport for you, a more specific shoe can definitely help improve your performance.
What you go for will depend on the type of riding you do, the weather conditions you ride in, and your budget.
While there are some shoes that class themselves as all-rounders, most models are targeted at particular mountain bike disciplines. So if you enjoy technical downhill runs as much as long cross-country rides, you may end up needing more than one pair of shoes. (There's no such thing as too many bike shoes, right?).
In this guide, we run through the basics of what to look for in a mountain bike shoe and our recommendations for shoes to suit every rider and budget. The first decision you'll need to make is what type of bike shoes you want. And this will depend on your pedal choice.
Flat vs. Clipless Pedals
If you're new to mountain biking, some of the terminology can be pretty confusing and pedals are no exception. There are two types: flat pedals and clipless pedals.
Flat pedals are similar to those you start off with when learning to ride a bike, though the mountain bike version is thinner, and has a series of ridges to increase grip. They don't require any specific shoe – you can even use a normal tennis shoe, though you may find the lack of grip means your foot slips off more than you'd like.
Clipless pedals, rather confusingly, are ones that you clip into with a specific shoe. The pedals are smaller and have two parts: the pedal itself, and a cleat that attaches to your shoe. There's a bit of a technique to getting your foot in and out of clipless pedals, but with a little practice, it's as easy as, well, riding a bike.
So which to choose? Generally, if you're still learning basic mountain bike skills, you're probably better off with flat pedals. Your brain has enough to think about with cornering, gear shifting and keeping an eye on the terrain ahead without having to worry about getting your feet out of your pedals when you get a bit wobbly.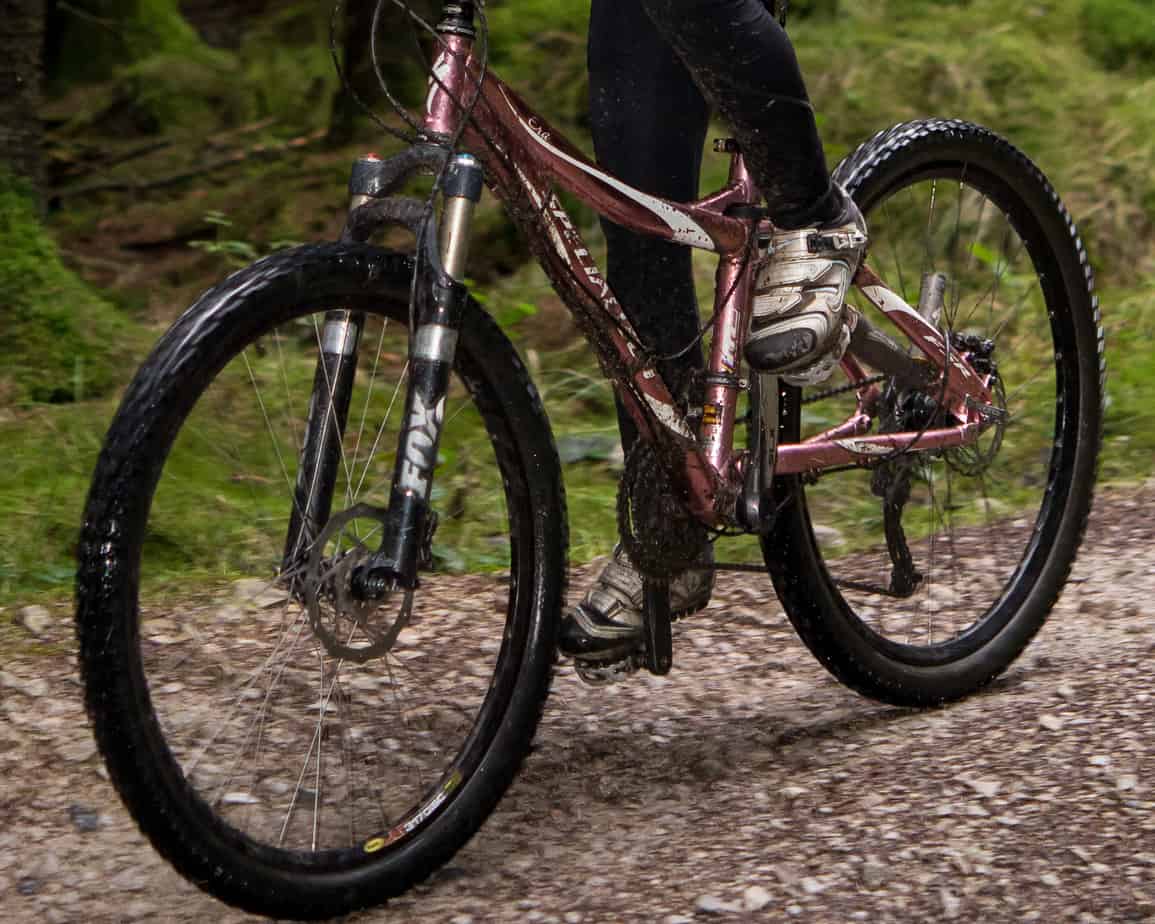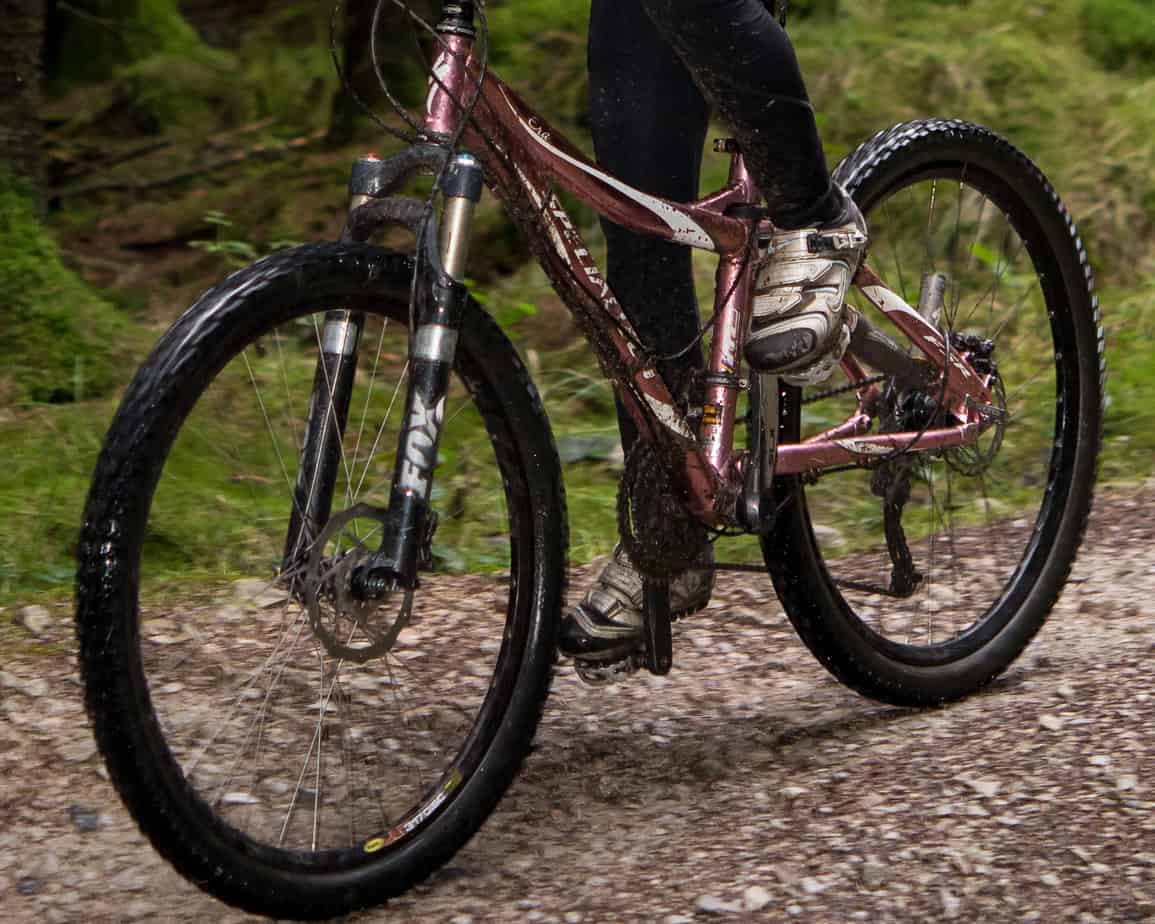 The other thing flat pedal shoes have going for them is that they're way more comfortable for walking in. So if you ride a lot of natural routes or your local trails have lots of hike-a-bike sections you may be better off with flats.
That said, clipless pedals have a couple of big advantages. Because you can pull up as well as pushing down, they are much more efficient and you can generate more power – good for long climbs. They're also more secure – your foot won't slip off muddy pedals when you hit an unexpected rock in the path – making it easier to stay in contact with your bike. Finally, they can make it easier to manipulate your bike, for example when bunny-hopping over obstacles.
Looking for more information? Check out our complete guide to clipless pedals.
What to Consider When Buying Mountain Bike Shoes
Once you've decided what type of shoe to go for, there are a couple of other things to consider:
Stiffness: Road biking shoes are designed to be super stiff, to maximize power output from your pedaling. And while some stiffness is good for mountain biking for the same reason, this needs to be balanced against your ability to walk in them.
If you typically hike-a-bike a lot it's worth trying on shoes before you buy to make sure they're comfortable enough off the bike.
Sole tread: For flat pedal shoes, the combination of sole rubber and tread will keep your feet stuck to your pedals. Tread also becomes important if you hike-a-bike a lot, particularly in muddy conditions.
Mountain bike clipless shoes are different to their road counterparts in having a larger, recessed cleat. This, along with bigger lugs and more rubber makes them easier and more comfortable to walk in.
Material: Mountain bike shoes are designed to be tougher than road biking shoes, to protect your delicate feet from spiky vegetation, hard rocks, and water.
The level of protection vs. breathability that you need will depend on what type of riding you do.
Enclosure type: Shoes will typically have either a lace, hook and loop strap, or ratchet buckle system. Lace systems help your shoe blend in around town but make sure you can tuck them away to avoid snagging when you're on the bike.
More expensive models often use a Boa dial closure for precise and easy adjustment on the move.
Warmth: If you're a fair weather rider, then this may not be an issue, but if you bike in winter conditions you'll know that your toes are the first part of your body that feel the cold.
Flat-pedal shoes tend to be warmer, as they have a solid rubber sole and less venting, but we've reviewed some winter clipless models below.
Sizing and fit: Shoe sizing can vary between brands, both in length and width. To add to the challenge, many cycling shoes come in European sizes, rather than U.S. sizes.
Best Mountain Bike Shoes for Cross-Country Riders
For long rides, a stiff clipless shoe will be more efficient and save your tired legs. Comfort and weight will be more important than protection, though you'll still want a decent sole tread for those unavoidable hike-a-bike sections.
Here are our best buys for long rides, XC or cyclocross races and trails where you have to do a lot of 'up' to earn your 'down'.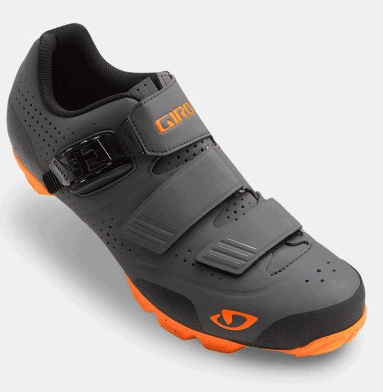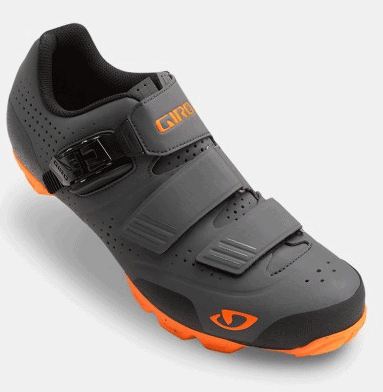 The Giro Privateer R is a great value choice for riders looking for a narrow fit shoe (if you have wide feet there's also a high-volume version). It's designed with comfort in mind with a breathable microfiber upper and a secure ratchet buckle closure.
Although the shoe doesn't have a carbon sole there's no noticeable flex and the power transfer through the pedals is excellent. The aggressive lugs help in mud or wet grass, though admittedly, the Privateer isn't a great hiking shoe. But at this price, you'll be hard pressed to find a shoe that delivers a better overall performance.
The aggressive lugs help in mud or wet grass, though admittedly, the Privateer isn't a great hiking shoe. But at this price, you'll be hard pressed to find a shoe that delivers a better overall performance.
Giro Privateer R Mens Cycling Shoes | Amazon
The reinforced toe box boasts a rubber toe-guard for improved durability yet comfort reigns supreme with a supple microfiber upper, two straps, and a micro-ratcheting buckle. It's a shoe that rivals the performance of more expensive composite designs.
Buy at Amazon.com
We earn a commission if you click this link and make a purchase at no additional cost to you.
08/22/2022 05:26 pm GMT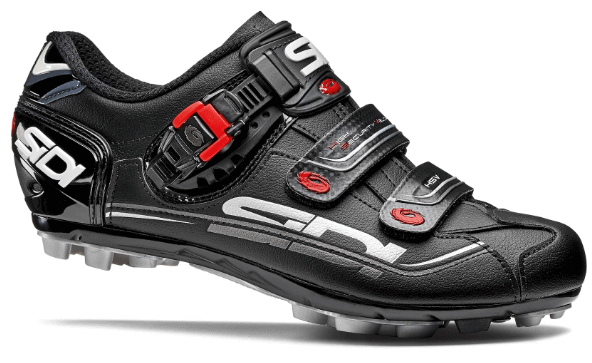 Sidi is famous for two things: the comfort of their shoes, and the hefty price tag that accompanies them. If you're willing to put comfort first then the Sidi Dominator is a great fitting, durable competition shoe that represents a long-term investment, particularly as many of the parts are replaceable.
The shoes are super lightweight with a breathable, water-repellent Technomicro upper material. Although designed primarily for power and efficiency on the bike rather than hiking, the treads and optional toe spikes provide grip in muddy conditions. The enclosure system is a combination of Velcro straps and a two-way ratchet buckle that ensures a precise fit.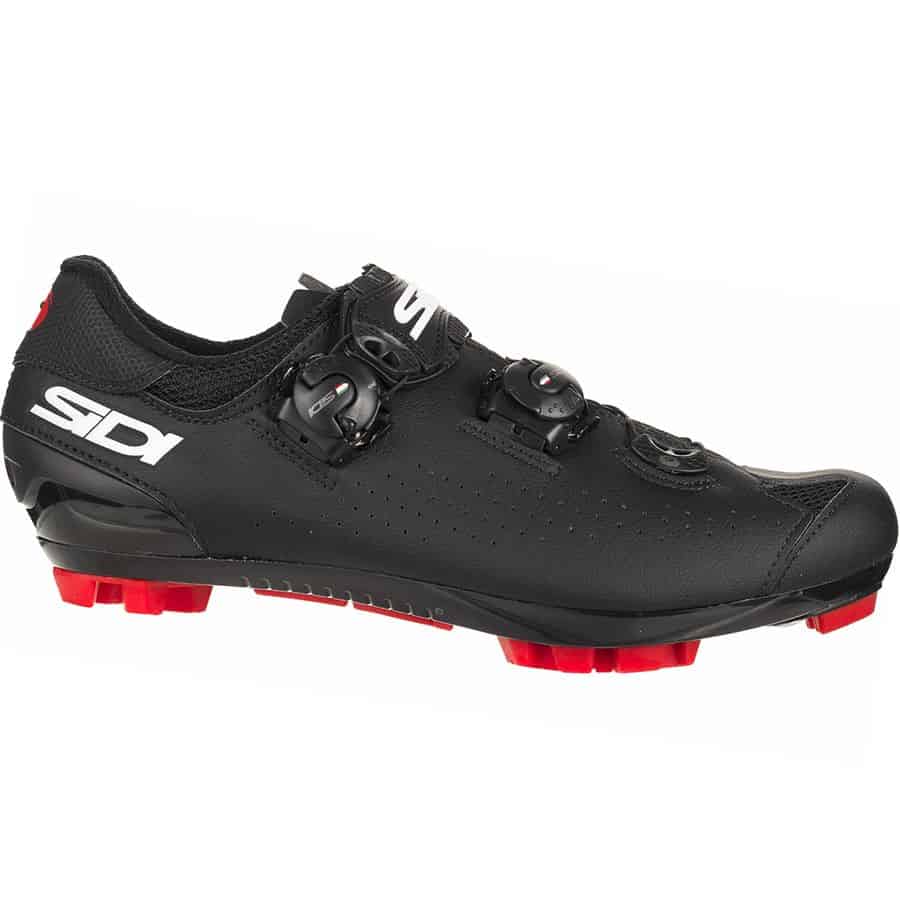 Sidi Dominator 10 Cycling Shoe - Men's | Competitive Cyclist
Sidi Dominator 10 features Microtech microfiber uppers that are light, durable, and water-resistant. The new soft instep 4 closure system reduces foot-numbing pressure and two Tecno 3 dials enable micro-adjustments for dialing a flawless fit.
Check Price
We earn a commission if you click this link and make a purchase at no additional cost to you.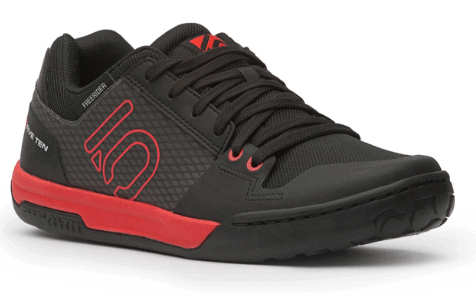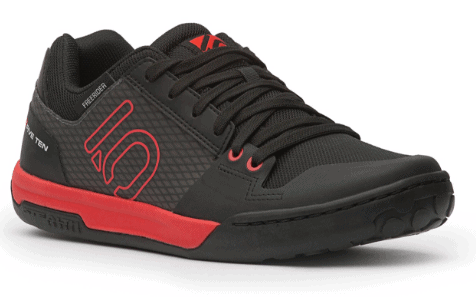 If you're looking for a flat-pedal shoe for long rides then check out the Five Ten Freerider Contact. As well as being the lightest model in the Five Ten Freerider range, the synthetic mesh upper gives great breathability and the shoes dry a lot quicker than other Five Tens – a bonus if you're biking for multiple days.
The sole is made from Five Ten's super-sticky Stealth Mi6 rubber but has a smooth patch on the ball of the foot. On the bike, this isn't really an issue, but the lack of tread can make hiking in wet, muddy conditions a slippery experience. The shoe provides a good level of stiffness and support, so if you're after a flat shoe for long, epic rides, this is it.
Five Ten Freerider Contact Men's MTB Shoes | Amazon
Ride anywhere with these exceptionally responsive flat pedal mountain bike shoes. The treadless design and a Contact Outsole eliminates lug interference and allows for split-second adjustments. The shoes feature a Stealth Mi6 rubber outsole that provides outstanding grip.
Buy at Amazon.com
We earn a commission if you click this link and make a purchase at no additional cost to you.
Best Mountain Bike Shoes for Downhill and Enduro
Shoes for downhill biking and enduro racing are typically more heavy-duty than XC shoes. They focus more on protection for the foot and ankle and provide more of a balance between stiffness and flexibility (useful when pushing your bike back up the hill). Flat-pedal shoes with sticky rubber are popular as they give stability and grip along with the ability to get out of the pedals quickly when required.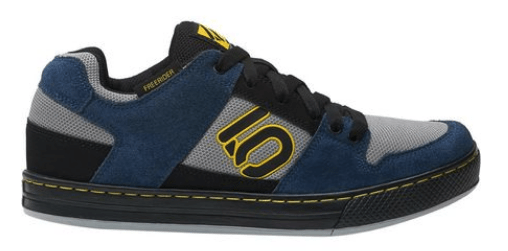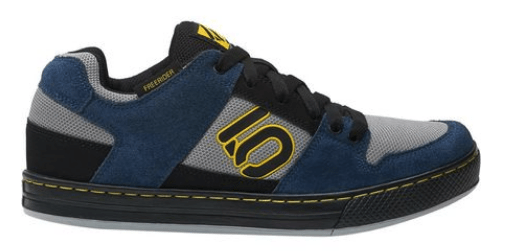 For flat pedal fans, Five Ten is the undisputed king of shoes. The Five Ten Freerider shoes are perfect for downhill and enduro riding. The high friction Stealth rubber is so sticky your feet lock on to the pedals almost as much as if they had cleats.
Although the sole is fairly stiff, there's enough give to make walking comfortable and the suede upper looks as good off the trail as on it.
The only downside is that they're not at all waterproof and take a while to dry out when wet.
If you're after a bit more ankle protection, the Five Ten Freerider High is a mid-top version of this classic shoe.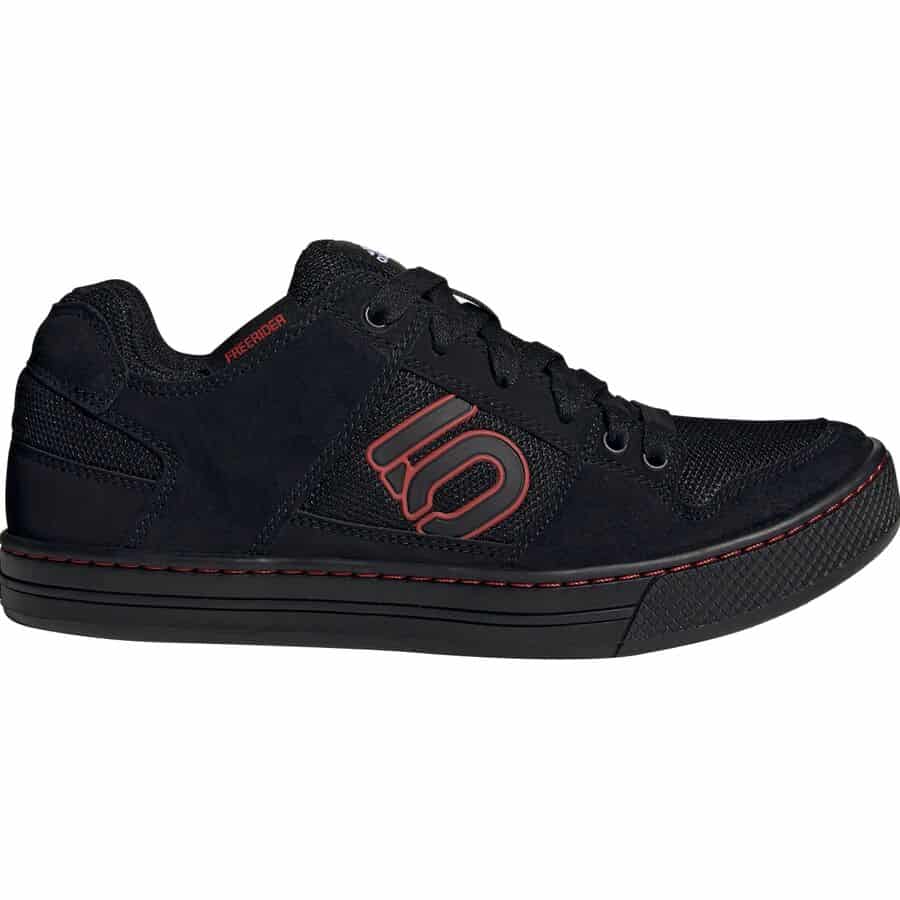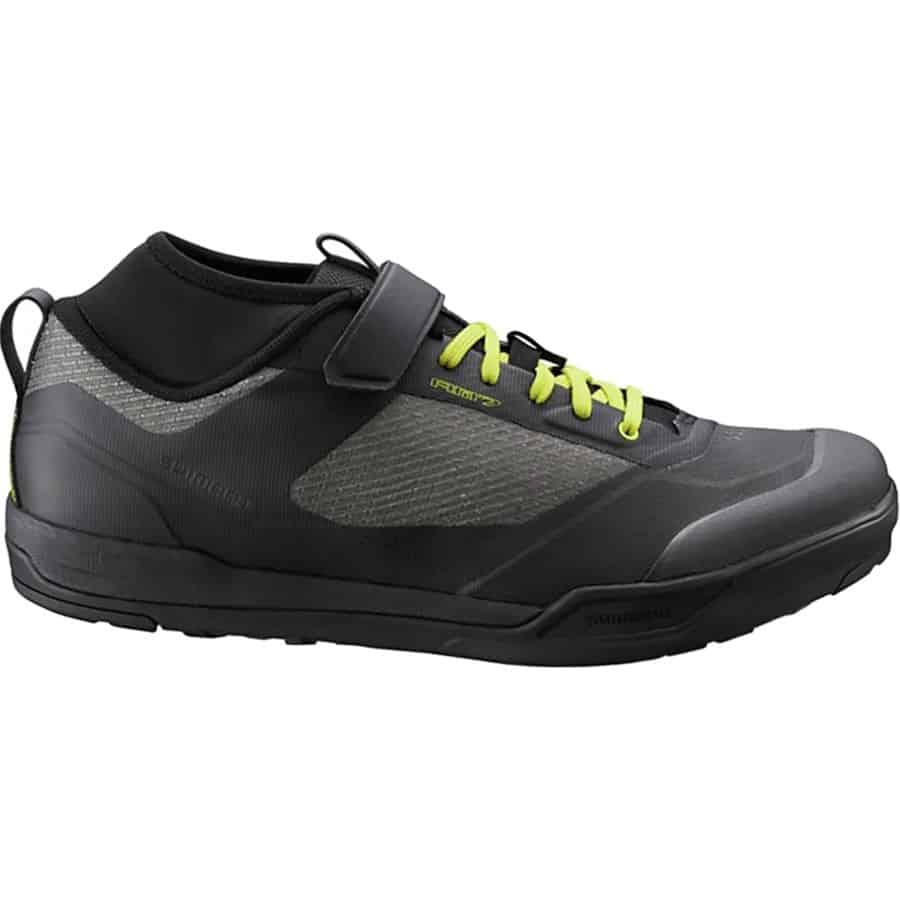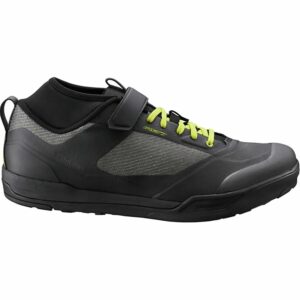 If you're not a fan of Five Tens, then the Shimano AM7 is a good alternative. It's not as stylish off the bike, but the Vibram outsole provides grip both on and off the bike and there's an asymmetrically raised padded collar to protect the inside of your ankle.
The lace shield keeps your laces clean and tidy and the shoes are more water resistant than the Five Tens. When ordering, bear in mind that the sizing comes up a little small.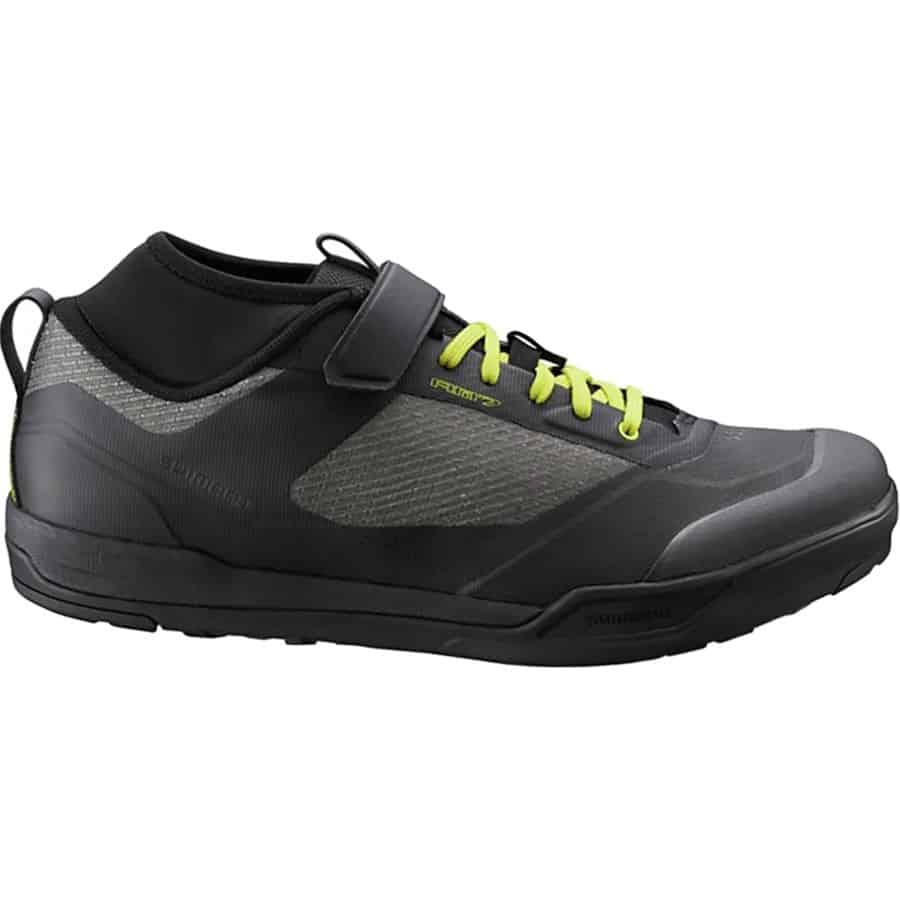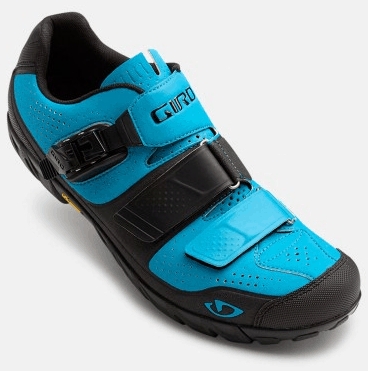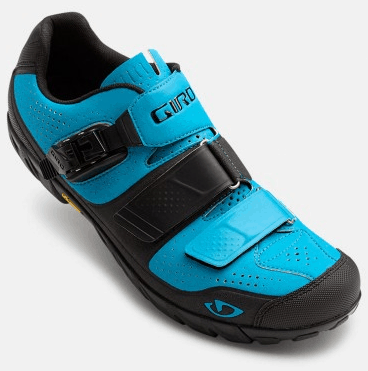 If you're looking for a clipless enduro shoe, the Giro Terraduro leads the way. Designed to perform on and off the bike, it has a flex zone in the forefoot that makes it much easier to walk in than many clipless shoes.
The Vibram rubber outsole is sticky on rocks, and reasonable on mud and tree roots, and the rubber toe caps provide additional protection. A micro-adjustable buckle and two-strap closure system gives a snug, supportive fit.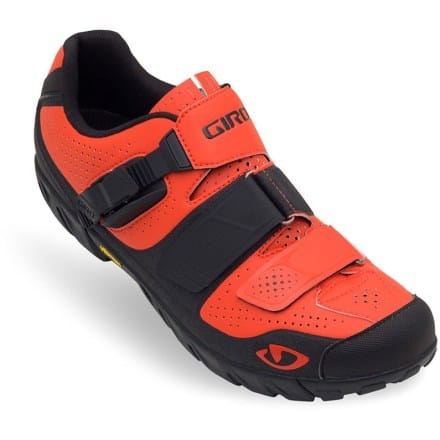 Giro Terraduro Mountain Bike Shoes - Men's | REI Co-op
All-mountain riding and enduro racing require top performance both on and off the bike. Giro Terraduro mountain bike shoes handle it all while keeping you comfortable in breathable microfiber uppers.
Check Price
We earn a commission if you click this link and make a purchase at no additional cost to you.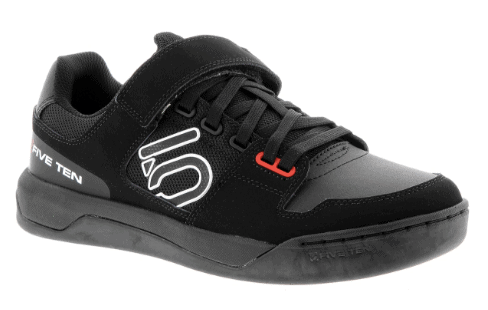 Although mainly known for their flat-pedal shoes, Five Ten also have a couple of clipless models. These provide the style and thick, sticky sole characteristic of Five Tens, with the ability to generate extra power. If you're after the best of both worlds, then you may want to look at the Five Ten HellCat shoes.
They're not as stiff as many clipless shoes, but this (and the Stealth rubber outsole) does make them easier for walking in. They're comfortable, look good and are a favorite of World Cup downhill riders.
Although they've reduced the weight for the 2018 model, they're still likely to be heavier than a pair of lightweight XC shoes, but they'll provide much more protection for your foot.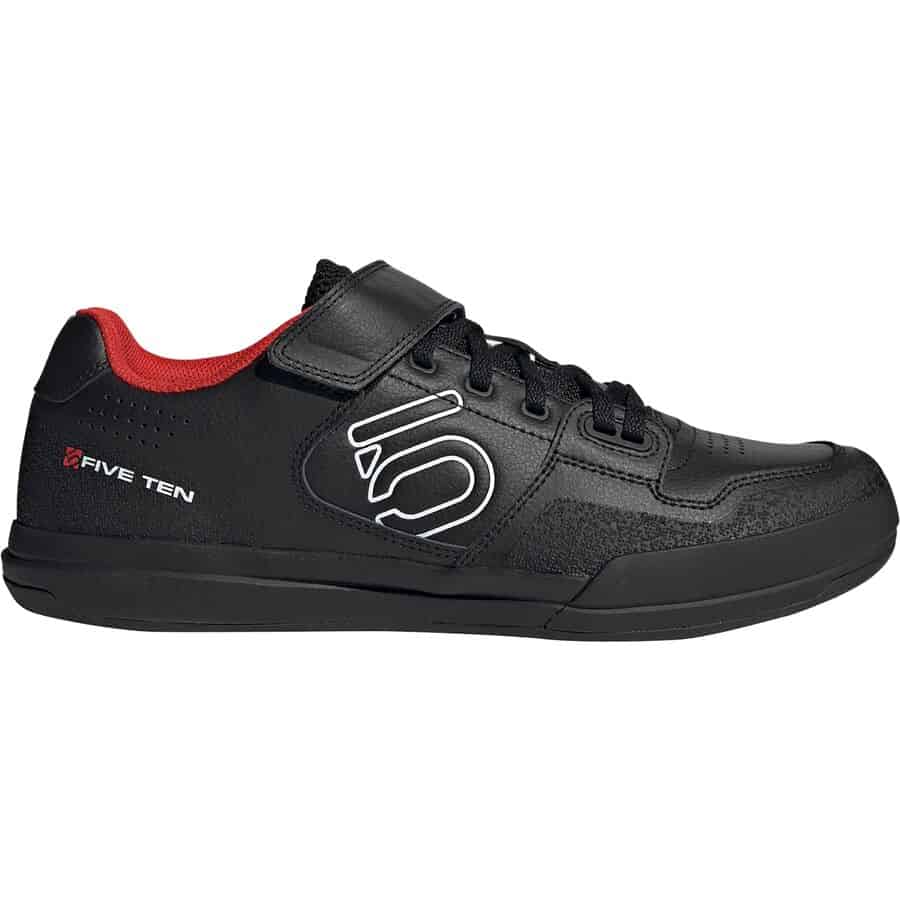 Five Ten Hellcat Cycling Shoe - Men's | Competitive Cyclist
This light and streamlined shoe is an ideal first mountain shoe if you have the goal of going clipless someday. It's made out of a combination of leather and synthetic that's durable and breathable
Check Price
We earn a commission if you click this link and make a purchase at no additional cost to you.
Best Women's Mountain Bike Shoes
Women's mountain biking is on the up. Whereas once your choice of performance shoes as a female biker would have been limited to 'unisex' models, there's now a huge range of shoes specifically designed for women's feet.
Women's shoes tend to have a narrower fit and come in smaller sizes, so if you're a lady with large, wide feet a unisex model may suit you better. But if you're worried about finding shoes to fit your tiny feet, fear not; we have a model to suit every foot (and they don't all come in pink).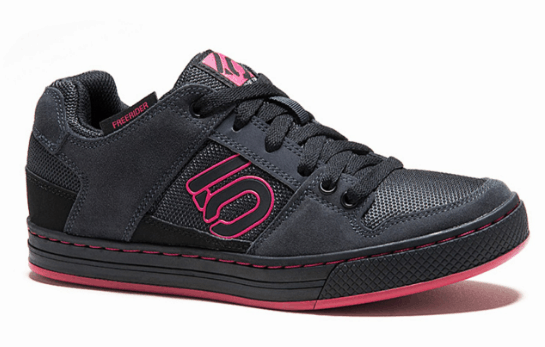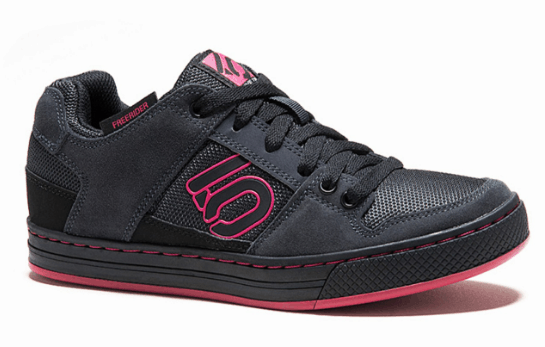 One of our favorite all-purpose mountain bike shoes is also available in a women's specific fit.
With a lower total volume and tighter fitting heel cup, this shoe will keep your foot snug while hurtling down the trail.
The Five Ten Freerider Women's shoe has the same sticky Stealth rubber as the men's version, to keep your feet glued to your pedals.
Five Ten cater for ladies with feet of all sizes with shoes available in half sizes from US 5 – 11.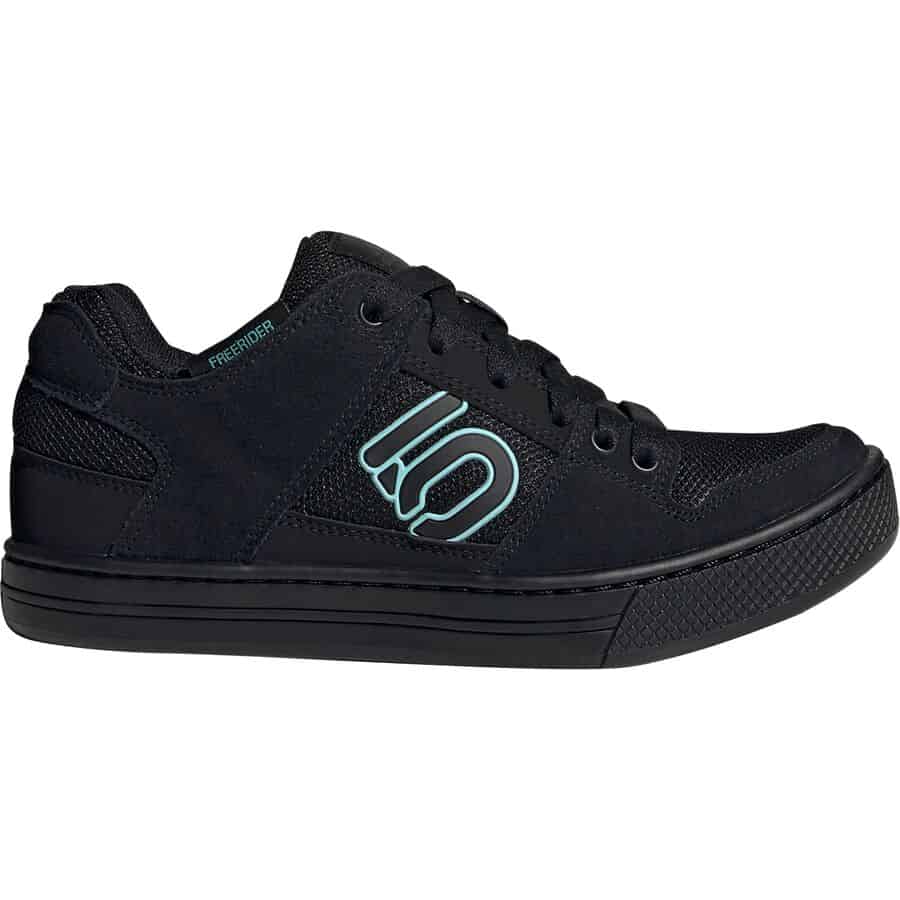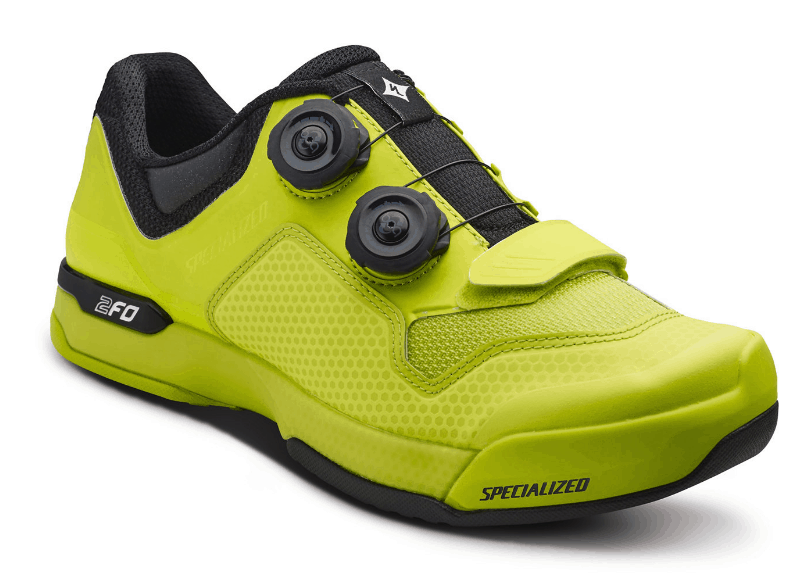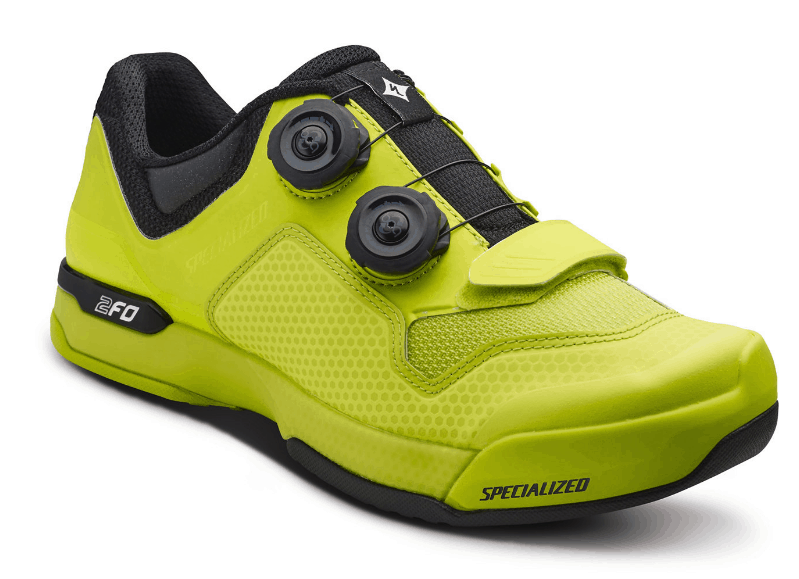 If you're after a pair of shoes that can tackle trails and enduro racing circuits, then take a look at the Specialized 2FO ClipLite Mountain Bike Shoes.
A lighter version of the popular 2FO clip, the shoes have the same 'Landing Strip cleat pocket': essentially a section of lower-profile, firmer rubber that makes it easier to clip in and out of the pedals.
The shoes are comfortable on both climbs and downhills and the stiffness of the soles gives good power output.
You wouldn't want to hike for hours in them, but for the occasional section of hike-a-bike, they do the job. The snazzy twin Boa S2-Snap dials ensure a secure fit that's adjustable on-the-go.
If you like the sound of the shoes, but the price makes you wince, Specialized also do a cheaper, lace version.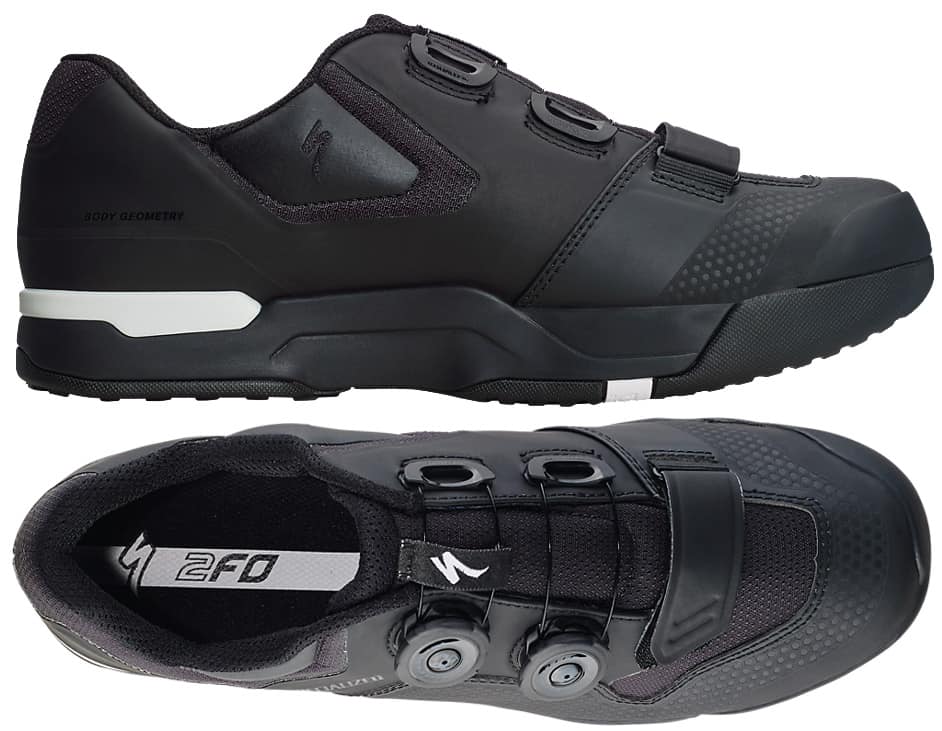 Specialized 2FO ClipLite | Jenson USA
You only deserve the best pedals and shoes while riding, get this as it provides an excellent pedal connection, comfort, and protection. It features Body Geometry sole construction and footbeds that boost power, efficiency, and reduces the chance of injury by optimizing the hip, knee, and foot alignment.
Check Price
Buy at Mike's Bike
We earn a commission if you click this link and make a purchase at no additional cost to you.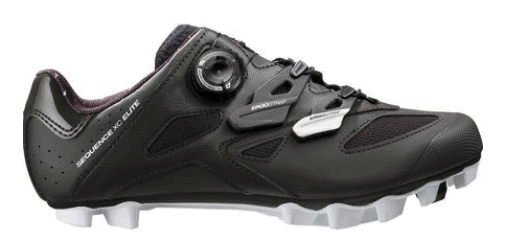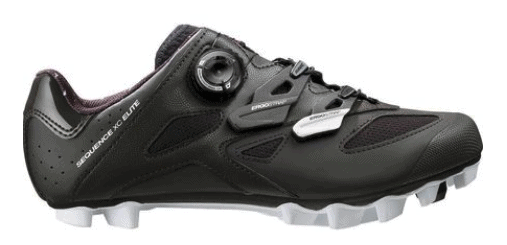 For cross-country riding or cyclocross, you'd be hard pressed to beat the Mavic Sequence XC Elite shoes. Achieving a near-perfect balance of comfort, power, and grip, the Crossrides have a simpler construction than Mavic's pro racing shoes, but the same great fit and at a price that will leave some money in your bike budget.
The Energy Grip Terra outsole is aggressive and chunky and the Contagrip tread gives good traction on rock and mud.
The fibreglass-enhanced nylon insert helps transfer energy from your muscles to the pedals efficiently, and double Velcro straps plus an Ergo Ratchet buckle keeps your foot comfortably in place.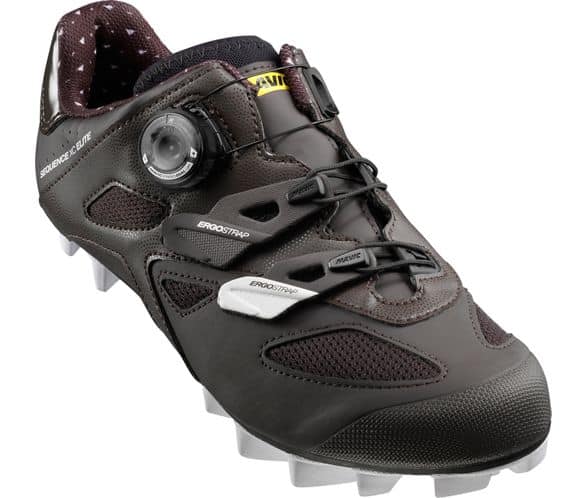 Mavic Sequence XC Elite | Chain Reaction
This shoe is designed with Energy Grip Outsoles to support you through every situation you'll face on your bike, regardless of how different. They are also comfortable to wear.
Check Price
We earn a commission if you click this link and make a purchase at no additional cost to you.
Best Mountain Bike Shoes for Winter
If you're committed to year-round riding, investing in a pair of water-resistant, warm shoes for winter will fast become a necessity. Not only do the temperatures drop, but it's often wetter, which means more puddles. Continually being doused in cold water is guaranteed to turn chilly feet numb pretty quickly.
If you want to keep riding through the winter months but are determined not to buy a separate pair of shoe, you can tackle this with waterproof socks or waterproof overshoes such as the Louis Garneau Neo Protect II Shoe Covers (though be aware that hike-a-bikes can quickly damage the bottom of the covers).
If you're really on a budget and have flat pedals, don't rule out using your trusty old hiking boots – they'll keep your feet dry and wool socks will keep them toasty warm. Otherwise, here are our top picks for winter bike shoes.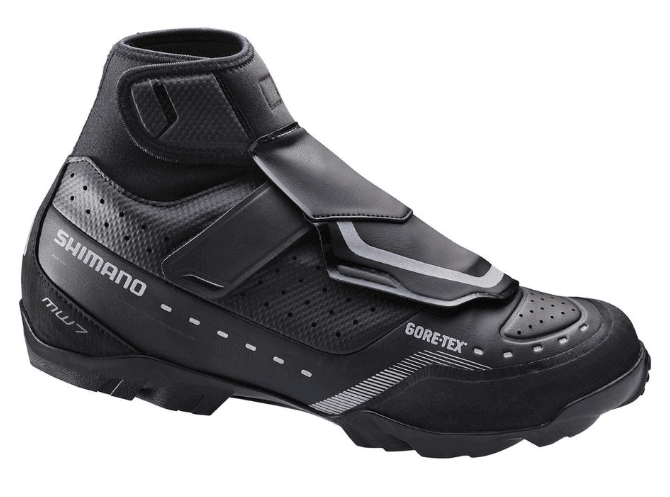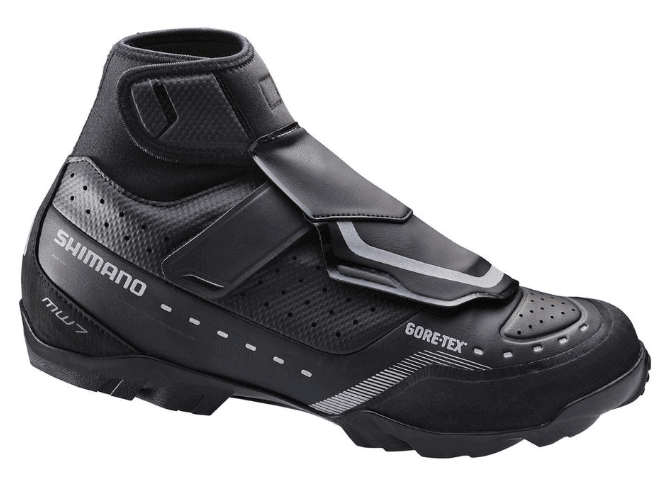 Built for riders who want to ride in all weather conditions, the Shimano MW7 clipless shoes have a waterproof GORE-TEX Insulated Comfort liner and fleece-lined insole to keep your toes toasty and dry. They're also high-cut with a neoprene cuff to help prevent water making its way into the shoe.
From a practical perspective, the waterproof lace shield keeps mud away from your lace system making it easy to get these shoes off at the end of the day. The laces themselves have a drawstring-style lacing mechanism that makes for quick and easy adjustment.
The TORBAL midsole gives good power transfer and lightness. The only slight downside is that the small lugs don't provide great traction when hiking in mud.
If you want to finish your ride with warm and dry feet then the Shimano MW7 are the shoes for you. Shimano's MW5 shoes perform just as well (for a lower price), but aren't easy to get your hands on in the States.
SHIMANO Men's Mountain Bike Cycling Shoes
Built for all seasons bike ride. Packed with great features such as insulated, waterproof and comfortable. Rubber outsole improves grip in wet and slippery conditions.
Check Price
We earn a commission if you click this link and make a purchase at no additional cost to you.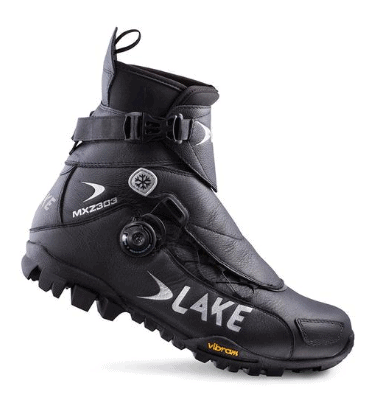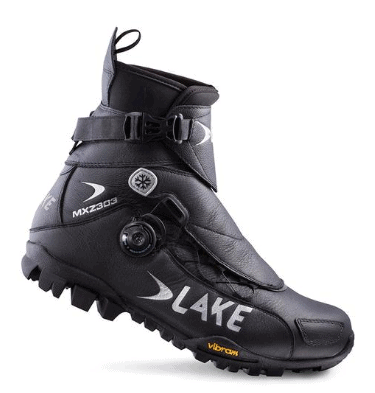 If you value versatility and warmth over budget, then the Lake MXZ 303 winter riding boots are one of the best winter shoes on the market.
Warmth comes from the Thermosol composite insulated footbed, a Thinsulate insert in the toe box and an Outlast temperature regulating heel and tongue liner, which works to keep your skin at a constant (warm) temperature.
The high-top style and over-ankle neoprene cuff keep snow out, and the unusual enclosure system of a flap secured by a Boa ratchet avoids mucky laces.
The Pittards leather outer is durable, breathable and makes walking comfortable (though it does need regular leather treatments). If you're after a biking boot for winter snow conditions, the Lake MXZ 303 is one of the best around.
Related:  Numb Fingers No More: The Best Winter Cycling Gloves
Best All-Round Budget Option
If you're after a shoe that can do-it-all for a reasonable price, your best bet is probably the Five Ten Freerider. Keep an eye out for sales or look at last season's colors to get it for cheaper than the $100 retail price.
If you're looking for clipless shoes or can't quite stretch your budget that far, here are a couple of other great all-rounders.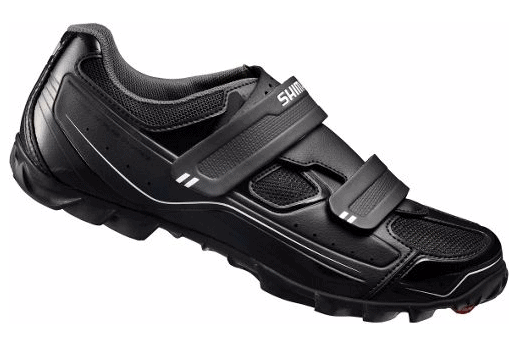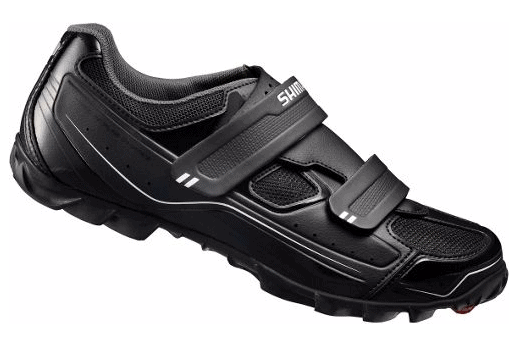 They may not be the cheapest shoe out there, but the Shimano SH-M065 is a good-quality, all purpose mountain bike shoe that won't break the bank.
It's reasonably stiff and comfortable and the rubber soles are flexible enough for walking and have a decent tread.
They're clipless shoes, so at a push you could use them on your road bike as well. You may want to go up a size, as Shimano shoes are often on the tight side.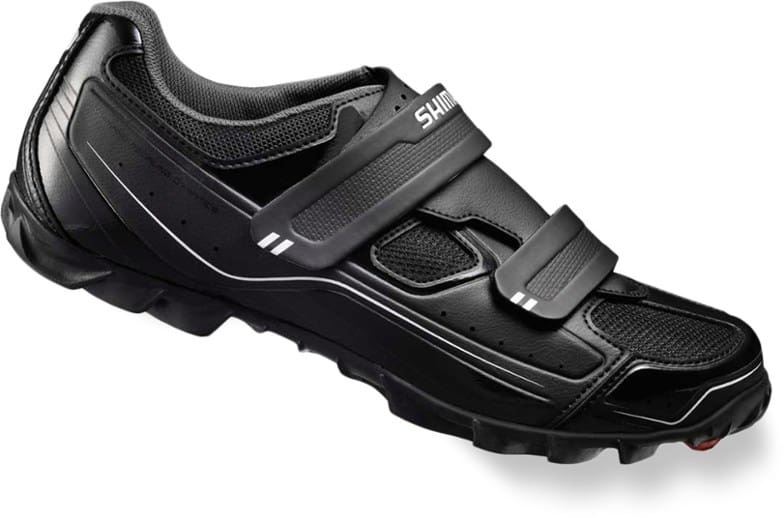 Shimano M065 Mountain Bike Shoes - Men's | REI Co-op
Negotiate rugged terrain with ease in these stable, rigid, lightweight Shimano M065 mountain bike shoes. With hook-and-loop closures, they offer solid performance at a great value.
Check Price
We earn a commission if you click this link and make a purchase at no additional cost to you.
Money-saving tip: As of this publishing, Amazon has the 2015 models currently on sale here.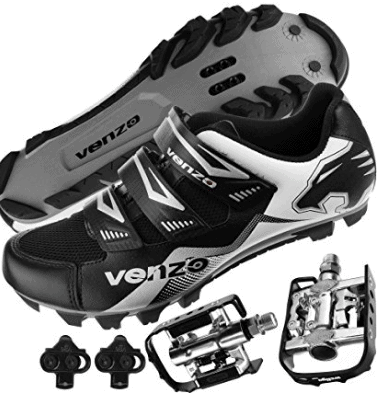 Shoes, pedals, AND cleats for $75.00? Now that's a bargain. Not only that, but the Venzo Mountain Bike shoes are comfortable and breathable thank to the mesh upper.
They have a reasonable amount of protection and deep lugs on the outside of the sole for grip in muddy conditions.
Plus the pedals have a flat side, so can be used with or without cleats. At this price, they're unlikely to be the most durable shoes on the market, but if you're looking for a cheap package to help you make the transition to clipless pedals then this is a great deal.
Mountain Bike Buying Guide: What You Need to Know to Hit the Dirt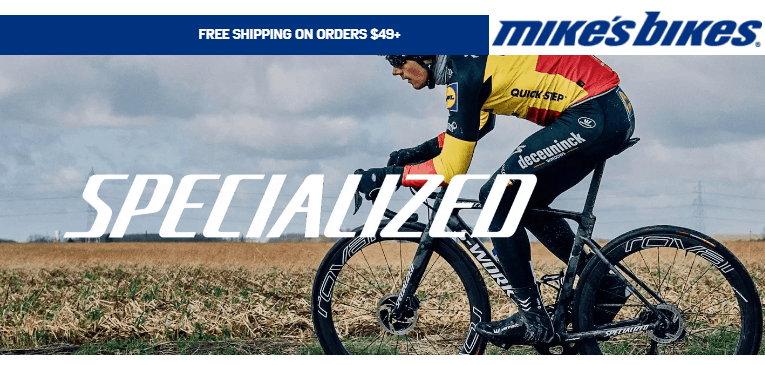 Mountain bikers rejoice: Specialized Bikes | Mike's Bike
Whether you're all about climbing or bombing nasty descents (or both), Specialized has a bike for every style of mountain biking you could want. Road cyclists have just as legendary of a lineup at their fingertips with the Tarmac, Venge, Roubaix, and other aero machines ready to flatten mountains and dart to the head of the pack.
Check Prices
We earn a commission if you click this link and make a purchase at no additional cost to you.