Latest posts by Vanessa Nirode
(see all)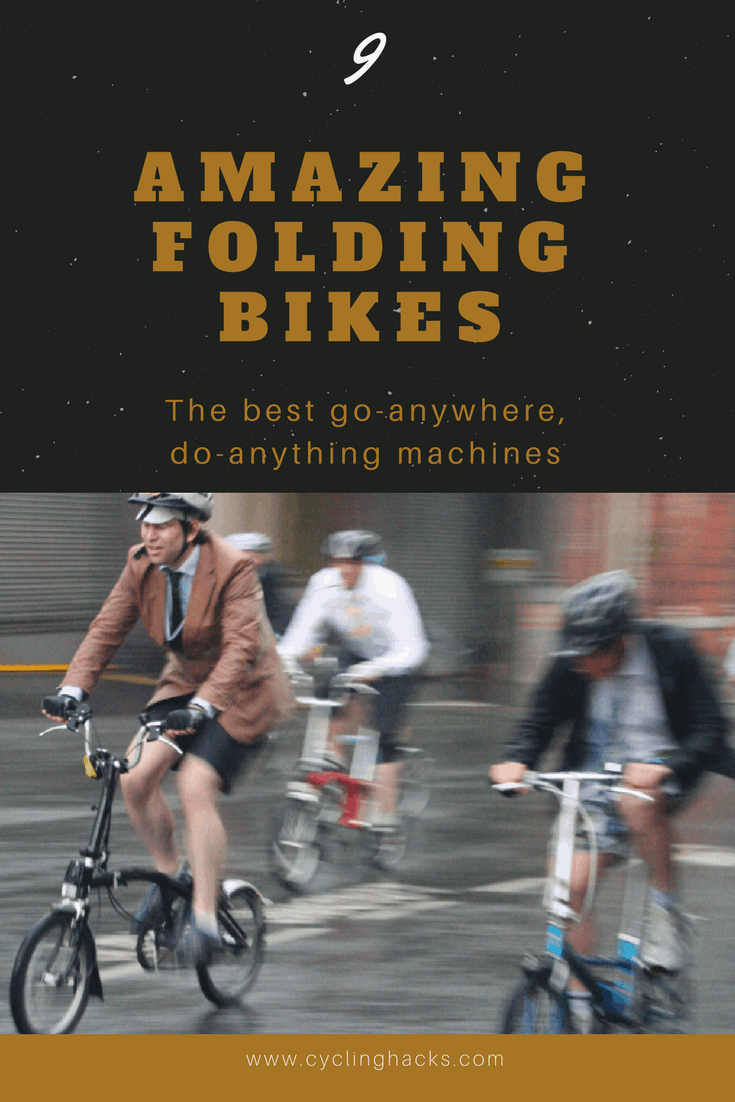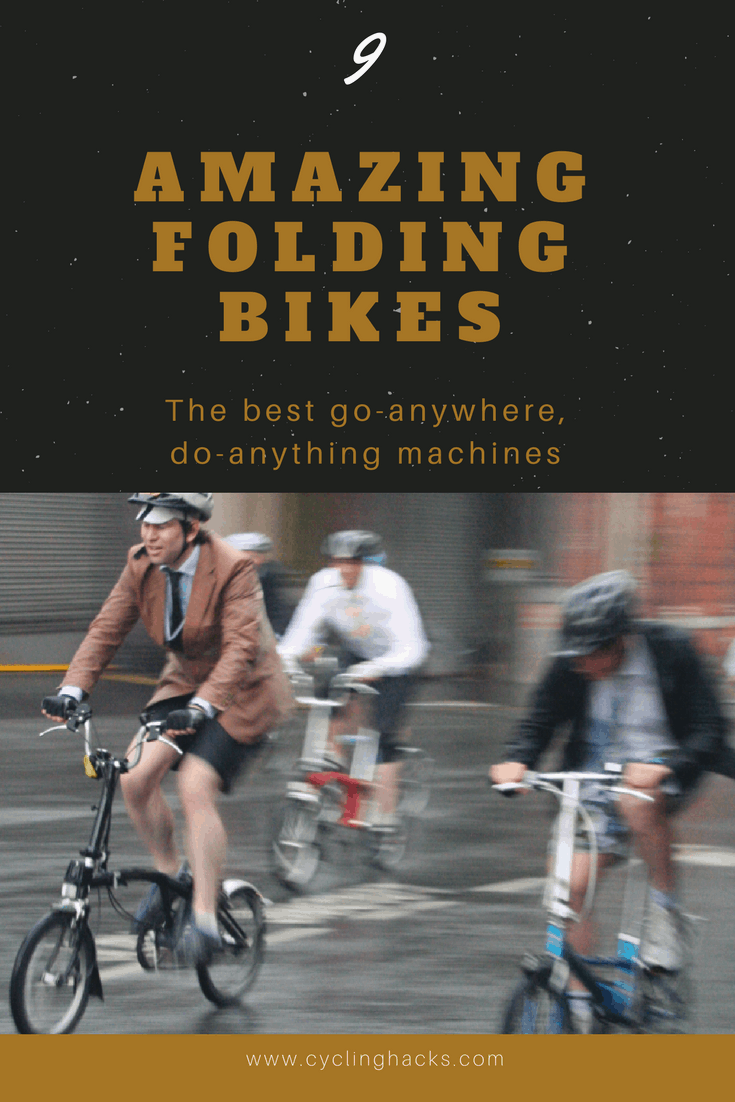 If you're a mixed commuter looking for a bicycle you can take and store almost anywhere, a folding bike may be just the thing for you.
We've rounded up 9 of the best folding bikes and provided a handy buying guide to answer all your folding bike questions.
And if you're wondering what this NYC commuter's top folding bike pick is….it's the Dahon Speed 7, a super-affordable bike that's sporty, excels at climbing and is a blast for rolling around town. 
The Benefits of a Folding Bike 
Folding bikes offer all kinds of mobility in big cities (and small ones!) as they're easy to take on crowded trains and buses. No one on a packed New York City subway during rush hour likes when someone tries to board the train with a full-size bike because it's raining or snowing outside.
And if you're unable (or don't like) to ride in the rain or snow, you'll make everyone's life easier (especially yours) if you invest in a folding bike.
Folding bikes are great too because, if your building doesn't offer bike storage, you can bring them right into your office with you. And you don't have to worry that someone might steal it (or one of its parts) if you leave it locked on the street.
A doctor friend of mine recently had to rush to work for an emergency C-section. When she went back outside to go home, she discovered someone had knicked her seat and seat post from her commuter bike. (People really suck sometimes.)
Folding bikes are more stable than you think. They have very stiff frames and do not easily collapse. And they're quite fashionable these days too!
Here are a few bikes worth checking out:
Top things to consider when buying a folding bike
Weight
If you're going to be folding and unfolding and carrying your bike up and down stairs and onto buses and trains, weight is a big thing to consider.
Frame material and wheel size contribute a lot to the overall weight of a folding bicycle.
Steel is arguably the sturdiest kind of frame but it is heavier than aluminum and chromoly materials. Carbon is the lightest frame material around but not many folding bikes are made with it.
Smaller wheels mean less weight but they also mean you'll have to pedal a bit harder and faster to maintain speeds when compared to larger wheels.
How easy/fast does the bike fold?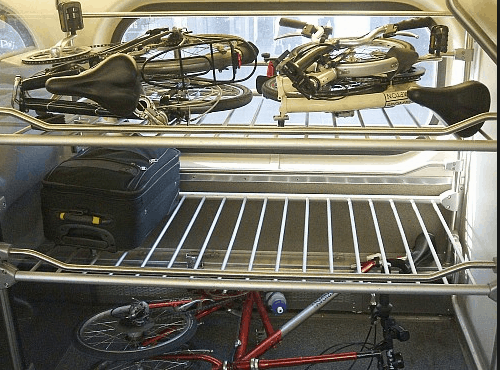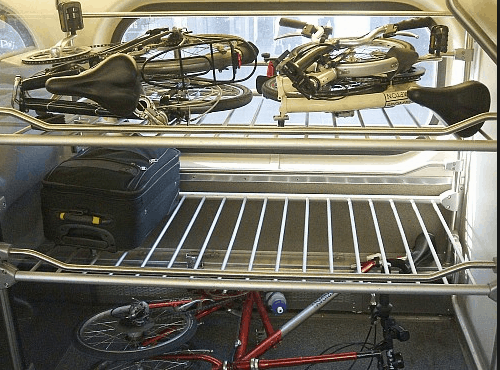 The majority of folding bikes are based on a triangle hinge design, which utilizes a set of clasps and hinges to allow the bike to fold compactly.
Triangle hinge bikes fold fairly quickly and can usually be carried without much effort. Some bikes have a more complicated set of hinges than others and it's really best to test them out if you're able.
There are also half fold bikes, which have a hinge or clamp in the middle of the frame to — you guessed it — fold the bike in half. These take up much more space folded than bikes using other systems but they do offer the closest feel and ride to non-folding bicycles.
Breakaway bikes combine partial disassembly with folding hinges. They are more complicated and time consuming to fold and unfold but can become quite compact. They also often require special tools.
How many speeds?
Single gear bikes are the simplest option. You can usually get them going quite fast on flat surfaces but they do take a lot more effort to pedal up the hills.
A multi-speed bike gives you some options when pedaling and are usually (if geared correctly) much easier to go uphill with.
Whether you get a single speed or a multi speed bicycle really depends on what kind of rider you are. I have bike-racing friends who use single speeds to commute with as they consider them a way to get some training in on inclines. And some people just like the simple purity of a bike with only one gear.
Others like to have the option of not working so hard to pedal while commuting and tend to go for a multi speed bike. Also, if you think you'll be hauling a bunch of stuff with your folding bike than a multi speed model will probably make more sense for you.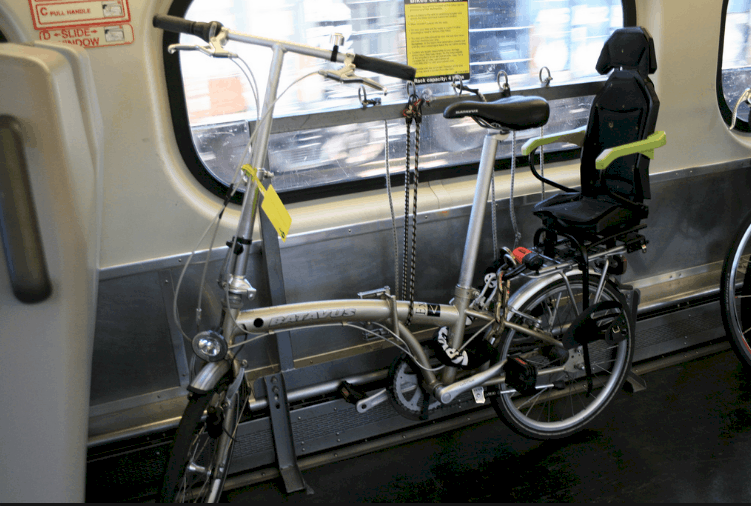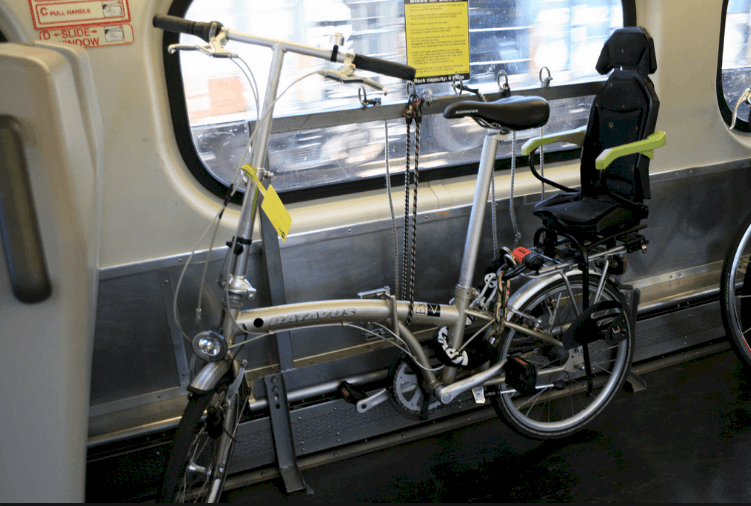 Whatever type of folding bike you decide on, make sure it adjusts to the proper seat height for you. Folding bikes don't come in the same range of sizes that conventional cycles do, so it's very important to check that you can adjust the height and spacing of the handlebars and seat.
The taller you are, the more space you'll need. Bikes that allow you to move the seat forward and back as well as up and down, provide the best options for achieving the perfect seat and handlebar positioning.
Price
Price is, of course, always something to consider. You can spend up to $1,700 on a folding bike and as little as $150.00. Frame material and components weigh heavily into determining the price.
I personally feel that going with a mid range priced bicycle is often the best option when choosing a bike for commuting purposes.
Here are some of the best folding bikes out there in a variety of price ranges and styles. Check them all out in person if you can as the only way to figure out which one works best for you is to do some test riding.
Best Folding Bike under $500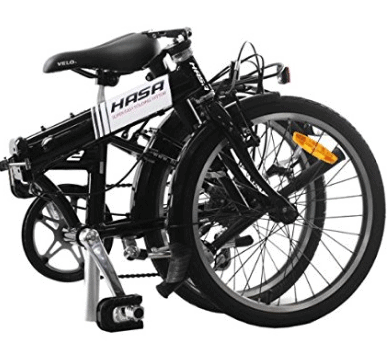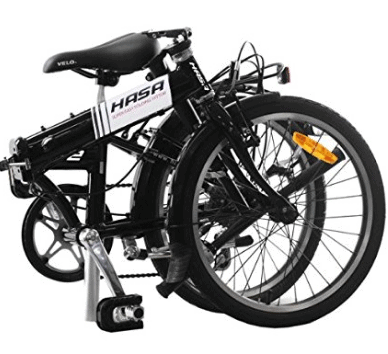 The Hasa F2 6 speed bike is an excellent mid-price choice for a folding bike. The Hasa has an alloy frame, 20" wheels and can easily accommodate a heavier puncture-resistant tire such as the Marathon Plus.
Marathon tires are great for city use. You can roll over all kinds of debris with them without getting a flat.
The F2 is outfitted with a lot of brand name parts like Shimano, Sram, and Weinmann. The bike features a sturdy frame and a fast and fluid ride.
Pros
Folding and unfolding is quite easy usually done within 15 seconds.                  
Mudguards and rack are included
Cons
Requires a strap to hold wheels together
Best High Quality Folding Mechanism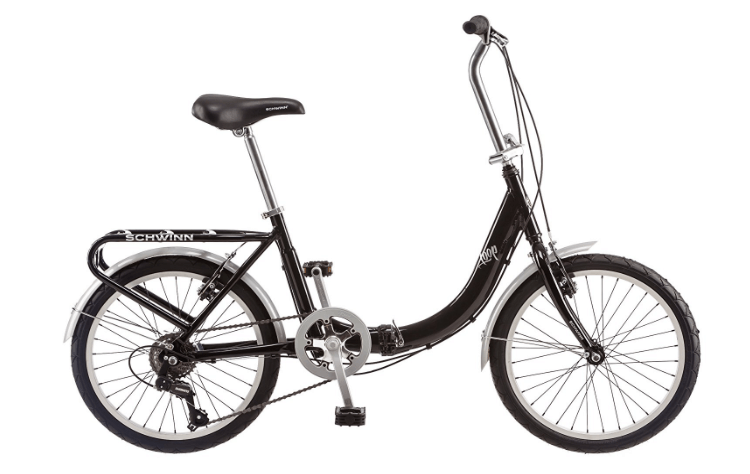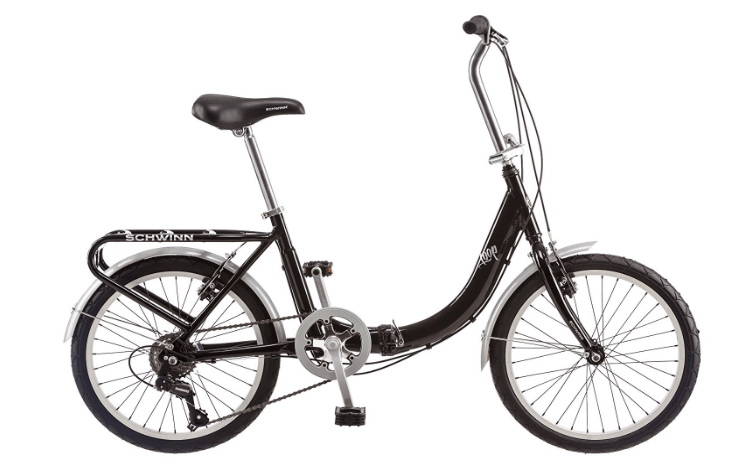 The Schwinn Loop 7 speed folding is one of the most popular bikes among the folding bike community. It's known for being an inexpensive but quality bike.
The Loop was specifically designed to be an ideal method of efficiently travelling to and from work. The best thing about the Loop is its folding mechanism, one of the highest quality you can buy.
The Loop 7 folds in half easily. You can then detach and fold down the handlebars if needed. The bike also has a cool looking low stand over curved single tube frame construction.
It comes with a heavy gauge nylon bag for extra protection when you're carrying it around.
The Schwinn Loop 7-Speed is not the smallest of folding bikes on the market. In fact, it's really kind of bulky when compared to other models but it is a great value for the money.
Pros
High quality and easy folding mechanism
Cons
Bulkier than some other models
No locking mechanism to hold wheels together when folded
Best Budget, Lightweight Folding Bike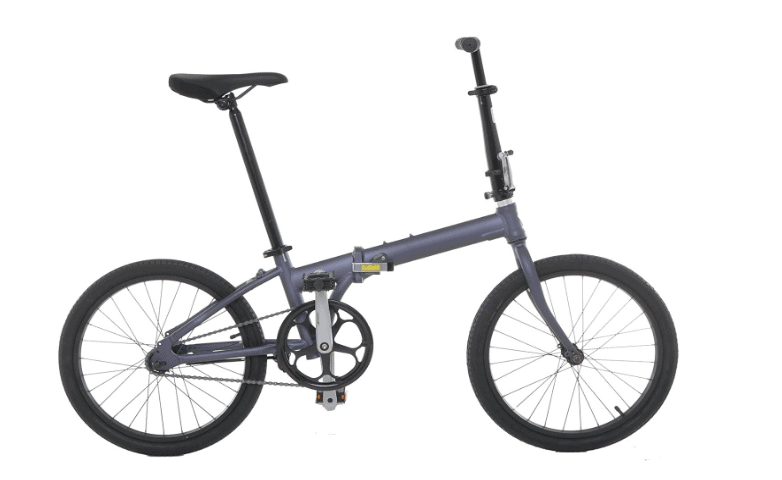 The Vilano Urbana is a super lightweight bike at 21.5 pounds. It's also one of the least expensive folding bikes on the market. It's a single speed with the kind of brakes you engage by pedaling backwards. The Urbano folds up very neatly and easily fits in the trunk of a car. It's a great choice if your biggest concern is
It's a great choice if your biggest concern is price.
Pros
Affordable and very light weight.
Cons
At its lower price point, the components are not of as high of a quality as other single speed options.
Best Performance-oriented Folding Bike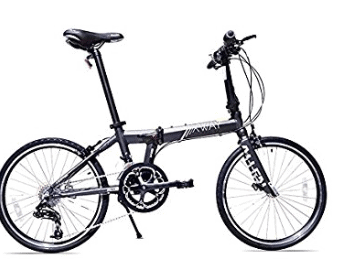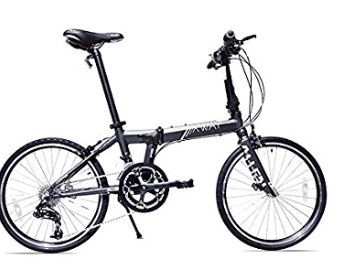 Equipped with larger than usual 451mm wheels and 20 gear speeds, the Allen Sports X-Way functions effectively in a variety of different situations, outperforming other 20″ models on the road. And it doesn't weigh much either.
At 24.4 pounds, the X-Way is one of the lighter folding bicycles around (and one of the best handling models too). With the X-Way, Allen Sports targeted the upper price bracket of the market with one of the finest bikes around.
They are slightly more bulky than some of the competitors and a bit less convenient to carry but, with a larger wheel size, the X-Way provides a pretty comfortable ride.
Another great feature is the 20 gear speeds. The bike is both extremely quick on flats and incredibly efficient on hills. The low resistance tires come as stock on the X-Way and are narrower than a standard folding bicycle tire.
What this means is that you expend less energy to keep the bike moving along the road at a good clip.
Pros
Very light weight
Excellent for hills
Cons                                                                                                                                    
Expensive
Best for Off-Roading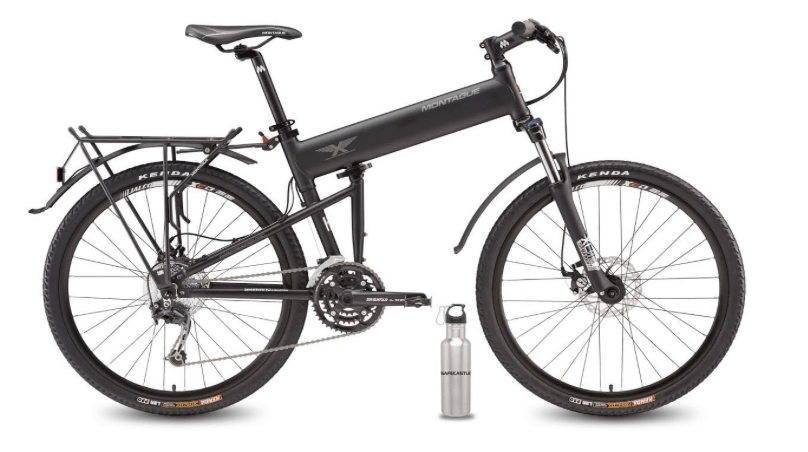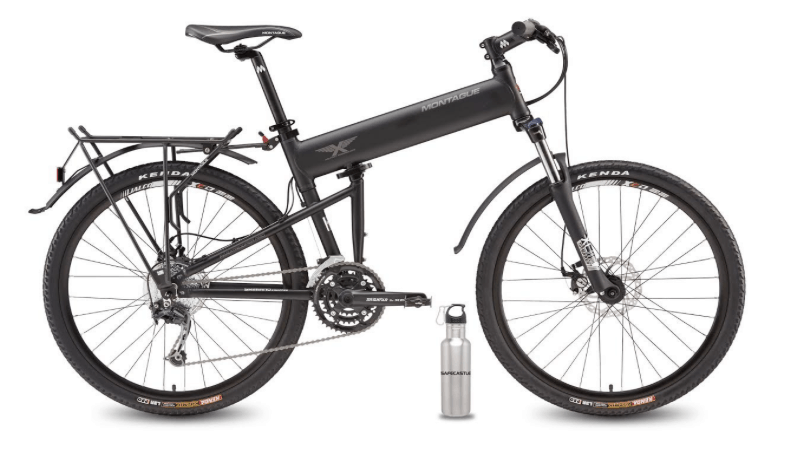 The Montague Paratrooper Pro folding bike was originally designed for paratroopers so that they could land, quickly unfold the bike and then cycle through all types of terrain.
The Paratrooper weighs very little and folds in less than 30 seconds. The bike is great at climbing hills and racing along flats.
The thing the Paratrooper is most excellent at is off-roading: grass, rock, ditches, puddles, mud. Whatever. The Paratrooper can traverse them all.
The bike has large, grippy tires and disc brakes (perfect for off road terrain as mud and clumps of grass don't get stuck in disc brakes like they do in caliper ones.)
Because of the size of the wheels and the 20″ frame, the bike is bulkier than others but, if you don't mind carrying around the extra weight, the Paratrooper is a fast, sturdy comfortable bike that will take you wherever you want to go. And I do mean wherever.
Pros
Disc brakes
Great on off road surfaces
Cons
At 28.9 pounds, on the heavier side
Best if you like to keep things simple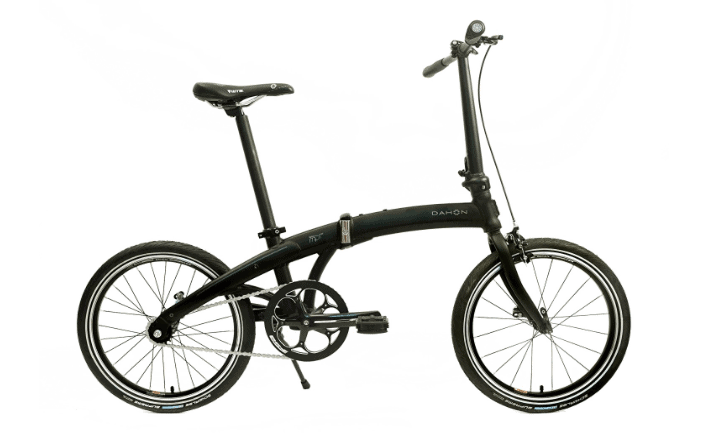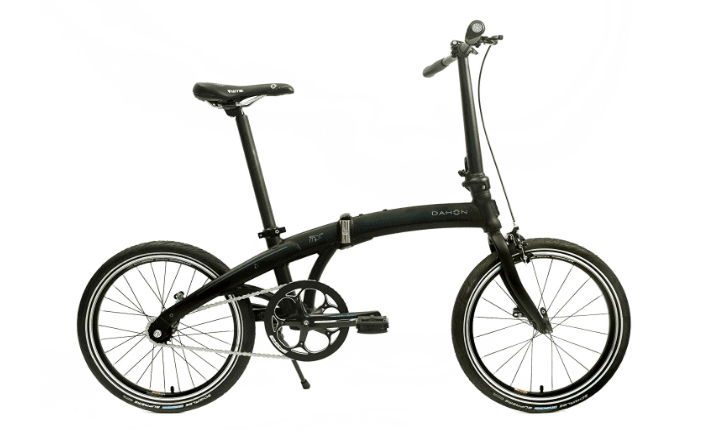 Remember the bike you rode as a kid? Single speed with a coaster brake? With its minimal design, the Dahon Speed Uno is a lot like those.
The Speed Uno is a single speed – not a fixed gear – so you can still coast without pedaling. The bike has coaster brakes, meaning you pedal backwards to engage the brake and stop.
The coaster brake may take a little time to get used if you haven't ridden a bike with one in awhile, but don't let that deter you.
At 24.2 pounds, the Dahon Speed Uno is one of the lightest bikes out there. And if you're into the minimalist thing, it's the perfect choice.
Pros:
15 seconds to fold and unfold.
Clean, minimal design for the purists out there.
Cons:
No fenders
Brompton S1E
Best Luxury Brand Classic Folding Bike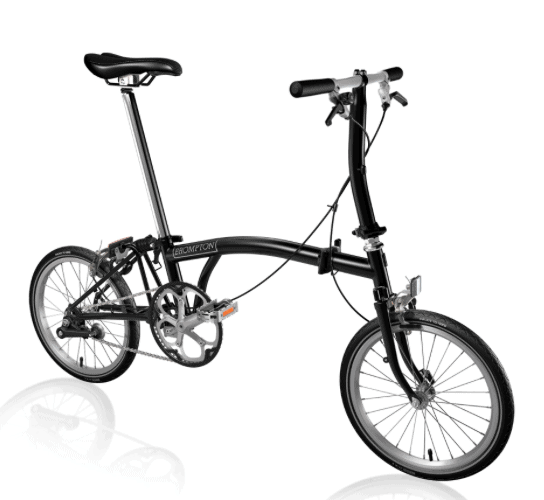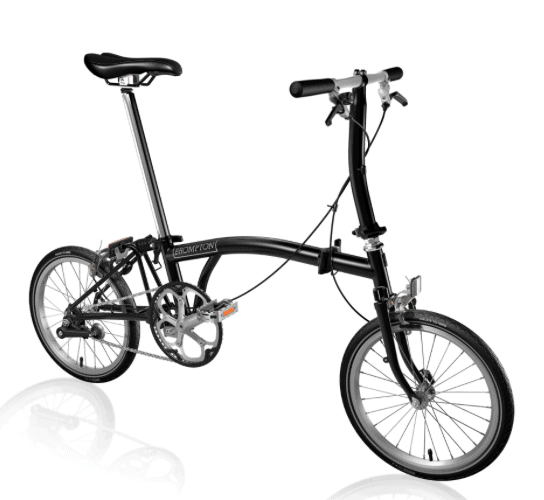 Among many folding bike enthusiasts Bromptons are known as a high quality luxury brand. Bromptons tend to last for a very long time and don't depreciate much in value either.
Unlike most other folding bikes, Brompton bikes use 16-inch wheels. One advantage of the smaller wheels is that they reduce the overall size and weight of the bike. Another cool feature of Bromptons is that they can also function as a shopping cart or dolly.
You can put your luggage on it and wheel it through airports and the like. This also means you can bring it most everywhere; on public transportation, to supermarkets, and even check it on an
You can put your luggage on it and wheel it through airports and the like. This also means you can bring it most everywhere; on public transportation, to supermarkets, and even check it on an airplane without paying extra for oversize or overweight baggage.
The S1E, constructed out of steel, is one of Brompton's featured bikes. The S1E is a single speed bike with a classic look. On the Brompton website, you can also build your own bike by customizing handlebars, gears, mudguards, racks, frame material and color, saddles, suspension, and tires.
The folding and unfolding process of the Brompton is a little more complicated than others. The biggest thing to remember is to fully raise the seat post when unfolding and fully lower it when folding the bike as the seat post acts as a lock.
Pros
Compact and lightweight design.
Great customer support and spare parts.
Cons
Folding and unfolding takes more time than other models.
Smaller wheels mean you'll probably have to exert a little more effort when pedaling
Best if You Like to Stand out from the Crowd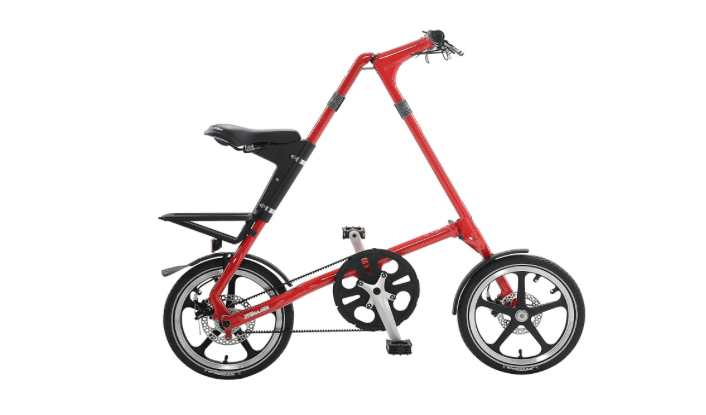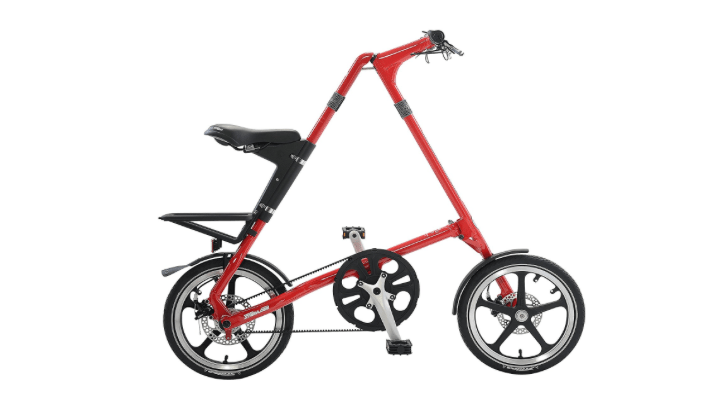 With its distinctive triangular frame the Strida SX draws all kinds of attention from curious passers by. People may want to stop and talk to you and ask you where you got it when they see you cruising by. If you're into that sort of thing, the Strida may be the perfect bike for you.
The Strida can be folded and unfolded very fast, as quickly as 10 seconds according to some users. You push the safety lever to release the front wheel and bottom tube then magnetically secure the front wheel to the rear wheel. The final step is to fold back the bottom tube.
The Strida is very well balanced and easy to roll around when folded. The bike does take some time to assemble out of the box, most especially getting the seat post adjusted correctly. Strida states that the bike fits people from 4'9″ to 6'4″ but taller folks may have some issues with their knees hitting the handlebars.
Like the Brompton, the Strida is a single speed with smaller 18-inch wheels. The biggest difference between the Strida and other folding bikes is that the seat post connects to the handle post via a ball joint.
This makes the bike more difficult to steer and keep balanced. Strida recommends no stunt riding, ice riding, or wheelies. They also instruct riders to not perform rolling mounts or stand on the pedals.
Pros
Easy to roll when folded.
Fast folding and unfolding
Cons
The saddle may be too close to the handlebars for some riders.
Best All Around Sporty Option (that was also one of the best wrap gifts ever given)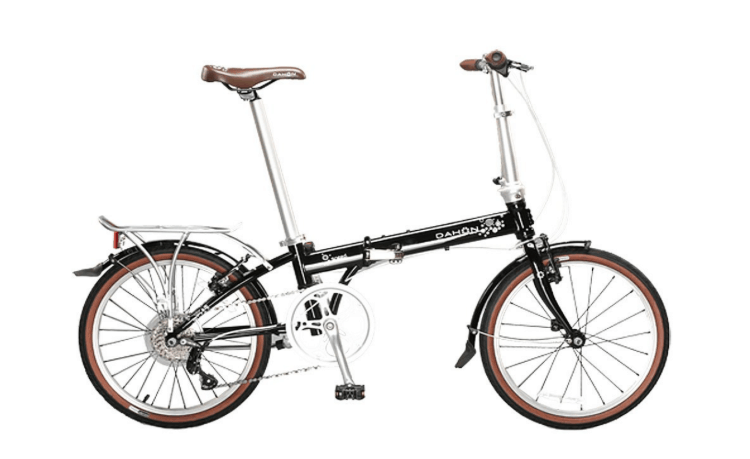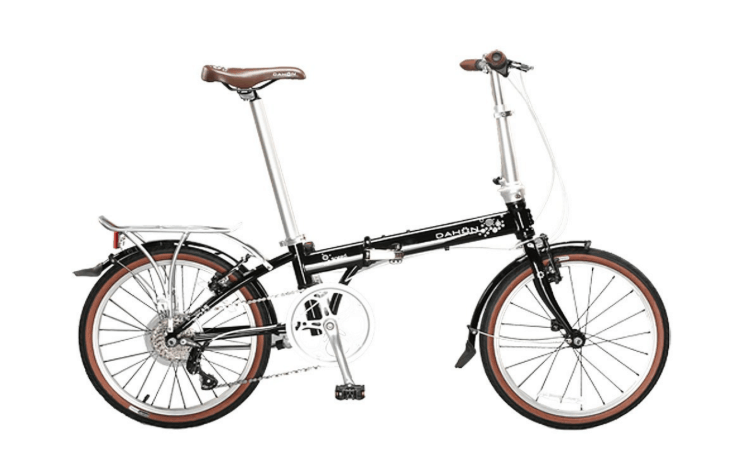 My other gig is working as a tailor and pattern maker for film and television. I was the Head Tailor and Shop Supervisor on the HBO show Boardwalk Empire for seasons 1 through 5. At the end of every season, it's customary in the business for the production to give all the crewmembers a gift. At the end of season 2 (or maybe 3, I can't remember), we all received Dahon Speed 7 folding bikes with the Boardwalk Empire logo on it.
Many of those bikes are still zipping around New York City today. One the tailors in my shop recently told me that her Dahon Speed 7 was the best and most useful wrap gift she's ever gotten.
The Speed D7 is a hand welded, quick shifting bike with a Neos derailleur and one of the best for urban riding.
Combining all kinds of copyrighted technological aspects, the Speed 7 is welded from custom made 4130 chromoly Sonus tubing. The Neos derailleur, one of its best components, is a new design that features an ultra short cage ensuring ground clearance and fast shifting.
The seven gears, operated with a handle bar twist mechanism, provide a great range for climbing inclines and tooling about town. The Speed D7 has 20-inch wheels, fenders, and a rack. And, at around $500.00 it may just be the best folding bike out there.
Pros                                                                                                                                  
Well built with plenty of gears.
Cons                                                                                                                                   
I honestly can't think of any – though one of my Boardwalk cohorts did say "I did destroy my back wheel a couple years ago and had to replace it with a stronger one, but considering how much sh*t I loaded on that bike, not a big surprise…"
Whatever your style of riding may be, there's a folding bike out there for you. Go test ride some today. Just don't forget to bring your helmet along.