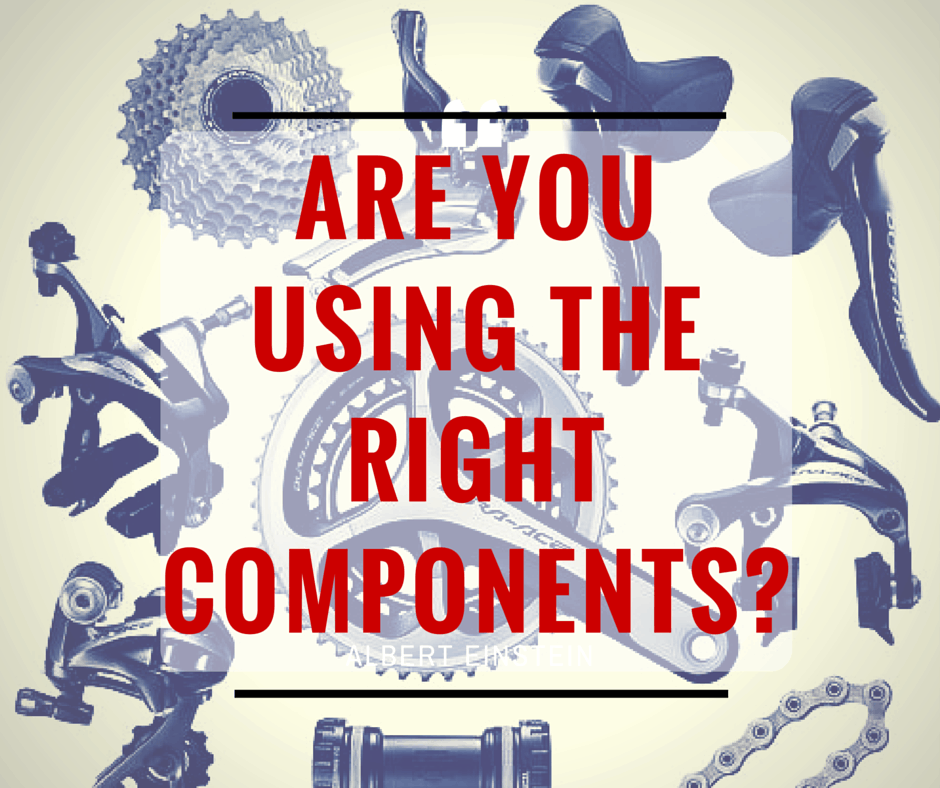 They're called groupsets, drivetrains and components, but they all refer to the group of parts responsible for shifting and braking. Choosing road bike components is one of the biggest decisions you'll make when buying a new bike or upgrading an existing one. Do you go with mechanical or electronic shifting or use a compact or standard crankset? We're inundated with options, but it pays to take the time to match your riding style to the right components. It could mean the difference between spinning confidently up a hill and feeling constantly bogged down in your easiest gear.
Component Considerations
Here are a few things to consider as you make your decision:
What kind of riding will you do?
Riding a time trial is going to require vastly different gearing than climbing hills. Some riders have different cassettes and wheels for different riding conditions, but not all of us have this luxury, so take your terrain into consideration when buying or upgrading your road bike components.
Do you want to perform your own maintenance?
If so then I suggest staying away from disc brakes and electronic shifting. But do your research first and know what you're getting into. For example, Campagnolo requires its own expensive custom tools for certain installations on its high end parts. Know what kind of investment you're getting into from the start.
Essential Bike Tools: Buyer's Guide for the Beginner Mechanic
Stiff, light parts often come at a premium, but they're not always necessary.
If you're looking for an instant speed upgrade, lightening your wheelset will have more of an impact than upgrading from Ultegra to Dura-Ace. Technology tends to trickle down from the top, so you can save some cash and ride Ultegra, while still enjoying many of the technological benefits of Dura-Ace. If you're leaning toward electronic, you can save by opting for Ultegra Di2 over Dura-Ace Di2. The performance is nearly identical and the savings is due to the fact that the Ultegra Di2 is slightly heavier.
What's included in a group set?
Crankset

Front and rear derailleur

Shifters (which have integrated brake levers)

Brakes

Rear cassette

Chain
An electronic groupset also includes a junction box and battery, which controls the derailleurs and shifting.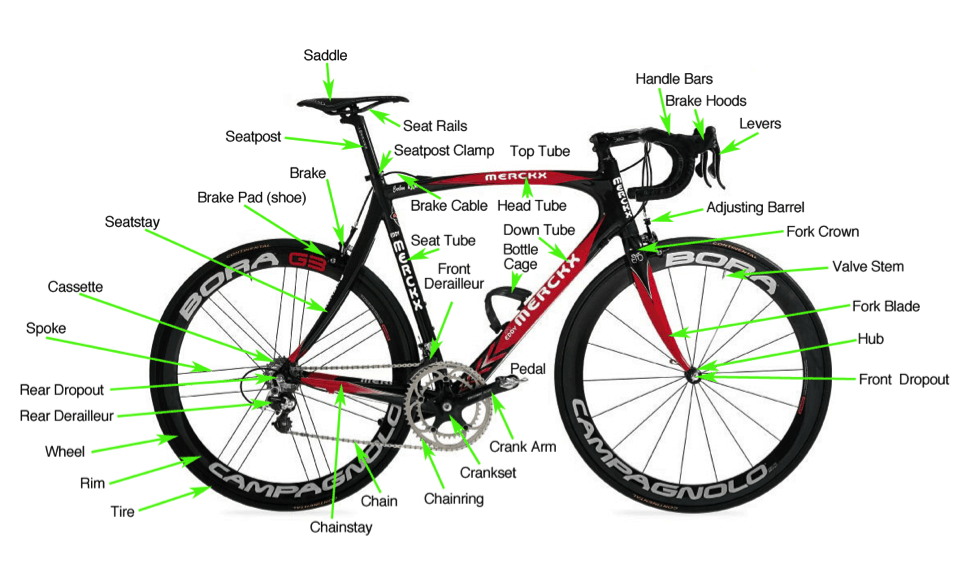 SRAM vs Shimano vs Campagnolo
Here are the drivetrains offered by the big three companies, listed from basic to super bling!
Shimano
Claris, Sora, Tiagra, 105, Ultegra and Dura-Ace.
SRAM
Apex, Rival, Force, Red
Campagnolo
Veloce, Athena, Chorus, Record, Super Record
If you're looking to compare, it's safe to say that SRAM Force, Campagnolo Athena and Shimano Ultegra are similar and fairly indistinguishable, though the price varies between the three with Shimano generally being the cheapest and Campagnolo the most expensive choice.

How do road bike components differ?
As you move from entry level to higher end, the parts are lighter and tend to perform better. The shifting mechanism itself varies slightly between the three manufacturers, so it's not a bad idea to wrap your hands around each set of shifters before committing to one brand.   
To keep the cost down, bikes are often sold with a mix of road bike components, which isn't necessarily a bad thing. Manufacturers swap out brakes and cranksets for lesser components to keep the price down.
In this case, you can always swap out lesser components for lighter, better performing ones at any time. If you know exactly what you want from the start or have some spare parts, you could also buy a frame and build it up.
Most beginners and enthusiasts (non racers) do fine with mixed component groups. Sure, there is a small weight penalty, but unless you've spend hundreds of hours in the saddle, you probably won't notice a difference. However this is a great way to save money right off the bat. If you want to save weight, invest in a lighter crankset, cassette and brakes and save your money on shifters and derailleurs.
Though disc brakes have been added to the mix, most road bikes are still sold with caliper rim brakes. Do you need disc brakes?
Cranksets are available as triples or doubles, which refers to how many chainrings they have.
A compact crankset usually comes with a 50/34. This represents the number of teeth on each ring. The larger the number, the harder the gear, which translates into being able to turn over higher speeds, but with more tension. Compacts are ideal for beginners or those who ride on varying terrain.
Standard gearing is 53/39, which is popular with racers.
Looking for a compromise? Try a mid-compact with 52/36 gearing.
Triples (50/39/30) have the greatest range of gears, though they can very nearly be achieved with a compact crankset. Today triples are most commonly used on touring bikes.
Related: Get Fast! How to Find the Best Wheels for Your Road Bike
Cranks
Crank arm lengths vary between 160-180mm and are based on the size of the bike frame.
A longer crank arm actually offers a greater mechanical advantage, but changes the angles associated with the bike's overall fit. I'd recommend working with a fitter if you want to tinker with the length of your crank arms.
Complete Guide to Clipless Pedals: How to Get Started Now
This refers to the cluster of sprockets on the rear wheel.
A rear cassette with a close ratio offers small jumps between gears, which is ideal for riding on flat terrain or in a time trial.
A wider range is more versatile and ideal for climbing.
The number of rings on the cassette refers to how many speeds the bike has. Just keep in mind that a larger gear on the back requires a long cage derailleur.  
The chain you choose is also dependent on the number of gears you have. Generally the more speeds the bike has, the narrower the chain.
There are two types of front derailleurs: Band-clamp (or band-on) and braze-on. A braze-on is riveted to the frame and necessary for unusual tube shapes that can't handle a clamp.
Braze-on has a round clamp which bolts onto a round frame.
Rear derailleurs also vary depending on how many speeds the bike has.
Is Your Seat a Pain in the Butt? How to Choose the Best Bike Saddle
Want even more cycling hacks or to connect with a community of like-minded cyclists? Join us in our free Facebook Group.
Photo credit: www.billbonebikelaw.com