Latest posts by Doug McNamee
(see all)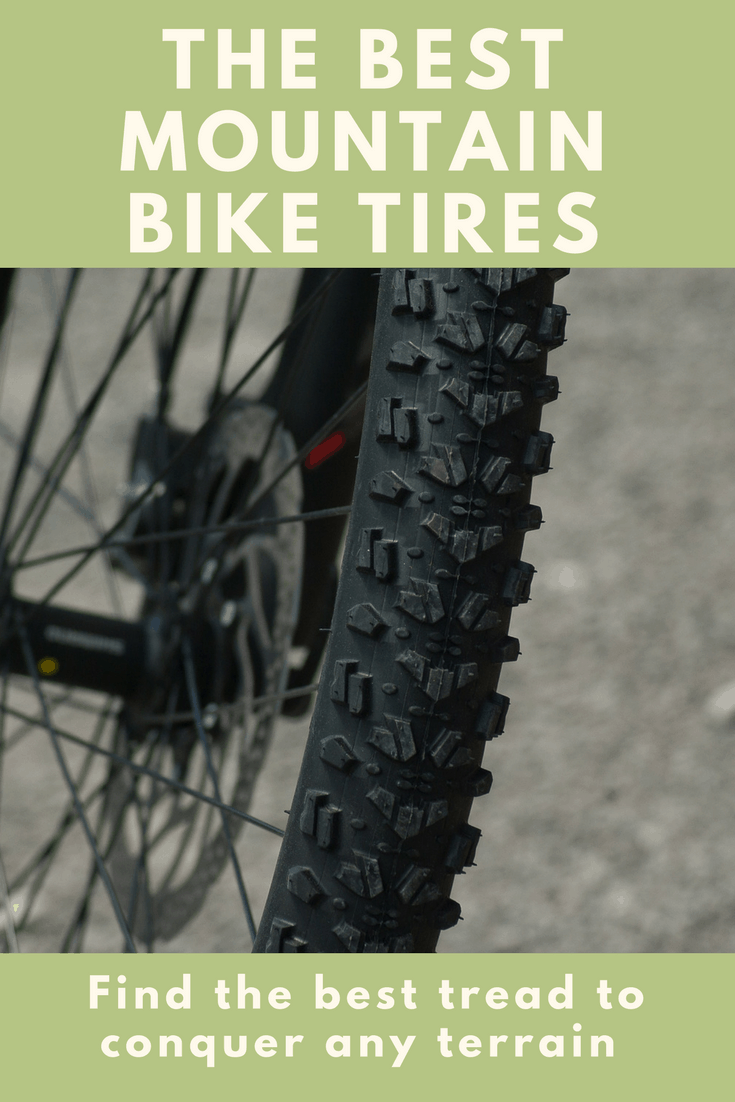 Choosing mountain bike tires isn't as easy as it sounds. Like most things in the bicycling universe, there are more choices than ever to fit the type of rider you are and the kind of riding you do.
There are several factors you should consider when looking for the best mountain bike tires. Tire weight and width are only the tip of the iceburg.
For a good all-around tire that sheds mud well and rolls fast, we love the WTB Velociraptor.
Our Top Tires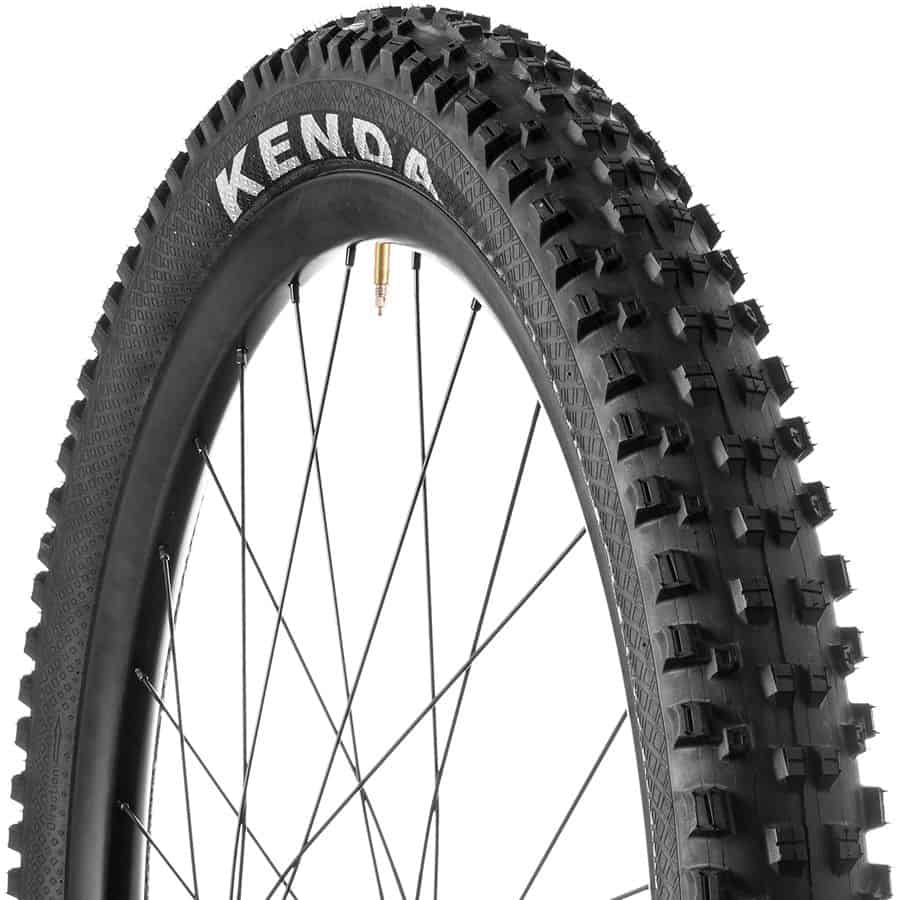 *Click for more information or read full reviews below
Wheel Size: A Quick Primer
The best place to start in understanding the type of mountain bike tire you need is to start with the wheel size on your bike. Essentially there are three wheel sizes for mountain bikes: 26, 29, and the newer 27.5 inch.
The 26″ wheel was the standard size for a long time and was found on most new bikes. It excels at fast, technical terrain and accommodates riders of all sizes. However, they're less forgiving over bumps and offer less traction.
By comparison, the 29″ wheel (or "29er") has been around since the late 1990s. 29ers are basically the same size as a road or cyclocross wheel. The larger wheel offers the rider fast climbing, smooth handling over bumps and better traction. The disadvantages are slower acceleration and less control in the corners, especially for smaller riders.
The 27.5″ diameter wheel (also known as a "tweener") has been on the market since 2007, designed to hit the sweet spot between a 26 and 29-inch wheel. It provides a higher top-end speed than a 26″, but is more responsive than a 29er.
Related: Mountain Bike Buying Guide: What You Need to Know to Hit the Dirt
Trails and Riding Conditions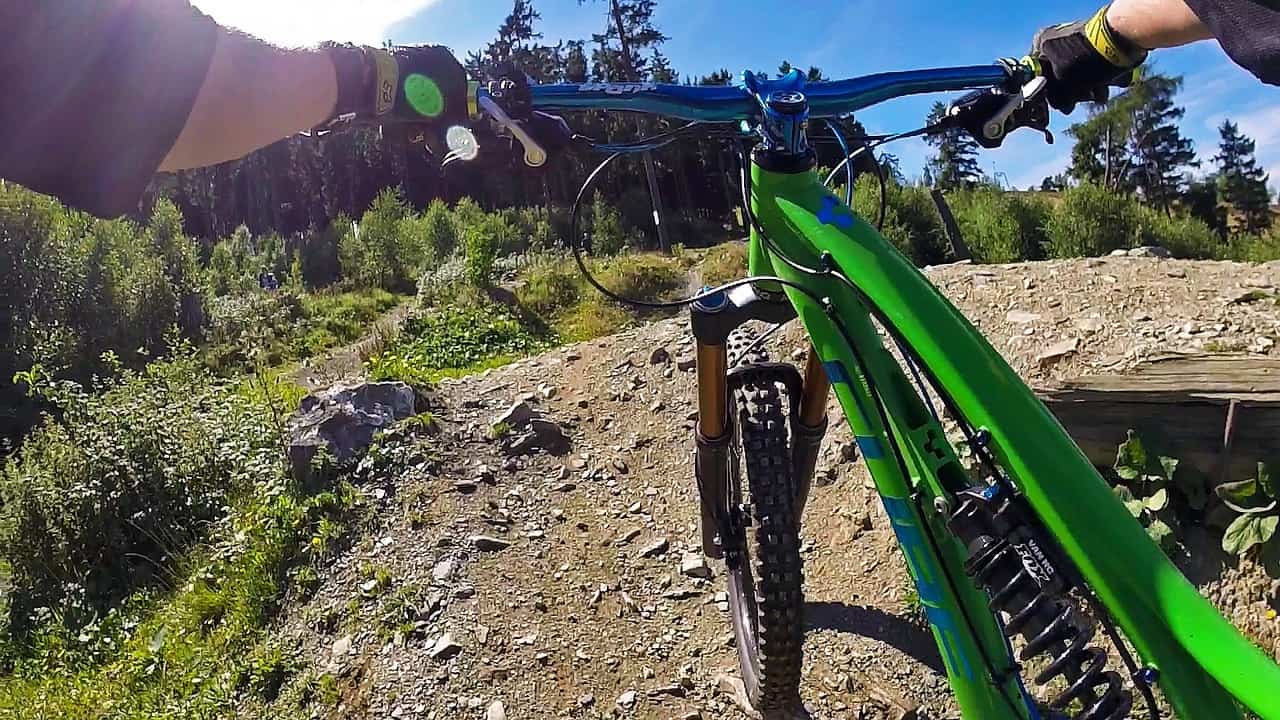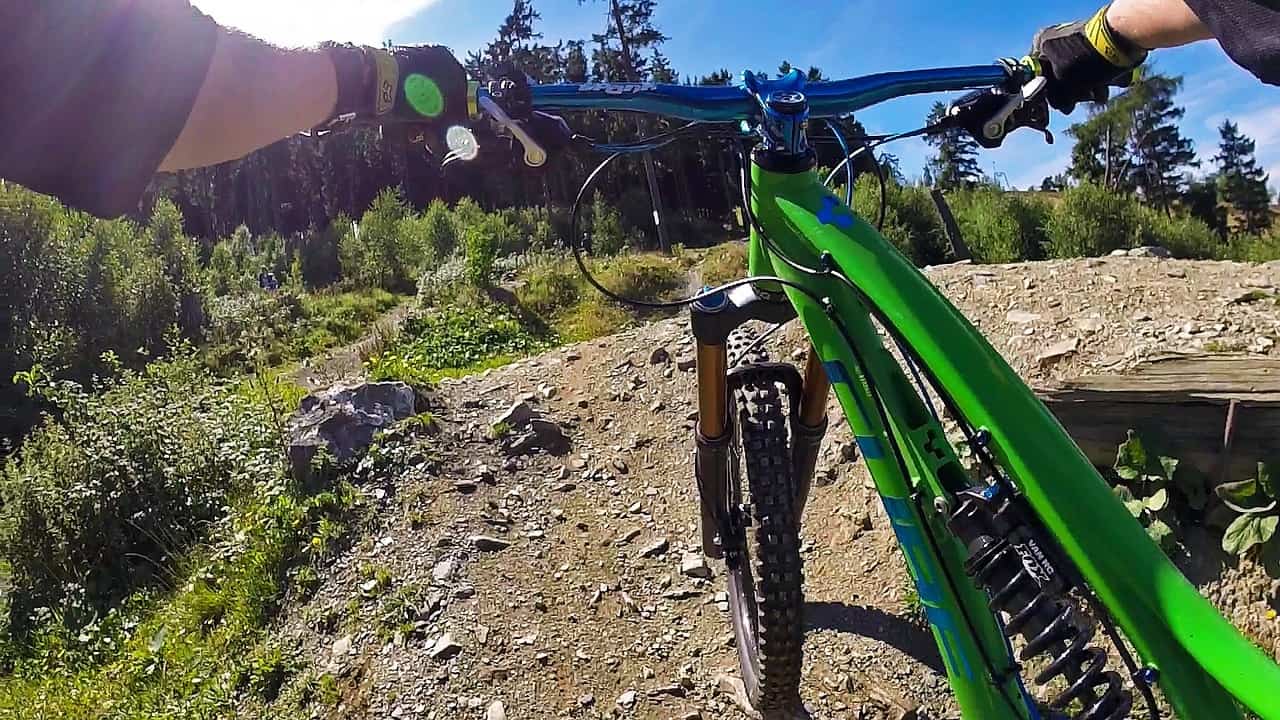 It's important to choose the correct tire for the conditions you'll be riding. Trails and riding conditions can vary greatly from all- mountain and downhill to dirt jumping, and free-riding.
The terrain you encounter could be anything from mud, rocks, or a heavily wooded forest with lots of ground cover to trudge through, so it's important to choose the best tire for the terrain. Some key points to keep in mind, though, are a narrow tire will roll faster than a wider tire, but it won't provide as much traction or grip, especially in looser soil.
Choosing The Right Tire
Not all bike tires are created equal. A lot more goes into a mountain bike tire design than you would think (or care to know!). And when buying tires, there are elements such as the casing, compound, and tread blocks to consider.
Front Tire/ Rear Tire Choice
First things first, do you need a different tire for the front of your bike versus the back? Compared to road cycling where running opposing tires isn't even a question, doing so in mountain biking could offer a performance enhancement.
Truth is, feelings are mixed on this topic. Having a wide knobby tire up front, of course, will help in various riding conditions since the front of the bike is where control is most relevant.
Some riders, consequently, use a slick tire or even a worn tire for the back. It is a cheaper alternative to running two like tires.
Tire Types
Mountain bike tires can be bought as clinchers, tubeless, tubeless-ready, or tubulars. While these tires offer benefits, such as better traction, lower rolling resistance, and less potential for flats, think about the terrain you'll be riding.
Many mountain bikers, racers in particular, prefer tubeless because it's impossible to pinch flat and they can run lower pressures.
For the every day rider, clinchers (a tire with a tube) should be fine, just run them at the suggested PSI, especially on technical trails. If you have the extra money to spend, definitely consider tubeless for the ease and performance benefit.
What To Look For In A Mountain Bike Tire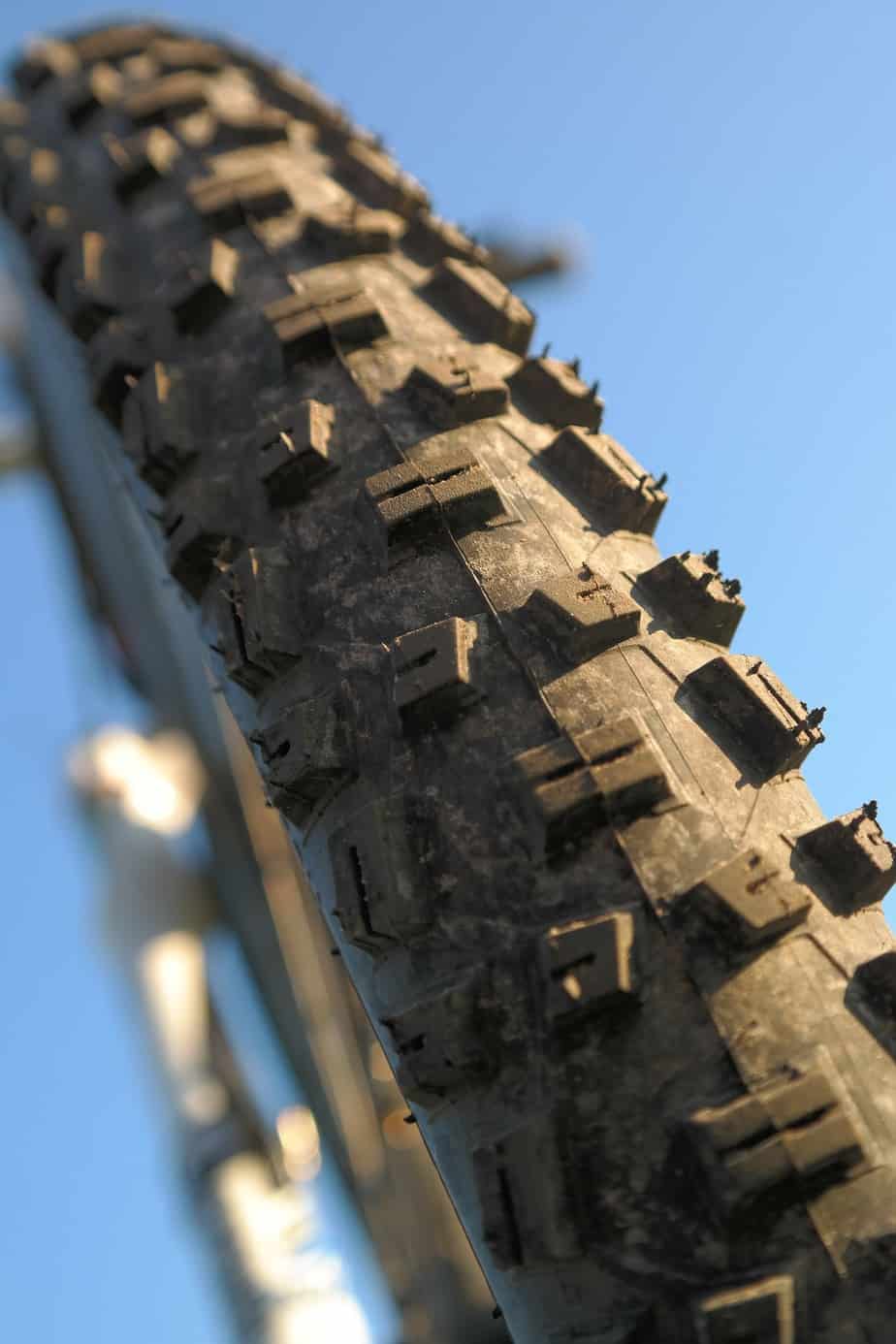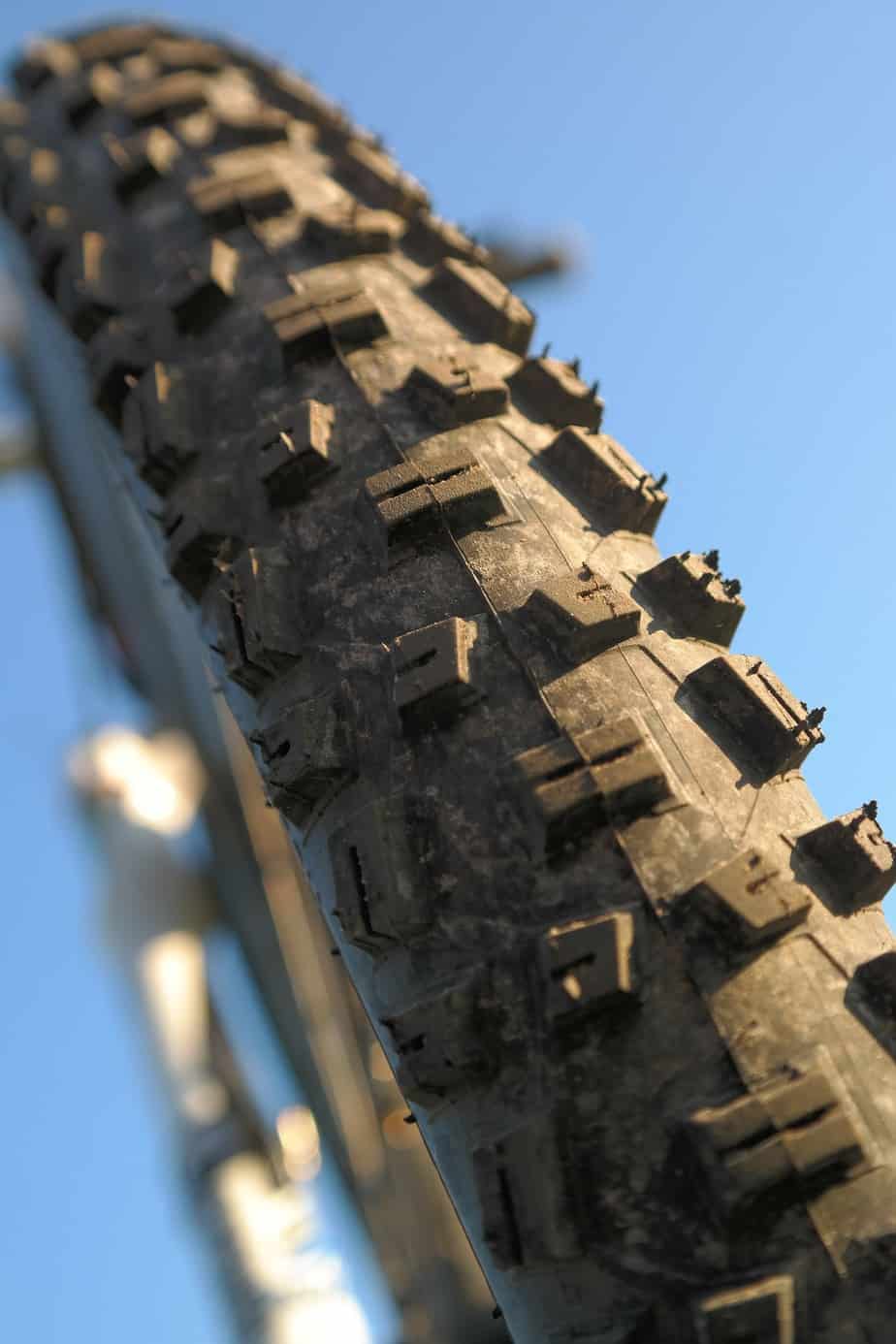 Clinchers or tubeless tires aside, what you will notice as a rider is how the tire performs in the dirt. You want a tire that offers great traction and protection in all conditions, accelerates quickly, and offers smooth cornering.
Those points in mind, here are the key factors to search for in a mountain bike tire:
High TPI (threads per inch) – A high TPI tire offers lower rolling resistance, so shoot for something with a 60 – 110 tpi. Anything over that won't be that noticeable. A downhill (DH) specific tire has a thicker casing and can handle more abuse at higher speeds with a lower inflation.
Kevlar Folding Bead – The bead is what helps to keep the tire mounted on the rim. While Kevlar offers more flat protection, it comes at the downside of increased rolling resistance and potentially a shorter tire life.
Tread Compound: durometer & hysteresis – The durometer is measured from 70sa to 40sa and listed on the sidewall. A higher number means a harder compound, while lower numbers indicate a softer one. Hysteresis is a measurement of energy loss: a higher number means less energy is expended while riding. A lower number means more energy is used.
Tread Design/ Direction/ Shape – Overall performance of a mountain bike tire is impacted by the shape and direction of the knobs. Short knobs are for hard surfaces, while smaller, shorter knobs are best for looser soil. Mud and softer soil need longer knobs with larger spaces between them, which are better for cornering and climbing. Lastly, ramped knobs affect rolling resistance, but provide better braking.
Related: Fast Rollin! 15 Incredible MTB Wheels to Transform Your Ride
6 Top Performing Tires
When we put the rubber side down on all types of terrain, some tires rose above the rest. Ultimately, you should do some testing on your own trails, but we think you'll quickly see the value in these six tires.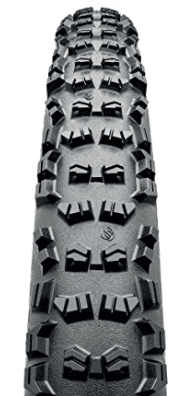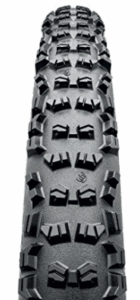 Ride Conditions: Although It's considered an all purpose/ all terrain tire, the Trail King performs best on rougher terrain over rocks, roots or uneven trails due to tall blocks with a lot of space between them.
The Trail King also grips well and offers good tread wear.  A singletrack or trail rider would both benefit from this tire.
According to Continental, this tire works best with bikes that have 140 mm of suspension travel. The tire's "black chili" compound, improves rolling resistance by 26%.
Who It's For: This is a very budget friendly and well-built tire. Both a seasoned rider and beginning mountain biker would get good value from this tire.
Ride Conditions: The High Roller II is considered an all around DH tire, but it really shines in soft soil or mud with unparal braking and cornering.
Maxxis has fully redesigned the High Roller II with its "3C" compound, which improved braking and traction.
Who It's For: The original Maxxis High Roller is a former World Cup and World Championship tire, and, as result, is one of the most successful tires ever made. That said, it's really a tire for a racer who wants speed and assured cornering, but it can also work for the aggressive trail rider and downhiller.
Sizes: 26 inch, 29 inch, and 27.5 inch sizes and various widths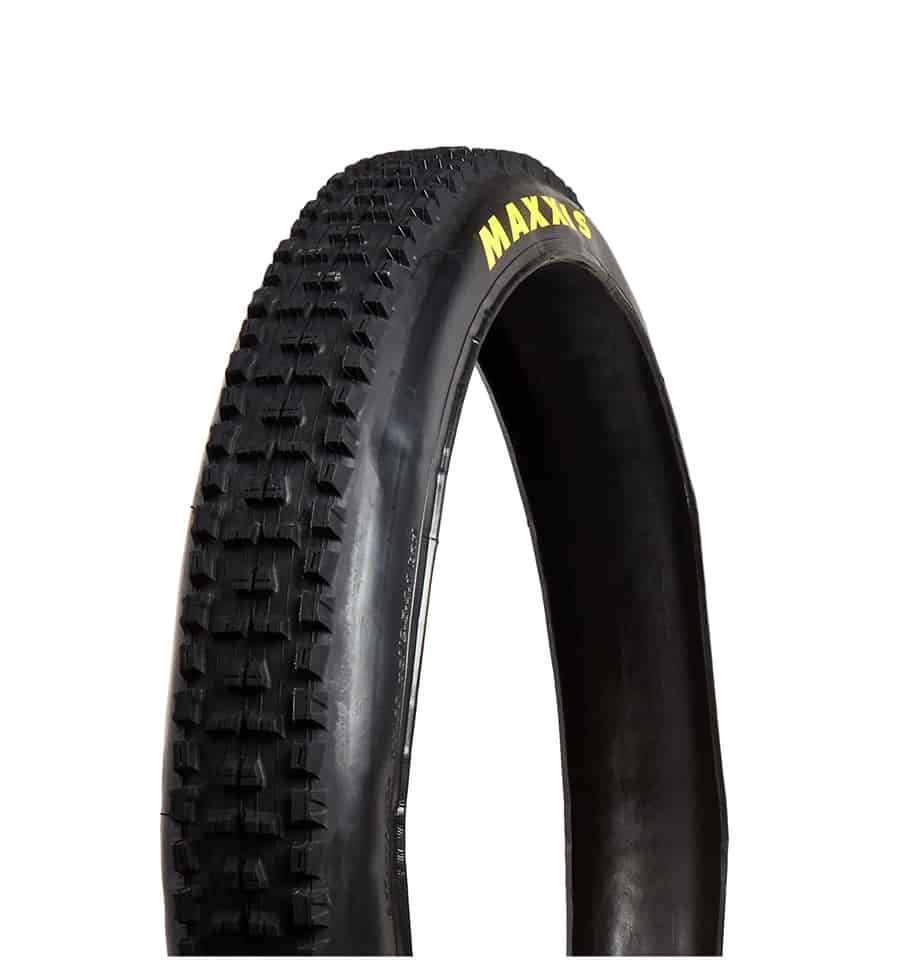 Best Mountain Bike Tire for Beginners or All-Around Trail Riding: Schwalbe Hans Dampf
Ride Conditions: It's not uncommon to see this tire standard on many current mountain bike setups, which is why it's a great choice for the beginning mountain bike rider. Furthermore, the Hans Dampf is marketed as an all terrain tire, although reviews are mixed.
Some riders say it is good in softer soil (mud), while others claim it performs well over hard surfaces.
Who It's For: The Hans Dampf is ideal for the beginner mountain biker who wants to ride trails that aren't overly technical.
But for racing or downhill riding with much speed or the need to lean the bike into corners, the Hans Dampf doesn't perform as well as other tires.
Choose between the Performance line (featuring a dual compound tread) and Evolution which allows you to choose a rear tire that's either grippy (TrailStar) or fast rolling (PaceStar).
Sizes: 26, 27.5, and 29 inch configurations.
SCHWALBE Hans Dampf Snakeskin TL Ready - 29in
For a perfect trail ride. Everything has been tuned for control and maximum riding fun. The tread functions with absolute poise and is well behaved in every situation – like difficult terrain on singletrack.
Buy at Amazon.com
We earn a commission if you click this link and make a purchase at no additional cost to you.
Best Budget Mountain Bike Tire: Kenda Nevegal


Ride Conditions: – The Nevegal is considered an aggressive trail-riding tire with large center knobs to reduce rolling resistance. This tire has a good grip in mud and softer surfaces, but doesn't perform as well on hard pack.
Who It's For: It excels for a beginner who's still figuring out their ideal riding style as well as the experienced trail rider who doesn't want to dip too deeply into their beer fund.
Consistently voted a top performer by Mountain Bike Action Magazine, the Nevegal is a tire that will satisfy most riders, especially downhill and free-ride type riders with its "Stick-E" compound for reduced weight and better grip.
Sizes: 24, 26, 27.5, and 29 inch sizes.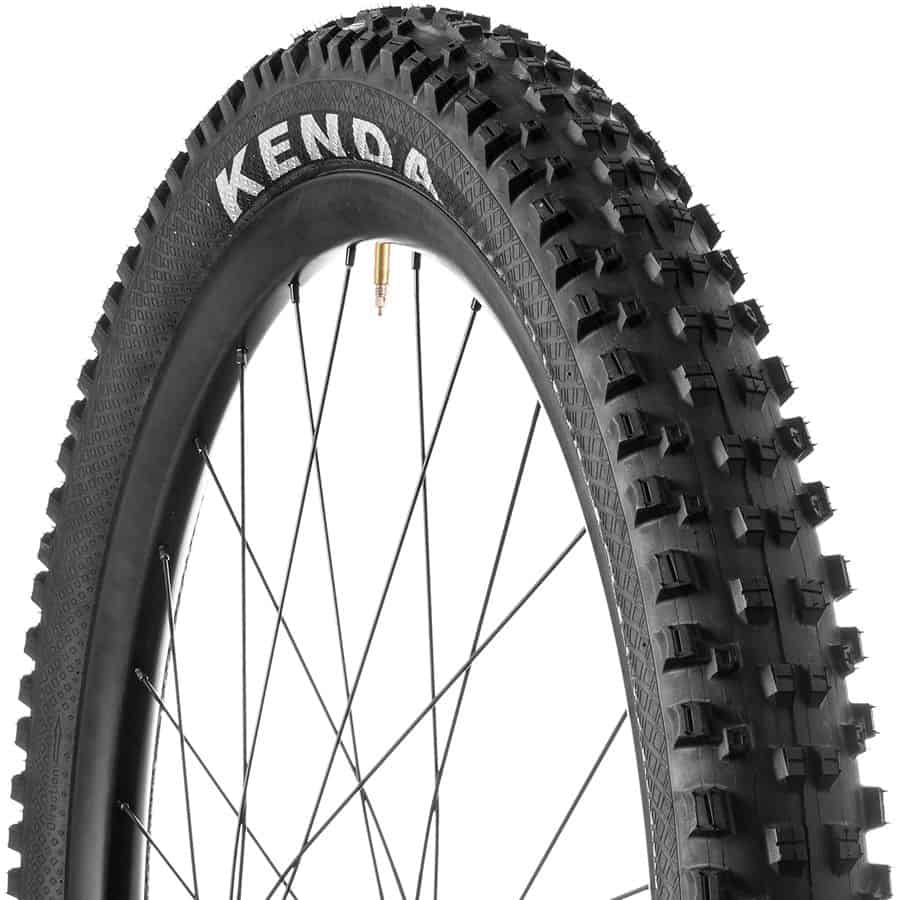 Another big bang for the buck:
Ride Conditions: The VelociRaptor excels at climbing, cornering and providing excellent grip on technical trails. It also sheds mud like a boss.
Who It's For: A good all-around tire for both beginners and experienced riders alike. Racers might find it slow rolling and sluggish to get up to speed. The VelociRaptor is proof that you don't have to spend a lot of money for a high performing tire.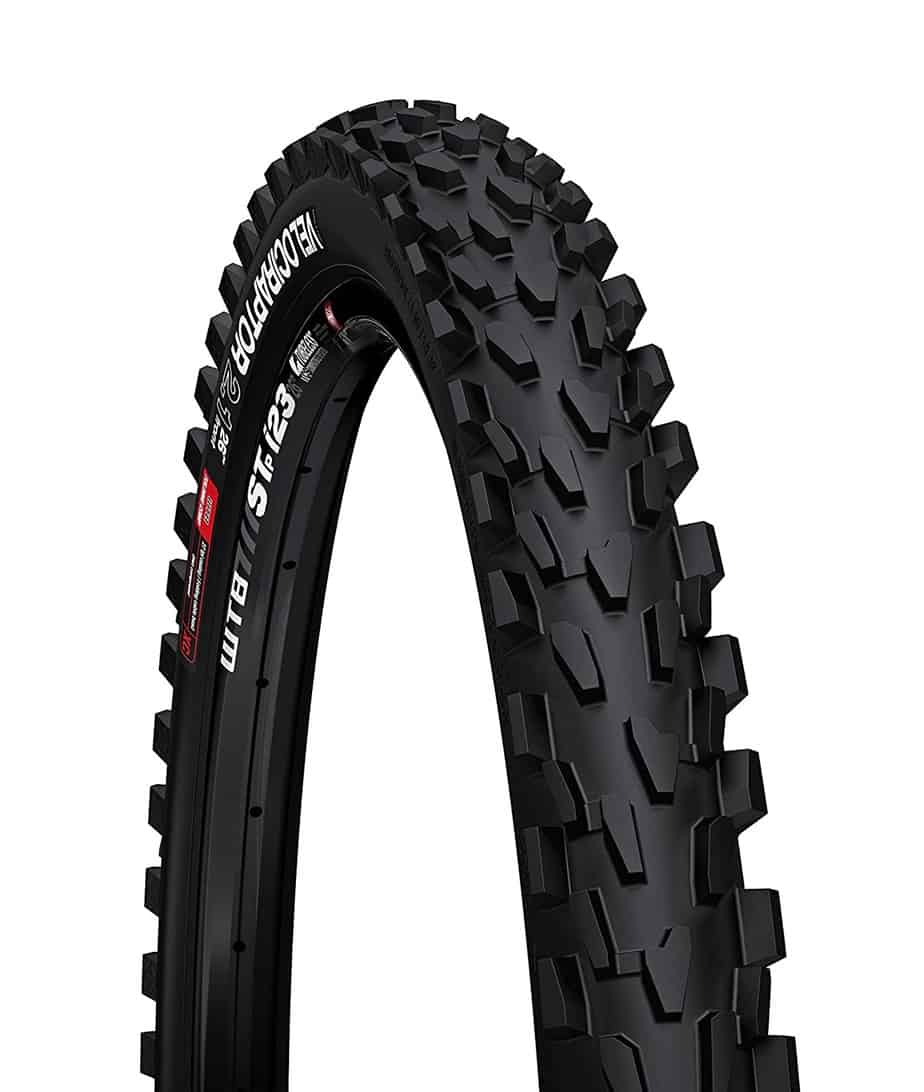 WTB Velociraptor Comp Tire | Amazon
At a time when mountain bike tires were unquestionably gum walled, the VelociRaptors came out in black and haven't looked back ever since. They changed the game in 1994 with a steering specific front and a rear that could really dig. The VelociRaptors continue to be popular because to put it simply... they just work.
Buy at Amazon.com
We earn a commission if you click this link and make a purchase at no additional cost to you.
08/23/2022 12:03 am GMT
Best Tires for Urban/Dirt Jumping/ Light Trail Riding: Maxxis Holy Roller
Ride Conditions: The Holy Roller is really for riding on pavement, dirt jumping, and some light trail or free riding. Though the tire has knobs, it functions more like a slick tire. Maxxis considers it an "urban assault" tire with inverted knobs and a single ply casing.
Who It's For: This tire isn't ideal for a serious trail rider, but for the around-town commuter who rides both pavement and trails. It's also made for jumping both on pavement and dirt.
Size: 20, 24, 26 inch