Latest posts by Vanessa Nirode
(see all)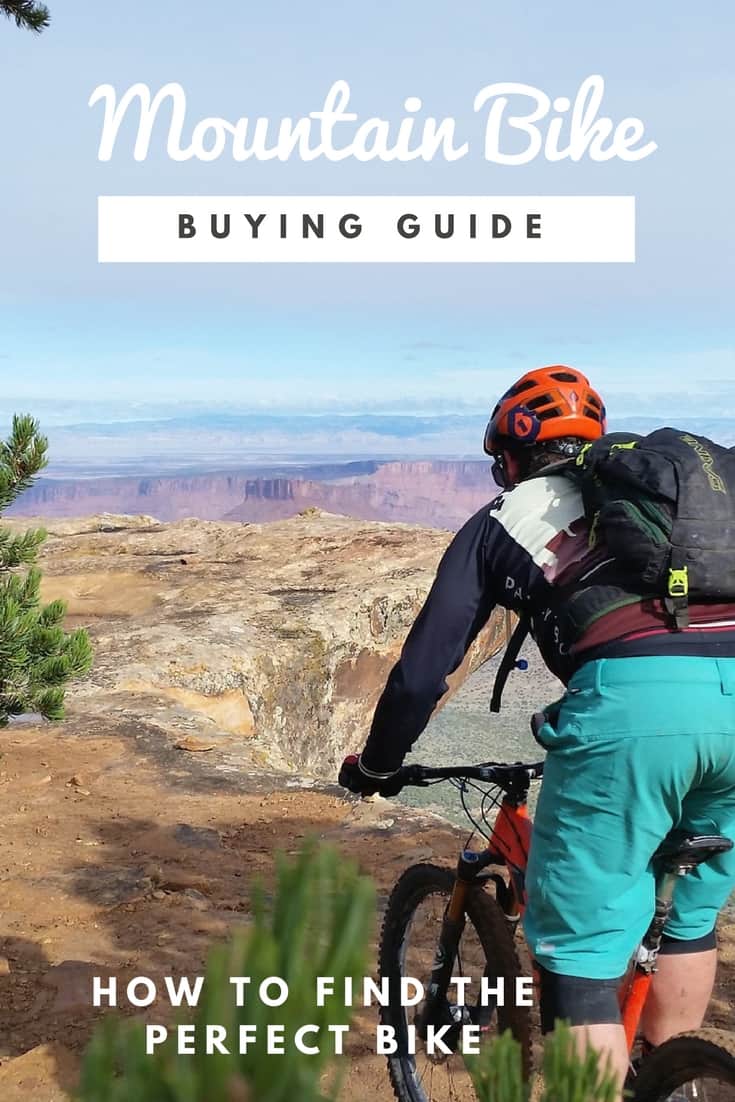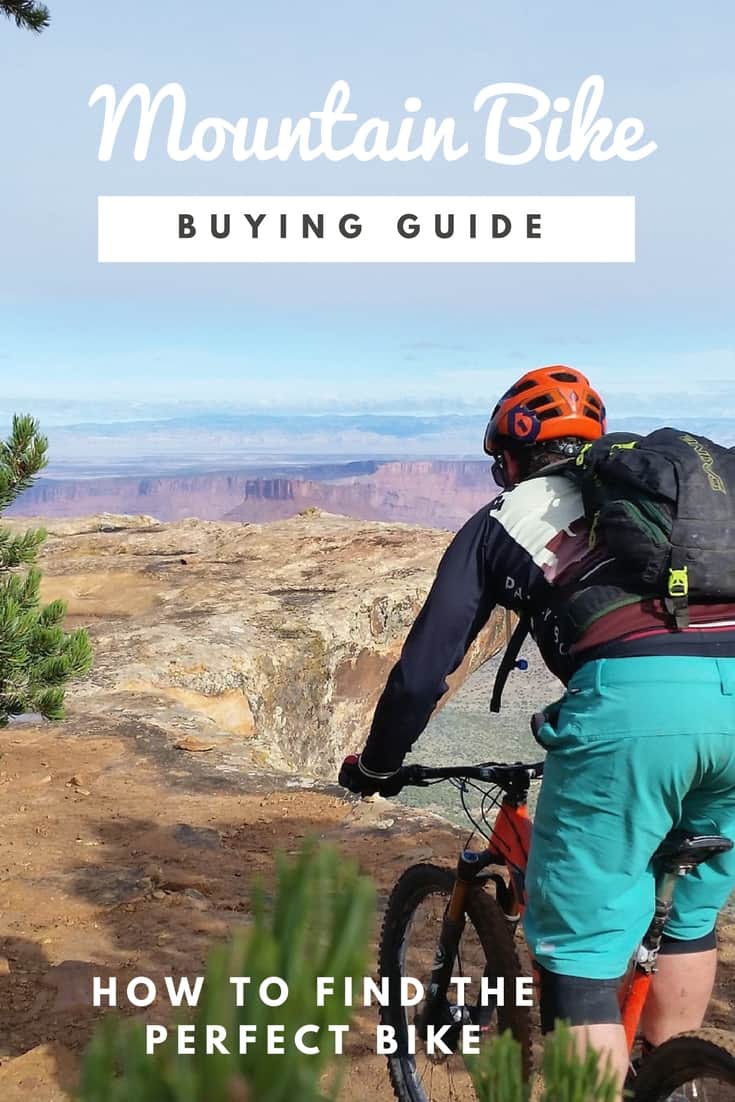 You're ready to hit the trail, but where do you begin? There so many are different types of bikes, various frame materials, suspension and wheels sizes. No two mountain bikes are created equal.
But that's good news because you can find exactly what works for you and compliments the terrain you intend to ride.
Before you start shredding singletrack, let's walk through what you need to consider to find the perfect mountain bike for you.
How to Score the Best Budget Mountain Bike Under $500
7 Best Budget-Friendly Mountain Bikes Under $1,000
7 of the Best Trail-Ready Mountain Bike Rides under $1,500
Huck for Less: 9 Awesome Mountain Bikes Under $2,000
Hardtail vs. Full Suspension
A hardtail means just that: the bike only has suspension in the front fork and the rear is hard, or rigid. Because of the absence of a rear shock system, hardtails tend to be cheaper and lighter than full suspension bikes. They also tend to need fewer repairs.
But without that nice bouncy rear suspension, riding is a lot less comfortable. On rough, technical trails, hardtails tend to throw riders around. A full suspension will absorb more of the trail, allowing you to go faster and feel more in control.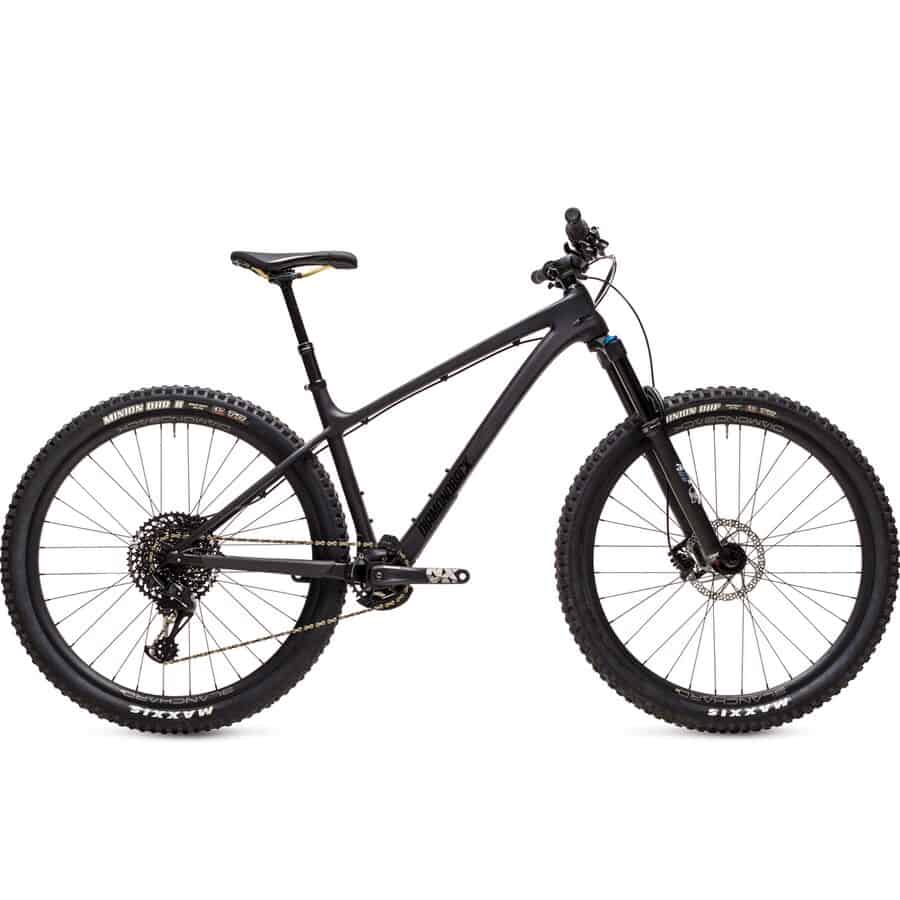 Diamondback 29 Carbon Mountain Bike | Competitive Cyclist
Highest rated hardtail bike of Competitive Cyclist is here! Full packed features from advancements in frame technology to ultramodern components, a bike that comes with bells and whistles (and a full-suspension) is simply out of reach for many passionate riders.
Check Price
We earn a commission if you click this link and make a purchase at no additional cost to you.
Full suspension bikes (or dualies) have both front and rear shock absorbing systems and are built for steeper and more technical trails. This suspension can help the wheels track the ground better and improves the overall handling of a bike.
They are usually faster going downhill, though, and can be a bit sluggish on climbs, especially the low-end full suspension bikes, which tend to pack on the pounds. Many full suspension models offer a stiff setting on the rear shock for climbing because any additional flex can still siphon away some of the power from your pedal strokes.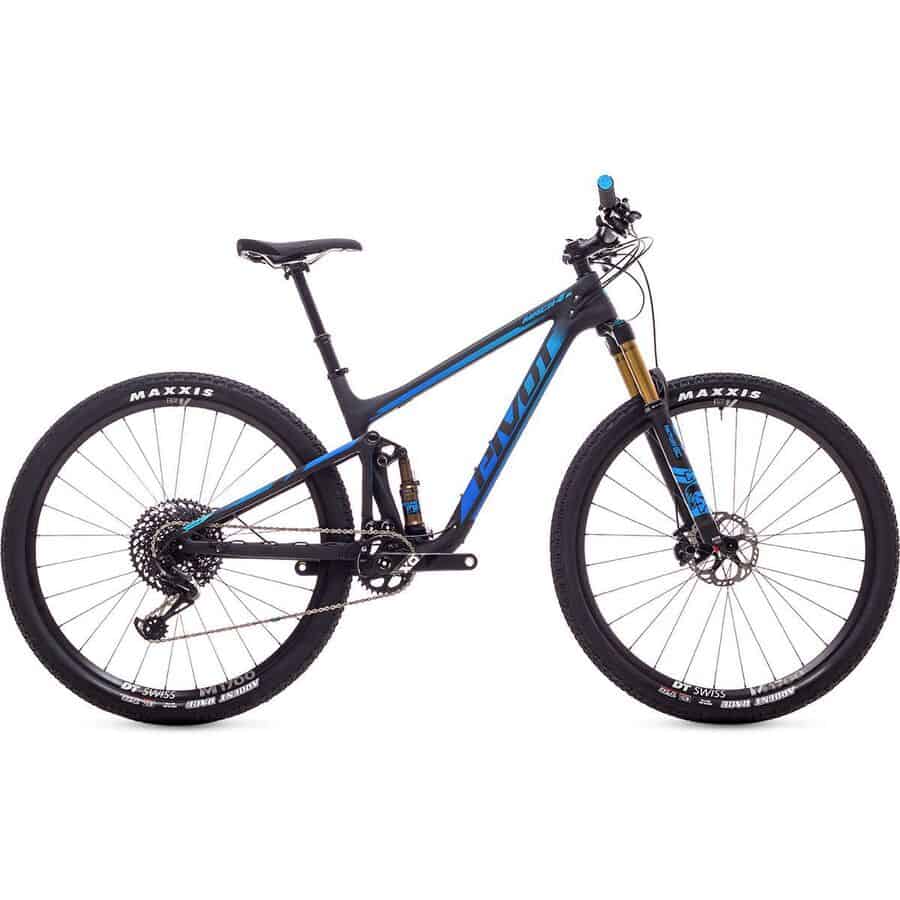 Pivot SL Carbon Pro X01 Eagle Mountain Bike | Competitive Cyclist
Highest rated full suspension bike of Competitive Cyclist is here! Built for those of us who are of the pedal-your-own-way persuasion, with a featherweight construction that's stature is anything but, offering stiff control and power that scales in at a whopping 300-grams below the previous Mach 429 SL.
Check Price
We earn a commission if you click this link and make a purchase at no additional cost to you.
Botton Line: For most beginners, a hardtail is fine for learning the basics and having fun in the woods. However, if your bike budget is at least $1,500, we'd recommend checking out a full suspension, as it will save you an upgrade down the road.
Remember, it's always better to invest in a good quality frame. You can easily upgrade the components later down the road.
Specific Types of Mountain Bikes
Useful Mountain Bike Terms:
Suspension/ Travel: The amount of movement offered by the bike's front and rear suspension
Head-tube angle: the angle that the head tube forms with the ground. A bike will usually turn faster and climb better with a steep head tube angle. A lower head tube angle usually means a more stable bike at high speeds.
Here's a breakdown of some of the most common bikes you'll encounter and the type of riding they excel at.
Trail Bikes
Because trail bikes aren't intended for any specific type of riding, they tend to be the most popular style of mountain bike.
They're great for meeting up with friends at local trailheads and riding a mixture of climbs and descents. To offer descending confidence, they have more relaxed angles and to help control speed and they use shorter stems and wider handlebars.
Trail Bikes normally try to place equal emphasis on fun, efficiency and sensible overall weight.
Trail hardtail frames can be high-quality steel or aluminum. The frame material of choice for full-suspension trail bikes is usually aluminum though some top end bikes have carbon fiber. Double chainrings and a wide range of gears help make hill climbing a bit easier.
Trail bikes use either 29 inch or 27.5 inch wheels. 29 inch wheels tend to be more stable, while 27.5 inch provide a more dynamic ride.
Typical specs: 120–150mm of suspension travel; 67–69° head-tube angle
 
Because they tend to focus on efficiency and low weight, cross-country bikes are great for climbing and covering ground as quickly as possible.
While they are often used for racing, they are just as well suited for a day out in the mountains. Most racers prefer hardtails, but full suspension models are becoming more popular. 
Cross-country bikes often have larger diameter 29in wheels combined with lightly treaded, fast tires for speed. Some brands offer them with 650b wheels, also called 27.5in.
These bikes usually have steep head angles, longer stems and narrower bars for quick reacting and handling. They can though, be harder to control on steep descents, especially when combined with shorter-travel suspension and skinnier tires.
Cheaper cross-country bikes have alloy or aluminum frames, but carbon is usually the choice for high end race machines. Gearing can vary, but they usually come stock with a wide range of hill climbing friendly gears.
Typical specs: 80–100mm of suspension travel; 70–71° head-tube angle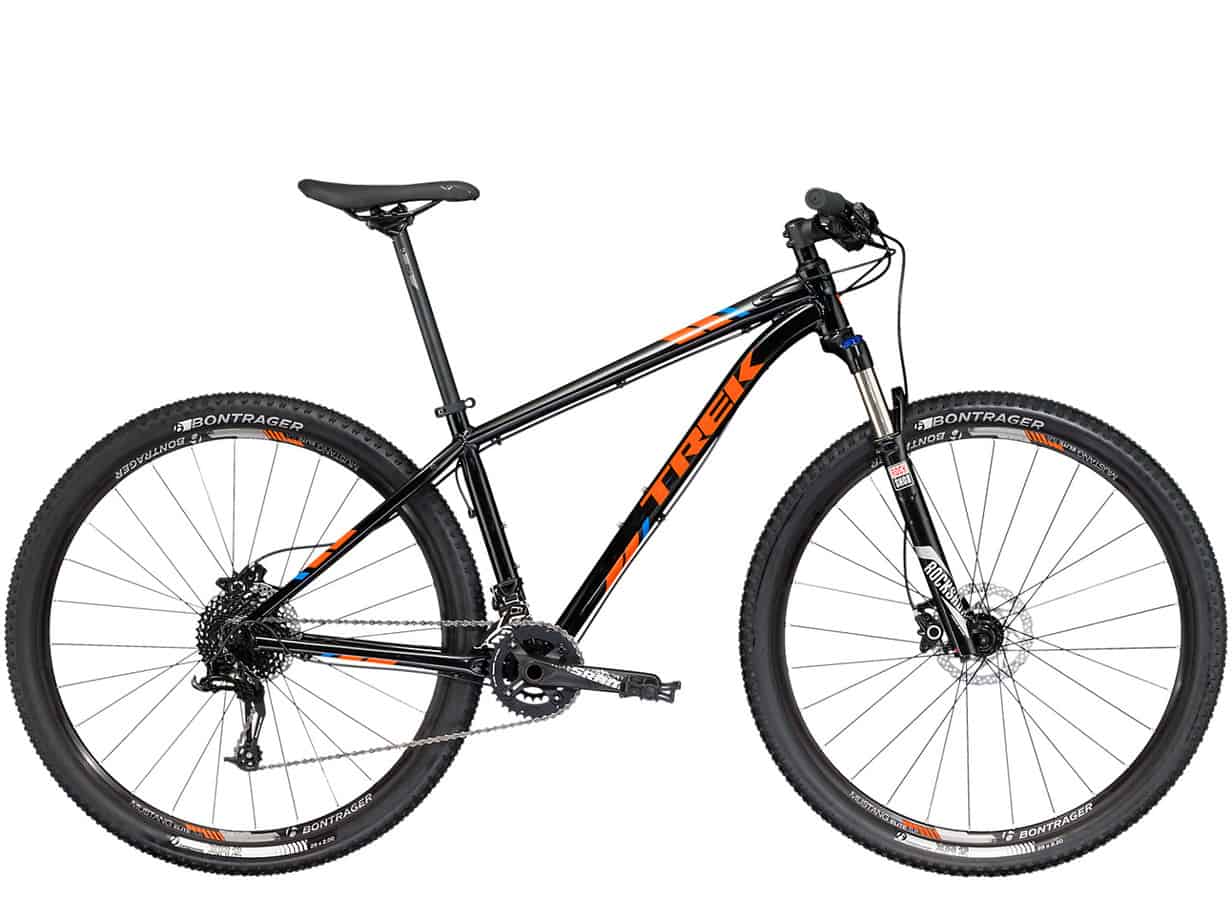 X-Caliber 8 | Trek Bikes
This bike is a wonderful ride. It's built with special attention to value and the parts that make the biggest difference in performance.
Check Price
We earn a commission if you click this link and make a purchase at no additional cost to you.
All-Mountain/ Enduro Bikes
All-mountain riding is kind of like trail riding on steroids, with bigger climbs, scarier descents and loads of keep-you-on-your-toes technical features.
Bikes for all-mountain riding are designed to perform well on steep descents, while being light enough to climb (relatively) easily uphill.
Enduro is a racing format in which the descents are timed, but you still have to pedal yourself around the course, making all-mountain bikes the natural choice.
These bikes tend to have more travel than regular trail bikes, and are almost exclusively full suspension. They use air-sprung suspensions which are often heavier duty with a range of damping adjustments to tune their downhill performance.
Some even have remotes that allow you to drop the seatpost, thereby changing the bike's geometry and travel to optimize the bike for going down and up hills.
Often all mountain bikes have just one chain ring paired with a large range of gears in the back.
Typical specs: 140–170mm of suspension travel; 65–68° head-tube angle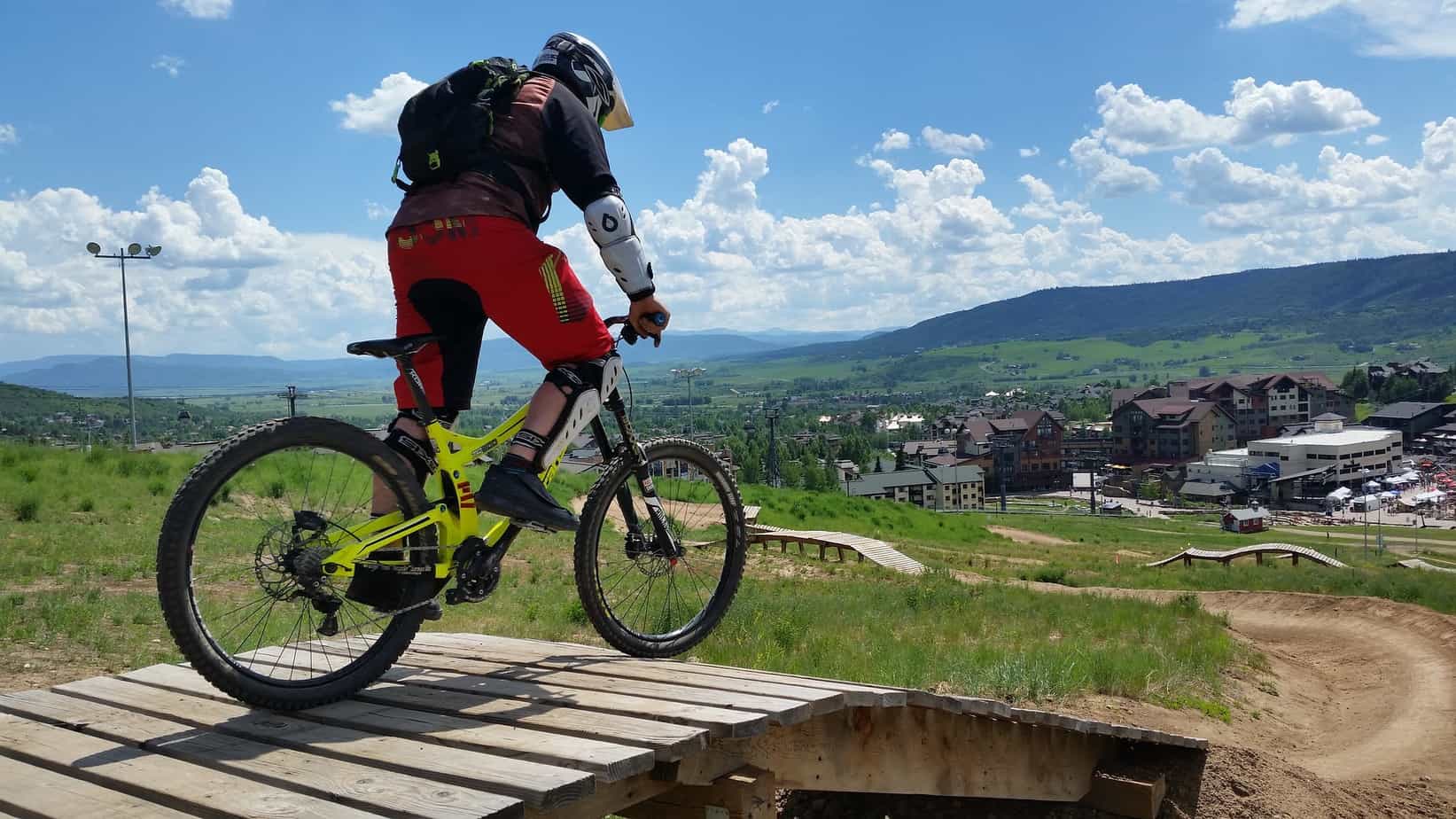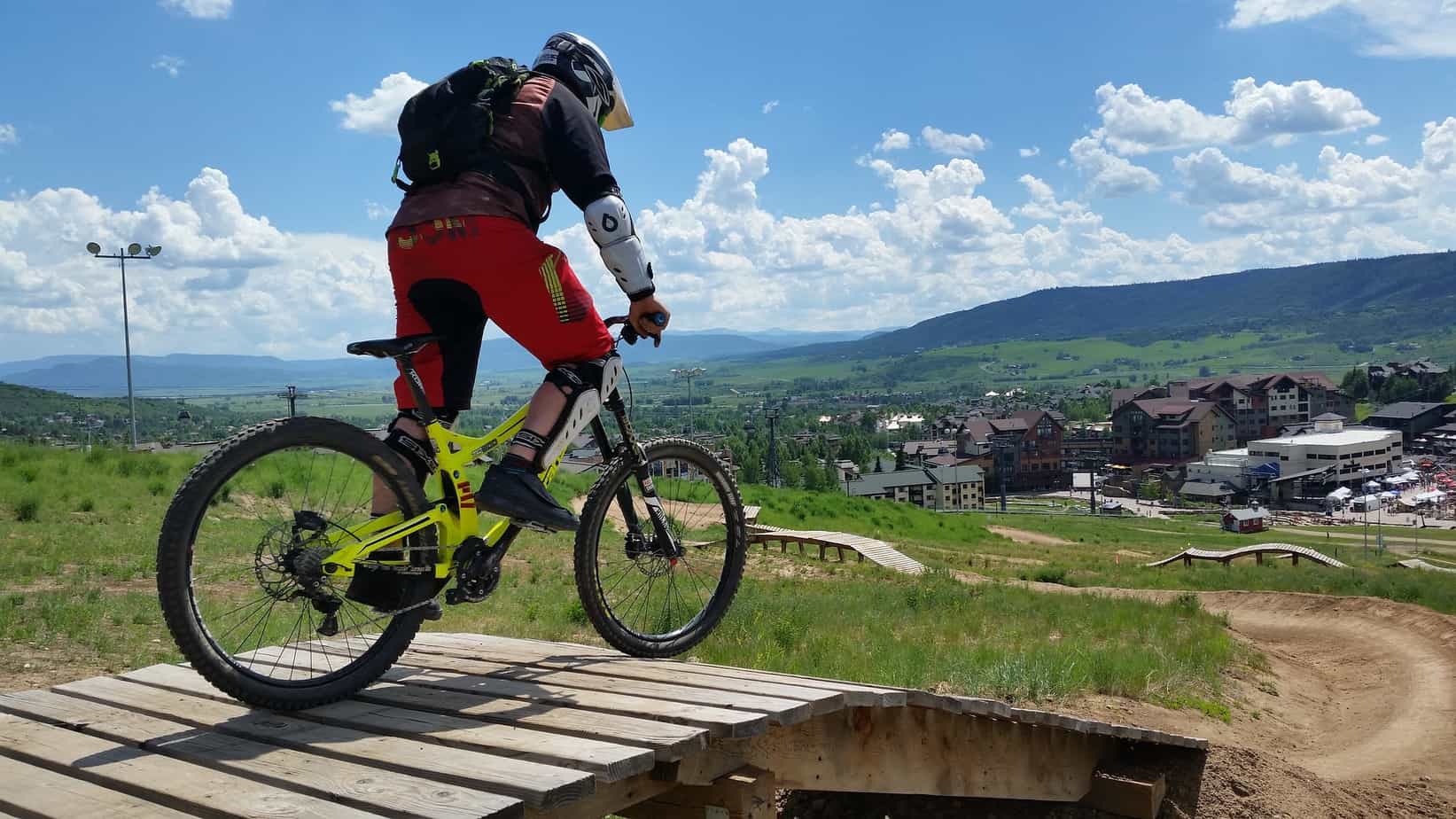 Downhill/Park Bikes
Mostly ridden at lift-serviced bike parks, downhill bikes are built to be big and tough. These are the bikes ridden by people dressed in full-face helmets and body armor.
Downhill bikes are about doing one thing: going down steep and technical tracks very, very quickly. They often use coil sprung suspension that's specifically for traction and support, as opposed to pedaling ability. You wouldn't want to pedal one of these bikes for long or up any inclines.
The forks of downhill bikes have legs that extend above the head tube and are braced together, known as a 'double-crown' or 'triple-clamp' fork.
Typical specs: 170–200+mm of suspension travel; 63–65° head-tube angle
With giant, oversize tires, from 3.7 in. to 5+ in. wide, these bikes have excellent traction, especially in sand or snow. Geometry varies.
Editor's Pick
Borealis Bikes Echo XX1 Complete Fat Bike | Amazon
Everything you'd expect from a top-tier hardtail is here: Race Face carbon cranks, SRAM's XX1 drivetrain, and Avid hydraulic brakes. And gobs and gobs of traction and flotation.
Buy at Amazon.com
We earn a commission if you click this link and make a purchase at no additional cost to you.
How much do I need to spend on a mountain bike?
Not all bikes are created equal, but here are some general guidelines for what you'll find in a mountain bike at various price points.
What You Get for $1,000.00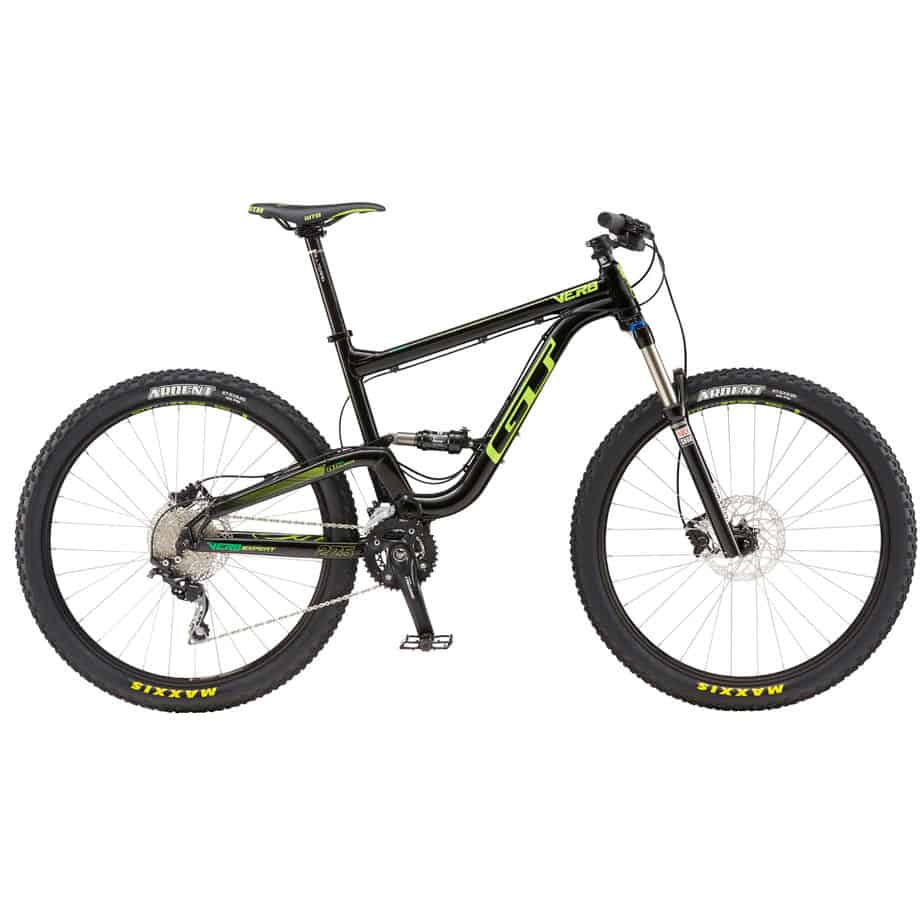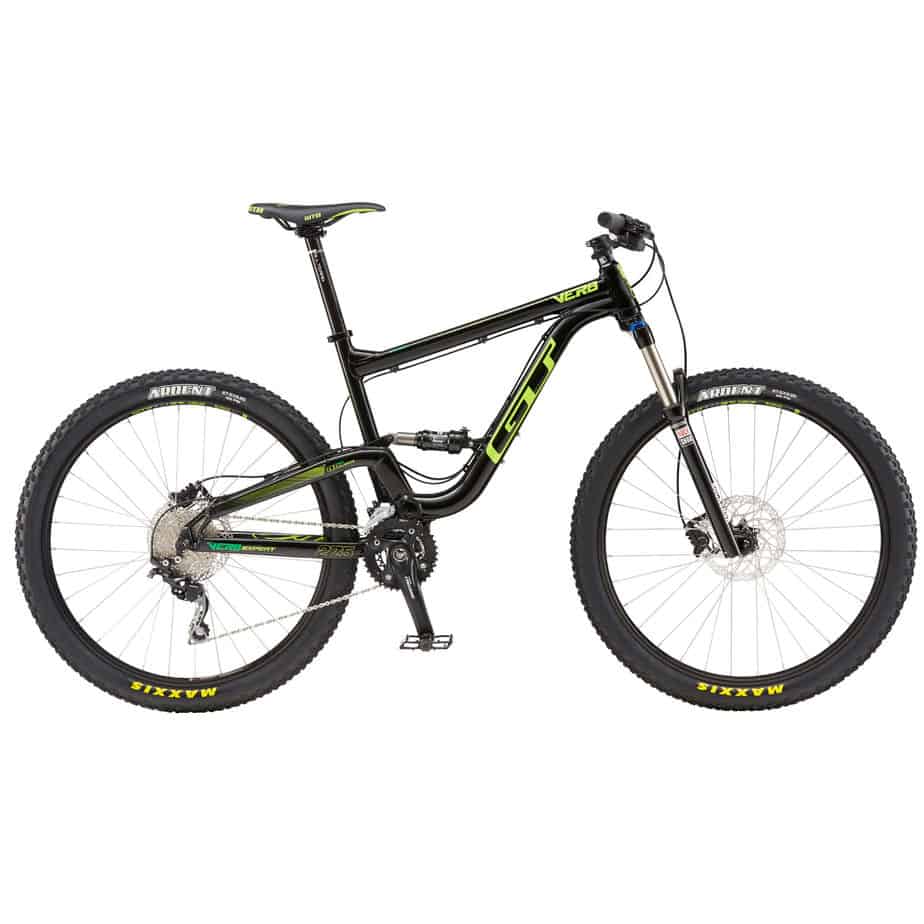 It is indeed possible to get a well-made, off-road bike at the $1,000 price point. Keep in mind that you will find some entry level full suspension bikes at the $1,000 mark, but they'll be significantly heavier than either front suspension equipped hardtails or suspension-free rigid bikes.
Also, they will likely be fitted with a cheap and uncontrolled suspension systems that could hinder off-road performance or parts that will quickly break down.
A completely rigid bike might seem basic, but this simpler design means that more money will go toward the frame and components.
Frame Material
Either way, look for a lightweight aluminum frame rather than a heavy steel one.
Disc Brakes
Disc brakes rather than rim brakes are more desirable as they'll keep working in wet and muddy conditions better than the rim style found on most road bikes.
At this price range, they'll most likely be cable operated or mechanical, rather than hydraulic as seen on pricier bikes. But they're a feature well worth having.
Gearing
Make sure the bike has suitable gearing as well. Many cheaper bikes will lack a gear low enough to get you up hills. A small chain ring (a triple crankset) at the front that has 22 or 24 teeth, paired to a cassette on the rear wheel that has 34 or 36 teeth on its biggest sprocket is a good ratio to look for.
You also want a bike drivetrain that has at least nine gear ratios at the back, paired with two or three chainrings up front, giving a total of 18 or 27 ratios.
The tires should have a tread profile that's designed for off-road use and should be made from a softer rubber compound than basic tires, giving better grip. To assess how soft different tires are, press a thumbnail into the tread.
A smooth and controlled suspension fork should be fitted. To test this, give the fork a good bounce. It should easily compress and return smoothly. If it makes nasty noises or returns rapidly, kind of like a pogo stick, move on to the next bike.
Need to spend less? How to Score the Best Budget Mountain Bike Under $500
Characteristics of $1,500 Mountain Bikes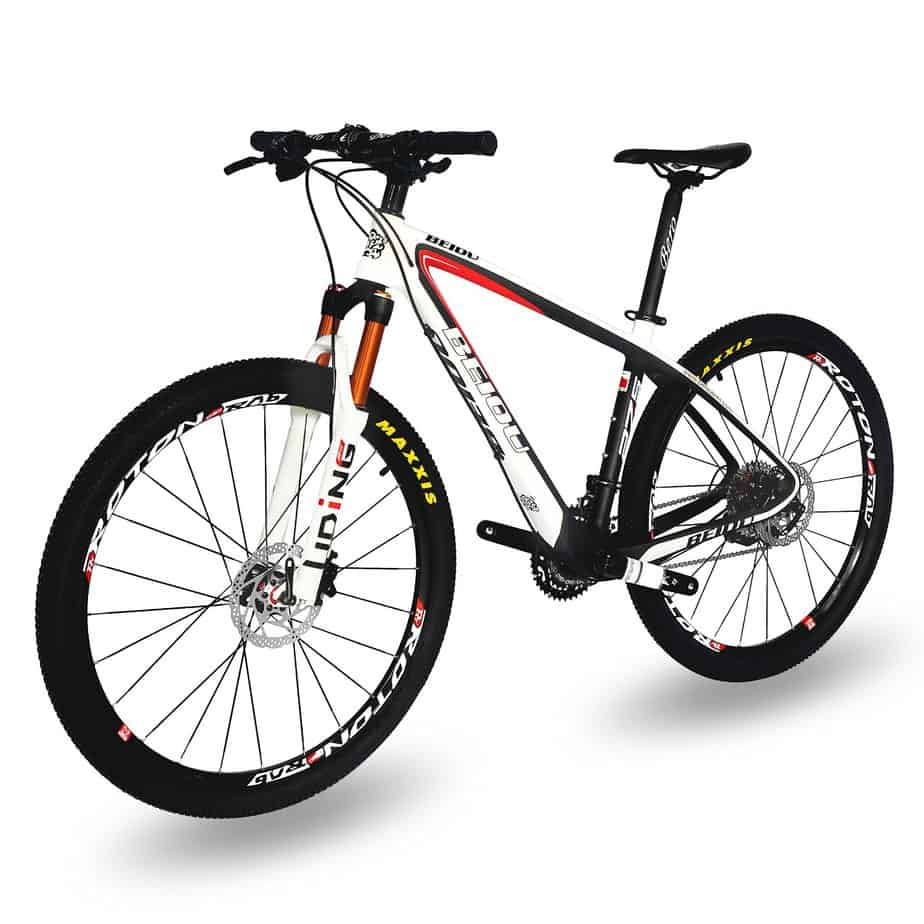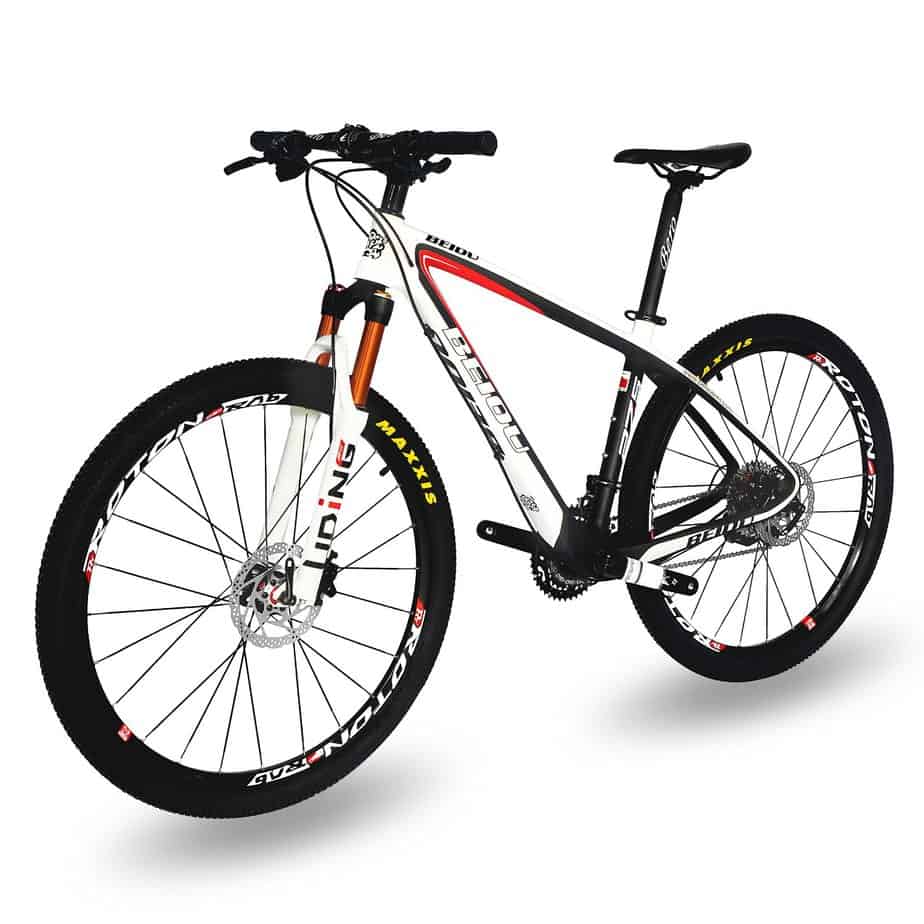 At the $1,500 range, mountain bikes become more specialized for different kinds of riding. At this price, you're pretty much guaranteed a hardtail or even a full-suspension that'll be able to put up with almost anything and anywhere you want to ride.
The frame will likely still be aluminum, but it'll be, thanks to some advanced construction techniques, lighter and more comfortable.
The bike will probably have hydraulic disc brakes from Shimano or SRAM, as well as a decent quality suspension fork.
The fork will ideally be air-sprung, which is lighter than a coil spring and adjustable to suit your weight.
The best-equipped $1,500 models will also have a thru-axle fork and wheel rather than a quick release system. To improve steering accuracy, they use an axle with a larger diameter to give a stiffer connection between the wheel and fork.
The bike should have at least a 10 gear ratio at the back. Also, look for a rear derailleur that has a clutch which will help prevent the chain from falling off on rough terrain.
What You Get: $2,000 Mountain Bikes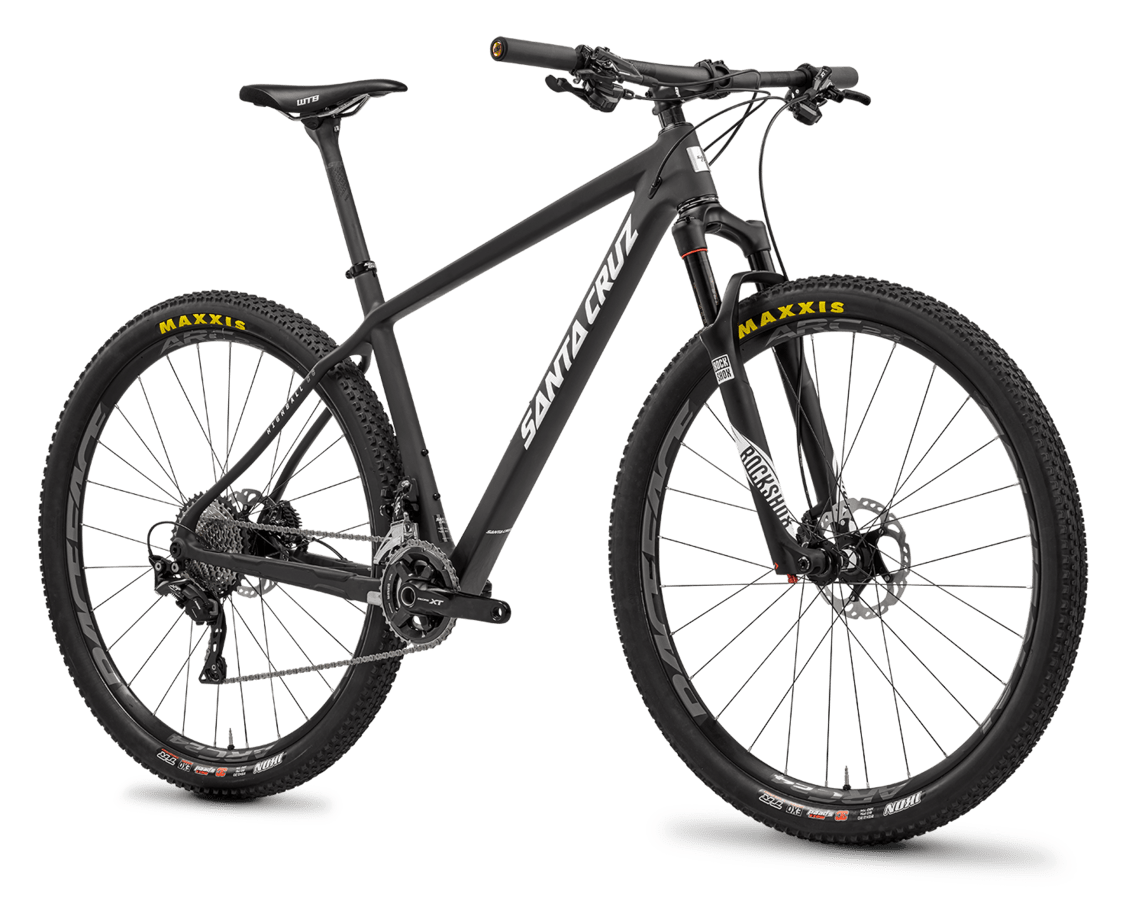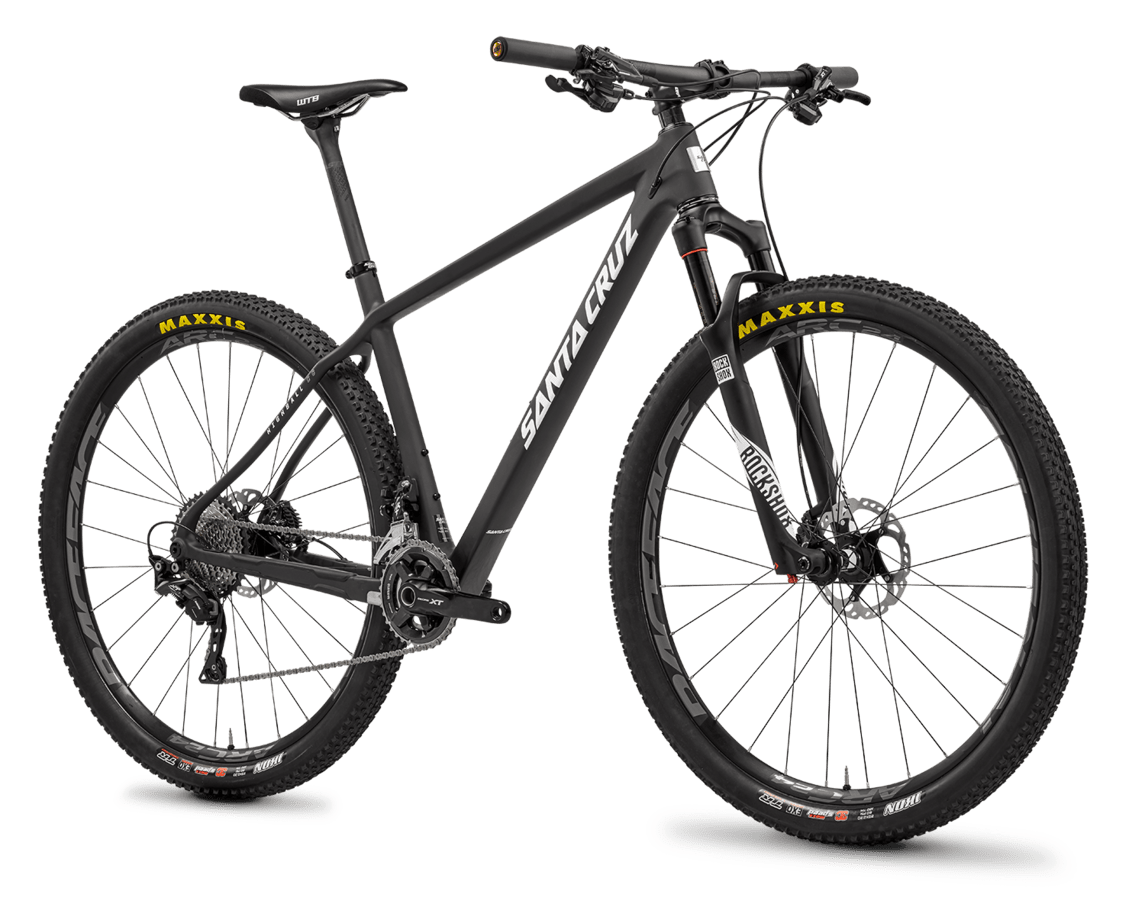 At $2,000, full suspension bikes with reasonably lightweight frames and well-controlled, adjustable shocks start to become available.
At this price point, bikes should have well-controlled and adjustable air-sprung forks, preferably with a through axle design.
Adjustable rebound damping to fine-tune how fast the shock extends after a bump, as well as a suspension lockout lever (to help on the climbs) will also be available.
Some bikes may even feature a thru-axle at the rear wheel for improved stiffness.
A modern 10-speed drivetrain with a clutch-equipped derailleur should also be expected at the $2,000 price point.
Size and Fit
Mountain bike sizing can be confusing. Bikes can be sized XS, S, M, L, XL or in inches from 13 to 22 or so. Frames of the "same" size from different manufacturers can fit and feel different.
So, how do you find out what size frame you need? There is no one perfect solution. Within sensible limits you can adjust your saddle, stem and handlebar to help make a slightly imperfect fit feel fine. Always take a look at manufacturers' own size charts, which will usually a list of suggested height range for each bike frame size.
It looks something like this:
XS: Bike size 13-14in: generally for riders between 5ft and 5ft 4in
S: Bike size 14-16in: generally for riders between 5ft 4in and 5ft 7in
M: Bike size 16-18in: generally for riders between 5ft 7in and 5ft 10in
L: Bike size 18-20in: generally for riders between 5ft 10in and 6ft 1in
XL: Bike size 20-22in: generally for riders over 6ft 1in
The main measurement used to determine the size of a bicycle frame is your pubic bone height, which closely resembles your inseam.
Mountain bike frames are measured in inches, and usually between 13 and 23 inches. Road bikes use the metric system, and usually fall between 48 and 63 centimeters. It's usually better to size down if you fall in between two sizes.
Bear in mind also that road and cyclocross bikes tend to be 3 to 4 inches bigger for riders of the same height, which just adds to the confusion when trying to figure out what size you need.
The best thing is to go test ride a bunch of different bikes and talk with someone experienced in fitting and selling bikes.
Related: How to Buy a Bicycle: 5 Top Tips to Score the Perfect Bike
A Guide to Wheel Size
26 inch
In the past, almost all adult mountain bikes had 26 inch wheels. They are still available but now when you walk into a bike shop and inquire about mountain bikes, you are likely to be asked, "What size wheel?"
Smaller diameter rims and shorter spokes mean 26 inch wheels can be made lighter and more responsive than other sizes. This means the bike will be more agile feeling, and accelerate faster on smooth surfaces.
They can also be made stiffer and stronger too, which is why many top downhill riders still stick with 26in wheels.
Spares are also much easier to find than 29in and far more common than 27.5in, meaning it's much easier to get going again if you puncture a tube, tear a tire or taco a wheel far from home.
Because they hit at a steeper angle and drop into holes easier 26in weels lose speed faster than bigger wheels, especially over technical terrain. They don't provide as stable steering or as much grip as 27.5in or 29er of the same tire either.
27.5 inch or 650b "Tweener"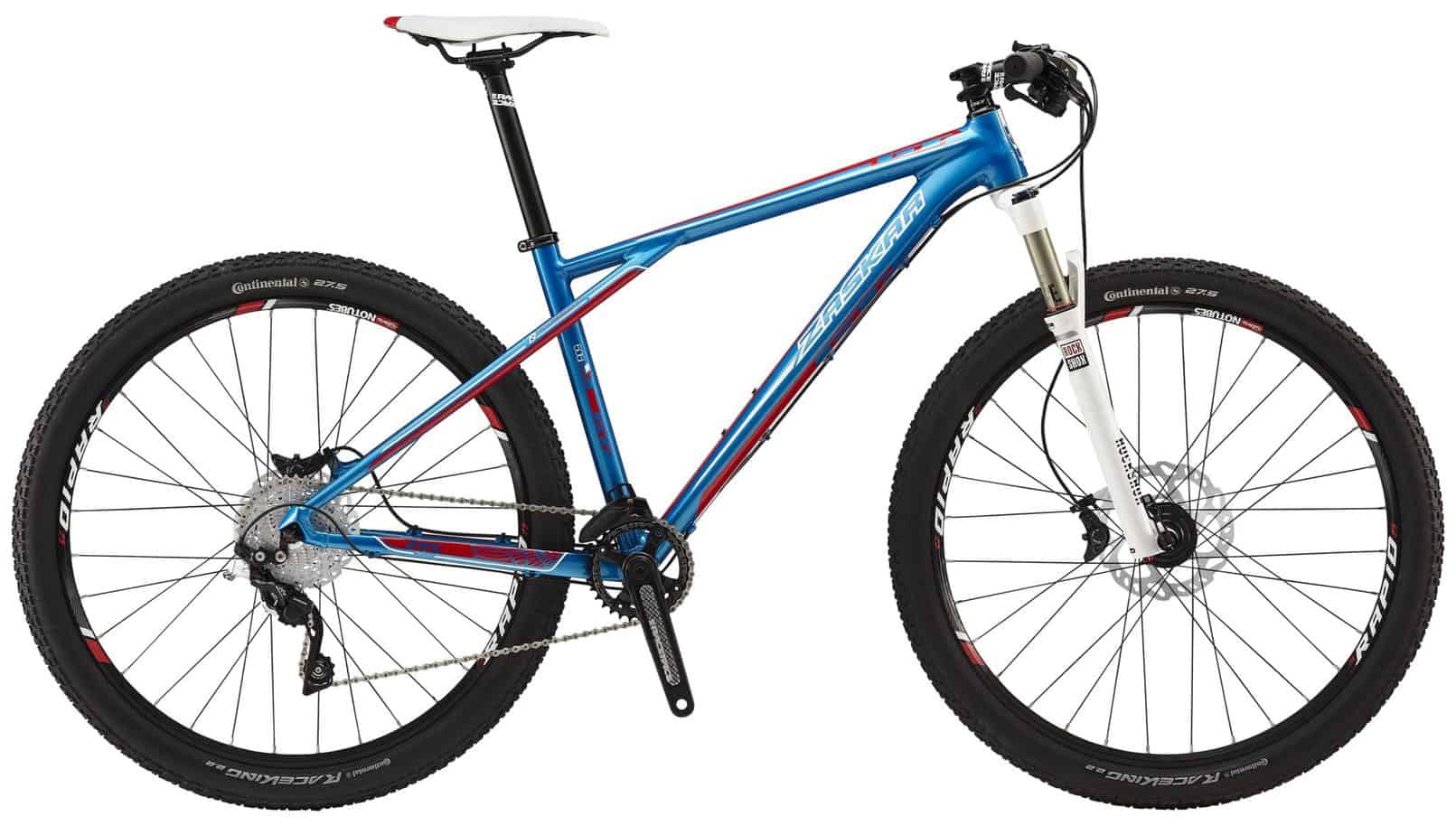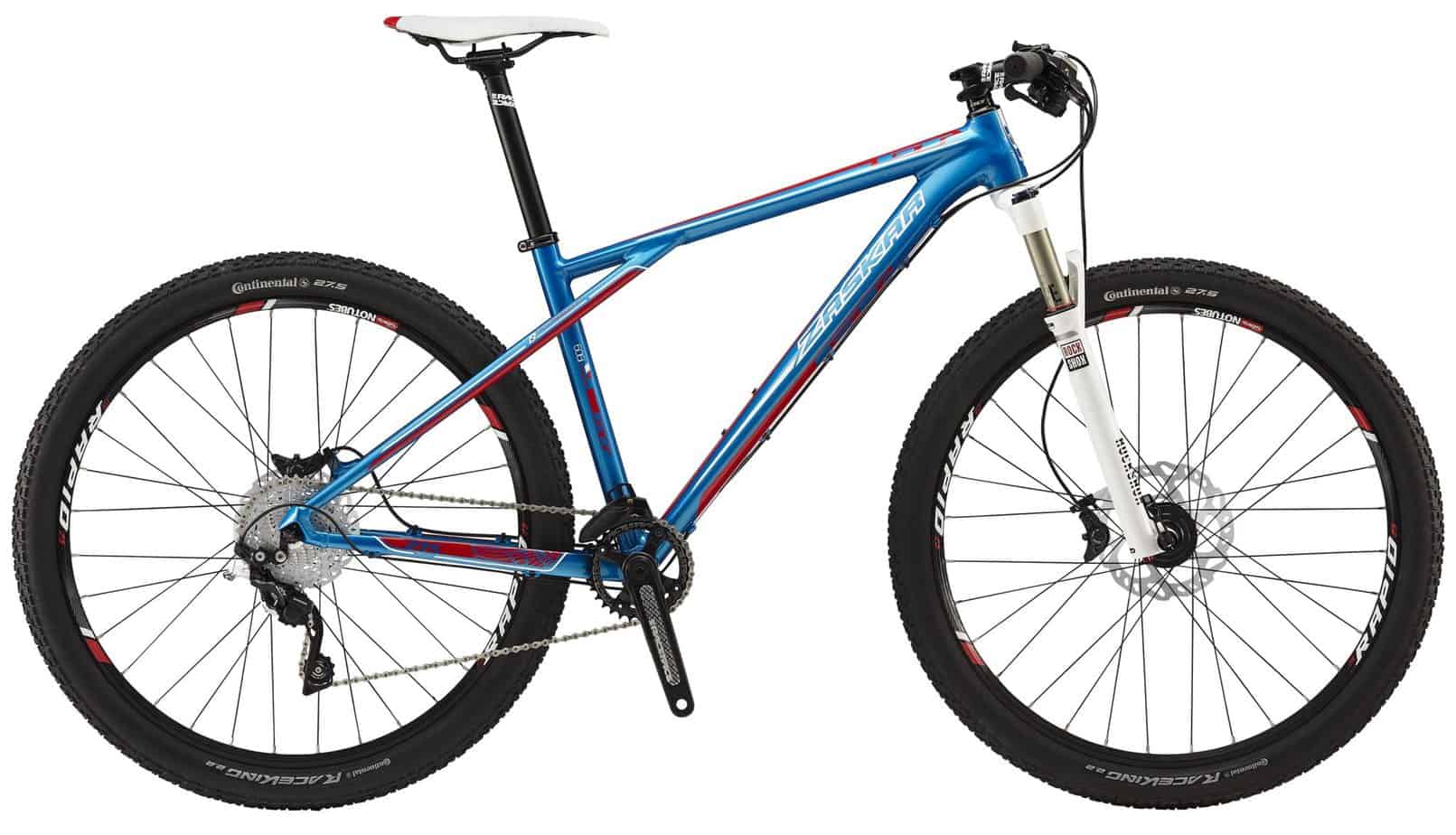 In between standard 26 inch wheels and 29ers, these bikes apply a best of both worlds solution. They roll more easily over terrain than the 26s, and are more maneuverable than 29ers. 27.5 inch wheels are available on both full-suspension and hardtail bikes. They're also a good compromise for smaller riders who might feel a 29er is difficult to control.
The first thing to know about 27.5 inch wheels are that the wheels aren't actually 27.5 inches but closer to 27 inches. As a result they're significantly faster to accelerate and easier to maneuver around than a bigger 29er wheel.
Handling on a 27.5 inch wheel set feels more responsive and balanced because of less steering inertia and flex.
650B tires roll over rough ground more smoothly and grip better than 26 inch equivalents, though not as well as 29 inch wheels.
29ers:
Bikes with 29 inch wheels are slower to accelerate, but once moving, they can conquer terrain easier than a bike with 26 inch wheels. They are more efficient for longer rides as they easily carry momentum.
They also have a higher attack angle, meaning the wheel rolls over obstacles easier. These bikes have become extremely popular for the cross-country crowd. 29ers can be found in rigid, hardtail and full-suspension setups
29ers are harder to handle on really tight, twisty or jump trails compared to smaller wheels. It's also more difficult to make big wheels and small frames or long travel suspension fit together well. Small riders may find a 29er feels unwieldy.
Once rolling though 29er tires hit rocks and roots at a shallower angle and with more momentum. The longer contact patch means pretty much any tire grips better. With their natural extra stability, they're quite perfect for motoring straight through all kinds of trouble comfortably and at high speeds.
Other Considerations:
Tires: A mountain bike's tire tread pattern is a good tip-off for the type of riding it excels at. Extra traction is provided in bikes intended for trail use, where smoother tires are geared more toward reduced rolling resistance over less technical terrain.
Tires also come with tubes or tubeless, which are often preferred by mountain bikers because they can be run at lower tire pressures, increasing comfort on the trail. Tubeless tires also eliminate pinch flats.
Related: The Best Mountain Bike Tires to Conquer Any Terrain, A Grand Unified Theory of Shred: Lee McCormack on Mastering Mountain Bike Skills, Bike Fit and Finding Your Flow
Components
The two main component choices are SRAM and Shimano. You may see Avid and Truvativ, which are subsets of SRAM. Many bike manufactures will mix component groups.
Shifters range from RapidFire Plus to Trigger and Grip shift and Shimano Di2 is also an option.
Shimano and SRAM Mountain bike components vary from the entry level Alivio (Shimano) and X4 (SRAM) to race-ready XTR (Shimano) and XX/XO (SRAM).
Pedals
While you can use flat pedals on any mountain bike, they're particularly useful for doing stunts or for easing into clipless pedals. Going clipless has major benefits for mountain biking. They'll help you maintain better control, especially over gnarly terrain, where it's easier to lose your footing. Clipless pedals help put more power to the pedals – something you'll notice on those long climbs.
Saddle
If you end up swapping the saddle on your mountain bike, there are a few things to keep in mind. First off, look for mountain bike specific saddles. Your favorite road saddle will no doubt feel like a torture device on your mountain bike.
Shred All Day! The Most Comfortable MTB Saddles For Any Rider
The two are generally not interchangeable. You may need to find something with a little extra padding. Getting a good pair of padded cycling shorts can also help with this.