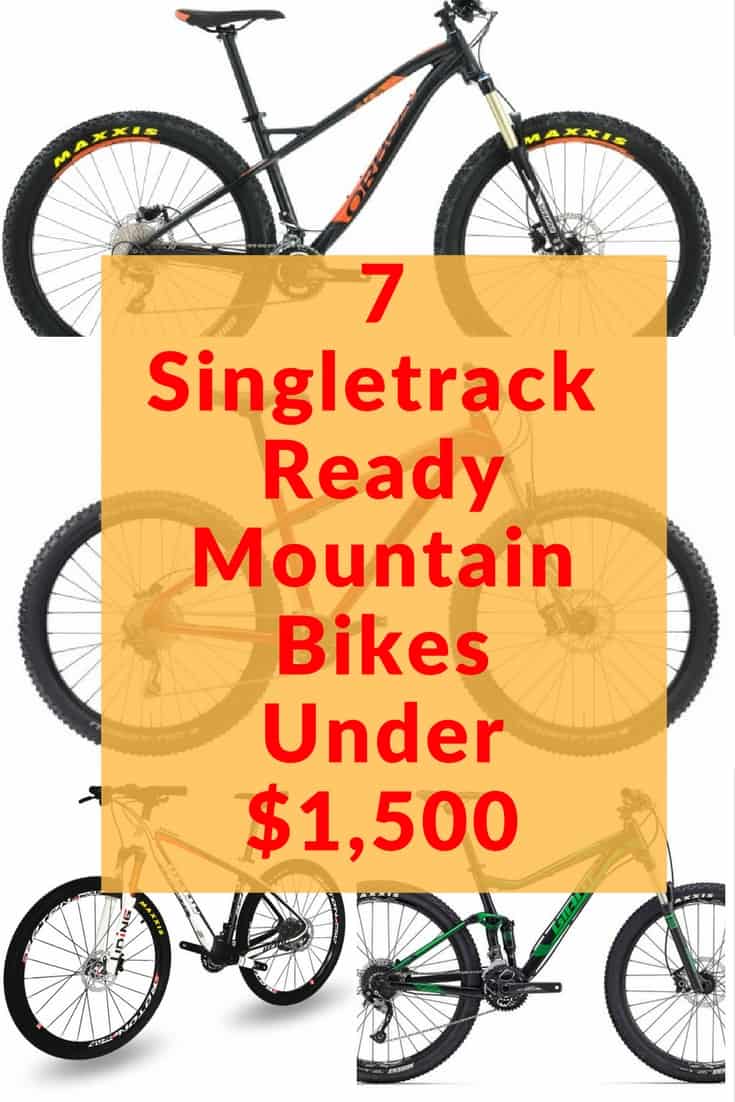 Mountain bikes in the $1,500 price range can vary greatly. You can find cross-country machines, focused on going up hills fast and zooming around less technical trails, as well as all-mountain rigs with 27+ wheels and tires with tons of traction, especially when the single track points down. There are many wheel-size choices, 27.5" and 29", as well as 27+ bikes.
The other nice thing about this price point is that while the frames are usually alloy, they're high quality. Also, the suspension forks are often brand name items, which tends to lend themselves to better performance and durability. 
For the money, our pick goes to the GT Verb Elite, which is a solid frame and full suspension, at a price that's a steal for full suspension.
Looking for a full suspension bike or have a bigger budget? Here's our list of  The Best Mountain Bikes Under $2,000. Or spend $1,000  or less on an awesome entry level bike.
GT Verb Elite: Best Beginner Full Suspension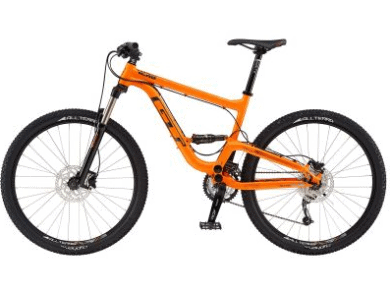 Price: $1,199 Check for current sales
Frame material: 6061 alloy
Fork: SR Suntour XCR RL DS, 120mm
Shock: All Terra
Drivetrain: SR Suntour/Shimano Deore
Wheels: All Terra/Alex
Tires: Kenda Slant Six, 27.5×2.2
The GT Verb Elite is a pretty amazing deal for a full suspension bike under $1,500. It uses GT's long-refined I-Drive rear suspension for traction and an enhanced riding performance. With that high-end frame and suspension, it's noticeable the rest of the spec list is not quite as admirable. However, as most any relatively experienced rider will tell you "it's the frame that matters. The parts hanging off it can always be switched out."
Hits: A well-made frame and suspension that will keep you hucking for years
Misses: Less than stellar components make up for a quality frame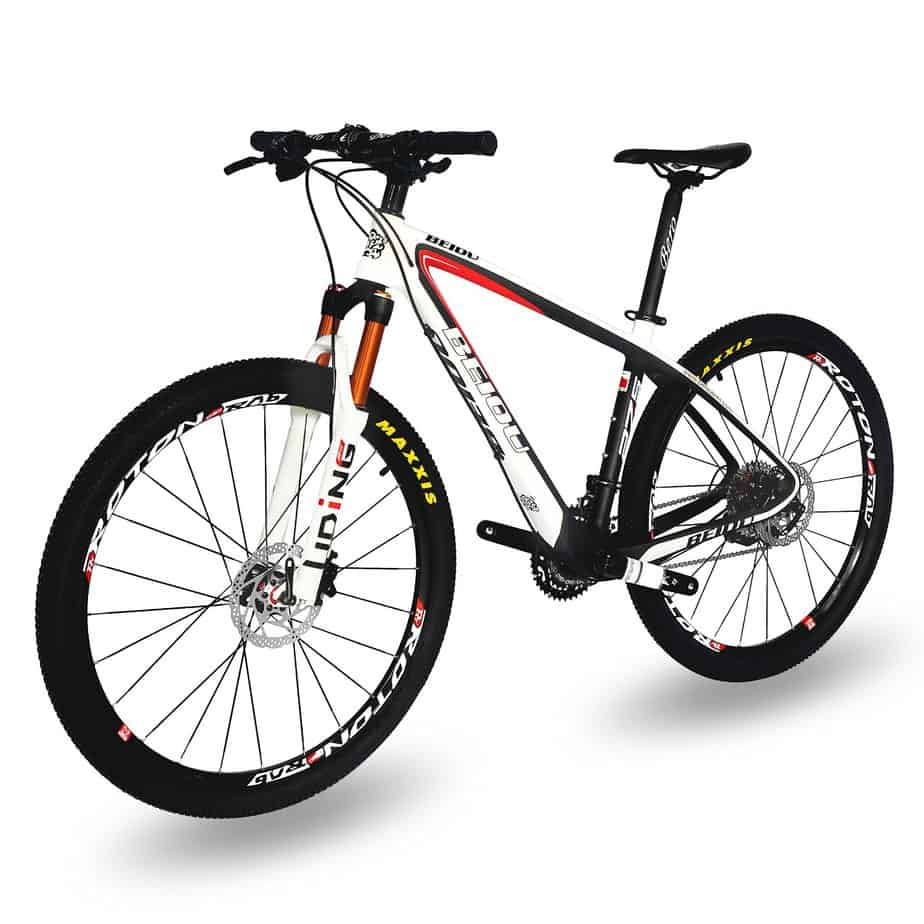 Frame material: Carbon Fiber
Fork: Using DH32/27.5 air suspension
Drivetrain: Shimano Deore-610
Wheels: professional RT 27.5 MTB
Tires: MAXXIS 27.5
Most mountain bikes under $1,500 have either an aluminum or steel frame, but this Beau bike comes with a solid carbon fiber frame.
Carbon fiber is durable and lightweight: the Beiau Bayou weighs about 22lbs. There is also an air fork, which lightens the load substantially compared to coil.
The Beiau 650B Carbon Fiber Mountain Bike is equipped with quality hydraulic disc brakes and a Shimano drivetrain.
Hits: A relatively light carbon fiber mountain bike for a budget price. Great for beginners.
Misses: For the price, it's tough to pick this bike apart. We'd suggest a few upgrades, over time, such as the drivetrain, to make this into a more responsive trail machine.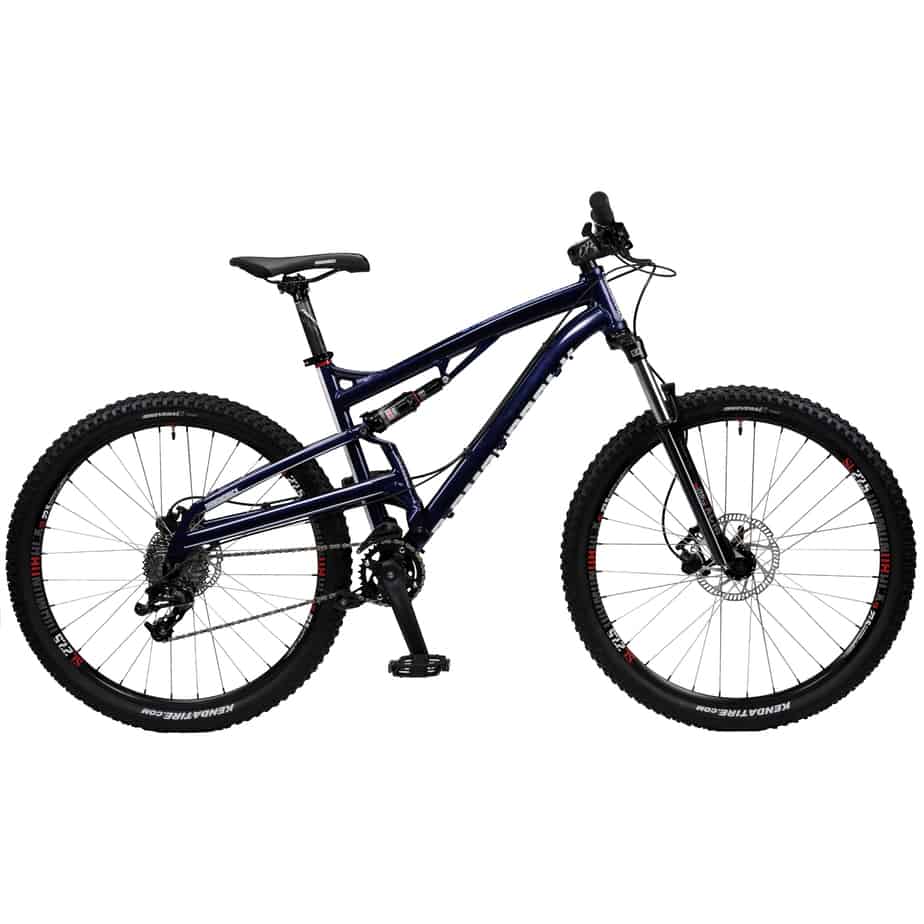 Frame material: 4" travel aluminum alloy
Fork: SR Suntour Raidon-R with rebound adjust
Drivetrain: SRAM 9 speed
Brakes: Tektro Auriga hydraulic
The simple, understated single pivot design of the Atroz uses sealed cartridge bearings to deliver a nice smooth ride. 120mm of suspension travel helps to take the edge off a wide range of roots and rocks on a trail.
The frame is built using trusted aluminum alloy, so you know it's strong, and the formed and butted tubing saves some weight. The Atroz has stable 27.5" wheels, a SRAM1x9 drivetrain, and aggressive Kenda Nevegal tires.
Hits: Single pivot design for a very smooth ride makes this one of the best full suspension mountain bikes under $1,000
Misses: Fork and shock is heavy and doesn't lock out. Consider upgrading the components. If you can spare a little more green, we'd opt for the GT Verb Elite. 
Kona Big Kahuna: Best Fat Tire Bike Under $1,500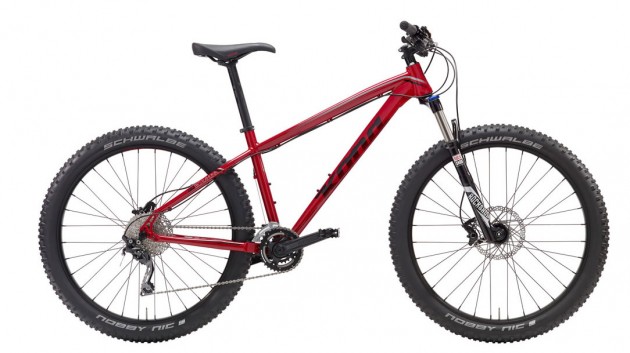 Price: $1,399 (Check your local Kona dealer)
Frame material: Kona Race Light 6061 alloy
Fork: RockShox Recon Silver RL, 100mm
Drivetrain: Race Face Aeffect/Shimano Deore
Wheels: WTB Scraper STP i40
Tires: Schwalbe Nobby Nic, 27.5×2.8
Kona bikes are well known for their dirt ready performance. Plus size tires add to their traction, cornering ability and trail smoothing capabilities. They also boast a pretty nice parts spec with a RockShox Recon 100mm fork up front and WTB Scraper 40mm wide rims wrapped with 2.8in Schwalbe Nobby Nic tires.
Hits: Nice components make this a ride-ready fat bike for a great price.
Misses: A solid workhorse also lands this bike on the heavier side.
Related: "What size bike do I need?" How to achieve the perfect bike fit

Price: $1,300
Frame material: Triple-butted, hydroformed alloy
Fork: RockShox XC 30 Silver TK PopLoc, coil, 100mm
Drivetrain: Shimano Deore/SLX
Wheels: Shimano hubs/DT Swiss 483d rims
Tires: Continental Race King, 29×2.2
XC speed and terrain are what the Teamelite 03 was made for. With a name like Teamlite 03, it's pretty clear that racing is in this 29er's pedigree.
The speed-focused super stiff alloy frame is fronted by a coil-sprung RockShox XC 30 Silver fork. Consider upgrading to a lighter, higher performing air-sprung model, which offers more adjustability and is no-doubt lighter.
The coil is very heavy despite its skinny 30m stanchions, making the overall weight of the Teamlite 03 comparable to trail bikes rather than lighter race machines. The BMC-branded flat bar is race ready though, and the inline saddle clamp on the seatpost helps to keep the rider position aggressively forward.
If your plans include testing your fitness in some XC or short track racing, the Teamlite 03 is an excellent choice of bike
Hits: A super stiff frame and high power delivery
Misses: A heavy bike that may be uncomfortable on technical terrain. Consider upgrading the fork to make it more race-ready.
Price: $1,499 (Check your Orbea dealer)
Frame material: Hydroformed triple-butted alloy
Fork: SR Suntour Raidon, 120mm
Drivetrain: FSA Comet cranks/Shimano Deore/SLX
Wheels: Orbea Ready 27+
Tires: Maxxis Chronicle, 27.5×3.0
Fun and capable was the concept for Orbea when jumping into the plus-size bike game. The Loki H30 features Boost hub spacing front and rear, which means you can also throw some 29er wheels on, making the Loki highly versatile.
Whichever wheel size, the parts list is quite impressive with Shimano Deore and SLX handling the shifting, fat Maxxis rubber tires, and Shimano hydro discs brakes.
Hits: For those who can't decide between 27+ and 29 inch wheels, the Orbea handles both. A Shimano Deore drivetrain is a good find at this price point and the bike is fun and fast.
Misses: The rear wheel has tight clearance.
Related: 13 of the Best Shred-Worthy Mountain Bike Gloves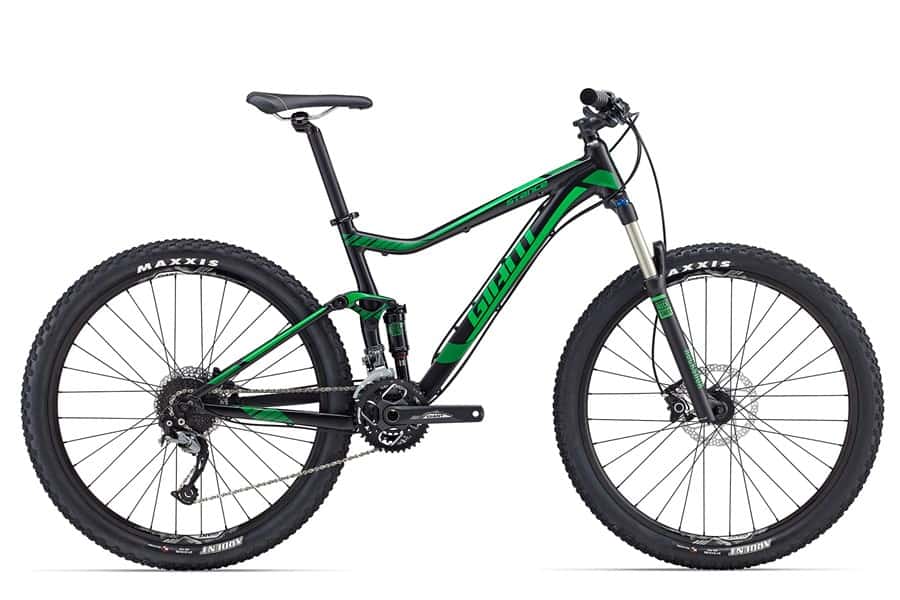 Price: $1,500 (Check your local Giant dealer)
Frame material: ALUXX alloy
Fork: RockShox 30 Gold TK Solo Air, 120mm
Shock: RockShox Monarch R
Drivetrain: FSA Comet cranks/Shimano Alivio
Wheels: Giant Tracker Sport hubs/Giant CR70 rims
Tires: Maxxis Ardent, 27.5×2.25
Weight: 30.7lbs
The Giant Stance 27.5 2 is currently one of only a few full-suspension rigs to meet the $1,500 requirement . Though the Stance does not incorporate Giant's renowned Maestro rear end, the FlexPoint rear suspension does offer a surprisingly smooth ride.
Unlike most bike manufacturers, Giant creates its ALUXX alloy tubing and welds the frames in its very own factory. They've always been good at delivering long-term durability in bearing life and all around toughness.
The bulk of the components on this 27.5in-wheeled bike are Shimano's Alivio and Giant's house brand, neither of which are necessarily outstanding, but also are not all out negatives.
With a bike this capable, the RockShox fork could definitely benefit from a thru-axle. All in all, the Stance is a worthy beginner full suspension bike.
Hits: Low overall weight for a full suspension, durability
Misses: Fork lacks a thru-axle, cheap components
Related: The latest bikes and gear on sale