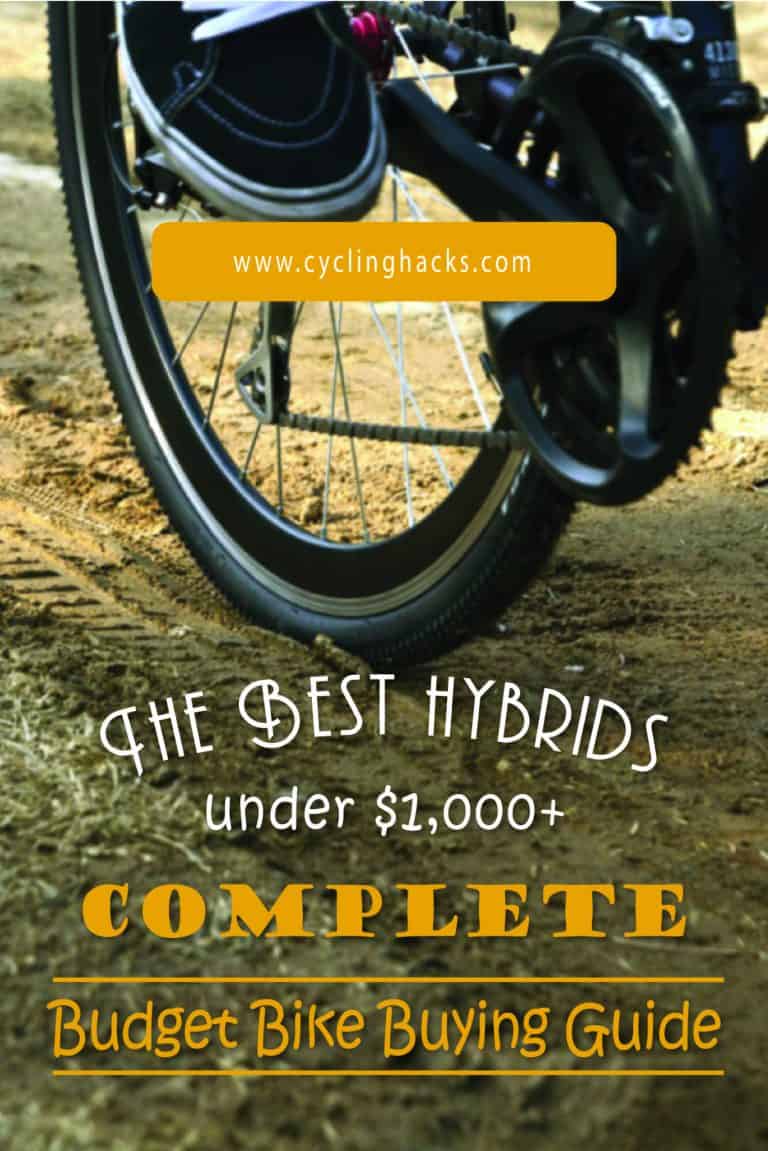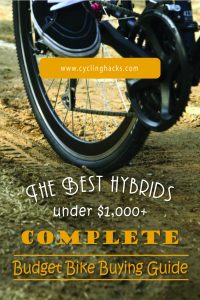 Sick of sitting in traffic or walking all the way across campus?
Maybe you want to save some cash and the planet by leaving your car in park or have a fun way to cruise your local bike path on the weekends. Hybrid bikes are a fun and relatively inexpensive means of fun and transportation.
Take the Co-op Cycles CTY 3.1, for example. It scored a place at the top of our podium because, for less than a grand, you can score a reliable, high quality commuting bike. In the bike world, it's really hard to find many other types of bikes that are worth buying for less than $1,000.
Best Hybrid Bikes Under 1000
| | Tire width | Brakes | Suspension | To buy? |
| --- | --- | --- | --- | --- |
| Marin San Rafael | 40 | disc | yes | Buy now |
| Co-op Cycles CTY 3.1 | 47 | disc | none | Buy now |
| Cannondale Quick Disc 4 | 45 | disc | yes | Buy now |
| Trek Dual Sport 3 | 32 | disc | none | Buy now |
| Diamondback Clarity | 32 | Rim or disc | none | Buy now |
| Salsa Journeyman | Variable | disc | none | Buy now |
Editor's Pick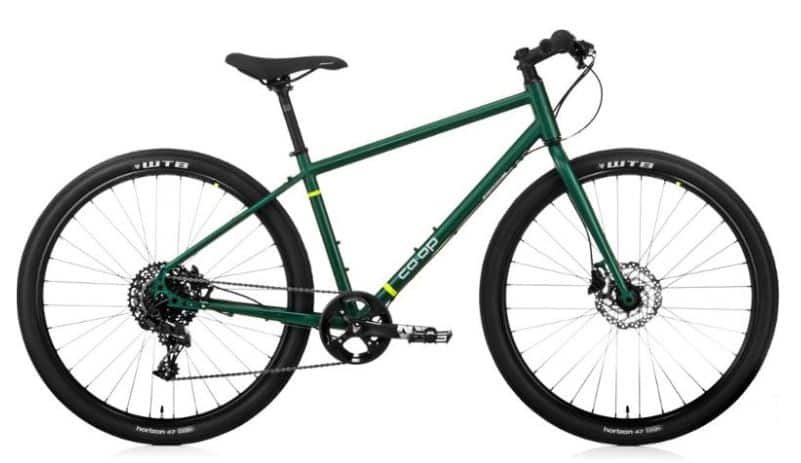 What is a hybrid bike?
A hybrid bike is a mix between a mountain bike and road bike. While that's a simple definition, it leaves a lot of room for interpretation. You can find hybrid bikes that more closely resemble a mountain bike because they have suspension and fall on the wider side of the tire spectrum. Other completely ridged bikes with tires that are approaching the narrow side of tire width start to look more like a road bike.
A few things define a hybrid bike:
Tires fall somewhere between a narrow mountain bike tire and a wide road bike tire
Handlebars are flat (flat handlebar)
Front suspension fork (optional)
Designed for comfort
Features to look for:
Brakes:
Don't get too caught up in choosing your bike based on brakes. As hybrid bikes get used primarily for commuting, weekend cruiser rides or trips to the grocery store, the important part is you have brakes. That being said, if you have the option, here are the pros and cons of rim and disk brakes:
Rim Brake: These brakes have been around since the dawn of time. But not to say that they are by any means outdated. Rim brakes are still the most common brakes for road bikes, even at the pro level. These brakes require minimal maintenance and are cheaper. The downsides are they don't have as much stopping power as disc brakes, especially in rain, and if you are riding in excessive mud, these brakes can catch all the mud and get bogged down, which keep your wheels from moving.
Disc Brake: If you have ever ridden a nicer mountain bike, it most likely had disc brakes. These brakes are made to be powerful which helps increase your control. Unlike rim brakes they maintain a lot of this power and control in bad weather. These brakes work much better in rain and mud, and cause less wear on your bike. Since rim brakes grab the rim, they will slowly cause wear on your wheel. If you add mud or sand to the equation then you have basically added a piece of sandpaper onto your rim and brake pads which cause excessive wear and tear.Basically the factor for choosing between rim and disk brakes should be your weather conditions. If you are going to have a lot of wet rainy, muddy, off-road, rides then get a bike with disc brakes, if not then rim brakes will suit you just fine.
See our full rim brake vs Disc comparison
Tire width:
Hybrid tire width will fall somewhere in the range of 18mm to 47mm. Like everything with bikes, there is no magic tire width. The decision comes down to rider preference. That being said if you aren't sure where to start, consider how you'll use the bike. If you will be doing some off road riding, opt for a bigger tire, whereas if you are on the road all the time, opt for a tire closer to a road bike tire that will be narrower and roll the fastest.
Suspension Fork:
Hybrids have the option of having a small amount of front suspension or no suspension at all. If you are just riding on the road, there isn't really a need to spend more money to get a bike that will require more maintenance because a completely ridged front fork will have no maintenance. However if your morning commute includes gravel roads, trails, or anything that suspension could help smooth out (for a smooth ride), then it's worth getting the suspension fork.
Best Budget Hybrid Bikes: Reviews
Editor's Pick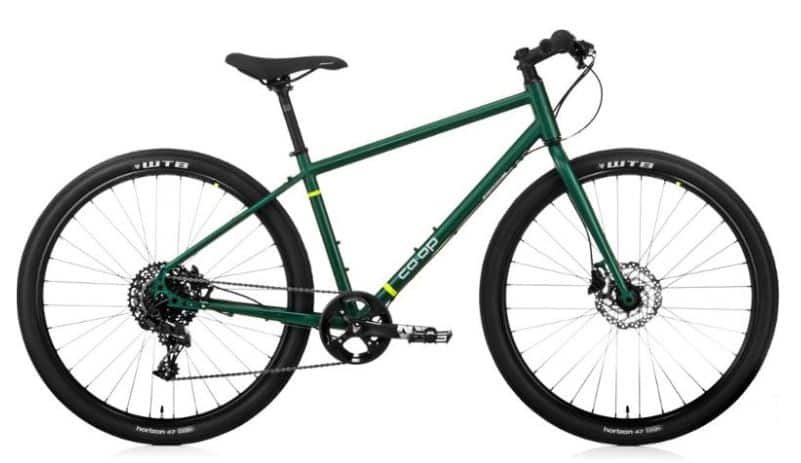 We love this bike because of its versatility, high quality and that it comes backed by a reliable brand. This bike comes with options including the ability to add fenders and racks, and the ability to choose between rim and disc brakes means this bike will work for pretty much any scenario.
The CTY is Co-op's latest commuter bike that is built for speed and convenience. The 3.1 can all be easily outfitted with fenders for wet weather and racks for extra cargo carrying capacity.
These also come standard with disc brakes. These fall at the higher end of hybrid bikes, but if you are buying a bike that you will rely on every day, spending the extra money might be worth it.
On the whole, this is a top rated crowd pleaser, with SRAM and Shimano components and 11 gears (ample for most commuter applications).

As far as hybrid bikes go this is as close to a mountain bike as you will find. Between the disc brakes and 75mm of front suspension on all models, there aren't many commutes this bike can't handle.
If you need a bike that can cover mud, gravel, grass, snow, and pavement all in the same ride, this is your bike. It's also a steal for the price. To be able to find a bike like this with suspension and good brakes at a budget price is uncommon.

The Trek Dual Sport 3 is a versatile commuter bike for both pavement, gravel, and dirt. This bike has the disc brakes as well as 63mm of suspension. The Dual Sport 3 offers a model that is slightly higher quality than an entry level commuter. Unlike other cycling disciplines where there is a huge gap between the low and high-end bikes, hybrid bikes don't vary too much. But if you are buying a commuter bike that you rely on every day to get you to work or class, it may be worth getting a more reliable bike even if it a little more expensive.

The Salsa Journeyman (with hydraulic disc brake option) is a perfect bike if you plan on using it for grocery runs or hauling lots of bags around. Unlike most hybrid bikes, this one comes already fitted with racks and fenders.
Most hybrid bikes have places to mount racks, but they are an additional purchase. The Journeyman comes with them ready to use. The fenders are also an added bonus, especially if your morning commute includes some unforeseen puddles.
If you are looking for a bike to help you do errands that will work for any ride through the city, the Salsa Journeyman is the one for you.

The Best Hybrid for a College Student:

Diamondback Insight

(1, 2)
Rushing between classes and buildings is much easier on two wheels. The Diamondback Insight 1 and 2 will make a perfect campus bike to exchange your 30min walk for a 10min ride. The Insight 1 is a better bike for areas with mostly sunny days because of the rim brakes. The Insight 2 is equipped with disc brakes for a campus with more rain, snow or dirt.
Why this is a great college campus bike: for all you college students looking to save some money, you can generally nab this bike while it's on sale. So instead of picking up a cheap bike that dies before graduation day, you can get a quality bike for the same price. But don't forget, lock up your bike aluminum frame, and both wheels so you don't find yourself walking to class again when it gets stolen. You can find some of our favorite locks here.

If you are looking for a great deal on a perfect women's commuter bike, look no further. The Diamondback Clarity line will hold up to the daily commute over gravel, grass, or pavement. All three hybrids combine the riding position of a mountain bike with the efficiency of a road bike making the commute fast, yet comfortable. We chose the Clarity because it's priced like a cheap hybrid bicycle, but it functions like a much higher end bike.
If you are looking for more Women's hybrid bikes check out this complete article.