If you've been cycling for any amount of time, you've probably heard talk of something called chamois cream. And you've likely figured out that it has something to do with your undercarriage but, may not be sure exactly what it is or what the best chamois cream for you may be.
To begin, the liner in cycling shorts is made from a sandwich of foams and synthetic fabrics designed to sit against your skin, not chafe, and (hopefully) move with you as you pedal.
Thirty or so years ago there were no fancy synthetic shorts liners. Instead, soft leather from the skin of a chamois goat was used inside bike shorts. The problem, though, with leather linings is that they need the natural oils of the leather to maintain their softness and comfort.
That's where original chamois cream came in: as a replacement for those natural oils removed by washing. It was a goop that replaced the oils in the leather and kept it soft and crack-free.
It also provided the ever so useful side effect of helping to prevent chafing – which is what chamois cream is used for today.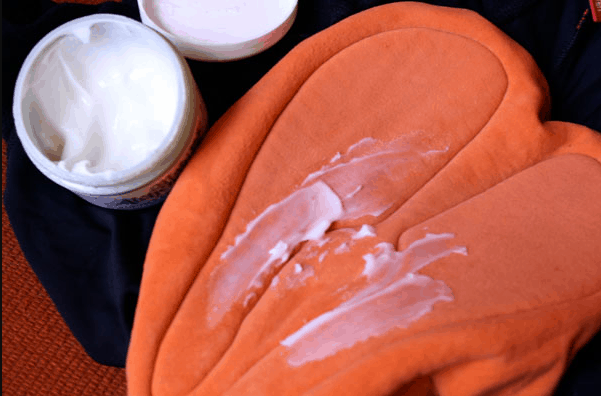 Chamois cream is particularly useful for very long rides and for returning to cycling after a few weeks off.
During riding, your skin adapts to the pressure of your weight on the saddle and toughens up. If you take a break from cycling you may lose some of this toughness. Chamois cream helps keep your bits comfy.
What happens during a super long ride is similar. Extra distance than what you normally do can make you sore enough that the last few miles are miserable. Chamois cream goes a long way in preventing a sore bottom.
Here are some of the best chamois creams available (read below for the full reviews).
What exactly is chamois cream made of?
Most chamois creams are anti-bacterial and designed for sensitive skin areas. And most of them contain shea butter, aloe vera, and tea tree oil. Some are all natural, while others do have some hard-to-pronounce ingredients. The majority come in a tube that you squeeze the cream out, though some are packaged in a tub or even a glide stick like many deodorants.
How to apply chamois cream?
 You can apply the cream to your chamois or your skin or both – whatever you prefer. Just make sure you cover all the bits and parts that come in contact with your saddle.
Do I really need chamois cream?
 Yes, you most probably do. If you're into spending long hours on your bike, you'll inevitably feel some pain or discomfort from friction and rubbing (especially if it's really hot out and you're sweating). Chamois Cream is the answer to preventing this kind of pain. It's also a great way to prevent saddle sores, which can seriously derail your riding.
Here are our favorite chamois creams.
Best if you like the cooling sensation of menthol.
Assos is a classic chamois crème that's been around for quite awhile. Mainly because it just works. It's thick, spreadable and durable with a minty smell (menthol) that also produces its famed cooling sensation.
Some people do find it uncomfortably tingly so keep that in mind when deciding what product to buy.
Assos Crème, specially formulated to provide anti-bacterial and soothing protection, is ideal for those long days in the saddle.
Best if you want a non-greasy women's specific cream.
 Her' Butt'r, developed by a female sports physician, contains aloe vera, tea tree oil, and shea butter for a soothing and gentle lubricant.
Specifically made for women, it has a different pH balance to its male equivalent. Her' Butt'r is non greasy and doesn't tend to leave any type of film or residue on your clothing.
Best if you don't like getting your hands messy.
This one's for all the germaphobes who don't want to get their hands messy. BodyGlide balm comes in a container type tube like deodorant and you can just rub it on without getting your hands gunked up.
It dries quickly and is a good option to take along with you on a ride in case you need a little touch up.
Best if you want a really really long lasting cream.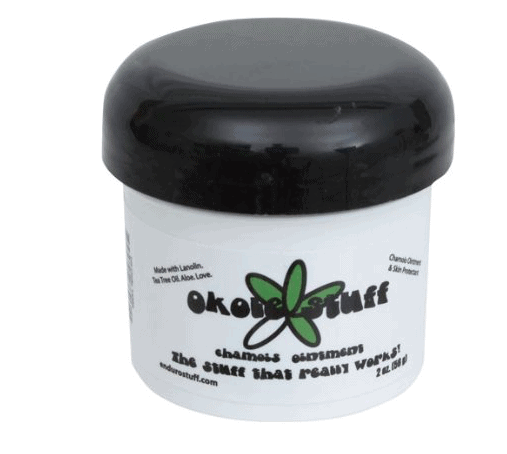 Okole Stuff says it lasts longer than other chamois creams because, unlike most that are water based, this brand is paraffin and lanolin based, so it stays on the surface of the skin all day rather than sinking in. And, in case you were wondering, okole is the Hawaiian name for butt.
Best to share with a partner.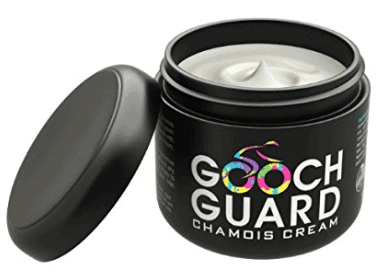 This product claims it's good for either gender so you can share it with your partner of the opposite sex if you want. You can lather up your chamois or your own skin (or both) with this stuff to prevent friction.
Best if you like a little humor with your butt cream.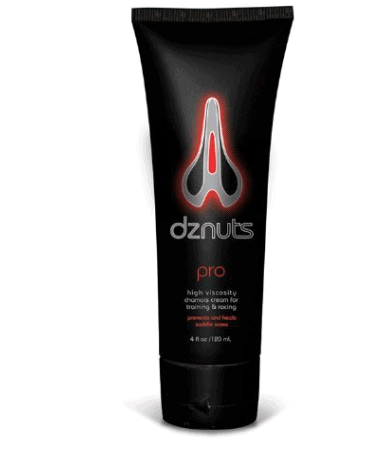 The creation of former pro cyclist Dave Zabriskie, this cream works hard to prevent any chafing, while also preventing bacteria build-up. Apply the cream post-ride to help heal damaged skin.
For the women's version, try DZNuts Bliss 
Best if you care a lot about animal rights.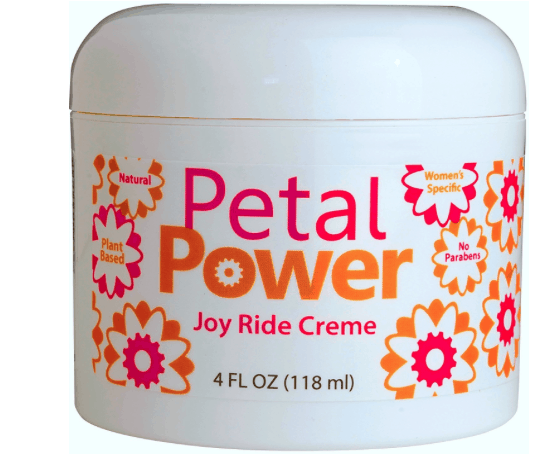 This made for women cream has a silky mouse-type texture. It contains absolutely no parabens and wasn't tested on animals, so it's a great choice for Vegans.
Best completely all natural cream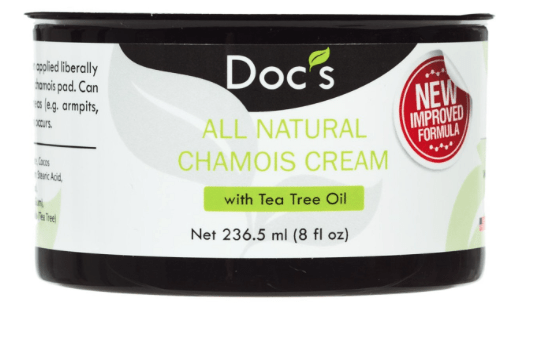 Doc's Skincare cream is all-natural. It contains aloe vera to soothe the skin after miles ad miles and the tea tree oil helps to prevent any bacteria build up.
Best if you want to buy your skin lube and your bike lube from the same company.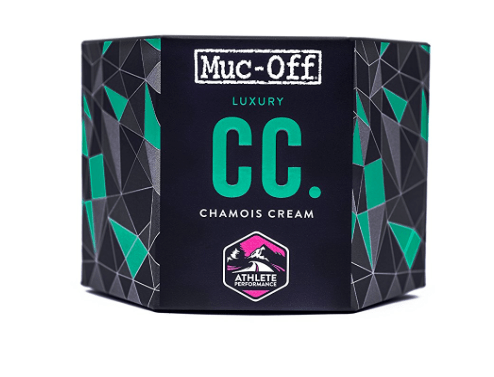 Not only does Muc-Off make bike lube, they also make cyclist lube. This cream is part of their new athletes range and contains aloe vera, witch hazel, and shea butter.
It's paraben and formaldehyde free. And it does a great job of providing some deep skin nourishment.
Best long lasting, no gimmick cream.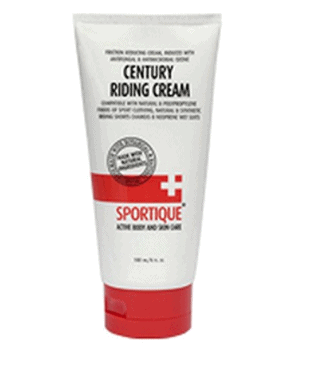 Sportique Cream is one of the more tenacious creams out there. It sticks where you put it and will likely still be there after you get off the bike, no matter how long that may be or how hot the weather was.
Quick Tips 
Most chamois creams are similar and you'll probably want to sample a few to determine which one works the best for you. As with most things, certain brands work better for different people and sometimes it takes a bit of experimentation to find your own preferred product.
You can get sample sizes of many of the creams online or at cycling themed shows or expos. Or ask your biking buddies if they have any single packets of anything stuffed into their saddlebags. Then apply liberally.
Your butt will thank you!
Related: Is Your Seat a Pain in the Butt? How to Choose the Best Road Bike Saddle