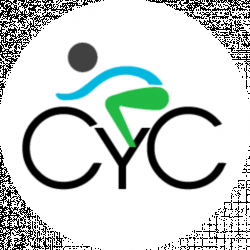 Latest posts by Cycling Hacks Team
(see all)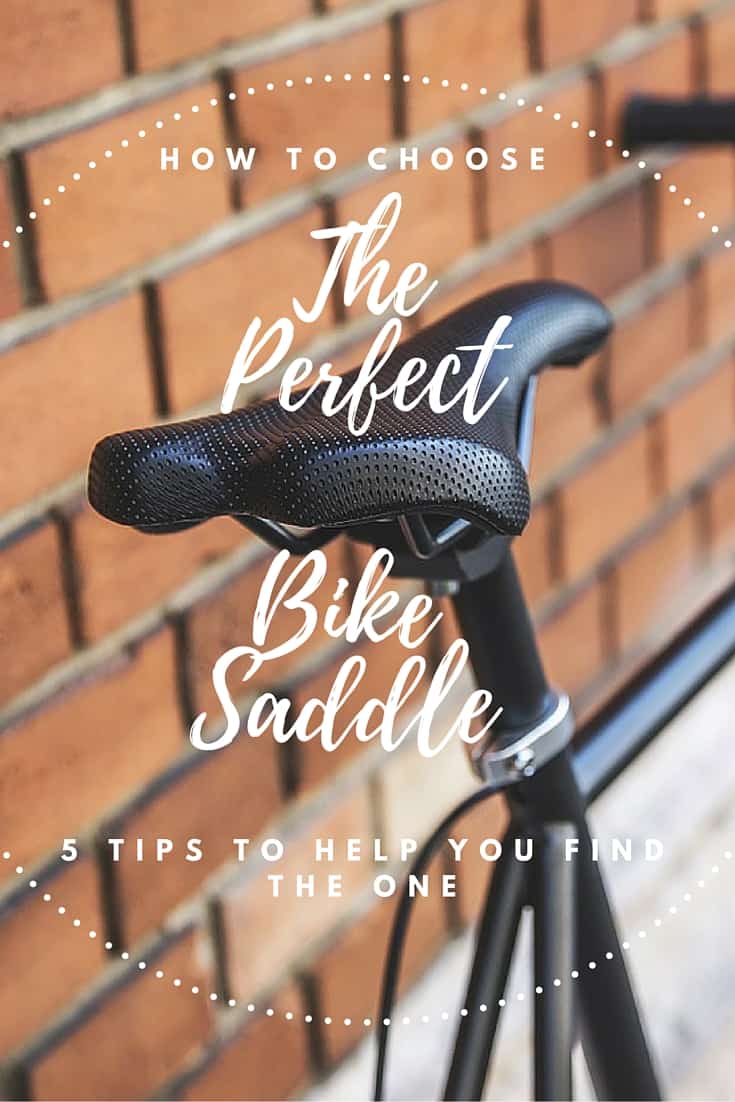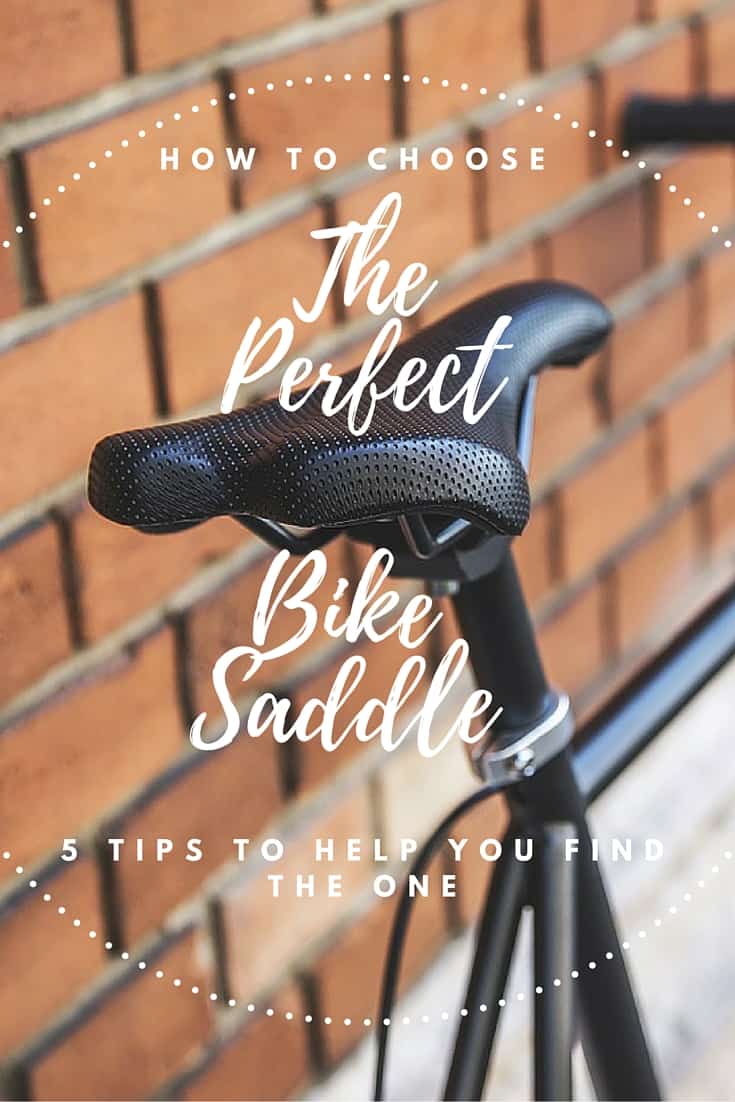 Last updated 2/10/17
If you've never struggled to find a comfortable saddle, consider yourself lucky. For most new riders and even seasoned veterans, the struggle to park your butt on a comfortable perch is all too real and can put a serious damper on riding time. Even the best bike saddle can wear out and collapse over time, suddenly turning into a torture chamber.  
Finding the perfect saddle doesn't have to be a pain in the butt. Just avoid these five common mistakes.

1. Saddle shopping before getting a bike fit
First off, the saddle that came stock on your bike, isn't meant to fit you. If it does, consider yourself very lucky. I can't wear the same pants you do, so there's no way to create a universally comfy bike saddle.
Here's a tip I discovered the hard way. Whenever I've been unable to find a comfortable saddle it was usually the result of a bike that didn't fit me in the first place.
Always begin with a bike fit, whether it's one performed at a shop or at home. Before pitching your saddle, first ensure you're sitting on it correctly. To do this, try these simple tweaks:
Adjust the bike seat height. You want to have a small bend in your knee (approximately 30 degrees) at the bottom of the pedal stroke.
Set the saddle's fore and aft correctly. This refers to the positioning of the saddle on the seat post. The correct position is one where you could draw a straight line from the kneecap to the ball of your foot. Everyone's body varies, but this is a good starting point. 
Play with the tilt. I recommend starting with a level saddle, but sometimes allowing for a degree or two of tilt can provide just the relief you're looking for.
Learn the simple steps to set your bike seat height and do a quick at-home bike fitting.
2. Falling for the myth of more padding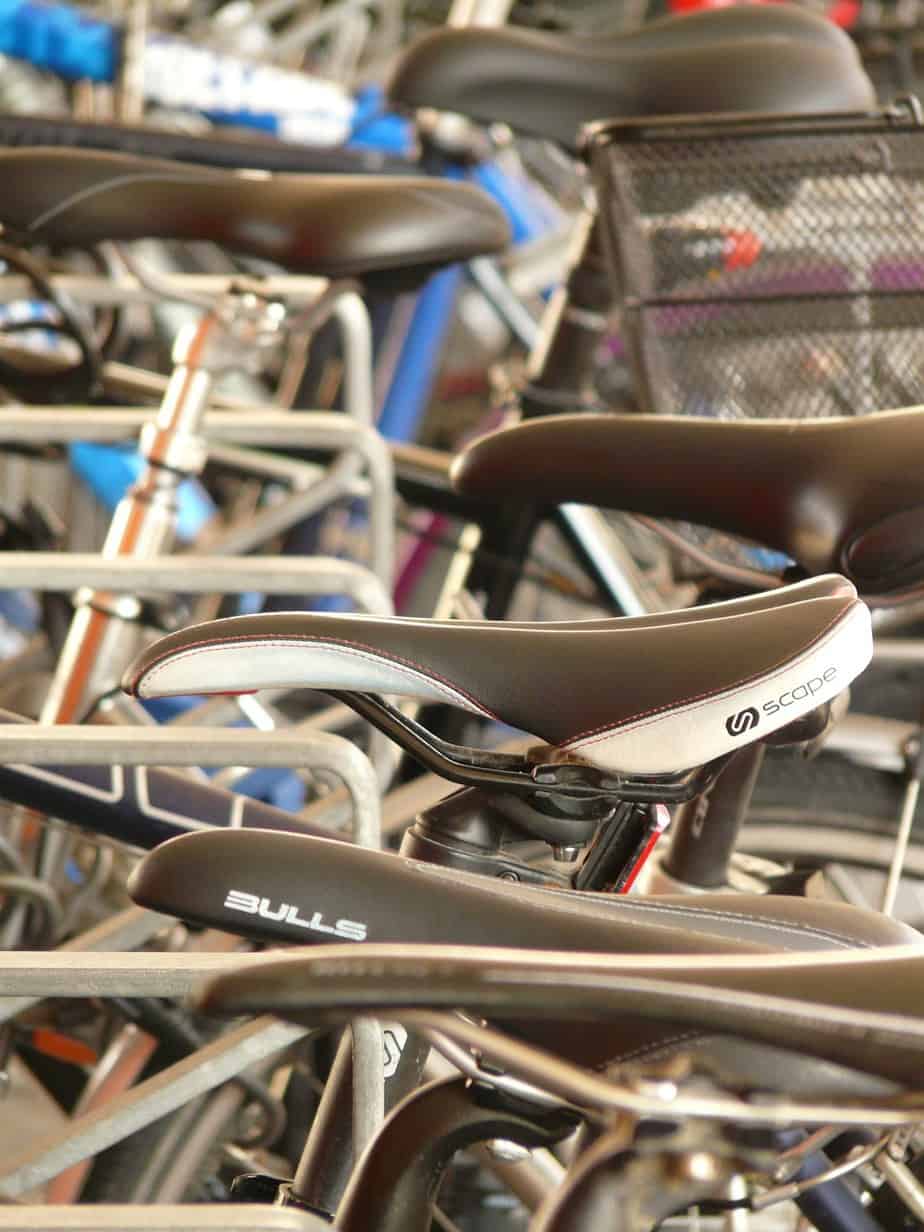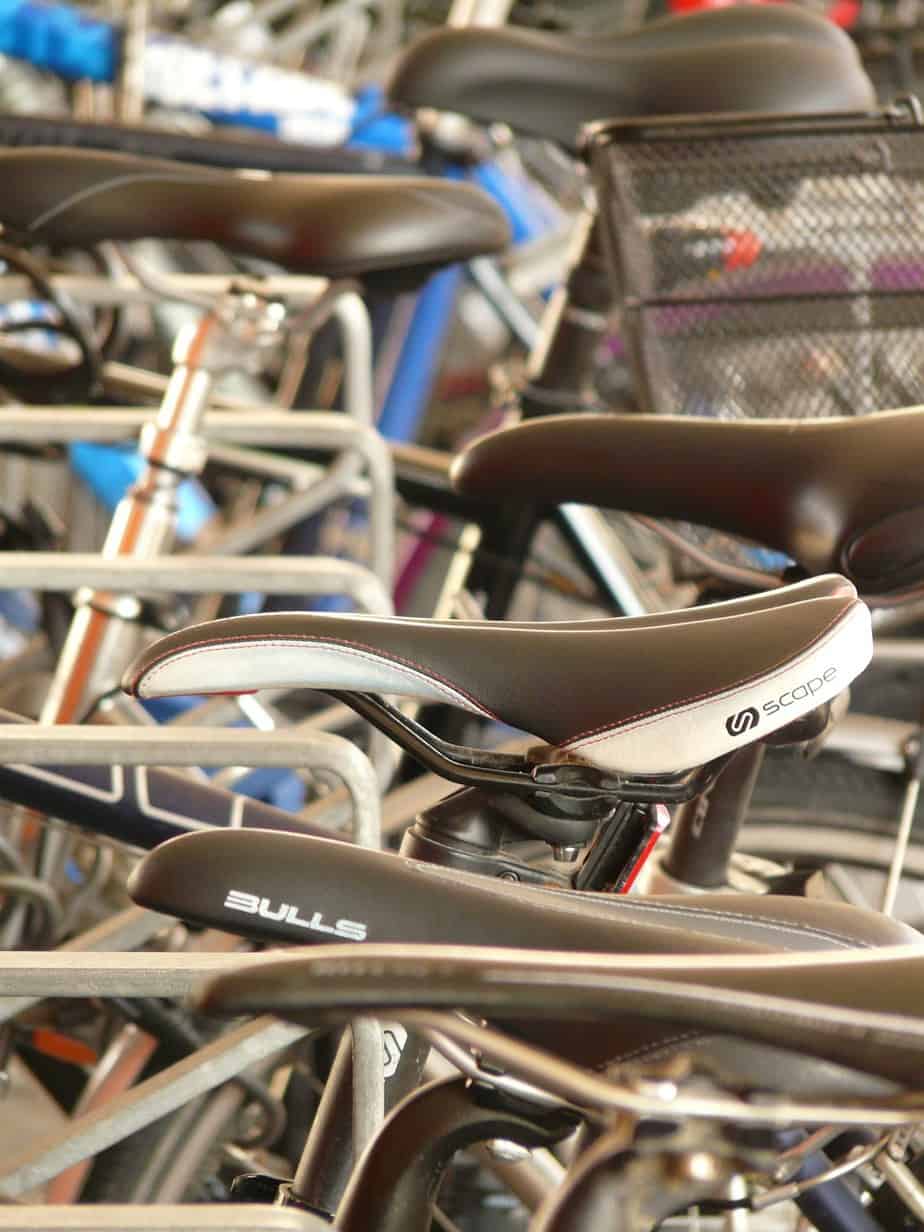 A well-padded bike seat is generally less comfortable than a firm one. This is the hardest concept for new riders to grasp. Logically, it doesn't make much sense, but let me explain.
After you sit on a highly padded seat for a while, the padding starts to conform to your body, which means you begin to sink into it. One minute it's comfy, the next its gripping and grabbing on all your tender bits, pushing into them. Throw in a few bumps in the road or bike path and you'll feel like a boxing glove's assaulting to the groin.
Ouch!
The amount — and placement — of the padding depends on the type of bike you're riding. If you're in a low position, you should be perched on the saddle, rather than sitting on it and sinking your weight into it.
Other disciplines like touring and more ridding a comfort bike require more padding, as you're sitting more upright and need the saddle to support more of your weight. So don't go looking for the best bike seat cushion, instead, find a saddle that's comfy on its own.
3. Skipping the test ride or not testing it long enough
Just as you'd never buy a new car without taking it for a spin, you should always test drive a bike saddle. Don't just bounce around on it in the parking lot or sit on it in the shop, take it for a good ride. And hit the terrain you'll be riding on. 
In the past, I've prematurely declared a saddle as "the one" only to hit the one or two hour mark and suddenly feel pain and discomfort or, worse yet, a saddle sore forming.
Keep in mind that saddles do wear out over time, especially models with a cut-out, which hammocks over time. Sometimes comfort is as close as replacing your current saddle.
Treat and Prevent Saddle Sores: 6 Simple Remedies
4. Buying the wrong saddle for your riding style
A common mistake is to buy one saddle and use it across disciples. Don't mount your favorite road saddle on your new mountain bike and be surprised when you stagger home in pain. Match your riding style to the right saddle and know that this may mean choosing several different saddles, depending on what you're riding:
If you have a more upright position, try a saddle that's rounded and wider with more padding

For a more aggressive riding style, use a saddle that's flatter, narrow and less padded such as the Fizik Arione, a great choice for a more aerodynamic road cycling position.   

Fizik Arione K:ium Rails Road Bicycle Saddle | Amazon

The Arione Classic retains the shape of the first Arione saddle, with a slightly longer, thinner nose, wider wings and higher profile compared to the new Arione, but maintaining the overall length and width dimensions.

Buy at Amazon.com

We earn a commission if you click this link and make a purchase at no additional cost to you.

08/22/2022 05:46 pm GMT

You may also opt for a noseless saddle, which are popular among triathletes, which relieves pressure on your soft tissue. Try the Selle SMP, which has a drop nose or ISM Adamo.     

Selle SMP Extra Cycling Saddle | Amazon

The Selle SMP Extra bicycle saddle features a full-length cutout to limit compression of soft tissues for increased blood flow and more comfort, ample padding to absorb vibrations and a distinctive beak nose that provides a stable base for climbing and helps eliminate thigh chafing.

Buy at Amazon.com

We earn a commission if you click this link and make a purchase at no additional cost to you.

08/22/2022 06:16 pm GMT

     

Mountain and hybrid bike saddles tend to have shorter noses and a more padding than road saddles. For mountain biking, try the Specialized Phenom.       

Touring bikes sit a rider up higher, thus placing more weight on the back of the saddle. A wider, more cushioned saddle is ideal and why leather saddles are so popular for long days in the saddle.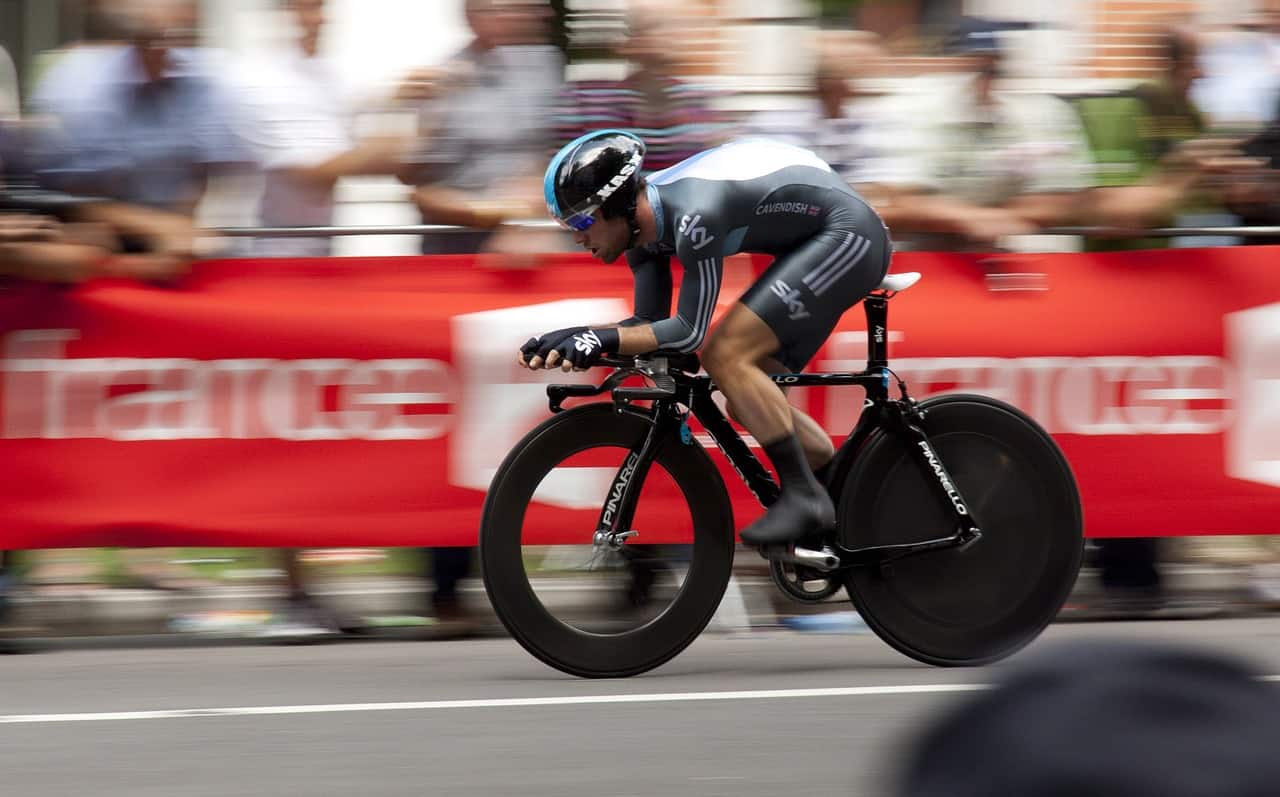 Other saddle considerations:
Saddle Rail Material – Hollow titanium will be more flexible and lighter than steel or cro-moly. Most saddles have a universal fit. Carbon rails are lighter, but will require a special seat clamp and are more easily damaged than titanium. 
Saddle Cover – Saddle materials also offer a varied ride feel. Some are made from synthetic or real leather. Others have material that's especially grippy, perfect for time trials where riders are perched on the front of the saddle. Some road saddles such as the Prologo CPC utilize a similar grippy cover.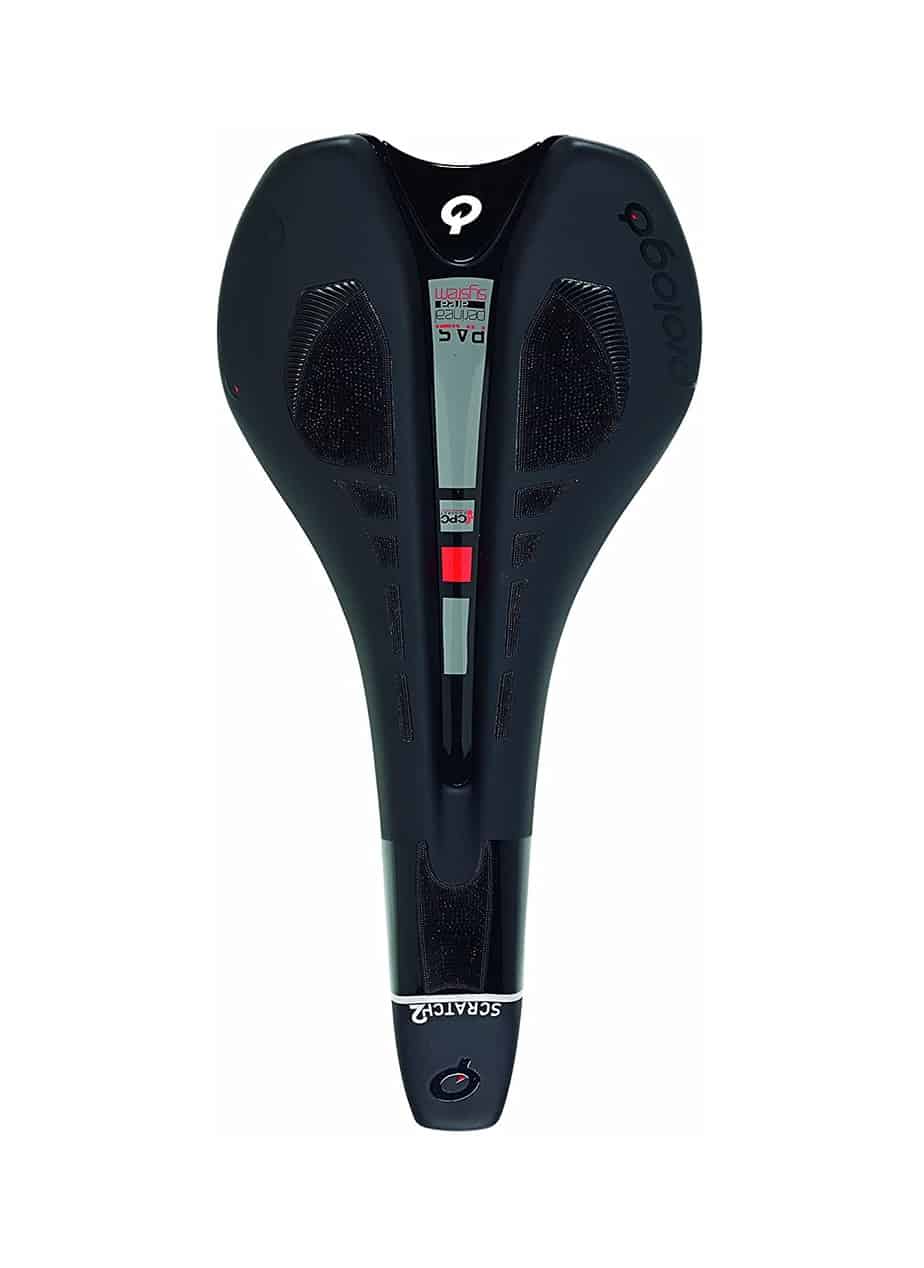 Prologo Scratch 2 PAS Tirox CPC Road Saddle | Amazon
Featuring Tirox rails, an aerospace grade light Ti-Alloy rail that provides a balance of weight and strength. CPC Models feature material on top of the saddle that promotes blood flow, provides higher grip and vibration absorption.
Buy at Amazon.com
We earn a commission if you click this link and make a purchase at no additional cost to you.
Brooks saddles use a single piece of leather that's tensioned over a metal frame, producing an extremely comfortable fit. The Brooks Cambrium Range remedies the need to care for the leather by offering a synthetic material with a similar fit profile.   
Brooks England Saddles Men's C17 Cambium Bike Saddle | Amazon
Brooks saddles are legendary the world over for their comfort, durability, and time-worn custom fit. For decades Brooks was the saddle of choice for everyone from pro's to delivery men, and even today they continue to be the saddle of choice for countless riders.
Buy at Amazon.com
We earn a commission if you click this link and make a purchase at no additional cost to you.
Cut-outs and Relief Channels – Some saddles are equipped with a cut-out down the center, which can extend all the way to the nose. Others are not cutaway, but have an indentation. Both redistribute weight away from the tender areas. It's important to remember that not all saddles with cut-outs or relief channels fit the same, so try several different models before deciding if it works for you.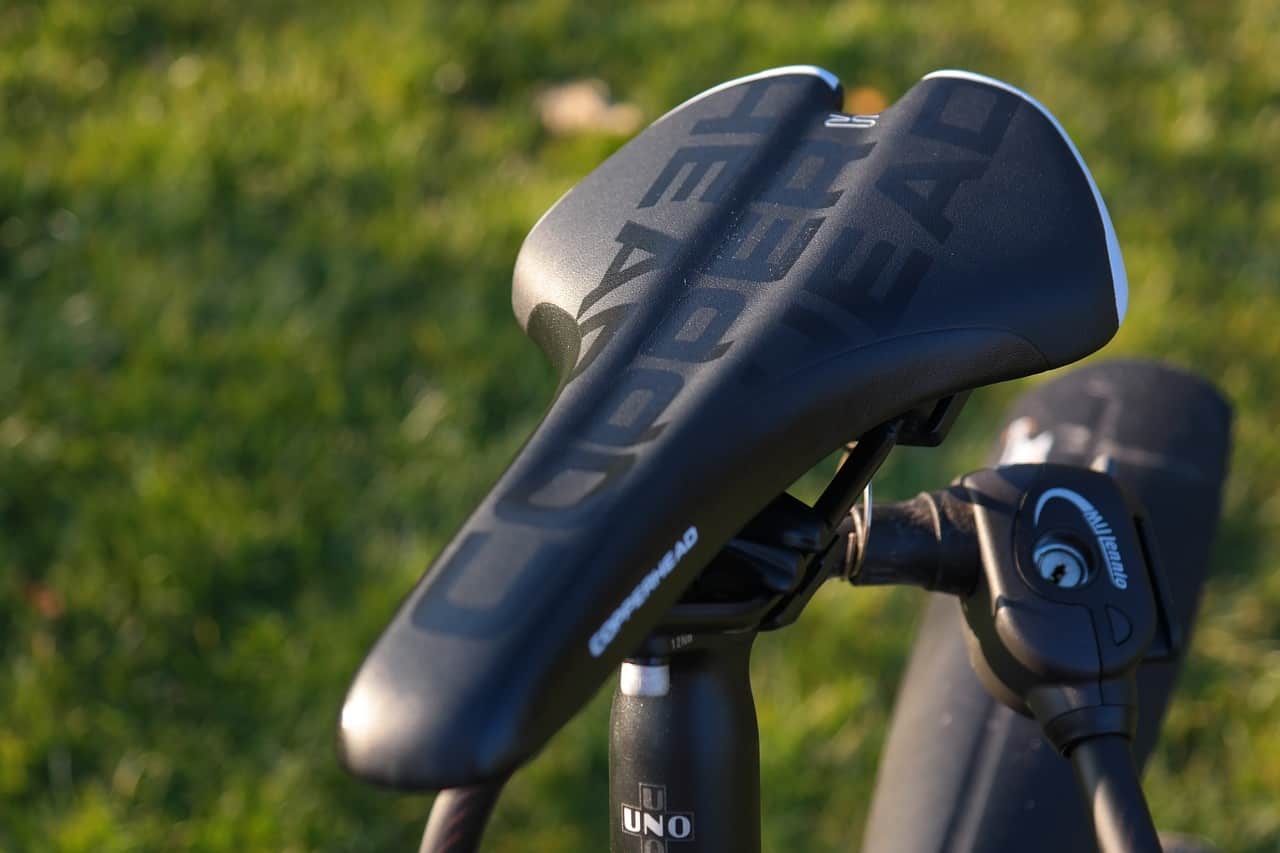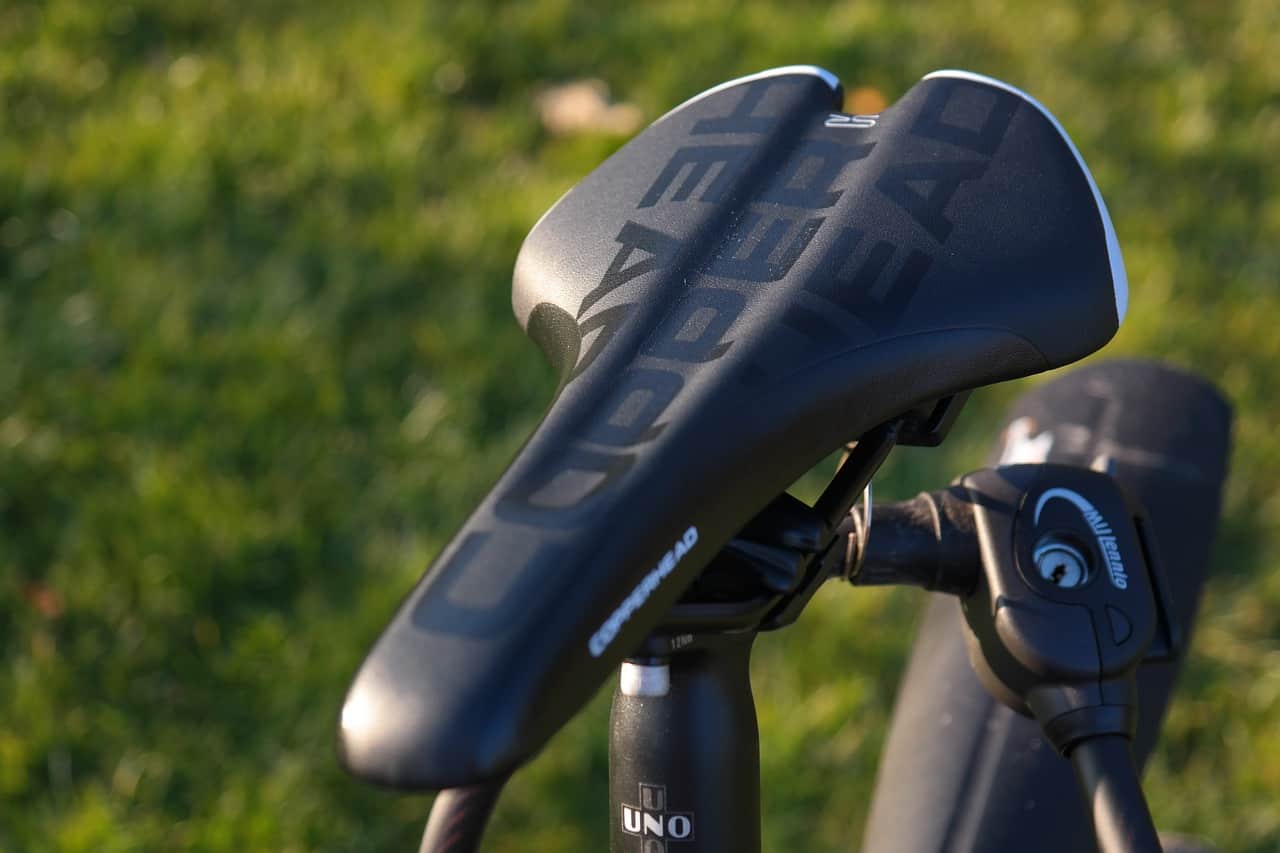 5. Relying on a fit formula or gender specific model
Just as bike shops now rely on fitting systems for a bike fit, companies have similar measurement systems for saddle fit. These systems can help you get in the ballpark when buying a saddle, but they shouldn't be the final word in what you try. You might overlook the best fitting saddle because it didn't fall within those specific measurements.
You can use these systems to get a rough estimate of your sit-bone width. Also referred to as the ischial tuberosity, these are the bony bumps you can feel when sitting on a hard chair. A saddle that fits well will evenly distribute pressure on your sit bones and away from the soft, delicate tissue in front. Remember that a saddle isn't supposed to support your entire bottom, just the sit-bones. Just because you have a larger bottom, doesn't mean you'll need a wider saddle.
The Ultimate Guide to Women's Specific Bikes
Companies also offer gender-specific saddles. But, once again, these are just guidelines. Not every woman needs a women's-specific saddle, though they can help fit a woman's geometry, which often means wider sit bones.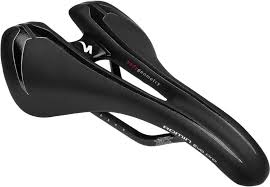 The bottom line: Saddle shopping tips
Many bike shops will offer test saddles to take home and try before you buy. Always inquire.

Chances are that any seasoned cyclists you know will have a box of discarded saddles. Give them a try first.

Cut the cost by shopping on Ebay. Just beware that any older saddle can lose its integrity over time, so buy a new or newer model to test. Don't be afraid to recoup some cash by selling your castoffs on Ebay too.

Take notes on the features you liked and didn't like.

Just like other bike components and accessories, saddles are occasionally re-designed or discontinued, so once you find a keeper, stock up!
Start here: Use these popular saddles as a starting point
Personally, my current favorite saddle is the Selle SMP Drakon, which you can find a full review of here.   
Selle SMP Drakon Saddle - Men's | Amazon
Drakon is the ideal saddle for sports or leisure cycling. It has the same structure as the Forma model, with a medium padding. Covered in real leather for the black models and microfiber for the coloured models.
Buy at Amazon.com
We earn a commission if you click this link and make a purchase at no additional cost to you.
08/22/2022 08:51 pm GMT
Pro Falcon Saddle – A light endurance saddle that comes with or without a cutout   
Falcon PRO Carbon | Amazon
Carbon reinforced base construction. Shock absorbing technology. Super light high density EVA padding. Weight: 155gr.
Buy at Amazon.com
We earn a commission if you click this link and make a purchase at no additional cost to you.
Fizik Arione – This saddle's flat profile allows you to slide up on the nose for or sit back.
Fizik Aliante – Fizik's lightweight endurance offering features a more rounded, curved profile than the Arione.   
Fizik Antares R3 Saddle | Amazon
Antares r3 k:ium. The third dimension. It is the third 'a' between Fi'zi:k's two other premium a's: Aliante and Arione. It'S the dimension embodying all essential fi'zi:k elements: comfort, flexibility and the incredible lightness of being.
Buy at Amazon.com
We earn a commission if you click this link and make a purchase at no additional cost to you.
Selle Italia SLR X-Cross– Recommended for cyclocross and gravel riding. A perfect all-weather saddle.   
Selle Italia SLR X-Cross Flow Saddle | Amazon
Eddy "the Cannibal Merck", Francesco "The Sheriff" Moser, Miguel "Big Mig" Indurain, the unforgettable Marco "The Pirate" Pantani and Ivan "The Terrible" Basso are just a few some of the great champions of cycling champions who have taken the Selle Italia team.
Buy at Amazon.com
We earn a commission if you click this link and make a purchase at no additional cost to you.
Selle Italia Diva Gel Flow – A bestseller that's universally loved by female mountain and road riders.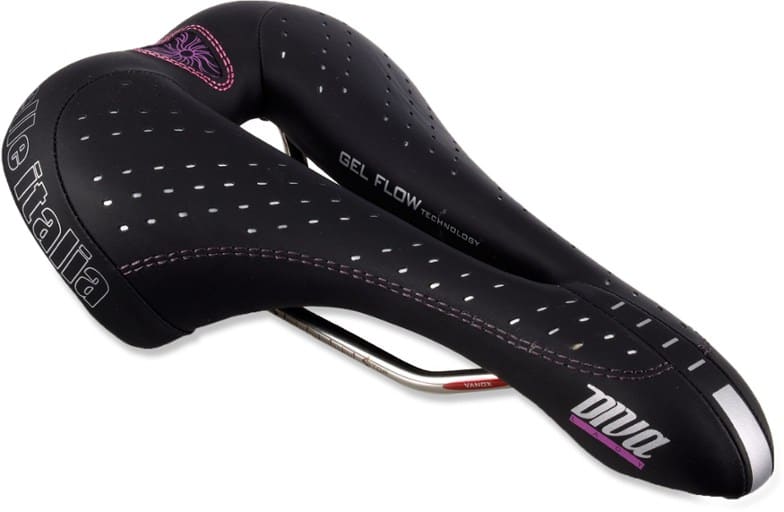 Need a thinner nosed saddle? Try the Fizik Vesta, a women's saddle available in several colors.   
Fizik Vesta Wing Flex Bicycle Saddle | Amazon
The saddle features the Vitesse hull with a full-length central depression to relief pressure on sensitive areas, plus a wider nose for more comfort when you're on the rivet. The K:ium rails are eight percent lighter than titanium, and have better vibration-absorption qualities and more corrosion resistance.
Buy at Amazon.com
We earn a commission if you click this link and make a purchase at no additional cost to you.
For a deeper dive into finding the best road bike saddle and bike fit in general, check out Steve Hogg's excellent blog.
Want even more cycling hacks or to connect with a community of like-minded cyclists? Join us in our free Facebook Group.