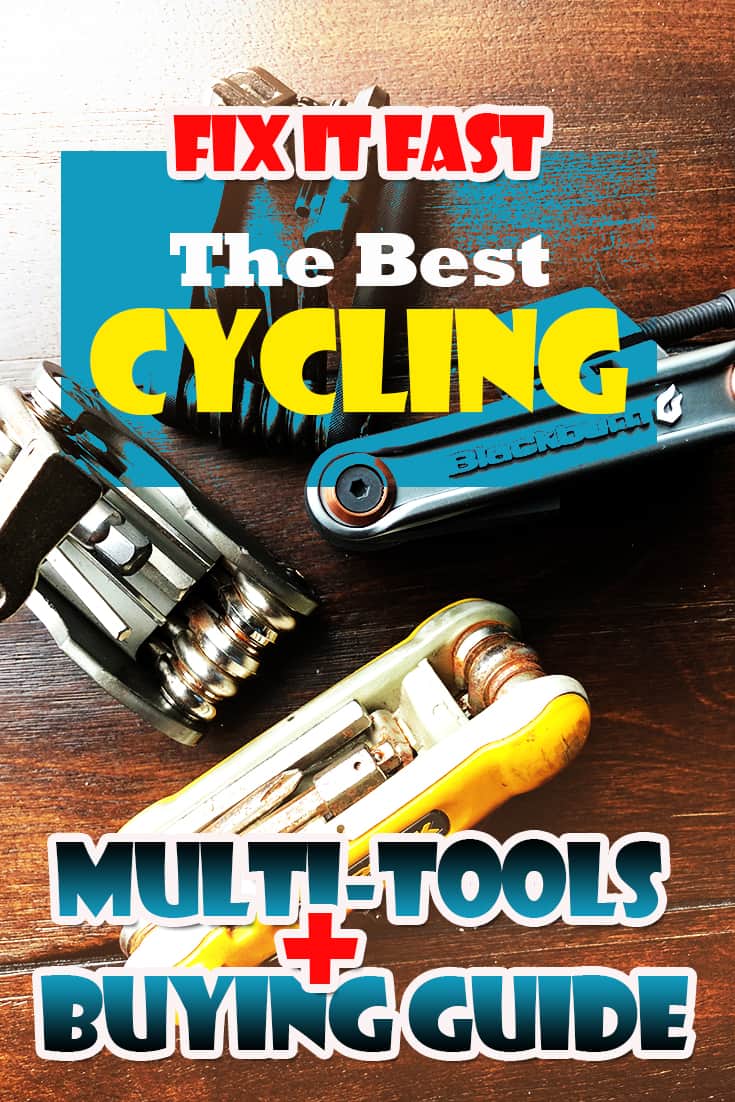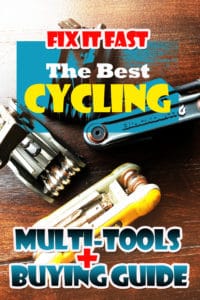 Bicycles have a wide variety of complex components that need tweaking from time to time. Since it is inadvisable to carry an entire toolbox with you, and Bicycle Repair Man has a limited range, it's best to carry a compact tool.
For a basic multi-tool, go with the Park Tool I-Beam Mini, which covers the basics and slips easily into a jersey pocket. If you'd like to go full on Macgyver, we highly recommend the Blackburn Tradesman, which includes every tool needed for your cycling survival.
What Multitool Do I Need?
Inventory the bolts, nuts, and screws on your bike: how many different tools might be needed to make on-the-fly adjustments and repairs? Pick the tool that only has what you need and no extra tools that you don't. Options include:
Metric Hex drivers/ allen wrenches – the most common bolt on your bike will have a metric hex head in sizes from 2mm to 10mm.
Screwdriver – for derailleur limit screws
Spoke tool – for adjusting spoke tension to straighten rims
Chain tool – repair a broken chain
Torx T25 – disc rotors and some small bolts
17mm socket – BMX axle nuts.
15mm pedal wrench – some pedals thread in using a hex wrench as well
Bottle opener – because why not?
Lockring spanner – fixed-gear hubs can come loose.
Tire levers – often a separate tool, but can be integrated into a multitool.
Pro Hack- Pack a spare quick link for your specific chain in case your chain breaks.
Use our chart to find the best multi tool for your needs or continue below for full reviews.
$30
$$80
$$$130
$$$$130+
Best Basic Multi-Tools: Cover the bare minimum.
Amazon product
Lezyne SV-5 Lezyne designs are simple and utilitarian but look like NASA designed it for lunar survival. The SV-5 includes the most common allen keys and a phillips screwdriver with a sleek stainless and aluminum chassis.
Amazon product
Park Tool I-Beam Mini Park Tool frequents bike mechanics' personal toolboxes. The I-Beam has 1.5 through 8 mm, a flat screwdriver, and T25 Torx bit on a simple I-beam center body.
Pro Hack – Put your multitool in a small plastic bag to keep it dry from rain, puddles, and perspiration that could cause rusting.
Best Multi-Tool for Road Cycling: Minimal weight and bulk
Amazon product
Fix-it Stix Fix-It's original design is two "sticks" that pack parallel but are fit one into the other to form a T-handle for leverage. The Sticks come with many optional bit combos to suit your needs and weigh as little as 51 grams. Torque limiters, tire levers, chain tools and a variety of carry methods are also available.
Amazon product
Lezyne Carbon 10 Lezyne has applied carbon fiber manufacturing with the Carbon 10. It has everything you need, including a chain tool and has all the heft of a feather at 80 grams.
Best Multi-Tool for Mountain Biking: Riding out of the woods is always better than walking.
Industry Nine Matchstix I9 is known for it's precision hubs and spokes and brings that engineering to a stealthy tool. There's no need to "carry" the Matchstix tool because it doubles as a front thru-axle. Simply unscrew this from your fork and find hex bits hidden inside with an integrated chain tool and spoke wrench. Available in sizes that fit most popular mountain bike forks.
Amazon product
One-up EDC tool One-up designed this all-encompassing tool system to fit inside the steerer tube of your fork, where you can forget it's there until you need it. The EDC system requires that the inside of your fork be threaded to accept the tool's mounting system, so check if your local bike shop has the tools needed to install it.
Amazon product
Wolftooth Pack Pliers This auxiliary tool is capable of many of the odd jobs that standard multi-tools are not. A burly aluminum tire lever folds out to pry apart chain quick links, move presta valve lock nuts and cores, and stores two quick.
Simplest Multi-Tools: Minimal moving parts
Blackburn Switch Blackburn knows commuters don't have time any nonsense and designed the Switch to be a L-handle wrench and matching double-ended sockets that cover most common bolt sizes. It comes in a handy nylon "wallet" that fits easily in your pocket.
Amazon product
Park Rescue Wrench MT-1C The simplest of simple, this forged steel one-piece tool has hex wrenches, a screwdriver, and 8, 9 and 10mm sockets for nuts.
The Best Do-everything Multi-Tools – if you're a belt-and-suspenders kind of person, you'll appreciate having a veritable toolbox in your pocket with these tools.
Amazon product
Topeak Alien II  Quite possibly the most well-equipped multi-tool available, the Alien II boasts 31 functions, including 2 through 10mm hexes, several common box wrenches, a knife, and tire levers. It's not small or lightweight, but it will feel lighter than a non-functioning bicycle. This is a great tool for long-haul touring or riding with your family.
Amazon product
Blackburn Tradesman Blackburn made their mark on the industry with practical racks and panniers. The Tradesman follows that tradition with the impeccably-spaced tools that you find on most multi-tools, but also includes a few unique ones: storage for a spare chain quick link, a quick link separator (harder to do by hand than you think!), and a disc brake pad spreader.
The Best Bike Tire Levers: A dedicated set of sturdy levers should be part of your portable toolkit.
Amazon product
Pedro's tire levers Pedro's classic plastic levers have stood the test of time as a reliable, no-nonsense product that just works. Many plastic levers are known to break but Pedro's somehow seem to last forever.
Amazon product
Park TL-6.2 Sometimes you just need something burlier than a plastic lever. Park's levers have a steel core so you can really wail on it, but are coated plastic so they won't damage your rim.
BMX tools – The rigors of a BMX session are hard on the bike
Animal Kotulak Animal was born on the streets of NYC, an unforgiving concrete jungle for BMX riders. This tool covers everything that could possibly go wrong during a ride, including a hammer-like cap to hold it all together.
Tall Order Pocket Socket one of the only pocket-sized BMX tools on the market, the Pocket Socket has just two pieces: a 17mm socket and a L-handle with a ⅜" driver and 6 and 8mm hex keys.
Singlespeed/ Fixed Gear Tools: Simple bikes still require tools
Pedro's Trixie This one-piece steel tool has a lock ring hook on one end and a 15mm spanner for axle nuts on the other. It also has some hex keys and a bottle opener, and includes "wing nut" style screws so you can bolt it to your frame's water bottle mounts.
Amazon product
Full Windsor The Nutter The Nutter packs a lot of functionality in a simple package, including a nylon-tipped tire lever, 15mm spanner, and several hex bits. It comes with a brown leather pouch that will look perfect hanging off your Brooks saddle.