Latest posts by Jonathan Nolte
(see all)
Road riders are very particular about the function and feel of their drivetrain, braking, and shifting. The collection of components that are designed to be used together is called a group, groupset, or "gruppo" if the movie Breaking Away did not sully your your love of Italian cycling affectations.
Shimano has a reputation for building superb groups with technology that trickles down from one elite generation of Dura Ace components, down through Ultegra, 105 [one oh five], Tiagra, Sora, and the humble Claris line. There is some room for mixing components from various groups, but many of the components only work within their tier.
Let's focus on the middle of that lineup, 105 and Tiagra. Choosing one of these options over the other might best serve the discerning and budget-conscious cyclist. The Tiagra line is considered one step below 105 because 105 is a tad lighter has smoother operation. But 105 has its limitations, and not everyone is counting grams and fractions of a second.
Is it worth the upgrade to 105 or does Tiagra fit the bill? Let's take a closer look. 
Main Difference Between Shimano 105 vs Tiagra
The main differences between the Shimano 105 and Tiagra are:
The Tiagra features a 10-speed system, whereas the 105 is 11-speed system
The 105 disc brakes are more streamlined compared to the Tiagra versions
THe 105 is more customizable and you can upgrade components easier, whereas the Tiagra is a more limited all-or-nothing groupset
Our Pick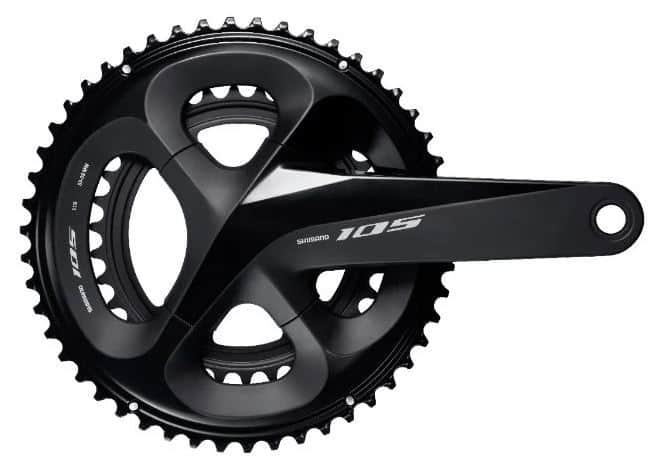 Why Go With the 105 Groupset? | Jenson USA
The 105 groupset is top of line, with 11-speed gears, a more streamlined design, and the ability to upgrade and customize each component (versus an all or nothing groupset).
View Component Prices
We earn a commission if you click this link and make a purchase at no additional cost to you.
Tiagra's main attraction is the group's versatility. You can build a Tiagra 10-speed group onto a bike with a drop handlebar or flat handlebar with the appropriate brake levers and shifters. You can also choose cable-actuated or hydraulic brakes.
In this context, "10 speed" means that cluster of gears on the rear wheel has 10 individual cogs. The front chainring can have one, two, or three rings, but the system is still called 10-speed. In the early days, a "10-speed bike" literally had 10 gear options: two in the front and only five in the back!
Tiagra has a far wider range of gears than the 105 group, including double- and triple chainring arrangements. For all-around road riding, the "compact" 50/34 chainring tooth option or "standard" 53/39 combo would be best. Gravel adventures and cyclocross racing might be better served with the 48/34 option. A Tiagra drivetrain built around a 50/39/30 triple crankset will better facilitate a long-haul touring bike in the mountains.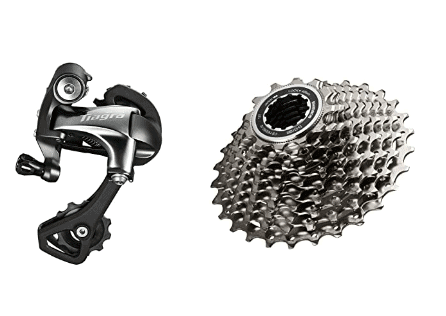 Shimano Tiagra Groupset | Amazon
The Shimano Tiagra groupset was inspired by professional riders but is made for new road cyclists. It supports internal cable routing, giving the bike a cleaner and more professional look. It is the perfect balance between easy operation and low maintenance.
Buy at Amazon.com
We earn a commission if you click this link and make a purchase at no additional cost to you.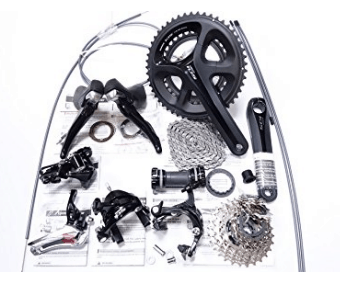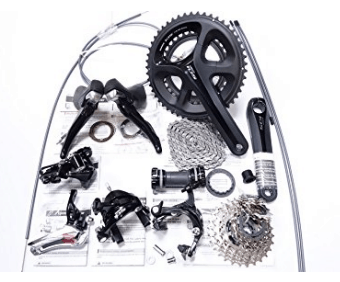 Shimano 105 R7000 components are oriented to conventional road riding, with speed and performance over versatility and thrift. There is no flat-bar option, nor a triple-ring crankset in the 105 line.
The 11-speed drivetrain is the main attraction to this tier. Seasoned riders will remember the limits of 6-speed freewheels from "back in the day," fighting hard to cope with the narrow range and drastic change in effort and RPMs needed between jumps.
Every additional cog in a drivetrain adds an option to spin more efficiently. Riders who can tell when they are pedaling optimum cadence will appreciate that they have more subtle, but essential, gear in their arsenal to push them ahead (or at least keep up) with the pack.
The R7000 rear derailleur also features the "Shadow" design that Shimano uses on most of its mountain bike derailleurs to tuck the mechanism under the bike more to avoid damage.
Similarities and Differences
Cranks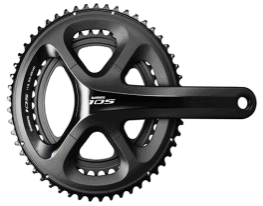 Shimano's current third- and fourth-tier road groups are very similar in features and appearance, but appearances can be deceiving. Both use Shimano's 4-bolt, 110 mm bolt circle diameter spider and chainrings, trickle-down technology of premium Dura Ace and Ultegra level components.
The 4-arm spider across all road and mountain groupsets was a move to make a wider range of chainring sizes fit on all cranks, including "standard" race-oriented 53/39 combo, conventional "compact" 50/34 combo, and "adventure" 48/34 on Tiagra. This gives riders more choices using a single design and presumably makes the manufacturing process easier for Shimano.
Shifters
Tiagra and 105 shifters both feature stealthy under-the-bartape cable routing for an uncluttered handlebar. 105 components have had this routing for a few generations, but Tiagra recently received this trickle-down feature. Some riders preferred the smoothness they attributed to the exposed, inward-facing shift cable routing of older 9-speed Ultergra shifters (a step up the component group ladder). Shimano's latest generation of buttery smooth cables and housing seem to have eliminated those problems. 105 still comes out on top for the smoother shifting mechanism baked into the controls.
Fitting a hydraulic brake mechanism inside a drop-bar shifter has perplexed engineers. The 105 shifters achieved this in a more compact package, making the Tiagra shifters look bulbous in comparison. Even more amazing, 105 shifters for hydraulic brakes come in standard and small sizes to fit smaller hands. This makes choosing 105 11-speed hydraulic a no-brainer for people with smaller hands who struggle to shift and brake on a bike with bigger controls.
Brakes
Both groups can be built with cable-actuated brakes, or Shimano's new road-specific hydraulic disc brakes. There's no denying the versatility and all-weather stopping power of Shimano's renowned hydraulic braking technology that have dominated the mountain bike market for many years. Most likely, hydraulic disc brakes will dominate but road bikes in a few years as well.
Both Tiagra and 105 use a sleek road-specific flat mount brake caliper that you'll find on most modern road bikes. You can use these brakes on frames and forks with the older post-mount interface using the appropriate adapter bracket. The hydraulic calipers from both groups are similar and use interchangeable pads.
Purists who opt for the clean simplicity of road caliper brakes will appreciate the refinements made to the 105 rim brake caliper. Compared to the Tiagra model, it has better pads and a more sophisticated dual-pivot caliper design.
New Hub Standards to Consider
If you're upgrading your current bike, but sure to check if your rear hub can handle an 11-speed cassette. Older hubs do not have enough space for the slighter wider cassette and are not at all compatible.
If you're in the market for new wheels as well, be sure to pick one that is 11-speed compatible. Ask your favorite local bike mechanic for guidance if you're not sure.
The Verdict: 11-Speed Advantage Wins!
Given the choice between the two groups as an upgrade to your current bike or when picking a new bike, which one should you choose? The price difference between the two is not staggering, so either group might check all the boxes for your needs.
Who Wins? I would go with mostly 105 components for the smoothest shifting and the benefits of 11-speed gears. As an added bonus, 105 components are going to shave a few grams off your bike.
Going 11-speed will do more to "future-proof" your drivetrain. The 11-speed genie is out of the lamp, and she's not going back in. The "old" 10-speed might save a few bucks or offer a range of gears that you need.
Tiagra offers terrific braking and shifting compared to its predecessors, but it's only a better choice if you need a triple crankset or have a flat handlebar. It is a more budget-friendly choice for any one building a bike from scratch or upgrading a bike with dated parts.
Our Pick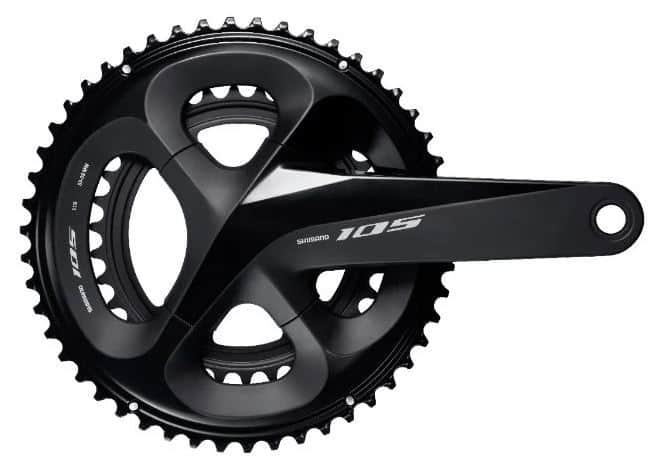 Why Go With the 105 Groupset? | Jenson USA
The 105 groupset is top of line, with 11-speed gears, a more streamlined design, and the ability to upgrade and customize each component (versus an all or nothing groupset).
View Component Prices
We earn a commission if you click this link and make a purchase at no additional cost to you.
Related Reading on Groupsets: