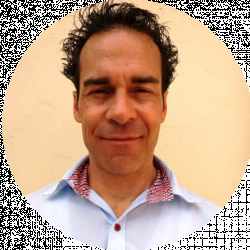 Latest posts by Douglas Bloom
(see all)
The Cervelo S5 is the 3rd generation of Cervelo's high-end aero road racing bike. This model has better handling and is more aerodynamic. Apart from a full disc brake design the bike also has significant weight reduction. 
When you compare it to the second-generation S5, the third generation offers a 25% increased bottom bracket, 13% increased head tube stiffness, 5.5 watts of drag savings, and is 90 grams lighter. Additionally, it has more tire clearance, increased trail, and more BB drop to improve high-speed handling.  
Cervelo S5 Review
At the front of the Cervelo S5, the aerodynamics creates a party-like feel. Let's look at the product's specifications before we dive into the details of this bike. 
Specifications
Tire clearance: 30mm

Drivetrain: Dura-Ace Di2

Material: Carbon fiber composite

Style: Aerodynamic road race

Weight: 16.5 lbs.
Front Features
Completely hidden shifting and brake lines are a well-known aerodynamic advantage. Any good aero bike should have a clean front end. 
The S5' fork and 5 twin-strut stem are designed to hide the control lines and offer smooth routing. Essentially, the design relocates the steer tube located in the front of the head tube. Shifting and brake systems run into the bar from the front levers. Before going to their destinations, they pass through the stem struts and into the headtube. 
By getting rid of the internal fork steerer the manufacturer opened up the headtube. A less tortuous path is offered by the struts. This ensures the control lines have a straighter journey. The result is a reduction in friction and easier routing. It is a crucial factor when it comes to mechanical shifting systems.
The opening between struts also offers an airflow advantage that results in a 17gram decrease in drag when you compare it with a standard stem. There are some drawbacks to such a system. The control lines need to be pulled from the frame should you wish to change the stem length or bar width.
Adjustment
The Cervelo S5's stem and bar aren't adjustable as a traditional stem or bar. However, there are plenty of fitting options available. The CS28 stem is mainly a -6 degree stem. It comes in 6 lengths: 130, 120, 110, 100, 0, and 80mm. The AB08 is available in 44, 42, 40, and 38cm. All bars use the same 128mm drop dimensions and 80mm reach.  
S5 has a maximum height adjustment of 30mm under the stem. There is another 2.5mm available when a spacer is inserted between the stem and bar. This is for a 32.5 bar height adjustment. Shims also provide three-bar pitch options of +5, +2.5, and 0 degrees. Keep in mind spacers, shims, and associated parts required to make such changes aren't included with the bike. However, you can get them as part of a dealer kit.
If you are looking for something more traditional, a standard stem adapter lets you fit your favorite stem and bar. Take note such a move reduces the S5's aerodynamic efficiency. Although there is the availability of a zero-offset post, the seatpost comes with 20mm of offset.   
Geometry
There are five frame sizes available with the S5 namely 58, 56, 54, 51, and 48. In a race-oriented road bike, stack and reach are what you expect to find. Every frame size gets its specific fork to ensure handling is consistent for all size riders. 
It's a contrast to the traditional recipe where the same fork is plugged in all frame sizes. The result is all Cervelo S5 MTBs use the same 57mm trail dimension. Other bikes have different trail numbers for every frame size. 
According to Cervelo, the S5's bottom bracket has been increased slightly compared to previous generations. This was in a bid to improve high-speed handling. However, the geometry of this specific MTB is similar to its competitors.
What Fits
Cervelo S5 comes with a disc brake-compatible frame designed for flat-mount calipers. It uses the quarter-turn RAT system combined with 12mm thru-axles front and rear. The RAT system was developed by its sibling company Focus Bicycles. 
If you are looking for a more traditional system, there is a kit you can use to convert it to threaded thru-axles. The S5 is compatible with both mechanical and electronic shifting drivetrains. The frame can fit up to 30mm tires.
Builds
You can get the frameset separately if you want to design a specific bike. Otherwise, there are four complete bike options. They all use the same stem, handlebar, seatpost, fork, and frame. 
The most affordable option gets you DT-Swiss P1800 aluminum wheels and Shimano Ultegra mechanical shifting. The next affordable option gets you DT-Swiss ARC 1450 carbon wheels and Ultegra Di2 electronic shifting. The priciest option gets you DT-Swiss ARC 1450 carbon wheels and SRAM Red eTap. You also get the option of Eneve SES 5.6 wheels and Shimano Dura-Ace Di2. 
Read our full guide on how to find the best wheels.
Rides, Impressions, and Otherwise
Recently, there has been a kind of aero road bike renaissance. Cervelo S5 is the latest update in the category. It has been invigorated by new versions of Specialized Venge, Trek Madone, and Giant Propel. This bike is a great option if you love fast road bikes. It's proof that aero road bikes have stopped being the ugly and awkward stepchild of the road-race category. Currently, they are more of a supreme performance bike.
When you ride it, you get the feel of riding a good road bike. You feel a crackling jumpiness, lightness, and stiffness. At the same time, you feel precision and smoothness. It's supple and flowing, strong and powerful, brittle and hollow. 
The impression you get can only be found in carbon fiber, high-performance, modern road racing bikes. Getting this kind of feeling from aero road bikes in the past was impossible. The S5 has passed the point where aero road bikes don't sprint right, corner imprecisely, and climb sluggishly. Although it is an aero road racing bike, it is faster thanks to improved aerodynamics. 
Cervelo S5 Pros and Cons
There are about 10 reasons why you should consider the Cervelo S5 as your aero road bike of choice. At the same time, there are about five reasons why you shouldn't. Check out the below pros and cons before you make up your mind. 
Pros
2 water bottle positions – one is easier to access the other is more aerodynamic

Tidy appearance thanks to internally routed cabling

Efficient power transfer and speed due to a wide bottom bracket, carbon frame, and stiff headtube

Extremely aerodynamic fishbone-shaped handlebars

Ergonomic handlebars

Disc brakes for maximum stopping power

Easy to remove handlebars in case you need to transport the bike

Stem and handlebars are different pieces allowing for handlebar height and angle adjustment 

Tubeless tires

Excellent sprinter

Tire clearance of up to 28mm
Cons
Ugly and strange-looking handlebars

Higher price point

Limiter in the fork

Smaller size builds have toe overlap

Brake levers are longer than what you get on other bikes
Cervelo Bike Buying Guide
You need to have an idea of the features of each Cervelo series before you consider buying one. The manufacturer has a lot of bikes to choose from. This means making a choice will require you to gather as much information as possible. Below is a list of popular Cervelo bike series and a little about each. The information will give you insight into the types of bikes you can get from the manufacturer. 
The Cervelo Bike Range
Cervelo bikes are classified into various models indicated by letters, each model with its specific use and riding style. They include R for road bikes, S for aero road bikes, C for endurance and all-terrain bikes, P for triathlon and time trial bikes, and T for track bikes.
The Aspero gravel bike and Caledonia endurance bike are the only bikes that are not denoted by a letter or number. Numbers show the hierarchy of the models, with higher numbers showing developed models.
The road bikes in this category attempt to provide the rider with as much balance as they can offer through their performance-based chassis. The bikes, including the Cervelo RCA, R3, and R5, have very light frames and a stiff platform, giving a smooth ride along the terrain. The R series bikes are well suited for cycling enthusiasts and people who cycle for pleasure as they meet all the requirements.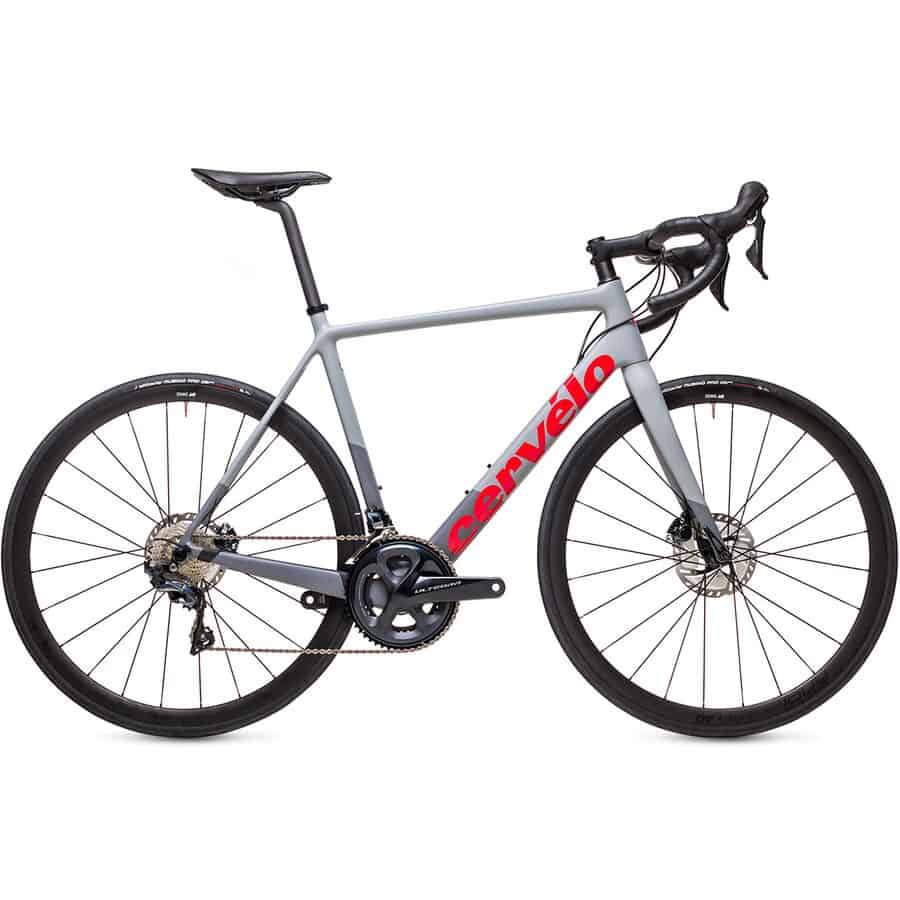 Cervelo R Disc Ultegra Road Bike | Competitive Cyclist
Cervelo uses Squoval Max tubes to create a seamless blend of square and oval shapes to balance stiffness with aerodynamic gains so you can stomp out tempo climbs and the carve high-speed descents with equal prowess.
Check price
We earn a commission if you click this link and make a purchase at no additional cost to you.
S Series
The first S series aero road bike was the Cervelo Soloist manufactured in 2002 when the idea of such a bike was non-existent. Aero road frames became more popular with time as people became more interested in them, with Cervelo at the frontline of it all. The evolution of the Cervelo Soloist from an aluminum frame to a lighter carbon fiber aero-shaped frame drew even more attention from people, creating a whole new category of bikes.
S Series bikes have a heavier frame than R series bikes and have a more rigid feel with a tube shape similar to that of a time trial bike frame. Bikes in this category include the Cervelo S2, S3, and S5, and they are very aerodynamic thanks to their well-fitted aero tubes. The Cervelo S5 is the most advanced aero road bike currently in the market since British pro cyclist Mark Cavendish used it to win his races.
C Series
Bikes in this series are probably the most versatile road bikes because they are suitable for riding on both dirt and main roads. Its frame is from carbon fiber that is lighter compared to other carbon frame bikes in the market. Cervelo made their first C series all-terrain bike in 2016 by applying the same concepts used in making the R series road bikes and adding a few adjustments.
The Cervelo C3 and C5 are the only bikes in this series so far, providing comfort across long distances through their more relaxed geometrical shapes.
The new Cervelo P series offers you a more affordable entry if you want the P range. Unfortunately, you won't get the integrated adjustable cockpit you would find in its big brother. However, the front end is interchangeable allowing you to fine-tune it to your needs. 
The good news is the bolt-on extra storage options are still available. This means you can still do long-distance riding or time trials with this frame. All P range models use disc brakes. Hydraulic calipers are also specced with this entry-level option.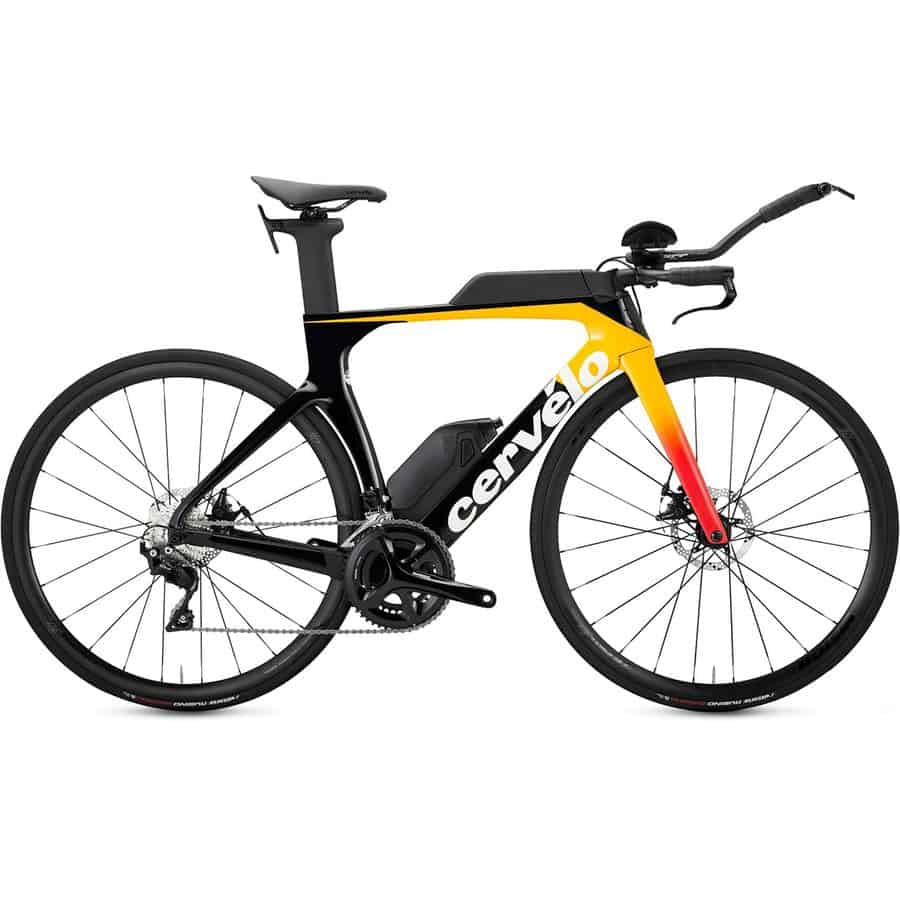 Cervelo Disc 105 R7000 Road Bike | Competitive Cyclist
Front end and torsional stiffness is increased by 30%, and bottom bracket stiffness is increased by 18%, both of which lead to better handling and faster accelerations when you're sprinting across the tarmac.
Check price
We earn a commission if you click this link and make a purchase at no additional cost to you.
The Aspero is designed to be used as a gravel bike. This model is a carbon race-fit model developed with a more aggressive geometry that you can't easily find in the gravel bike market. It also has a heavy focus on handling at high speeds. 
However, gravel riders need adjustable and wider rubber tires to cater to different conditions. This is why Cervelo has built the Aspero to cater for 650 wheels with tires up to 49C or 700 wheels with tires up to 42c. Even with large differences in tire size, the adjustable front axle means the handle is kept uniform when you change to larger tire sizes.
Aspero comes with only disc brake build versions. You get everything from SRAM Force eTap and Shimano's new GRX gravel groupset to SRAM Apex 1x. This includes a frameset-only option.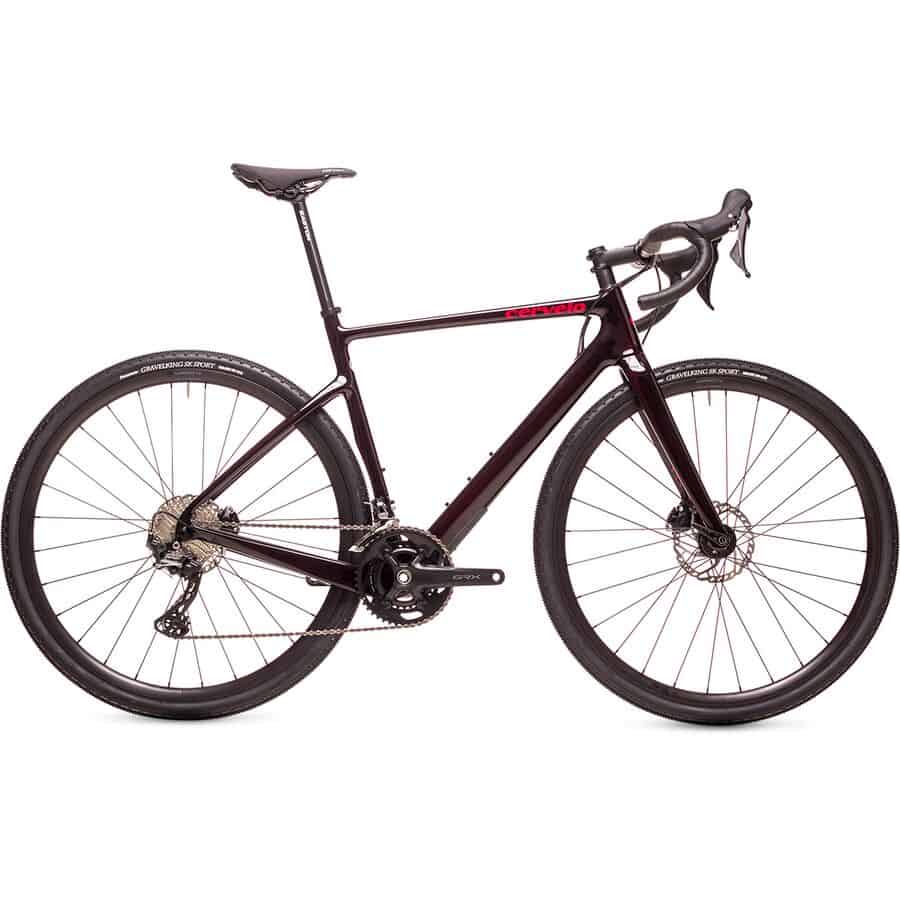 Cervelo Aspero GRX 600 Gravel Bike | Competitive Cyclist
The bike uses a moderate head tube angle at 72° (size 52) to provide more stability than Cervélo's road steeds, but less slack than most comparable gravel bikes. This lengthens the wheelbase slightly to create a solid feel on loose descents and corners, but pairs up with a steep seat-tube angle for a nice perch through pedal-heavy sections
Check price
We earn a commission if you click this link and make a purchase at no additional cost to you.
It is described as an all-road bike. Originally it was designed for the cobbles in northern France and Belgium. It's equally capable as a bike for any day epic ride. The steering is designed to comfortably cater for short and long distances. 
The Caledonia has wider tires and mudguard mounts with a maximum of 35mm. If you fit mudguards, the maximum size is 31mm. This doesn't mean the manufacturer forgot the racier side. The Kamm tail tube shapes assist in wind-breaking while the cables are fully integrated into the cockpit. If you are looking for a more budget-friendly version, then you can get one with a traditional round Seatpost and less cable integration.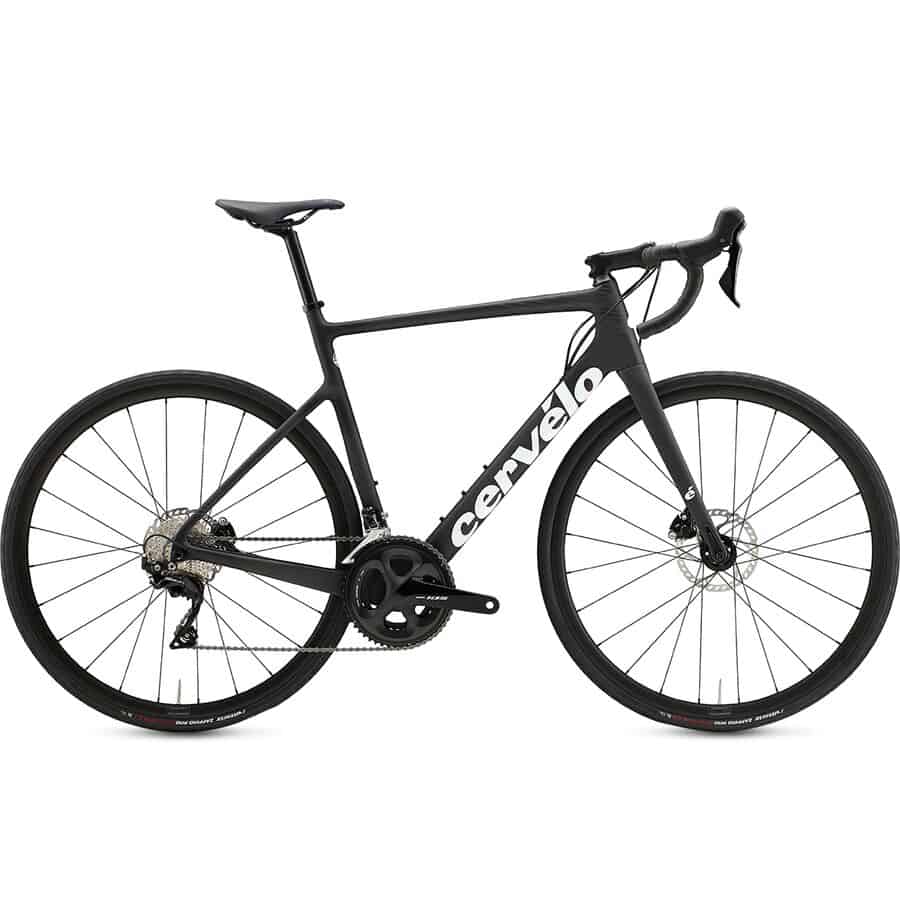 Cervelo Caledonia 105 Road Bike | Competitive Cyclist
Cervelo opts for a more traditional stem-bar interface on the Caledonia and a standard 27.2mm seatpost. The front derailleur mount is removable should you ever go 1x and want a cleaner aesthetic.
Check price
We earn a commission if you click this link and make a purchase at no additional cost to you.
Cervelo S5 Alternatives
Do you think you would want options to compare the Cervelo S5? If you have read the above information and feel you don't want to get the S5, there are other options to choose from. The following is a list of bikes people have considered when they were looking for Cervelo S5 alternatives. Take a look at each to know their features and determine if one could be your MTB of choice. 
BMC Timemachine 01 Road Four
This bike was introduced in 2012. Since its launch, this MTB has always been a head-turner. However, it was undoubtedly very functional sacrificing comfort for speed. Since then the MTB has come a long way. The current Timemachine Road iteration is more rider-friendly. Apart from maintaining its speed features, the latest design has managed to include an element of compliance. The result is an MTB that is close to perfect. 
The brake setup on this mountain bike is Shimano Ultegra Di2. You can understand the bike's ambition considering it comes with 62mm deep section DT Swiss Arc 1400 Dicut 62 wheels, semi-intergraded cockpit, and fast-rolling Vittoria Cora Control tires. The added comfort is the last upgrade that makes it a worthy competitor to the Cervelo S5. 
There are two main downsides when compared with the S5. The first one is a limited 25mm tire clearance. Secondly, the cost is as high as getting a second-hand family car. 
Pros
Raw speed

Rider adjustability

All-day comfort

Clean aesthetics
Cons
Pricey

Narrow tire clearance
Pinarello Dogma – F12
Winning the Tour de France is no small feat. People who have ridden the Dogma state the bike can win any race as long as the rider was familiar with bikes. Everyone who has ridden it agrees the bike is all about performance. This means comfort is not at the top of its features. If you are thinking of getting the maximum speed possible, then comfort should not be your priority. 
For this MTB make and model, you get to choose from several build options. They include a rare rim brake option that few have tested. The brakes on the Dogma are direct mount. This is crucial especially if you ride fast and need solid braking power.
According to Pinarello, the F12 Dogma is their stiffest version. It comes with a Tiorayca T1100 carbon frame and an Onda fork. This combination makes the bike 10% stiffer than the previous frame (F10). 
Additionally, the frame has been re-designed to reduce drag by 7.3%. this saves you about 1/3 of a mile or eight seconds every 10-miles. If you are looking for a nimble and rapid ride, this is the bike for you. Keep in mind you have to put a sizeable dent in your finances and endure unforgiving rides. 
Pros
Extremely lightweight

One of the best Aero MTBs

Very fast

Comes with a rim brake option
Cons
Cannondale's first-ever dedicated aero road bike is the SystemSix. It looks the same way as most aero road bikes look. Despite it being all chunky tubes and stark angles, it isn't as uncomfortable as it looks. The level of comfort will surprise you despite the aesthetics of the MTB. 
The geometry of this bike is similar to that of a Cannondale SuperSix Evo. The handling is very fine and it has hydraulic brakes that give you the confidence you need to speed on descents. Cannondale's Knot 64 wheels are tubeless-ready and the wheels of choice on this bike. They are very stiff and can spin along like a freight train. The partnership is completed by the inclusion of the highly-rated Shimano Ultegra Di2 for rapid electronic shifting. 
You have the choice of choosing between the women's and men's options. Furthermore, there are standard non-digital Ultegra, SRAM eTap Red AXS, and Dura-Ace Di2 versions at different prices. Cannondale's SystemSix has won the Cycling Weekly Editor's Choice award for two years consecutively. This means this is a high-quality aero bike. 
Pros
Great handling

Fast wheels

Compliant frame

Non-digital version available
Cons
Tires are not of the best quality

It is slightly on the heavier side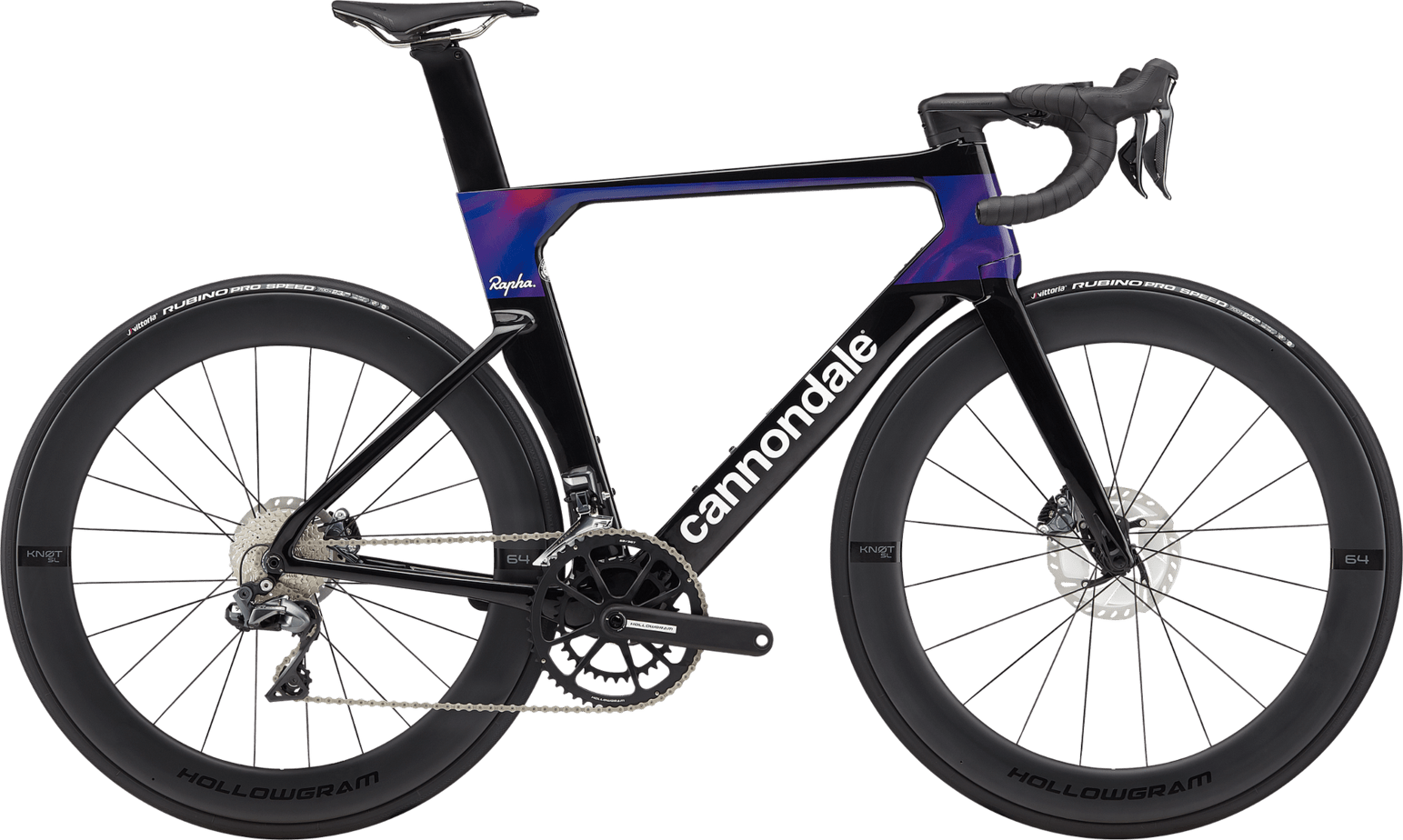 SystemSix Carbon Ultegra Di2 | Cannondale
If speed is what you are up to - this bike is perfect for you! It sprints, descends and even climbs most hills faster, conserving watts off the front, in the draft, and in the laughing group.
Check Price
We earn a commission if you click this link and make a purchase at no additional cost to you.
Cervelo S5 FAQs
Question: Where is the S5 Manufactured?
Answer: Cervelo bikes are manufactured in Asia after being designed in Canada. The company has an R&D facility in the United States that produces limited top-of-the-line bikes. The P5x and R5ca are produced in Minnesota in conjunction with HED. 
Question: Is the Cervelo S5 a Good Bike?
Answer: Yes, it is! The S5 is classified as a futuristic-looking, compliant, and super-fast bike. The stem and the bar should not put you off. They are easy to adjust and work with.
Question: What is the Weight of the S5?
Answer: The total weight of the bike is approximately 17 lbs. 
Question: Can I Repair Damage to My Cervelo S5's Decals/Paint?
Answer: The first step is finding an authorized Cervelo retailer near you. They will inspect the bike to make sure it doesn't have any structural damage.

If there isn't any structural damage, the retailer gets in touch with the company's QC or Warranty department where applicable. Unfortunately, damage to decals and paint is not covered by the manufacturer. However, chips in the basecoat and clearcoat can be easily touched up at a small fee. 
Question: What is the Best Bicycle Rack for Transporting My S5?
Answer: The manufacturer recommends any mount as long as it doesn't clamp the bike by the frame. Their limited warranty doesn't cover any damage resulting from clamping the top tube.

Additionally, avoid driving into underground parking with the bike mounted to the roof of your vehicle. This could damage the bike and the manufacturer's warranty doesn't cover this kind of damage.
Bottom Line
The Cervelo S5 is an efficient and fast aero road bike that is pricey. The unique shape of the handlebars allows the bike to excel through sprints and cut through headwinds. Disc brakes on the bike are reliable.
In case you need to transport the bike, you can remove the handlebars. Tires are tubeless meaning they are better for riding and reduce the possibility of flats. The downside is the fork's steering limiter. It fits into the frame and may cause damage to the internals of the frame.
If you don't feel like purchasing the S5, you can check out the three alternatives provided above. They have more or less the same features as the Cervelo S5. You can use them as options to cater to your needs where the Cervelo fails.