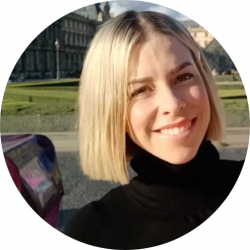 Latest posts by Jodie Chiffey
(see all)
How fast your bicycle can go depends on several factors including the rear hubs. Our Freewheel vs Cassette comparison will help you determine which type of hub is the right fit for your bicycle.
Despite having very little in common, these terms are often used interchangeably which further contributes to the confusion surrounding these two types of rear hubs.
The easiest way to differentiate between Cassette and Freewheel hubs is to check the year when the bicycle was manufactured since bikes produced before 1990 usually have Freewheel hubs. On the other hand, more recent bike models are mostly equipped with Cassette rear hubs.
In this Freewheel vs Cassette comparison, we're going to take you through the most important features of each hub type so that you can easily differentiate between them. Read our guide to the best mountain bikes under $2000 if you're searching for a new bicycle.
Best for Off-Roading
The Main Differences Between the Freewheel vs Cassette hubs
The main differences between Freewheel and Cassette hubs are:
Freewheel hubs can be found on most bikes manufactured in the 1980s, whereas the Cassette hubs are standard on bikes produced after 1990
Cassette hubs contain several cogs that are mounted on layered rings, whereas the Freewheel contains a group of gears that is mounted directly onto the wheel.
Freewheel hubs can be installed on all compatible bicycles, whereas the compatibility of the Cassette hubs depends on the manufacturer
Cassette hubs are easy to install and change, whereas replacing and installing a new Freewheel hub can be difficult.
Freewheel hubs have up to 7 speeds, whereas the Cassette hubs can have as many as 11 speeds
Key specifications
| | | |
| --- | --- | --- |
|   | Freewheel  | Cassette |
| Maximum number of speeds | 8 | 11 |
| Removal process difficulty level | Hard | Easy |
| Brand interchangeability | Good | Poor |
| Removal/installation tools | Freewheel puller | Cassette Lockring tool |
| Performance capabilities | Good | Excellent |
| Latest price | Check latest price | Check latest price |
Examining the features of Freewheel and Cassette rear hubs
Freewheel
Also known as the threaded hubs, the Freewheel hubs can be found on most traditional bikes, but most of the modern beginner road bikes are equipped with Cassette rear hubs.
However, with the right components and tools, you can install a Freewheel hub on your bike's rear-wheel regardless of when it was produced. You must check if the chain you have needs to be replaced to match the new hub.
In the 1970s, Shimano and SunTour introduced an improved design of the traditional Freewheel hubs that utilized splines to attach large sprockets to the body of the Freewheel instead of threads.
The shape of the teeth of sprockets produced by these Japanese manufacturers allowed the chain to move more smoothly. Consequently, the vast majority of Freewheel hubs you can find on the market today utilize designs developed by these two brands in the 1970s.
Check out our guide on how to replace a bike chain if the one you have doesn't fit on the new Freewheel hub you want to install.
Key features
Moderately priced
Complicated removal process and easy installation
Feature a standardized set of threads and a sprocket cluster (Freewheel)
Supports the maximum of 8 speeds
Extractor splines remain stationary once sprockets are rotated backward
The customary ISO threading for recent Freewheel hubs is 1.375'' x 24 TPI
The installation process doesn't require the use of tools
Freewheels have to be oiled regularly
How do Freewheel rear hubs work?
A Freewheel consists of several parts that are usually sold separately. So, you can purchase just the body or the sprocket cluster depending on which part of the mechanism you want to replace.
A standard Freewheel is mounted onto the body and it's held in place by threads that are an integral part of the hub. Most mechanisms utilize pawls to engage a ratchet that moves the Freewheel's outer component in one direction, but if you move sprockets backward, the extractor splines won't turn.
As you paddle, the mechanism's body turns in the clockwise direction enabling the pawls to engage a ratchet that then rotates the sprocket cluster. Derailleurs move the chain from one sprocket to another as you increase the intensity of paddling enabling you to shift gears.
Once you stop pedaling, your bike will continue to move for as long as the Freewheel keeps rotating. Read our guide on how to tune up your bike if you want to improve its performance.
Installation process
Replacing a Freewheel on your own can be difficult because removing an old mechanism requires you to have the right tools and a lot of physical strength.
Freewheels are designed to screw into the hub while the cyclist is pedaling, so if you were using the same mechanism for several years, the Freewheels might be fastened tightly to the hub. That's why you must use the Freewheel removal tool to reach the Freewheel's core.
You should then utilize a matching wrench to turn this tool and loosen the mechanism. Keep in mind that the spline patterns depend on the manufacturer, so you must check which Freewheel tool is compatible with the mechanism on your bike.
Unlike the removal process, the installation of a Freewheel is an effortless task that takes only a few minutes, as you just have to screw the Freewheel into the hub. However, before doing so, you should remember to grease each thread before fastening the Freewheel to the hub.
Paddling uphill tightens the Freewheel and ensures that it stays in the correct position. Go through our guide on how to climb hills on a road bike if you want to improve your uphill cycling abilities.
Other noteworthy features
Instead of replacing the entire Freewheel mechanism, you can opt to just install new sprockets. Although this service isn't as widely available as it once was, it is still possible to find bike repair shops that can replace worn-out sprockets.
On most Freewheel models you just have to loosen a few outer sprockets and the rest will slip off, but you should pay close attention to spacers if you want to install new sprockets on your own. It is worth adding that disassembling the Freewheel isn't necessary if you just want to oil the mechanism.
You must make sure that the body of the Freewheel is clean before oiling it, because oil may spread the dirt and grime from the body through the entire mechanism. Also, the oil must be added to the appropriate spot in the mechanism because otherwise, it might end up damaging it.
Read our Shimano 105 vs Tiagra comparison if you want to update several of your bike's components at the same time.
Reliability
Most urban cyclists will be able to ride their bikes to work or cruise around town with a Freewheel mechanism installed on the rear wheel. Despite offering a relatively limited number of gears, these mechanisms are still effective enough to meet the needs of most recreational cyclists.
These systems are durable enough for most applications, but you should consider alternative options if you want to ride your bike over rough terrains.
In addition, you can replace all parts of the Freewheel mechanism for less than a hundred dollars which makes it much more affordable than Cassette mechanisms. Check out our guide to the best bike chain oils if the chain on your bike needs to be lubricated.
Cassette
Even though Cassette mechanisms were first introduced to the market in the early 1980s, they have replaced the traditional Freewheel mechanisms almost entirely. Chances are that your bike already has this system unless you own a vintage bicycle model.
These systems are also referred to as Cassette Freehubs, which is the reason why they're often confused with the Freewheel mechanisms. The body or the Freehub includes the replaceable ratchet mechanism making it easier to switch between different types of sprocket sets or cassettes.
Uniglide and Hyperglide are the two of the most common cassette designs, but they have different components. Consequently, these systems have different bodies and the number of individual sprockets depends on the model.
The installation process of these two Cassette types isn't the same either, and you have to use different tools to remove or mount a Uniglide or Hyperglide system. Read our guide to the best cycling multi-tools that can help you deal with bolts and nuts in these systems.
Key features
Offer up to 11 speeds
Lockrings fasten sprockets to the body's splines
Simple removal and installation process
Limited brand compatibility
Some Cassette mechanisms are customizable
Cyclists can choose between Road and Mountain Cassette models
The body of the Cassette mechanism features the built-in ratchet
Lockring splines rotate together with sprockets both forward and backward
How do Cassette rear hubs work?
A bicycle Cassette is a cluster of sprockets that is fitted onto the body that is usually purchased separately. Sprockets are held in place by a threaded lockring that is screwed into the mechanism's body.
Cassettes usually contain between 8 and 12 sprockets, but you can also purchase a single sprocket if you want to replace a worn-out sprocket in a cassette. All cassettes contain bolts that hold them together, but you can remove these bolts after you attach the cassette to the mechanism's body.
The number of sprockets in a cassette determines its speed range, so a model that contains sprockets with a larger number of teeth offers a greater variety of speeds, although the shifts from one gear to another are rough.
On the other hand, the models that have sprockets with fewer teeth allow for a smoother transition between gears as well as a narrower speed range. Read our guide to cycling faster if you're looking for ways to increase your speed.
Installation process
The exact steps you will have to take in order to remove or mount a Cassette mechanism depend on the model. You will have to replace the bike's chain if you want to upgrade from an 8-sprocket Cassette to a 12-sprocket Cassette because the chain is going to be too narrow for the new Cassette.
The process of removing a Cassette mechanism isn't as difficult as the process of removing a Freehand system because the system isn't tightened when you paddle. The Cassette Removal Tool enables you to loosen the lockring enough to detach the Cassette from the body.
Most Cassette Removal Tools come bundled with chain whips that enable you to keep the cassette in place while you're loosening the lockring. Afterward, you just have to unscrew the bolt that keeps the body attached to the hub.
Installing these systems is as easy as removing them and you can go through this process even while you're on the road. This enables the switch between Cassettes on long cycling trails. Check out these bike race tips if you're still an inexperienced cyclist.
Other noteworthy features
The exact features of a Cassette mechanism depend on the model you choose, but you should keep in mind that these systems don't have great interchangeability. So, it is advisable to choose the body and the Cassette produced by the same manufacturer.
It is also possible to customize Cassettes by increasing or decreasing the number of sprockets they contain, but you should keep in mind that you might damage the Cassette if you're not familiar with this process.
There is no need to lubricate a Cassette system because the chain supplies it with sufficient lubrication, and adding more oil might attract dirt or debris. Although replacing a worn-out sprocket from a Cassette shouldn't be too difficult, repairing the system's body isn't possible.
Go through our guide on the best flat paddles if you're looking for a way to upgrade your bike's drivetrain.
Reliability
If you're considering buying a mountain bike or any other type of bicycle, chances are that it will feature a Cassette mechanism on its rear wheel. The wider range of speeds and low maintenance requirements are some of the advantages these systems offer.
However, they are usually more expensive than Freewheel mechanisms, and you may end up spending several hundreds of dollars on a high-end Cassette system.
These mechanisms are usually durable and they don't break down easily, so you'll probably be able to use the model you choose for years before having to replace the sprocket or the body.
Despite their relatively high price, Cassette mechanisms are a reliable option for cyclists who often ride through rough terrains. Read our guide to replacing and repairing bike pedals to learn how to install new pedals on your bike.
Freewheel vs Cassette – Pros and cons
Freewheel
Best for City Rides
Pros
Great for city cycling
Made from durable materials
Excellent brand interchangeability
Affordable price
Cons
Limited speed range
Complicated removal process
Cassette
Best for Off-Roading
Pros
Suitable for rides on different terrains
Straightforward removal and installation process
A broad speed range
The ratchet mechanism is integrated into the body
Cons
Expensive
Finding a model compatible with your bike can be difficult
The best alternatives to the Freewheel and Cassette rear hubs
You won't have a variety of options at your disposal while choosing a rear hub for your bike. The Freewheel and Cassette are the most common system's bikes use and they are probably the most efficient at transferring the energy from the bike's frame to its wheels.
However, there are two alternative options available, although only for fix geared bikes. Here's what they offer.
Most BMX bikes utilize the Flip Flop or double-sided hubs that contain the track-type threading on the one side, and the single-speed Freewheel on the other. The track-type threading and the corresponding sprocket are held in place by a lockring ensuring that the gear is always fixed.
The single-speed Freewheel features a sprocket that is larger than the one attached to the other side of the hub, which in turn makes it easier to ride the bike uphill. It is advisable to check if a Flip Flop hub you're interested in is compatible with your bike before purchasing it.
Built from durable materials, Track Hubs are an excellent option if you want to customize your fixed gear bike. Unlike other types of hubs, track hubs feature stepped threads that allow you to fasten the lockring quickly.
Most bike owners do not need a track hub as they are designed for cyclists who want to ensure that sprockets are held firmly in place. Besides, Track Hubs can cost hundreds of dollars, which makes them only an attractive option for cyclists who want to build a customized fixed gear bike.
Frequently asked questions about the Freewheel and Cassette rear hubs
Question: Should I change the Freewheel mechanism on my own?
Answer: Removing a Freewheel mechanism from a bike can be difficult, and you will need someone's assistance if you don't want to take the bike to the repair shop.
Question: Are Freewheel mechanisms still in production?
Answer: Even though they aren't as common as they used to be, bicycle manufacturers still produce models equipped with Freewheel systems.
Question: Are MTB Cassettes better than Road Cassettes?
Answer: Structurally, there is no difference between MTB and Road Cassettes, but MTB models are better suited for cycling through rough terrains, while Road models are a good fit for city cyclists.
Question: Does the number of teeth sprockets in a Cassette affect the bike's speed?
Answer: Yes, it does. The number of teeth Cassette's smallest and largest sprockets have indicated the maximum gear spread that the model can cover.
Our verdict: Are Cassette rear hubs better than Freewheel hubs?
The mechanism installed on the bike's rear hub determines its speed range as well as how smooth the shift between gears is going to be.
Freewheel systems are considered conventional because they were frequently utilized on bicycle models produced before the 1990s. However, they've been largely replaced by Cassette mechanisms that have a wider speed spread and require less effort to remove or install.
Best for Off-Roading
We recommend choosing Cassette rear hubs if you enjoy off-road cycling, but if you intend to use your bike to ride around the city, then Freewheel hubs are more affordable options.
Was this Freewheel vs Cassette comparison useful? Let us know in the comments or continue reading our guide to the best trail-ready mountain bikes.