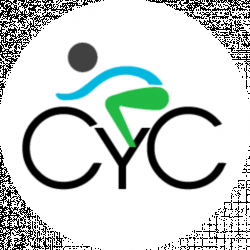 Latest posts by Cycling Hacks Team
(see all)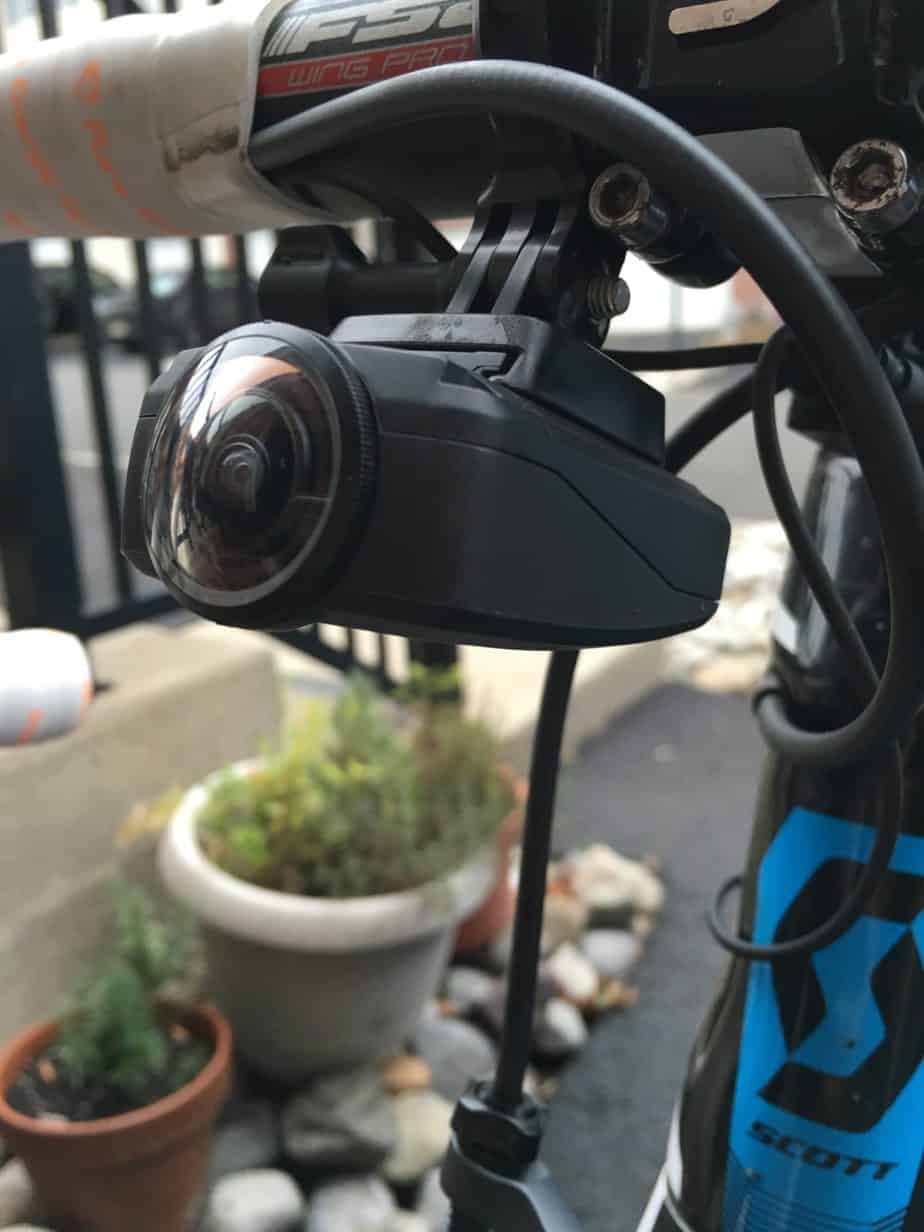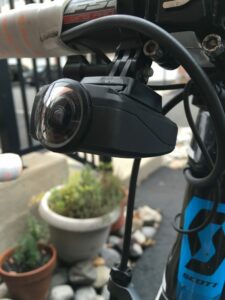 When Shimano threw their hat into the lifestyle gear ring with the launch of their CM-1000 Sport Camera in 2014, they left out a key component— the camera's accompanying software. Users had to wait until August of the following year to get their hands on the tools that promised to enhance the camera's functionality by integrating metrics like power, speed, heart rate and Di2. Now that this sprinter has his leadout man, we can finally tell if Shimano's point of view sport camera lives up to the initial hype.
Why Shimano's camera is unique
Yes, I was one of the ones who bought this camera before the software release, but I didn't buy it for the purpose of pairing my metrics with the visual details. I was more intrigued by this camera's compact size and how unobtrusive it was on my road bike.
I also didn't buy the camera with the hopes of making elaborate movies or impressing my friends with rich, high def. images. If this is your aim, or you like to fiddle with tons of features, then a GoPro is a much better bet. Shimano's camera is simple (but not always simple to use), but it produces decent quality images and sound for its size and price point.
Out of the box, this camera is pretty impressive. Any roadie who has obsessed over matching handlebar tape to saddle color will be pleased by the camera's minimalist design with sleek angles and a low profile that easily blends in either under the bars or saddle. As for Shimano's included helmet mount, unless you're on fat tires, just don't do it (but I probably didn't have to tell you that, right?).
As you would expect, Shimano's camera is ridiculously light at 86 grams, which includes the battery and lens cover. Unlike other action cameras that require bulky housing, the Shimano is waterproof as is.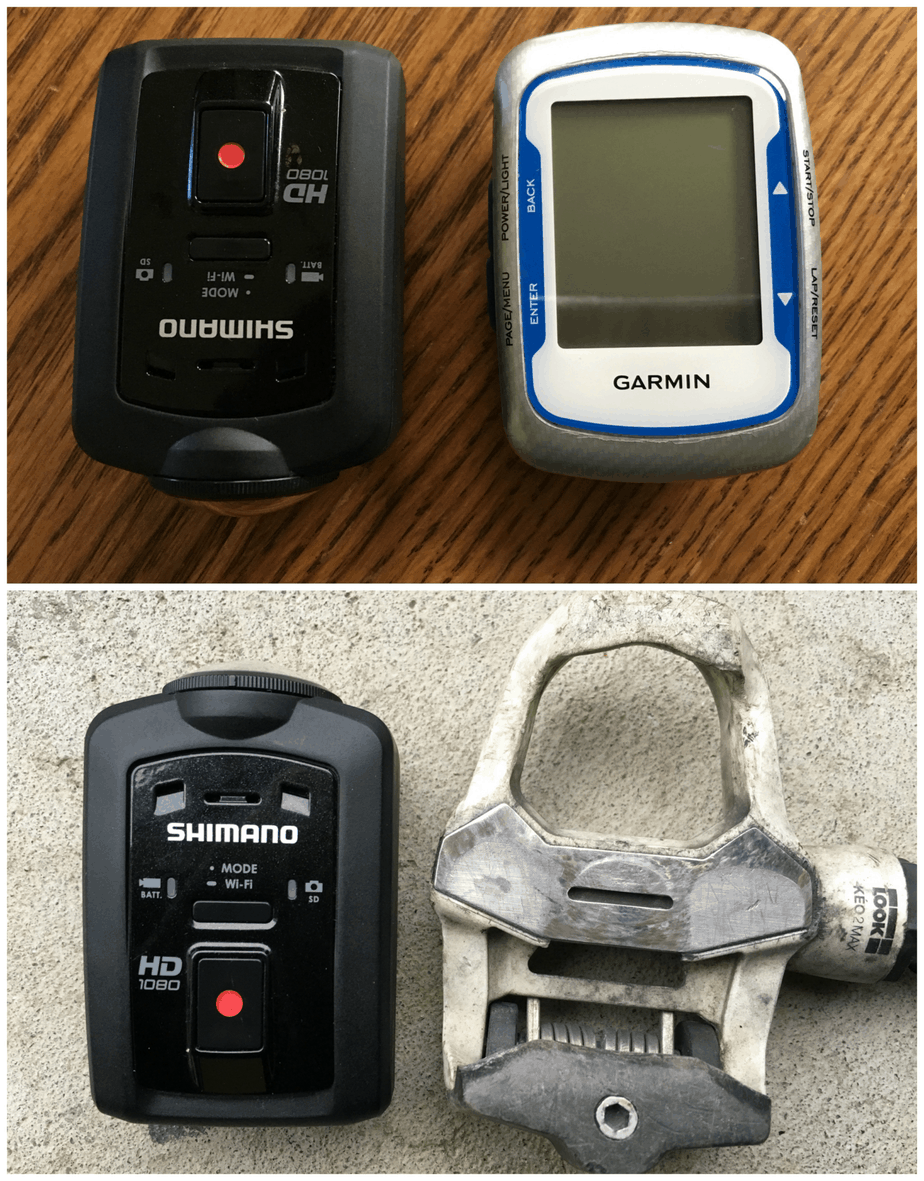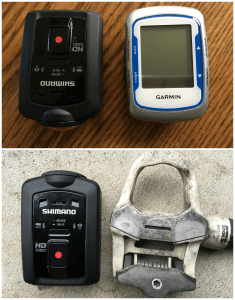 Shimano finally released its own line of mounts, but this camera is compatible with any GoPro mounts, making the sky the limit for grabbing cool shots or swapping between cameras. Though I haven't tested them, some users report that Shimano's mount isn't as secure and rattles.
Another standout feature is the camera's auto image rotation, which allows users to flip the camera in any direction and it still maintains a horizontal plane.
The sport camera shoots both HD video and still images in several modes and excels in low lighting.
Video recording modes:
1920 x 1080 at 30fps
1280 x 720 at 120fps
640 x 360 at 240fps
The unit shoots still images in 6MP (2848 x 2136) and interval recording at 2016 x 1512 and will record in timed intervals as well. You can choose between a wide and ultra wide viewing angle.
While it doesn't have the GPS capabilities of the Garmin VIRB, Shimano's camera entered the market as a strong competitor by enabling users to sync ride data like heart rate, power, speed, cadence and Shimano di2 shifting information to their video via ANT/ANT+ and Shimano's camera app.
Is This Thing On?
There are two ways to control the camera: through the Shimano Sport Camera App and on the camera itself. The camera lacks a screen, which adds to the style points, but also to the confusion. Two buttons control everything, along with dual LED lights and audible cues.
Press the smaller, rectangular button once and the unit powers off. Press it again to access different modes, which toggles between setting the camera's video resolutions and taking a still photo at either set or timed intervals.
LED lights correspond with each setting, but I wasn't about to crane my neck under the bars mid-ride to get a glimpse of which light was on. And if you can memorize Shimano's two sided card flowchart of buttons to corresponding functions, more power to you. Hence the annoying flaw in Shimano's sleek little camera.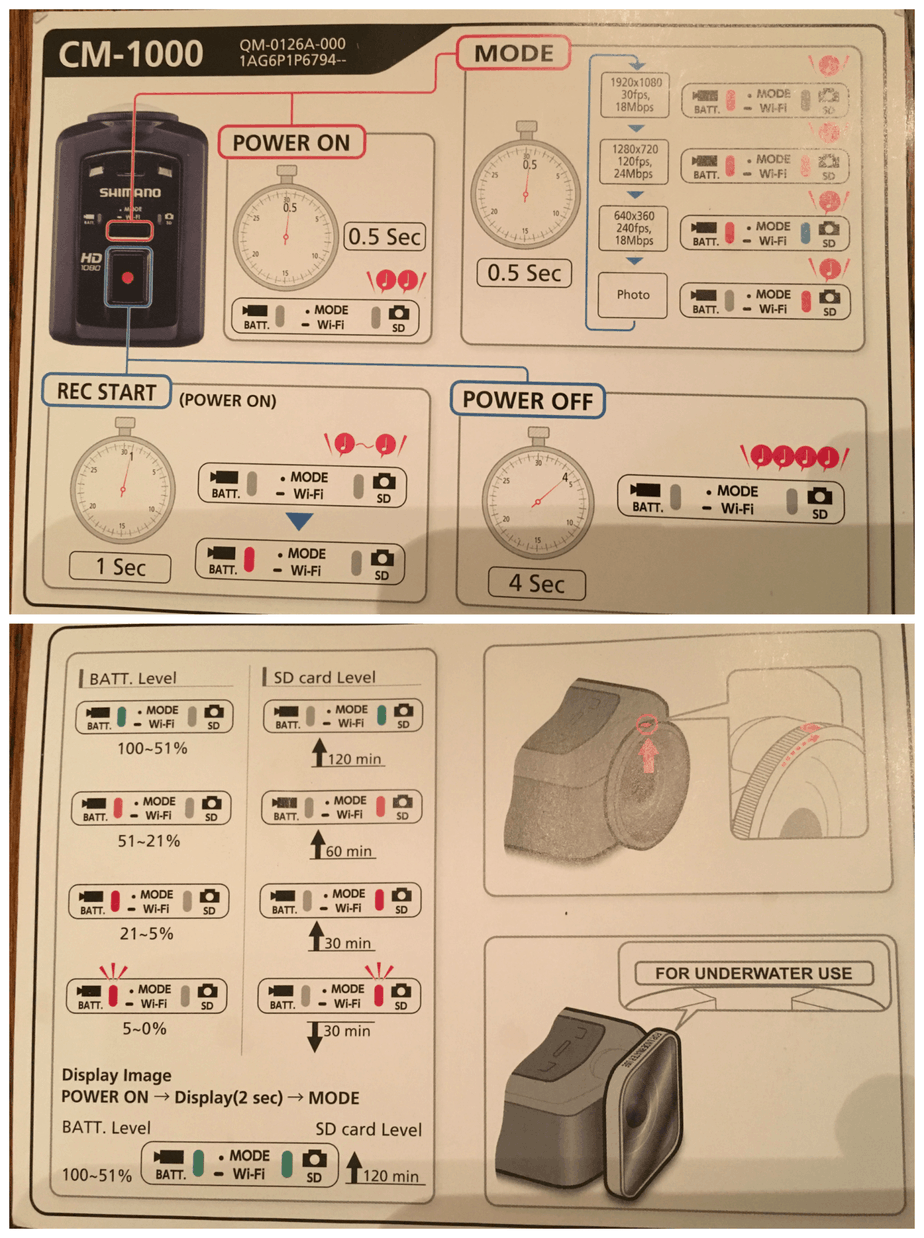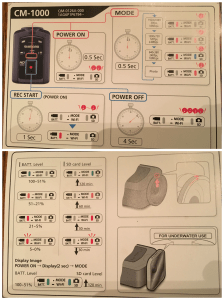 If you're just interested in going out and shooting in one mode, things get way less complicated. On my first ride, I resigned myself to shooting video in one resolution. After fumbling with the buttons and listening for the corresponding chirps, I thought I was recording video, but the camera was mounted upside down, so it was impossible to see the LED. I stopped, realizing that the unit wasn't recording.
Fortunately the camera stays in the same mode once it's powered off and on again. And you'll be glad that it powers itself down, since the lithium ion's battery life is only two hours and even less in colder conditions.
Video Quality
For a small video camera in its price point, the video is surprisingly good. Pro riders used the Shimano camera to capture amazing footage of extreme cornering and in-your-face sprints during the 2014 Tour de France. If you're after sharp, pro cinematic effects, I would look to the GoPro Hero4 Silver, but to capture town line sprints (and see exactly where your max sprint power occurred) or for a coach who wants to educate clients with video, Shimano's offering perfectly fits the bill. It's diminutive size alone makes it a strong asset for any weight weenies looking to document their rides.
The camera shines in low light or bad weather. I found the wide angle to be fine, as opposed to the widest view which caused some picture distortion and occasional sun flare. Just be aware that there is no zoom on this camera. The audio is very crisp and clear.
Shimano's Camera App
Since GoPro and Garmin are already strong contenders in the sport camera market and Garmin's VIRB provides the same metrics, plus GPS, Shimano needs to produce an app and camera editor that delivers.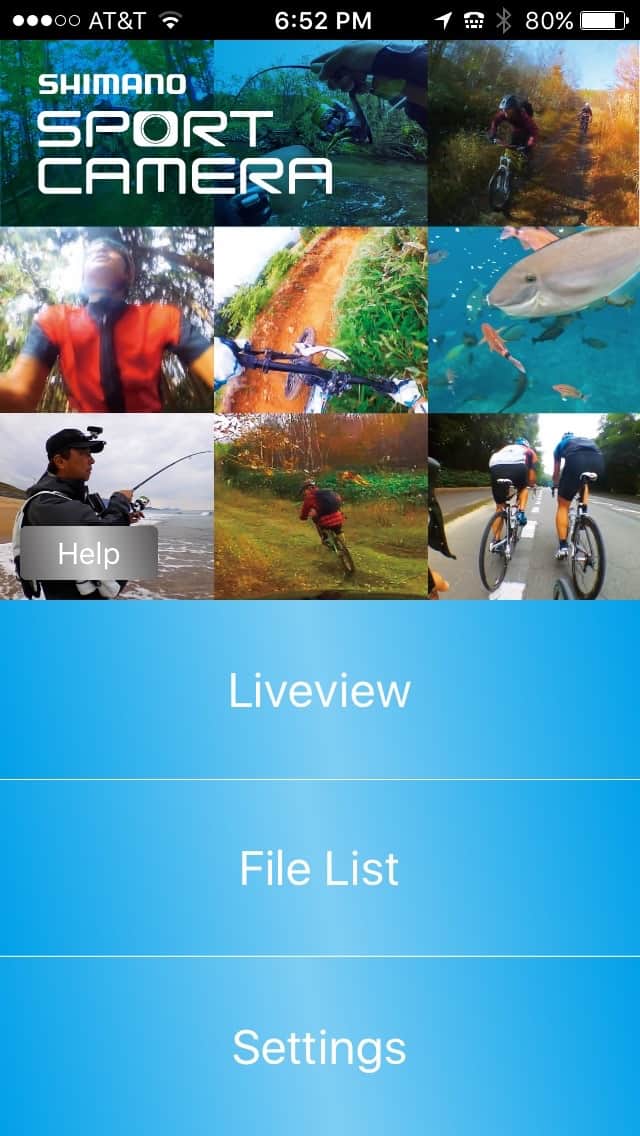 To fully utilize the camera, you must download the Shimano Sport Camera app. Within the app, you can pair with ANT/ANT+ devices, change recording modes, view files and access the camera's live view. This is also a good way to check battery status and SD card usage. And the live viewing mode is a great way to ensure you're getting the right shots and to make quick adjustments on the fly. The live view also has a surprisingly short delay.
To sync the camera with the app, you must use the camera's wifi. In a world of bluetooth connectivity, it seems impractical to have to abandon all other apps that require wifi to use this app. Initially users reported problems with the wifi, which would turn off if the app was being used in the background. Shimano recently fixed this. I couldn't get my cadence sensor to pair with the app, a problem reported by other users as well.
Shimano Camera Editor
In order for the Shimano camera to display other metrics, it requires the Shimano Camera Editor. Otherwise, you're left with naked video footage and an accompanying CSV file with the corresponding data.
First you have to upload the footage to the computer. Whereas most cameras allow you to import footage through a USB, Shimano's camera relies on either uploading it via wifi to your phone or you can remove the micro SD card and plug it into a card reader. Yes, the camera has a USB, but for charging purposes only (commence head scratching).
I plugged in the micro SD card. Transferring the video went smoothly, as did syncing it with the data collected on the ride. My cadence wouldn't pair with the app and strangely only intermittent pieces of data from the powermeter synched with the video. Also, my speed was displayed in kilometers and didn't have the option for miles per hour. The unit also supports Shimano Di2 shifting information, but you must have the SM-EWW01 ANT adaptor to transmit this info.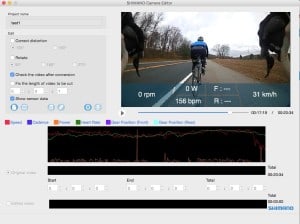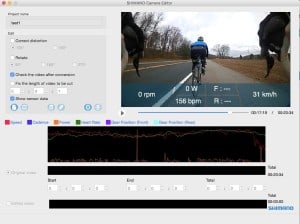 Overall, the camera editor is underwhelming. It has the basic functionality to pair data to video footage and export it as a .Mov, yet other programs, including the one utilized by the Garmin VIRB, are more user friendly, reliable and offer more features. Hopefully Shimano will improve upon this in the future.
Final thoughts on the Shimano Sport Camera
This camera is ideal for cyclists who already own a Garmin and want to add video to the mix without cluttering their bars with a large device. There's also value in the camera for commuters looking for a low profile recording device.
For those more serious about video or who love lots of features, I would recommend checking out a GoPro (read my GoPro review here) and if you're just looking for a great deal on synching metrics, GPS and video, then Garmin's VIRB is your best bet.
What's the difference between the GoPro Hero4 Black and Silver?
As you can see with this Shimano camera review, the device is ideal for those looking to dabble in video, as the battery life is short (2 hours) and the Micro SD card is small (32mb), but who don't want to add the size and weight of other POV action cameras. The camera's small size makes it highly portable and low profile. Perhaps a tradeoff, however, is that two buttons control the entire system.
While Shimano has room to improve on its software and ANT syncing with future updates, for now the camera is a fun gadget (even sans software and apps) that can be easily mounted in a variety of angles (while still keeping images right-side-up), excels in low light and is waterproof right out of the box.
Comparison of Top POV Action Cameras
| POV Action Camera | Max. Resolution | Max. HD Frame Rate | Max Full HD Frame Rate | Still Photo Resolution | Battery Life | GPS | Weight |
| --- | --- | --- | --- | --- | --- | --- | --- |
| Shimano CM-1000 sport camera | 1920x1080 | 120fps at 720p | 30fps | 6mp | 2 hours | No | 86g |
| Garmin VIRB Elite | 1920x1080 | 60fps at 960/720p | 30fps | 16mp | 3 hours | Yes | 203g (w/battery/cradle) |
| GoPro Hero4 Silver | 4k | 120fps at 720p | 60fps | 12mp | Less than 2 hours | No | 147g (with housing) |
| GoPro Hero4 Black | 4k | 120fps at 720p | 120fps | 12mp | Less than 2 hours | No | 152g (with housing) |
| Drift Ghost S | 1920x1080 | 120fps at 720p | 60fps | 12mp | 3.5 hours | No | 171g (with housing) |