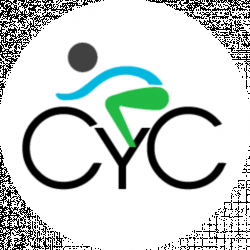 Latest posts by Cycling Hacks Team
(see all)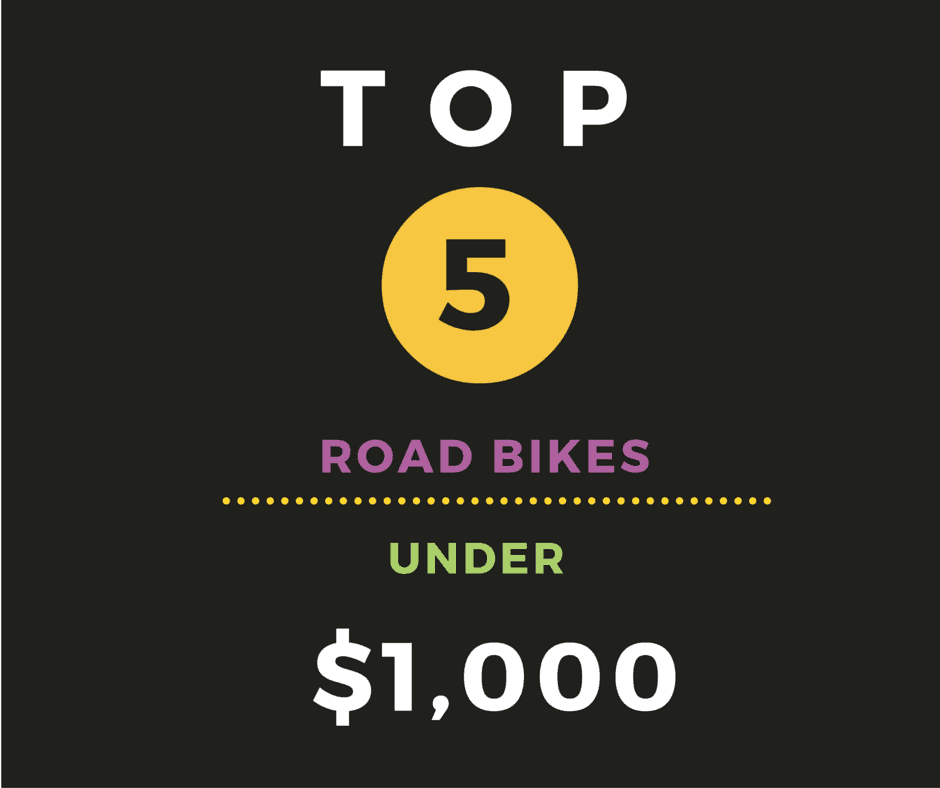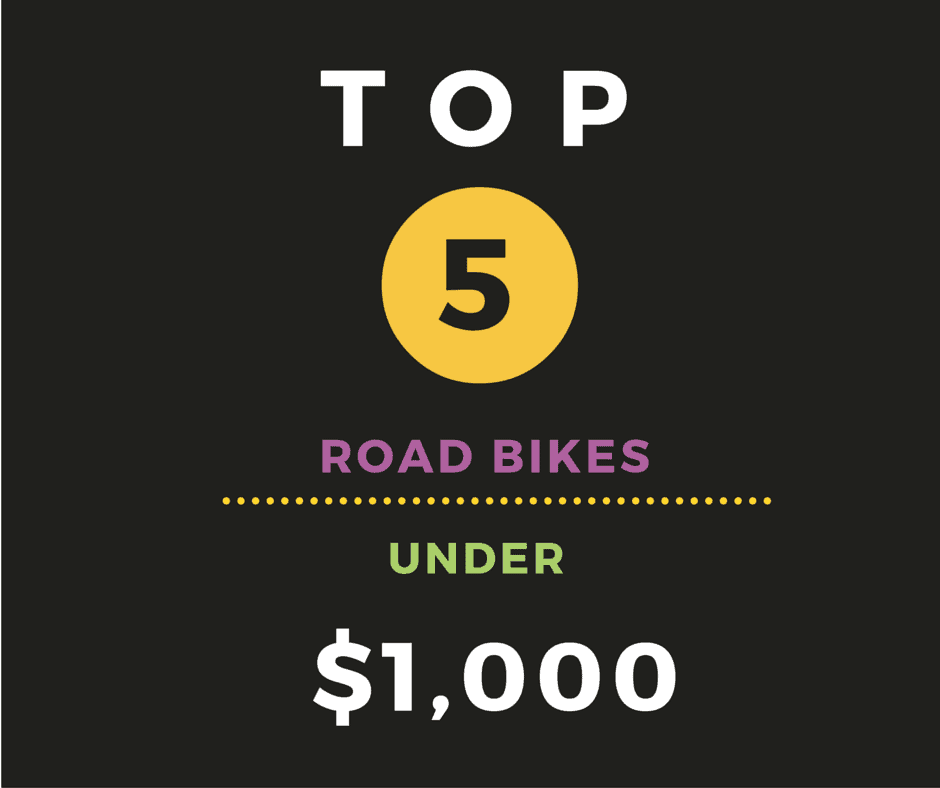 Last updated: 5/16/17
If you're just getting into cycling or looking for an upgrade, you'll find a slew of bikes to choose from in the $1,000 price range. At this price point you can expect to find bikes with aluminum forks and frames, lower end components and a more upright geometry, designed with comfort in mind.
For the average entry level cyclist, these five top road bikes under $1,000 will provide a solid platform for skill development and allow for future upgrades as your riding progresses.
For the price and versatility, our top pick is the GT Grade Alloy 105.
Looking for a women's specific bike? Start here. Or, if you can afford to spend a little more or want carbon fiber, here are my top picks and considerations. 
Our top Picks:
The best entry level road bike under $1,000:
Cassette: 11/32
Drivetrain: Shimano 105 11-speed 
Crank: 50/34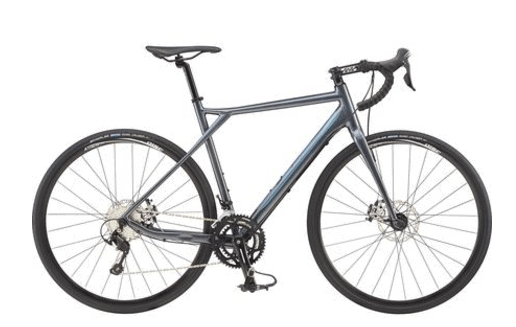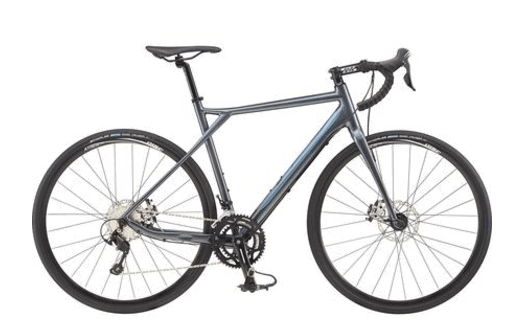 For the price, the GT Grade is the perfect companion for whatever the terrain throws your way. This tops the list for value as well, as the 105 drivetrain and disc brakes bests other bikes in this price range, with specs more on par with mid-range road bikes.
Standout features: Endurance road bike geometry that shines on and off pavement is fast and fun to ride. GT offers a nice component spread for the price. This bike is up for anything and can accommodate a wide range of tire widths. It's unique geometry increases comfort.
Downsides: With increased comfort for long rides or gnarly surfaces comes a decrease in speed. This bike ride isn't about quick accelerates. It's a highly versatile road bike.
Weight (20.75lb)
Cassette: 11/32
Drivetrain: Full Shimano Sora 9-speed
Crank: Compact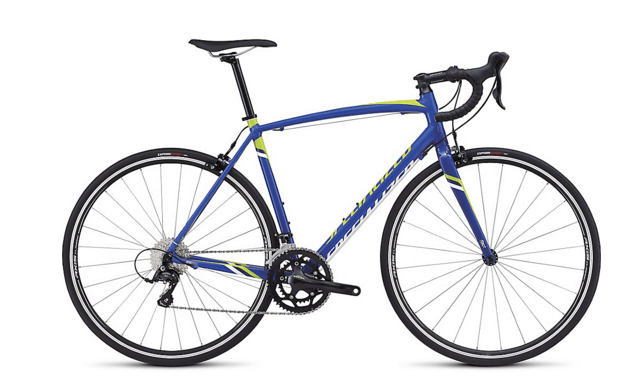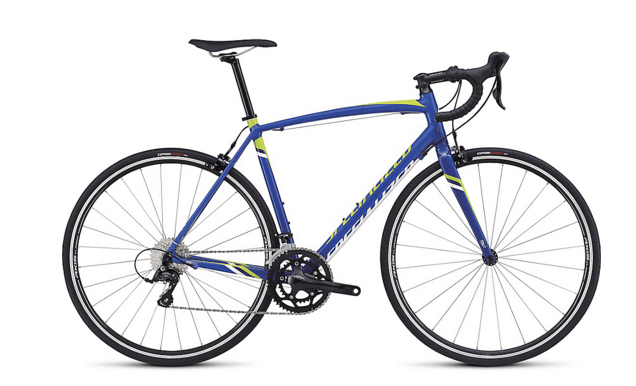 Specialized packs a lot of value and comfort into the Allez E5 Sport, making it my top road bike under $1,000. I was hard pressed to find another bike in this category that delivers so much right out of the box and didn't need an immediate upgrade in any area. A relaxed frame geometry keeps this bike comfortable and instills confidence through corners and at speed. With a full Sora 9-speed drivetrain and a large gear-range, it's an-all day ride, equally equipped for steep climbs and fast descents.
Standout features: Nicer wheels make a difference right off the bat and the Specialized Allez E5 Sport's stock 24.5 mm rims allow for a larger tire (28mm width), which helps smooth out rough surfaces and grip through fast corners, adding to the overall rider confidence level on this bike, an important factor for beginners.
Handlebars are another expensive upgrade, but the Allez E5 Sport comes stock with an ergonomic set that provided daylong comfort, even on rougher roads.
Most road bikes under $1,000 feature cheap road brakes, but the Allez's Tekro brakes have good grip and modulated stopping power. The combination of solid brakes and a balanced geometry instills confident descending, something that can be a challenge to new riders. The bike's wide tires provide a solid contact point even on dirt and gravel. It's the perfect setup for an entry level road bike and provides a solid platform for future upgrades.
Downsides: While the Allez E5 Sport doesn't flex under load, it's a little sluggish to get up to speed and not as responsive for quick, sprint efforts. This wouldn't be my go-to bike for aspiring racers. Go for the GT instead.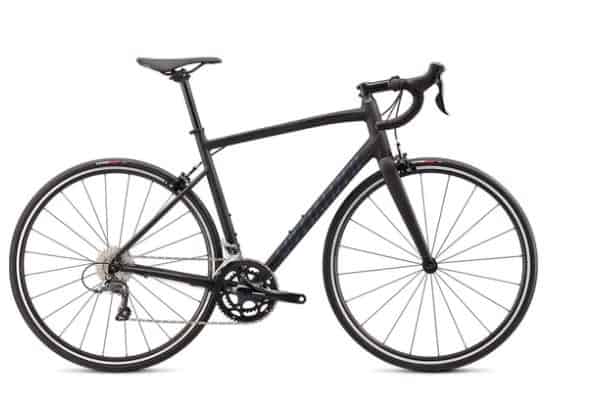 Specialized Allez | Mike's Bike
The Specialized Allez is a versatile road bike that's built to go the distance. Designed to be lightweight yet super strong, this redesigned E5 alloy frame features fully manipulated tubing with smooth welds. A tapered head tube with internal cable routing makes this bike efficient for commuter riding as well.
Check Price
We earn a commission if you click this link and make a purchase at no additional cost to you.
Best Road Race Bike Under $1,000:
Weight: 20.37 lb
Cassette: 12/27
Drivetrain: Full Shimano Sora 9-speed
Crank: Compact 50/34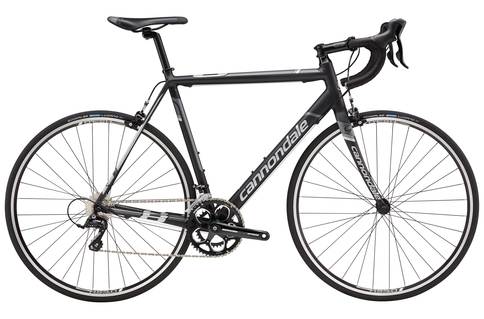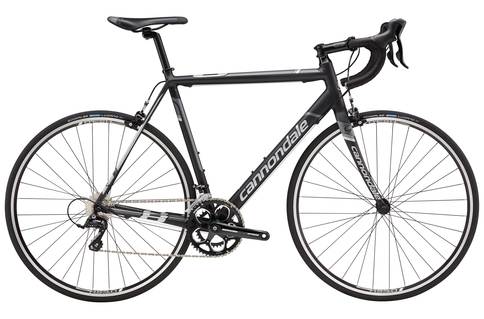 If pinning on a number sounds appealing, then the Cannondale CAAD8 is the perfect bike to cut your racing teeth on. Cannondale continues to refine its CAAD line, keeping the frames stiff, yet a blast to ride. This bike kicks right out of the gate and is a solid contender (with a few upgrades) for best race bike at the $1,000 price point.
Standout Features: The frame and fork are the clear winners here. With one of the tallest head tubes of bikes at this price point, the CAAD8 is comfortable (a taller head tube means you're sitting up higher), yet still a fast performer. You could get away with this bike as an entry-level crit machine or on longer rides (but hopefully with not much climbing). Cannondale provides a solid platform, but leaves room for some necessary upgrades, specially if you plan to tow the line at your first race anytime soon. The Sora drivetrain is reliable. That being said…
Downsides: To maintain this price point, the tradeoff for a high performance frame and fork pretty much forces Cannondale to skimp on the components. Frankly Cannondale's stock brakes are horrible on the CAAD8. A very limited gearing range will make it difficult for climbing newbies and newer riders might find this bike a bit fast and hard to handle at first. Because of the stiffness, riders will feel more bumps and road chatter than with some of the other options in this category.
Weight: 20.55lb
Cassette: SRAM 11/32
Drivetrain: 9 speed Sora
Crank: 50/34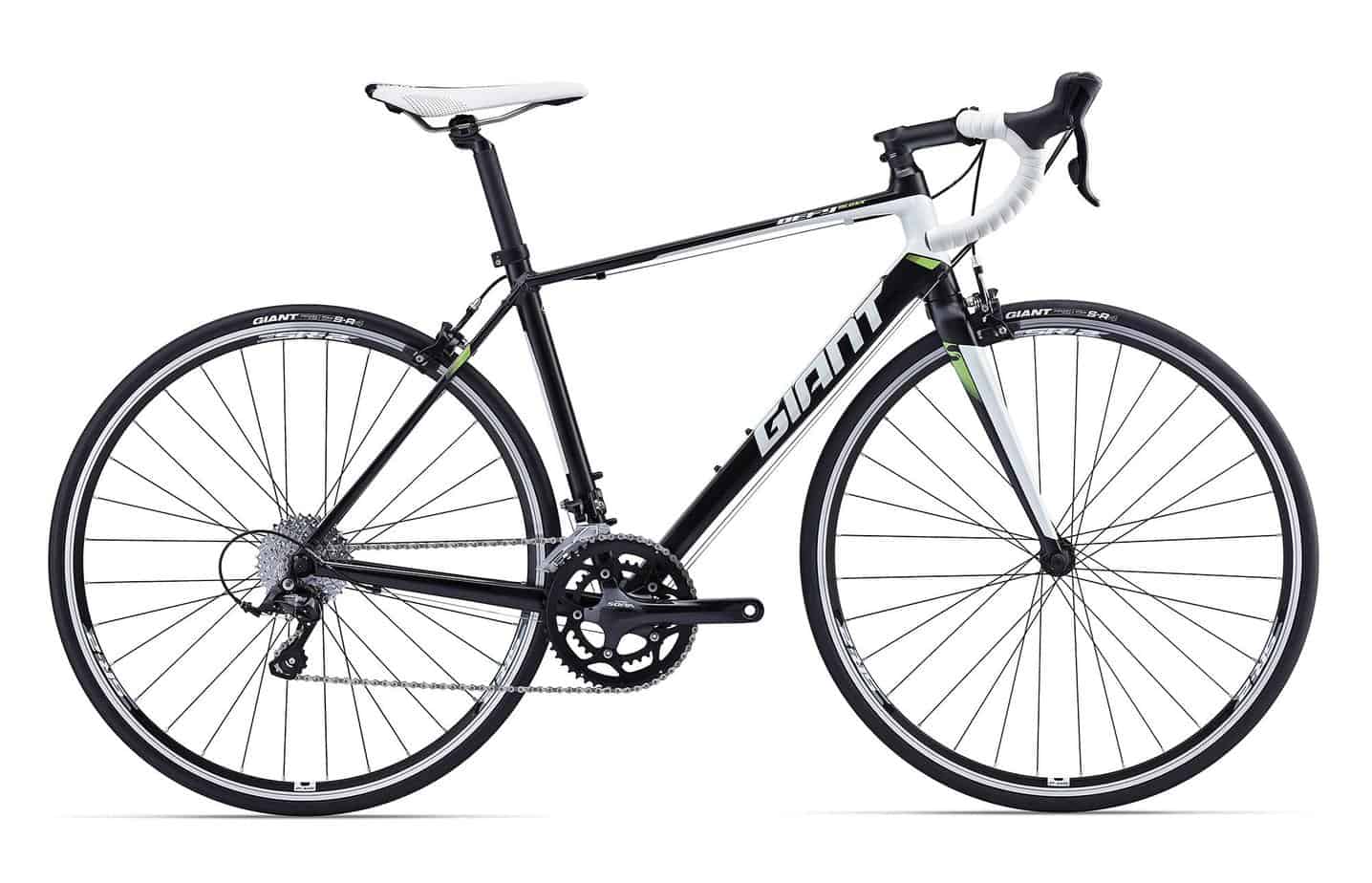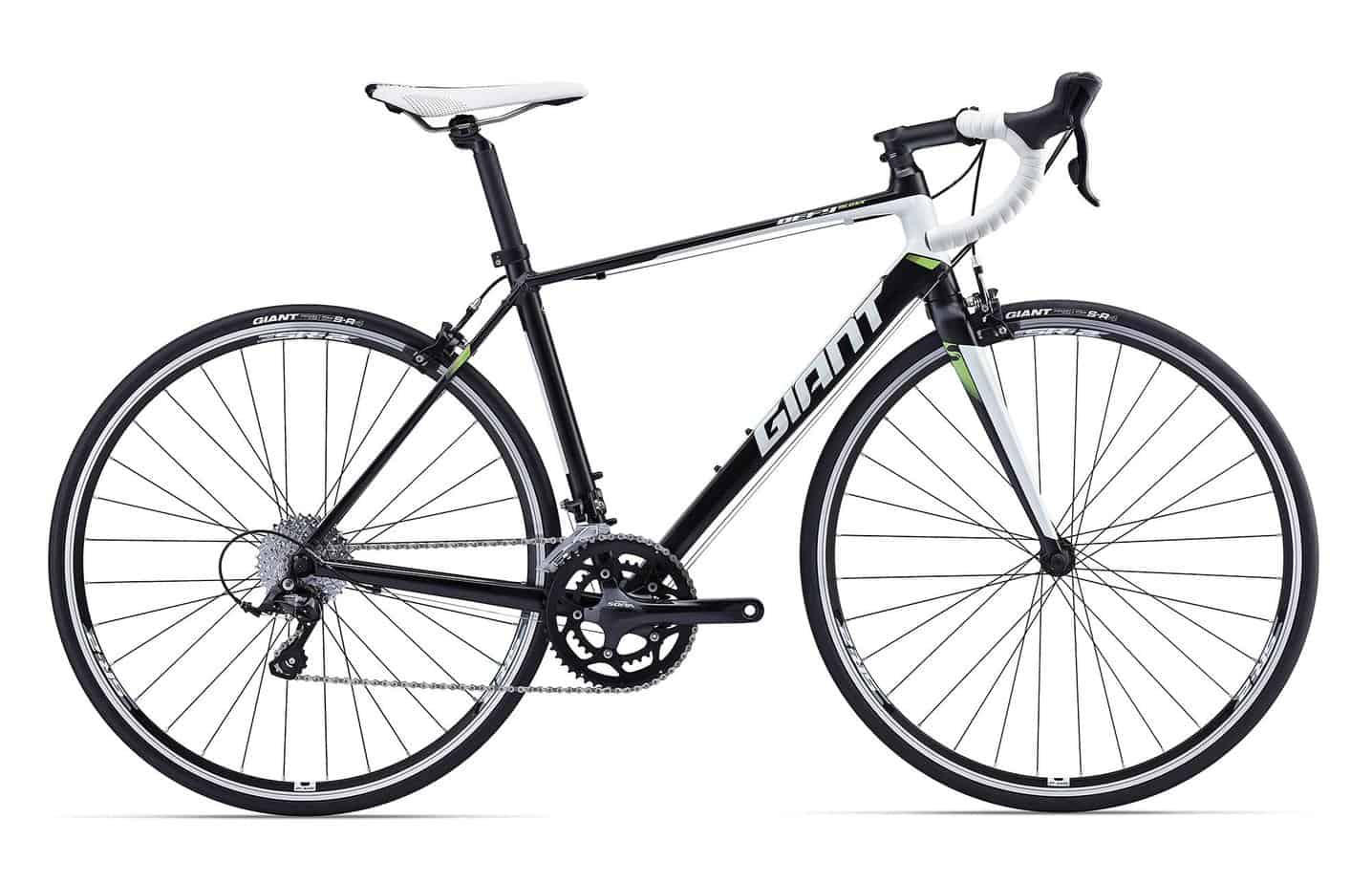 New cyclists looking to build confidence and master the basics will feel right at home on the Giant Defy 3. While this bike doesn't have the fast feel of the CAAD8, it does offer a plusher, more upright and comfortable position and fits squarely into our definition of an entry level endurance road bike. Aspiring racers will likely find it sluggish and one-note, but its solid, stable ride will help inspire confidence in beginners.
Standout features: The Giant Defy 3 offers an overall dependability and doesn't necessarily shine in one area. It's solidly average, but still a top road bike for under $1,000. Giant has covered the bases nicely: an extremely low 11/32 gearing makes this bike an easy climber. Giant's designs, like it's innovative rectangular tube shaping, are known for their optimized geometry, which adds to the comfort level.
Downsides: Like the CAAD8, the Defy 3 leaves something to be desired with its subpar brakes. I recommend at least swapping the pads out for harder ones, if not replacing the Tektro calipers altogether.
Carbon or Aluminum? Disc or Rim Brakes? Beginner Road Bike Buying Tips
Other bikes to consider:
Diamondback Century Sport
Though listed above $1,000, I included Diamondback's Century Sport in our list because it's often available for closer to $1,000. The Century 1 is a worthy contender because it offers some solid upgrades for a minimal price jump. Avid disc brakes and a Shimano 105 11 speed drivetrain add extra assurance for new riders and Diamondback offers a more affordable means of upgrading right off the bat.
Fuji Tread 
For an endurance rider looking for upgrades and versatility, Fuji's Tread offers plenty of them and for a great price, landing just shy of the $1,000 mark. Disc brakes and a 105 drivetrain provide better shifting and more accurate stopping power, especially in wet conditions or for commuting.
Upgrades to Consider:
At this price point, the most noticeable performance upgrade you can make is with new wheels. The stock wheels on most top road bikes for $1,000 tend to be heavy, meaning they'll take a while to spin up to speed and you'll really feel their extra weight on climbs. Another consideration at this price point is tires.
These bikes feature heavier tires made to be fairly puncture-proof, an appealing trait for flat-phobic newbies. But opting for a lighter tire will improve performance. Finally, I'd strongly recommend upgrading the brakes on the CAAD and the Giant. Not only will this inspire more confidence descending, but it will improve ride safety.
If you can afford to spend a little more or want carbon fiber, here are some top picks and considerations. 
Need help figuring out where to begin with the bike buying process? Here are my top 5 tips for finding the perfect bike.
Want even more cycling hacks or to connect with a community of like-minded cyclists? Join us in our free Facebook Group.