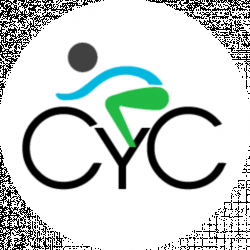 Latest posts by Cycling Hacks Team
(see all)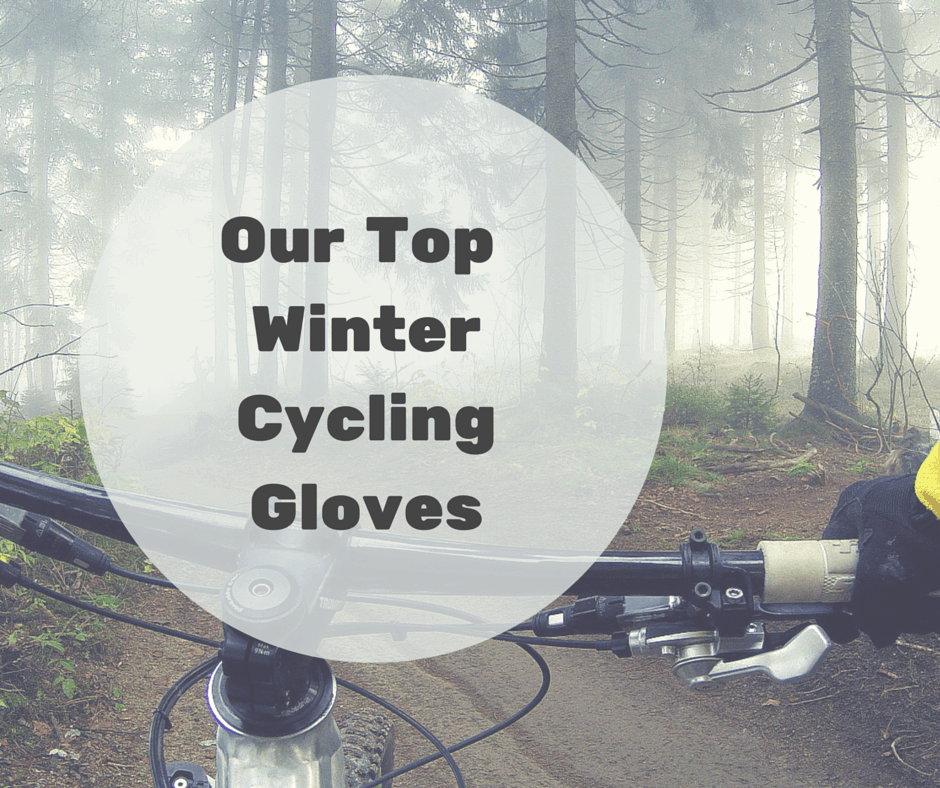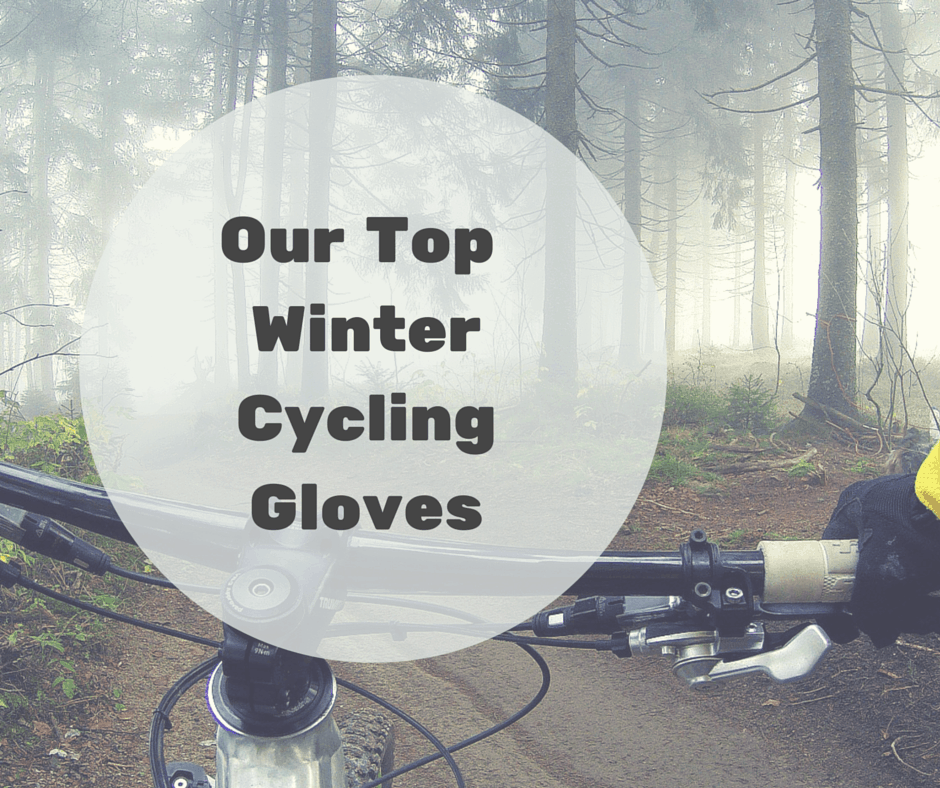 Cold, numb hands will end a ride quicker than flatting a tire without a spare tube. But finding a glove that not only fits, but also blocks wind, rain and a biting headwind is a daunting task, which is why so many cyclists have a stash of unused gloves.
We tested the most popular winter cycling gloves, with the intent to weed out gloves that turn into sweaty finger furnaces or morph into wet bricks in the rain. Click here to jump to our comparison chart or keep reading for our best winter cycling gloves review and recommendations.
What to look for in a winter cycling glove
Good gloves must be comfortable and functional, as you need to be able to brake and shift gears. Buy a glove that's specific to the type of riding you do. The placement of the padding might be perfect for a flat bar, but bunch in all the wrong places when you're in the drops. One glove does not fit all.
When buying cycling gloves, consider whether you like be on the hot or cold side when you ride. If you like to run cool, consider layers. We prefer gloves that don't have insulated liners stitched into them. Yes, they dry quicker, but it's far too easy to yank the liner out when you pull off the glove and tricky to place back inside without bunching.


Here's our no-fail secret weapon for keeping fingers toasty without overheating:
Glove liners
Not only do they allow you to shed some layers as it warms up, but a good glove liner will function as a protective barrier on its own, without compromising dexterity. Plus it's an inexpensive, versatile layer.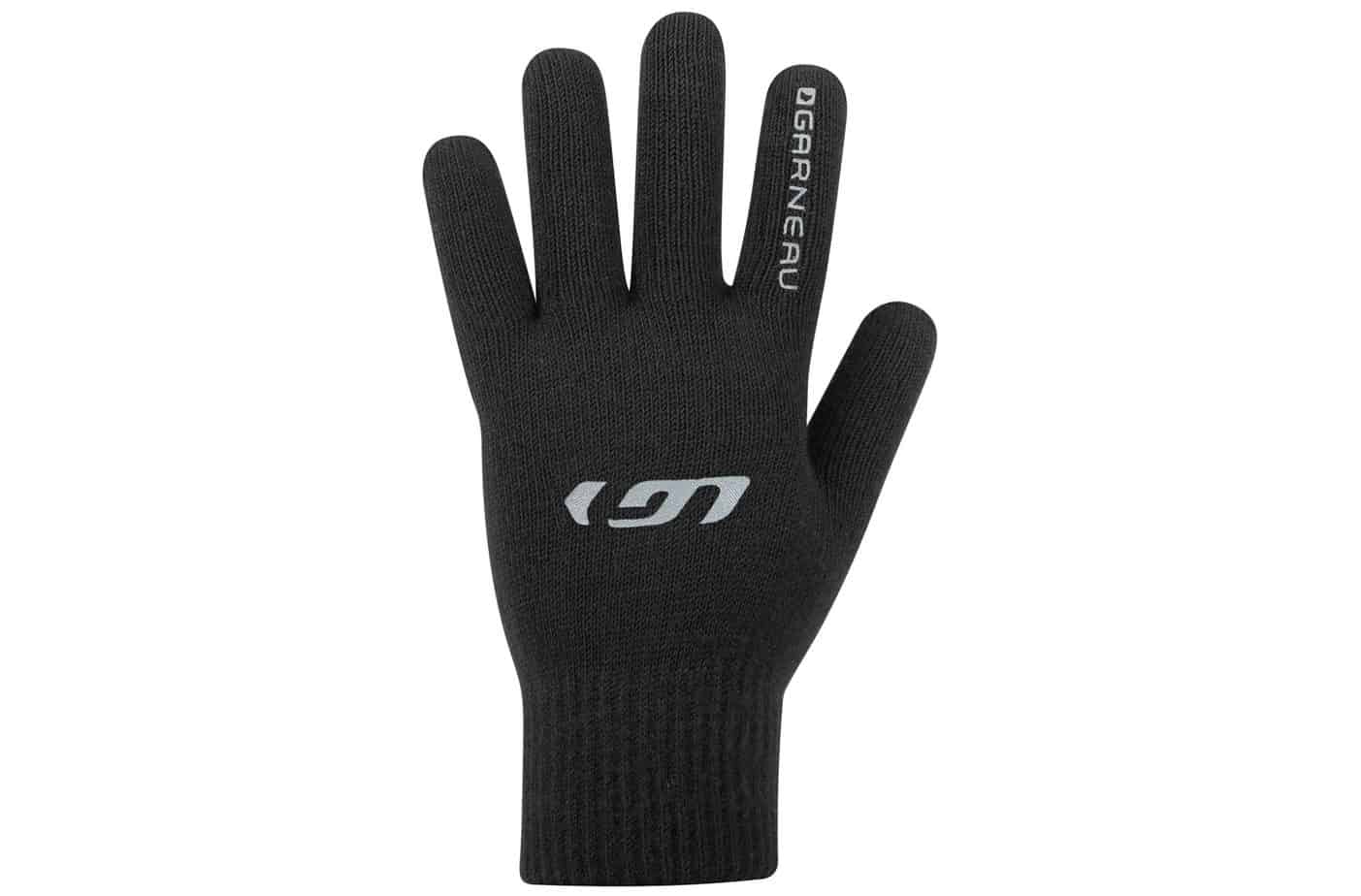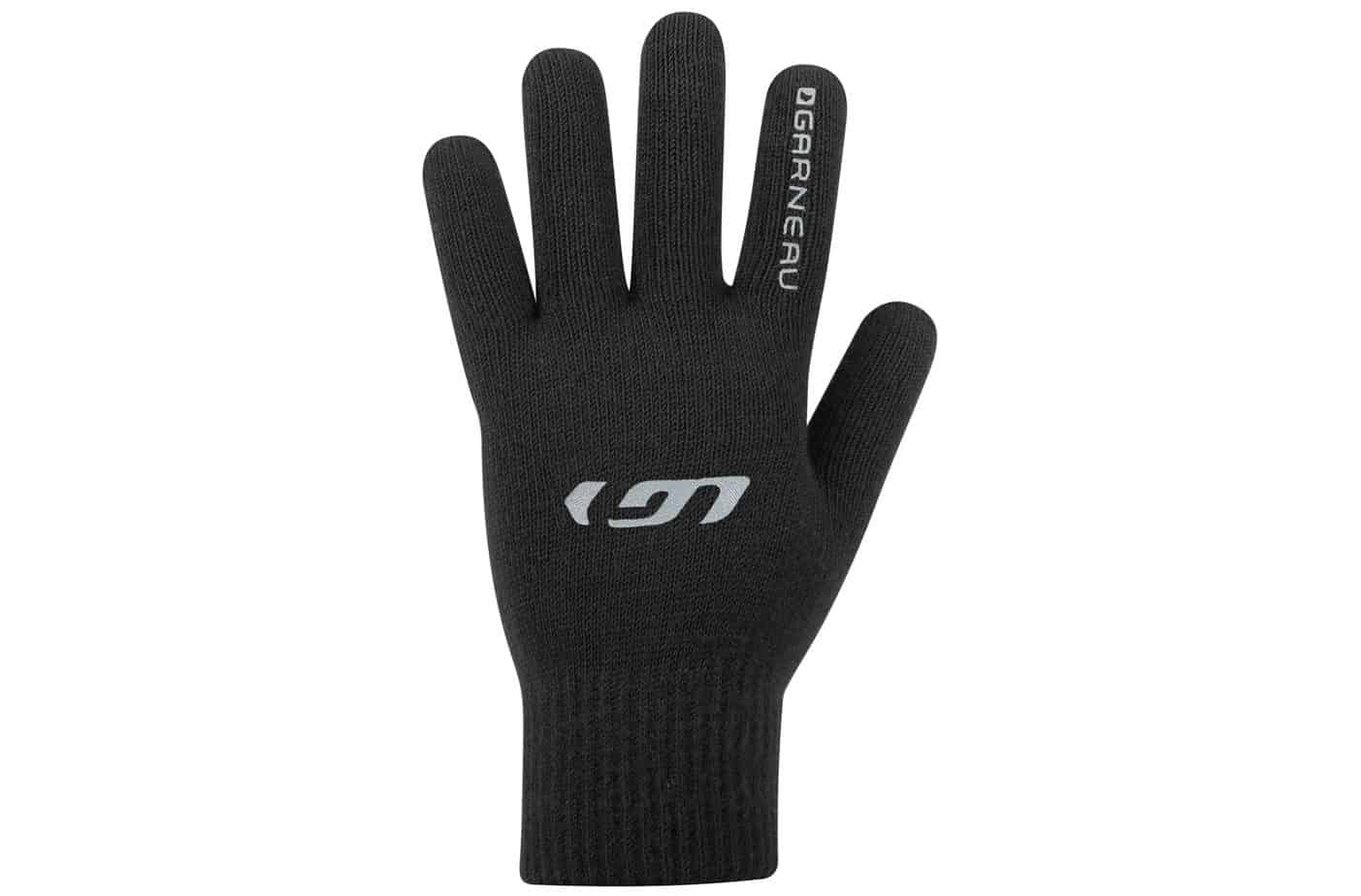 Our go-to glove liner is the Louis Garneau Tap Cycling Glove, which can be worn either on its own (it has grips) or as a liner. This glove is one size, yet very stretchy and touch-screen friendly. They have some light water resistance, but if the skies open up, these gloves will turn soggy fast.
What's the best winter cycling glove for you? We break it down based on the conditions you tend to ride in and provide a warmth rating for each pair (1-5, with 5 being the warmest and most resistant to the elements).
The Best Cycling Gloves for the Fair-weather Rider:
When the skies open up or temps get too frosty, fair-weather riders hit the indoor trainer. Therefore, a good glove liner might be all you need. But if you're looking for something a little warmer, here are some of our favorite lightly insulated gloves, which pair easily with a liner, and are perfect for late or early season rides.
Defeet Duraglove ET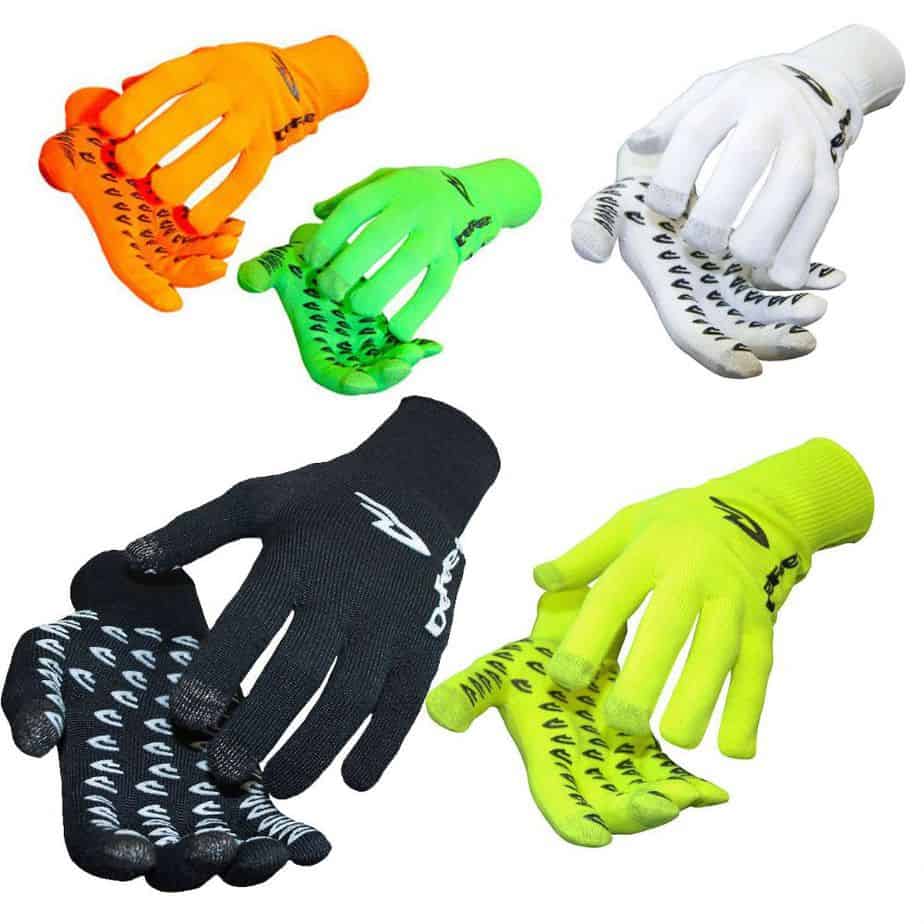 Sometimes the simplest solution is the best, which is why we often find ourselves reaching for the Defeet ET Duraglove on chilly fall mornings, when the air is crisp enough to nip at uncovered fingers.
The Duraglove is light enough to go nearly unnoticed, but its cordura yarn plated outside keeps the wind from cooling off your digits, while still allowing hands to breath. Or try their model made with 40% merino wool.
A long, elastane cuff eliminates any gap between glove and arm warmer and plenty of grippers ensure solid contact with a variety of bars, as well as the interface of a Garmin or smart phone.
Warmth Rating: 1-2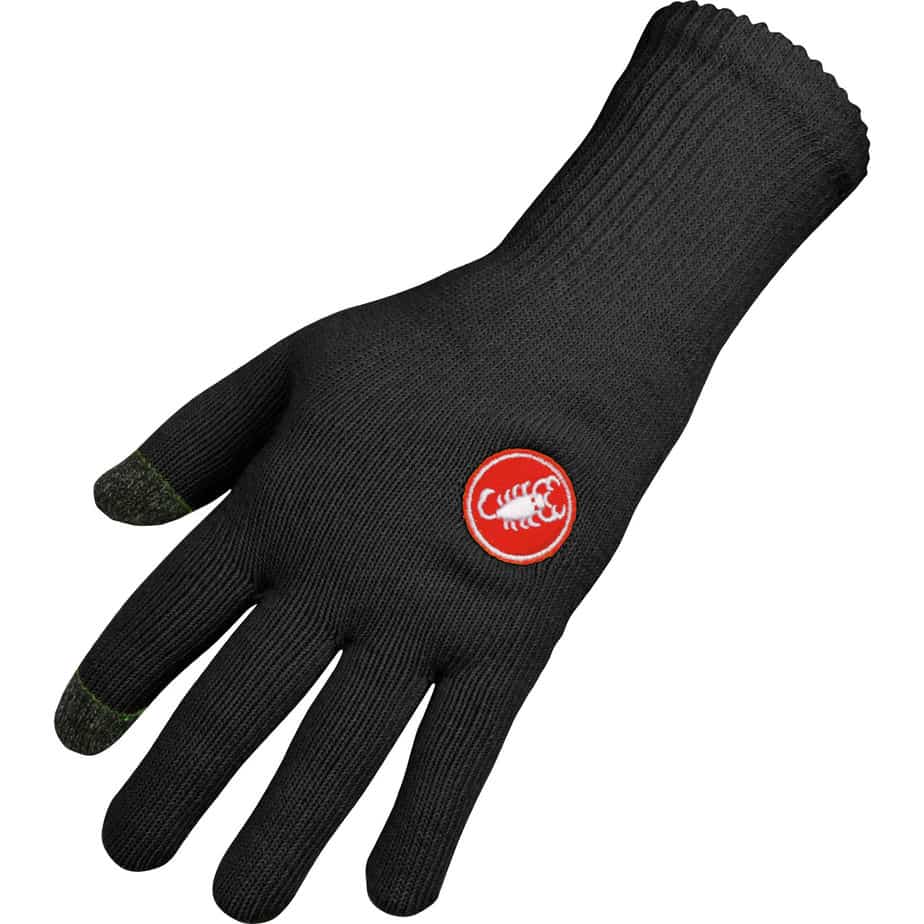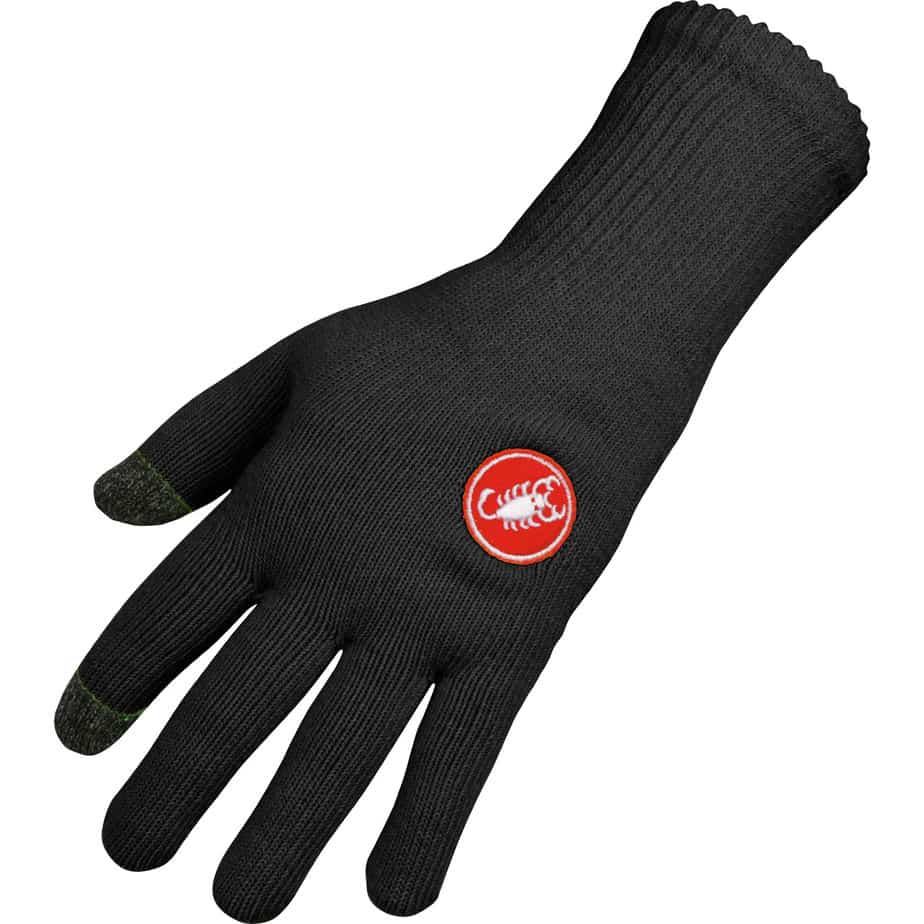 The Castelli Prima Gloveis similar to the Defeets with a grippy, touchscreen-friendly design. Castelli rates this 100% Coolmax yarn glove for temps between 57-64 degrees F.
Warmth Rating: 1-2
The Best Cycling Gloves for the Commuter or All-Weather Rider:
Cyclists who commute year round or for those who would rather gnaw at their own hands than ride the trainer will need a glove that offers both wind and rain protection. Fortunately there are many styles and colors to choose from and, save for driving rain or extreme arctic chill, these gloves will likely be all you need to stay toasty till spring.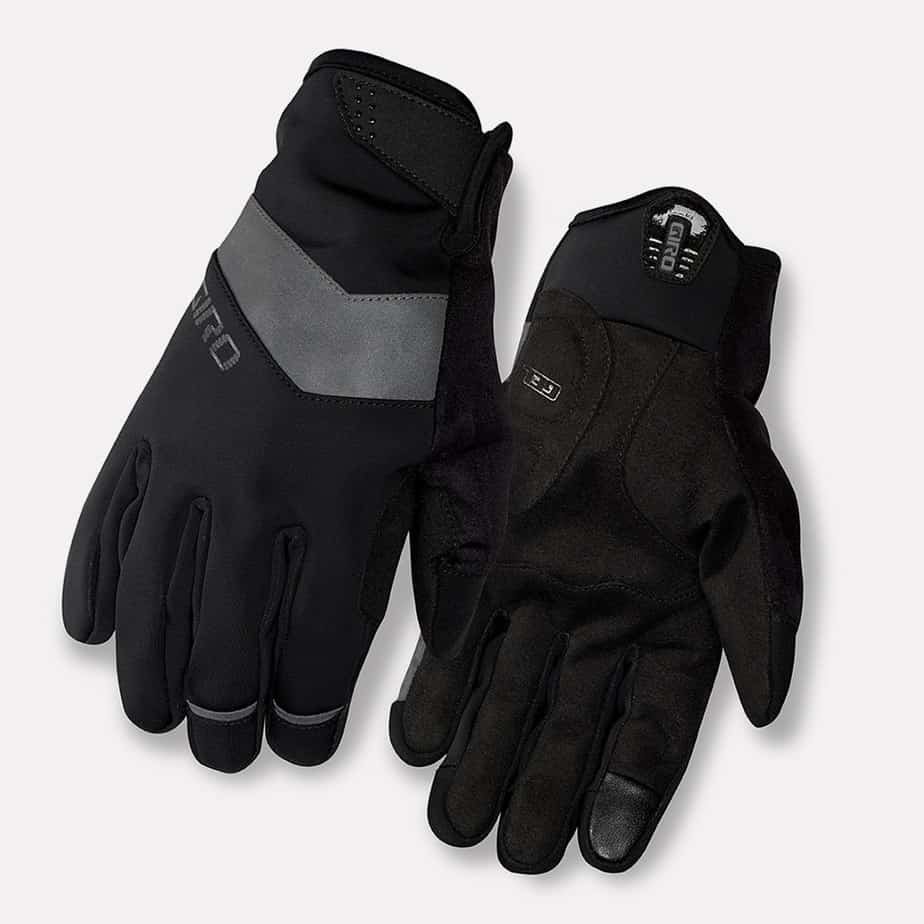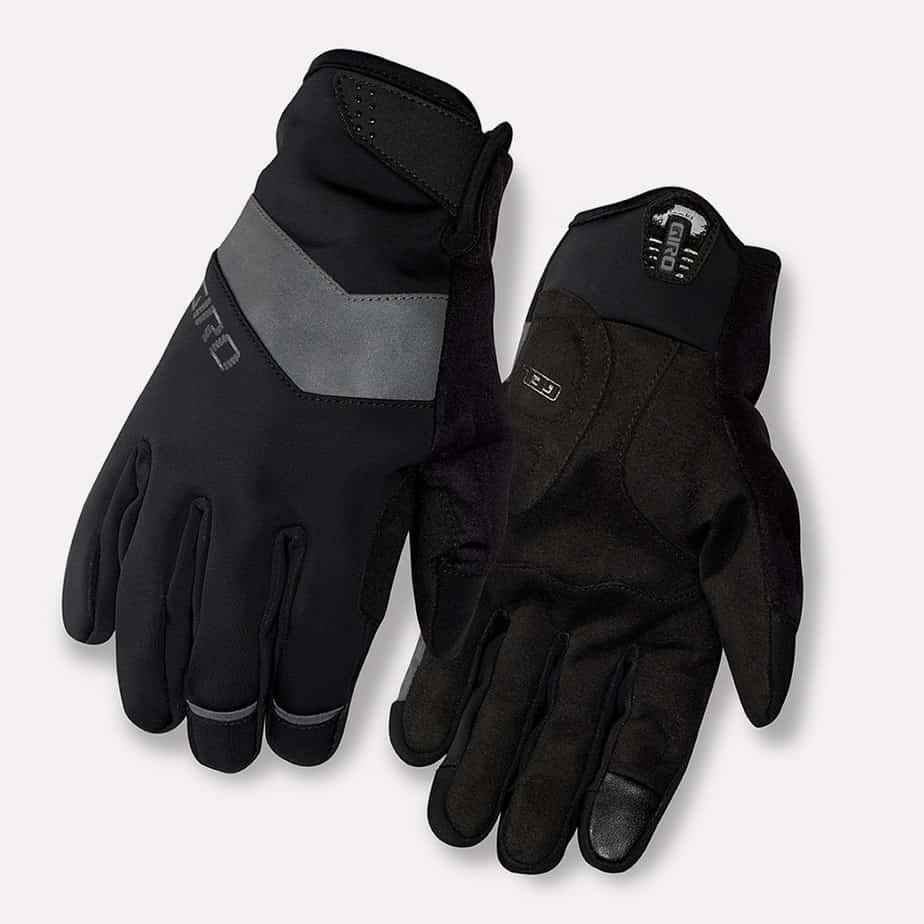 Minimal padding, but maximum protection from the elements, makes Giro's top-selling winter glove a favorite with us. Its thin material and rubber grippers with touchscreen technology allow for an ease of shifting and braking, yet the glove still has three protective layers that don't bunch: an inner anti-microbial fleece-lined membrane, a layer of insulation, and a water and wind-resistant shell with an adjustable closure.
Throw in a microfiber wipe for runny noses and it's clear to see why these are our go-to gloves not just for cool fall days, but until the temperature hovers around freezing. Giro rates the Ambient Glove for temps down to 40 degrees.
Warmth Rating: 3-4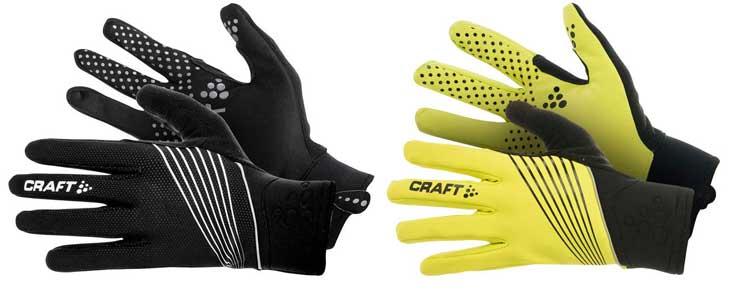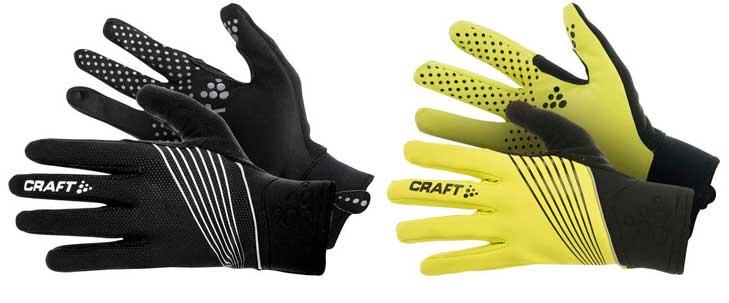 Craft's Storm Glove is equally thin, with a comfortably snug fit, but stay toasty when temps drop below zero. They have just the right amount of insulation to be warm and windproof, without feeling bulky. Just don't reach for these on milder days, when your hands are likely to overheat.
A waterproof shell and water resistant palm provide a solid defense against rain, except for the heaviest downpours. Well-placed silicon grippers ease shifting and braking as well as interaction with a Garmin or smart phone. The Storm Glove is a solid choice for commuters or anyone who wants to extend their long rides well into the winter.
Warmth Rating: 4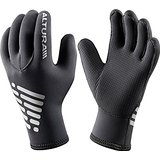 A UK company, Altura knows a thing or two about cold, dreary winters. They've come up with something a little different, however: a high stretch neoprene glove that more closely resembles dive gear than bike duds. But they're onto something, as this glove is both warm and holds up in light rain. Those with larger hands might find these gloves a bit snug, though they do have an amazing amount of stretch and dexterity (they hug the wrists tightly as well).
We were surprised by the amount of cockpit control, despite their snug fit. Pairing the Thermastretch Neoprene Glove with a glove liner is nearly impossible, so you may want to reach for something else on the coldest days. Reflective patterning makes these a smart choice for commuters and the gloves have enough grip to be a practical choice for a variety of bars.
Warmth Rating: 4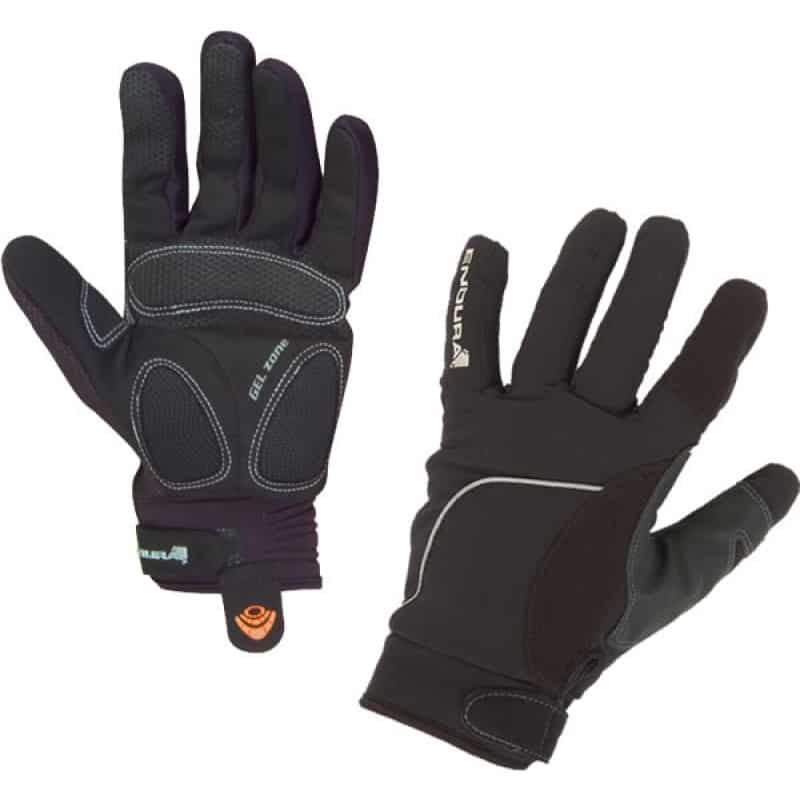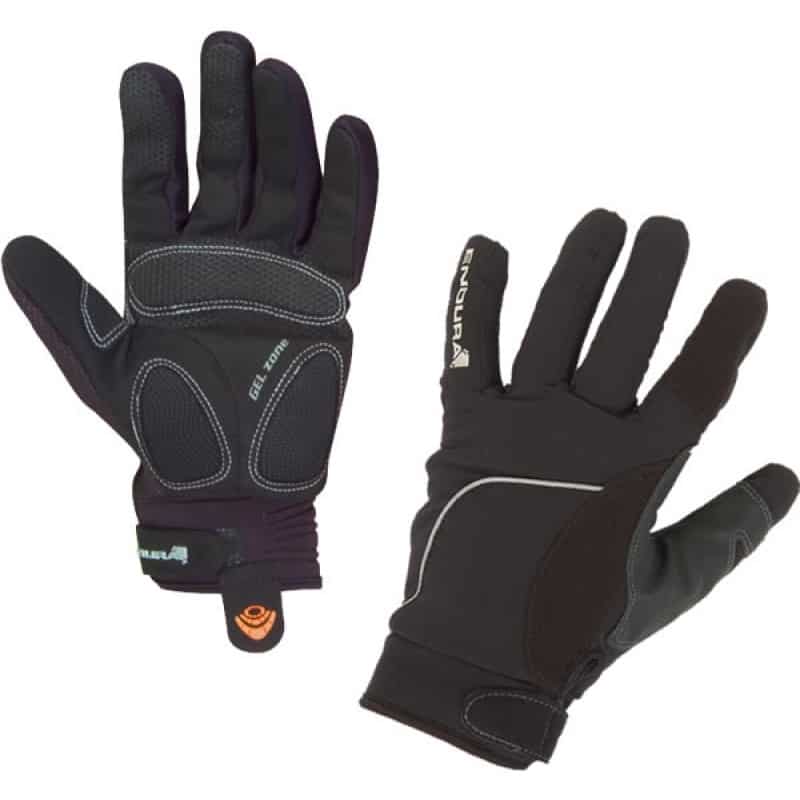 These gloves are winter workhorses. Sealed seams keep water out, while staying fairly breathable. The liner doesn't become soggy in rain and holds its shape over time and many washings. Perfect for road, mountain or commuting, Endura's Strike II glove is light and comfortable with well placed grip pads for long rides and reflective details for shorter days.
An adjustable neoprene cuff adds an additional layer of comfort and a barrier from the elements. Endura also makes a women's version of its Strike Glove.
Warmth Rating: 4
Best Women's Specific Winter Cycling Glove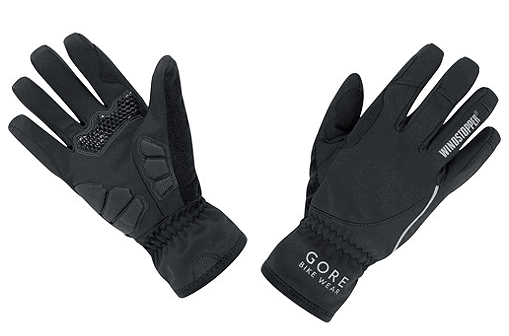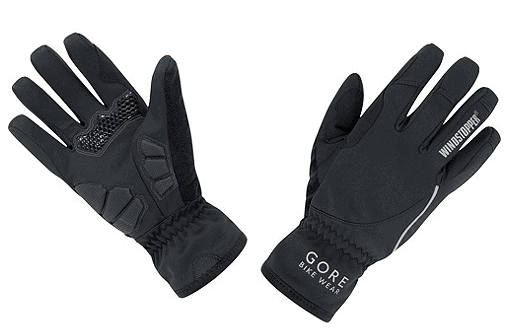 Designed for comfort and warmth over long road rides, Gore's Power Windstopper Glove is available in unisex or women's specific models.
We were pleased to see that the women's models were truly designed for a woman's hand and were not a shrunken version of the men's gloves. Foam padding on the palm and a decent level of dexterity elevate the comfort level for day-long adventures in the cold or light rain. The gloves are windproof and have a high elastic cuff.
Warmth Rating: 3-4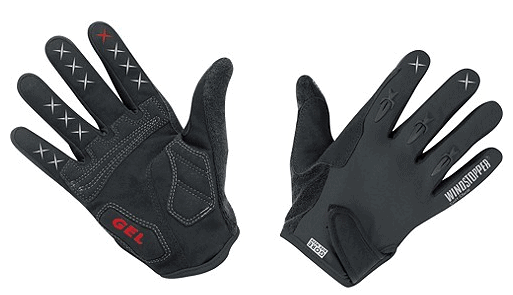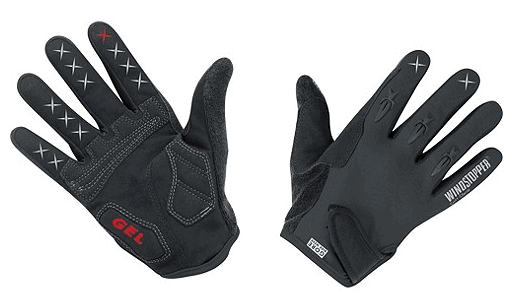 For a solid winter mountain bike or downhilling glove, try the Gore Alp-X 2.0 Windstopper Soft Shell Gloves which feature high cuffs, the perfect amount of grip, and padded palms and knuckles. A lack of windstopper fabric on the thumbs makes these ideal for mountain bikers and flat-bar commuters whose fingers are shielded by the bar, though pure roadies might be left with cold thumbs.
Warmth Rating: 4
Winter Cycling Gloves Review: Our Cycling Glove Picks for the Worst Weather Conditions
Wind, water and extreme temps… bring it on! Here are our favorite burly winter cycling gloves.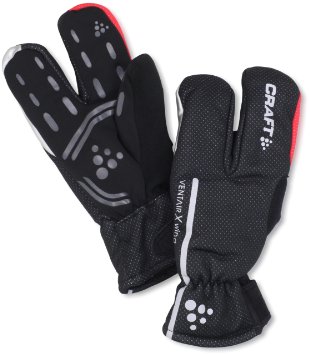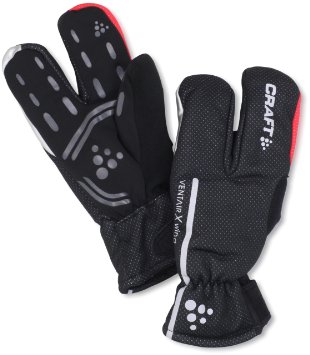 If warm and toasty is your goal, then these are the mits for you. Any lobster gloves will increase warmth by reducing surface area and can be paired with a glove liner. They'll block wind and water, performing well when temps drop to freezing or below or when you're facing a wicked headwind. Just beware that there's a reason lobsters don't ride bicycles: it's tough to shift with claws.
We didn't find braking so hard, but shifting was a challenge at times, as was grabbing food from pockets. With similar lobster gloves on the market (like the Pearl Izumi P.R.O. Lobster Glove), we chose Craft's Siberian Gloves based on their value, durability and overall performance.
Warmth Rating: 5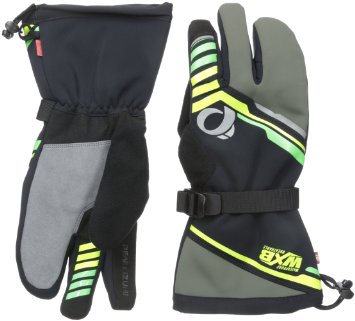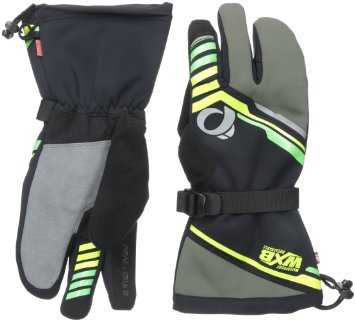 If you want to pimp your lobster gloves, check out the Pearl Izumi P.R.O. AmFIB Super Glove. For twice the price of the Craft's, you'll get a split finger lobster glove, which separates the first three fingers for shifting and braking, while enclosing the last two for extra warmth.
Unlike the other lobster gloves, these feature a long, wide cuff with a draw cord to secure it to your wrist, similar to a ski glove. They're also a little more breathable and wind and waterproof.
Warmth Rating: 5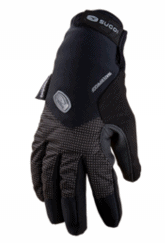 The Zap Subzeros are a more traditional-looking glove, yet they're Sugoi's warmest offering. Like the lobsters, they're both wind and waterproof, however, they allow for a little more dexterity. These are still thick winter gloves, so mobility is challenging at times, though not as limiting as the other gloves we tried in this category.
Thick fingertips are nice for warmth, but the lack of touchscreen compatibility is a small detail we wish was included. A cuffed velcro strap keeps the elements out and these gloves didn't turn into a giant sponge in the rain, but repelled water like a champ. Commuters will be happy with the zap reflective panel, which helps them glow at night. Bottom line: If lobster-style gloves seem like overkill, give these a try first.
Warmth Rating: 5
Winter Cycling Glove Reviews Comparison Chart.

| Winter Cycling Gloves | Sizes | Colors | Unisex or Women Specific Available? | Warmth Rating 1-5 (warmest) |
| --- | --- | --- | --- | --- |
| Altura Thermastretch Neoprene Glove | S-XL | Black | Unisex | 4 |
| Castelli Prima Glove | S/M - XXL | Green, Red, Black | Unisex | 1-2 |
| Craft Siberian | XS-XXL | Electric green, Black | Unisex | 5 |
| Craft Storm Glove | S-XXL | Black | Unisex | 4 |
| Defeet ET Duraglove | XS-XL | Black, Blue, Hi-Vis Green, Orange, Yellow & Pink, Ocean Blue, Orange, Red, Safety Yellow, White, Reflector Hi-Vis Yellow | Unisex | 1-2 |
| Endura Strike II | XS-XXL | Black | Women's version also available | 4 |
| Giro Ambient Glove | S-XXL | Black, Red | Unisex | 3-4 |
| Gore Alp-X 2.0 Windstopper Soft Shell Gloves | XXS-L | Black, Red, Neon Yellow | Unisex | 4 |
| Gore Women's Power Soft Shell | XXS-L | Black, White, Red, Neon Yellow | Women's and men's | 3-4 |
| Louis Garneau Tap Cycling Glove | One size | Black | Unisex | 1-2 |
| Pearl Izumi P.R.O. AmFIB Super Glove | XS-XXL | Black | Unisex | 5 |
| Sugoi Zap Subzero | XS-XL | Black | Unisex | 5 |
Related: 13 of the Best Shred-Worthy Mountain Bike Gloves
Want even more cycling hacks or to connect with a community of like-minded cyclists? Join us in our free Facebook Group.