Latest posts by Jessie Linder
(see all)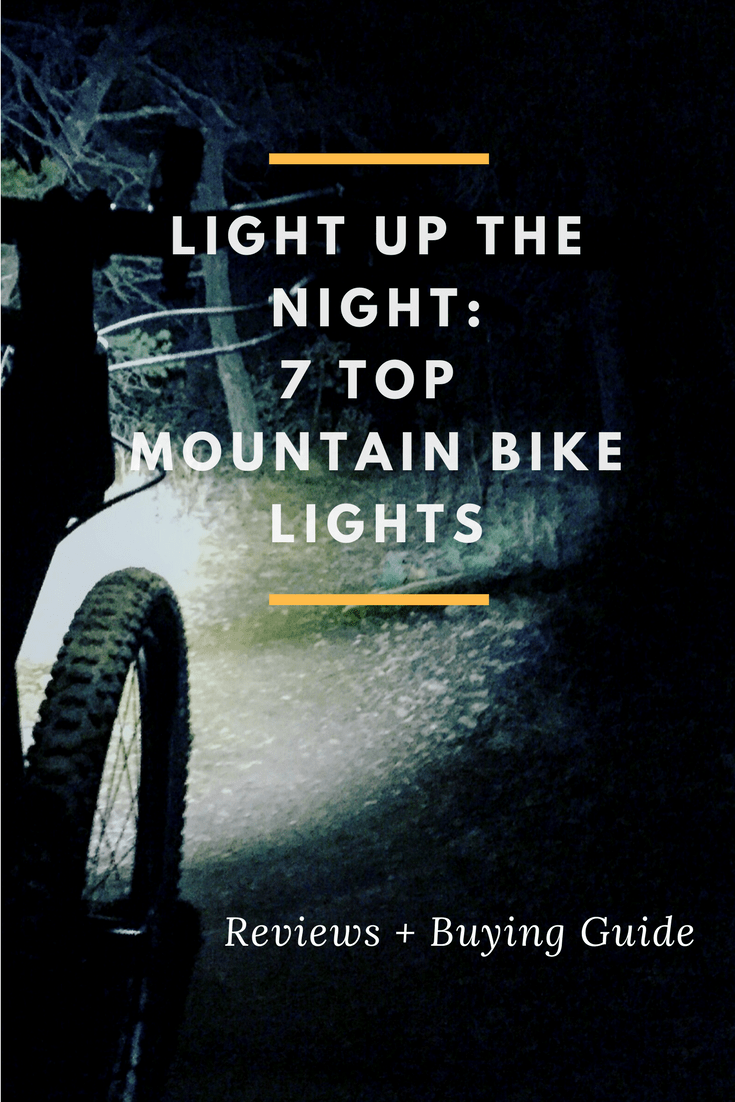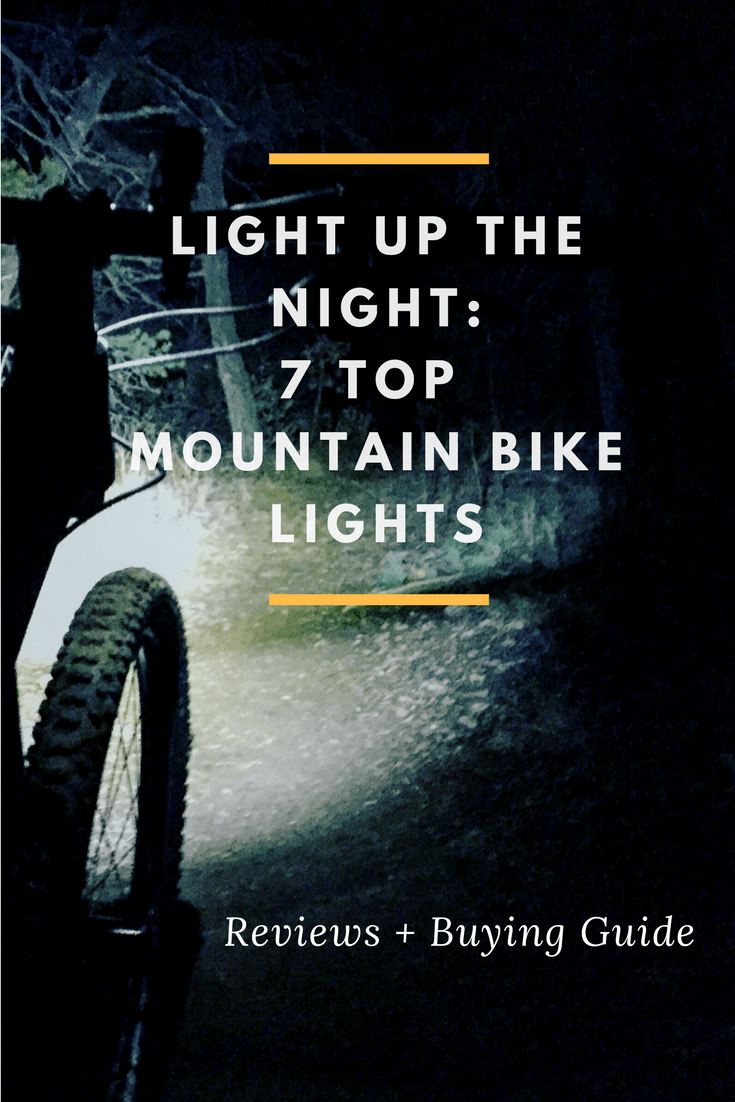 It's a saturday morning and you're stoked to ride. You're at the trailhead early in the morning hoping to beat the crowds. But apparently you aren't the only one with that idea. After the first mile you've passed 17 hikers, 5 dogs, and 3 other groups of riders.
These scenarios are not uncommon during summer weekends. But get to the trailhead at 9pm? Absolutely empty, you will have the trail to yourself.
Night riding is its own beast. But it doesn't have to be if you bring your 2500 lumen Light & Motion light you'll have a beam of light that isn't even street legal in some places. At night the trails you've seen 100 times take a whole new form: when you're ripping down the trail it's only the small ribbon of light and nothing else to distract you, and best of all you're doing this alone or with your buddies.
Just remember to grab your light before you go. Choosing the best light will make or break your PM trail time. 
Here are our favorite lights (read full reviews below):
Best light for wet conditions: Seca Race 1800  $$$
Editors Choice: Seca Race 2200  $$$
Best visibility: Seca Enduro 2200  $$$
Best light for beginners: Taz 1200  $$
Best battery life: NiteRider pro 1400  $$
Best endurance racing light: NiteRider pro 1200  $$
Best cruising light: NiteRider Lumina 750 (click to buy on Amazon) $ 
Battery Life
(High)
Charge Time
$
Rating
1-10
Link to buy
Seca Enduro 2200

2.5 hrs

5hrs

$$$

9

Link

Seca Race 2200

1.5hrs

2.5hrs

$$$

10

Link 
Seca Race 1800

1.5hrs

2.5hrs

$$$

9

Link 
NiteRider pro 1400

2hrs

5hrs

$$

8

Link
NiteRider pro 1200

1.75hrs

5hrs

$$

8

Link 
Taz 1200

1.5hrs

5hrs

$$

8

Link
NiteRider Lumina 750

1.5hrs

5hrs

$

7




Buy on Amazon
Types of Lights:
There are two types of lights
All-in-one system (where the battery is integrated)
Pros: These are generally cheaper, smaller, lighter and much quicker to mount.
Cons: They have a smaller battery so less battery life, and they are generally less bright than lights where the battery is separate.
        2. Leads: The battery is connected to the head unit via a lead.
Pros: These will last a long time, they can be very very bright, generally higher quality
Cons: Expensive, heavier, have a separate battery to deal with. You must find a convenient place to tuck the cord (generally down the back of your jersey with the battery either in a jersey pocket or a Camelbak), but any of these cords will be long enough to reach from your helmet to anywhere on the top half of your body.
What are lumens? How many do I need?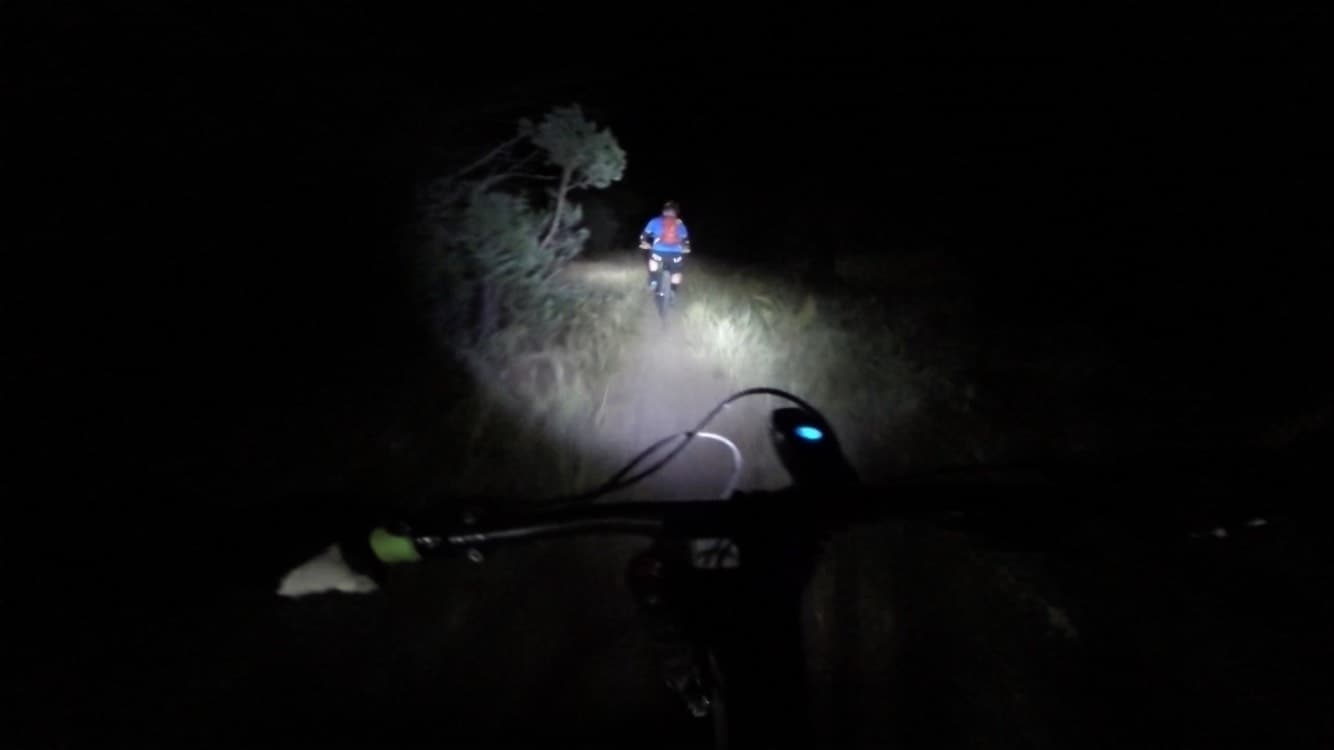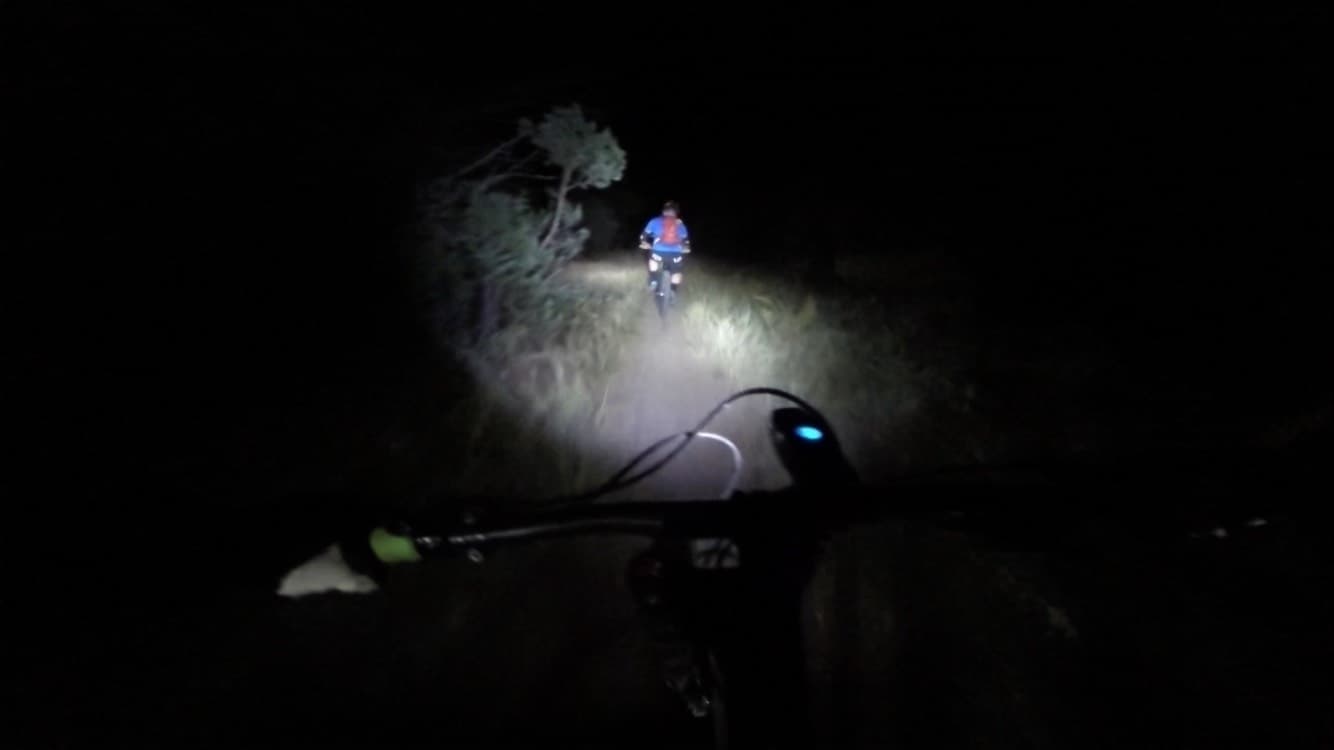 Lumens are the indicator of how bright the light is. With LED lights, gone are the days of watts. Generally the name of the light will contain a number (for example "NiteRider pro 1400"). This number tells you the maximum lumens for this light but generally all lights have a high, medium, and low setting.
For most any chill mountain bike ride 750-1400 lumens will be more than enough. If the trail is a lot more technical or you will be riding by yourself, you might want to consider more like 1400+ lumens.
What battery do I need?
The cheaper, commuter, lower power lights will have an integrated battery, no cords needed. However the more powerful, longer lasting lights will have a battery pack that's connected by a lead.
*A good rule to follow is: If the light is on the handlebars, the battery is mounted to the bike. If the light is on a helmet, the battery is on the rider.*
There's a reason to follow this rule. During one of the night laps of New Mexico's 24 hours in the Enchanted Forest race I opted to mount my battery for my helmet light to my bike because all the pockets in my jersey were full. I assumed it would be no problem as it was a race and I had no intentions of getting off of my bike. However this was the lap that went down in history as "the crap lap."
During this lap, a massive storm moved in and dumped inches of rain. (Just a side note, most lights are waterproof or at least water resistant). One of the downhills turned into a twisty slip-n-slide. It turns out that when you superman off your bike if the battery for the light on your helmet is strapped to the bike, you will pull the cord out and have no light. Trying to reconnect a battery with no light is not ideal, so just follow the simple rule above.
How long does the battery last?
Fortunately, Lithium Ion (Li-Ion) batteries have replaced the old NiMH batteries. Keep in mind it won't matter where the battery is mounted if the battery dies halfway through the ride. Batteries and lamp life still vary dramatically. Any bike light you buy will indicate how long the battery will last from a full charge on a given setting. But remember this is advertising and battery life is listed for ideal conditions.
So be smarter than the box your light came in and keep this in mind:
New batteries last longer than old batteries. If you've had a light for years, it most likely will not perform as well as the box claims.

Batteries don't like the cold. If you are doing a night ride in freezing temperatures (first, make sure you have a buddy because that sounds like a recipe for disaster), but also keep in mind that battery life will be significantly shorter. Bring a backup battery and keep in a pocket close to your body.

The brighter the setting, the more battery life it will use. For example, a light running at 2,000 lumens will not last as long as running at 500 lumens. So consider what is bright enough and don't use the full potential of the light.
Lights also include a switchgear, which turns the light on, but also acts as a means to switch between light modes. Some are wireless switches, while others include battery indicators. It's important to be able to switch modes with gloves on, while avoiding accidentally hitting the switch.
Charging
Most of these lights are UBS and are charged through a computer or wall adaptor. Though for 24 hour races, car chargers are also handy. Just remember to always start a ride with a fully charged battery. Each light we've recommended has a battery indicator and smart circuits, that prevent you from over-charging the battery. Some simply display a green light when charged.
We're also a big fan of lights that indicate the battery level instead of only providing a warning before they are dead. This leaves room for error, especially if you have an unexpected mechanical stop. It's also not a bad idea to have an extra battery on the trail. For lights that have a separate battery, just pick up an extra battery pack.
Helmet vs Bar Mount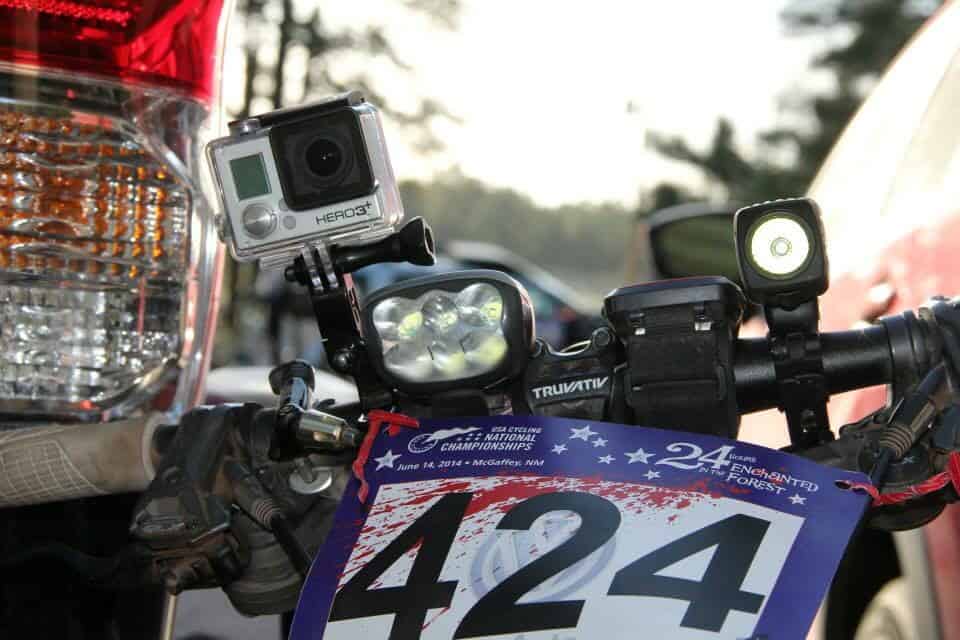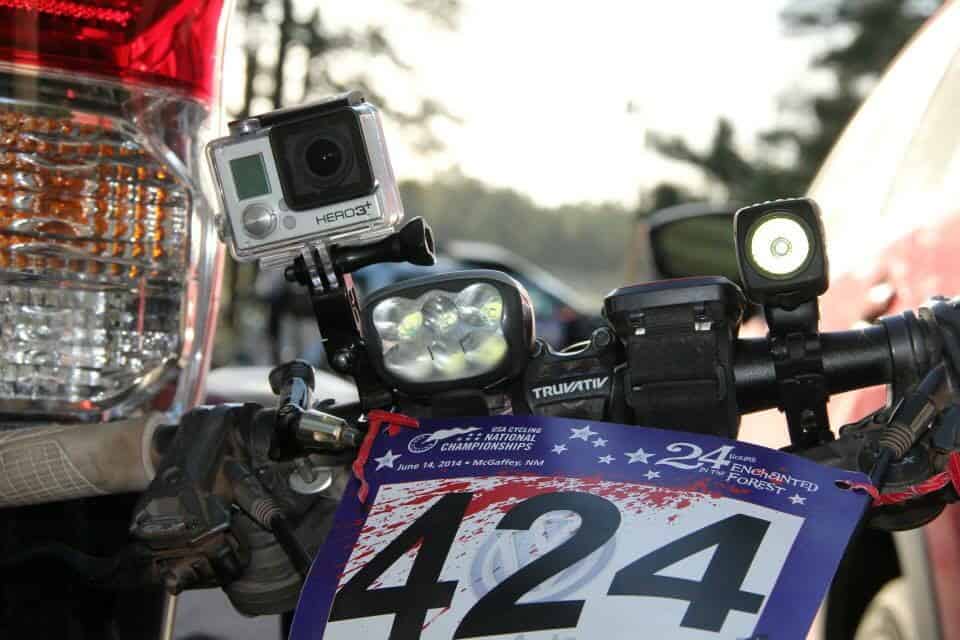 It sounds obvious, but remember that you can only see where the light is pointing. One night ride I only had one light on my handlebars. I knew it was an easy trail so I wasn't too concerned about visibility. Then I hit the first corner. I applied good cornering skills and was looking through the corner. Except, that I couldn't see because the light on my handlebars was shining straight ahead, off the trail. Moral of the story: helmet mounts are a good idea. If you have a helmet mount you will always have light where you're looking.
The only downside is when you change where you are looking but don't move your head. This is where the bar mount comes into play. Generally, I always have a light on my helmet to see further up the trail, and a light on the bars tilted so I can see the next 10ft of the trail.
In general:
Helmet mounts: Let you look around, but sometimes it can feel awkward to tilt your head down to see right in front of you. Plus the weight of the light can be uncomfortable on the neck. And don't forget when you look at someone with your light on, you're also blinding them. Helmet mounts can also reduce depth perception, flattening out trail features.
Bar mounts: You can see the trail in front of you, but your head and handlebars aren't always pointed the same way. Because the light is lower, it can make it difficult to see around obstacles. On the other hand, these can be easy to operate and monitor battery life because all the controls are directly in front of you.
Or just have both, that way you also have a backup!
How we determined the best lights: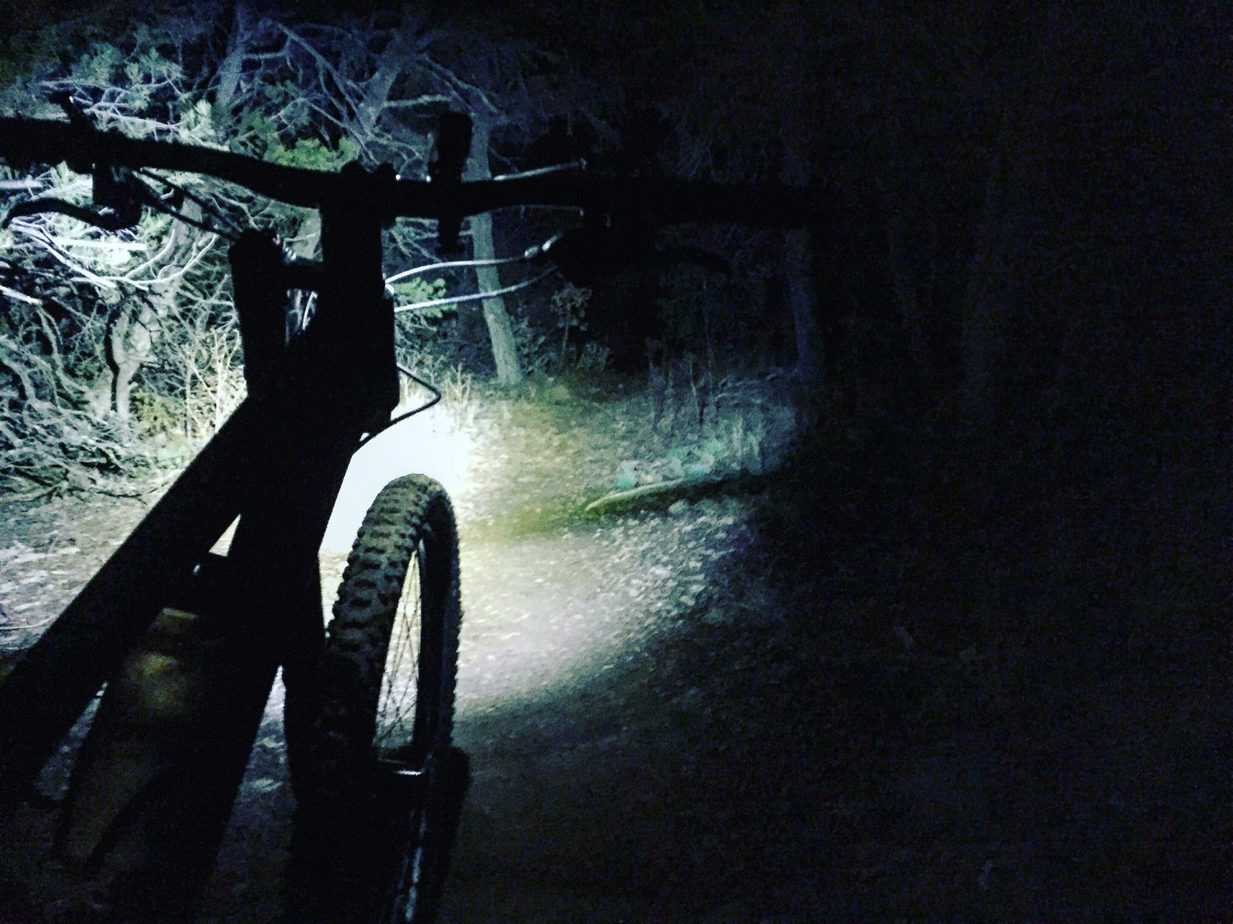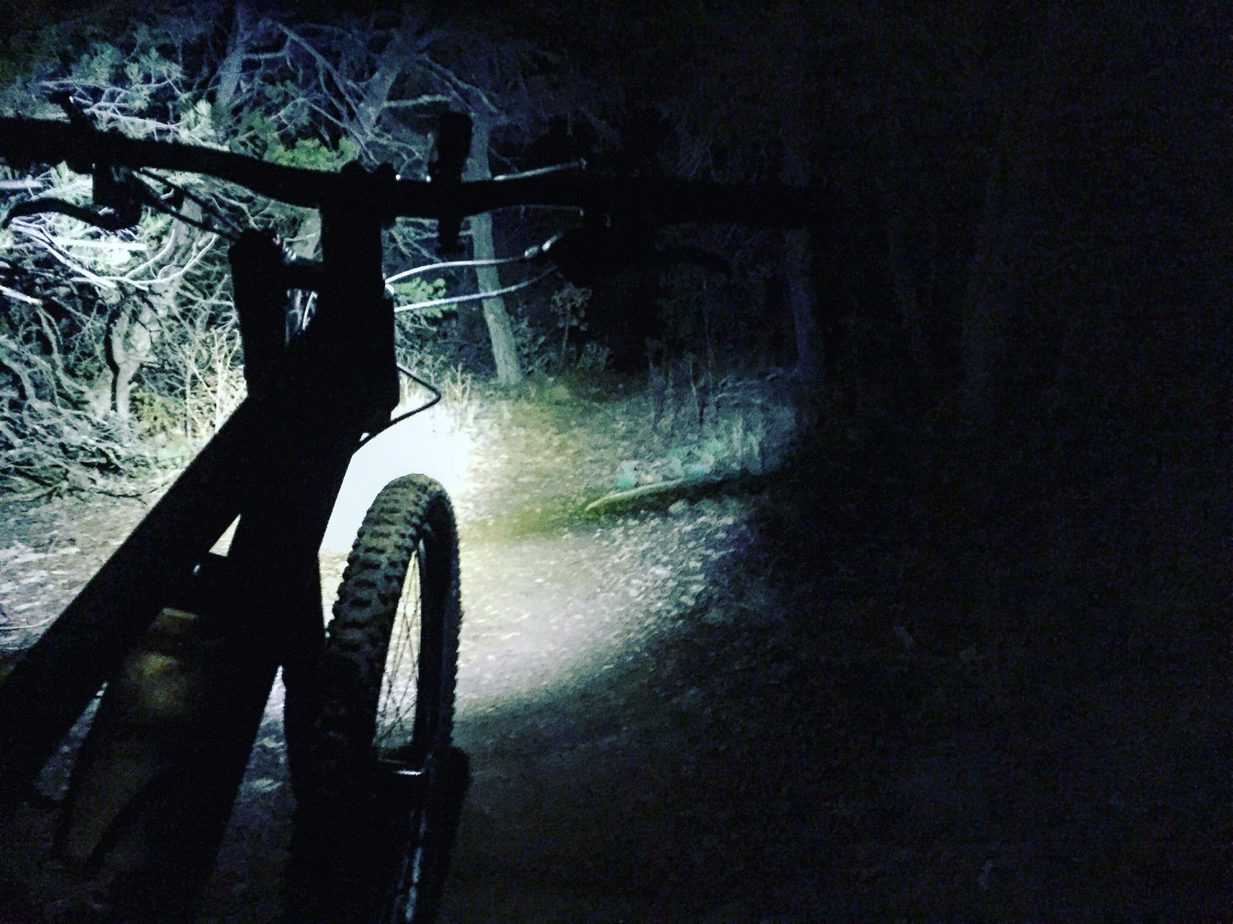 Our top-rated mountain bike lights have all been chosen based on how they stack up for reliability, durability, as well as battery life, lumens, charging time, and overall value. This represents our favorites, but both Light & Motion and NiteRider offer a larger variety still of highly rated lights.
Light & Motion
Light & Motion is a very reliable brand with quality products. If you are out in the middle of the forest, the last thing you want is for your light to malfunction. While Light & Motion is the most expensive option, you might consider spending the extra money for a quality product that you'll have for years to come. However, if you are just dipping your toes into night riding, you might want to start with a cheaper brand before investing more.
Below are two lines of lights, the Seca series and the Taz series.
The Seca series has great visibility and battery life making them ideal for longer, true mountain bike rides where you won't find any other sources of light and the trails are fairly rough.
The Taz series is a great compromise between size, price and lumens which will work great for shorter rides on trails you are very familiar with.
Light & Motion Seca Series:
This series is made to turn night into day. These lights have a 4 LED array that gives a floodlight effect as compared to most other brands that have a focused beam that limits visibility.
Best light for wet conditions: Seca Race 1800
Battery: external, lasts 1.5hrs high, 3hrs medium, 6hrs low
Charge time: 2.5hrs
Mount: GoPro mounts, directly to handlebars, helmet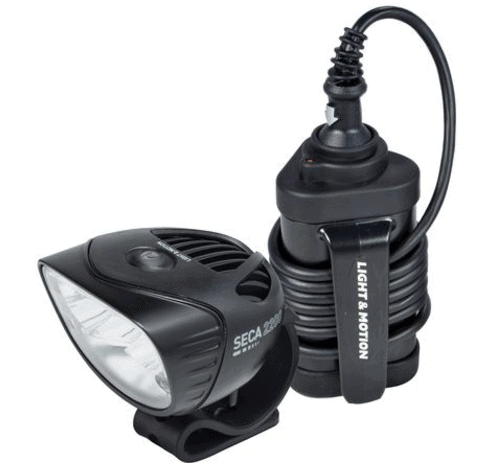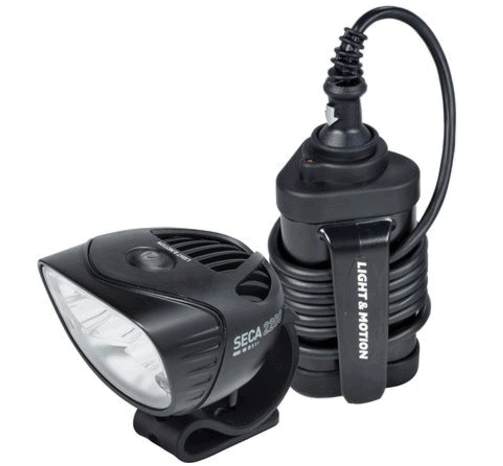 Battery: external, lasts 1.5hrs high, 3hrs medium, 6hrs low
Charge time: 2.5hrs
Mount: handlebar, GoPro mounts, and helmet
Why editor's choice? Light & Motion is a high-quality brand. The Race 2200 is very comparable to the Enduro 2200 but cheaper. This light is a solid pick for long rides as the medium and even low setting will be bright enough to see as opposed to the low setting on the Taz 1200, which would get a little hard to see if you were going fast downhill.

Battery: external, lasts 2.5hrs high, 5hrs medium, 10hrs low
Charge time: 5hrs
Mount: gopro mounts, directly to handlebars, helmet


Light & Motion Taz series:
Best light for beginners: Taz 1200
Battery: internal, lasts 1.5hrs high, 3hrs medium, 6hrs low
Charge time: 5hrs
Mount: handlebar


NiteRider

NiteRider has excelled at making compact efficient lights. Best of all they keep their prices a little lower than other brands like Light & Motion. A downside of NiteRider lights is the beam. While Light & Motion has an almost floodlight effect, NiteRider is a more direct beam that limits visibility a little bit. Not that this should be too much of a deterrent. These lights will let you see anything and everything on the trail. Unless you have need for a bigger, brighter light there is no reason not to save a little money on these killer lights.
These lights will let you see anything and everything on the trail. Unless you have need for a bigger, brighter light there is no reason not to save a little money on these killer lights.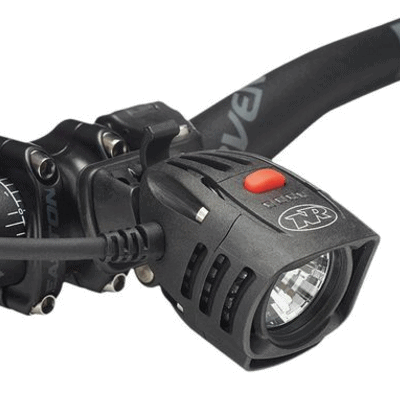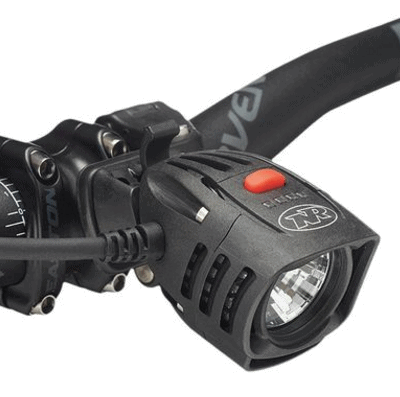 Battery: internal, lasts 2hrs high, 3.75hrs medium, 9.5hrs low
Charge time: 5hrs
Mount: handlebar or helmet

This light comes with a race setting for 24 hours races to make sure you have light all the way through the night.
Battery: internal, lasts 1.75hrs high, 3.5hrs medium, 7hrs low, 12hrs race
Charge time: 5hrs
Mount: handlebar or helmet



Battery: internal, 1.5hrs high- 5hrs low
Charge time: 5hrs
Mount: handlebar (helmet mount sold separately)

While this light is great for easy, flat smooth trails, if you are using this light for commuting, you might consider getting the package that has the Lumina 750 and the red light for the back of your bike to help make yourself more visible.
Related: 11 Amazing Bike Lights: How to Choose the Right Light