Latest posts by Jessie Linder
(see all)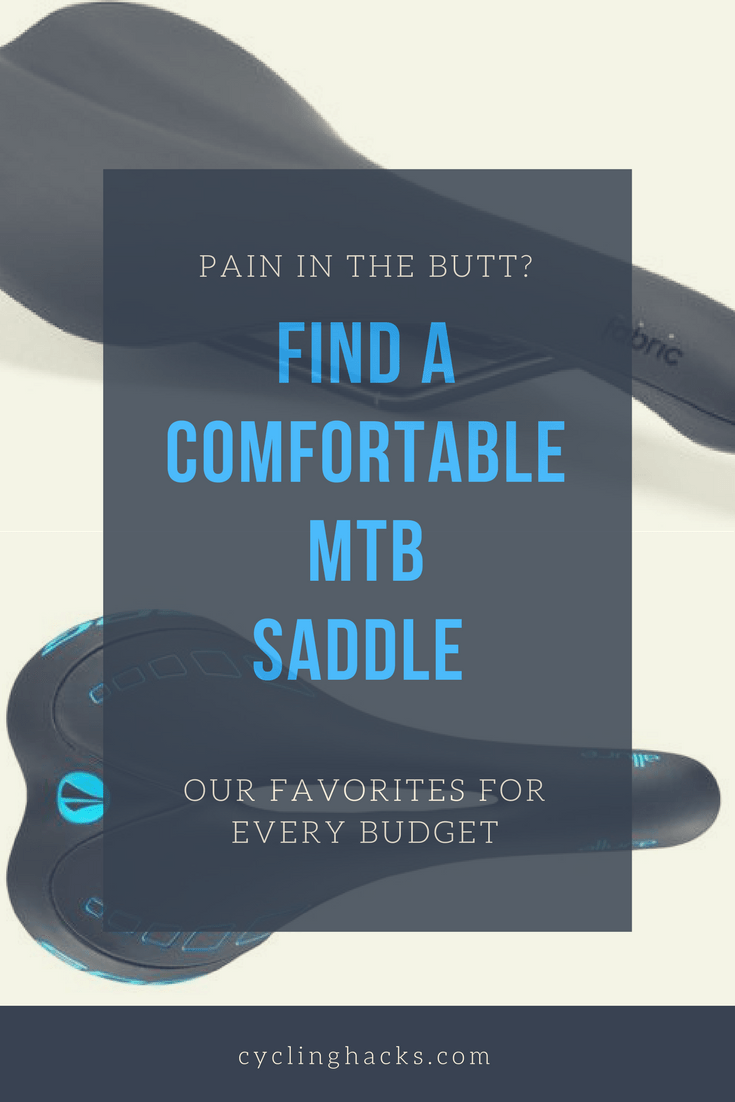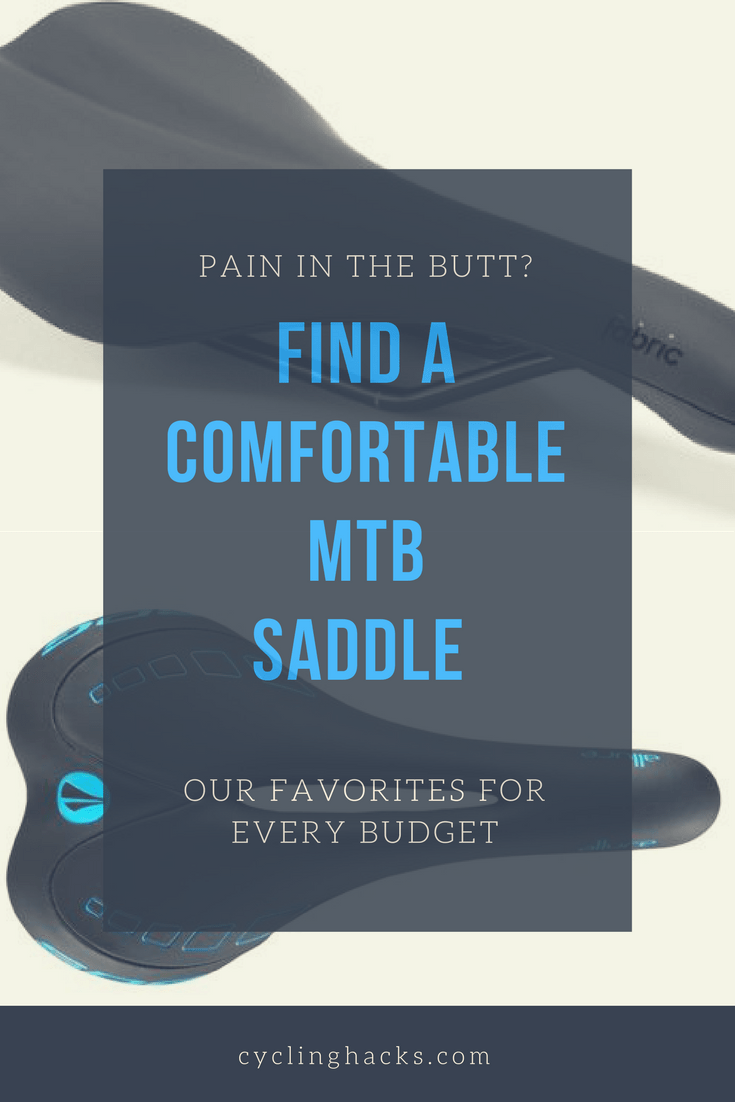 Riding should never be a pain in the butt. Whether you ride for fitness or for fun (ideally both), having a saddle that is comfortable can be the difference between finishing a ride tired and happy or finishing the ride and not being able to sit for a week. If finding the perfect saddle sounds as elusive as nabbing a pro's Strava KOM, this article will guide you closer to finding the perfect mountain bike saddle for all riders and budgets.
Best Mountain Bike Saddles
Most Versatile MTB Saddle: Fabric Scoop Elite Saddle (women's option) $$
Best Race MTB Saddle: SDG Circuit MTN Ti-Alloy Saddle $$
Best MTB saddle for Long Rides: WTB Volt Race Saddle $
Best Budget MTB Saddle: WTB Speed Comp/ WTB Speed She Comp (women's option) $
Best Women's Saddle: SDG Allure $$
Best MTB Saddle for Enduro Racing: Ergon SEM3 Comp $$
Click for current price and sales and to find user reviews. Full product reviews are below.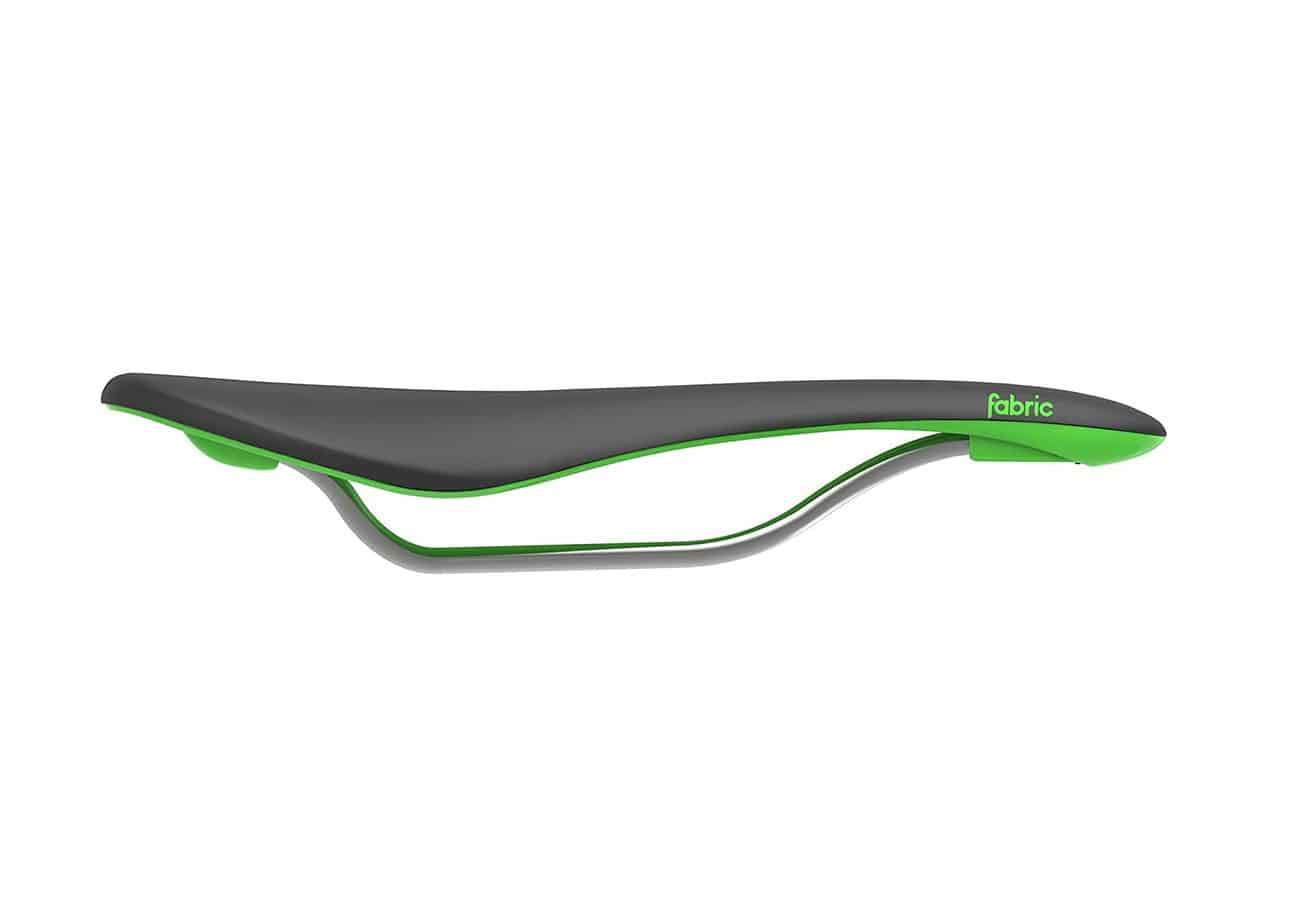 What to Look For in a Mountain Bike Saddle
Saddle Materials:
Saddles keep getting even lighter, yet more durable to combat the mud and grime of a trail ride.
Shell:
The shell of a saddle or the part that gives it its basic shape, is typically constructed from plastic or carbon fiber.
Padding:
The most common padding material is a foam rubber that may be used in conjunction with a gel pad. This foam is lightweight (for all you weight weenies), absorbs shock, and is durable. It comes in various densities, but it's important for the foam to be able to hold its shape over even the longest rides.
There is a sweet spot, however, between too little and too much padding. Too little and you feel every bump; too much and the padding will begin to dig in to your tender bits over time.
Cover: 
Traditionally, saddles were covered in leather. Today, you'll find that they're more often constructed out of synthetic materials such as Kevlar or synthetic leather and microfibers that are designed to be durable and breathable. To add durability, some covers are bonded directly to the shell.
Shape:
As bike geometry changes, so does the role of the saddle. For instance, modern mountain bike now sit riders in a more upright position while climbing, which means a different weight distribution on the saddle. Then the position changes again while descending, so today's saddles must be a flexible as the riders using them. Some saddles are perfectly flat, while others have a ridge or a flare at the rear. This is where personal preference comes into play.
Length: 
Some saddles feature longer noses, which can prove beneficial on climbs, as you can slide forward much further on a longer nose. On the other hand, small riders or XC racers looking to save weight typically find that a shorter nose does the trick.
Width:
Generally the wider the saddle the more comfortable the saddle is… or at least it appears so. Looks can be deceiving. Wider saddles will tend to start to rub the inner thighs after you have been riding for hours. So depending on how long you generally ride, a wide saddle could be beneficial or detrimental. It also depends on how wide your sit bones (ischeal tuberosity) are. A saddle that's too wide can also be problematic when you need to push your weight back to get behind the saddle on drops and descents.
Rails:
The bike's seatpost clamps into the rails. Cheaper saddles will use solid steal, which will also add weight to the saddle. As the price increases, the rails go to hollow steal, titanium, or carbon. The benefits of the more expensive materials are a lighter saddle and materials such as carbon fiber can be a little more flexible, which increases the comfort.
It's important to check your seat post clamp before purchasing a new saddle. Not all saddles and seat posts are compatible. For example, carbon rails tend to be oval, which may not be compatible with your current post.
Cut Out:
Some saddles have an open channel down the middle that's designed to reduce pressure on the perineum or the delicate soft tissue down there that has to endure every ride. Some riders can't ride anything but a cutout, others find this open groove to highly uncomfortable. Give one a try and see if it relieves pressure for you.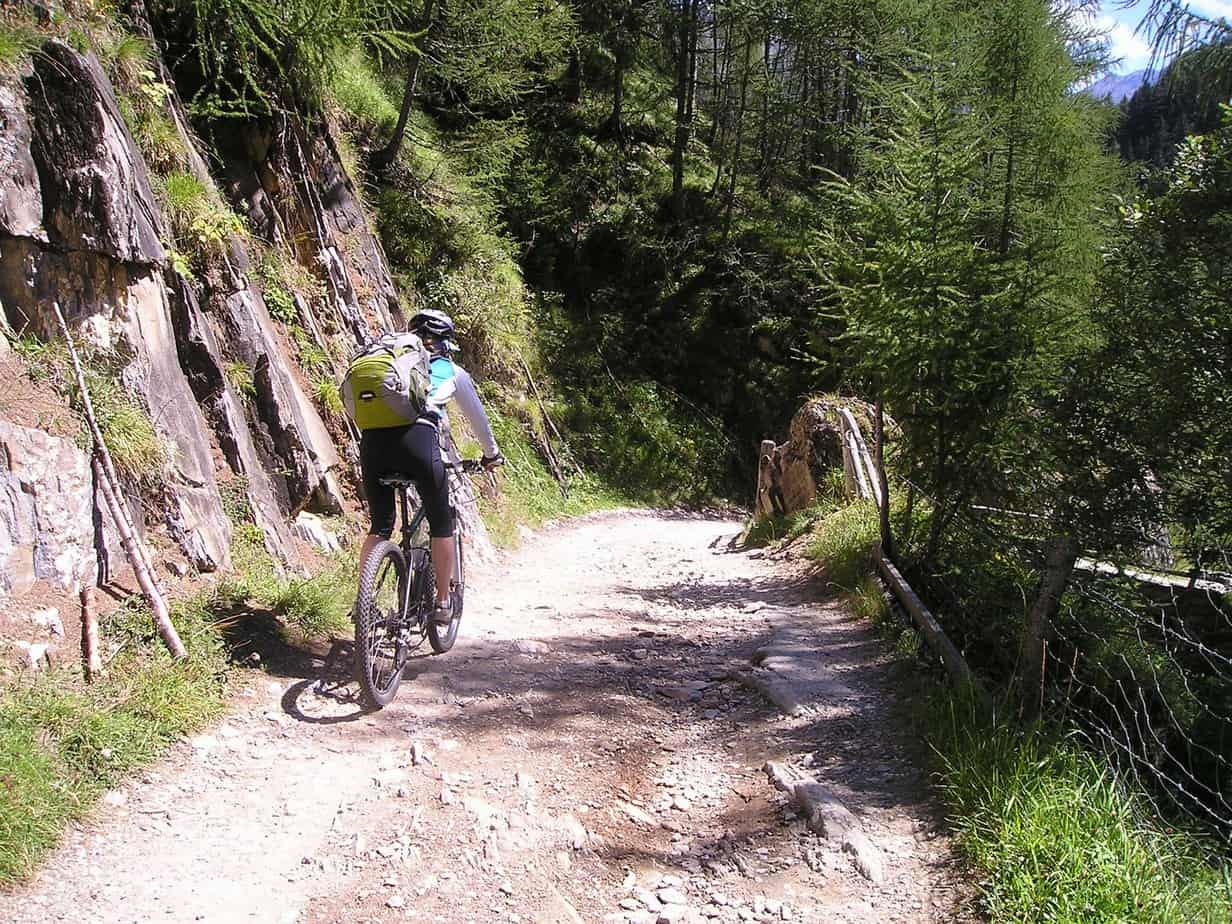 How Do I Find the Most Comfortable Mountain Bike Seat?
Honestly that is all rider preference. I have found that the most comfortable saddle is the one I am used to sitting on. Seriously, you'll get pretty attached once you find the one. However don't be fooled if a saddle is comfortable riding around the parking lot just testing it out.
The best way to find out how comfortable a saddle is to get a few good rides in. Just spinning around for five minutes or sitting on it in the shop isn't a good indication, but a good three hours will really show where any adjustments should be made and if it's right for you in the first place. Many saddles also have a break in period, so give it a few tries and some longer rides as well. It's also important to note that saddles do wear out over time. I've especially found this to be true of some saddles with cutouts.
Related: "What size bike do I need?" How to achieve the perfect bike fit
I've tried every saddle under the sun and nothing is comfortable, what do I do?
A good saddle is on part of the comfort equation. Padded shorts and chamois cream make a huge difference in comfort especially for those long rides or when you are riding consecutive days. Personally I would recommend Chamois Butt'r or Chamois Butt'r Her' (for the ladies), both available on Amazon.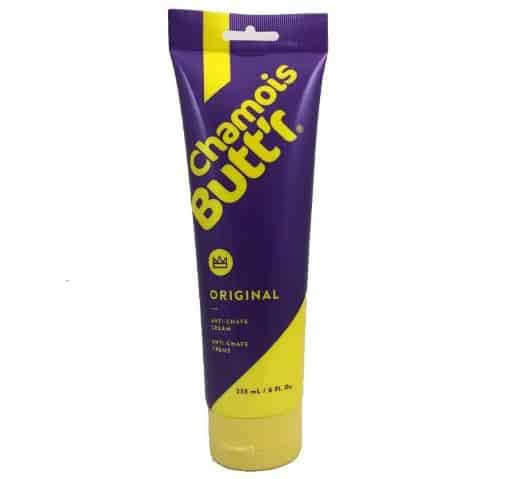 Chamois Butt'r Original | Amazon
Chamois Butt'r Original is a non-greasy skin lubricant developed by cyclists for use with all chamois. Chamois Butt'r isn't just for cyclists! It lubricates, soothes, and softens the skin of all athletes who experience chafing.
Buy at Amazon.com
We earn a commission if you click this link and make a purchase at no additional cost to you.
08/22/2022 08:56 pm GMT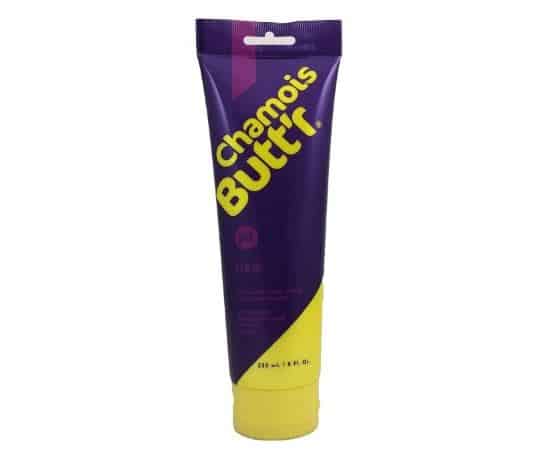 Chamois Butt'r Her' | Amazon
This was made specifically for women's more neutral skin pH by a female sports medicine physician in cooperation with professional women cyclists.
Buy at Amazon.com
We earn a commission if you click this link and make a purchase at no additional cost to you.
08/23/2022 12:03 am GMT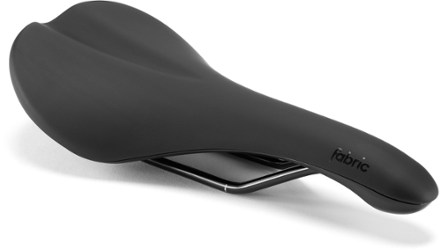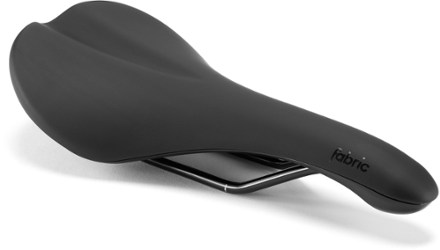 Weight: 266g
Best conditions: Dry
The Fabric Scoop is a durable, high quality, versatile, and comfortable saddle. It comes in three different shapes so no matter your riding style or body type, it's easier to find a comfortable saddle for you. For more flexible riders who like to shift around on the saddle, the flat option is probably the way to go.
For more powerful riders, the Fabric Scoop Radius Elite may provide more support, while the shallow shape provides a nice in between option. Furthermore there is also a women's option that has a similar shape to the radius but a little wider design and super soft gel.
The Fabric Scoop Elite (pictured above) is designed to be comfortable no matter the terrain. From road to gravel to trails, this saddle will hold up. The only downside is, due to its extremely smooth and sleek feel and look, muddy or wet shorts will tend to slide around. However if mud and water are of no concern, then this saddle is your most versatile option.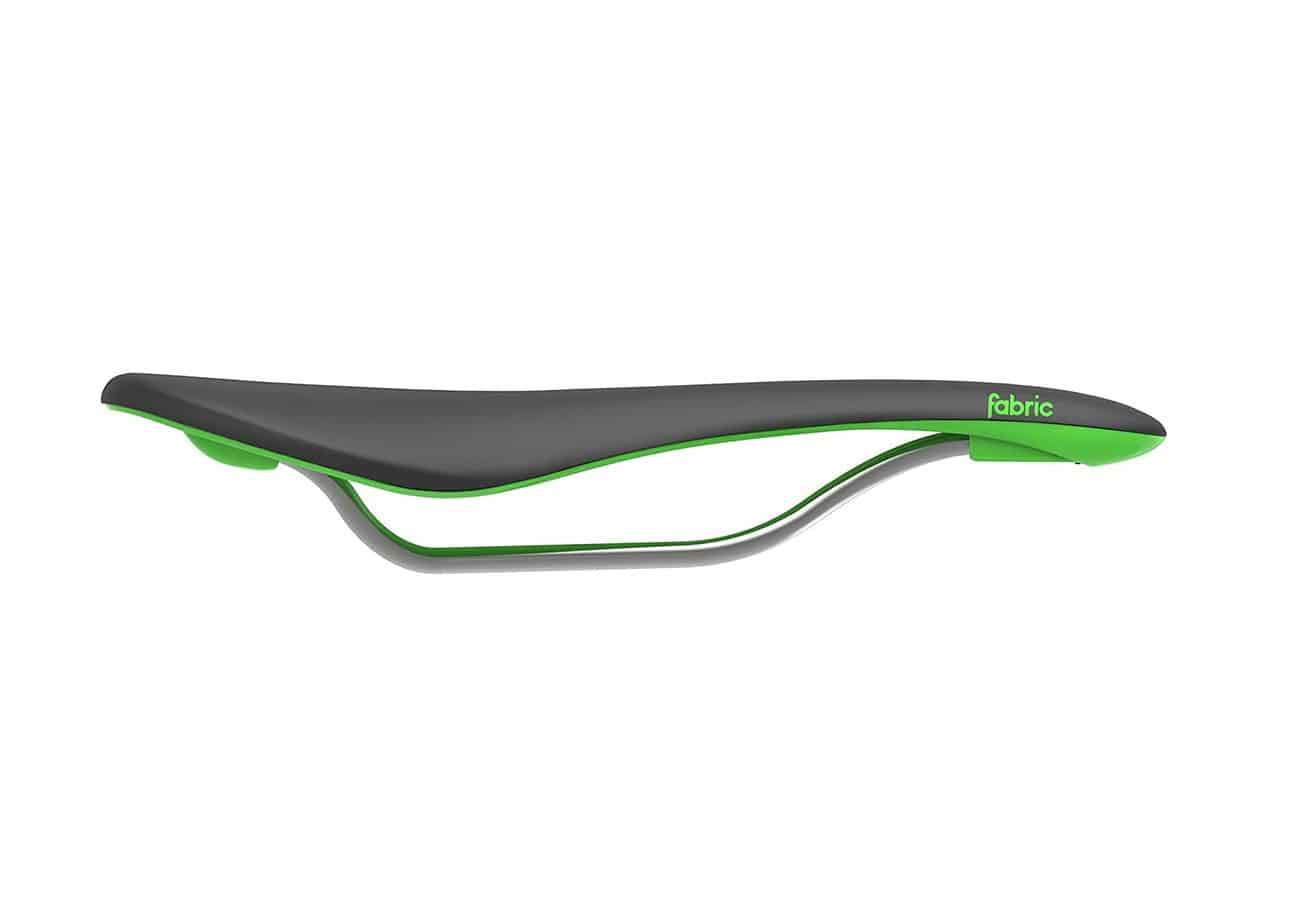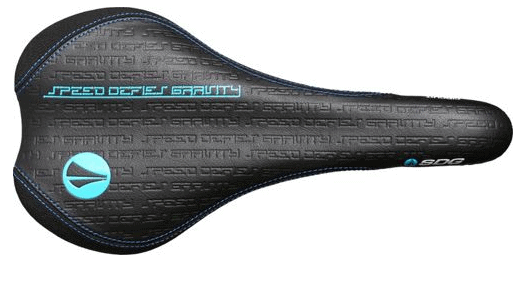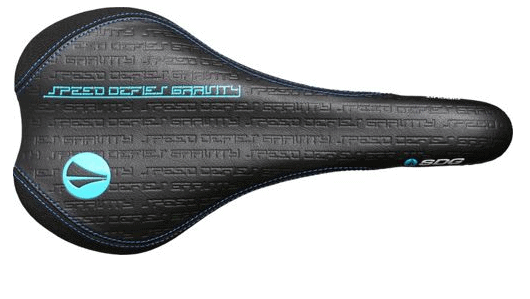 Weight: 220g
Best conditions: Mud
The Circuit was originally developed through professional road teams, but now spans multiple disciplines as a fast race-built saddle.
The saddle has the perfect weight to strength to comfort ratio using light-weight EVA foam and nylon glass fiber.
In addition, the saddle has a textured material that helps stop shorts from sliding around when conditions get sloppy. The Kevlar-covered edges along the sides help ensure this saddle will endure even the toughest conditions.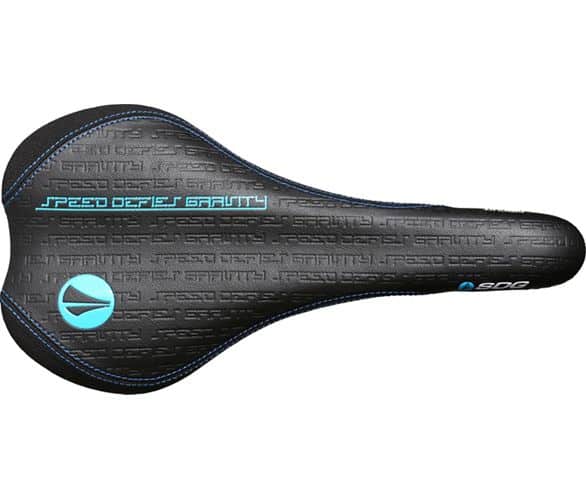 Weight: 243g
Best Conditions: All
The Phenom Comp checks all the boxes. It's so comfy you'll forget it's underneath you. Great for racing or all day riding and features a stiffness that doesn't affect the comfort, but makes for an excellent power transfer and pedaling efficiency. The full length cut out adds to the comfort, as does the tapered tail. It features Cr-Mo rails and a flexible carbon shell. The only downside is that it's slightly heavy when compared to the competition. The Phenom is available in medium and wide widths.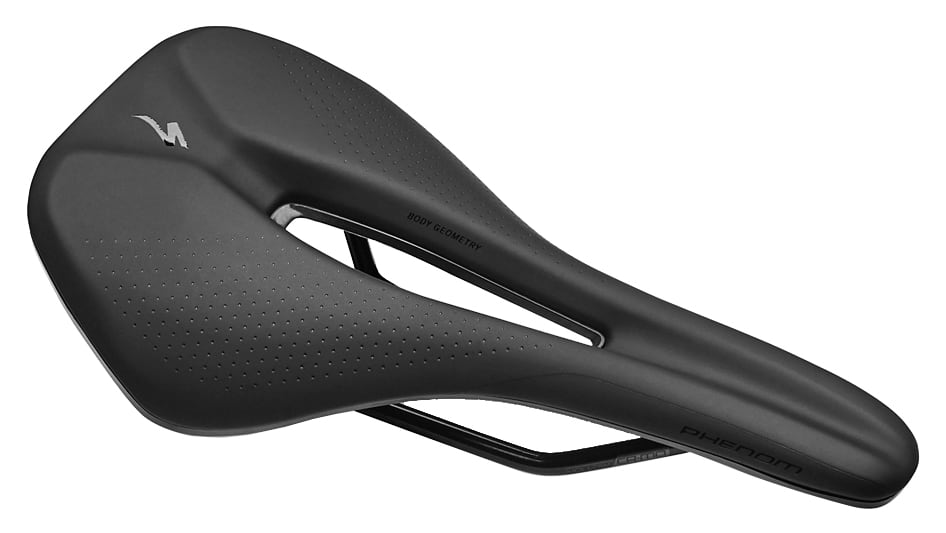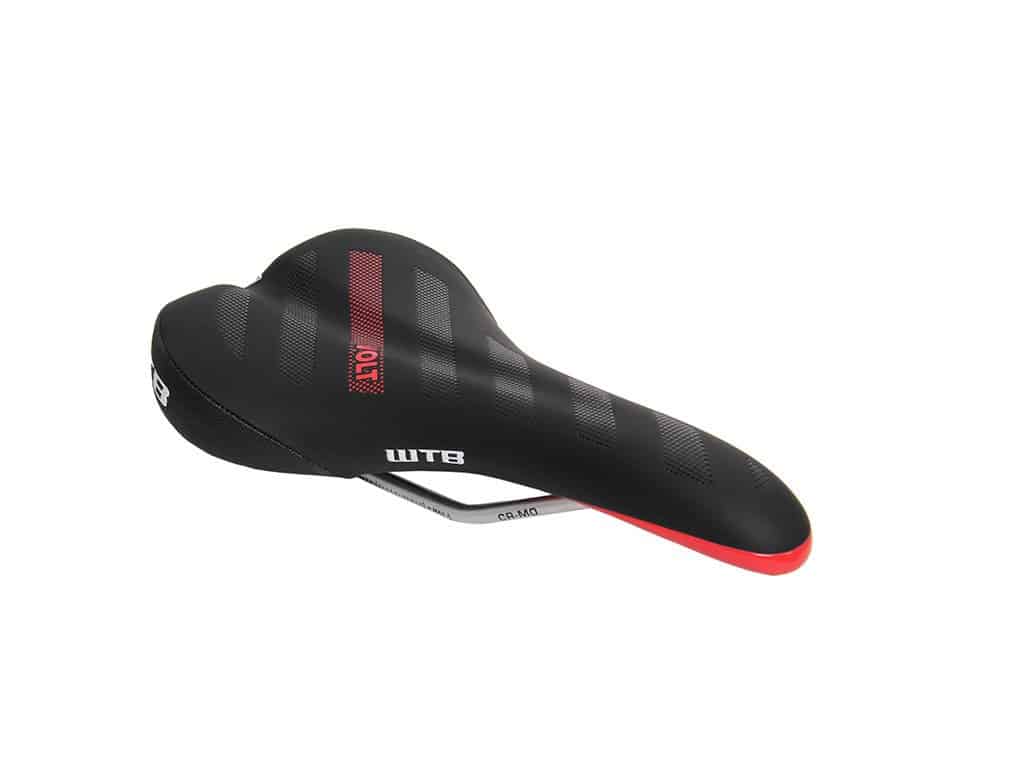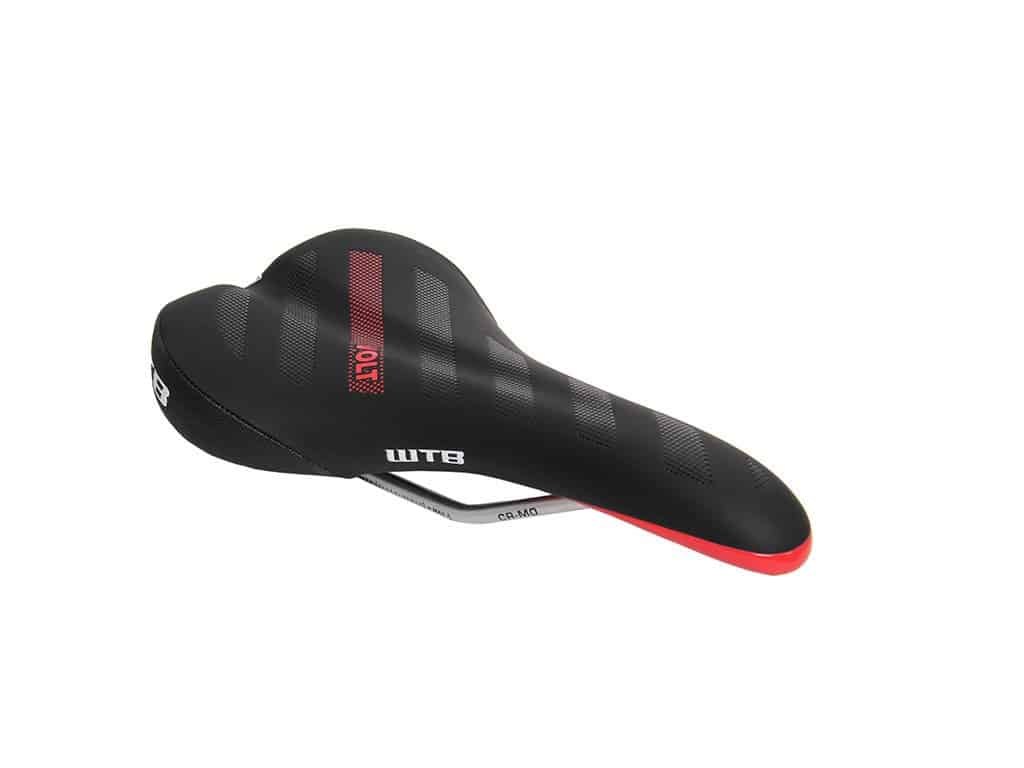 Weight: 262g
Best conditions: long rides
WTB continues to prove they make durable, long lasting, absolutely killer mountain biking equipment for the price.
The WTB Volt Race Saddle is one that will last you hundreds of miles of adventures. The saddle is designed to absorb vibrations coming up through the bike and helps to shift weight, depending on the trail to help maintain traction and relieve pressure points.
So when you are hours and hours into a ride, while other saddles may be starting to fail riders, the WTB Volt Race will stay comfortable. The saddle has a micro fiber cover that is water proof and durable making upside down trail repairs minimally taxing on the wear and tear.
Related: Treat and Prevent Saddle Sores: 6 Simple Remedies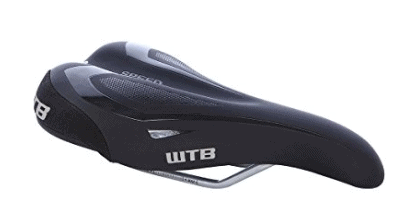 Weight: 362g
Best Conditions: weekend fun rides
With the only con for this saddle being its weight, you can't find a better saddle for a better price.
The WTB Speed Comp is a perfect saddle for the recreational mountain biker as the seat has more padding and has a unique ability to seem to fit everyone.
While the weight is a concern for some racers, if you're riding with your buddies there is no reason to pay excessive amounts for a lighter, less comfortable saddle. In addition, the Speed Comp has a women's version that is more ergonomically fitted for women.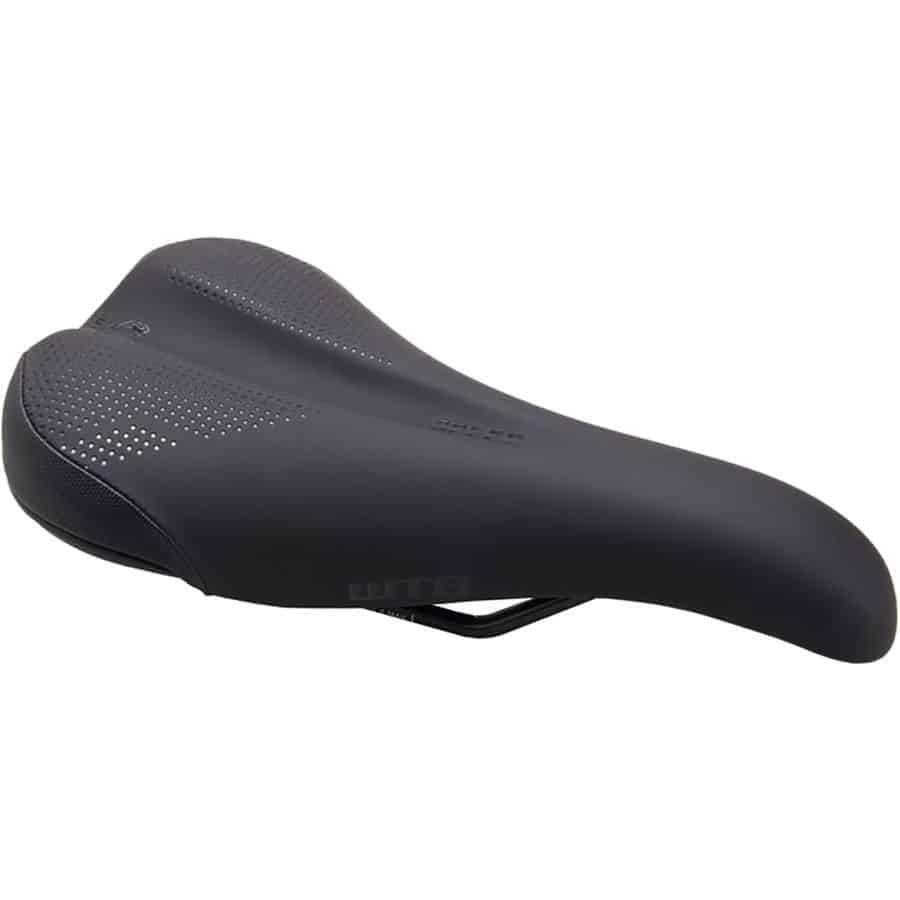 WTB Speed Cromoly Saddle | Competitive Cyclist
Moderation is key if you are new to cycling or enjoy dabbling in all aspects of life on two-wheels. With the WTB Speed Cromoly Saddle, you'll have a best-of-all-worlds design at your disposal, with an extended side-curtain — compared to other WTB models — so it won't catch on street clothing.
Check Price for Men
Check Prices for Women
We earn a commission if you click this link and make a purchase at no additional cost to you.
Best MTB Women's Saddle: SDG Allure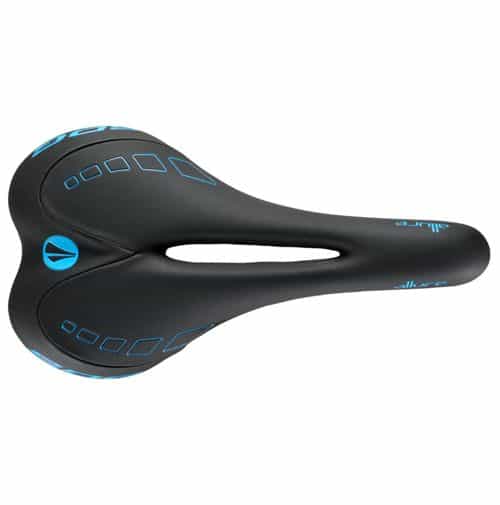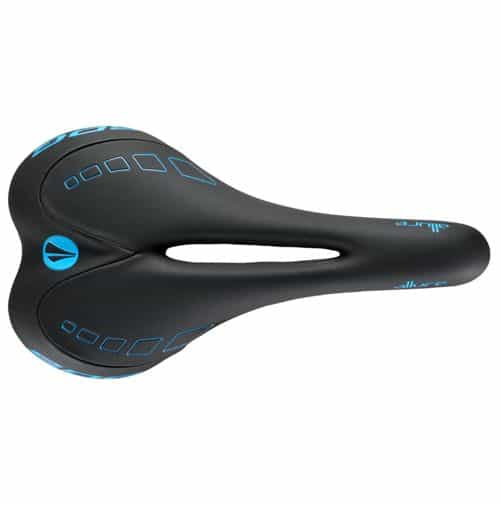 Weight: 260g
Best Conditions: For women
This women's specific saddle has been designed to be more comfortable and ideal for any cycling discipline.
The saddle is fitted with titanium-alloy rails and lightweight LPU foam. The foam increases comfort and the titanium alloy rails decrease weight while providing some flex.
The shape is perfect for an all-around good ride by having slightly tilted down nose to make it easier for climbing, but install a drop post and the seat is out of your way for the downhill. The only thing to be aware of is the long front can catch the back of shorts when descending something super steep.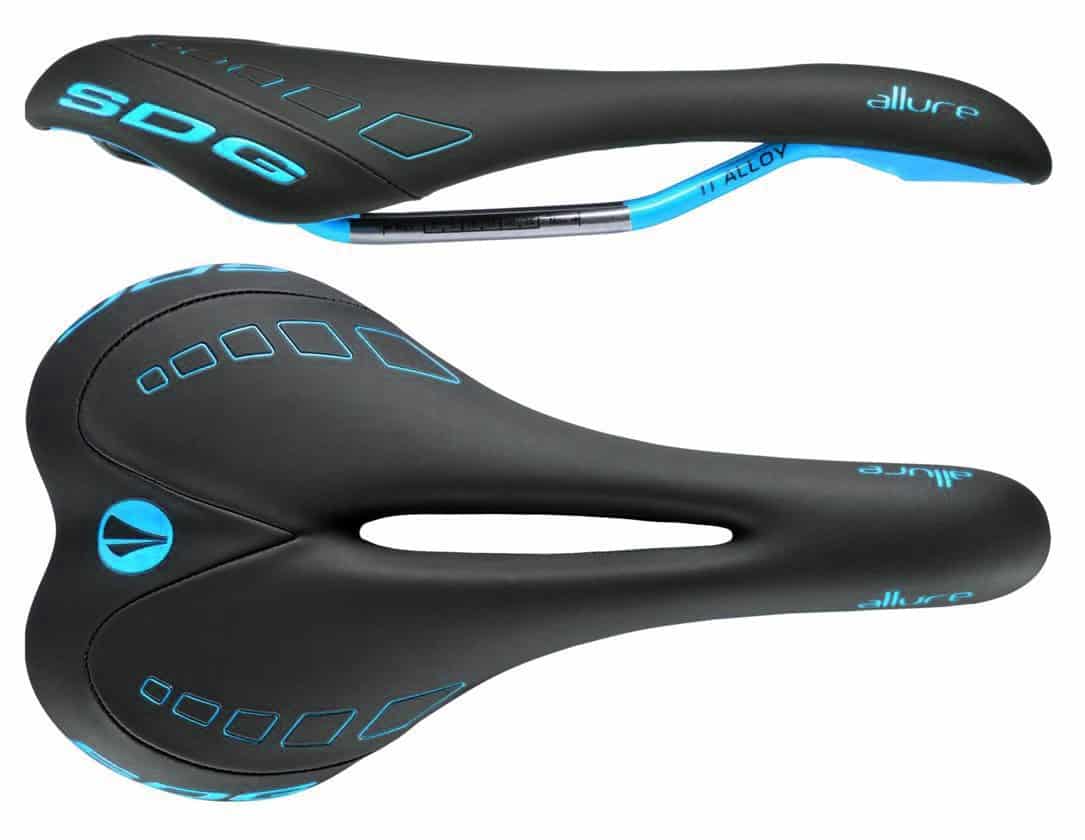 SDG Womens Allure Ti-Alloy Saddle | Jenson USA
SDG designed this saddle for women that spend hours on their bike. Whether you ride cross country, trail, enduro, downhill, or road, you'll find that the SDG Allure Women's saddle will keep your bottom happy.
Check Price
We earn a commission if you click this link and make a purchase at no additional cost to you.
Best MTB Saddle for Enduro Racing: Ergon SEM3 Comp

Weight: 228g
Best Conditions: All, but excels at Enduro
This lightweight saddle is designed to endure the terrain of Enduros. However, Ergon's SEM3 provides comfort across disciplines, due to a relatively flat design, tapered tail and comfortable shape. However, it's not recommended for long days in the saddle, as it's not as comfortable as our other picks. Available in 135mm and 145mm.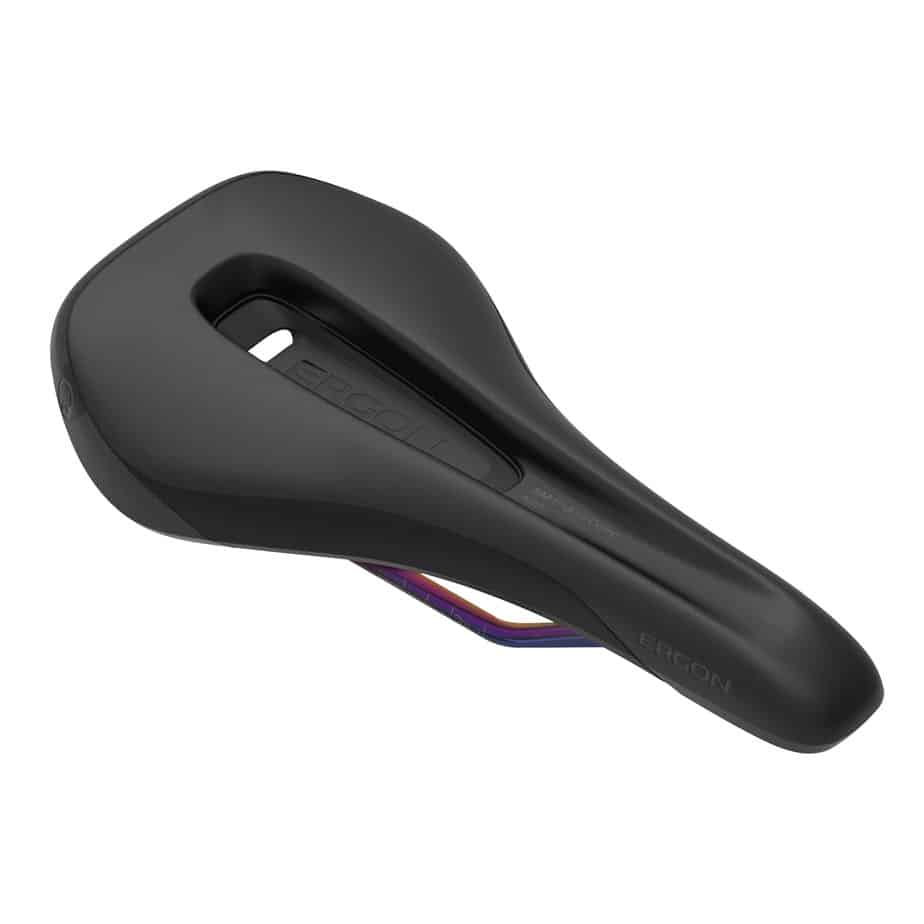 Ergon SM Enduro Comp Saddle | Jenson USA
The Ergon SM Enduro Comp Saddle is designed for performance-oriented enduro and gravity riders. It has a V-shape and a flat top, providing maximum freedom of movement in technical terrain.
Check Price
We earn a commission if you click this link and make a purchase at no additional cost to you.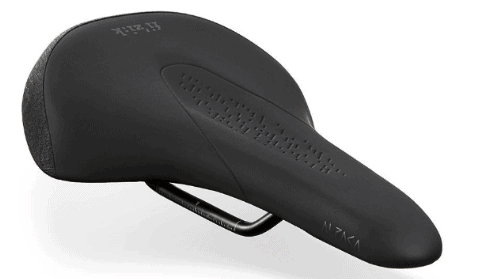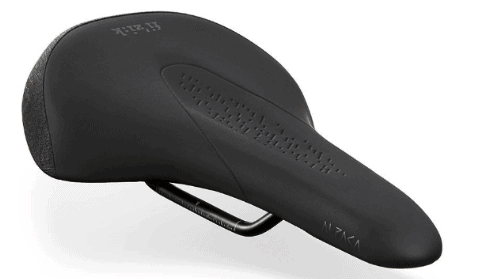 Weight: 238gm
Conditions: Technical
Designed in partnership with Santa Cruz Syndicate MTB team, the Alpaca is designed more for the task than the rider. Case in point: it's flat nose features a gradual transition, perfect for perching on during a steep climb and for quickly moving back and forth on undulating terrain. There isn't a cutout, but an indentation eases any pressure, adding to overall comfort. This is a lightweight saddle that riders familiar with Fizik will easily embrace.
Fizik Gobi M3 K:Ium Rail Bike Seat Pack
Made for mountain- the Gobi range is designed to give the best weight, support, flexibility and durability for marathon and enduro/all-mountain riding.
Buy at Amazon.com
We earn a commission if you click this link and make a purchase at no additional cost to you.

Weight: 172gr (without pads), 202gr (with pads)
Best For: Weight weenies and riders with narrow sit bones
Crazy torture device or mtb saddle? This unique design is not only stupid light, but it's surprisingly comfortable. Available in cromo black and white, this saddle is only available in 125mm width, which may be way too narrow for many riders, including women. For riders who need a larger saddle, check out the Tioga Undercover Stratum. But if you've got the hips to swing it, give this saddle a spin. It does a great job of absorbing shock and is very durable. To increase comfort, Tioga includes silicone anti-slip pads, which will add 24gr to the total bill.
Tioga Spyder Outland Hollow Saddle | Amazon
Float over rough terrains seated on a flexile web cover that continually absorbs shock, keeping you suspended. An ingenious silicone anti-slip pad (removable) minimizes sliding to keep you seated on the sweet spots.
Buy at Amazon.com
We earn a commission if you click this link and make a purchase at no additional cost to you.
08/22/2022 07:25 pm GMT