Latest posts by Alison Ingleby
(see all)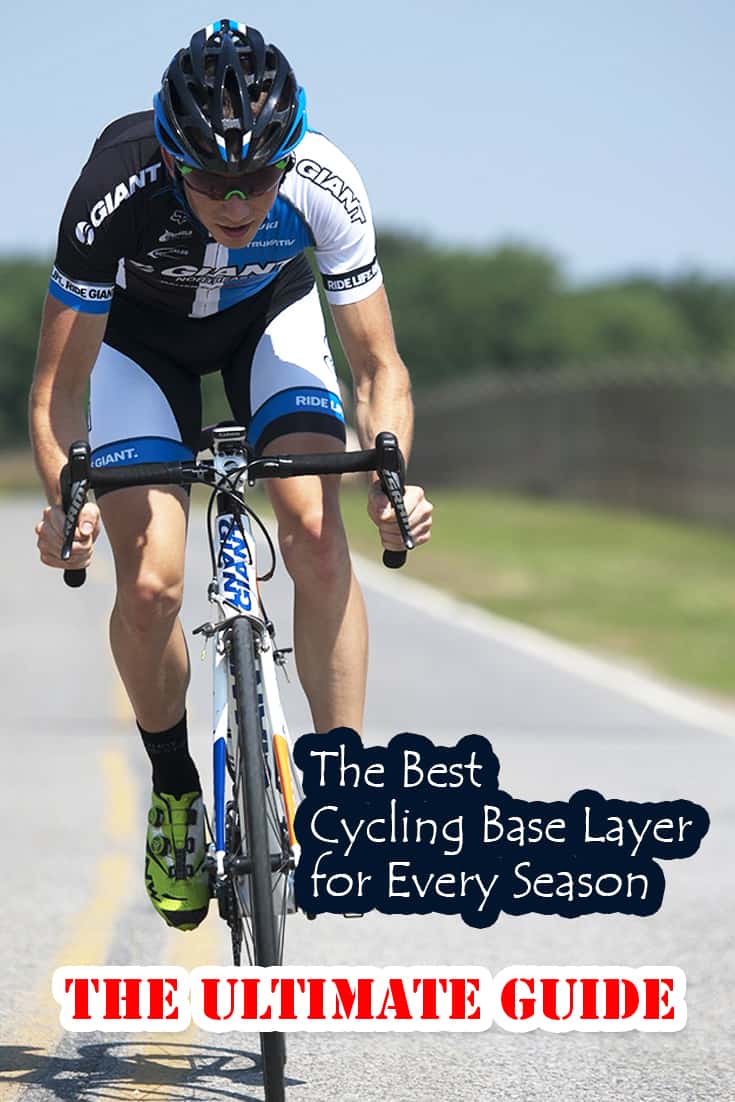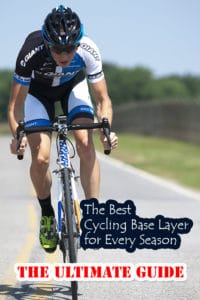 A good base layer will keep you warm in winter and cool in summer. It adds comfort, especially under bib-shorts, and can help you regulate your body temperature by wicking away sweat. Plus, it provides an extra layer of protection from road rash if you take a spill.
In this buyer's guide we cover:
What to consider when buying a base layer

How to care for your base layer

Our favorite base layers for all seasons
Our Favorite Base Layers
| Base Layer | Price Range | Color(s) | Style | Best for… |
| --- | --- | --- | --- | --- |
| Craft Cool Mesh Superlight Sleeveless Base Layer | $ | White, black | Sleeveless | Hot weather, summer |
| Castelli Pro Issue Short-Sleeve Base Layer | $$ | White | Short-sleeved | Warm and hot weather, spring, fall |
| Assos LS.SkinFoilSpring/Fall_s7 Body Insulator | $$$ | Blockblack | Long-sleeved | Cold weather, winter |
| Endura BaaBaa L-S Base Layer | $$ | Black, orange, ultramarine | Long-sleeved | Cold weather, winter |
| Pearl Izumi Transfer Long-Sleeve Base Layer | $$ | Black | Long-sleeved | Cool weather, spring, fall |
| Pactimo Thermoregulator L/S Base Layer | $$$ | Grey | Long-sleeved | Cool and cold weather, spring, fall |
| Rapha Merino Mesh Base Layer | $$ | Black | Short-sleeved | All-season |
| Dhb Merino Long Sleeve Zip Neck Base Layer | $$ | Dark gray, navy | Long-sleeved | Cool and cold weather |
| Pactimo Zero-Weight S/L Base Layer Womens | $ | Midnight/magenta, Topo Tangerine, Topo, White, Topo Blue | Sleeveless | Hot weather, all year round |
| Gore Bike Wear Base Layer Windstopper Lady Turtleneck | $$ | Black, Light gray/white | Long-sleeved | Cool and cold weather, windy weather |
Base Layer Buying Guide
Fit and Style
Base layers typically come in one of three styles: long-sleeved, short-sleeved or sleeveless. Long sleeves provide more protection and are warmer in winter, whereas short sleeves or sleeveless models are better suited to warmer seasons.
Base layers are designed to be close fitting and worn next to the skin. You want to make sure it's long enough in the body to cover your back when you're bent over in the saddle, and, for long-sleeved tops, that the arms are long enough to cover your wrists.
If you're going for a model with sleeves, then raglan sleeves will give you good freedom of movement – they extend up to the collar, with a diagonal seam to the underarm.
Material
There's a wide choice of base layers available in both natural or synthetic fibers. Man-made materials (typically polyester blends) are often more effective at wicking away sweat, but they do start to smell after a while. If you'd prefer natural fibers, merino wool is the fabric of choice. It's fast-drying, stays warm when wet and is largely stink-resistant: a great option for everyday commuting in colder climates.
Warm but not too warm
Base layers come in different weights, giving different levels of warmth. There are no hard and fast rules about which weight is 'best': while one person might layer up the thermals when the temperature drops, another can be toasty in a t-shirt in the middle of winter.
If you fall somewhere between these two extremes, then it's likely you'll want a range of base layers to deal with different weather conditions. Investing in a short-sleeve top, such as the Rapha Merino Mesh base layer, and a long-sleeve like the Pearl Izumi Transfer, will see you through spring, summer and fall. Layered together, they'll keep you warm on all but the coldest winter days.
Looking after your base layers
For the most part, you can wash your base layer with your other cycling gear. If you're worried about delicate fabrics snagging on Velcro, then pop use a pillowcase or washbag to protect it.
You do have to be a bit more careful with merino base layers as wool is prone to shrinkage at high temperatures. To avoid your favorite cycling top coming out of the machine baby-sized, check the label first and avoid the tumble drier. Merino base layers don't need to be washed as often as synthetic layers and you may want to wash them separately from the rest of your cycling clothing, on a specific wool wash.
If your base layers are getting really smelly, a specific odor eliminating wash can help get rid of the funk.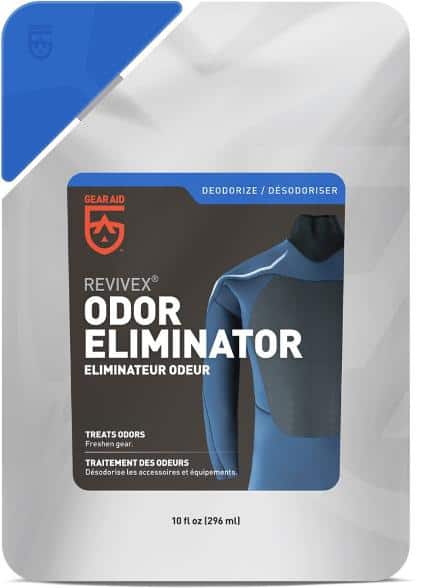 Gear Aid ReviveX Odor Eliminator | REI Co-op
Mildew, body odor and other stinky scents can ruin valuable gear. When washing isn't enough, try the powerful Gear Aid ReviveX odor eliminator. The 10 oz. packet is good for several applications.
Check Price
We earn a commission if you click this link and make a purchase at no additional cost to you.
Best Base Layer for Summer
It may sound counter-intuitive but adding an extra layer on a hot day may be more comfortable than just wearing a jersey. You want a lightweight layer that's designed to wick sweat away from your body and cool you down, as well as preventing chafing from bib short straps.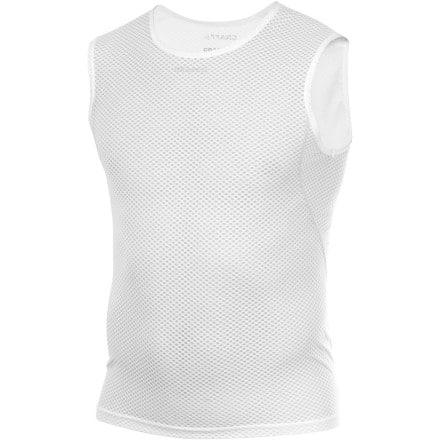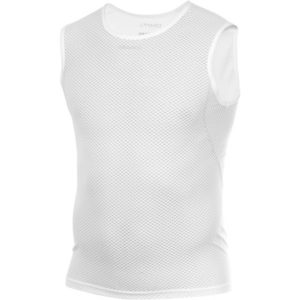 This featherweight top has a mesh structure that effectively pulls sweat to the surface of the fabric for evaporation. It's so lightweight you'll barely know you're wearing it and has a generous fit with a long tail. It's designed for summer, but it's so effective at wicking away sweat that you may find it useful to regulate your body temperature under warmer layers in winter.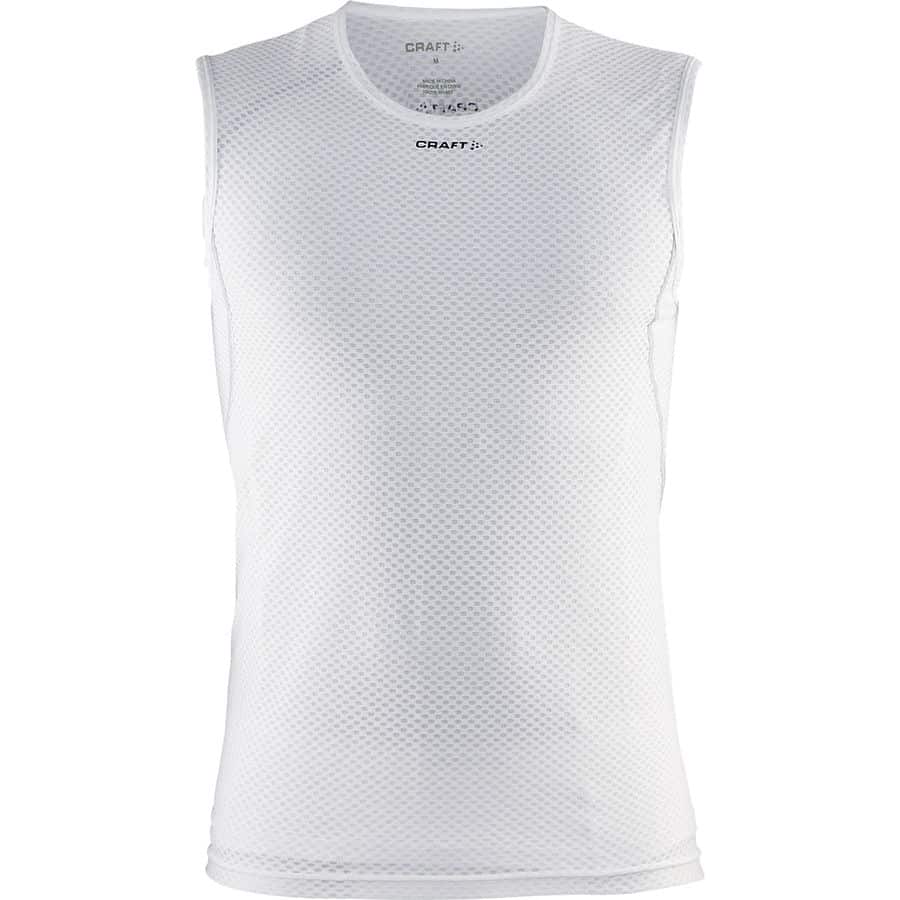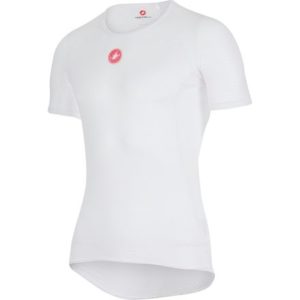 A performance-based layer that wicks away sweat as fast as you can generate it, this base layer is designed for pros. It has a race cut (and is an Italian brand) so the fit is snug but the minimal seams and flat hem make it feel almost like a second skin. If you regularly cycle in very hot temperatures, the Craft Cool Mesh may be a better bet, but if you're looking for a base layer that's good for a range of summer temperatures as well as late spring and early fall, the Castelli is a great choice.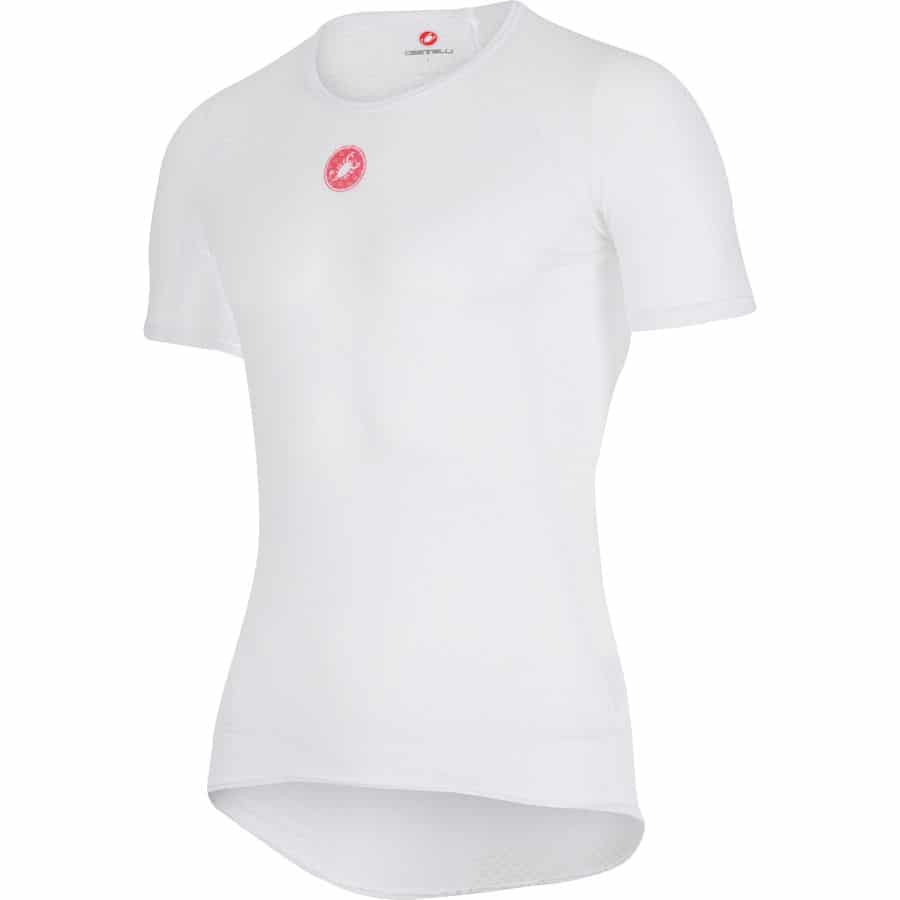 Best Base Layer for Winter
You'll want a heavier weight option for winter, but still something that wicks away sweat and is slim enough to fit under a jersey or softshell jacket. A high collar and thumb loops will keep your neck and wrists warm in the coldest temperatures, but you may want a zip neck to help you cool down on the hills.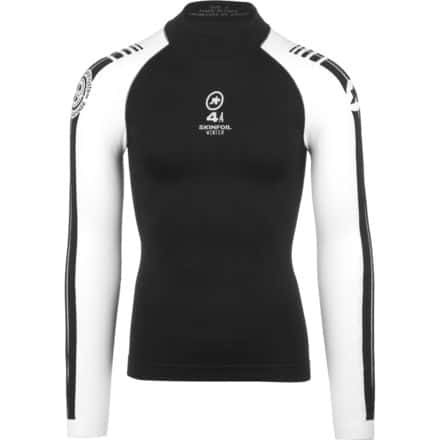 Aside from having the most complicated product name ever, this winter base layer is one of the best money can buy. (And you'll need a good wad of cash to buy it.) It's designed to be skin-tight, but the seamless design is stretchy enough to adapt to different body shapes and not restrict movement. It does a fantastic job of regulating body temperature in different conditions but is best suited to cold weather.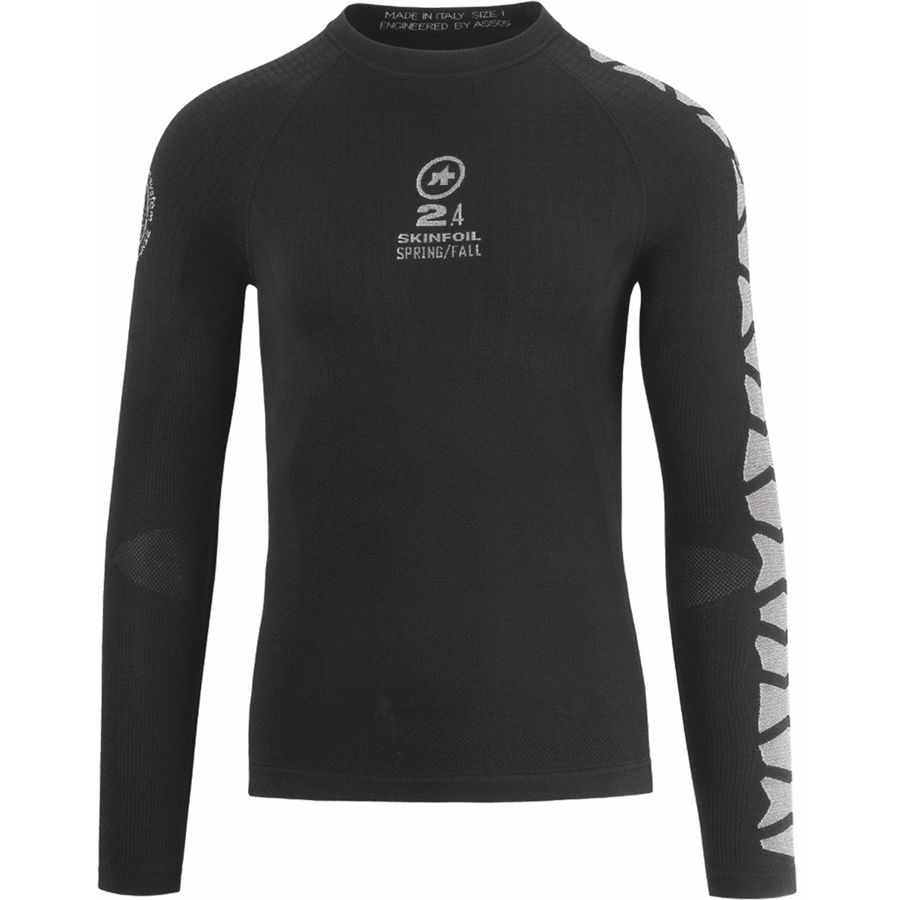 Assos LS.skinFoilSpring/Fall_s7 Body Insulator - Men's | Competitive Cyclist
SkinFoil is Assos' name for its body-hugging, temperature-regulating baselayers, which are constructed with no visible seams to eliminate chafing and enhance mobility. A blend of nylon and polyester moves moisture quickly away from your skin, and the compressive fit helps support muscles to decrease fatigue.
Check Price
We earn a commission if you click this link and make a purchase at no additional cost to you.
As you might expect from the name, this base layer is made from 100% merino wool. This means the fit isn't quite as body-hugging as synthetic fabrics, which will be welcomed by those looking for a more relaxed style. It's naturally odor-resistant and will keep you warm even when wet. A great winter option for commuters and anyone else who prefers natural to synthetic fibers.
Endura BaaBaa Merino Long Sleeve Cycling Baselayer | Amazon
The Endura BaaBaa Merino Long Sleeve Cycling Baselayer is the best insulating baselayer you can find on the market made from ultra soft BaaBaa wool. Endura is Scottish. Sheep live in Scotland. Endura knows wool.
Buy at Amazon.com
We earn a commission if you click this link and make a purchase at no additional cost to you.
Best Long-Sleeved Base Layer
These long-sleeved base layers are perfect for the days when there's a nip in the air in early spring or fall, or for layering in the depths of winter.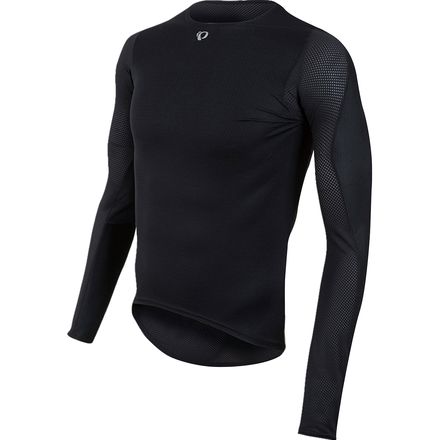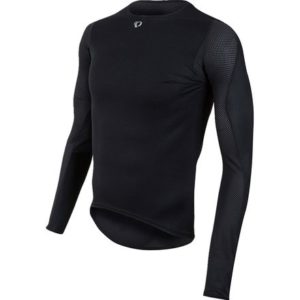 Perfect for transitional weather in the shoulder seasons, the Transfer Base Layer is thin enough to layer under a jersey and does a good job of wicking away sweat. Unlike the Pactimo, the fit is long, with a drop tail at the back so you won't get any cold spots.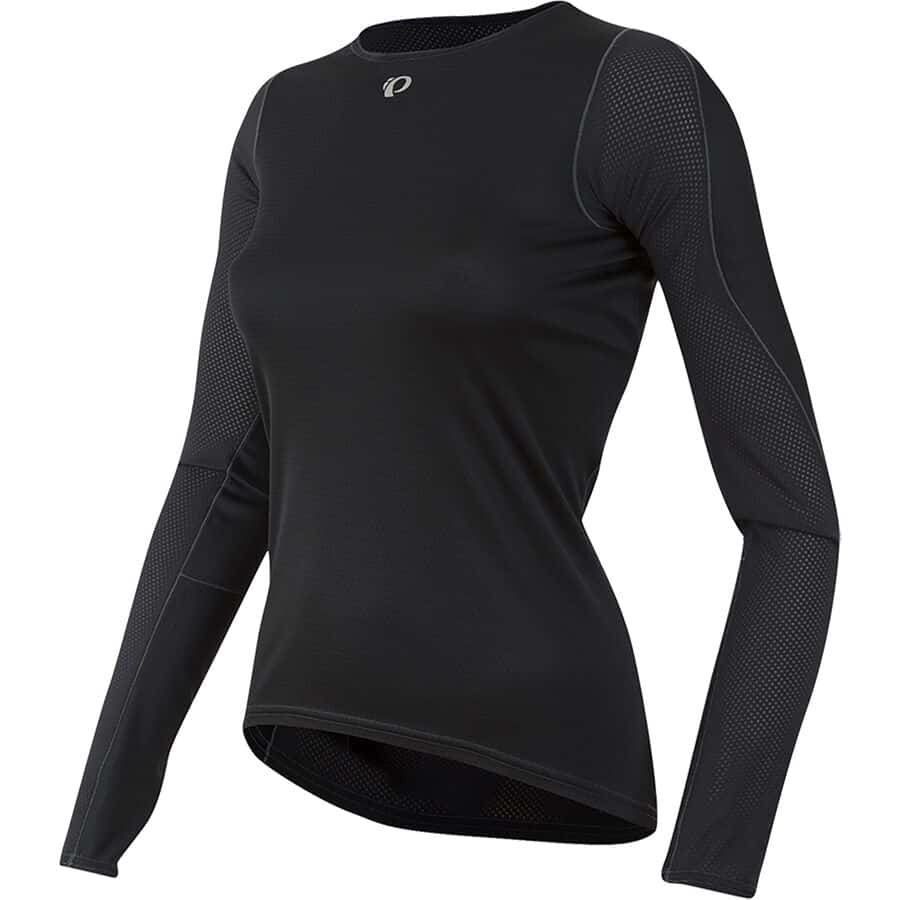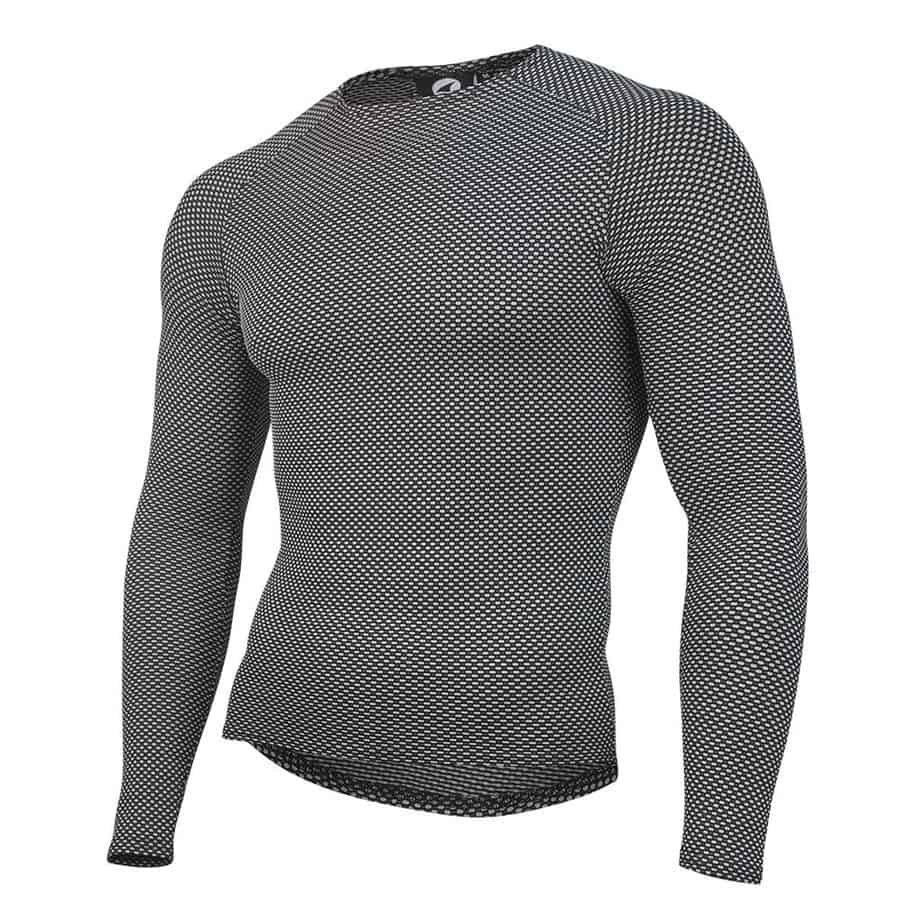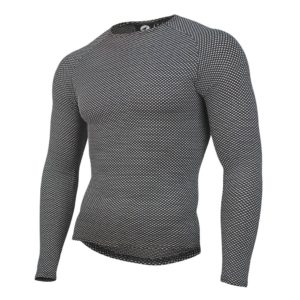 The Thermoregulator uses Dryarn® – the lightest textile fabric in the world – to push moisture away from your skin, keeping you warm and dry. This base layer is exceptionally thin, stretchy and comfortable, and is a great option for mixed weather rides as well as cool and cold conditions. Taller riders may find the fit a bit short for their liking.
Best Merino Wool Base Layer
With its anti-odor properties, merino wool is a great choice if you don't want to be washing your base layer after every ride. It's soft against your skin, comes in a variety of weights and you can walk into the office after your morning commute without worrying about your colleagues turning their noses up.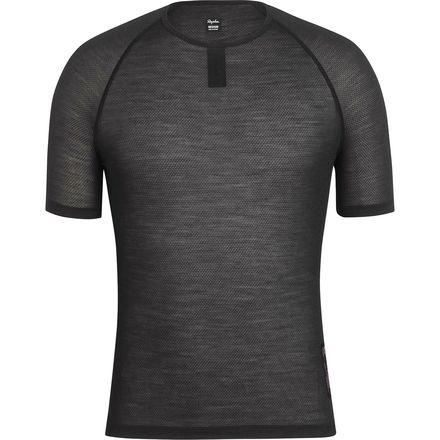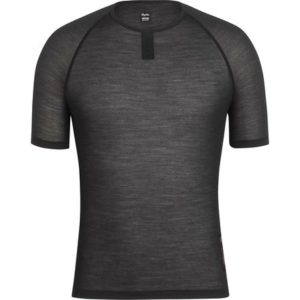 A lightweight, short-sleeved top that's perfect as a year-round base layer. Merino wool is blended with polyester to give a form-fitting fit with raglan sleeves and smooth flatlock seams. A great choice for everyday commuting, all year round.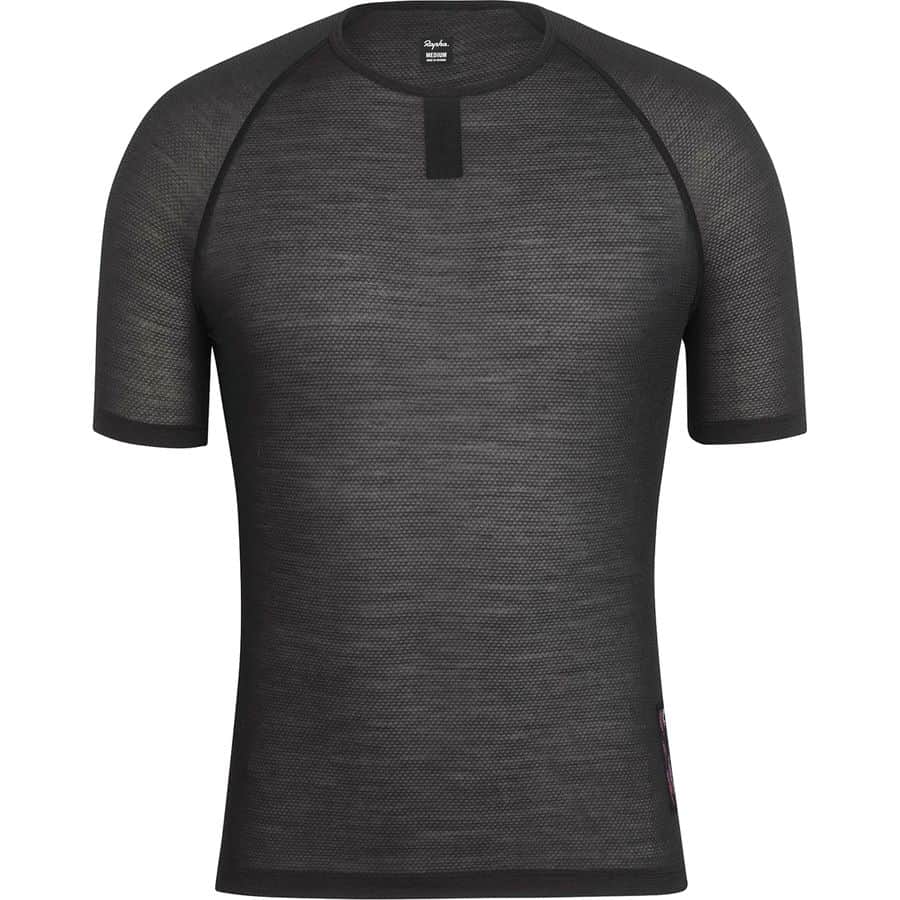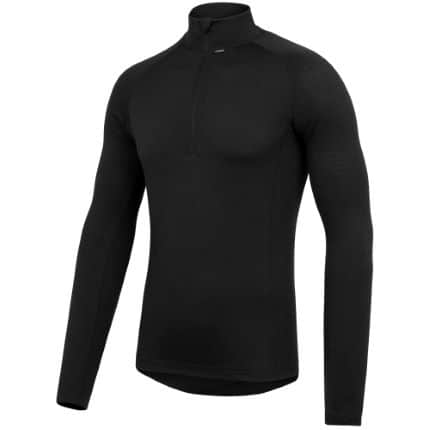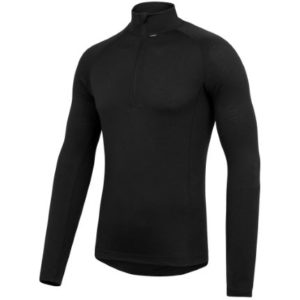 One of the few 100% merino wool cycling base layers, this long-sleeved top has a high neck with a zip for flexible ventilation. Wear it as a base layer in winter or on its own on chilly spring or fall days. A good value choice for regular cold-weather use.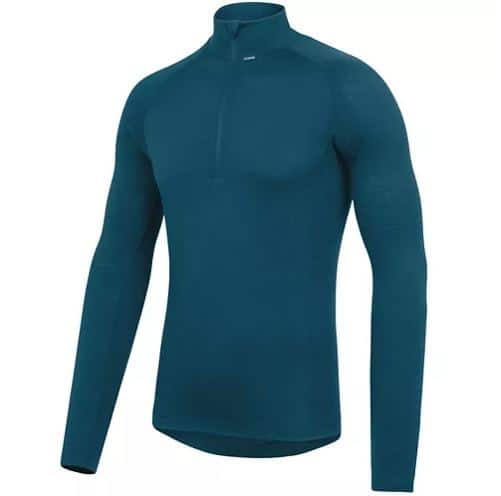 Best Women's Base Layer
Technical tops with a female-specific fit.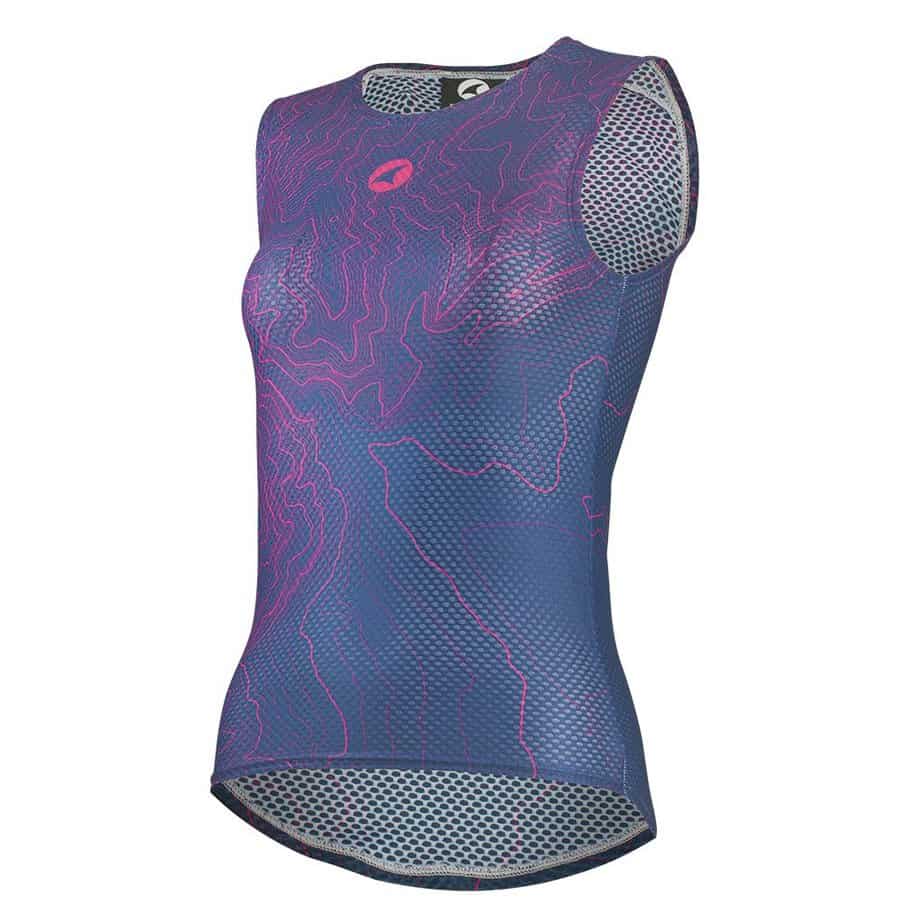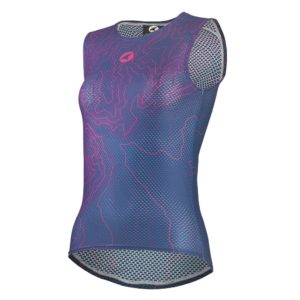 This stylish sleeveless top has a honeycomb texture to maximize wicking performance. It's designed to fit close to the skin, but even on hot days, it's so light and comfortable you'll forget it's there, and it's a good option to pair with a thermal jersey in colder weather. The fit is on the short side, so if you're tall or have a long body, you may struggle to tuck it into your shorts.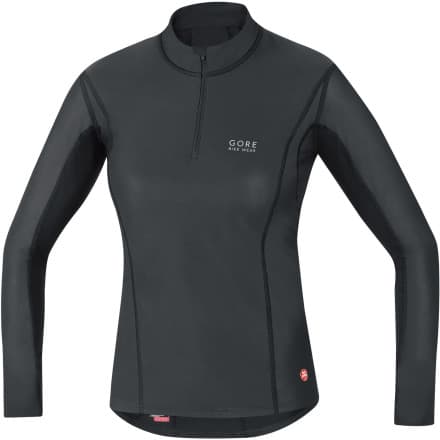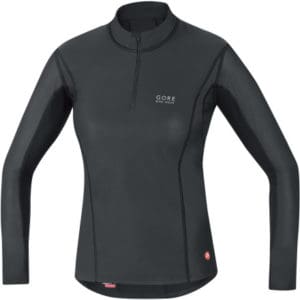 Designed for cold and windy rides, the Windstopper panels on the front and back of this base layer will stop the wind from cutting to the bone, and breathable underarm panels and a zipped neck help you regulate your temperature. Perfect for women who feel the cold and don't want to stop riding in winter.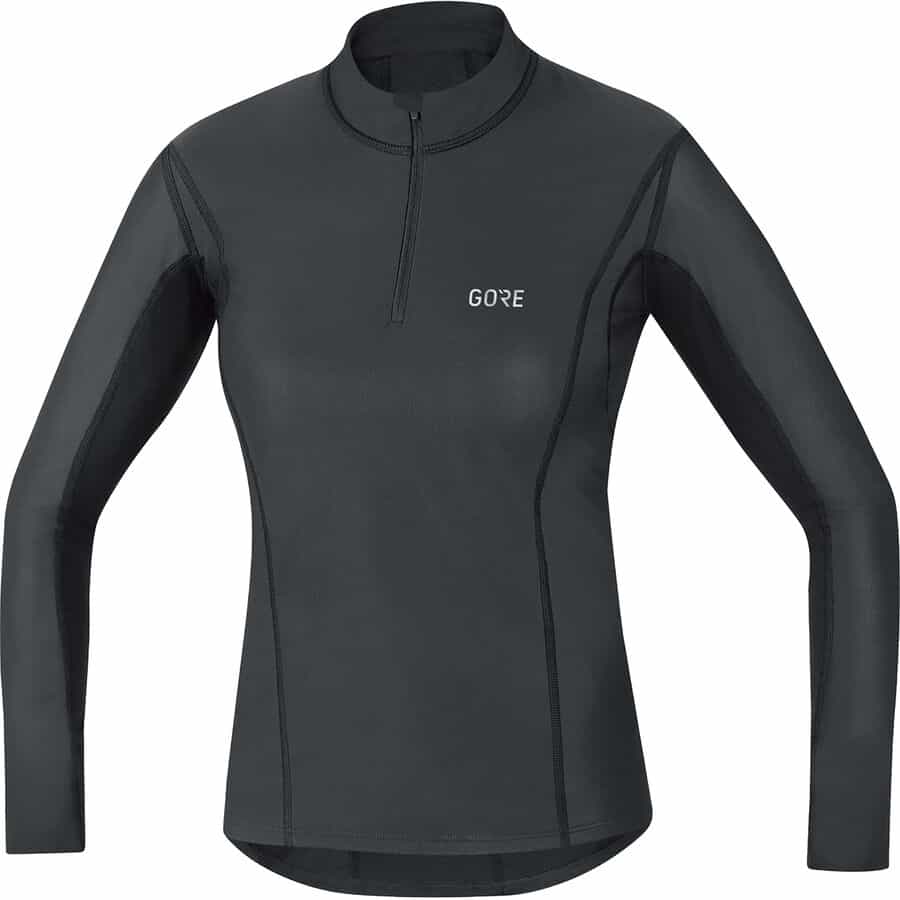 Related Posts: Is Your Seat a Pain in the Butt? How to Choose the Best Road Bike Saddle