Latest posts by Alison Ingleby
(see all)
In 2021, looks are vying with functionality on the cycling shoe catwalk. Bling is back, with shiny metallic uppers, funky colors and 'oil-slick' (i.e. bright and shiny) soles. Taking the Bling Beauty Queen title is the Gaerne G. Stardust, a shoe which arguably looks more at home at a 70s disco than pedaling up a mountain pass.
While we're waiting for some of these shoes to hit the market, we've been looking at some of our favorite tried-and-tested models. (And yes, many are pretty as well as functional.) While we may not balk at spending thousands of dollars on our bikes and associated components, when it comes to shoes, our wallets often win the battle with our hearts (or feet).
But cycling shoes aren't just something to keep your feet cool and dry. They can directly impact your performance, both by transferring power efficiently from your legs through to the pedals and by being comfortable enough to allow you to keep that power transfer up hour after hour. An ill-fitting pair of shoes will make cycling a misery and you may be surprised at just how much faster you can go with a stiff, well-designed shoe.
Your perfect shoe will depend on a number of factors including the shape of your foot, the type of cycling you're doing and the level of performance you're aiming for. In this article, we'll be looking at shoes that are designed for clipless pedals. If you're used to flat pedals and are looking to upgrade, check out this article for tips on getting started with clipless pedals.
Our Top 3 Best Buys
Budget: Fi'zi:k R5B Boa – value-for-money shoe that looks good, feels great and has some high-end features for the price. We've reviewed the women's version (the Fi'zi:k R5B Donna Boa) below.
Mid-price: Shimano SH-RC7 – lightweight racing shoe with a carbon composite sole, available in standard and wide fits.
Splurge: Giro Empire SLX – incredibly light and stiff lace-up shoe designed for performance and comfort.
What to Consider When Buying Road Bike Shoes
When shopping for a new pair of cycling shoes there's a lot to think about:
Sole type and stiffness: shoes will typically have either a plastic, carbon composite or full carbon outsole. Carbon soles are stiff, light and expensive, so tend to be reserved for performance shoes. Although stiffer soles give better power transfer, they don't suit everyone. If you mostly use your bike for commuting or touring then you may value comfort and practicality over power transfer.
Fit: the most comfortable shoe is the one that fits your foot! While it may sound obvious, there's no substitute for trying different makes and models to determine which suits you best. As a general rule, Sidi, Specialized, Fizik and Giro tend to fit narrower feet while Bont and Shimano are often better options for wider feet. If your feet are an unusual shape and you have a hard time finding comfortable shoes then it may be worth looking at heat moldable shoes.
Fastening system: most performance cycling shoes have a dial and wire closure system (either Boa closures or own brand equivalent) which allows for precise adjustment on the move. Lower priced models are more likely to have ratchet or Velcro straps. Laces are making a bit of a comeback and give a precise fit, but can't be adjusted on the move.
Cleat system: most road bike shoes are designed for three-bolt cleat systems. Although Speedplay pedals use four-bolt cleats, they can be converted for three-hole shoes. If you're not sure which pedals are right for you, have a look at these articles comparing Speedplay and Shimano pedals, and Speedplay and Look pedals. Two-bolt systems are typically used for mountain biking but beginners or commuters may prefer this setup as it's a bit easier to get in and out of the pedals.
Material: the upper materials will affect the fit and weight of the shoe as well as its warmth, breathability and weatherproofness. If you predominantly cycle in hot climates, then you'll want a well-vented, breathable upper to keep your feet cool. For more temperate climates, a less ventilated model may be more comfortable for year-round cycling.
Style: most serious cyclists place functionality before style, but there's no denying that if you feel confident and fit on the bike, you're likely to perform better. And if stylish new shoes help you feel like a pro, then who are we to disagree?
Best Road Bike Shoes for Racing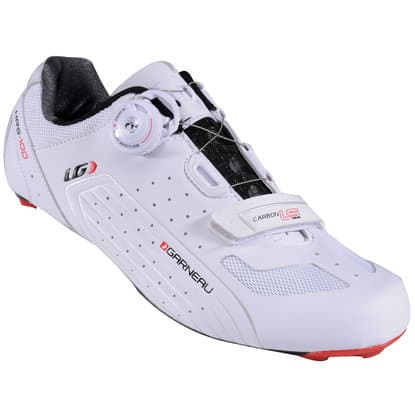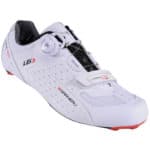 The LS-100 is an impressive shoe for the price. The carbon fiber sole and lightweight synthetic leather and mesh upper make this shoe lighter than many pricier performance models. They're stiff enough for most people (though not as stiff as top-end models) and the Boa L4 closure system is one of the best on the market. There's a newer version of this model (the LS-100 II), but there's little difference in spec, and you can save a few bucks by grabbing the LS-100 on sale.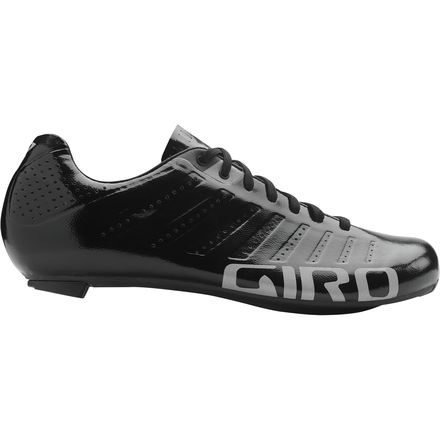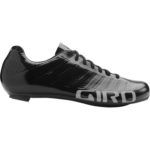 The Empire SLX shoes are as light as light can be. The carbon sole, titanium hardware and lace fastening system mean the shoe weighs in around 100g lighter than its competitors. You don't get the instant on-the-bike adjustment of a Boa dial system and they'll take a minute longer to take on and off, but Giro's lace system is both comfortable and secure.
Best Road Cycling Shoes for Women
The Fi'zi:k R5B Donna shoe hovers between a budget and mid-range option, depending if it's on sale. Either way, it's fantastic value for money. Sleek, comfortable and extremely breathable, the R5B is designed for long summer rides and the Boa dial system allows you to adjust the fit on the move. The comfort and features make this a deservedly popular shoe.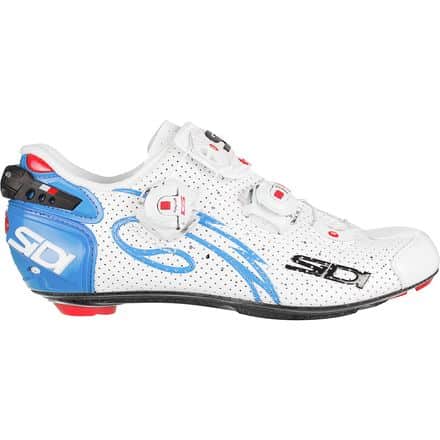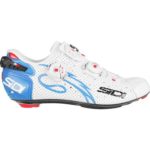 The Wire Air Carbon is a performance shoe with a stiff carbon fiber sole and a 360-degree retention system that aims to hug your foot like a glove. Although it's a little heavy for a race shoe, the precise fit means you get both comfort and excellent power transfer. These shoes aren't cheap, but as you can swap out many of the parts, they'll last you for years.
Best Road Bike Shoes for Wide Feet
Mid-range: Shimano SH-RC7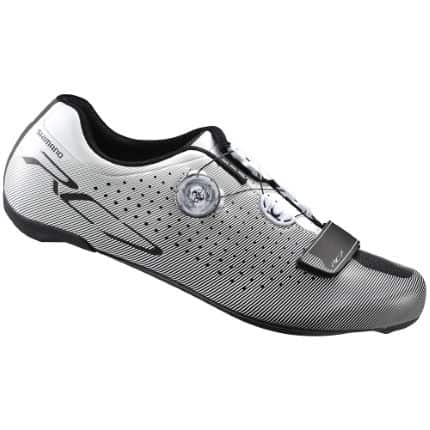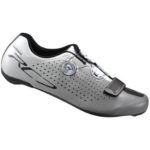 Shimano shoes are often a good option for wider feet and many models, including the SH-RC7, are available in both a standard and wide fit. This is a mid-range, lightweight racing shoe with a carbon composite sole and decent ventilation. The only downside is that the finish scuffs easily, so your new shoes won't stay looking new for long.
Splurge: Bont Vaypor S shoes
The Vaypor S comes in three widths, and Bont's square toe-box is renowned for giving wider feet some extra room. If they're still a little snug, then the shoes can be heat molded for a more precise fit.
This is a performance shoe with a super-stiff carbon sole – there's almost no flex at all, which won't suit everyone. But unlike many stiff shoes, with the Vapor S you don't have to sacrifice comfort for performance. The closed cell memory foam padding doesn't hold water if it rains and twin Boa dials lock the heel into the heel cup.
Best Road Cycling Shoes for Commuters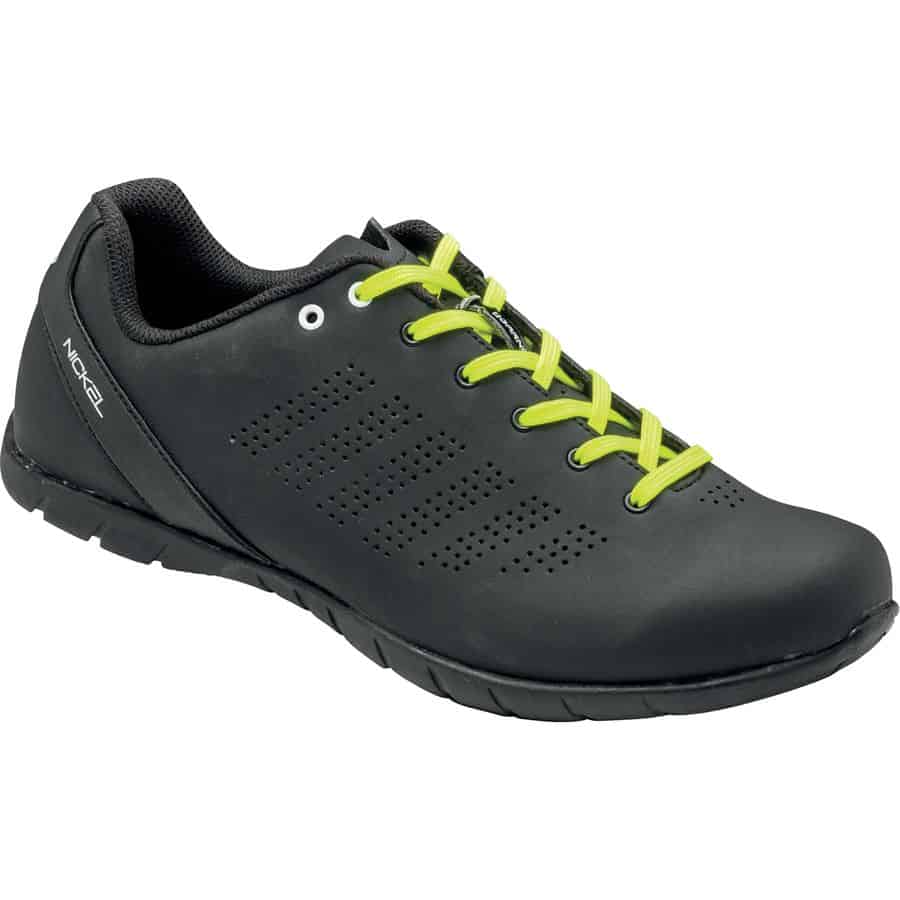 If you don't want your cycling shoe to look like a cycling shoe, then the Nickel (or the Women's version, the Opal) is a great option. It's affordable, won't look out of place in the office or walking around town and is stiff enough to get a decent level of power transfer. As it has a recessed cleat (to make walking possible), it's compatible with two-bolt cleats.
While overshoes may do the job for an occasional wet weather ride, if you regularly commute in bad weather then a pair of winter shoes will prove a wise investment. The Flash TH Winter Shoes have waterproof uppers lined with Thinsulate insulation and the reflective detail will help you be seen on dark nights. The only downside is the sole has a slight flex, but this isn't likely to be an issue for most commuters.
Best Road Bike Shoes for Beginners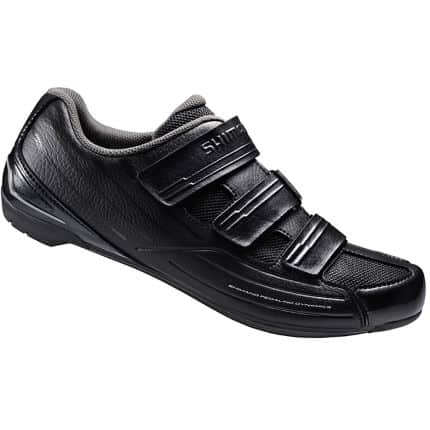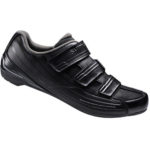 It's not the cheapest of budget shoes. But the Shimano SH-RP2 is one of the best value. Designed as an entry-level shoe, it has a tough, stretch-resistant leather upper and a durable and stiff fiberglass sole. This shoe is designed for to be comfortable for years of riding.
If you're not used to clipless pedals, then the two-bolt SPD pedal system is a bit easier to get used to as you can clip in to both sides of the pedal. Unlike many road shoes, the Savix is compatible with both two-bolt and three-bolt cleats. The Boa dial closure allows for a precise fit and the plastic soles will be stiff enough to introduce you to the world of road cycling.
Summary Table
Make / model
Price
Fit
Weight
Best for…
Link
Louis Garneau LS-100 Shoe
$$
Snug
235g
Racing
Buy nowN.B. Cheaper on other sites but with v limited size range, i.e. 1 or 2 sizes)
Giro Empire SLX Shoe
$$$
Snug
175g
Racing
Buy now
Fi'zi:k R5B Donna Boa Shoe
$-$$
True to size but check measuresment carefully
215g
Women, beginners
Buy on Amazon
Sidi Wire Air Carbon
$$$
Snug
280g
Women, racing
Buy now
Shimano RC7
$$
Standard / wide
245g
Wide feet, racing, long rides
Buy now
Bont Vapor S
$$$
Stock / narrow / wide
230g
Wide feet, racing
Buy now
Louis Garneau Nickel
$
Snug – you may need to size up
346g
Commuters, beginners
Buy now
Northwave Flash TH Winter Shoe
$$
Standard
True to size

295g
Commuters, beginners
Buy now
Shimano RP2 SPD-SL
$
Snug
273g
Beginners
Buy now
Giro Savix Road SPD Shoes
$$
Snug
310g
Beginners
Buy on Amazon
$ – Budget
$ – Mid-range
$$$ – Splurge
Road Cycling Shoes FAQs
How do I know what cleats and pedals to buy?
Most road bike pedals use a three-bolt system, but there are also four-bolt options and (if you want to use mountain bike shoes) two-bolt options. Confused yet? Here are a couple of useful articles that compare three of the main pedal manufacturers: Speedplay vs Shimano and Speedplay vs Look.
Can I use my mountain bike shoes on my road bike?
There's nothing to stop you wearing mountain bikes shoes on your road bike and some people actually prefer them. Mountain bike shoes are generally a bit easier to walk in and are often designed for cycling in poor weather, so if you use your road bike mainly for short rides and commuting they may be a good bet.
If you're focusing on performance or longer rides, then a pair of road cycling shoes will be a good investment. They're designed to be stiffer than mountain bike shoes for improved power transfer. The wide contact area of the three-bolt system spreads the pedal force over a larger area of the shoe, reducing the likelihood of painful hot spots on longer rides.
Can I use road biking shoes for triathlons?
You can but there also triathlon specific shoes such as the Sidi T-4 Air Carbon and the Pearl Izumi Tri Fly. These are designed to be taken on and off while cycling and have drainage holes for water.
What makes women's shoes different?
Women's shoes typically have a similar spec to the men's versions but they're built around a different last. This is usually narrower at the heel and ankle with a lower volume. Women's shoes also tend to come in smaller sizes.
Are stiffer soles always better?
The short answer is no! Super stiff soles are great for racing but they have a lot of downsides (like not being able to walk to the café).
Related: Speedplay vs Shimano: Which Pedal Is Right for You?, Speedplay vs Look: The Ultimate Pedal Shootout!, Complete Guide to Clipless Pedals: How to Get Started Now