Latest posts by Jonathan Nolte
(see all)

Without a doubt, the most important piece of equipment you can own for mountain biking, besides the bike itself, is a helmet. Nothing will ruin your ride – or life as you know it – faster than a head injury, so you know to take proper precautions. All commercial helmets will technically do the job, but if you spend enough time in the saddle, you'll want something that fits well, is light and comfortable, and offers maximum protection for your riding style.
Read full helmet reviews below
| Brand | Model | Style | Protection | Standout Features | Price | Weight | Buy Now |
| --- | --- | --- | --- | --- | --- | --- | --- |
| POC | Octal X | XC | POC Aramid bridge design | super light | $$-$$$ | 200 | Amazon |
| Giro | Fathom | XC | Giro Rollcage reinforcement | heavily ventilated | $$ | 300 | Jenson |
| Bell | Super 3R | trail/ full face | Mips option | removeable chin bar | $$$ | 780 | Jenson |
| Troy Lee Designs | D3 | full face | Mips | aero carbon fiber shell | $$$$ | 1000 | Amazon |
| Met | Parachute | full face | ASTM downhill certified | lightest downhill helmet | $$$ | 700 | Amazon |
| Smith | Forefront | trail | Aerocore construction, Mips | unique ventilation system, google retension, light/ camera mount | $$ | 325 | Amazon |
| 6D | ATB-1T | trail | Omni-direcitonal suspension system | unique impact protection system | $$$ | 500 | Jenson |
| Bell | Stoker | budget | Mips | advanced protection in an affordable helmet | $ | 315 | Jenson |
| Kali | Chakra Solo | budget | extra coverage on back of helmet | | $ | 300 | Jenson |
When Should I Replace My Helmet?
Any time a helmet has taken an impact with a human head inside it, it has most likely been structurally compromised and should be replaced. Any helmet with obvious cracks in it is not worth the risk and should be removed anyone's use. Any helmet that you know has not been impacted in a crash and has an ASTM or CPSC certification logo (which should be a vast majority of helmets sold in recent memory) should be fine.
A helmet that does not have a secure and comfortable fit, ventilate adequately, or doesn't match your bike will detract from your riding experience. Why not get something with a fresh look and comfort to boot?
Choosing the Right Helmet
XC:
These cross-country helmets are the lightest and most ventilated to keep your head cool for long days in the saddle. May or may not include a minimalistic visor. Might double as a "road" helmet. A road-oriented helmet can be used for mountain bike duty, but the fashion police might give you a hard time for doing so, and mountain bike helmets generally offer more protection by covering more of your head. An XC helmet is the choice for riders who want a helmet that feels like it's not there at all for comfort over the hours.
Trail:
Trail helmets are lightweight and ventilated to keep your head cool, but to a lesser degree than an XC helmet. Offers increased coverage on the sides and back of the head for more technical,risky trails. Might have a longer visor, a camera mount, goggle retention, and that "moto" look to it. Those who ride trails that feature jumps, drops, and generally more treacherous terrain will find added weight and material to be a worthwhile compromise.
Full-face:
An integrated chin bar and hard shell construction provide an added layer of protection for when you find your cranium descending at top speed. Maximum protection, but heavier and less ventilation than most other helmets. Mandatory for downhill parks and freeriding but probably excessive for XC and trail riding.
When you are ready to purchase your first helmet or replace an old one, you'll want to base that decision on four factors: protection, comfort, performance, and price.
Protection
All helmets are required to meet basic governmental standards to be on the market, and helmet manufacturers are careful to avoid unfounded claims that their helmet is "safer" than another. The industry has several options available such as increased coverage, proprietary construction designs, and chin bars that will potentially save the rider from some kinds of injuries.
Many new helmets offer MIPS (Multidirectional Impact Protection System), a patented system created by medical researchers that reduces the rotational forces put on the brain during an impact. Look for the yellow Mips logo on any helmet for this premium layer of protection.
Other companies are employing proprietary technologies to create unique forms of protection, such as 6D's Omni-directional Suspension system and Endura's and Smith's employment of Koroyd construction.
Comfort
Helmets are sold in various sizes to accommodate the volume of your noggin, but head shapes vary widely. Just like shoes, helmets from different brands will be molded differently, so some will fit the geometric shape of your head better than others. The best way to find the ideal helmet is to try several on. You will know immediately if a helmet fits the shape of your head comfortably, so demo a few or buy from retailers with generous return policies.
The weight of a helmet also plays a role in comfort, as gravity affects those few ounces of padding, plastic, and straps over the course of a ride.  A lightweight helmet will also likely lighten your wallet, but it will be money well spent.
Most helmets use an in-mold manufacturing process in which the helmet's outer shell and foam are bonded in the same mold. This allows for designers to create helmets with generous and efficient vent holes to move air across your head and keep you cool. No one wants to cook their brain in an airless bucket, so look for a helmet that vents well but provides the coverage you need for your riding style. A higher quantity of vents are not necessarily better if the helmet is designed with a few well-placed and shaped vents.
Price
When considering the price range from under $50 to over $250, you may be wondering what you get when you pay five times more. The price of a helmet has no direct correlation to safety, with the possible exception of above-and-beyond safety features like Mips, a chin bar, or proprietary innovations. In general, more expensive helmets are lighter, better-ventilated, have more advanced fitment systems, have more features, and (arguably) look better.
Extras
You may want to pick something that has some extra bells and whistles to improve your riding experience. Anticipating that the rider wants to document every moment in the saddle, some include a mounting bracket for point-of-view cameras. You may also find a headlamp-mounting bracket for night time riding and integrated goggle strap retention to be essential.
Ease of removing the liner and pads for washing can keep the funk factor down is always a plus. Most mountain bike helmets features a visor to keep the sun out of your eyes, but a visor that is angle-adjustable or removeable might be in your must-haves.
Best XC Helmet
POC helmets turn a lot of heads with Euro aesthetics and high tech designs. The Octal X is a mountain bike version of their stunning Octal road helmet. It's one of the lightest helmets in its class and features generous vents, so if climbing and covering long distances is your thing, the Octal X is a prime choice.
The Giro Fathom is another road-inspired XC model with nod to aero features in a featherweight design. Riders who prefer a minimalistic visor and a more conventional aero look should pick the Fathom over the Octal X.
Best Trail Helmet
Smith Optics designed the Forefront around Koroyd, a high-tech material that provides a lightweight and vented strata of impact protection. Smith helmets also pair well with their sunglasses, a necessity to keep debris and harsh sunlight out of your eyes. Smith helmets are also arguably some of the best-looking helmet on the market, which is important for the Instagramming rider who documents rides.
6D has taken a totally new approach to helmets with their Omni-directional Suspension system, which suspends two layers of foam on elastomers to provide extra protection from various kinds of impacts. The ABT-T1 Evo is open for comfort and features a replaceable inner EPS for extended use. The jury is still out on 6D's design, but it's undeniably innovative, so riders who want extra peace of mind (and brain) will choose a 6D helmet.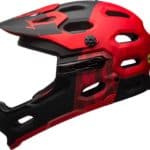 The Bell Super 3R is somewhere between a trail helmet and a full-face. The chin bar is removable, so the helmet can serve double-duty for an XC/ trail ride one day and a bike park/ shuttle run ride the next. This is the perfect helmet for the rider who needs protection for high-risk antics of modern technical trails and bike parks as well as lung-busting climbs without the need to own two helmets.
Best Full-Face Helmet
Italian manufacturer MET set a new bar for full-face helmets with the Parachute, an astonishingly lightweight helmet with lots of vents for breathing and head-cooling. Although it's certified as a bona fide downhill helmet, it's light and breathable enough for the climbing and enduro racing.
The Troy Lee Design D3 full-face helmet comes in a dizzying array of colors and graphics. Riders have looked to Troy Lee Designs for the most aesthetically pleasing designs for cycling and motorsports, but this is not just a pretty piece of artwork. The carbon fiber shell keeps the weight down while its aerodynamic aspects make it a fast-moving and competitive piece of gear.
Best Budget Helmet
For riders with a more modest budget for any reason, the Bell Stoker can be found for less than most models in its class but with few compromises. A Mips option is available and it looks not unlike many trail helmets that are triple the price.
Kali Protectives offers the  Chakra Solo One at a great price for riders who want an understated design and ample coverage where you need it the most.
The Final Word:
In the end, you're going to put a helmet on your head every time you hit the trails, so it might as well be something you'll be proud to wear. Once you start pedaling, you should forget the helmet is even there, so you can focus on the challenge of every corner, every drop, and every adrenaline rush as you follow that ribbon of trail through the foliage. The helmet that fits snug and secure doesn't weigh you down, provides adequate protection for the level of risk you take, and doesn't boil your head as you mash out the miles will best serve this purpose. Chose wisely and the helmet will become a part of you through every mile.
Related: