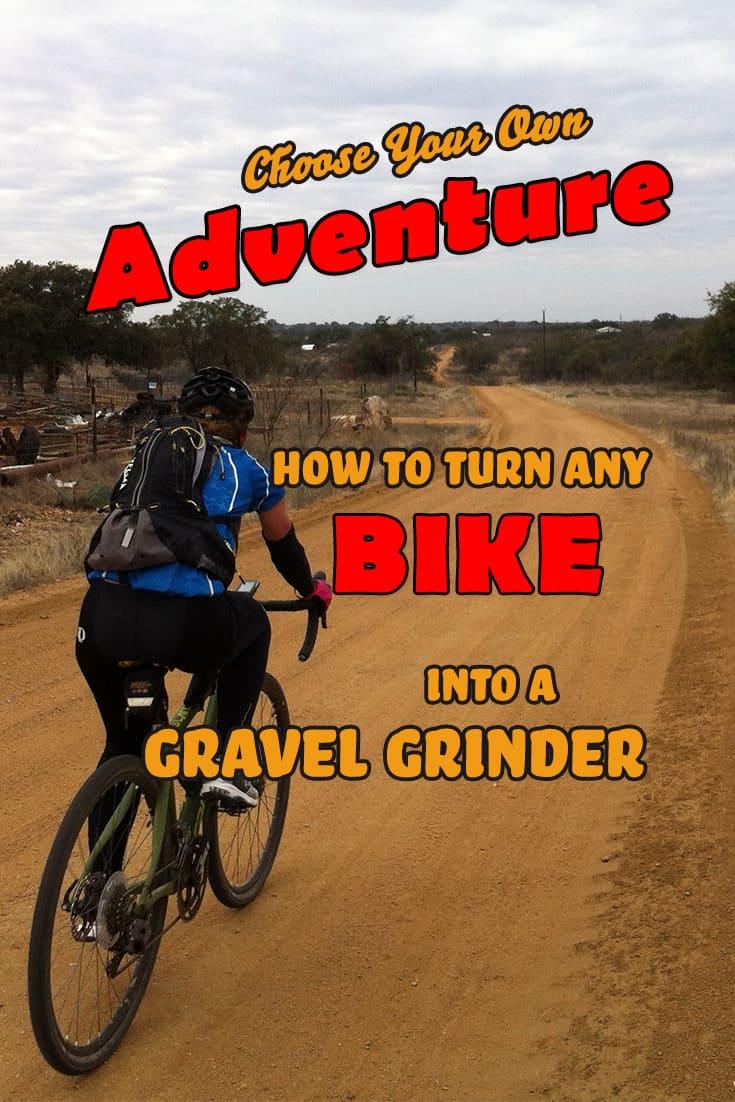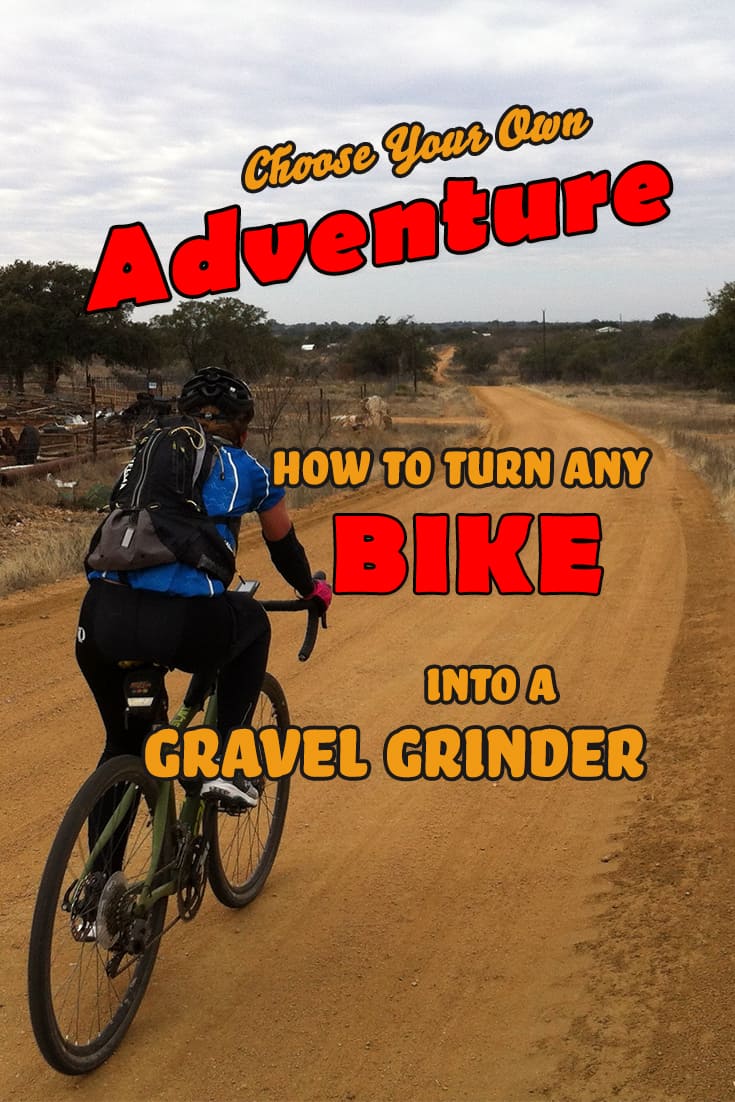 Grinding gravel is all the rage among the cycling community, but cyclists have always ridden dirt roads, often because those were the only roads available to them. Even the pros are opting for dirty adventures and fatter tires as more cyclists have begun seeking out long dirt road routes and races to "grind" out long miles amid the bucolic scenery, and challenging terrain and away from traffic.
With names like the Dirty Kanza 200, the Texas Chainring Massacre, and Grinduro, it's hard to resist the appeal and inherent suffering. Self-guided "adventure" rides are also ever-more popular among riders of all stripes. Of course the industry has been quick to respond with bikes and gear specifically to fill this niche. For many companies, the adventure/ gravel bikes are quickly outpacing their other niches.
Is an adventure bike a necessity or just bike industry hype?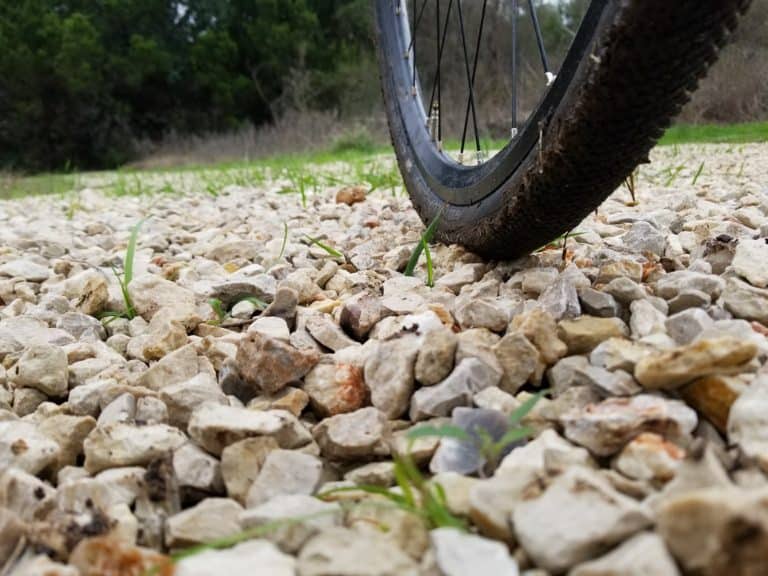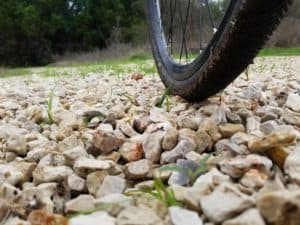 Marketers would have you believe that "need" and "want" are the same thing. Thus the endless speciation of the genus bicycle has created a market full of one-trick ponies. Gravel-specific bikes are often versatile bikes, but you don't necessarily "need" one.
So if you need an excuse to buy a new bike that you want, consider the fact that the gravel bike is the closest thing to a do-it-all machine. If a new bike in this vein is in your future or you want to learn more about gravel-specific bikes, see our Guide to the Best Gravel Bikes.
If you don't have the budget or burning desire for a new bike, there's a good chance that the bike you already have can be ridden as-is or converted to a small degree for miles of gritty grinding fun. When you attend a gravel event, you'll see the whole velo spectrum represented, so don't worry if your bike doesn't fit the mold. Let's consider what your current setup is and how you can make it more gravel friendly.
Run What Ya Brung: How to Hack Your Current Setup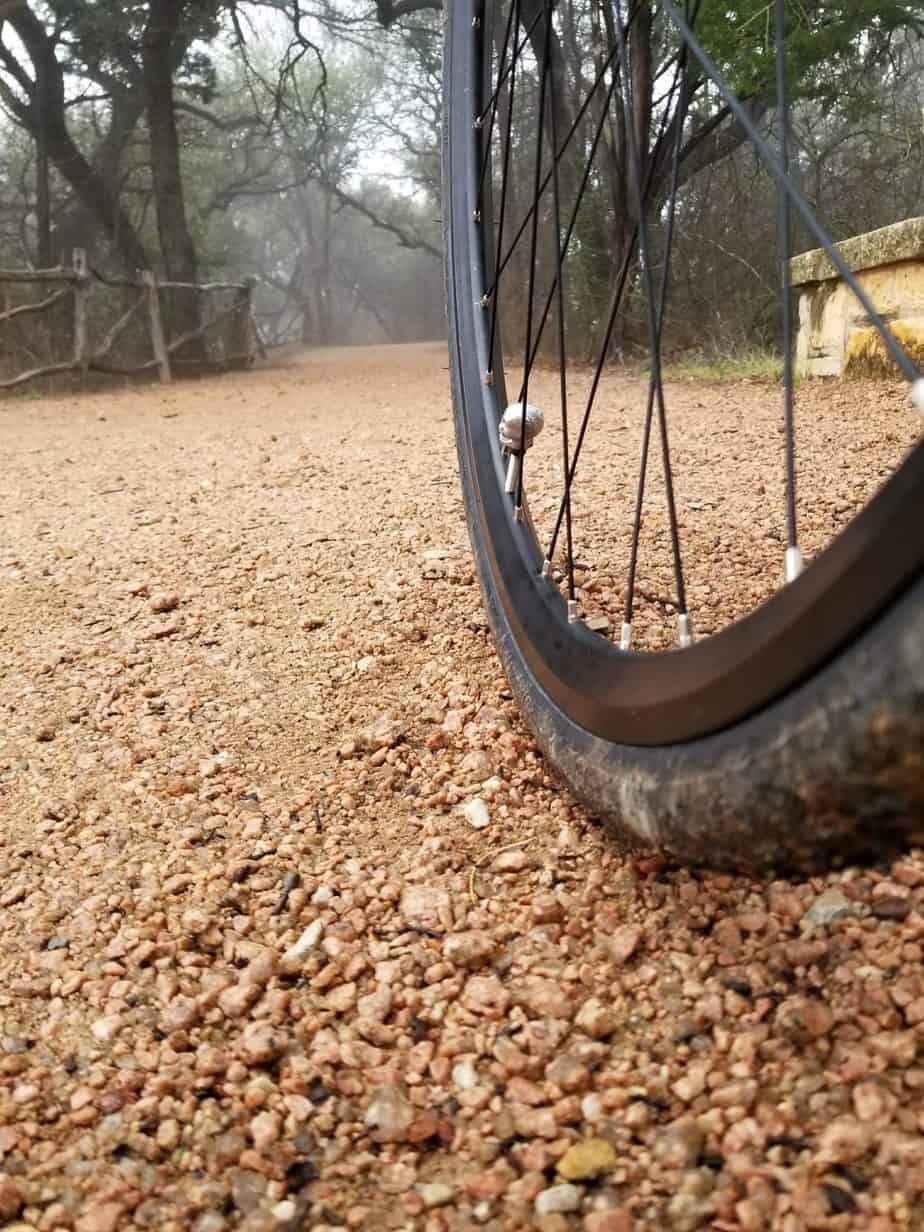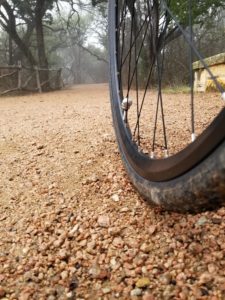 There are a few things to consider before you modify your current bike setup. What constitutes the ideal bike for the job depends on the rider and the local terrain, but the right bike ought to be:
Comfortable for the rider through long miles on rough terrain.
Inspire confidence to traverse rough terrain.
Here are the main considerations for converting your bike:
Tires
First, your bike's connection to the ground should be optimized for the terrain. The definition of "dirt road" varies widely from smooth crushed granite to chunky jeep roads, so pick a tire that makes the most of the style of bike you have and is voluminous enough for the texture of the surfaces you will ride.
Ideal tire pressure will be higher than what you might run on your mountain or cyclocross bike, where traction is of utmost importance, but much lower than a pavement-oriented bike for comfort and traction.
A tubeless setup is ideal for gravel riding, as you can avoid most flats by ditching the tubes. Go tubeless if your rim and tires will allow it, but rest assured that tubes will suffice. Carry two extra tubes regardless of your pneumatic choices to bail yourself or a fellow rider out of a long walk to the finish.
Cyclocross Bike: A true cyclocross race bike only requires room for 33mm tires plus mud, so your dedicated CX frame and fork may limit your tire size. Some modern frames will have room for 40mm+ tires, which is the sweet spot for most gravel riding. Tires like the Schwalbe G-One, WTB Riddler, and Panaracer GravelKing are popular tires that come in smaller volumes to fit a cyclocross bike.
Mountain Bike: The tires used for trails are probably excessively heavy and knobby for gravel roads and will slow you down. Look for some lightweight, low-profile cross-country race tires around 2" wide, regardless of your wheel size. Schwalbe Thunder Burt, WTB Nano, and Bontrager XR0 are popular tires in this category.
Road Bike: A road bike can be ridden by a hearty, determined rider on hard-packed gravel. The limiting comfort factor is tire size, however. Your road bike will likely not accept tires larger than 25mm wide, 28mm if you're lucky. Look for a tough "training tire" that will resist cuts while riding on sharp rocks at high pressure. Continental Gatorskin Hardshell, Maxxis Refuse, Panaracer Pasela are burly tires with smaller options that will fit most road bikes.
Hybrid or touring bike: These bikes are often designed for comfort, so you'll want to speed them up with some supple, fast-rolling tires instead of the heavy, thick tires you likely have. Many older road bikes can fit girthy tires, so dust off ye olde velocipede and turn heads on those farm roads with some vintage beauty.
Handlebars
Drop Bar: The conventional drop bar on your road, touring, or cyclocross bike will likely be just fine for gravel roads, but many riders prefer a flared drop bar that is wider at the ends than the hoods. Not to be confused with "dirt drops," a flared drop bar allows the same positions as a regular drop bar, but with a wider base to maintain stability when the road surface gets loose. The Salsa Cowchipper, and Ritchey Venturemax are great examples.
Flat Bar: Bar ends may seem like an anachronism on a modern bike, but current versions are available from Cane Creek, Ergon, or SQ Lab to provide multiple hand positions on your mountain or hybrid bike. You can get the same effect on your mountain bike or hybrid, by switching to an "alt" [alternative] bar, such as the Jones Loop and the Surly Mokolo.
Flat bar conversion to drops: The emphasis on drop bars for road riding is almost a fetish, but for those determined to use a drop bar, it is possible to convert a flat-bar bike. This conversion can be trickier than you might think, so consult with a mechanic and a bike fit expert. 
Keep in mind: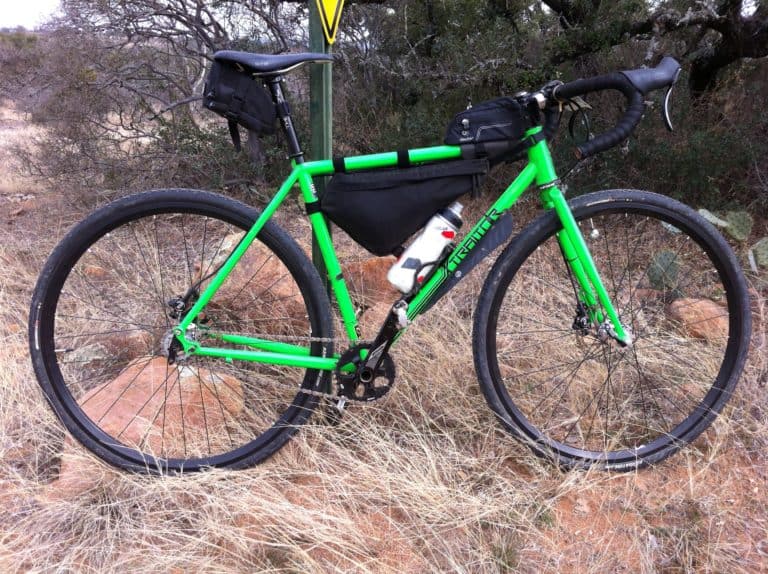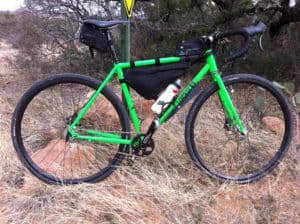 A frame that was designed to fit you with a flat bar will be much longer than a frame designed for a drop bar. It will take some experimenting to make the conversion work and might never fit well at all.
The brake and shifting controls on your flat handlebar will not fit on most drop bars, nor will new drop bar brake/ shift levers be likely to play nice with the brakes and derailleurs. This will take some research and skills with a wrench!
Gears
The gear range on your bike should be low enough to maintain momentum on whatever long, steady hills you might encounter, and high enough to efficiently cruise the flatter sections.
Cyclocross/Road: Considering replacing the large chainring (or your single ring) with something in the 38 to 46 tooth range and getting a wider-range cassette. Check with the manufacturer for the "chain wrap capacity" of your rear derailleur, and if expanding your gears is too much for the drivetrain, you might be able to use a Wolftooth Roadlink to expand the capacity of your modern Shimano drivetrain. SRAM drivetrains for mountain and road use the same pull ratio, so matching their road and mountain components should be a cinch. You'll probably need a new, longer chain as well.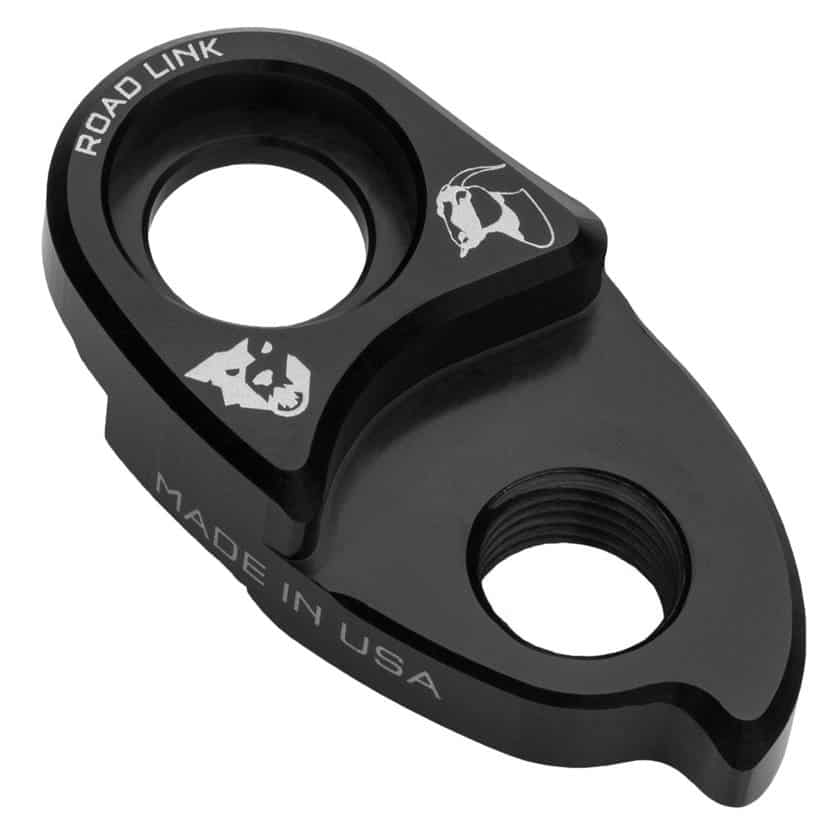 Wolftooth Roadlink | Jenson USA
The RoadLink is a simple device that offsets the position of your Shimano road derailleur to make it possible to run a wide-range mountain bike style cassette that also serves as the perfect solution for converting road, cross, gravel, and commuter bikes to a single ring set up with the minimal loss of gear range.
Check Price
We earn a commission if you click this link and make a purchase at no additional cost to you.
Mountain Bike: You will most likely not need the "granny" gear on your bike for this kind of terrain, so lower the cadence and raise the top speed by replacing your front chainring with a larger one. Check with your frame manufacturer for chainring size limits.
Hybrid/ touring bike: These bikes usually have a super-wide range of gears that should need no modification.
Forks
Suspension fork: The suspension fork on your mountain or hybrid bike will provide some comfort on dirt roads, but is probably unnecessary. Suspension forks on hybrids and entry-level mountain bikes are especially heavy – dead weight you don't want to lug around. (Some people prefer a hardtail or full-suspension bike on gravel terrain, so don't fret if that's how your bike is set up.)
If you'd like to simplify and lighten your bike, consider a rigid fork. Take into account the wheel size, axle-to-crown (A-C) length of the fork, style of steerer tube, axle and brake compatibility to pick a fork that will fit your bike. If you plan to swap the fork between suspension and rigid with minimal drama, also get a space headset crown race. Salsa's Cromoto Grande and the Whiskey No. 9 are popular choices.
The rigid fork on cyclocross and road bikes will suffice for most gravel terrain, but if you want something that provides a little extra cush, consider adding some minimalist suspension with a Lauf Grit, or the Fox AX 40mm suspension fork. The Redshift Shockstop stem is another unique suspension option that will take the edge off rough terrain with minimal impact on bike handling.
Accessories
Mixed-terrain adventures might require extra gear to keep your bike working, your body comfortable and your belly full.  Most riders prefer to keep the weight off their bodies and put it on the bike instead, so bags that strap inside your frame, under your saddle, behind your stem, and in front of your handlebar are preferred.
You can use these bags in conjunction with jersey pockets to carry food, stow layers of clothing, and bike maintenance gear. Rockgeist (previously Porcelain Rocket), and Relevate designs are popular among bikepackers and gravel racers for their well thought-out designs.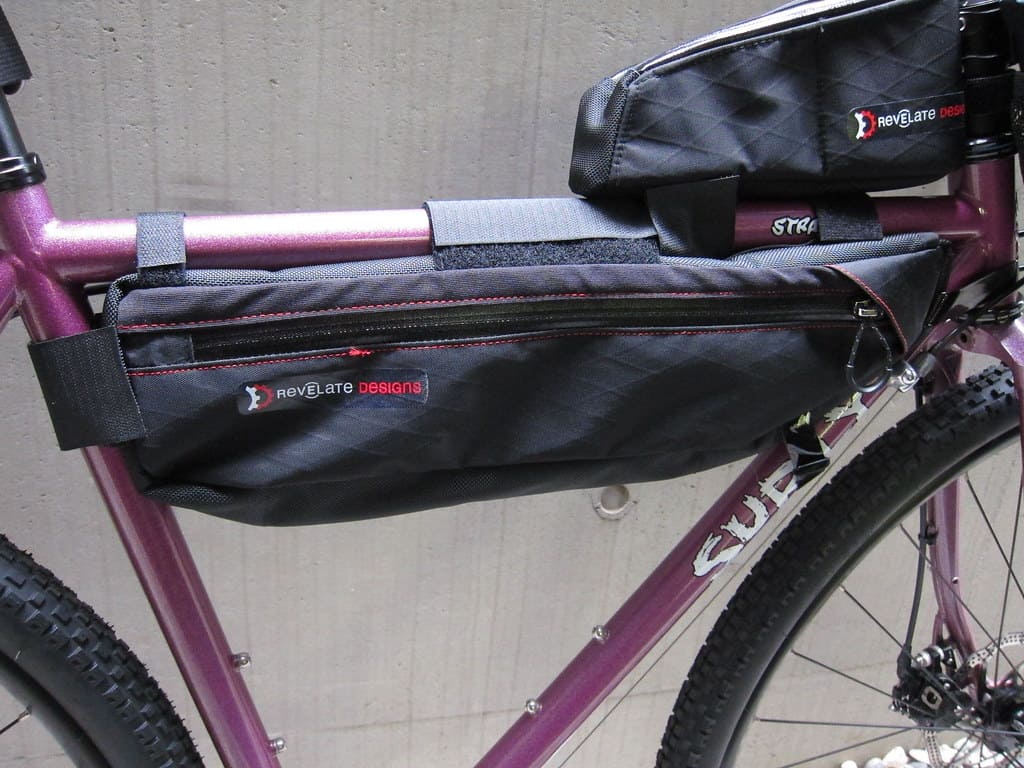 Revelate Designs Frame Bags | REI Co-op
Offering extra space below your top tube for bikepacking, commutes, and everyday rides, the Revelate Designs bike frame bag available at REI.
Check Prices
We earn a commission if you click this link and make a purchase at no additional cost to you.
Keeping hydrated is the number one concern during a long ride, so be sure that you can carry enough water. If your bike lacks sufficient cage-mounting areas, you can carry a Back Bottle in your jersey pocket, or strap a bottle to your bike with an adapter from SKS or Twofish.
Don't turn your bike into Inspector Gadget for a gravel ride. Racks, panniers, a rolling discoteque of lights, fenders (depending on weather), mirrors, kickstands, and locks are probably unnecessary. Shed some precious ounces by leaving them at home. A bell, however, is always a great accessory simply because it's whimsical.
The Final Word
Don't be discouraged if you don't have a true gravel or adventure bike hanging in your garage. Instead, experiment with converting your current ride into a gravel grinding beast. Start with our tips or enlist the help of your favorite local mechanics (just don't forget to slip them a 6-pack) to get your current setup dialed in.