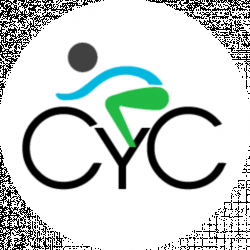 Latest posts by Cycling Hacks Team
(see all)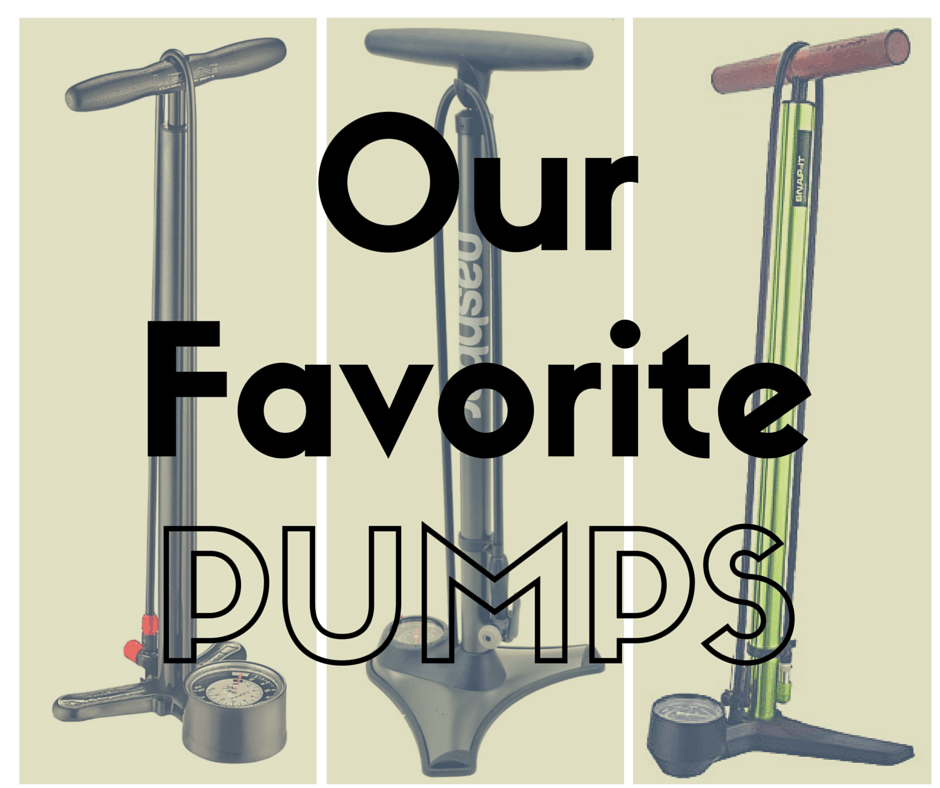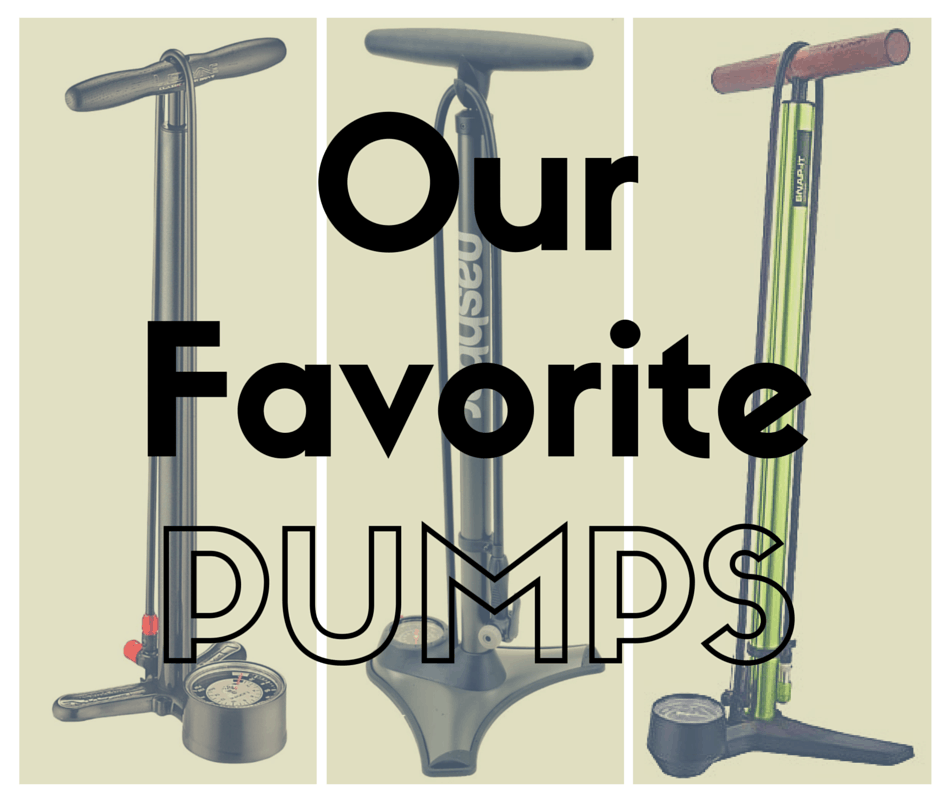 Updated 12/26/16
A good floor pump is the one tool every cyclist should own. Running tires at their optimal pressure not only improves performance, but reduces the risk of pinch flats. The goal is to spend less time wrestling with a pump and more time in the saddle.  Here are our top picks. 
The Best Bike Pumps:
Overall Performance and Value: Birzman Apogee (around $50)
Runner Up: Lezyne Classic Floor Drive (around $69)
For Beginners: Blackburn Airtower 4 *Recent Price Drop
Budget-friendly: Nashbar Earl Grey (around $30)
As of 12/26/16, the Earl Grey was out of stock. In the meantime, we suggest the Nashbar White Floor Pump (see more details below)
Other pumps we like:
Topeak Joe Blow around $39
Serfas TCPG around $27
Silca SuperPista around $445 *Recent Price Drop 
Our favorite bike pump, the Birzman Apogee IV is a bit of an underdog. But it performed too well to go unnoticed. It's not necessarily the brand you'll find at your local bike shop, but for the features available at its price point, it's a worthy investment.
Birzman Maha Apogee V Floor Pump | Amazon
The Birzman Maha Apogee V floor pump tilts to the user, this increases the comfort while pumping. Equipped with the new Snap-It Apogee adapter and is compatible with Presta and Schrader valves.
Buy at Amazon.com
We earn a commission if you click this link and make a purchase at no additional cost to you.
What to look for in a bike pump
Presta vs Schrader Valves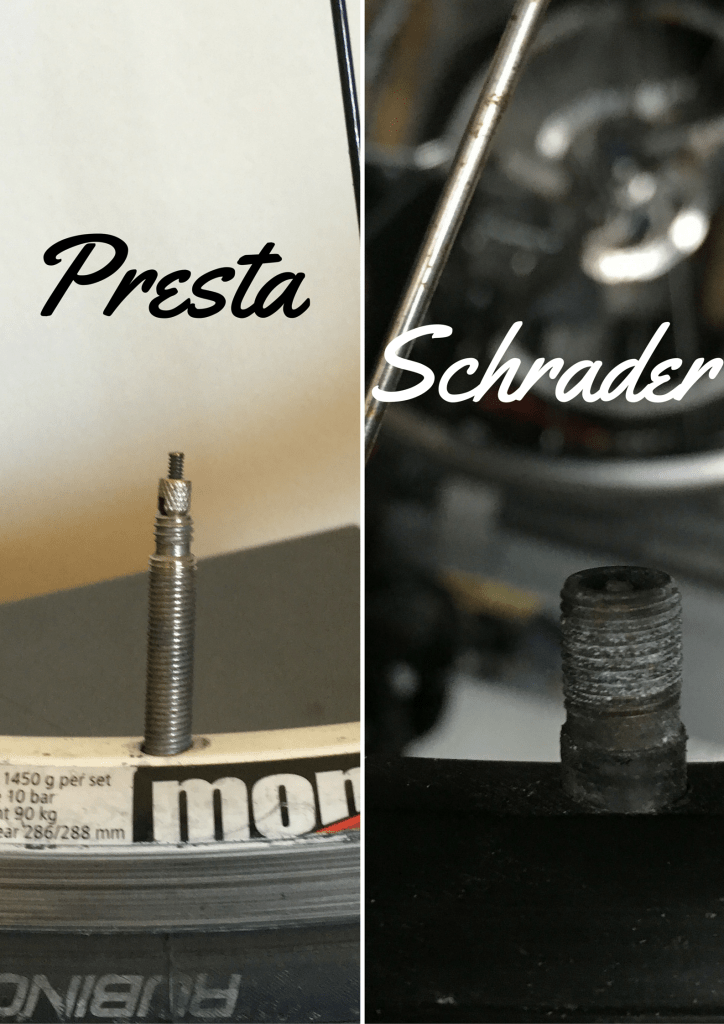 Bicycles utilize either presta or schrader valves. When buying a bike pump, it's important to match the correct valve type to the pump. Fortunately, most popular pumps offer dual heads to accommodate both types.
Presta valves are more commonly used today, especially on road bikes where rims are narrow, and feature a tall, slender valve stem and a lock nut to help ensure closure. Schrader valves are bulkier, but also easier to use: just press the inflator head on and it automatically depresses the spring closure.
Pro tip: If you own multiple bikes, try to use the same type of valve universally. This ensures you always carry the correct pump. All the pumps in our list are compatible with both valve types.
Suggested bike tire pressure:
30-50PSI – Mountain bike (fat tires)
50-70 PSI – Hybrid
80-130PSI – Road Bike (skinny tires)
To determine a more precise PSI, check the side of your tire for the optimal range. Heavier riders should aim for pressure in the top range, while lighter riders are fine at the lower end.
Pro tip: Pressure gauges are notoriously inaccurate. If you don't have a pressure gauge, or aren't sure that yours is accurate, try this trick: Place your thumb on top of the tire and firmly press down with the heal of your hand. Placing your entire bodyweight on that point, you should just barely feel the rim. This will be an approximate proper inflation.
Take home message: Don't spend more on a pump just because it has a maximum pressure well above the 130 psi mark.
Locking lever vs screw-on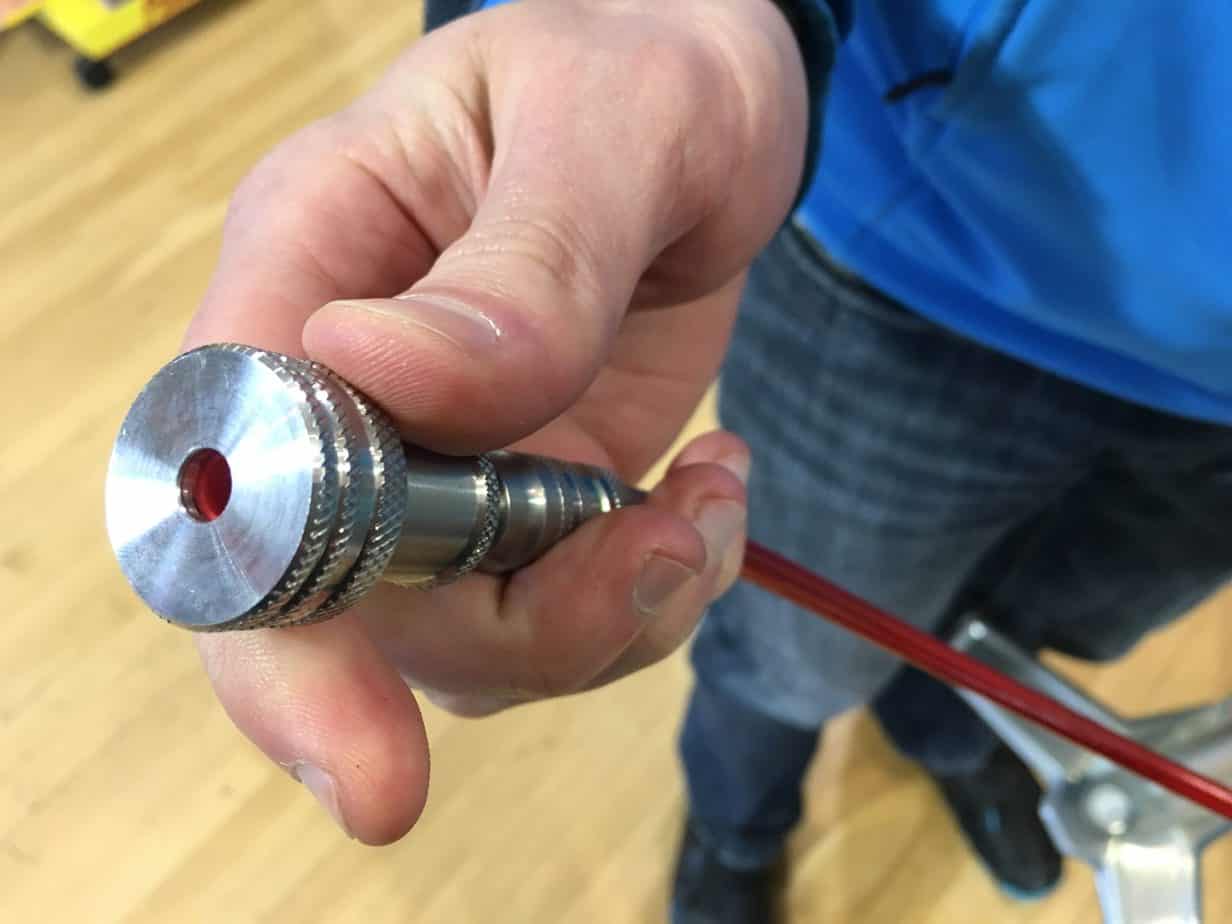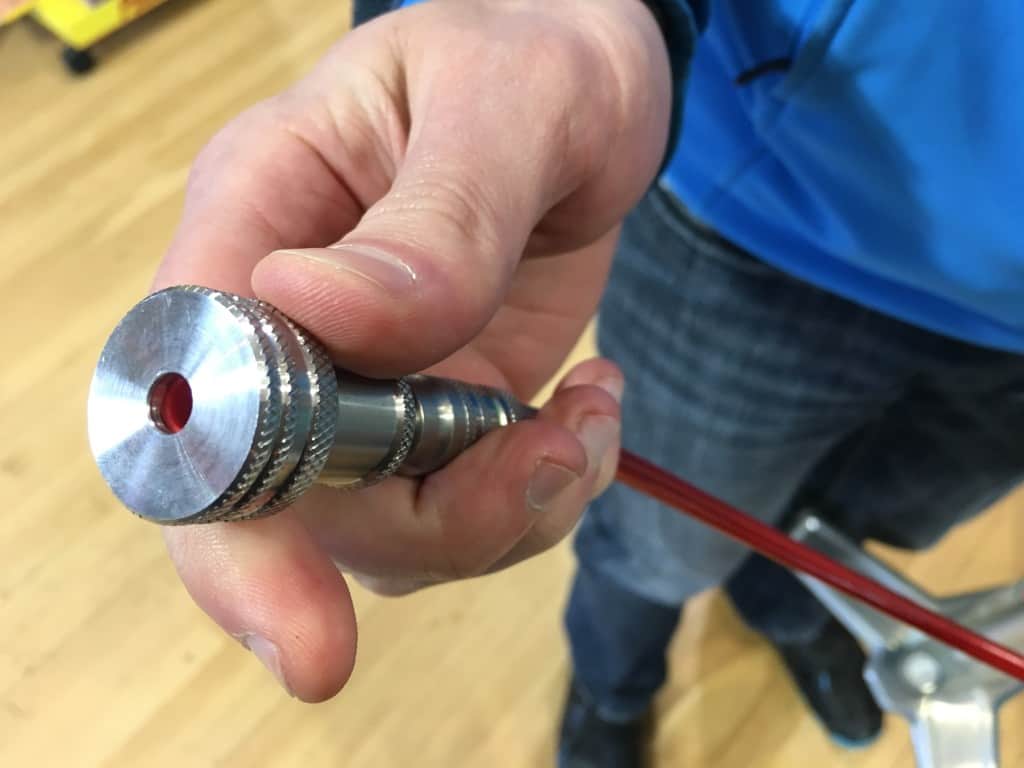 Most of the bicycle pumps in our list have a chuck and locking lever. These are very straightforward, just place the chuck onto the valve and lock the lever.
This pump head can be difficult to get a good seal on, but is quick and easy to use. A screw-on chuck provides a very secure seal, but takes a little more time and isn't as intuitive to use.
These parts, along with the rest of the head, port and bleed valve, are the pump's workhorses, so they also tend to wear out quickly if comprised of cheap materials. For a longer lasting pump, look for these parts to be metal, as opposed to plastic.
Hose length
Longer hoses offer more flexibility and ease of use. Ideally, a pump placed in between the bike should have a hose long enough to inflate both tires. Longer hoses are also better for pumping up tires in a work stand. As a rule of thumb, we like for the hose length to be long enough to extend twice the length of the barrel.
Gauge
Some manufacturers place the gauge at the top of the pump, others at the bottom, which can make the numbers more difficult to read. However, gauges at the top of the pump may be more likely to crack if the pumps tips over on a hard surface, another sound reason to buy a solidly constructed pump. Obsessed with accuracy? Try a digital gauge like the Lezyne Digital Overdrive.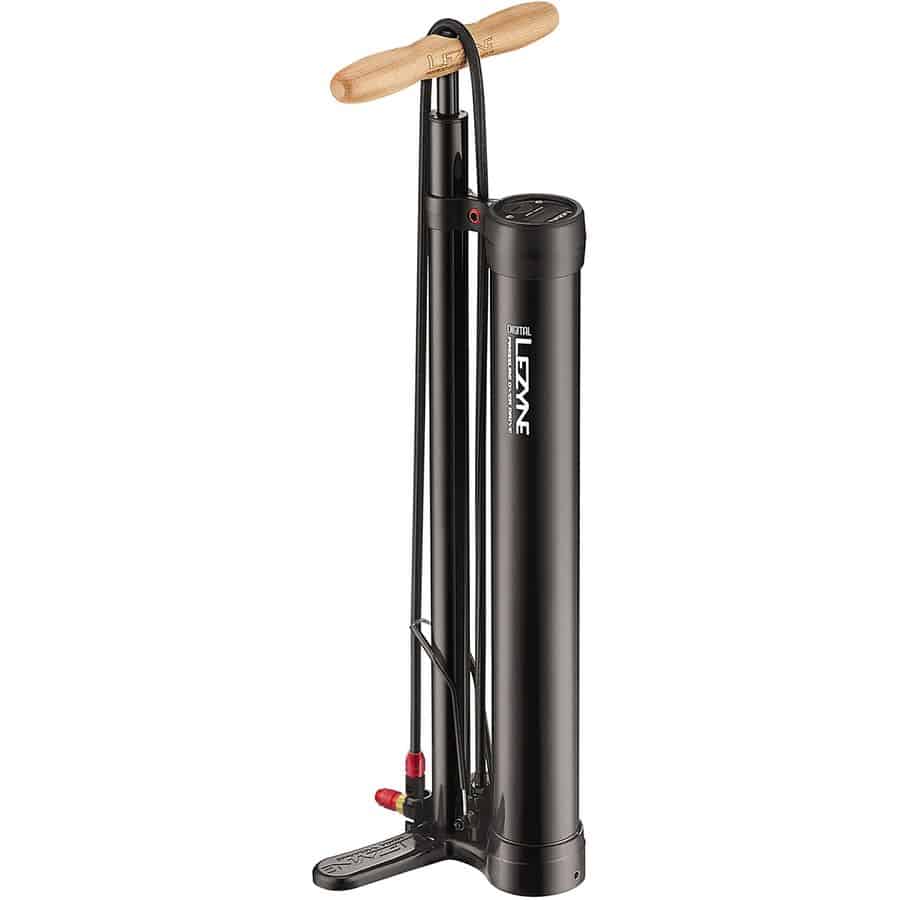 Sturdy base
A tripod-shaped base is sturdier than a model with two feet, especially on uneven pavement or grass.
Pump height
Longer pumps tend to be more efficient, but we're only talking about the difference between a dozen or so pumps. Larger pumps are generally heavier and more cumbersome for travel.
We took all of these factors into account to determine the best bike pump in each category. We weighed the price against the features and factored in the lifespan and durability of each pump.
Overall, we discovered that most pumps delivered on their promise. A basic pump like the Earl Grey will get you by and is perfect for occasional use. But hose seals and pump heads will no doubt wear out in time and need replacing.
Spending a little more will get you more durable parts, longer pump hoses and better designs that can make the pump easier to use.
Related: Build the perfect cycling workshop with these essential bike tools.
Bike Pump Reviews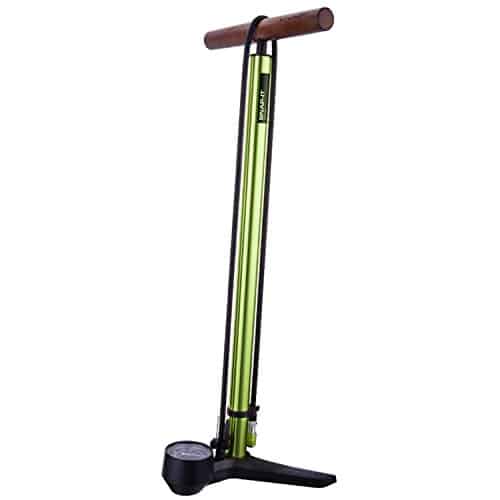 We were hard pressed to find a pump that out-performed the Birzman Apogee. It's well-constructed with a green varnished aluminum barrel and easy-to-hold wooden handle. A sturdy base, 45-inch-hose and subtle five degree lean add to the ease of use. Featuring a Snap It valve interface similar to Lezyne's ABS2 Flip Chuck, it's easy to screw on with one hand and quickly accommodates both valve types.
While this pump isn't as intuitive as those with a locking lever, we love the durability and tight seal it consistently offers. At $50, the Apogee is less bulky than the Lezyne and has a longer hose. The only point we have against it, compared to the Lezyne, is that it features a plastic base and a one-year warranty, as opposed to Lezyne's two years.
Birzman Maha Apogee V Floor Pump | Amazon
The Birzman Maha Apogee V floor pump tilts to the user, this increases the comfort while pumping. Equipped with the new Snap-It Apogee adapter and is compatible with Presta and Schrader valves.
Buy at Amazon.com
We earn a commission if you click this link and make a purchase at no additional cost to you.


Lezyne has updated their original screw-on ABS Flip Chuck with the new ABS2, a pump head that easily switches between Presta and Schrader by sliding the collar forward for Presta or simply screwing it on to a Schrader valve. Then you can easily bleed air from the pump with the push of a button to fill to a very precise PSI.
A tight seal and extra large gauge that's easy to read also set this pump apart. Plus its long travel piston, oversized hose and barrel quickly inflate to a high PSI. At around $70, The Classic Floor Drive is built to last, with all-metal parts, a durable pump head and 42-inch hose.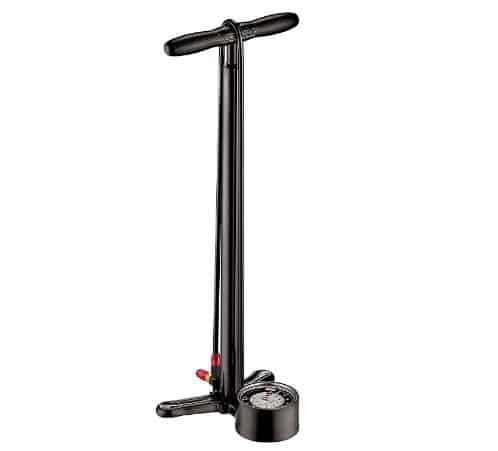 LEZYNE Classic Floor Drive Bicycle Pump, Black | Amazon
Easily achieve the high pressures required in road bike and other low-volume tire applications. A smaller-diameter allows for high pressures to be achieved with minimal pumping force.
Buy at Amazon.com
We earn a commission if you click this link and make a purchase at no additional cost to you.
08/22/2022 06:46 pm GMT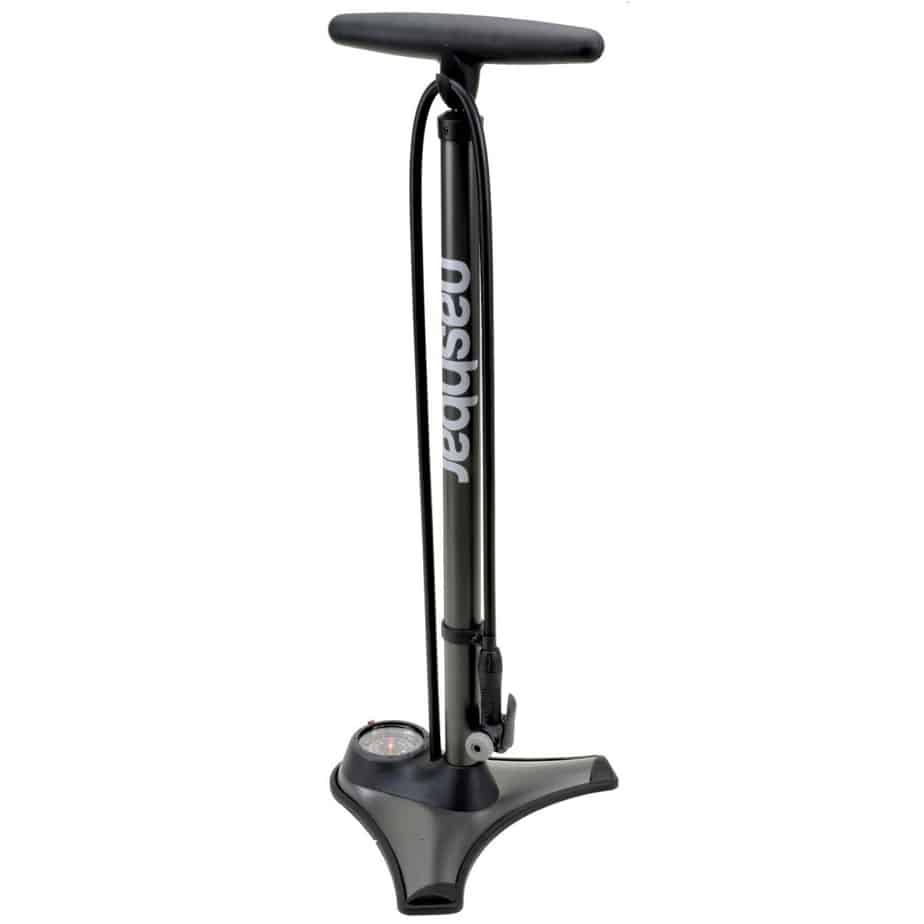 A sturdy base, 42-inch-hose and lifetime warranty, make the Nashbar Earl Grey a steal at around $30, yet plastic parts reduce this pump's durability and longevity.
For the beginner or occasional rider, this is a solid choice with a double-sided pump head that seals well and an integrated pressure gauge that's large and easy to read.  
*Currently unavailable. In the meantime, we suggest the Nashbar White Floor Pump (around $20), which has a similar steel barrel and fits presta and schrader, has the same max psi and comes in $10 cheaper than the Earl Grey. However, it features a shorter hose (32″). For a longer hose (38″), check out the Nashbar L'Orange V.2 Floor Pump (around $40).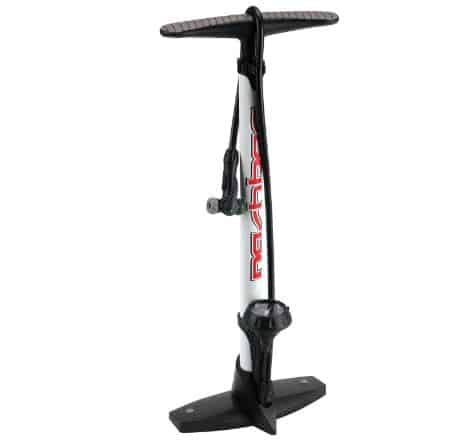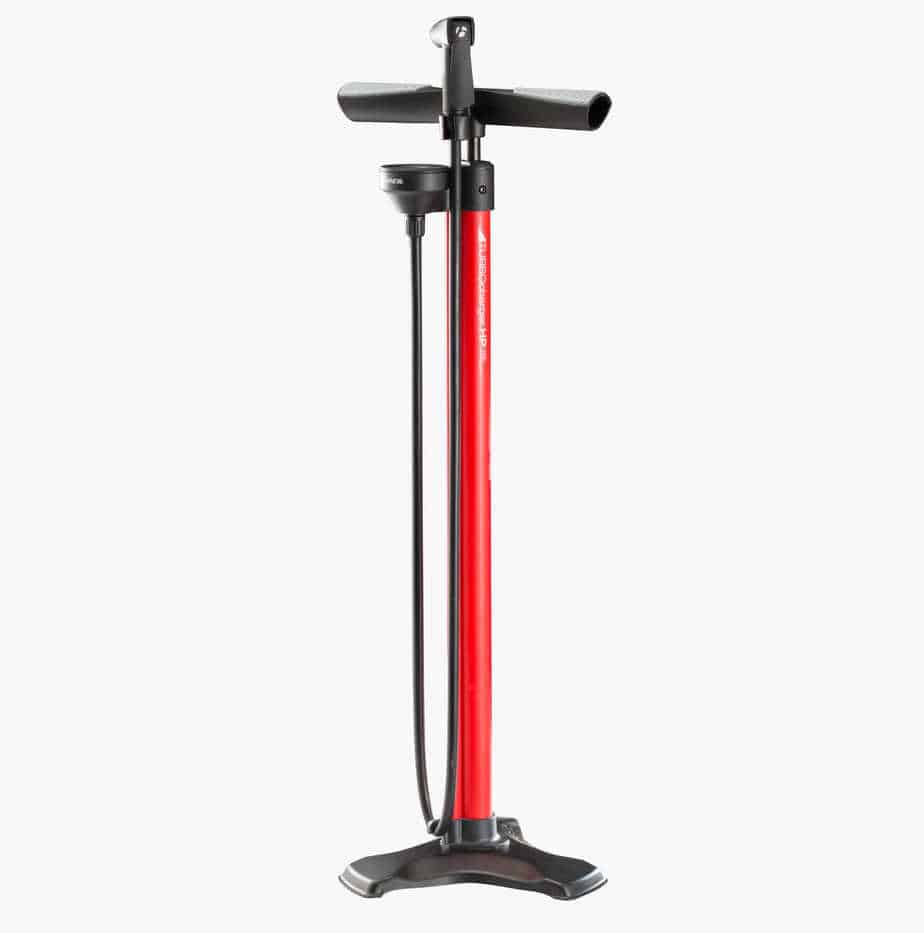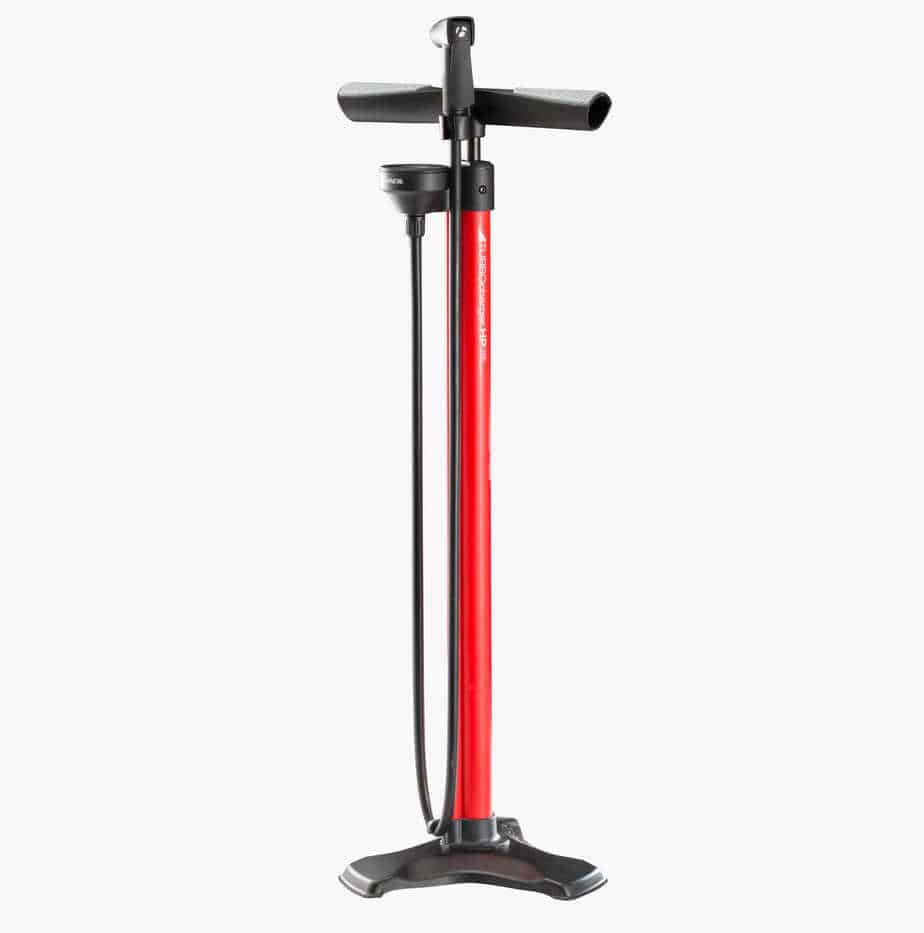 A top-mounted gauge for easy reading , sturdy base and one of the longest hoses of those tested, at 45 inches make this a solid pump. It's handle is comfortable and easy to use. The hose clips to the base for easy storage and transportation.
Over time, some user have complained of air leaks from the pump head, but we found that as far as locking levers go, the Turbo Charger is one of the more reliable ones. Trek's two-year-warranty covers defects in materials and workmanship, but like most pumps, wear items like pump heads and hose seals will eventually need to be replaced. Fortunately, for about $20, Trek offers a do-it-yourself kit and the entire pump is rebuildable. The pump retails for around $60.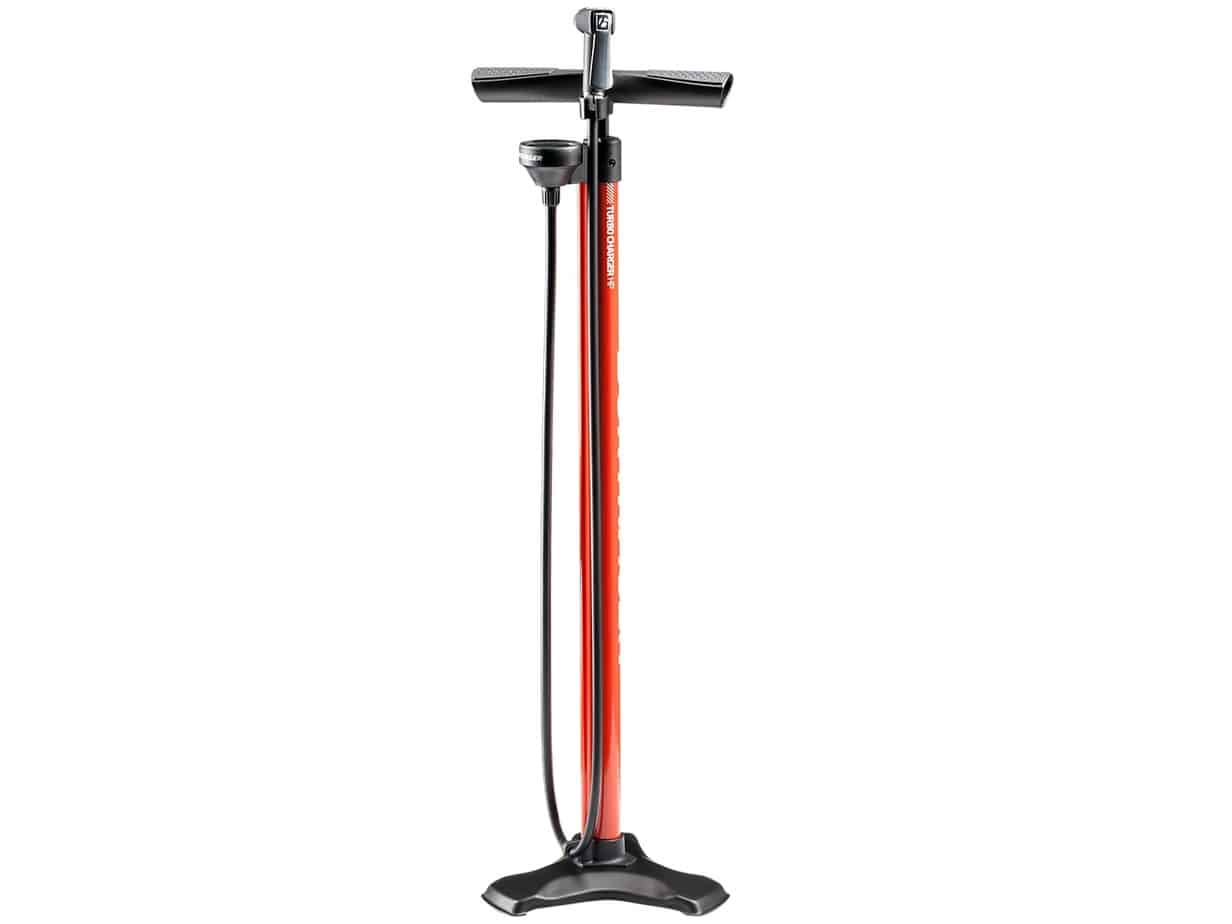 Bontrager Turbo Charger HP | Trek Bikes
Turbo Charger HP gets you on the bike with the right pressure faster with a piston bore customized for easier high-pressure inflation and an auto-select head that fits both Schrader and Presta valves.
Check Price
We earn a commission if you click this link and make a purchase at no additional cost to you.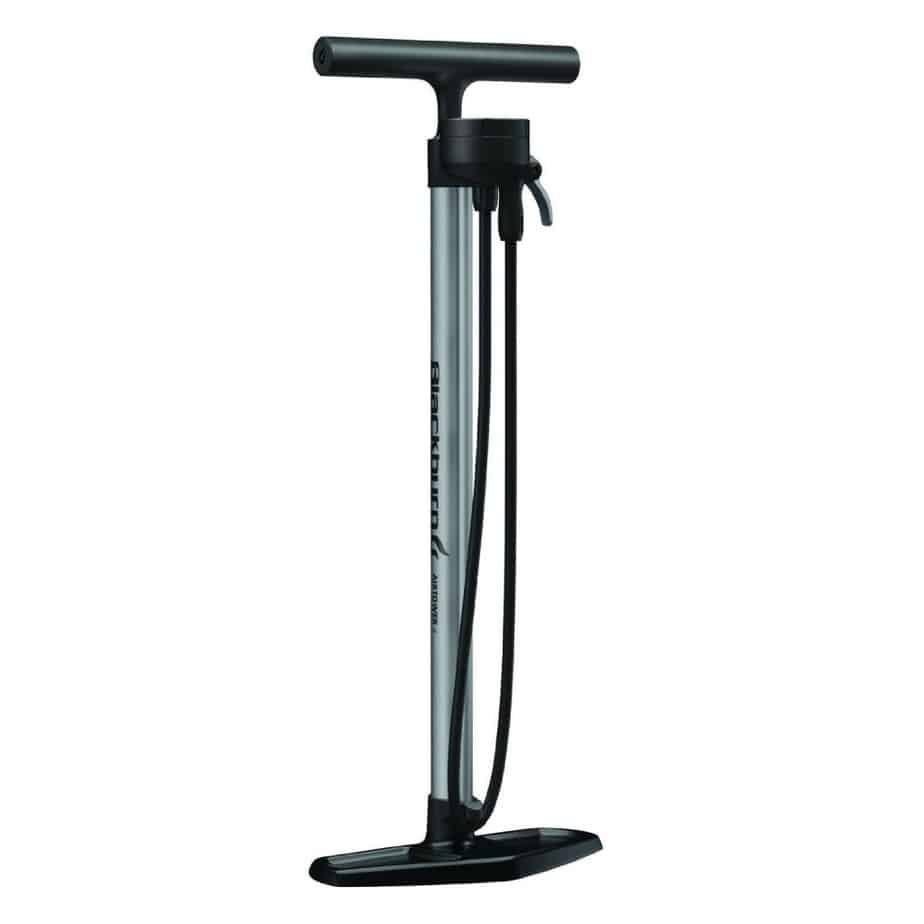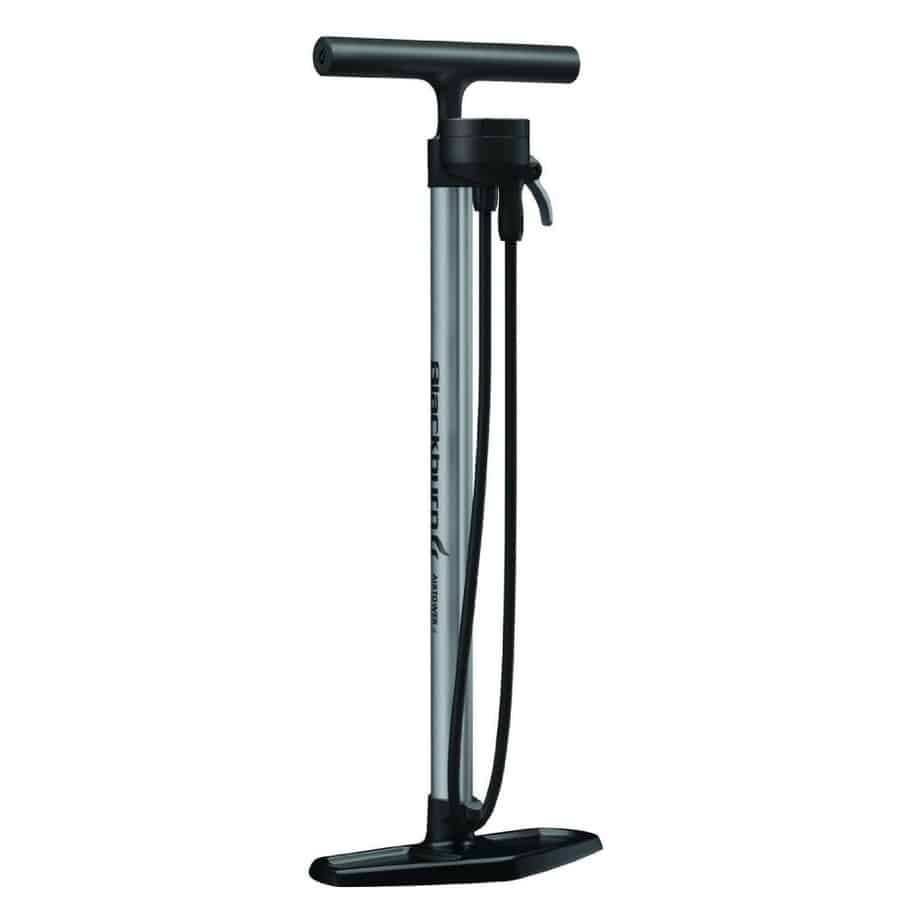 A step up from the Blackburn Airtower 3, which features an-annoyingly short 35-inch-hose, the Airtower 4 has a 40-inch-hose and a large air chamber that quickly inflates tires.
A smart valve easily swaps between Presta and Schrader and a large top-mounted gauge makes this a very user-friendly choice. We also love the magnetic pump head holder. A downside is the unsteady two-legged base. The Airtower 4 retails for $54 and also comes with a lifetime warrantee.
Blackburn Air Tower 4 Floor Pump Silver | Amazon
For a secure floor pump that is compatible with Presta, Shrader, and Dunlop valves, consider the Air Tower 4 by Blackburn. It features a steel base to provide extra stability while pumping, plus it is equipped with an AnyValve pump head for use with multiple bikes.
Buy at Amazon.com
We earn a commission if you click this link and make a purchase at no additional cost to you.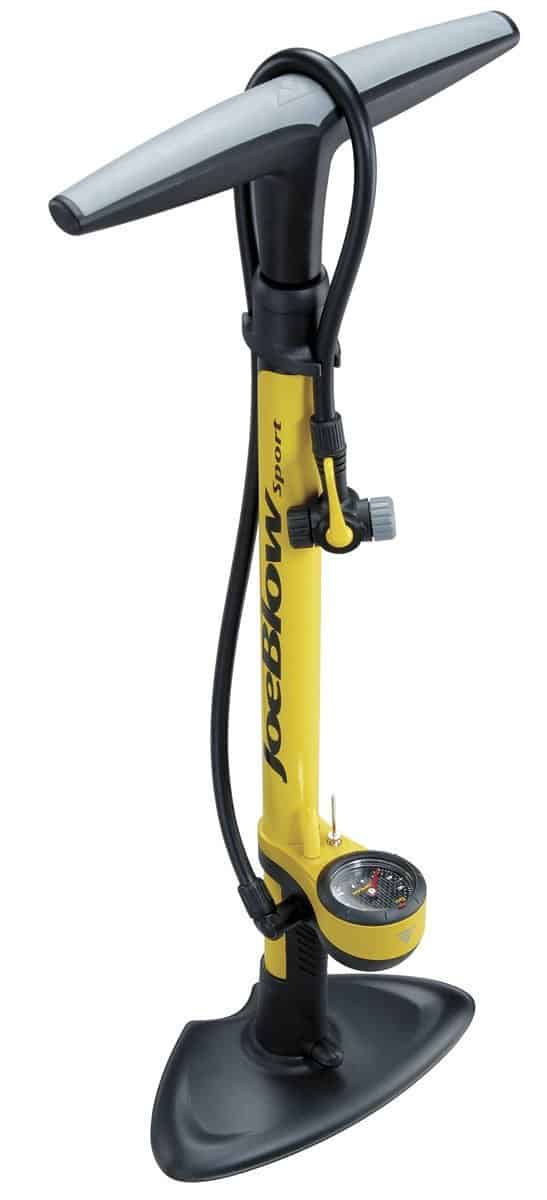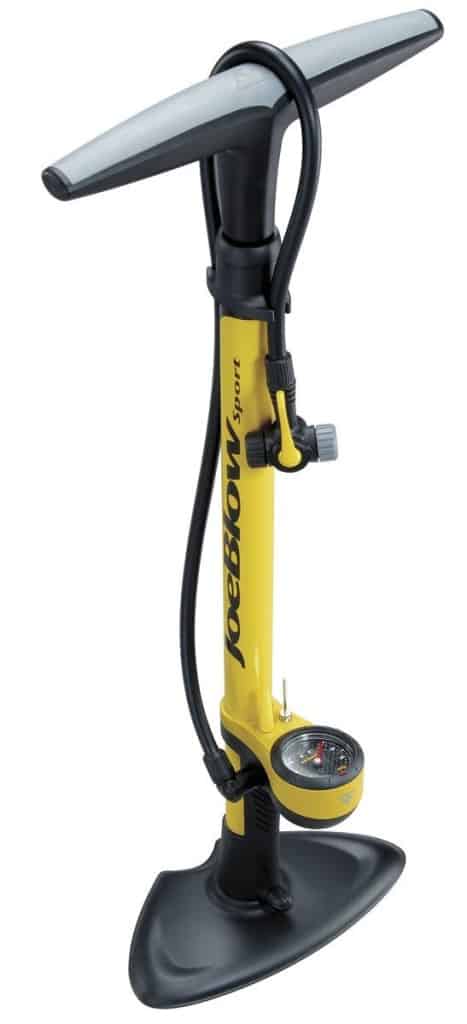 You can't talk about bike pumps without mentioning the Joe Blow. But is it worth the hype? Like a fading rock star, we feel the Joe Blow has sadly been replaced by better technology. At around $40, Joe is easily bested by pumps with longer hoses and similar, if not better, features for less money.  
Yes, Topeak's two-sided TwinHead adapter fits both Presta and Schrader, which produces a tight seal. It's durable, heavy and stable due to its all-steel construction and comfortable and easy to use.
But the Joe Blow is difficult to pump at higher pressures and, at four pounds, it's taller, heavier and not as portable as other pumps at or below the same price. Plus the 27.5-inch-hose is frustrating to use.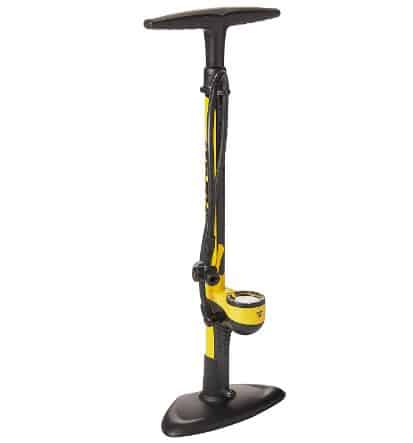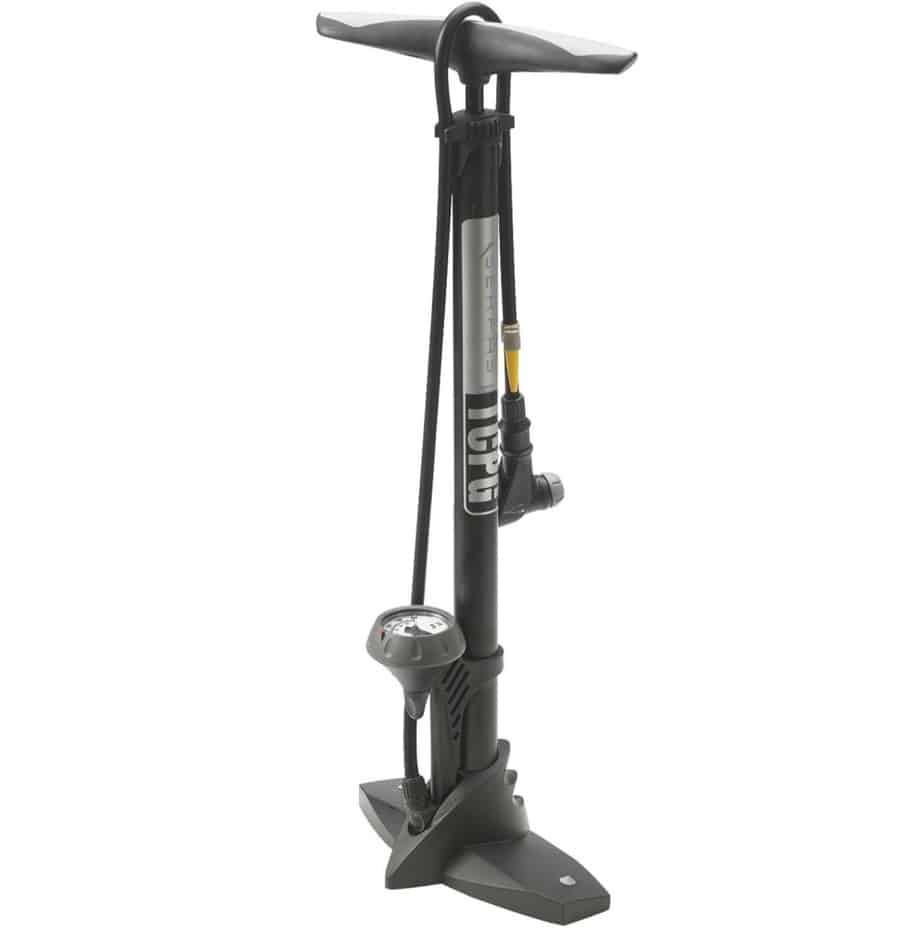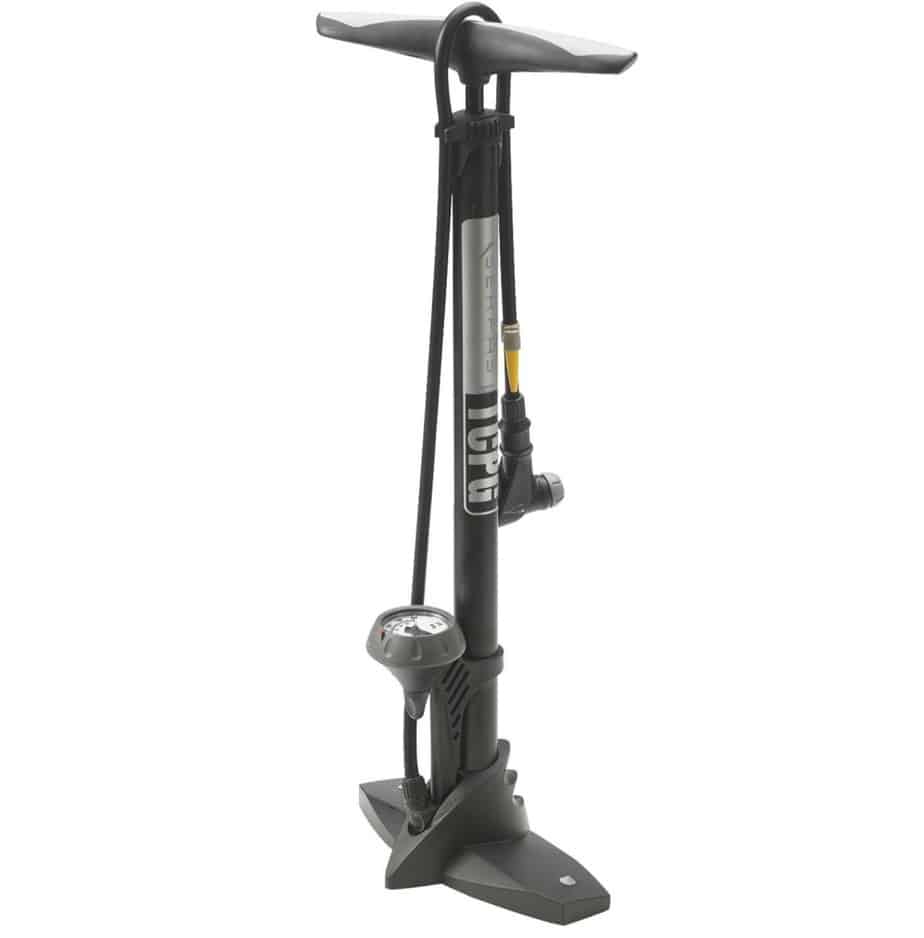 For around $26, the Serfas TCPG models some of its features after more expensive pumps. However, there are some annoying characteristics, like an unstable base that might be tricky to balance on unstable surfaces like grass and at 32 inches, the hose is a little shorter than others.
Dual valve head and easy-to-read gauge make this a solid choice for a beginner or for someone who only rides occasionally.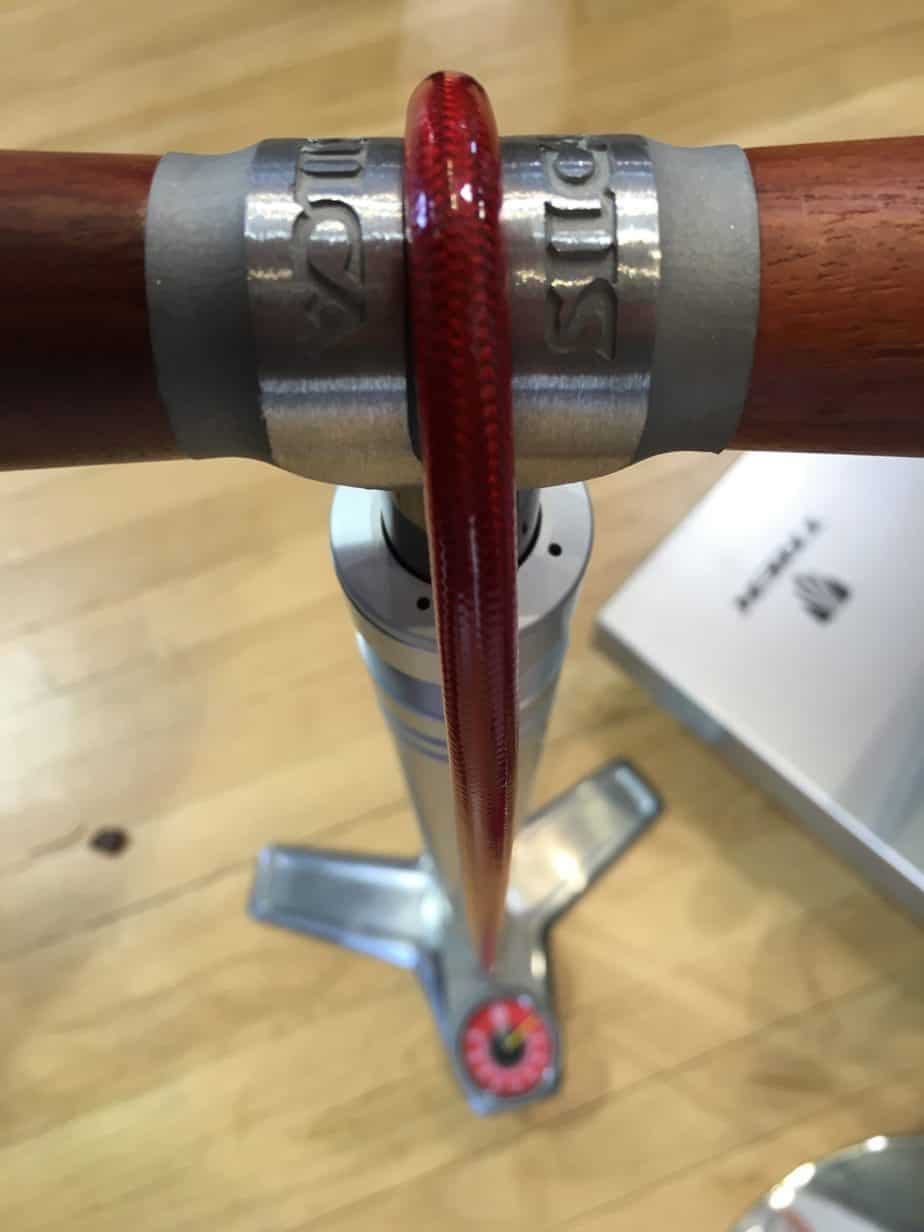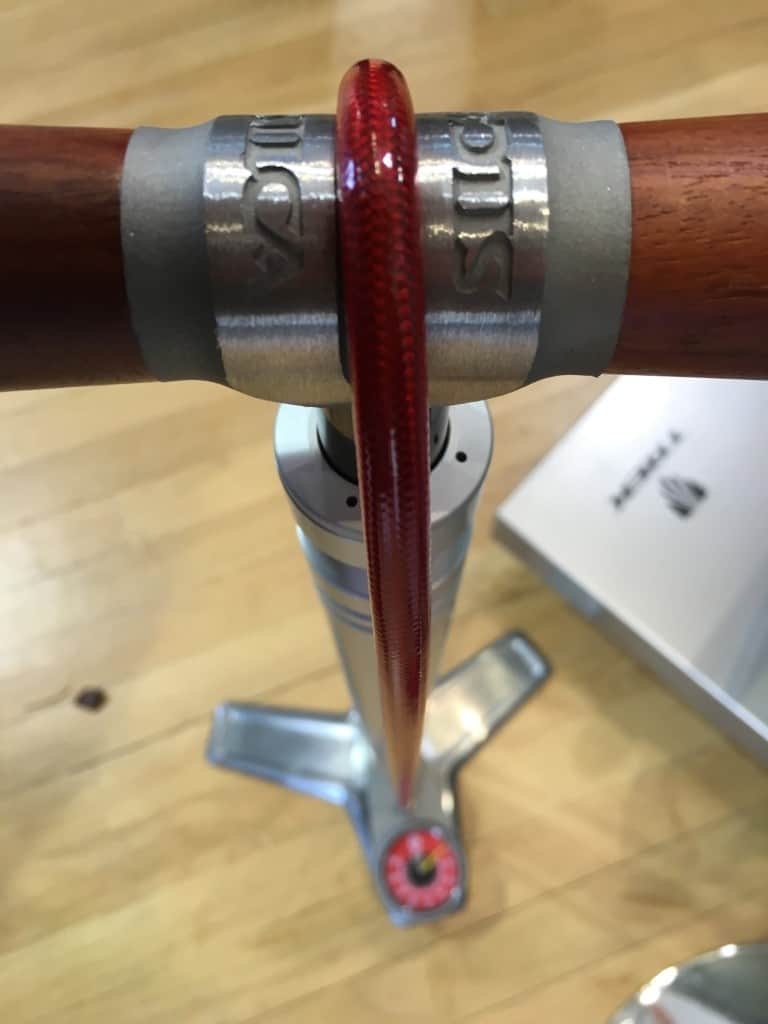 Hang on to your pump heads, as we introduce the mother of all inflation devices: The Silca SuperPista, around $450 pump (Check Amazon for occasional discounts). This is, hands down, the best bike pump. Owner Josh Poertner explained in Bicycling that his ultimate goal was to build the perfect bike pump, piece-by-piece.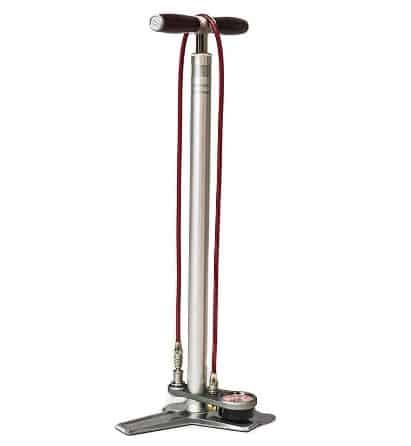 To build something that would last forever and make pumping up a bike tire a fun task. The result was extra-thick pump walls, a precision-crafted handle, an indestructible hose and a leather cupped washer (as opposed to an o-ring) that protects the barrel against air leaks.
The gauge is also individually calibrated to achieve nearly perfect (+/- 1%) accuracy. The industry standard is +/- 5%. And you won't need very many strokes to hit 100 PSI, far less than with other floor pumps and 51 inches of hose allows flexibility for the busy mechanic. It's clear to see why pro mechanics reach for this pump every time.
Related: Get Fast! How to Find the Best Wheels for Your Road Bike, Fix Flats Fast! How to Change a Bike Tire: The Ultimate Guide
Want even more cycling hacks or to connect with a community of like-minded cyclists? Join us in our free Facebook Group.