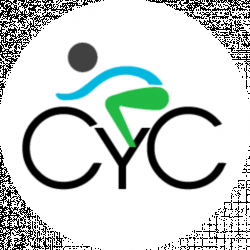 Latest posts by Cycling Hacks Team
(see all)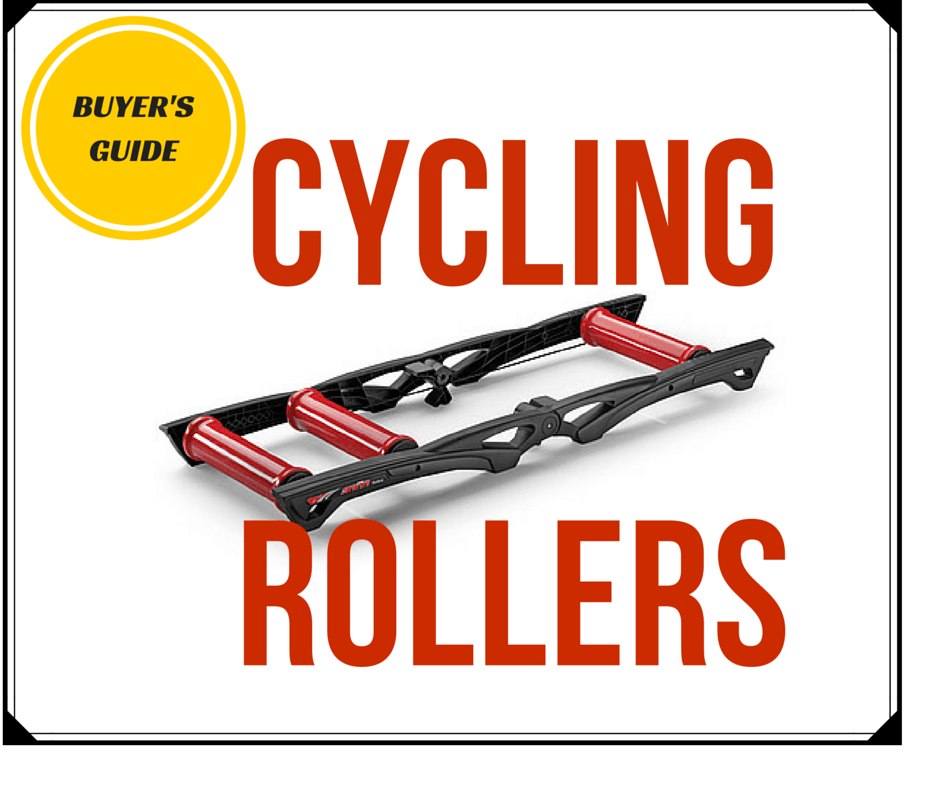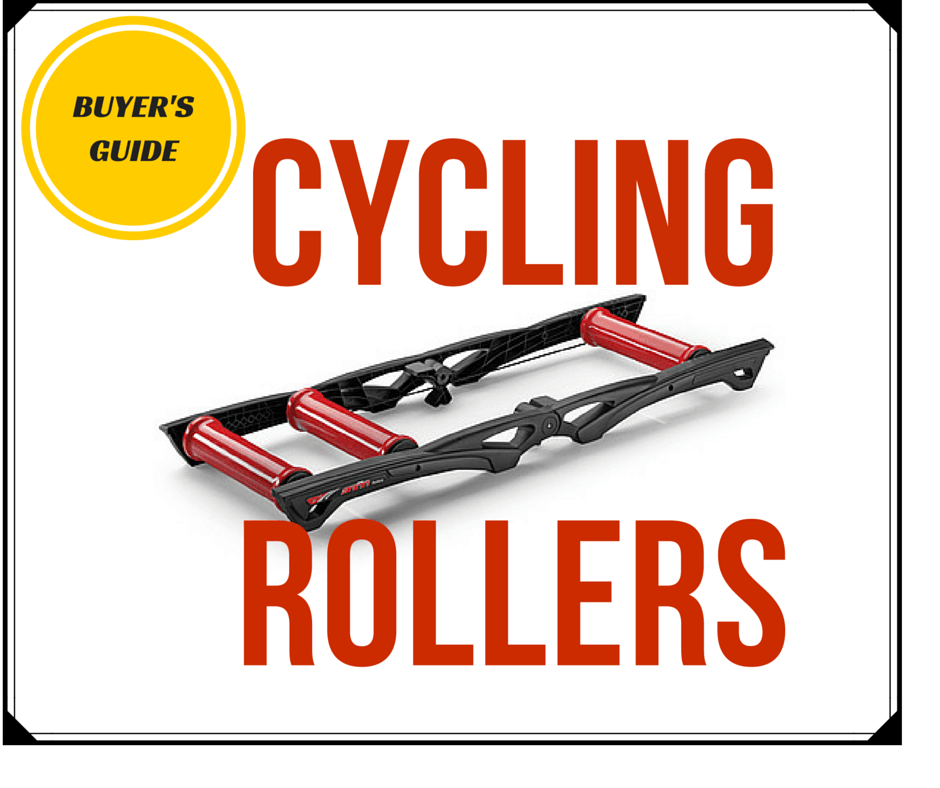 If you've ever struggled to ride in a straight line or nearly swerved off the road reaching into your jersey pocket, then cycling rollers could improve your balance and coordination. Any pro rider will tell you that it's not necessarily the size of the engine that matters most, but how efficiently you use it. Developing a smooth, efficient pedal stroke will not only teach you how to ride more economically, it'll also improve your balance and core stability. Not all rollers are created equal. Here's our roundup of the best cycling rollers to fit the needs of recreational riders and racers.  


Considerations for Riding Indoors
Weight and portability, especially if you're taking rollers to a race

In general, as the drum size decreases, the roller's resistance increases.

Most offer adjustable wheelbases, but if you have an odd size bike, check with the manufacturer first.

Before buying, consider any future upgrades you might want. Some models can accommodate additional resistance (either manually or electronically), a fork mount (which makes balancing easier) or bumpers to decrease the likelihood of riding off the rollers.  
Bicycle Rollers vs Trainer
Don't toss your trainer for a fancy set of rollers just yet. Trainers still have their place in a solid winter training program. While they won't engage the core as much as riding outside or on the rollers, trainers offer more resistance and stability for high-intensity work. Zwift compatible trainers also let you make training fun (and maybe a bit competitive…) in a way that rollers can't. Finally, rollers can take some time to get used to and have a high initial frustration factor.
Looking for bike trainer recommendations? Start here.
Pros and Cons of Rollers:
The advantage of rollers? They're great for lower intensity, technique drills that are focused on cadence and smoothing out the dead spots in your pedal stroke. Mashing the pedals on rollers will quickly score you a first-class trip to the floor, so there's no room for sloppy technique. Rollers can also aid your riding mechanics because they demand more upper body engagement as well as more engagement through the muscles in your legs. Unlike a bike trainer, rollers also rely much more on core stability, which is similar to riding a bike outside. Arguably, on a neuromuscular level, rollers are a fantastic workout. Moreso than on a trainer.
And if you want to sprint, there are certain rollers, such as the Elite Quick-Motion rollers, that make standing up and powering down a little bit easier.
On a more basic level, rollers are simple to set up: there's no cranking down on a skewer, setting the resistance or trying to locate your riser block. Though when you first start out and your balance is shaky, you may want to set up in a doorway or next to a sturdy piece of furniture (not the glass coffee table!). Rollers also won't wear out your rear tire or cause the unnecessary forces on your bike the way trainers do.
Types of Rollers:
Traditional Rollers
Traditional rollers have two drums in the back and one in the front. You control the resistance based on what gear you're in. Balance is key here, as you must remain in an upright position without any assistance. A conventional roller will come pre-assembled and ready to go. Just adjust them to your bike length.
Resistance Rollers
As the name implies, these rollers have adjustable resistance. The variable resistance is good for those who require more of a challenge. Still easy to set up and maintain, these are nearly identical to traditional rollers. Our pick is the Kreitler.
Smart Rollers
This is where rollers begin to get fancy. If you're into Zwift or Trainerroad, you'll need a pair of smart rollers to play along. These connect to a laptop, phone or computer through ANT+ or Bluetooth, so they provide more data like power.
Our favorite smart rollers are the Elite Arion Digital Smart B+.
Hybrid Rollers
For those who like the idea of rollers, but fear balance and gravity, hybrid rollers may be the perfect compromise. Balance isn't an issue, as the hybrid roller has a fork stand in the front and traditional rollers in the back, thus relieving any fears of endoing in the living room. It's also easier to store because it folds and is still fairly simple to set up. Just remove your front wheel and secure it in the fork mount. The best hybrid rollers we've found are from Hybrid Sports.
Feedback Sports Omnium Portable Trainer with Tote Bag | Amazon
Features progressive magnetic resistance minus the complicated and time-consuming assembly. Simply unfold and mount bike Bearings are greased and sealed, requiring no maintenance. A heavy-duty tote bag for transport and storage is included.
Buy at Amazon.com
We earn a commission if you click this link and make a purchase at no additional cost to you.
08/22/2022 07:47 pm GMT
Here are some simple tips for getting started on bicycle rollers:
If you want to learn more about technique, check out our top tips for learning to ride rollers.
Our buyer's guide to the best cycling rollers lists the basic models that will get the job done all the way up to the top-spec rollers, which offer the Cadillac of training experiences.
Let's get rolling!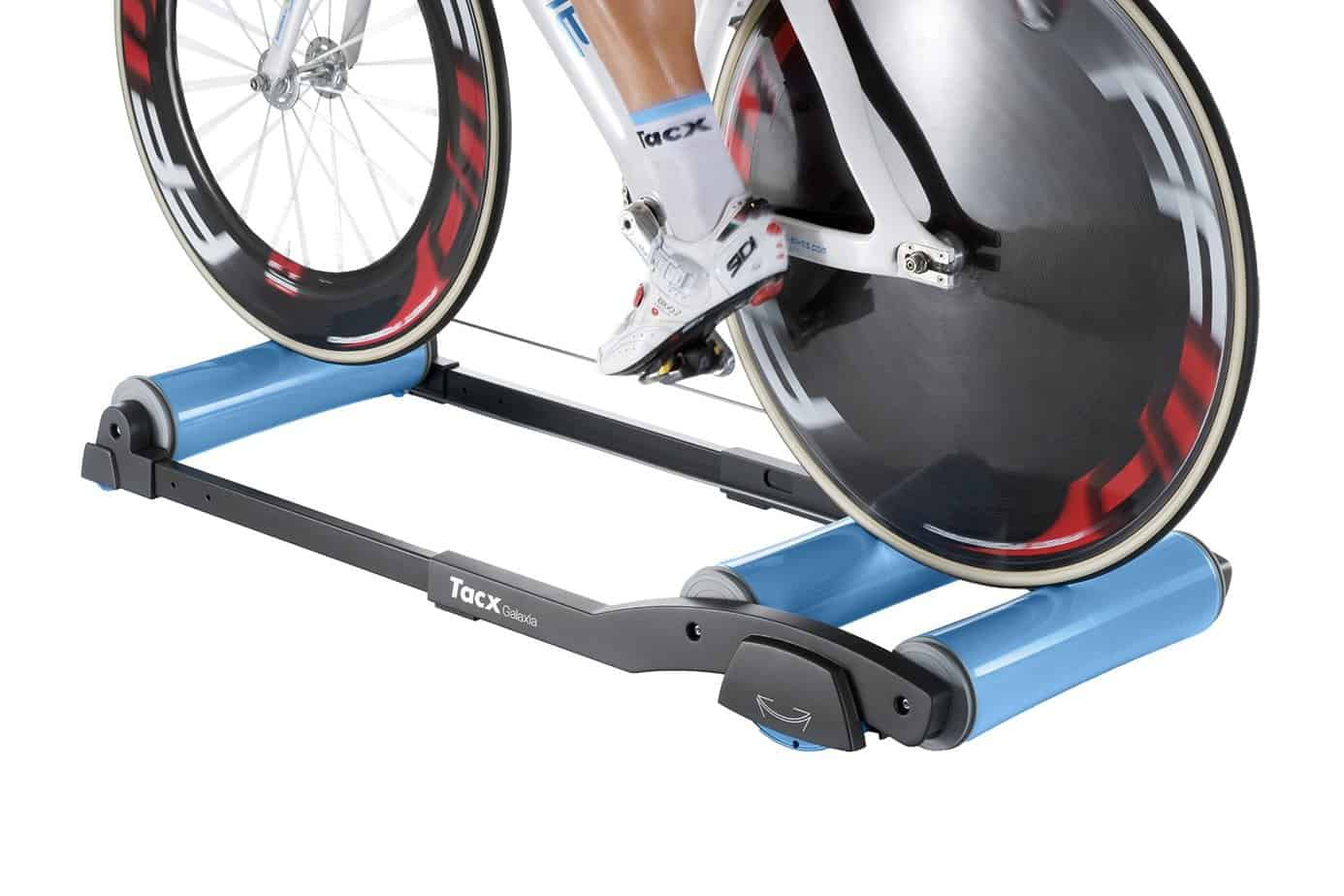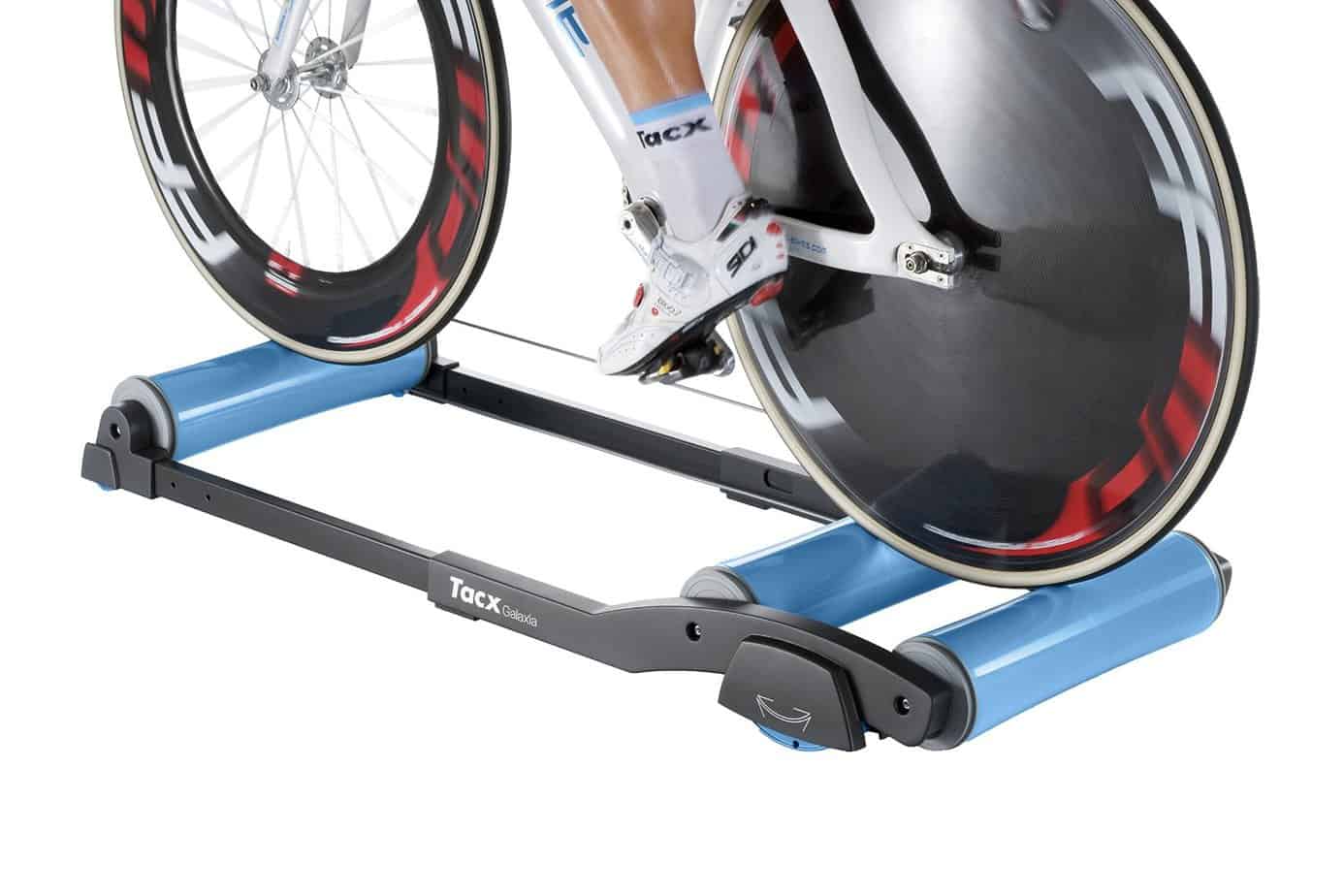 Tacx brings two trainers to the market. Both are easy to set up and highly portable, making them great for new riders or cyclists who want their rollers with them on race day. If you want to give bicycle rollers a go without splashing too much cash, we'd recommend starting off with the Antares rollers. The parabolic drums offer a smooth ride and the slightly elevated front wheel helps novice riders feel a bit more stable.
If you want to step your sprints up a notch, then the Tacx Galaxia is a great deal for the money and performs on par with some of the higher-priced Elite rollers. It's designed to accommodate the fore and aft motion of a bicycle, especially during standing efforts and sprints, as the rollers gently glide back-and-forth under hard efforts, making it a snap to stay upright and train harder than on traditional rollers.
Tacx Galaxia Indoor Retractable Bicycle Rollers | Amazon
Experience the balance, cadence, and exercise of riding with this innovative indoor stationary stand. Heavy-duty rollers taper toward the middle to keep your wheels naturally centered on the system.
Buy at Amazon.com
We earn a commission if you click this link and make a purchase at no additional cost to you.
08/22/2022 08:45 pm GMT
Need to safely and easily transport or store your Antares rollers? Taxc offers the Antares Roller Bag for storage and transport. If you're still getting used to rollers, the Tacx Antares Front Wheel Stand will give you a bit extra stability on your bike.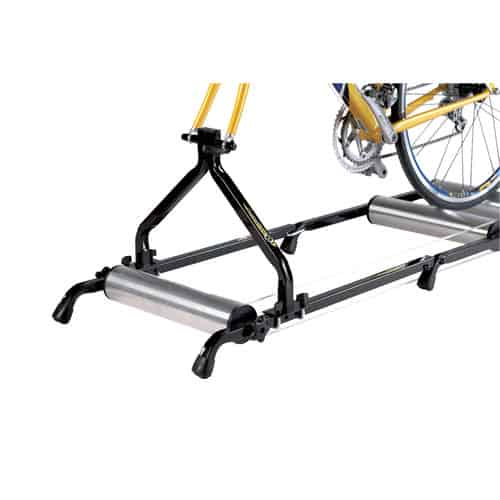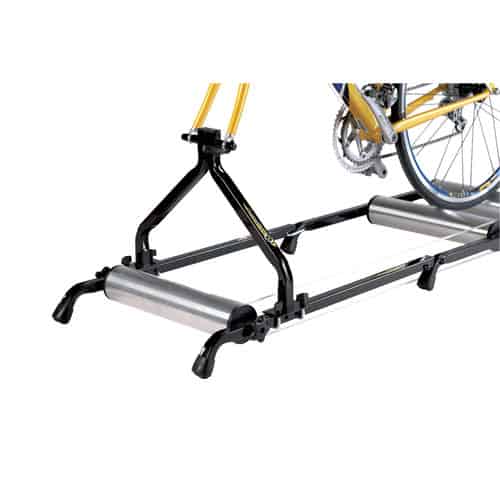 Mid-sized drums bring these alloy rollers up to speed fairly quickly and offer a smooth, quiet ride. Constructed with a sturdy steel frame, Cycleops's aluminum rollers feature an interchangeable belt that can be mounted on the right or left hand side, making for easier dismounts. The unit is ready to roll right out of the box and can be stored upright against a wall or under a bed. However, they're not as easy to transport as other models and if you're a new rider, you may find the slick aluminum rollers tough to ride on at first as there are no bumpers or parabolic drums.
Add-ons: Cycleops sells an attachable 3-setting resistance unit, as well as a fork mount (right).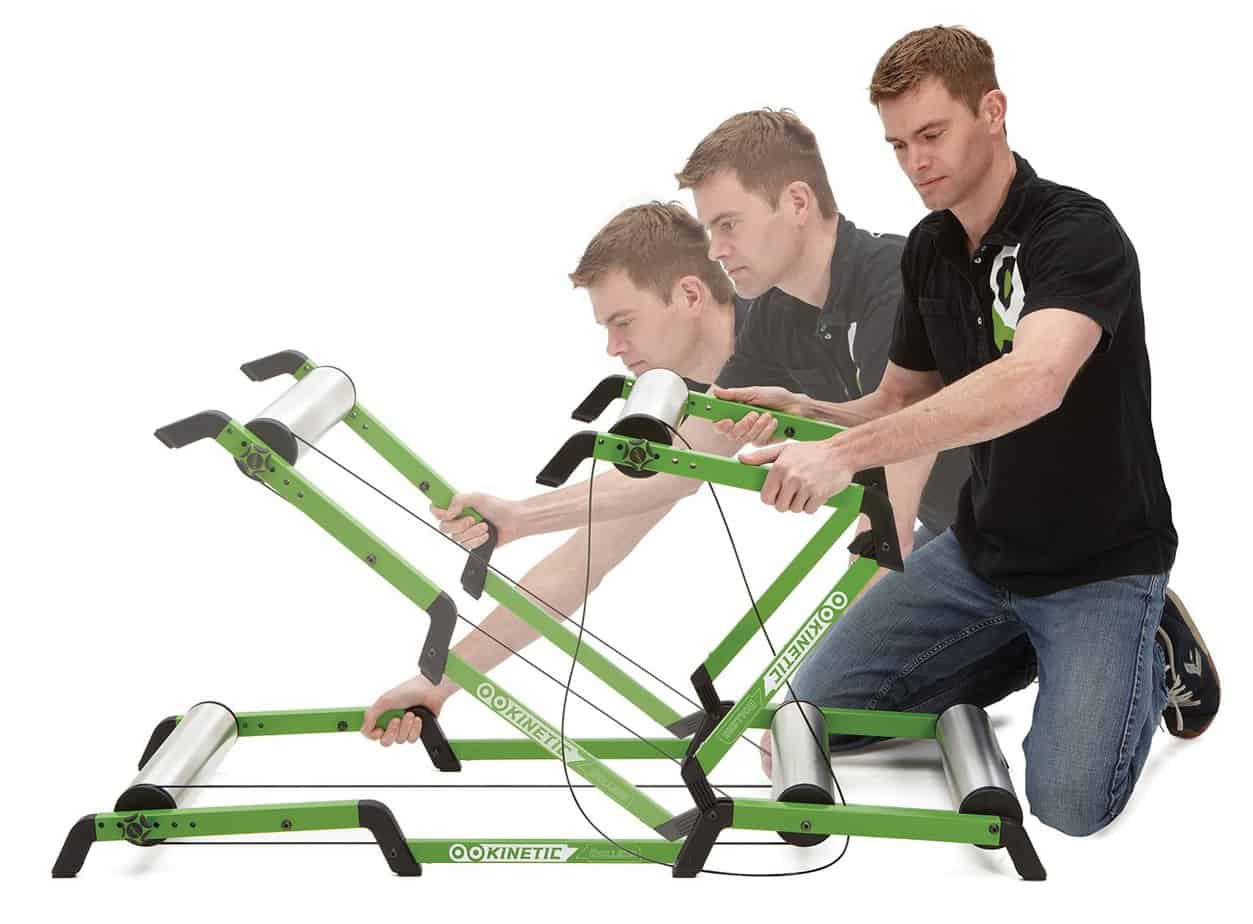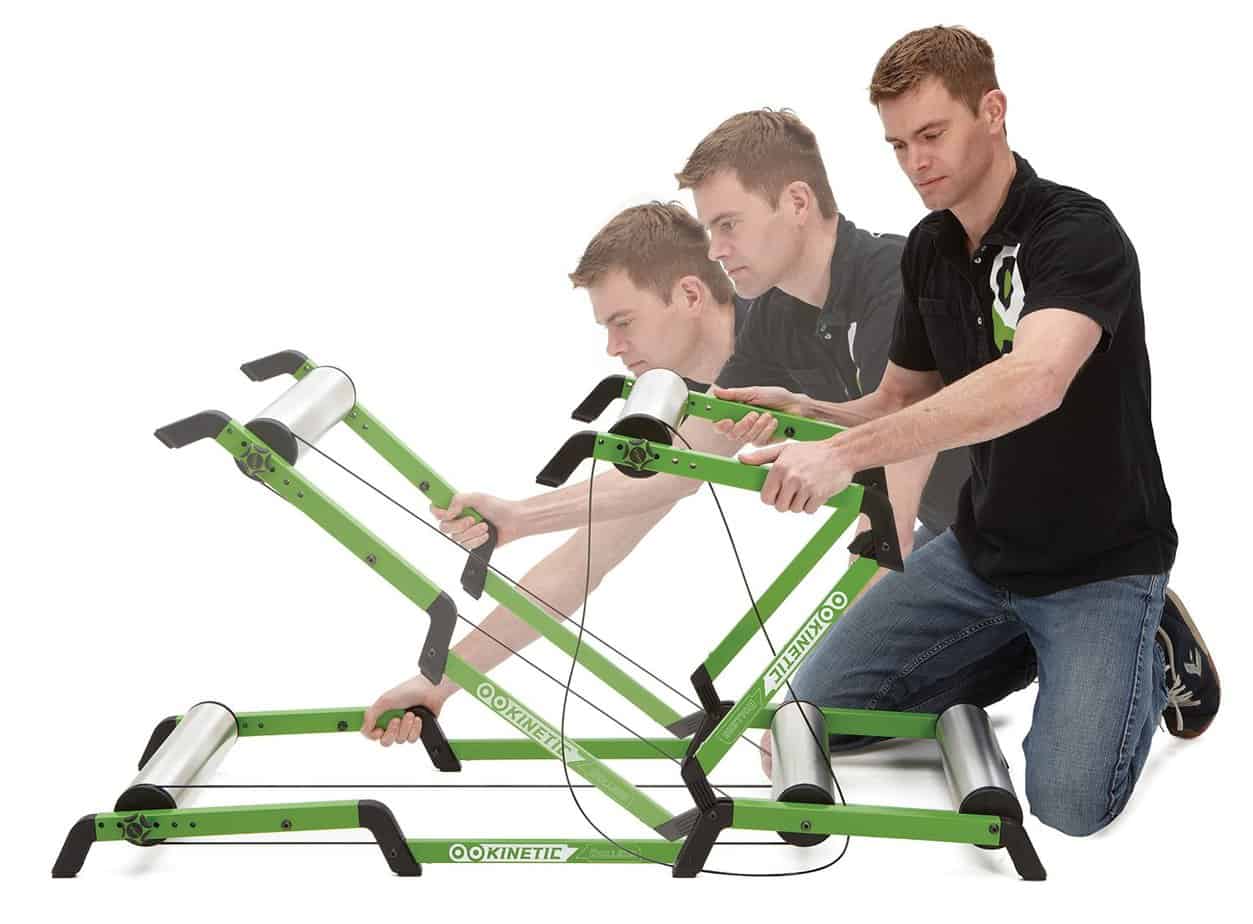 When Kurt Kinetic finally introduced rollers into their product line, they quickly proved that they were worth the wait. The Kinetic Z Rollers are probably the most compact full-size rollers we've seen, literally folding into a Z shape for easy storage and transportation.
Most rollers only fold in half, but the Z roller folds into thirds. They feature a trifold aluminum frame design and 90-millimeter aluminum drums, making the unit durable, yet quiet. It comes with a lifetime guarantee and arrives fully assembled. One thing to be aware of is that, over time, some of the main frame bolts loosened from repeated use. Also, depending on the surface you're riding on, multiple points of contact with the ground can cause it to feel unstable on uneven surfaces.
Kinetic Z Rollers | Amazon
Kinetic ZRollers are the perfect option for developing better balance and technique, or for pre race warm-up. Precision machined aluminum rollers and premium bearings provide a smooth, quiet ride.
Buy at Amazon.com
We earn a commission if you click this link and make a purchase at no additional cost to you.
How to cycle faster: 7 essential tips to find free speed
Elite Parabolic Rollers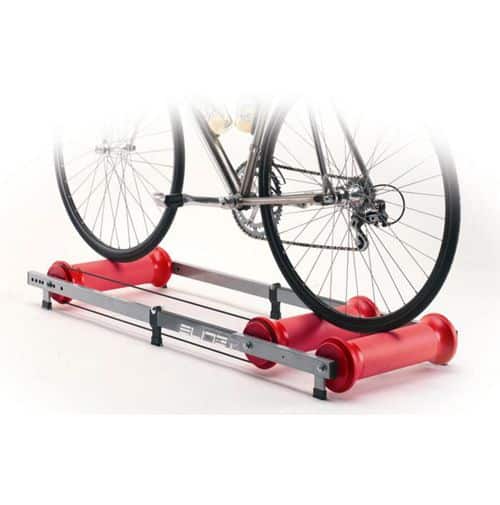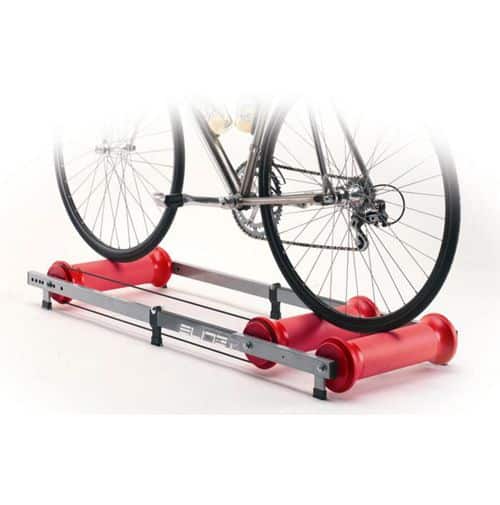 Compatible with road and mountain bikes and featuring parabolic rollers, Elite's extensive roller line offers something for everyone.
Let's start with their base model.
The Elite Arion features parabolic rollers, which help keep wheels centered by varying the cylinder diameter from 85 to 100 millimeters. The drums also have a grippy feel that decreases the skating-on-ice feeling you can get when riding rollers. The Arion is light and easily folds up for quick storage. Although it doesn't include a raised step on the frame to assist with mounting and dismounting, it's a great option for those new to rollers.
Most rollers don't come with resistance, which is one reason many cyclists also keep a stationary trainer on hand. Elite, however, has incorporated adjustable resistance into several of their models.
ELITE Arion Roller | Amazon
Whether it's for warming up in a shady corner of a parking lot before an event or trying to maintain form through the cold months, rollers are occasionally a necessary evil. Made out of fiberglass-reinforced polyamide, this roller will definitely last longer.
Buy at Amazon.com
We earn a commission if you click this link and make a purchase at no additional cost to you.
The Elite Arion Mag offers three levels of adjustable resistance and features a raised step in the frame. Buy this if you want to incorporate more power-based training into your roller workout, but be aware that the resistance can only be manually adjusted on the frame itself.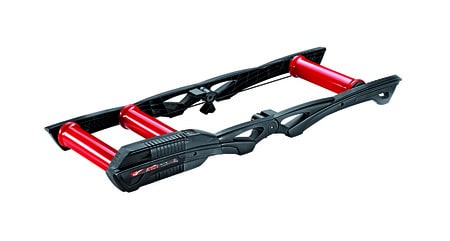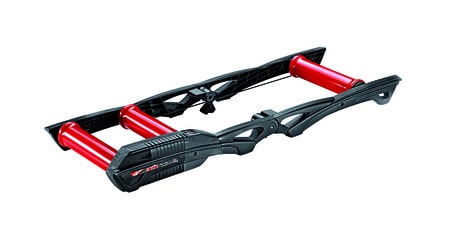 The Elite Arion Digital B+ solves the problem of stepping off the trainer to adjust resistance. A user-friendly ANT wireless computer provides 16 levels of resistance and measures speed, power, heart rate, distance, cadence and other metrics. The smart roller system also features continuous resistance to help you train at a constant power, or you can try one of the pre-programmed training sessions.
Synch the Digital B+ with its accompanying My E-training app to manage metrics and create training programs on the go (there's a small subscription fee for unlimited access to all features, but you may already have this if you use an Elite bike trainer). While the Arion Digital may seem like overkill for new roller riders, it's worth considering if you do a lot of indoor training or rely solely on rollers instead of a bike trainer. The Arion Digital is a fun way to get in a workout that has a road-like feel and the entire setup is very intuitive.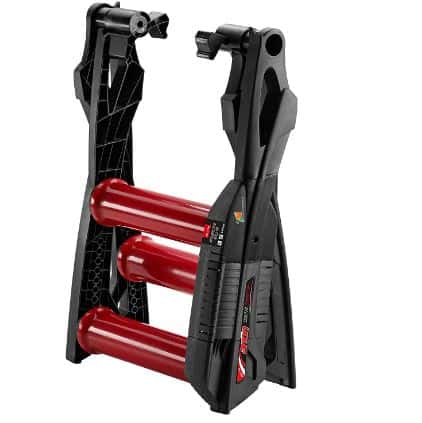 Elite Arion Digital Smart B+ Trainer | Amazon
Arion Digital Elite Trainer Sends speed/cadence and power data to compatible ANT+ and Bluetooth Smart devices and app Includes 12 months free of the Elite My Entraining App Slope simulations.
Buy at Amazon.com
We earn a commission if you click this link and make a purchase at no additional cost to you.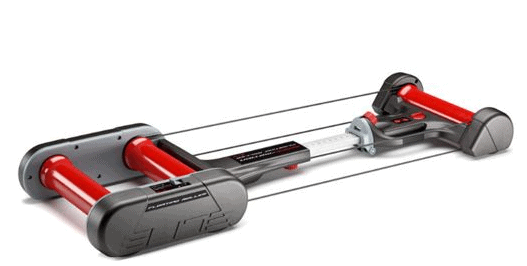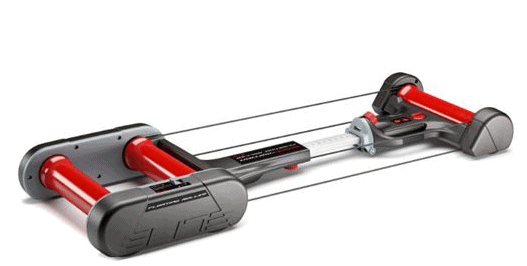 The floating system of the Elite Quick-Motion absorbs sudden movement making it easier to stay balanced and centered. This gives more of a real-world feel and is helpful if you're new to rollers or want to stand up and sprint. It's adjustable to different bike sizes and offers three levels of magnetic resistance.
Elite's original floating system – the E-Motion rollers – was a beast of a unit both in price and the space it took up in your house. The Quick-Motion is more modestly priced and specifically designed to be portable. It folds in three for easy storage with a handle for easy transportation.
Elite Quick-Motion Training App | Amazon
Take this everywhere with you as the Quick Motion Elite Trainer is easy to adjust to various wheelbase sizes Parabolic shaped drums for more ride control Folds in 3 parts for easy storage and transport and the integrated handle makes for easier transport.
Buy at Amazon.com
We earn a commission if you click this link and make a purchase at no additional cost to you.
08/23/2022 12:02 am GMT
Kreitler Rollers
Kreitler arguably produces some of the best cycling rollers. For nearly 40 years, they've been fine-tuning them and, unlike other rollers, they're highly customizable to fit a rider's exact needs. The upside is that Kreitler has a stellar reputation and all its products are backed by a lifetime guarantee. Of course, you tend to have to pay for the best, so this isn't the most budget-friendly choice. But if you can afford to splurge, we suggest you do.
What you need to know about Kreitler
Kreitler allows you to choose the drum size (the smaller the diameter, the more resistance). Just remember that a larger the drum size, the easier it is to ride. Kreitler suggests starting with the 4.5 and adding resistance with a flywheel or headwind fan as needed. Remember, if you start off too small, you won't be able to decrease, only increase, the amount of resistance in the future.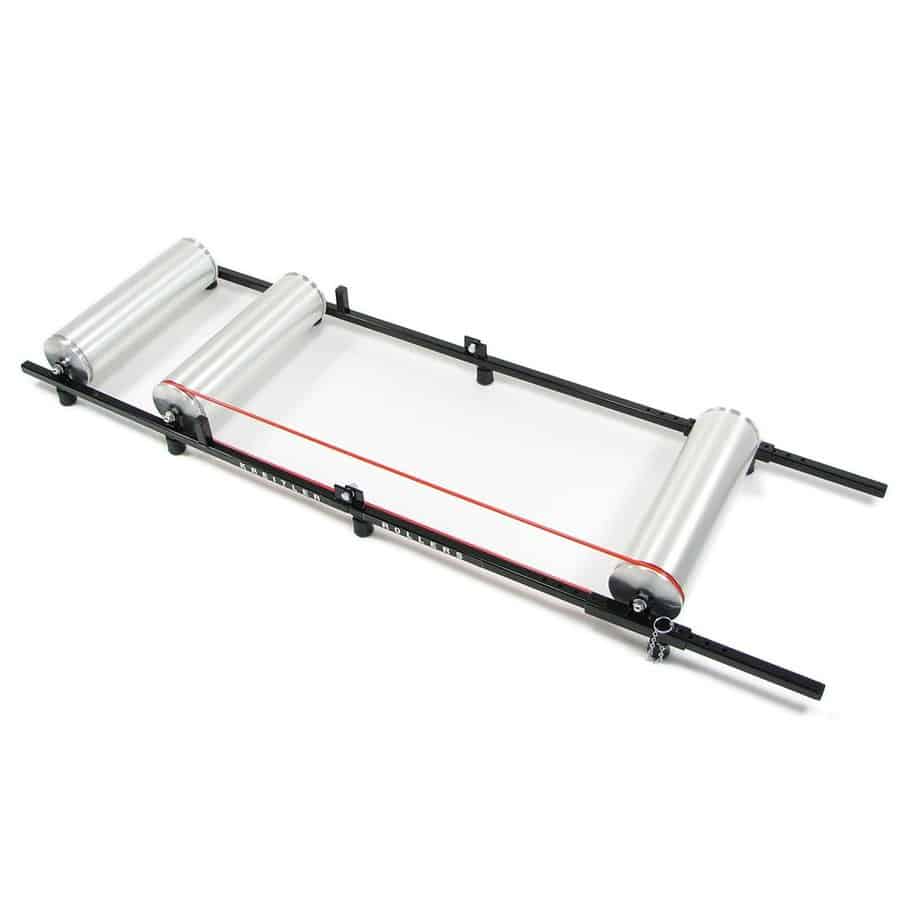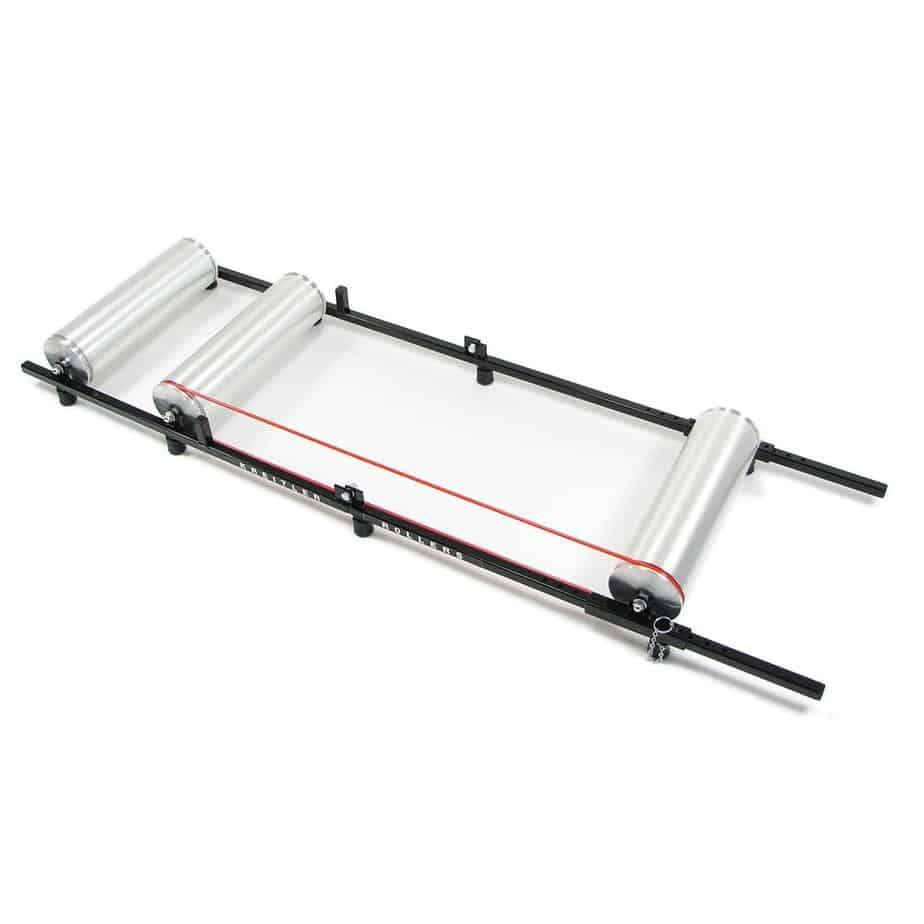 Add-ons: The Killer Kool Headwind Fan mounts on the front of the roller unit and adds adjustable resistance through a belt attached to the front drum. By rotating the fan, you can choose to feel a cool breeze as you ride. The Flywheel attaches to the rear drum and adds resistance (you can use one or two Flywheels), allowing you to naturally coast a bit more without losing as much speed. They also offer a Fork Stand that mounts to your bike, which minimizes the side-to-side movement of traditional rollers and gives the option for you to try single-legged drills.
Kreitler rollers come in two frame sizes:
Standard frames easily adjust to accommodate different wheel diameters and fold in half for increased portability.
For maximum portability, and a true riding challenge, choose the 10" wide hotdog width.
 The Challenger is Kreitler's budget-friendly option. The unit itself comes with a steel frame and aluminum drums. The ride is still smooth and quiet, but lacks a few features found in the Alloy model. The main difference between the Challenger and Alloy systems is the use of polycarbonate end caps. The poly end caps are lighter, but don't last as long and won't produce as much momentum as the Alloy rollers. Because of this, you're limited in what accessories you can use with the rollers, such as the flywheel or headwind fan, which place excessive pressure on the beltwear groove and tend to wear out the endcaps prematurely (something not covered in the manufacturer's warranty). If adding resistance (or generating a cool breeze) appeals to you, definitely go with the Alloy model instead.
Kreitler Challenger Rollers | Amazon
This features aluminum drums and polycarbonate end caps. Polycarbonate end caps are built to last, but provide a more economical option when compared to the all alloy models.
Buy at Amazon.com
We earn a commission if you click this link and make a purchase at no additional cost to you.
08/22/2022 05:46 pm GMT
If you have the cash, the Alloy Roller will not only last you a lifetime, but will also best simulate the smooth feel of riding on the road. The alloy end caps are heavier than the polycarbonate ones, meaning they'll roll up to speed quickly, creating more momentum and a better coasting effect. Alloy end caps are also recommended if you're likely to be using a headwind fan or flywheel regularly.
The Kreitler Alloy Rollers are available in three drum diameters: 2.25-inch, 3-inch and 4.5-inch. The 4.5-inch setup gives the lowest resistance and offers the most flexibility for workouts when combined with the headwind fan. If you want to crank your workout up a notch, the 3-inch drum size will increase resistance by 40 percent. The 2.25-inch rollers were originally designed for the USA Cycling Team and are only for the strongest cyclists.
If you're looking for a solid set of rollers ready for any future upgrades, these are the best cycling rollers for you. 
Kreitler Alloy Roller 'Set | Amazon
These are quiet and smooth rollers that feature the all aluminum drums and end caps that are beautifully machined and perfectly balanced.
Buy at Amazon.com
We earn a commission if you click this link and make a purchase at no additional cost to you.
08/22/2022 07:11 pm GMT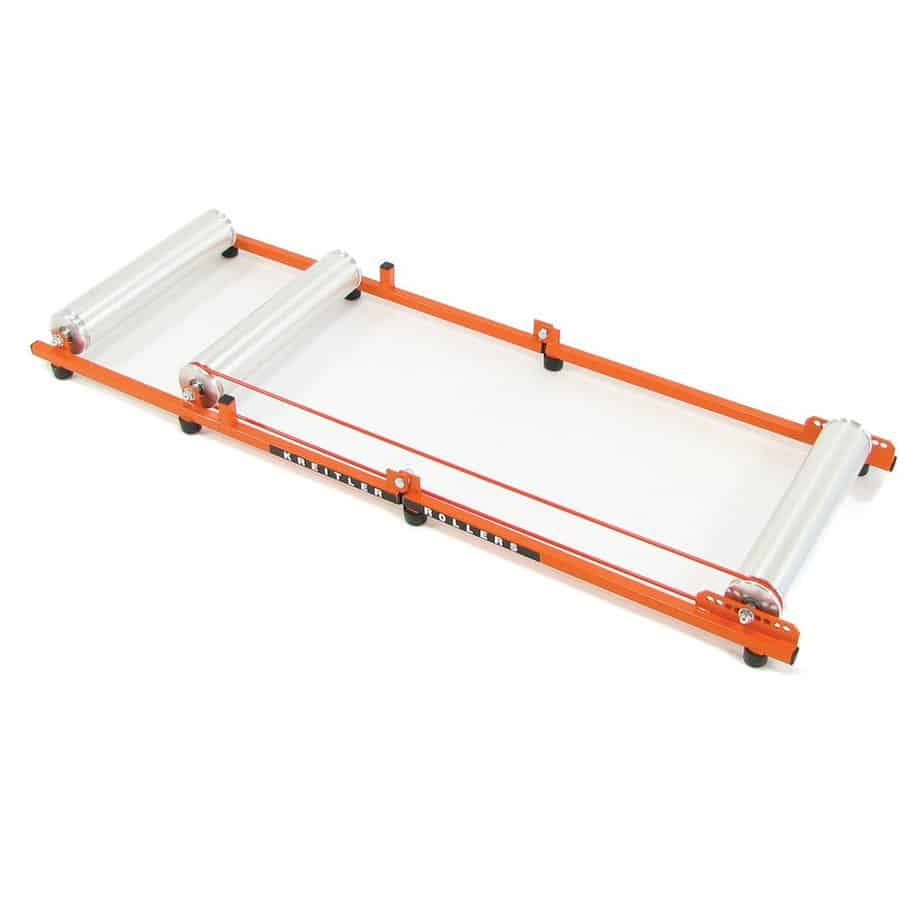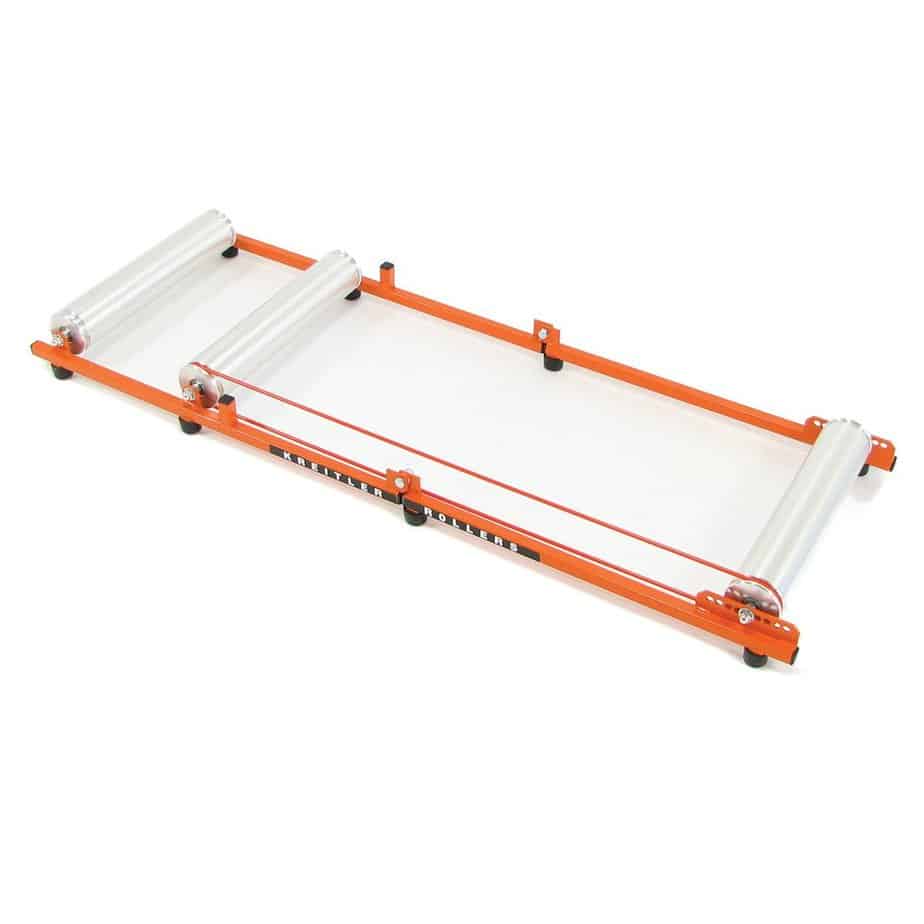 If portability is a must, choose Kreitler's Kompact model. Available in a variety of frame colors, this set of rollers is lighter, easy to transport and offers a sturdier end cap than the Challenger. This makes it compatible with the headwind fan, but not the flywheel. There are a few tradeoffs to portability. One is drum size. The Kompact model is only available with 2.25-inch or 3-inch drums, fitting bikes with wheelbases between 38 and 42 inches.
Because they're highly portable, the rollers have a low profile which can make them tricky to use on uneven surfaces.
Kreitler Kompact Alloy Rollers | Amazon
The Alloy models feature the all aluminum drums and end caps that are beautifully machined and perfectly balanced. These are the quietest and smoothest rollers on earth.
Buy at Amazon.com
We earn a commission if you click this link and make a purchase at no additional cost to you.
For ultimate portability, check out Kreitler's Hot Dog Rollers. They are narrower than the standard frame, featuring a challenging 10-inch-wide drum (not recommended for beginners), are lightweight and fold up easily for race day.
Kreitler Hot Dog Rollers | Amazon
Hot Dog drums are desirable for the most experienced roller riders who want an additional challenge. Features 10-Inch wide Alloy Drums and 3-inch End Caps.
Buy at Amazon.com
We earn a commission if you click this link and make a purchase at no additional cost to you.
Want to make the most of your time on the rollers? Here are our top tips for riding rollers. Need a workout?  Download 3 Free roller-specific workouts from Coach Rob of Tailwind Coaching to help improve neuromuscular efficiency, develop a smooth pedal stroke and build fitness.
Want even more cycling hacks or to connect with a community of like-minded cyclists? Join us in our free Facebook Group.