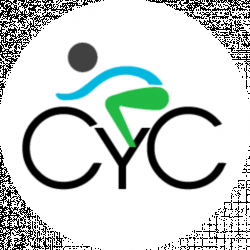 Latest posts by Cycling Hacks Team
(see all)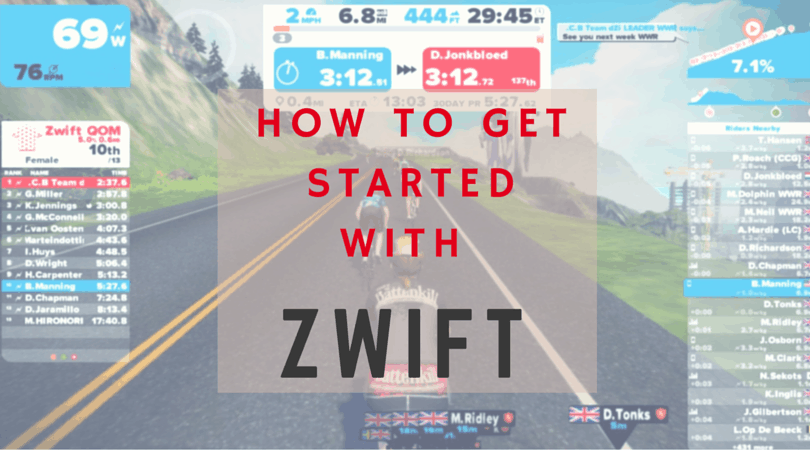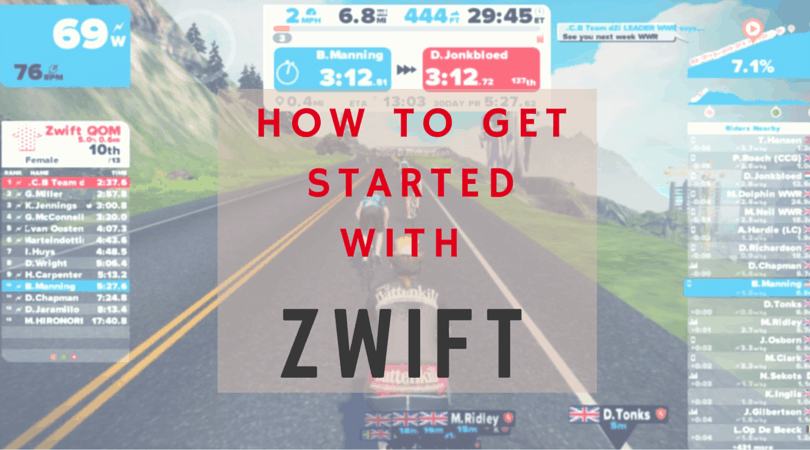 Last updated: 12/29/16
If you hate the trainer, listen up. Zwift will save you from dying of trainer-induced boredom this winter and give your fitness a kick by spring. Here's our official Zwift review and quick-start guide. 
What is Zwift and should you try it?
Zwift is a software program that syncs your bike to a live, virtual course where you can ride and train with other cyclists. Launched in beta mode in the fall of 2014, Zwift quickly grew a following. According to Bicycle Retailer, riders from over 100 countries have already logged over 300,000 rides that cover more than 4.5 million miles.
Riding this wave of popularity, Zwift switched to a monthly $10 subscription last year, though they're still offering a 7-day free trial to new users. Best of all, you don't have to have a fast computer to enjoy the game. Now that you can play via iOS, it's easy to see why Zwift is currently the hottest training tool.
How does Zwift work?
Essentially you pair your ANT+ devices (power, heart rate, cadence, speed) with a , download and launch Zwift's program and start riding. In this Zwift review, I'll walk you through each step and show you how to get the most out of the program.
So let's dive in.
How to get started with Zwift
Smart indoor trainers, rollers or indoor bikes will give you the best experience on Zwift. You'll be able to feel the changes in the road surface or gradient, which translates into feeling added tension when you're grinding up Richmond's beast, Libby Hill, and rolling over the cobbles. You'll also benefit from drafting. 
A classic trainer will work, but you'll be controlling your own resistance and the software will only adjust on-screen speed as the conditions change. Zwift only requires that you have a power meter or a speed sensor. For the best experience, Zwift recommends some of these smart trainers:  
Types of stationary trainers
*Prices current as of 9/29/16 (for a complete list,
click here
).
Related: How to Choose the Best Bike Trainer: The Ultimate Buyer's Guide
Computer Requirements
Here are the minimum computer requirements to use Zwift. You can find a more detailed list of supported platforms here.
OS: Windows 7 x64 bit, OSX 10.7
Processor: Intel Core 2 Duo
Memory: 4GB
Graphics: 1GB dedicated GPU, or embedded Intel HD 4000/AMD R5
Hard Drive: 4GB of free space
The video card on my Macbook wasn't quite up to speed and I noticed the sluggishness right away. While it's not a deal breaker for me, it could certainly be better. This is why Zwift's iOS integration is a major game changer. Now you don't need a higher powered computer to enjoy the game.
After you download Zwift, which is free for Mac and PC, you'll need a ANT+ USB key to connect your computer to Zwift and to communicate with your trainer and other devices like heart rate monitors, cadence sensors and power meters.
Trying to pair Zwift with my power meter was frustrating at first. The program doesn't allow you to manually enter an ANT+ key, as you can on a Garmin device, for faster pairing.
Instead, it requires you to pair your ANT+ devices to the ANT+ USB stick and this usually resulted in a device not being found. Once it finally paired with my power meter (I was using a Kinetic trainer and a Stages power meter at the time), the signal would drop out periodically. This meant that as I sprinted for a Strava segment, my power suddenly dropped out and my avatar stopped pedaling and dismounted. 
Update: Connectivity issues have improved tremendously since this was originally published in 2015.
I've since upgraded to the Elite Drivo, a direct-drive trainer that highlights all of Zwift's awesome features and allows you to truly interact with the game. 
Zwift's customer support is excellent if you do have a problem. They're present on major internet forums, are very concerned with user experience and are highly responsive to inquiries. Zwift continues to improve the game interface and improve its courses. 
The Game 
Once everything is set up, you can cast your computer screen to your television however you like. I got fed up fiddling with Chromecast and just old-school plugged it in via a VMA cable. Zwift's gaming format is rather refined. It lacks the "dweeps" and "pings" of a traditional video game, meaning it won't drive the people you co-habit with out of the house (maybe that's a bad thing?). There's not much sound to speak of either, just a techno beat while you're gearing up and then the occasional video game pings as you level up.
Once you have an account, you can customize your avatar. Zwift will calculate your power-to-weight ratio based on weight. Other than that, you can select, gender, age and nationality. Now you can opt to "just ride", which will start you on the course or you can join another rider or group ride, which is a fun way to still ride with your buddies all winter long.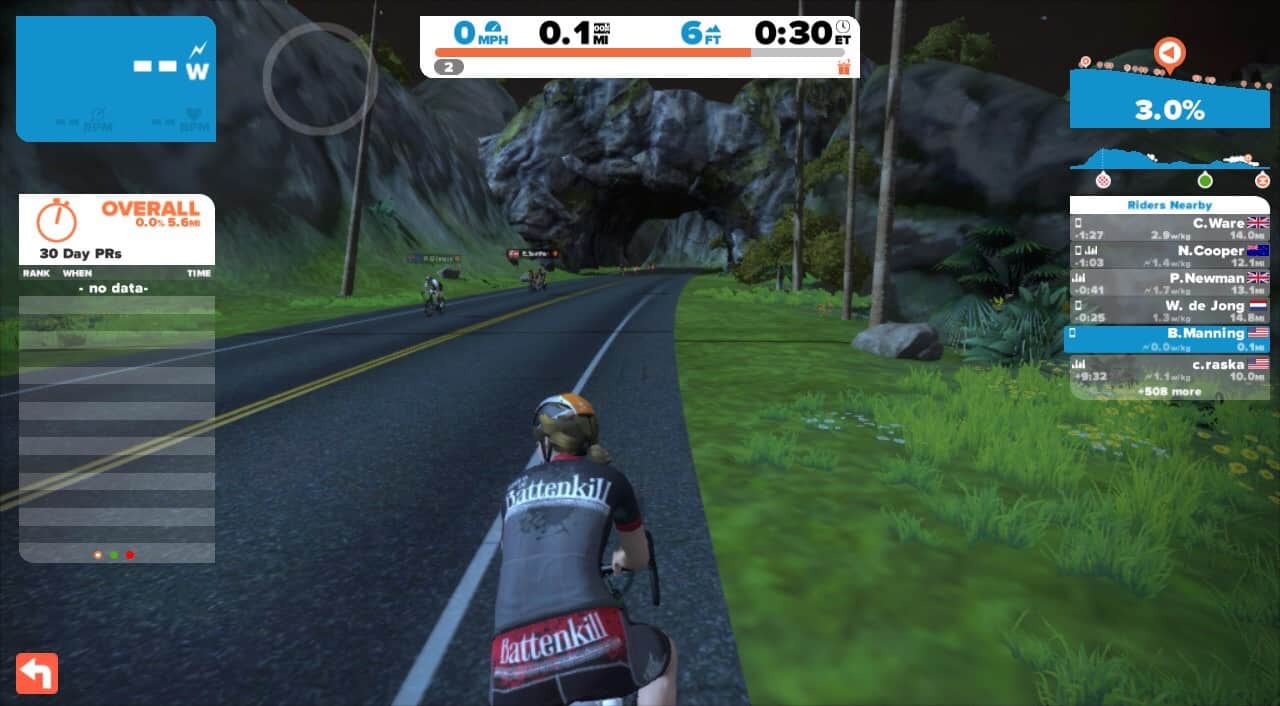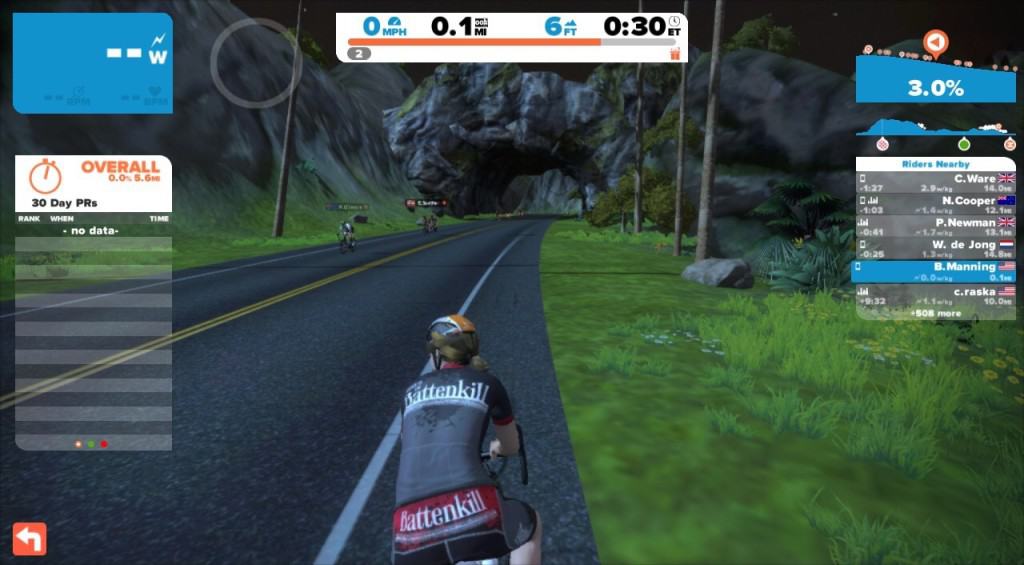 You'll see your avatar on the side of the road. Start pedaling and the avatar clips in and takes off.  Other riders will pass by, displaying their name and flag. You may even rub handlebars with pros like Evelyn Stevens, Jens Voight or Laurens ten Dam, who leads a weekly ride. Riders that appear transparent are Zwift AI riders.
How to Cycle Faster: 7 Essential Tips to Find Free Speed
How to use Zwift for iOS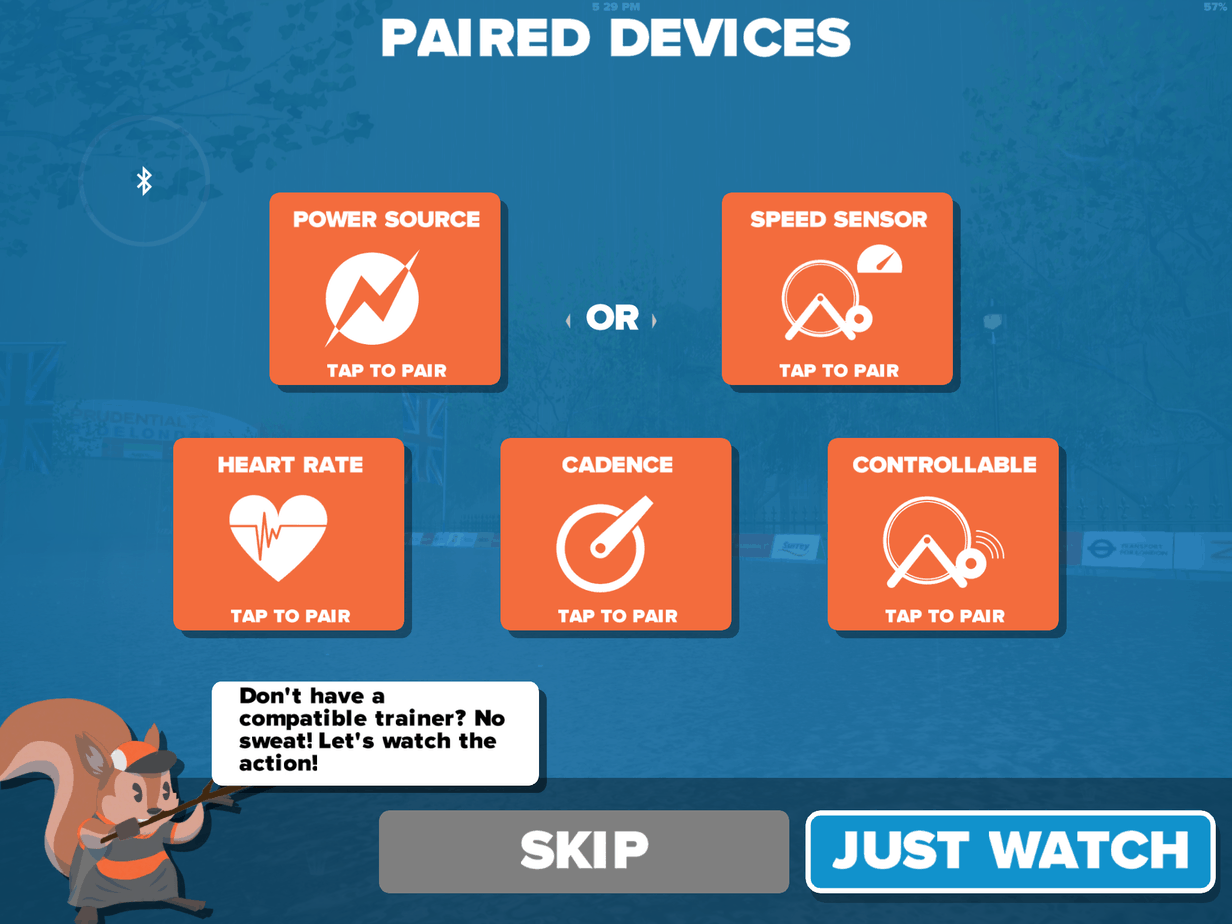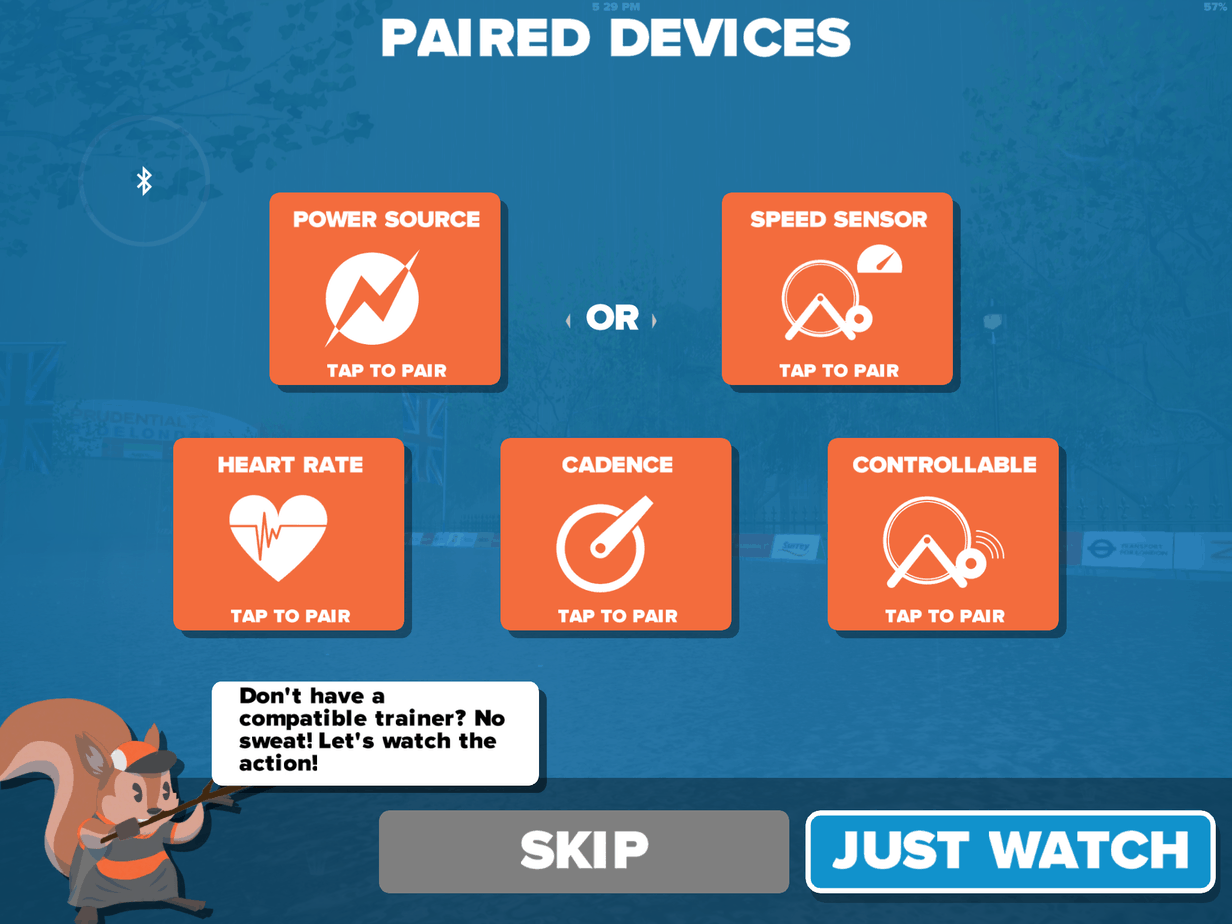 You can access Zwift on an iPhone, iPad or iPod with the Zwift app. Follow the prompts on the Zwift app to quickly and easily get started. Once you're up and running, just tap on the screen to scroll between options. If you want to do a custom workout, you can easily transfer them from the computer to the iOS version.
iPhone and iPad Requirements:
iPhone SE, iPhone 5S or higher and iPad Air or higher, iPad Pro, iPad Mini 2 or higher, or iPod 6
Zwift connects via bluetooth, but is not ANT+ compatible. With the Zwift app, you can still play on a big screen tv, you'll just need an Apple Lightening Digital Adaptor. 
You'll find a little better resolution on an iPad than an iPhone, but according to the Zwift blog, both maintain good picture quality.
How to join a Zwift group ride/race 
Half of the fun of Zwift comes from riding with a group. Push your fitness by testing your legs on a race or join a more social ride if just want to hang with fellow riders. Follow these simple steps to get started with a group ride.
Find a ride using the Zwift's official calendar
Register for the ride using either the Zwift app or game interface. Most rides will appear 90 minutes from the start. You may be asked to change your name in an effort to keep the group together. You may do so via the app or in the game. Each group ride will have their own instructions.
Continue to ride the course and a prompt will appear to "Join Event." Click at anytime to be transported to the staging area. If you do not click on the link, you will automatically be transported before the start of the ride.
Ride! If you need to ditch the group, just stop pedaling and you'll be prompted to quit the group ride.
Get your winter Strava fix
The Strava integration with Zwift is pretty cool. For instance, you can vie for virtual Richmond KOM and sprint Strava segments in real time. When you hit the start of a segment, Zwift displays your time vs the best time as well as your ETA.
At the end of the segment, you can see how you stack up on the leaderboard along with your own PRs. I was pleasantly surprised to find a QOM as well, which made my results a little less discouraging (2nd place on 23rd street!).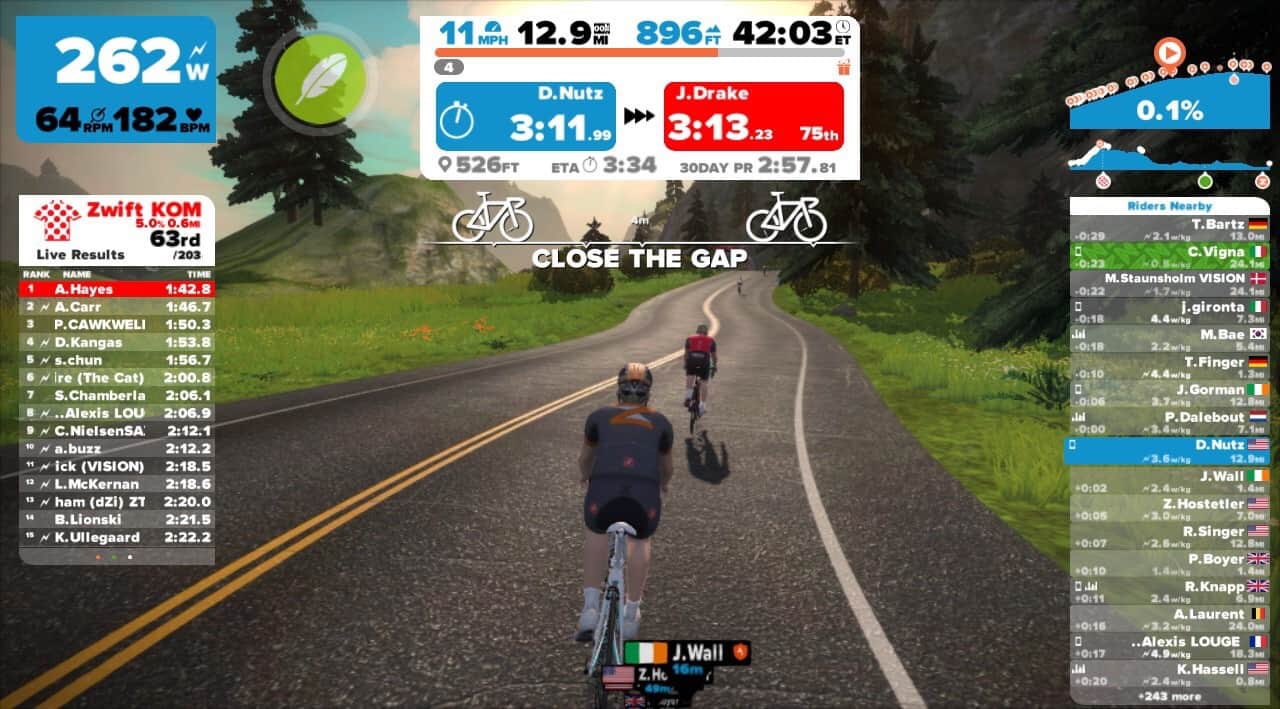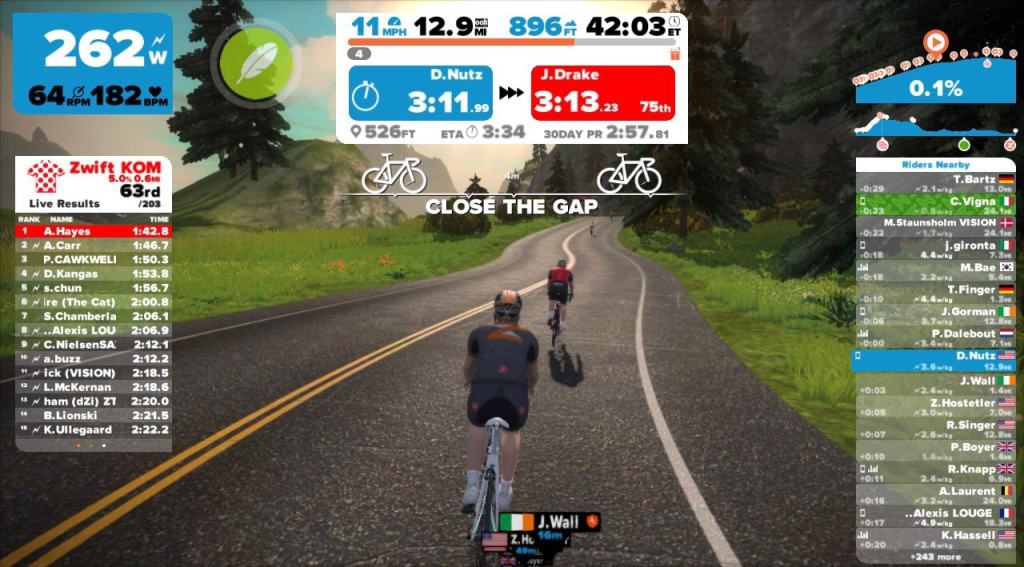 At the end, you can upload the ride directly to Strava, just sync your account on Zwift's website and any segments will display on Strava's site as "virtual" results.
Test Your Climbing Legs: Exclusive Photo Review of the Epic Zwift Island Climb
Other screen displays and how to level up
At any given time, you can see who's riding behind and in front of you, how many watts/kg they're putting out and the time gap. The game prompts you to "Close the gap!" when you're a short distance from another rider. The upper corner displays your position on the course and you can monitor speed, cadence, heart rate and power.
As you ride, you'll unlock achievements, such as fastest speed downhill or distance ridden. Once you complete a kilometer, you're given 20 points. Follow the orange status bar at the top of the screen to see how close you are to the next achievement (and a sweet new jersey or equipment upgrade).
After you complete a lap, you'll be awarded a super human power, such as temporary weightlessness (where you can feel like a pro for 15 seconds), an increased draft or points to jump to the next level.
It's amazing how much these small incentives, sprinkled throughout the course, ignited my competitive spirit, causing me to go all out.
After you finish, you'll see a screen with a summary of the ride, including power data (and how it stacks up to your previous PRs) in addition to other metrics. You're also prompted to pick either a mileage goal (ride the length of California) or climbing goal (Mount Everest) when you first register and this last screen shows that progress as well as how far you are from the next achievement.
The Zwift App
For even more geekery, Zwift has an app that's loaded with additional options. This is essentially your game controller. Use it to change your avatar view, display additional ride metrics and to communicate with riders by throwing out a thumbs up, flicking your elbow, waving or sending messages (which can be handy when organizing a group ride, but annoying when you're riding solo and random messages keep popping up on screen). You can also declare that "I'm toast!" or encourage others to "Ride on!"
The Zwift app lets you view stats from individual workouts or your entire Zwift career. Use it to see what your friends are up to or to be notified when they're riding. The app is also a way to instantly upload a ride to Strava. It's also a great way to keep in touch if you're planning a group ride.
Zwift's Training Programs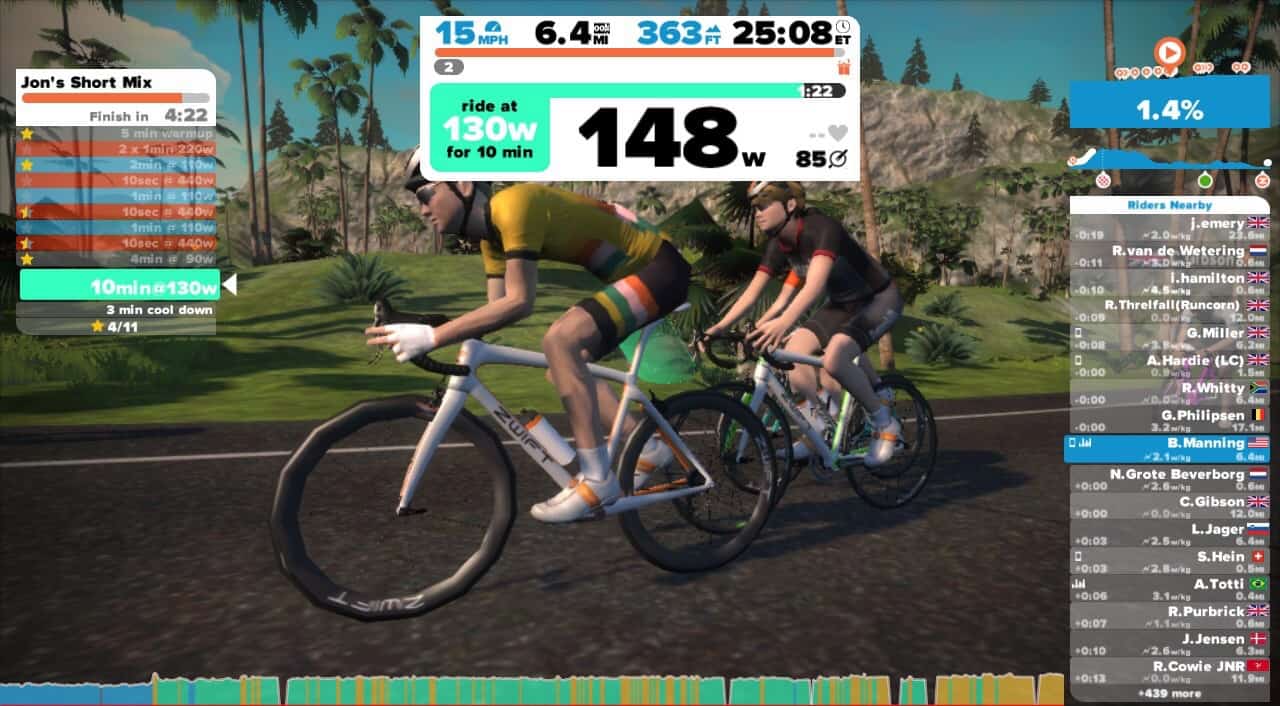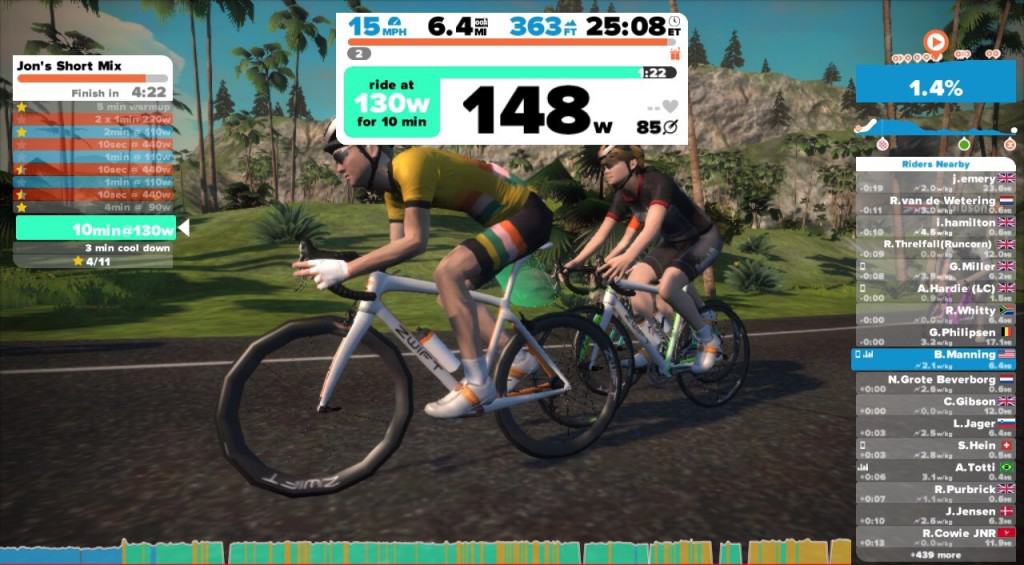 Zwift added a variety of training workouts, by some of the top coaches in the industry like Hunter Allen of Training Peaks and Marco Pinotti. Sessions range from short sweet spot training efforts or time trials to longer 12-week plans for century prep, a plan for beginners and an FTP builder.
Pounding out intervals solo is a lonely time for cyclists, but Zwift creates a social atmosphere that makes this time on the trainer fly by. Workouts are still in beta mode, but Zwift promises to roll out new features including training plans from other top cycling coaches.
During a training session, you still ride the same course with others, but instead of contending segments and controlling your own pace, you'll follow a pre-set workout. This is great for the time-crunched or have specific goals in mind. It's also a way to reign yourself in and avoid overtraining in Zwift's ultra competitive atmosphere.
These structured workouts are good introduction to basic training and will run an FTP test if you want to measure progress. You can set your own FTP or Zwift will do it for you if you don't have a power meter. Just don't take this figure to the bank, as it's a very rough estimate.
The workout is displayed on screen with each step listed. As you complete each item, you're given a star or a partial star for how your effort matched up to the task. You'll also see target wattage, your actual wattage, heart rate, cadence and how much time is left for each effort.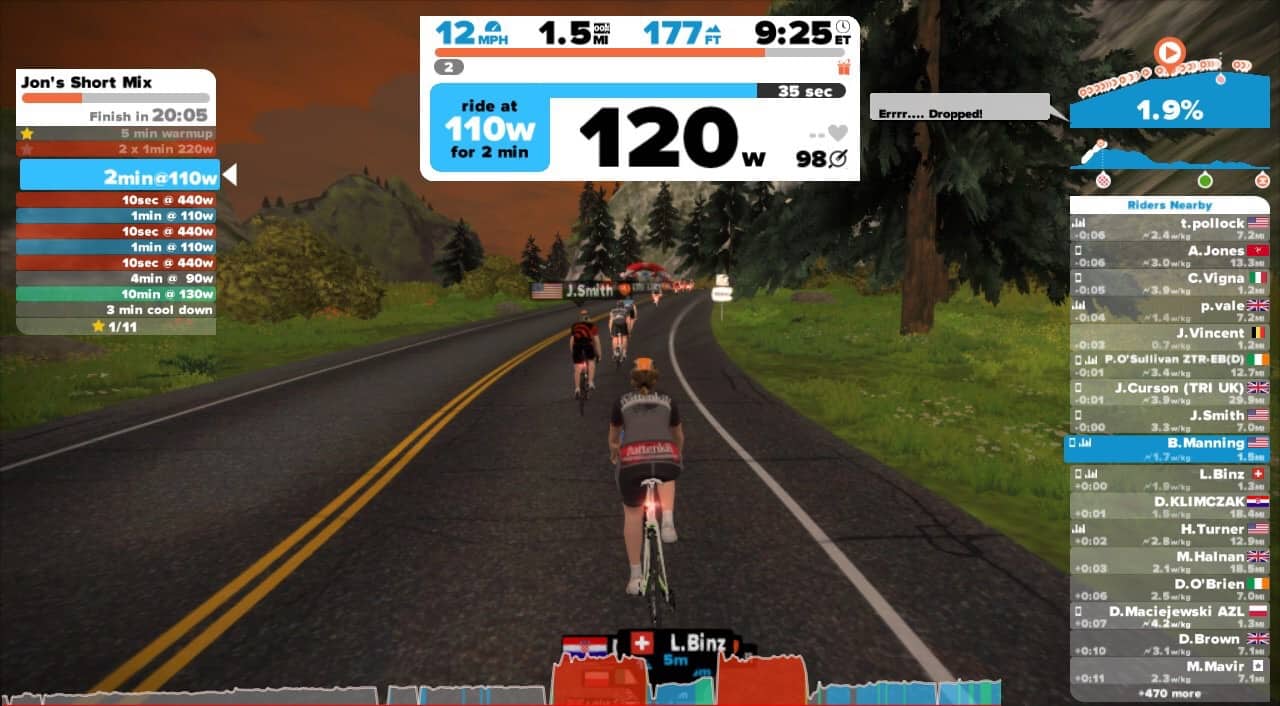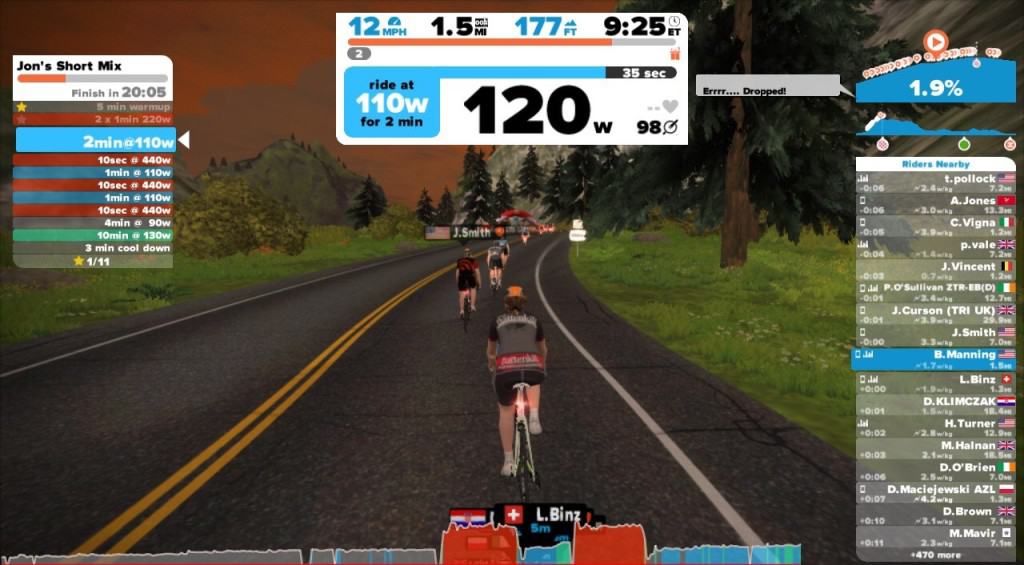 If you're using a smart trainer, you won't feel terrain undulations, but the resistance will vary based on the workout. So the actual course is more of a distraction from the task at hand than anything else. You'll still be able to add your Strava segments, but they won't pop up during the game.
A hologram displays in front of your bike, letting other riders know you're training and cannot draft. The color of this hologram changes depending on your power zone. Large glowing arches mark the start/stop of each interval.
During my session on a standard trainer, I didn't find it too difficult to hit each power goal (though my lack of stars indicates otherwise). For more on using Zwift's workouts and training programs with a smart trainer, check out DC Rainmaker's review.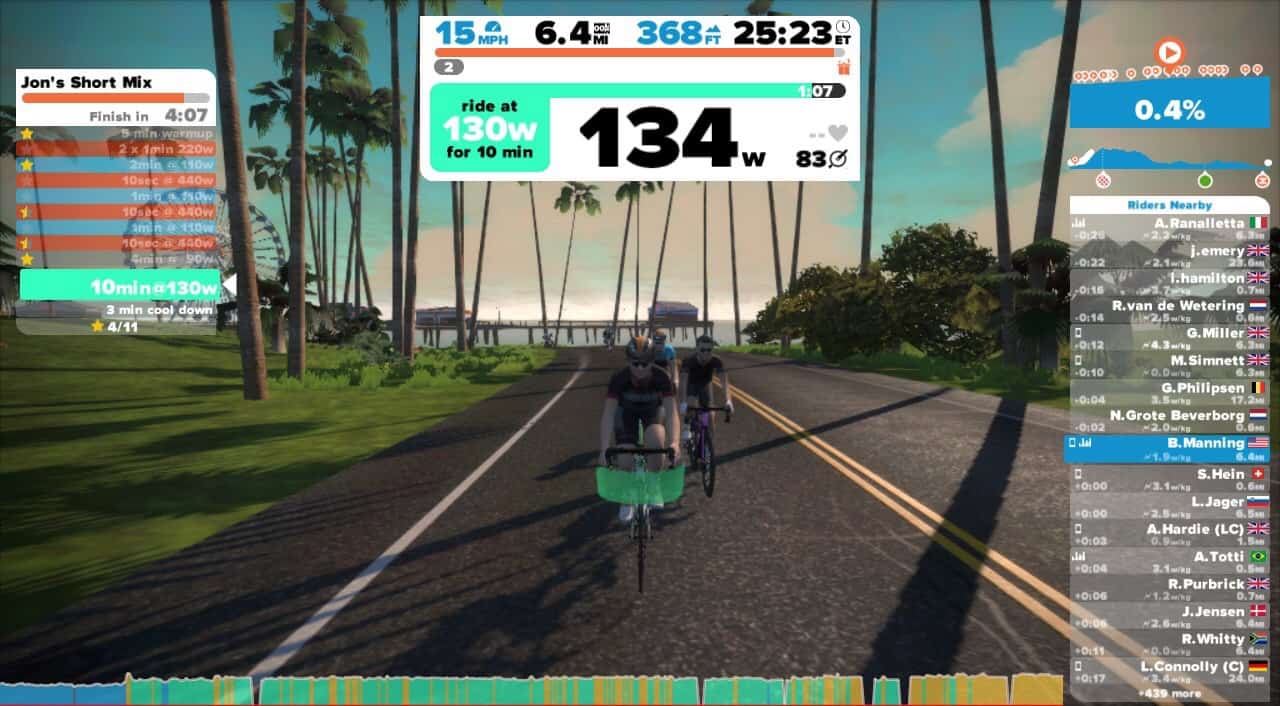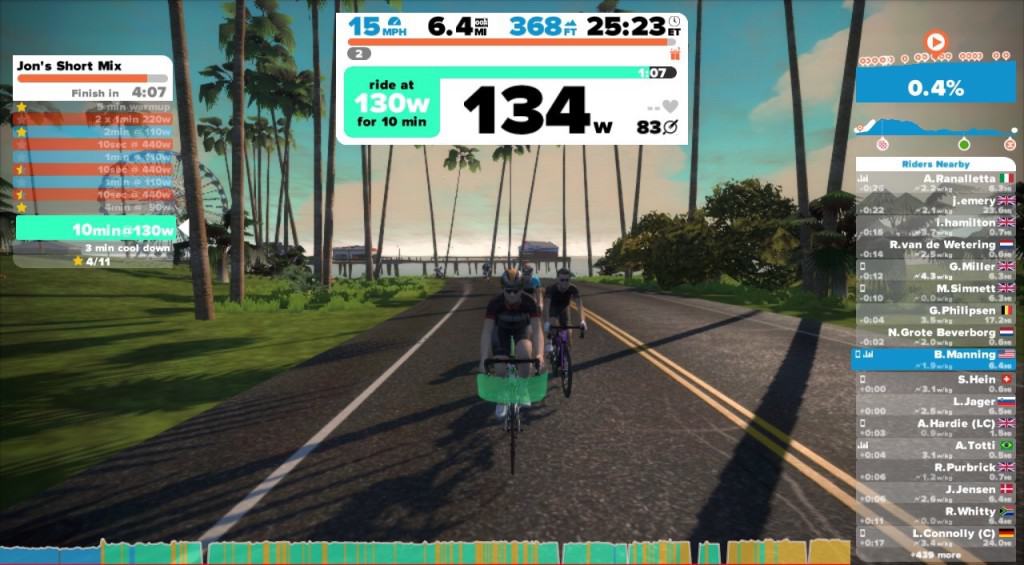 Zwift Workout Editor
Zwift just released its workout editor, which allows you to quickly create a structured workout using a drag and drop interface. You can access it via the "Select your workout" screen and then follow the prompts to build your own customized workout, which is pretty cool.
Once you name the workout, you can add tags and a description and then access it any time under the Custom Workouts menu. You can also remix an existing workout by clicking the "copy" icon next to the workout to edit it and customize it to your liking.
Related: The Best Cycling Rollers: The Ultimate Buyer's Guide
Is it worth subscribing?
Aside from the frustrating connectivity issues, I'm really digging Zwift right now and I'm excited for its potential growth in the future. For now, Zwift offers a few courses (Richmond's UCI course, London and Zwift's Watopia Island), mainly because the creators want to see the course populated at all hours of the day.
Complete with snow and copious amounts of pain, Zwift's mountain route segment is worthy of it's own Grand Tour Stage. You can find my ride report here. The creators have recently hinted to a new volcanic island coming soon.
After watching the World Cycling Championships in Richmond, I think it's amazing how well Zwift recreated the smallest details in its virtual ride, while adding their own touches (like Richmond's famous statues replaced with bicycles). Without fans, or any people for that matter, it's a little boring pedaling through deserted city streets, but the excitement for me kicked in as I approached the infamous Libby Hill climb.
Hopefully Zwift will add additional courses in the future. I'd love to ride some of the famous Tour climbs or one-day Spring Classics, but as of now, it appears that Zwift will continue to develop new features on their island, as they did with their epic mountain climb. Their new London course is also pretty sweet.
One reason I keep coming back to Zwift is for the sense of community it creates and the feeling that, just because it's winter, I never have to ride alone. It's a huge source of motivation and dare I say, I've actually looked forward to riding the trainer. For some, this video-game like scenario could easily lead to overtraining, but plan it right and next season might be your best one yet. 
Zwift Hacks and Cool Features
Courses can be ridden in the opposite direction, just hit the U-Turn arrow on the app's main metrics screen.
A list of Zwift's workouts can be found here 
Staminist lists all the codes to unlock Zwift's custom jerseys
Use your Zwift phone app to make turns on the course
To change the course, simply change the date on your computer. The date determines which course Zwift will feature.
Two riders and only one computer? Here's a cool hack that enables two people to ride Zwift at the same time.
This video provides an overview on how to use all of Zwift's features.
Easily find a group ride with the Zwift Calendar
What's your favorite Zwift hack? We'd love for you to share your own Zwift review.
Want even more cycling hacks or to connect with a community of like-minded cyclists? Join us in our Facebook Group.