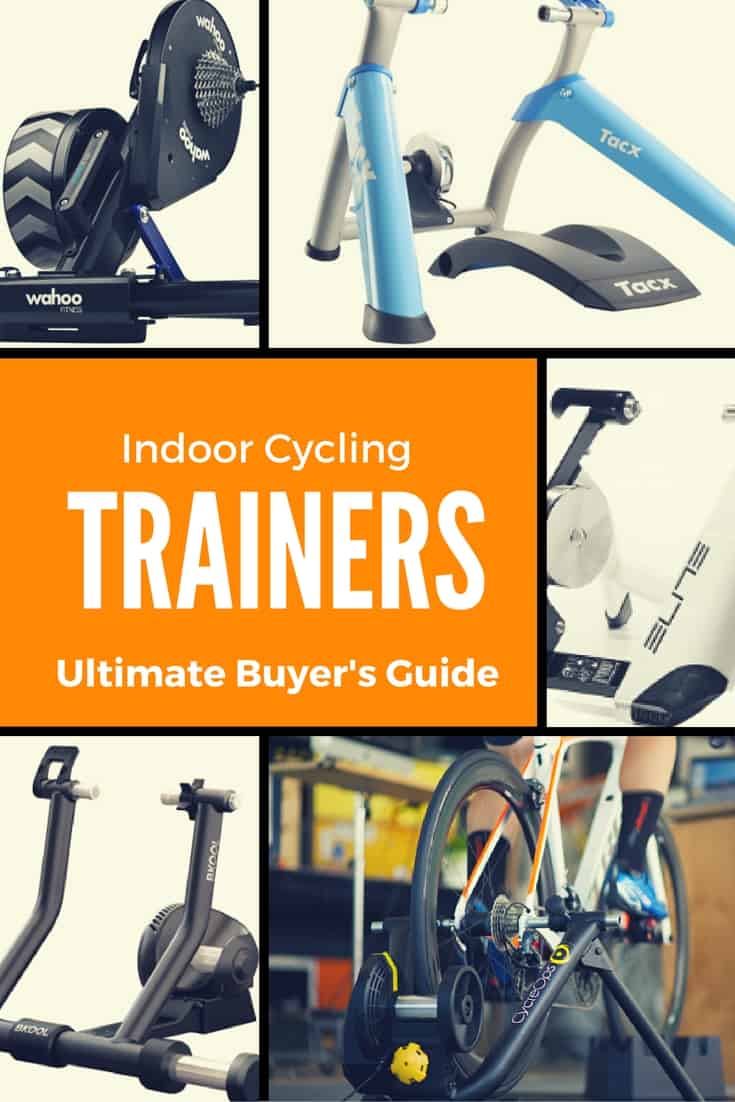 If you want to turn cycling into a year-round activity, but don't live in a warm locale, chances are you'll need an indoor bike trainer. For years cyclists equated training indoors with a cycling death sentence, but then apps like TrainerRoad, The Sufferfest and Zwift transformed these mind numbing indoor miles into an opportunity to ride the world's best courses and compete against our virtual and real-life cycling friends.
With so many apps and trainers flooding the market, it's easy to feel overwhelmed. What trainers are compatible with which apps and do you need a smart trainer to use Zwift? And what exactly is a smart trainer? From magnetic to direct drive, here's everything you need to know to get started with an indoor bike trainer.

Just looking for training recommendations? Here are my picks for the best bike trainers in each category:
Best Budget Trainer:
Budget Smart Trainer:
Mid-Range Smart Trainer:
High-end smart trainers:
Types of stationary trainers
Trainers tend to fall into one of five categories: Wind, magnet, fluid, rollers and smart trainers. Wind, magnet and fluid all describe the type of resistance the trainer uses. Smart trainers technically fall into these categories because they can also rely upon wind, magnet or fluid resistance. They just have additional features that allow them to connect to a computer or device. And rollers are a completely different system altogether.
Regardless of the resistance, when buying a trainer it's important to consider:
What's it made of? Look for a sturdy model, something that's not made entirely of plastic. Remember, you're going to be sprinting, climbing and putting it through its paces. As long as you're not lugging it to races, the heavier, the better.
Is it easy to use? How easy is it to pop the quick release to lock the trainer into place? If you're using a direct drive trainer (meaning you remove the rear wheel), ensure it's compatible with your bike, though most are.
Is it sturdy? A wider base will be more stable.
Is it portable and does it fold down for easy storage?
How loud is it? Trainers vary wildly. So consider sleeping babies and neighbors when making your purchase.
Wind Trainers
This was the original trainer style. Pedaling powers a fan. To increase resistance, either pedal faster or increase the gear.
Pros: Wind trainers tend to be cheap and pretty straightforward. They're also durable.
Cons: There's no adjustable resistance, lacks true-to-life road feel and tends to be very loud.
Buy it if: You want a cheap pre-race trainer or for occasional use. Or you really want to annoy the downstairs neighbors.
Magnetic or Electromagnetic Trainer
Magnetic trainers use a magnetic flywheel instead of a fan to control the resistance. Many newer "smart" trainers use electromagnetic resistance that's controlled by an app like Zwift or manually via remote.
Pros: More adjustability means you can tailor workouts and intervals by changing the resistance. Magnetic tends to be much quieter than wind trainers. The electromagnetic trainers have numerous features, making them fun and highly versatile training machines. They're also some of the most affordable smart trainers, like the Wahoo Snap. 
Cons: Limited resistance and not as durable
Buy it if: You have limited funds for a smart trainer, but want the additional training features. Or if you can afford to spend a little more to upgrade from a wind trainer.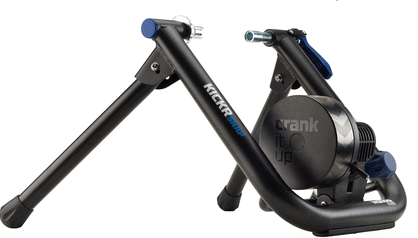 What's the quietest trainer?
Consider the STAC Zero Base trainer. What began as a successful Kickstarter project has proven to be a nearly silent (save for your drivetrain whirring) method of indoor training. Made possible through the magic of magnets, this trainer doesn't actually make contact with the bike, so no worn down tires to contend with.
Fluid Trainer
A fluid trainer uses the basic concept of a magnetic trainer and then adds a fluid chamber to increase the resistance. This is the most common type of bike trainer today.
Pros: Lots of resistance options, especially in smart trainers. Much quieter than a wind or magnet trainer and a more life-like road feel.
Cons: Not all fluid trainers are as durable over time. They can get pretty pricey. 
Buy it if: You plan to train inside often and need a quieter option with more resistance. If you already have a cadence sensor (ANT+) and/or power meter, a magnetic or fluid trainer will enable you to utilize the basics of Zwift (though not in its full capacity). 
Everything you need to know to get started with Zwift
Rollers
If improving your balance and pedal stroke are your main goals, consider rollers. Unlike other trainers, you ride on rollers, as opposed to locking your rear wheel into a trainer, so you'll experience a very realistic ride. You can find more detailed information on rollers here: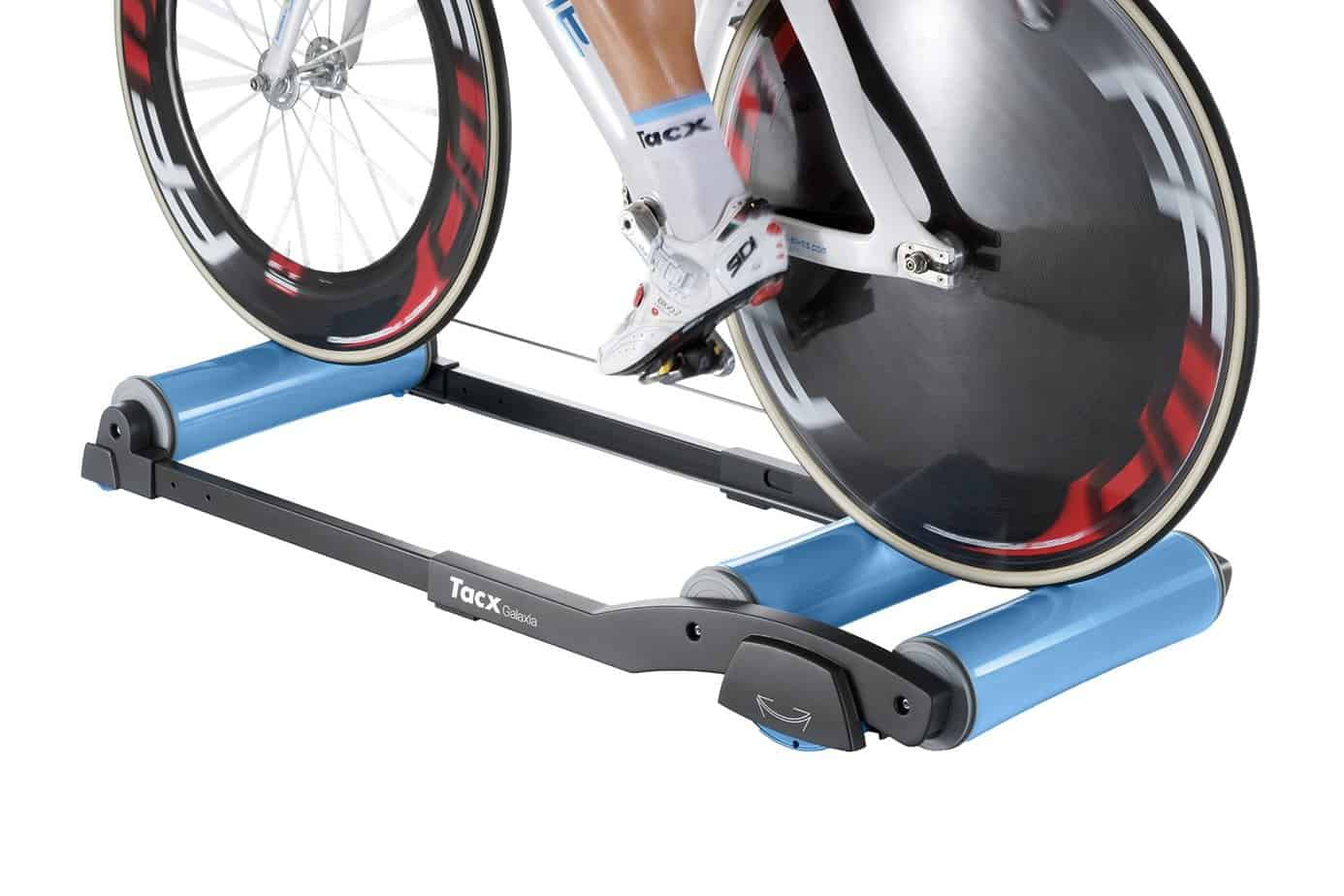 What you need to know about smart trainers
The definition of a smart trainer seems to vary from company to company. But most smart trainers have the added ability to connect to a computer through either Bluetooth Smart or ANT+, allowing you to connect devices like smartphones, laptops, tablets and bike computers and pair speed and cadence sensors as well as power. Some companies like Wahoo and Tacx Smart Trainers support both ANT+ and Bluetooth Smart, leaving the door open for a wider variety of apps that support it.  
You can use some devices (Garmin Edge 520 and Edge 1000) to control a smart trainer, essentially enabling you to ride your favorite outdoor route, indoors. It does this by reading the Garmin file and then adjusting the elevation accordingly. As you can imagine, this sets the stage for pre-riding any road or laying the groundwork for very specific race preparation. 
Find the lowest prices are Garmins
Resistance and Power
Smart trainers are similar to a regular trainer in that resistance options range from fluid, direct drive or magnetic. On a traditional trainer, resistance is controlled through either shifting the bike, pedaling faster or manually adjusting the unit's resistance. On a smart trainer, the resistance is controlled through settings on an electronic device or bike computer. Or you can utilize an app, which will change the resistance based on the gradient and terrain undulations of a virtual course or any power parameters set by the user. 
Depending on the smart trainer, power is measured either directly with a built-in power meter or through algorithmic power, which uses computer software to estimate the power output.
Benefits of a smart trainer 
To get the most from training apps, a smart trainer is ideal. While you can use a classic trainer with either program, some of the top-end smart trainers will adjust the resistance for you in real time, accurately re-creating the feeling of climbing and descending. You can also utilize the drafting option, a fun bonus on grueling Zwift group rides.
Many smart trainers also allow you to create your own courses to train on, ideal preparation for an upcoming race or gran fondo, especially one with lots of climbing. Re-create the exact climb virtually and do hill repeats to prepare for the big day. You can still create your own training sessions on Zwift with a regular trainer, however. You'll just need to adjust the resistance accordingly.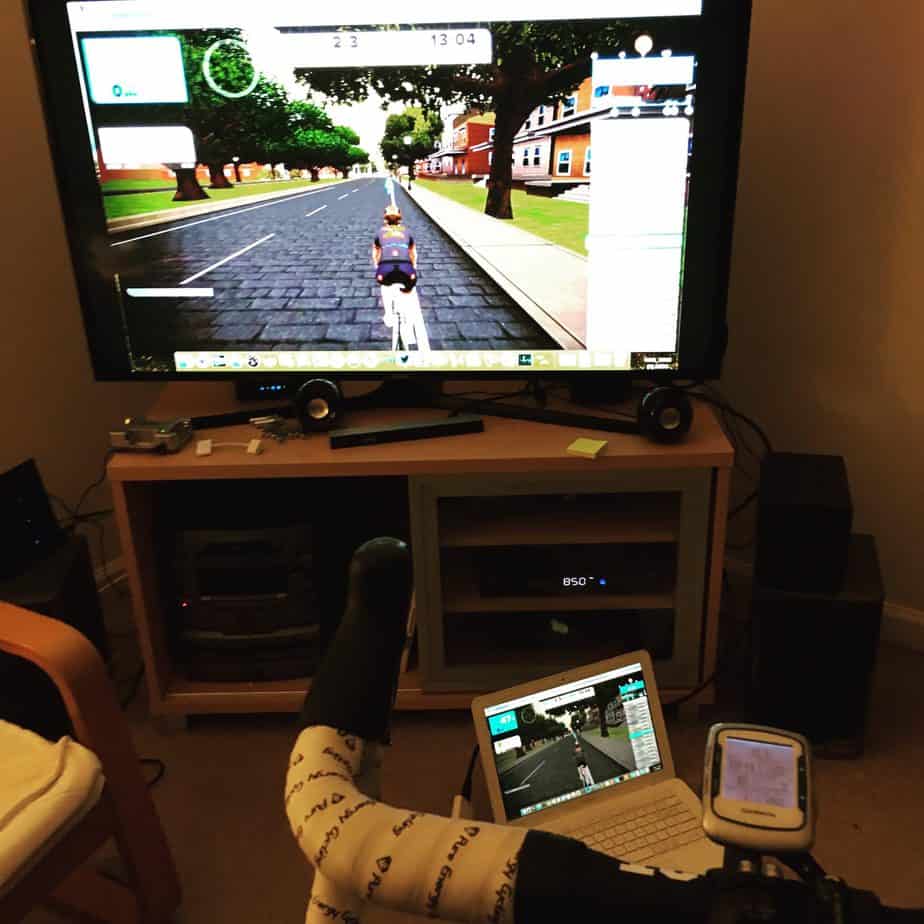 Pros: Loaded with options that transform indoor training into an interactive, social experience. It also makes it a snap to pre-program workouts and access a variety of training metrics to gauge your progress or perform highly specific training. Smart trainers are quieter and allow you to train with high loads of resistance and they provide a very true-to-life road feel, especially direct drive trainers. Many also allow you to simulate climbing by automatically adjusting the angle of the bike to the terrain.
Cons: Smart trainers are a pricier option and can sometimes act finicky, especially when synching to apps. Many are not portable and some, not all, require a power outlet.
Buy it if: You're serious about your training, are easily bored indoors, rely heavily on indoor training or are a serious gadget geek. Most noobies don't need a smart trainer to get in a good indoor workout or have fun on Zwift. If you're on the fence, hang tight, as more and more smart trainers are being released, driving down prices with new models. Some of the cheaper models are still fairly heavy and loud, so it may be advantageous to wait until you can afford a higher end smart trainer.
Don't have a power meter? It may be more economical to skip the smart trainer and invest in a power meter for your bike and a magnetic or fluid trainer instead.
Direct Drive: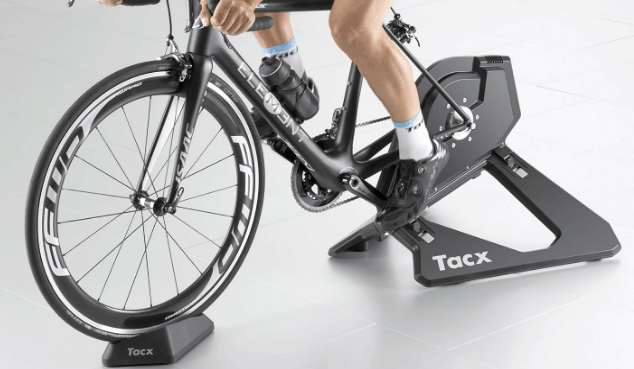 A direct drive trainer refers to a type of smart trainer where the rear wheel is removed and the bike mounts directly to the trainer via an integrated cassette.
Pros: Very quiet trainer with a realistic road feel and improved bike handling due to a larger flywheel. There's no rear tire to slip during a workout, making sprint work much more life-like, with increased resistance to boot. Reduces tire wear, which can be an issue with traditional trainers. Swapping to a worn-out or trainer-specific rear tire is always a good idea. Swap out that fancy skewer for a trainer-specific one, too. Most trainers provide one.
Con: Often very expensive and heavy. Most require you to also buy and install a cassette. 
Understanding smart trainer connectivity 
Shopping for trainers can be mind-boggling, especially trying to ensure compatibility between trainers, apps, smartphones and Garmins. Here's a quick cheatsheet to help decipher connectivity: 
ANT+FE-C refers to a wireless technology that enables your monitoring devices (think Garmins and cadence sensors) to talk to each other. FE-C or "Fitness Equipment Control" enables a device like a bike computer or app to control another fitness device such as a trainer. This system allows you to upload a course you've ridden outside and then re-ride it inside with the trainer automatically adjusting the incline and resistance level for you. FE-C has the power to turn your Garmin into a virtual smart trainer control center, sparing your sweat-drenched fingers from mucking up a keyboard or tablet every time you want to wave at another rider or cue up an interval.
ANT+ and Bluetooth Smart are the technologies responsible for capturing and transmitting data like heart rate, speed, cadence and power. Your Garmin can pick up the signal and record the data. Some smart trainers like Wahoo and Tacx support the transmission of both ANT+ and Bluetooth Smart. Some smart trainers support one or the other, especially the cheaper models, which limits their capabilities.
I'd recommend buying a smart trainer that supports both ANT+ and Bluetooth Smart, as they are supported by the greatest number of apps and have a variety of training options. For instance, the CycleOps PowerBeam Pro is a solid trainer, but it's not compatible with both ANT+ and Bluetooth Smart (you can choose one or the other, based on the model).
Here are the smart trainers supported by TrainerRoad and by Zwift.
Indoor Bike Trainer Buying Guide
Here are my top picks for each price point. There's no shortage of trainers on the market, but these are, in my opinion, the best bike trainers with the most features and connectivity options at each price point.
Best Budget Bike Trainer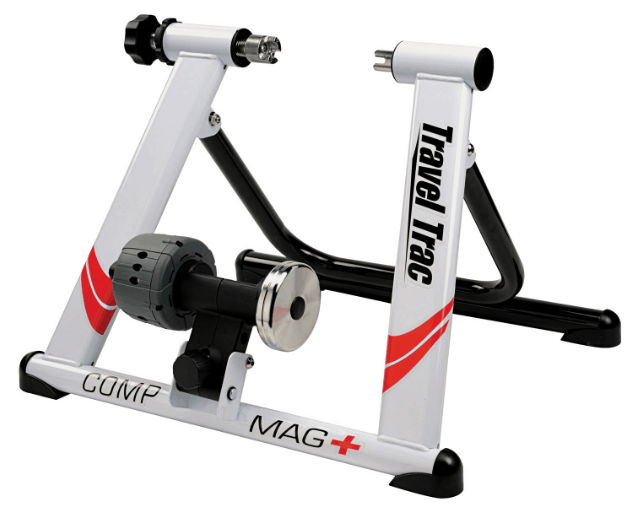 Ideal for a new cyclist or racer looking for a portable trainer for pre-race warm-up, the Travel Trac is a basic, no frills workhorse. The sturdy frame folds down compact and accommodates most road and mountain bikes. Includes a rear quick release skewer.  
Best Budget Smart Trainer under $500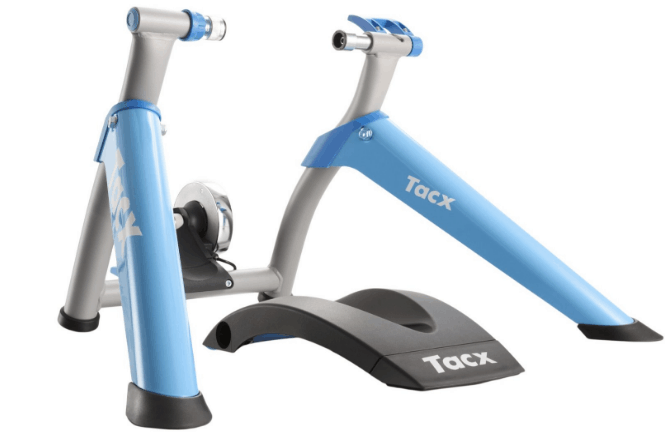 An entry level smart trainer from Tacx that's both ANT+ and Bluetooth Smart compatible. There's no automated control, however, instead resistance is adjusted by a lever with 10 resistance options. Transmits speed, cadence and power data to any device, but doesn't require electricity, making it ideal for use anywhere.
Mid-range Smart Trainers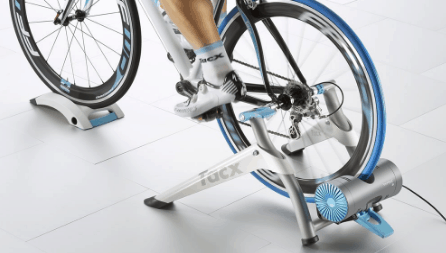 Highly connectable through bluetooth and ANT+, enabling it to a variety of devices and apps. Very accurate once it's calibrated. You can save some money by choosing the Vortex Smart over the Wahoo KICKR Snap, which is overpriced compared to what you get with the Tacx. Great on or off-line, user-friendly and controls resistance. Can also mimic climbing a slope of up to 7%. Also works offline as a fluid trainer.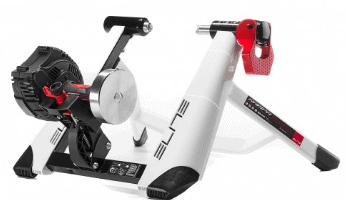 A solid mid-range contender that transmits Bluetooth Smart and ANT+ that's very similar to the Wahoo KICKR Snap. It transmits power, speed and cadence, whereas the KICKR Snap does not transmit cadence. Like the KICKR Snap, the Elite Rampa simulates a slope up to 10%, requires an electrical outlet and accepts similar sized wheels. It's just priced a little lower.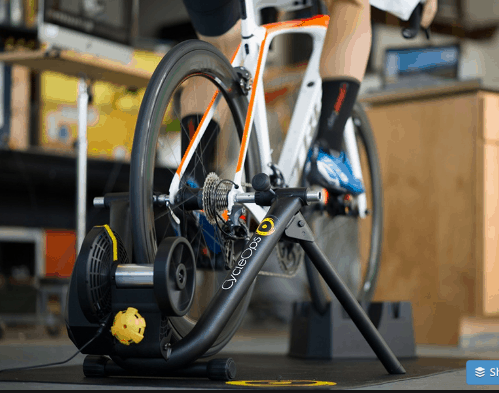 CycleOps added the Magnus to the mix, which has proven to be a solid trainer at this price point. It doesn't have direct-drive, but offers all the bells and whistles necessary for a fun trainer session including full electronic resistance control, ANT+ and Bluetooth transmission. The trainer easily integrates with Zwift and TrainerRoad and is controlled by your bike computer. One standout feature among its competitors is that there are three settings to hold the skewer in place, making it easy to swap between bikes. It also simulates up to a 15% incline, higher than the Elite Rampa, Tacx Vortex Smart and the Wahoo KICKR Snap.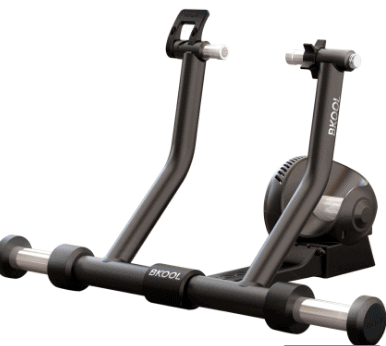 A great trainer, but lacking on its broadcast ability considering the price. BKOOL supports ANT+FE-C, but doesn't broadcast bluetooth smart or ANT+ for speed, cadence and power.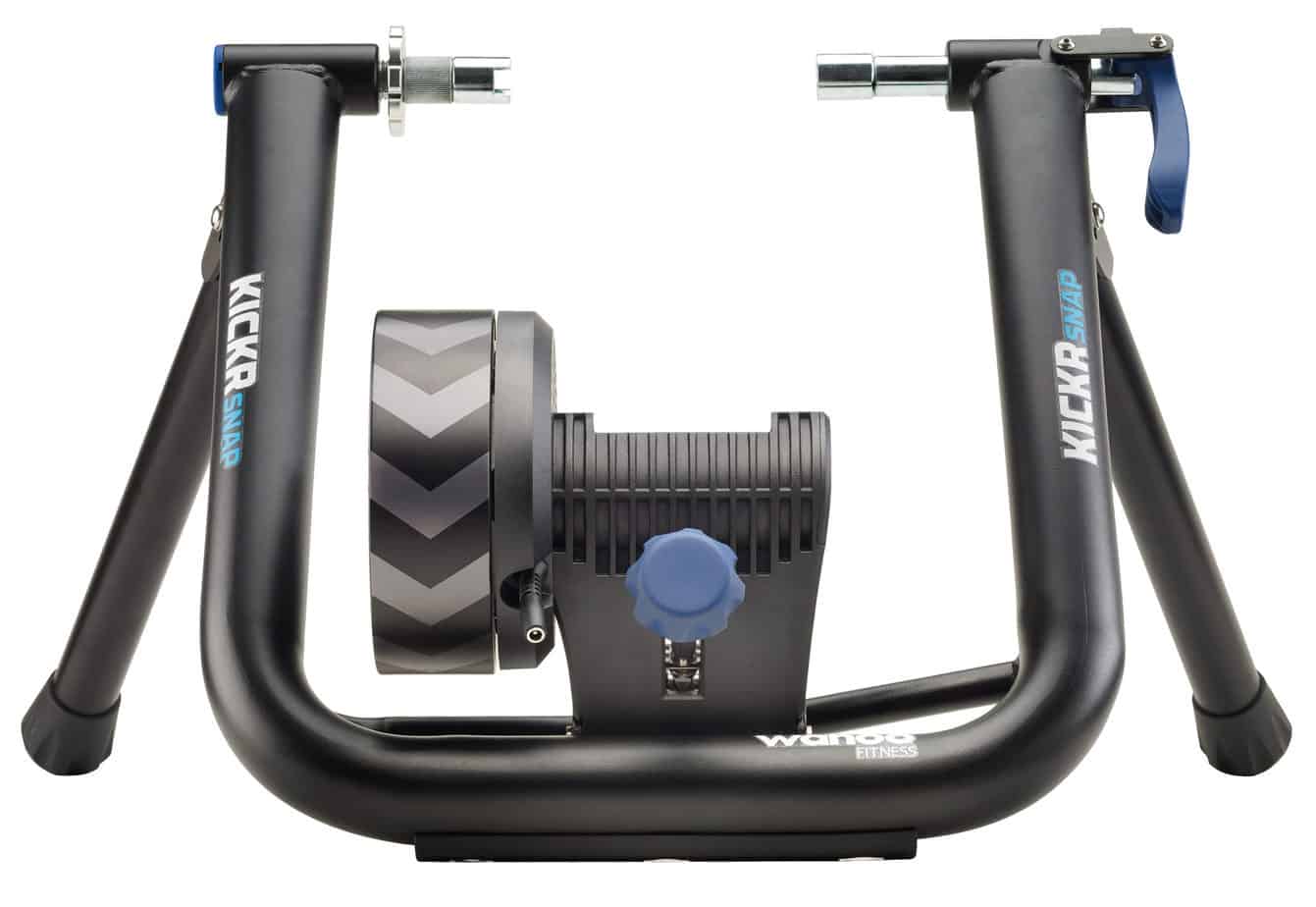 The KICKR Snap is a great pick to get the most out of Zwift or TrainerRoad, though it comes with a heftier price tag than the Elite Rampa or Tacx Vortex considering what it offers. The trainer is accurate within +/- 5% (the industry standard) and offers slope simulation of up to 10%, keeping it on par with the competition. If noise is a factor, you may want to choose the KICKR Snap based on it's quieter performance. 
If you're looking to practice your pure climbing, the Bushido will simulate an ascent up to 15%, but otherwise the KICKR Snap offers a slightly better frame and more app compatibility for a similar price. Though no power outlet is required for the Bushido, something that sets it apart in this category.

The Best High-end Smart Trainers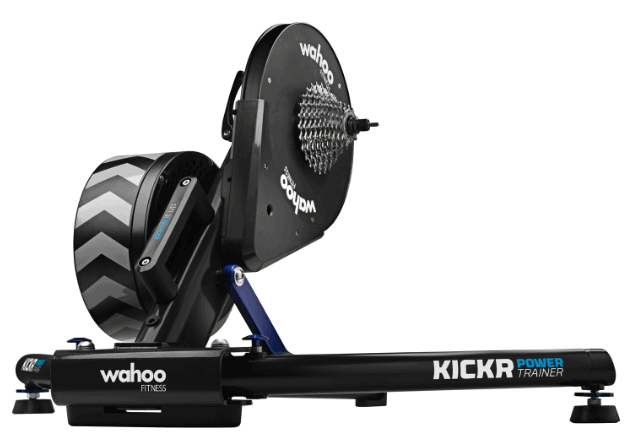 It's easy to see why The Wahoo KICKR is such a popular choice among cyclists. It's highly compatible with around two dozen apps, the most of any current smart trainer. It also alleviates many smart trainer headaches because it integrates with virtually everything, making it a snap to use.
Another stand-out feature is that the trainer comes with a cassette, whereas the Hammer and NEO do not. Its metrics are also incredibly accurate. The 2017 Wahoo Kickr continues to improve on the real-life-feel of the popular smart trainer. Via an app, users can control resistance levels. Another major improvement for this year is the unit's noise level is now much quieter.
The 2017 Wahoo Kickr continues to improve on the real-life-feel of the popular smart trainer. Via an app, users can control resistance levels. Another major improvement for this year is the unit's noise level is now much quieter.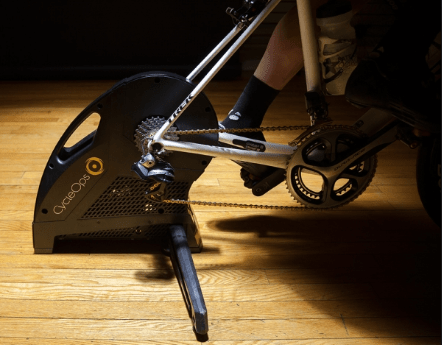 Combining an electronic controlled trainer with a direct drive system, Cycleops tthrowsit hat into the ring with a solid competitor to the KICKR and NEO, producing a trainer that weighs nearly the same, comes with a convenient handle and folds down for easy storage. To make things even simpler, CycleOps integrated a front wheel block into the design. Just like the others, you'll be able to connect to Zwift, TrainerRoad and all your favorite apps. Just be aware that you must provide and install a cassette.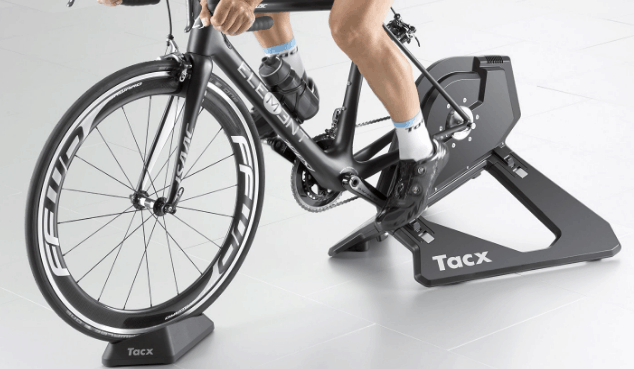 Arguably one of the quietest trainers on the market, the Tacx NEO accomplishes this by using a simulated flywheel. Equipped with bluetooth smart control, ANT+ FE-C compatibility, the NEO will transmit ANT+ power, cadence and speed data to devices. Another unique feature is that it can either be plugged in to a power outlet or used wirelessly, a feature not offered on the CycleOps Hammer, Elite Drivo and Wahoo KICKR. The trainer is also highly compact for easy storage. Offers realistic climbing up to 20% and downhill to -%5. It's more expensive than the KICKR, but worth it if you need a quiet ride or want to go wireless. Note: you will have to buy and install a cassette yourself or take it to a bike shop.
The Elite Direto and Tacx Flux are very similar trainers with a few differences. While both fall at the same pricepoint, the Direto is incredibly accurate and quiet (compared to the Flux). The Elite Direto direct drive smart trainer also measures left-right power and simulates slopes up to 14%(the Flux is 10%). The Flux is Tacx's less-pricy response to the Neo and is certainly worth considering if you're looking to save a few bucks. Though, given the choice, I'd pick the Elite Direto.
Trainer Accessories and Additional Options:
Here are a few accessories that will aid in your indoor bike trainer's connectivity and improve the ride.
Trainer Tire – Tire wear is a huge problem on traditional trainers. Consider replacing your tire with a special trainer-specific tire that uses a harder rubber to decrease noise and wears much more slowly. 
Trainer Mat – A trainer mat serves two important functions: It keeps your carpet from absorbing a puddle of sweat and also decreased the vibrations from the trainer. 
Bike Desk – Need a command center for your laptop? A bike desk provides just the right platform to keep an eye on your metrics mid-training.
ANT+ dongle – Use this cheap stick to transmit data between bike and accessories.
Riser Block – A riser block secures your front wheel from slipping and raises it up to keep the bike level.
Sensors – Cadence and speed sensors, heart rate straps and power meters all add to the fun of indoor training, especially if you want to quantify and track your efforts. 
Related: Cycling Gear on Sale (updated weekly – including trainers)
The Best Gifts for Cyclists: The Ultimate Holiday Guide
Additional Resources:
Everything you ever wanted to know about ANT+ FE-C and bike trainers
Choosing the Right Indoor Cycling App
Want even more cycling hacks or to connect with a community of like-minded cyclists? Join us in our free Facebook Group.