Latest posts by Jonathan Nolte
(see all)
Cyclocross is a racing discipline involving a short, closed course packed with obstacles like of mud, stairs, sand, barriers, snow, hairpin turns, mud, and more mud. Heckling, cowbells, and the distribution of hoppy beverages is part of the event and culture, which hails from Belgium. If you're contemplating pinning on a number, cyclocross is a very beginner-friendly style of racing.
Traditional cyclocross bikes have drop bars, cantilever brakes (although disc brakes are now dominant), and relatively narrow 32-35mm tires. The durability, terrain versatility, and handling characteristics of cyclocross bikes have attracted the attention of many non-racers. Cyclocross bikes are easily adaptable for commuting, trail-riding, road riding, gravel road racing, and wilderness exploring.
While this has led to a market explosion of genre-bending bikes, let's focus for a moment on some of the best cyclocross bikes you can buy today, bikes that are versatile enough to ride to work on a Monday then rip up your local cross course on Saturday . The cyclocross bike that's near and dear to my heart is the Raleigh RXM (but more on that later).
| Cyclocross Bike | Frame Material | $ Range | Brakes | Drivetrain | Where to Buy |
| --- | --- | --- | --- | --- | --- |
| Cannondale SuperX Di2 | Carbon | $$$$$ | hyd disc | SRAM Force 1x11 | local Cannondale dealer |
| Trek Boone 7 | Carbon | $$$$ | hyd disc | SRAM Rival 1x11 | local Trek dealer |
| Liv (Giant) Brava SLR | Aluminum | $$ | hyd disc | SRAM Apex 1x11 | local Giant/ Liv dealer |
| Raleigh RXW | Aluminum | $$ | mech disc | SRAM Rival1x11 | Buy on Amazon |
| Raleigh RX24 | Aluminum | $ | mech disc | SRAM Apex 1x10 | Buy on Amazon |
| Ridley X-Ride | Aluminum | $$ | hyd disc | SRAM Force 1 | Competitive Cyclist |
| Raleigh RXM | Steel | $$$ | mech disc | Shimano 105 2x11 | Buy on Amazon |
| State Warhawk | Steel | $ | cantiever | singlespeed | State Bicycle Co. |
| Diamondback Haanjo Tero | Aluminum | $ | mech disc | Shimano Claris 2x8 | Buy on Amazon |
| All City Nature Boy 853 | Steel | $$$ | hyd disc | singlespeed | local All-City dealer |
What Makes a Cross Bike a Cross Bike?
At first glance, a cyclocross bike looks like a road bike, but a few things set these mud mongers apart:
Tire and clearance– True cyclocross use tire widths between 32 and 35mm with knobby treads, whereas a road bike slick tire will max out at 28mm, 23-25mm being the norm. A CX frame and fork must have sufficient clearance for these bigger treads and the accompanying mud that will build up during a race. Though cross bikes are sold with knobby tires, don't let this limit you from throwing on slicks to ride on the road, a popular choice for roadies wanting to train through the winter or in foul weather.
Geometry- A higher bottom bracket gets the cranks and chainrings further away from obstacles on the ground, making cross bikes ideal for light singletrack riding as well. Most CX frames also have slightly longer chainstays and slack-er head tube angles to accommodate the tires and handling at lower speeds.
Drivetrain– Although cyclocross bikes are mostly equipped with road-specific components, the demands of CX events will require far less gear range than road riding, so drivetrains are more tightly spaced. Double front chainring combos of 38/46 are common, paired with a standard road cassette. Single chainring setups are increasingly common, as eliminating the front derailleur means one less system to bind up and fail in the grime. Singlespeed is also popular for riders who prefer the challenge of not shifting and the reliability of a drivetrain that is less damage-prone.
Brakes- Traditionalists will use cantilever brakes for their power and mud clearance. Disc brakes have spilled over from the world of mountain biking and have a large following in the CX world for their reliability in wet conditions.
Weight- As a pure racing machine, keeping the weight down is a primary concern. Lightweight carbon fiber frames, forks, handlebars, and rims quickly shave off grams where it counts, but just as quickly elevate the price tag.
Related: Get Muddy: 11 Reasons Why You Need a Cyclocross Bike
Best Cyclocross Bike: Editor's pick
Raleigh RXM
I admit to holding some ideal form of bicycle in my mind that I can never quite find on the market, but it's definitely more steampunk than cyberpunk. In other words, I want the 20th century aesthetics and ride quality of round steel tubes, the spartan simplicity of good mechanical disc brakes, and the 21st century precision of thru-axles, carbon forks, and tubeless tires.
I also want a versatile bike that I can use for a variety of surfaces and distances. I have a proclivity for singlespeeding, which can be arranged on any bike with enough willpower. The RXM gets close enough to checking all of those boxes with a price tag that puts it within reach.
Raleigh is one of the few big-time bicycle manufacturers that has remained true to steel as a frame material, and riders have rewarded Raleigh with their loyalty. Whether it's the classic look of round tubes, the subdued paint job or the unmistakable ride quality of steel, the RXM will be a workhorse of a 'cross bike.
The thru-axles, Shimano 105 CX 2×11 drivetrain and TRP Sprye brakes will suit racing, but the rack and fender mounts and Brooks Cambium saddle allow it to double as a fast commuter or gravel grinder.

Diamondback has got the formula down for making rad-but-affordable bikes for every discipline, and their cyclocross offering is no exception. The Haanjo line includes versatile bikes for urban commuting, gravel racing, and light trail riding, and the Tero is equipped for CX racing.
The Shimano Claris eight-speed road drivetrain keeps shifting light and crisp and the Kenda Flintridge tires (although a little fat for cyclocross purists) will give you traction for miles. The frame features multiple water bottle cage and rack/fender mounts, which means that you can race this bike on winter weekends, then ride it to work during the week and explore gravel roads the rest of the year.
Diamondback Bicycles Haanjo Tero | Amazon
The Haanjo tero is the easiest way to expand your riding horizons and break out of the ordinary. Features Diamondback Gravel Disc steel fork with fender and low rider mounts, Tektro Mira disc brakes, and more, the Haanjo tero makes for an excellent commuter.
Buy at Amazon.com
We earn a commission if you click this link and make a purchase at no additional cost to you.
Budget Bike, Runner Up:
Fuji Cross 1.7 
Fuji has the market cornered on many entry-level bikes and advanced models to boot. The Cross 1.7 comes in men- and women- specific geometries. The Cross 1.7 might be an entry-level CX bike, but it's loaded with modern features like a carbon fiber fork to reduce chatter and thru-axles front and rear. It's built around a Shimano 105 drivetrain with a 2×11 drivetrain and TRP Spyre mechanical disc brakes.
Top Cross Bike For Racing : Trek Boone 7
Trek has been pushing the mantra "comfortable is fast" for years by applying variations of its IsoSpeed decoupler technology to hardtail mountain, and cyclocross bikes, including the carbon fiber-framed Boone line. Simply put, IsoSpeed mitigates trail chatter by allowing a considerable amount of compliance in the seat tube and head tube of the frame.
The result is a magic carpet ride that keeps the rider fresh longer on any surface. The Boone 7 disc features all the speediest CX-oriented components one would expect from a bike at its price point (expect to shell out some Benjamins), including tubeless-ready wheels, flat-mount hydro disc brakes, and a SRAM 1×11 drivetrain.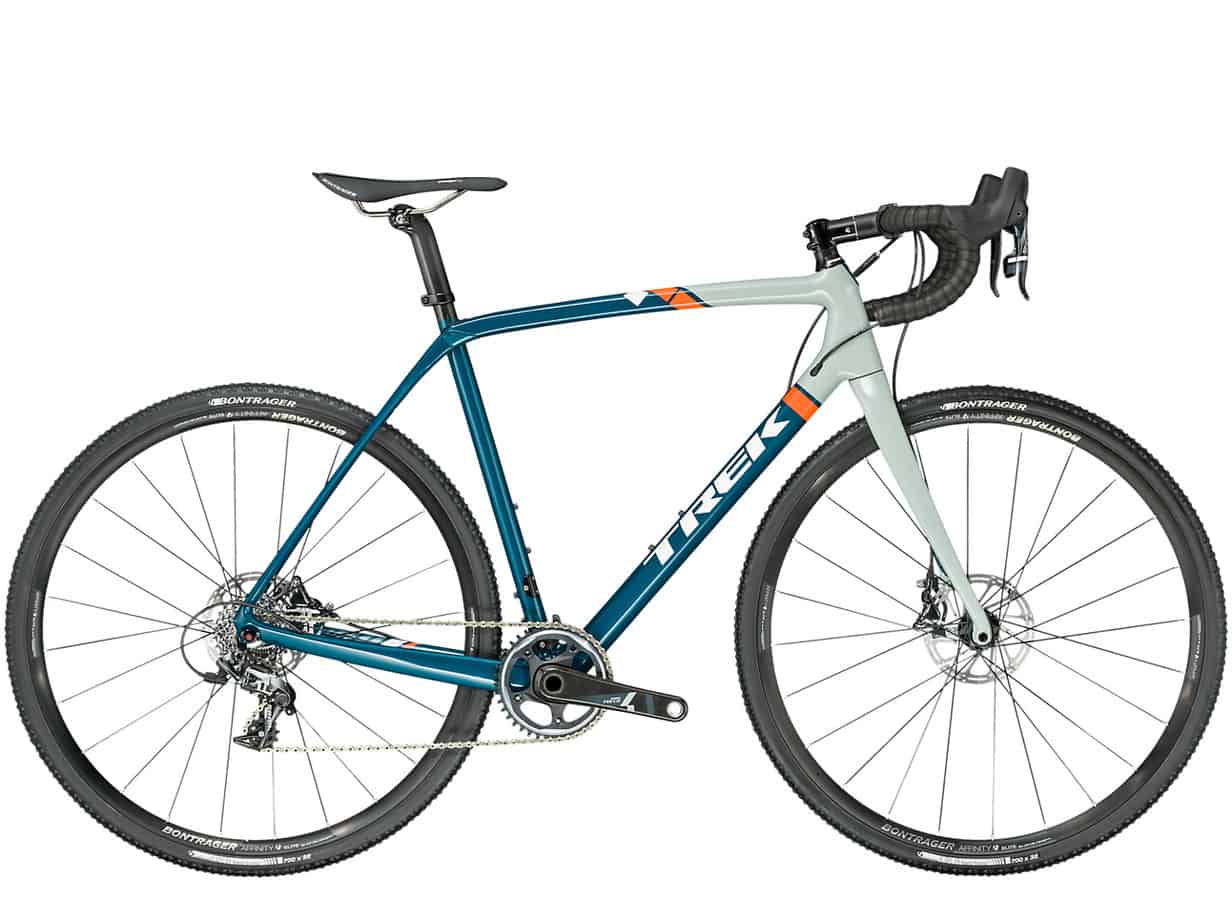 Boone 7 | Trek Bikes
This is a highest-end cyclocross build, with Front and Rear IsoSpeed, hydraulic disc brakes for all-condition stopping power, and a wireless electronic 1x12 drivetrain.
Check Price
We earn a commission if you click this link and make a purchase at no additional cost to you.
Cannondale has always pushed the lightweight limits with their bikes for decades, building lightweight frames and completely re engineering components whenever possible to make their own lighter, stiffer variations. The SuperX line is among the most technologically advanced CX bikes on the market.
The Shimano electronic 1×11 drivetrain takes all the guesswork out of shifting and complementary Shimano hydraulic brakes check your speed in the corners. Tubeless wheels with thru-axles keep everything tracking on your chosen line through the mud and sand.
Best Cyclocross Bike for Women Raleigh RXW
Raleigh tuned geometry of this bike for women's' needs, with a proportional reach and handlebar width for ladies who are serious about racing. Simple but effective SRAM 1×11 shifting, a carbon fork, thru axles front and rear, and TRP Spyre brakes.
Raleigh Bikes RXW Women's Cyclocross Bike | Amazon
Ready to get more serious when it comes to racing cross the mid-high-end rxw women's cross bike has everything you need, and nothing you don't. The Superlight Butted 6061 Alloy Women's-Specific frame is made for riding and racing cross.
Buy at Amazon.com
We earn a commission if you click this link and make a purchase at no additional cost to you.
Giant's female-specific brand held nothing back when the specced the Brava SLR. Full-carbon fork and seatpost, SRAM 1×11 drivetrain and TRP hydraulic discs make this bike handle confidently for riders of all skill levels. The lightweight aluminum frame and forgiving carbon fork/seatpost combo drops some grams off the weight and provide a more plush ride for the long miles training on trail and gravel.

The Belgians behind Ridley know cyclocross, as their region hosts over a century of CX history. This X-Ride has an aluminum frame, custom carbon fork, and is built around a SRAM Force 1 CX-specific 1×11 drivetrain and hydraulic brakes. DT Swiss race wheels round out this bike, making it ready for racing right out of the shop.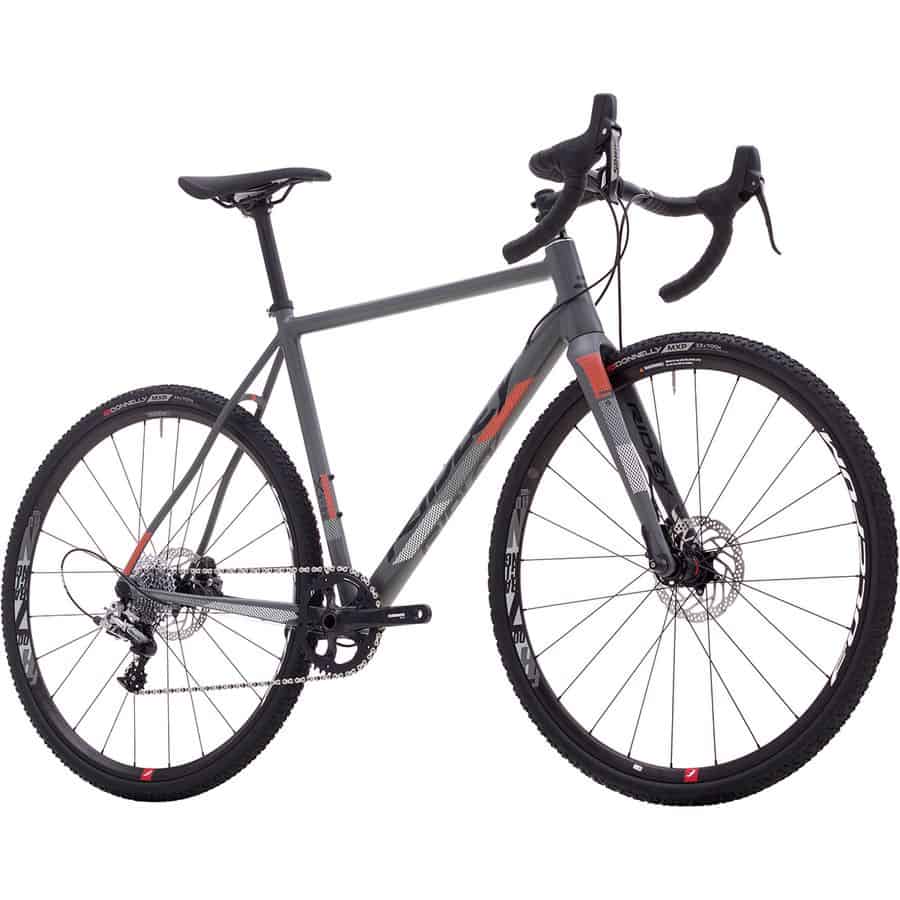 Ridley X-Ride Disc Rival 1 Cyclocross Bike | Competitive Cyclist
Whether you're a seasoned vet looking for a pit bike or it's your first 'cross season, Ridley's X-Ride Disc Rival 1 Complete Cyclocross Bike is hard to beat. Its aluminum frame adds a tremendous amount of value and will hold up to botched barrier attempts while the SRAM Rival drivetrain and hydraulic brakes work nearly as well as Force.
Check Price
We earn a commission if you click this link and make a purchase at no additional cost to you.
All City put the brand of tubing they used to build this frame, Reynolds 853, right in the  bike's name because they know that you know the importance of a good steel tubeset. The Nature Boy is a no-holds-barred SSCX racing machine with a Whiskey carbon thru-axle fork, TRP hydro brakes, and tubeless-ready rims. Compared to other bikes in its class, the solitary thing keeping it off the podium is the lungs pushing it.

Cyclocross racing is a family event for many participants. While events for kids are less competitive, young riders who show genuine interest in the sport will have the most fun on a "real" cyclocross bike. The RX 24 is a small-scale  version of an adult race bike, with a lightweight aluminum frame, disc brakes, and a 1×10 SRAM drivetrain that will keep up with mom and dad all day.
Raleigh Bikes Raleigh Rx24 Youth Road Bike | Amazon
Designed for kids 9 to 12 years old, the Rx24 is truly a mini version of mom or dad's beloved cross bike. The Rx24 features a lightweight aluminum frame with 24 inch wheels to better fit a growing cross can.
Buy at Amazon.com
We earn a commission if you click this link and make a purchase at no additional cost to you.
State specializes in urban singlespeed bikes, available direct-to-consumer through their website. The Warhawk is a simple, steel cyclocross racer for those who are used to pushing only one gear all the time … or can learn to.
At a price that is less than most wheelsets, the complete bike could also serve as a foul-weather trainer or spare bike for events where the muck and grime are too much for fancy derailleurs. Traditionalists will appreciate the round steel tubeset, classic cantilever brakes, and track ends for tensioning the chain.
Related: More Cowbell for Less Cash: The Best Cyclocross Bikes Under $1,500