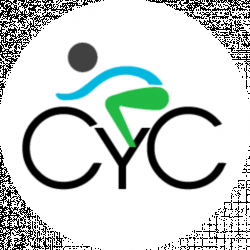 Latest posts by Cycling Hacks Team
(see all)
In search of the perfect gift for the cyclist on your list? From action-capturing drones to ride-saving tools and cool coffee cups, we've got a gift sure to please everyone from the casual cyclist or commuter to the hard charging racer or tech savvy gear junkie. If you're pressed for cash, we've got that covered too.
*Save some cash on your new toys by checking out weekly cycling deals roundup and using a coupon code or Ebates for cash back at major retailers.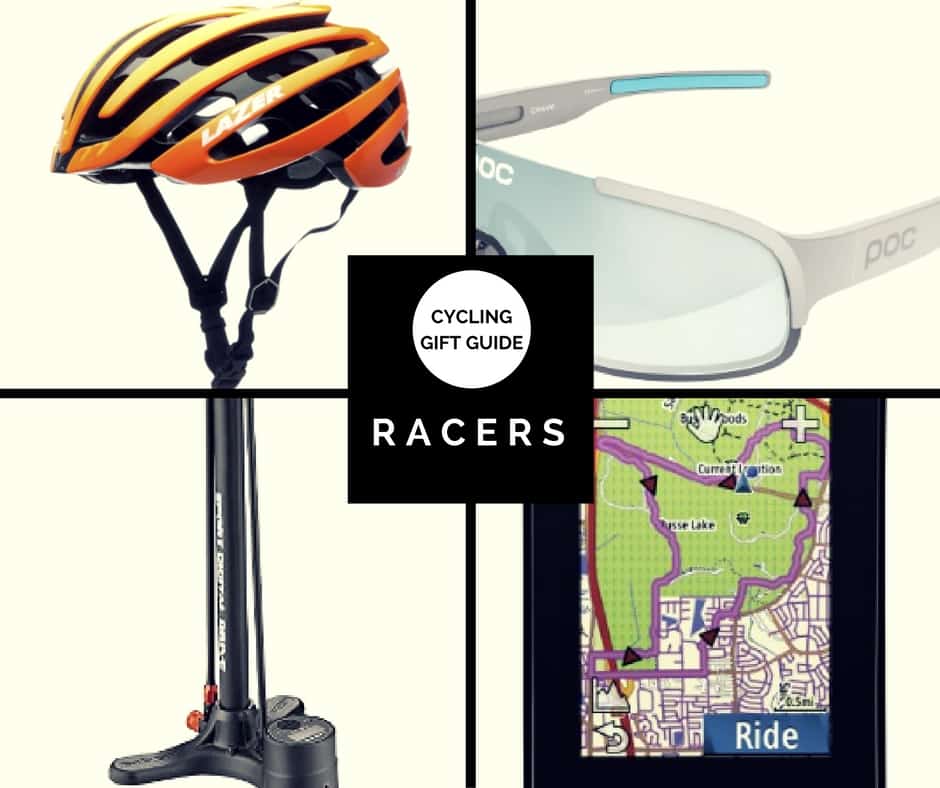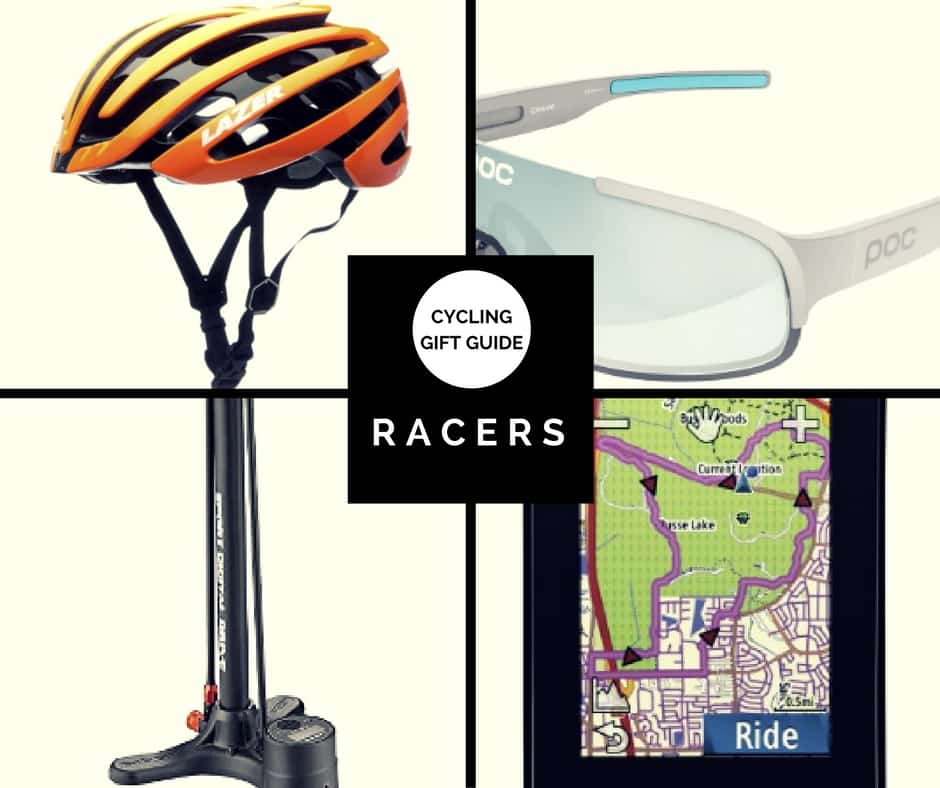 Not only is a new lid a stylish upgrade, but the Lazer Z1 is also incredibly light and aerodynamic. Read our full review here. $198 on Amazon 
Equally stylish and practical, POC's sunglasses have a nose gripper to keep them from sliding and a lens treated to repel dirt and water. $230 on Amazon 
Find the perfect PSI for every condition and quickly reach peak pressure or make micro adjustments on the fly. Durable, accurate and re-buildable, this pump is a crowd favorite. $70 Amazon
How to Find the Best Bike Related: How to Find the Best Pump: The Ultimate Guide to This Key Bike Tool
Live screen mapping, strava and smart phone integration and the ability to measure nearly every training metric you could dream up are all part of the Garmin Edge 1000. $499 Amazon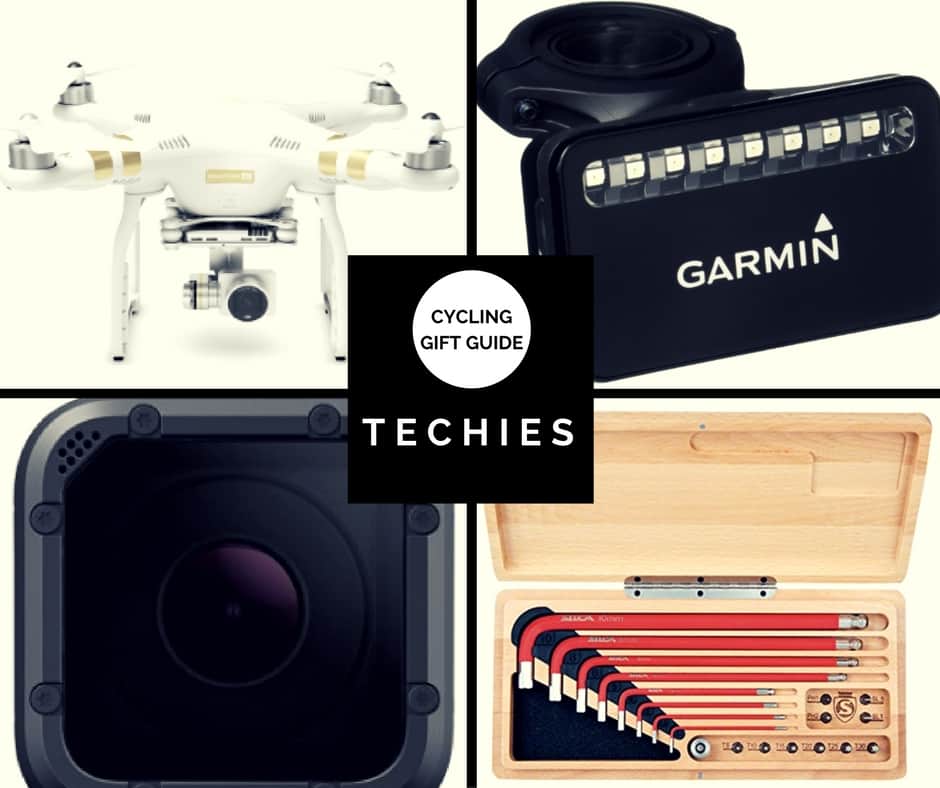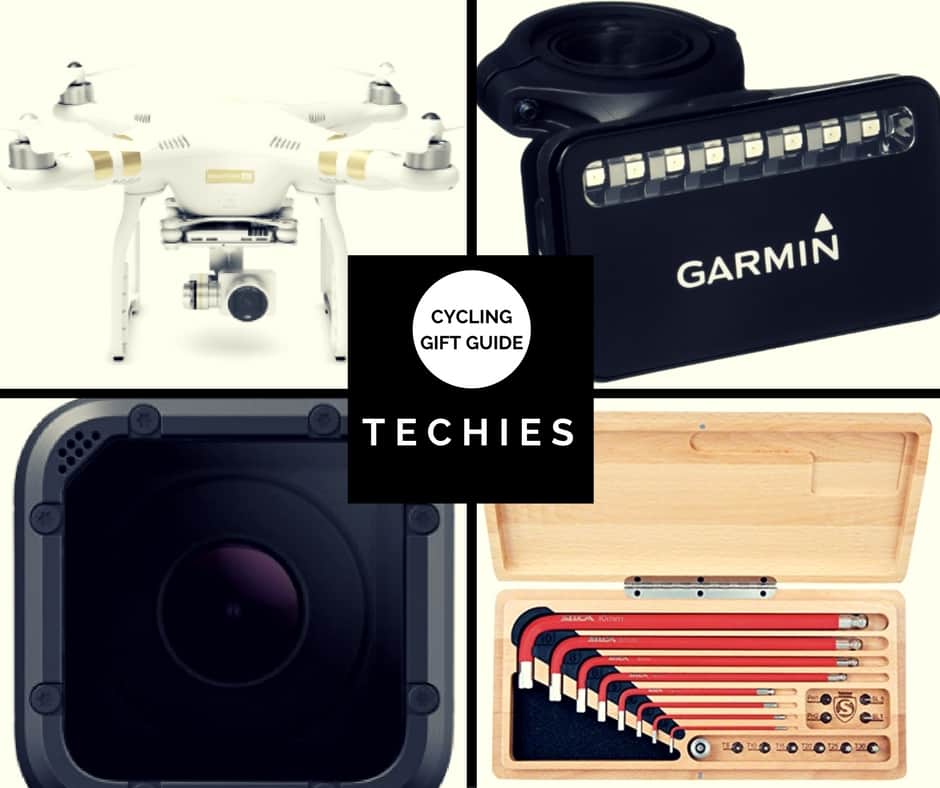 Now you can be the star of your own action-adventure movies. The Phantom 3 will follow you around, capturing every crazy antic. Helmet, knee pads and Bandaids sold seperatly. $598 Amazon
The Varia pulls double duty, recognizing cars from 153 yards away and alerting both the cyclist and the driver. $193 Amazon
This 1.5 inch camera allows you to capture 4k stabilized resolution in five different fields of view with wind noise reduction. Or take the pro video quality action under water up to 33 feet. $298.99 Amazon
For gearheads who perform their own repairs, wrenching is an art and precision crafted tools heighten the experience. Silca's set covers the basics and each tool is easy to handle and provides a precise fit. $125 Amazon 
Related: Essential Bike Tools: Buyer's Guide for the Beginner Mechanic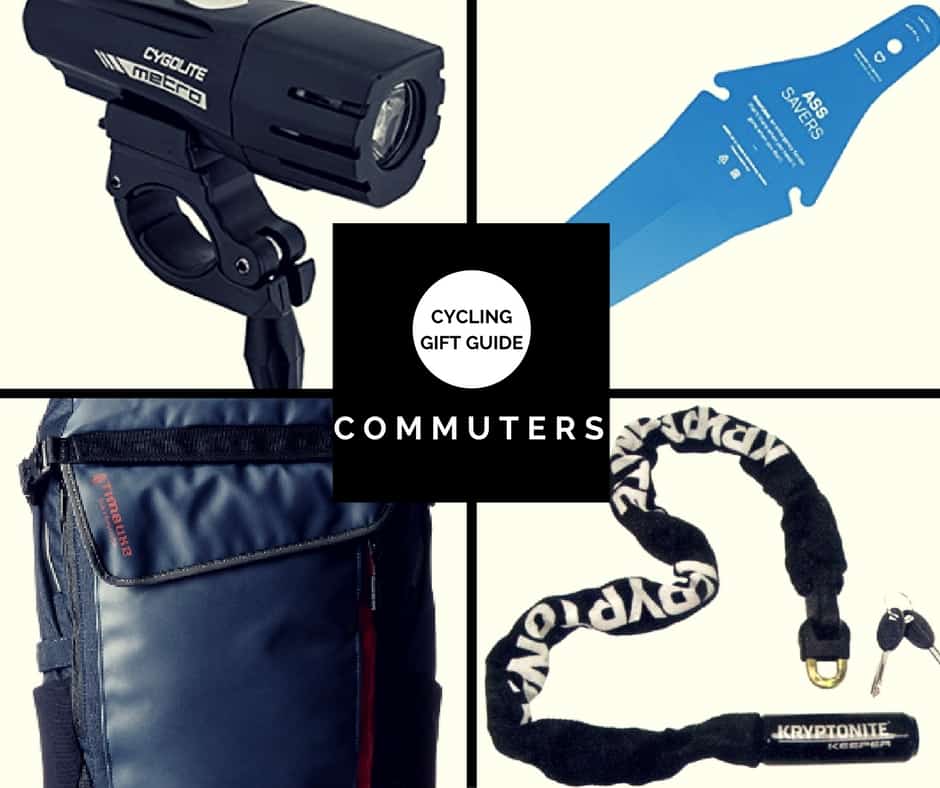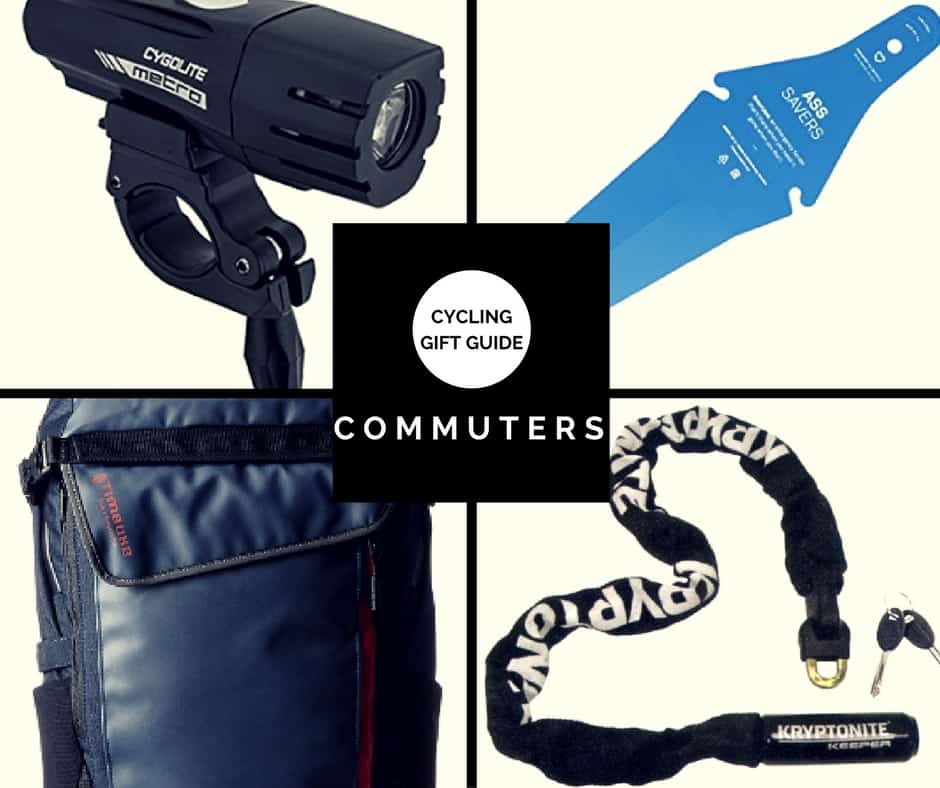 Voted our top light for day and night-time use, this rechargeable beacon has a whopping 500+ lumen blinking pattern and 400 lumen continuous light making it perfect for the city or country commuter. $35 Amazon
This simple and cheap fender will literally save a commuter's ass if they're caught in the rain. Some things in life are simple, yet invaluable. $10 Amazon 
Capable of keeping contents dry for hours in a downpour, the Especial Medio has earned it's stripes with commuters. Reflective paneling and side pockets large enough for a lock and water bottles add to this top-loader's durability and ease of use. $179 Amazon
Give the gift of safety with a lock that's pick and drill resistant. $32.95 Amazon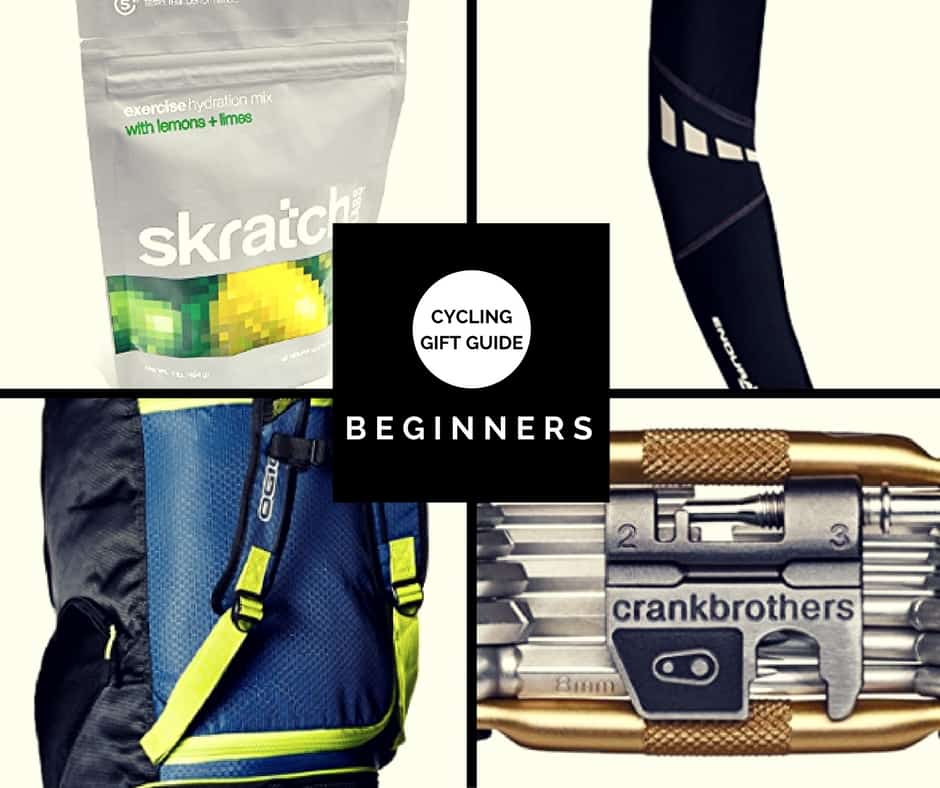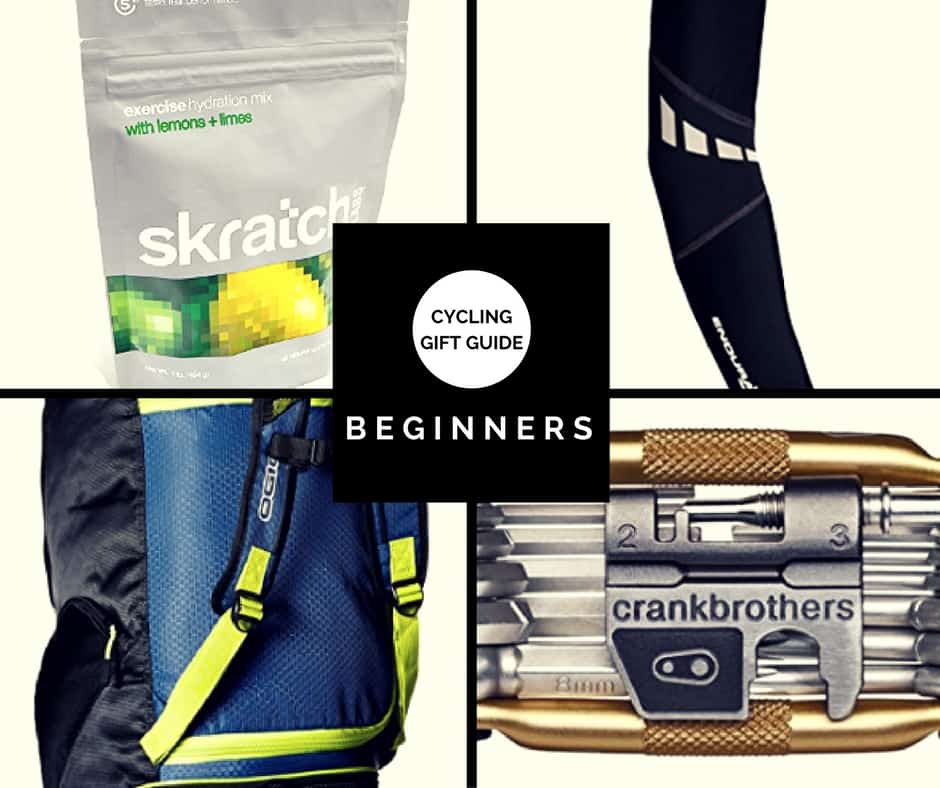 This is an electrolyte-rich fuel tolerated by many picky tummies, thanks to it's real-food ingredients. $19.50 Amazon
Help your favorite newbie cyclist pedal year-round with some basic cold weather gear. These are warmers are perfect for early winter through spring. $25.99 Amazon
When you're first starting out, there's a lot of gear to keep track of and preparing for a ride can seem daungting. Ogio solves this by keeping every together in one organized bag. This one transforms between a duffel and backpack. $87 Amazon 
It takes a while to accumulate bike tools, but a multi-tool is the perfect portable way to ensure you'll have what you need for quick roadside repairs $29.40 Amazon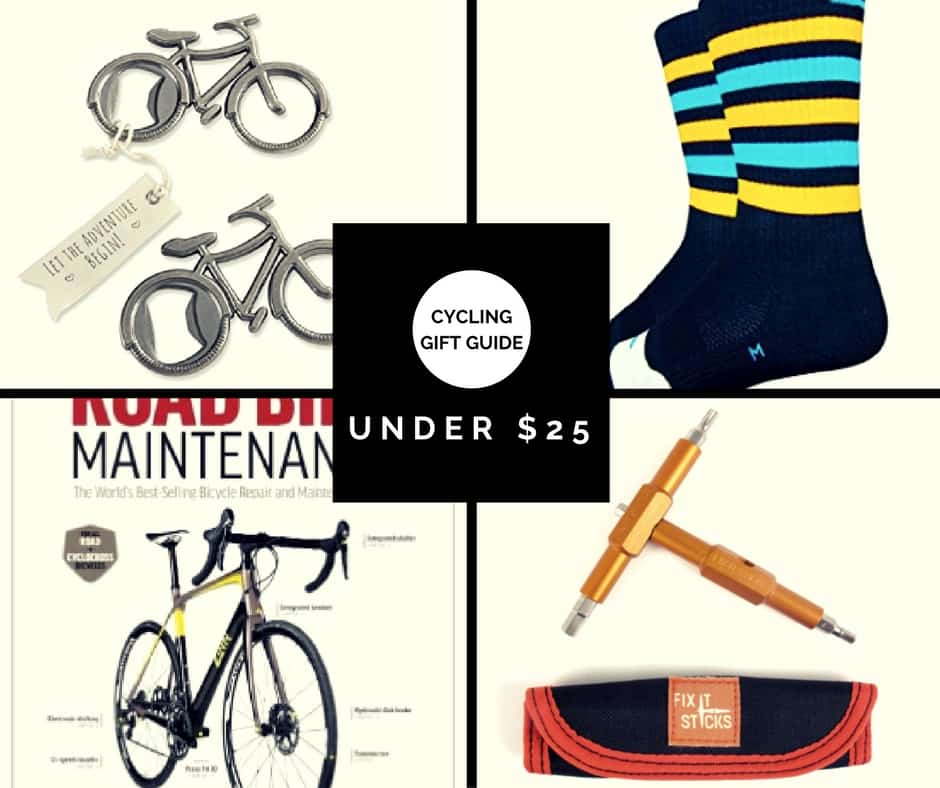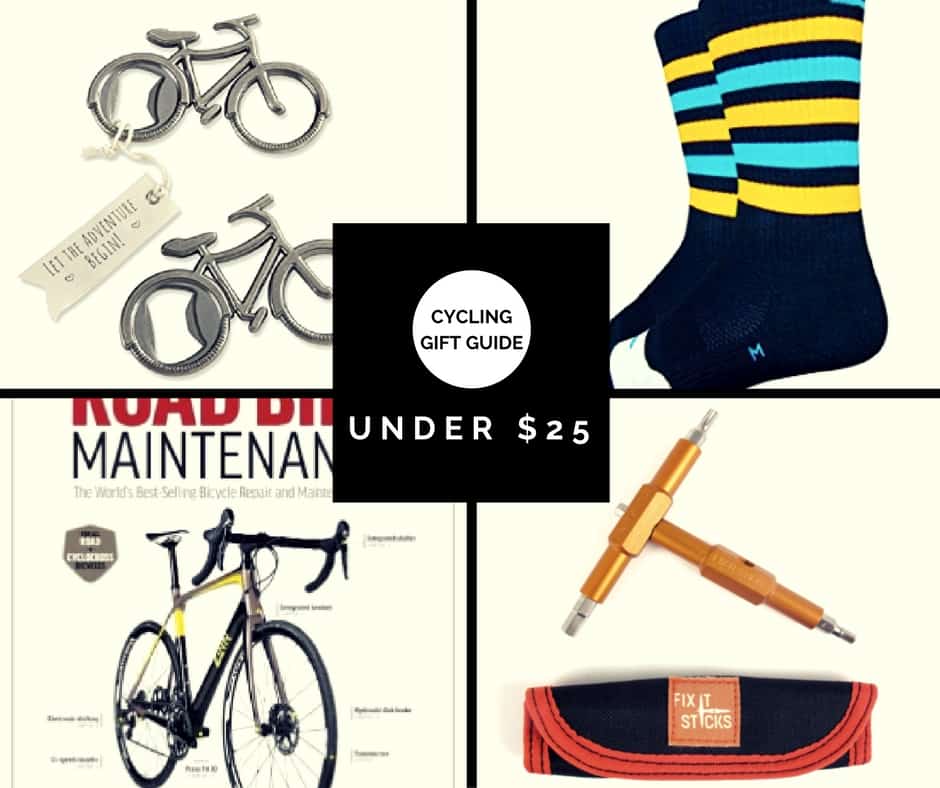 Cycling and beer just go together. At $2.99 (Amazon), this is the perfect stocking stuffer for any suds-loving cyclist.
It's safe to say that cyclists are obsessed with socks. When old man winter strikes, these thermolite polyester threads will keep toes comfortable and toast. $14.74 Amazon
Ready to start performing your own maintenance? This book is the wrenching bible. $18.32 Amazon 
Need one tool to get into the smallest places and do virtually everything? For the cyclist who loves gadgets, these are your gift. $25 Amazon 

It's shaped like a fixie and it's wheel will slice your meat lover's pie. Enough said. $19.99 Amazon
Coffee and cycling culture are intertwined and these cyclist cups and saucers are perfect way to caffeine before hitting the cols. $25 Competitive Cyclist
Wine, coffee cup, water bottle: Whatever your beverage of choice, this expandable bottle cage will confidently tote it. $24.95 Competitive Cyclist
Piece of mind is priceless. But for $19.99 (Amazon), it pays to slip this tiny tool in your back pocket for fast flat repairs. Compatible with presta and schrader, the one-turn valve system inflates a tire in seconds. 
Want to increase the savings? We update our database of cycling coupon codes and Ebates deals weekly. In search of a great deal? Check out our weekly cycling deals round-up.