Latest posts by Cycling Hacks
(see all)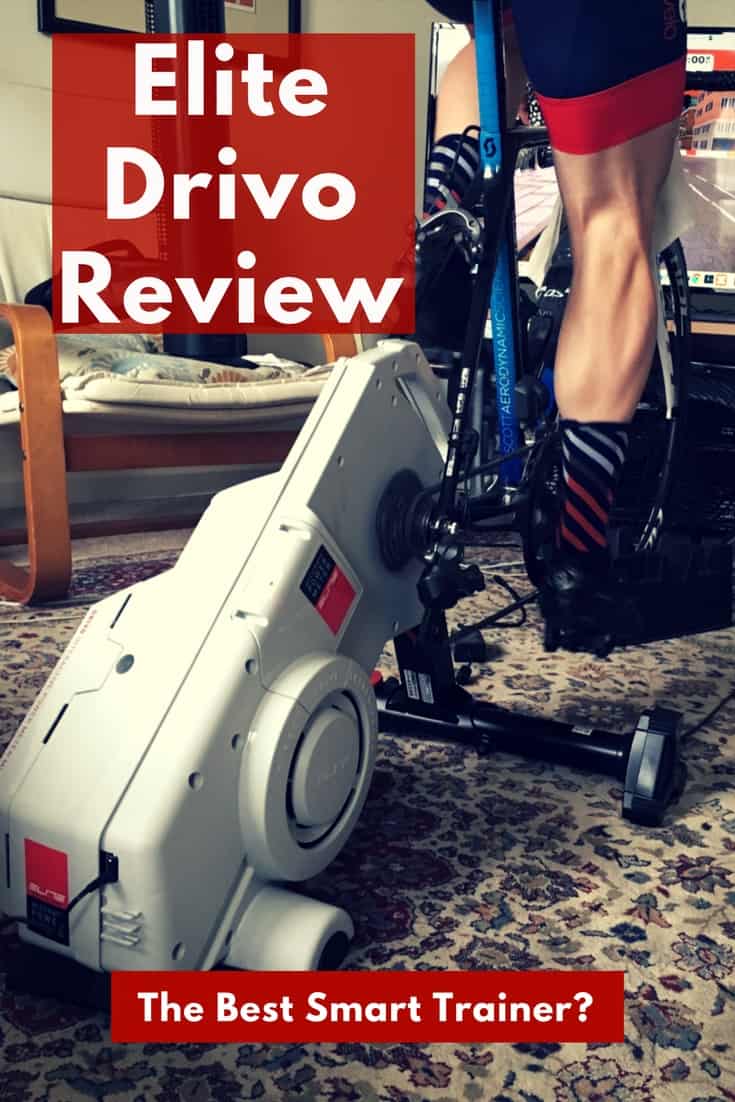 When you think of high end, direct drive trainers, two names instantly come to mind: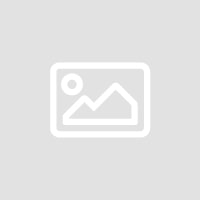 Check Price
We earn a commission if you click this link and make a purchase at no additional cost to you.
and
Wahoo KICKR
. As a record number of riders do battle on Zwift, the big players in the smart trainer market have finally stepped up to answer the call with some heavy hitters.
While Tacx touted their near-silent Neo and Wahoo claimed a true-to-life ride experience, Elite released the Drivo, a behemoth — built like a tank — with near perfect power accuracy. But is the Elite Drivo Interactive Trainer, White a third party contender or a worthy candidate for the best direct drive trainer?
Elite Drivo Review
Once out of the (giant!) box, the Elite Drivo Interactive Trainer, White looks a bit intimidating at first. It's certainly an eye-catcher: like a Star Wars Flametrooper helmet with a handle. But it's ridiculously simple to use. Unlike many other smart trainers, it calibrates itself, reads power, cadence and speed and smoothly adjusts to whatever terrain an app throws at it.
Before you use it for the first time, you'll be required to supply a cassette and trainer skewer. Seems a bit odd that Elite supplies an ANT+ dongle (so a computer and the trainer can exchange information), but fails to throw in a cheap skewer, something often included with even the most basic trainers. Bottom line: budget a little extra for a SHIMANO 5800 Road Bike Cassette, CycleOps 9714 Trainer Skewer and the tools to mount a cassette (a Oumers Bike Chain Tools Kit, Cassette Removal Tool Sprocket Remover Kit/Chain Whip and Cassette/Rotor Lockring Removal Tool with Guide Pin, cassette locking tool and a wrench).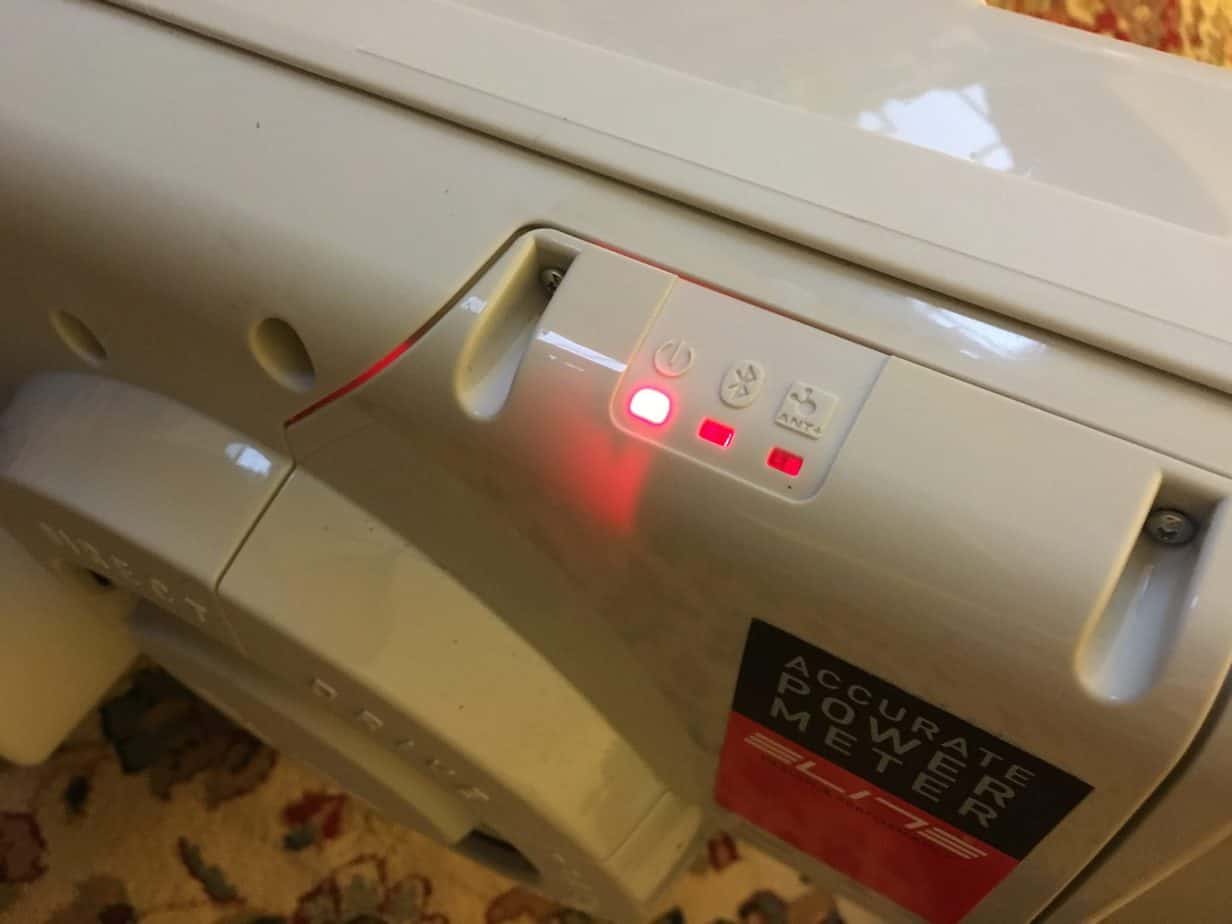 To use the trainer, simply remove the rear wheel and drop the bike into the trainer. A hub spacer makes it compatible with a variety of frames.
Plug it in and the Drivo is primed for action, lighting up with a flash. Log on to Zwift, TrainerRoad or any other supported app, ANT+ or Bluetooth app, and the trainer will gradually adjust to mimic changes in the grade. You pedal. It does the rest. It's as simple as that.
Related: Zwift Review: How to Boost Your Cycling Fitness Now
Ride Feel
If you're upgrading from a traditional fluid trainer, the difference is instantly noticeable.  With any direct drive trainer, there's no slipping of the rear tire as you're winding up a sprint or doing track starts. It also negates having to use a dedicated trainer tire and enduring the floor-shaking trainer rumble. With the Drivo, the fan I'm using is much louder than the trainer itself.
The Elite Drivo Interactive Trainer, White features an ANT+ FE-C control, which is basically an electronically controlled magnetic resistance unit and direct drive attachment. The trainer has a high resistance curve and handles large gradients well.
For instance, if you're climbing Box Hill or up to the tower in Zwift, be prepared to feel the kick of the grade, which, at times will force you out of the saddle, much like climbing in real life. The Drivo simulates grades up to 24% and can handle the massive power outputs that accompany such hard efforts. You can even get by without a riser block under the front wheel. Without a block, the bike stays nicely level, but for hard or repeated efforts out of the saddle, you'll benefit from one to help steady the front wheel.
During its inaugural ride, I wondered if the resistance system was actually working because I didn't feel any fast, noticeable changes in the resistance. This is one of the best parts of the Drivo: the resistance isn't jerky, which makes the ride very realistic.
This realistic feel is partly due to the Drivo's resistance unit, which features a double belt system, producing an ultra-smooth ride. The double belt system doesn't have a tendency to slip, as was the case with the Elite Turbo Muin II. This was one of the quietist trainers on the market, but also had problems with accuracy due to the single grooved belt system.
Power Data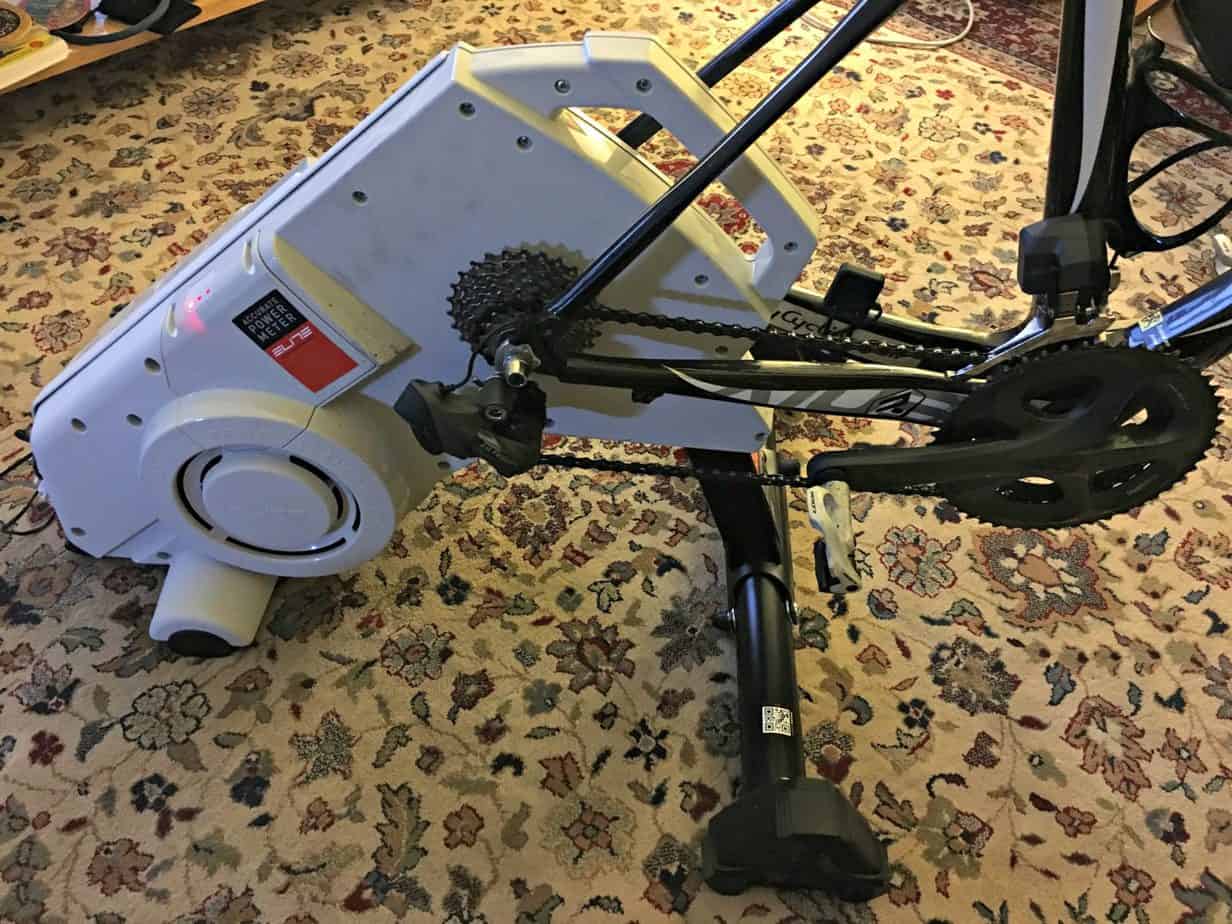 This time around, Elite doesn't seem to care about size or heft. They clearly weren't out to beat the Tacx Neo's whisper-like ride (though the Drivo is very quiet), they were instead obsessed with its power accuracy.
According to Elite (and verified by extensive testing by DC Rainmaker), the Drivo produces the most accurate trainer power data on the market to date. It has a power accuracy of +/- 1%.  Titanium Geek reported that before each trainer leaves the factory it undergoes a 15-minute physical calibration.
Elite is currently working to bring the power accuracy closer to +/- .5% in a firmware upgrade. They are also planning to release pedal stroke analysis software, which will utilize the included cadence sensor. Right now, the unit calculates cadence by measuring the pulses in the pedal stroke. It's also nice not to experience the intermittent power drop-offs I've experienced with other trainer setups.
Related: How to Choose the Best Bike Trainer: The Ultimate Buyer's Guide
Is it Noisy?
The Drivo is amazingly quiet and the perfect solution for those needing to train early or late without waking up the entire house. The Tacx Neo still takes the prize here. However the Elite Drivo Interactive Trainer, White is hardly noisy. Though one complaint I did have was that the unit produced an incessant squeaking sound from the legs that I couldn't seem to mitigate.
Storage
Direct drive trainers all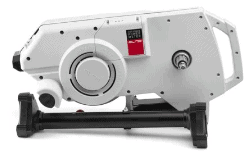 tend to be on the large side, but it's safe to say that the Elite Drivo is a bit of a heavyweight. The flywheel alone weighs 13 pounds. It's important to note that this trainer wasn't built to be compact: It was built to produce insanely accurate data and Elite didn't seem to mind the resulting heft.
The torque is measured by an Optical Torque Sensor which is a scaled down version of the scale torque sensors used in many larger industrial applications. Despite its mass, the flywheel results in a buttery smooth ride.
The downside of this design is that unless you have a spare corner of a closet, the trainer doesn't store well or easily. It's not the kind of trainer you can slip under a bed. It comes with an integrated handle that provides skinny weight-weenie cyclists with a legit upper body workout by simply moving the trainer. It should be noted that the Tacx Neo and Wahoo KICKR are also large, awkward beasts to store.
Despite its heft, the Drivo felt unstable at times on carpeting, as if the legs could be wider in order to accommodate those big sprint efforts where the bike is thrown from side-to-side. I had to back down on my sprint several times, as the trainer leg rocked slightly off the carpet. But I'd recommend a trainer mat or setting it up on a smooth surface before channeling your inner Andre Greipel.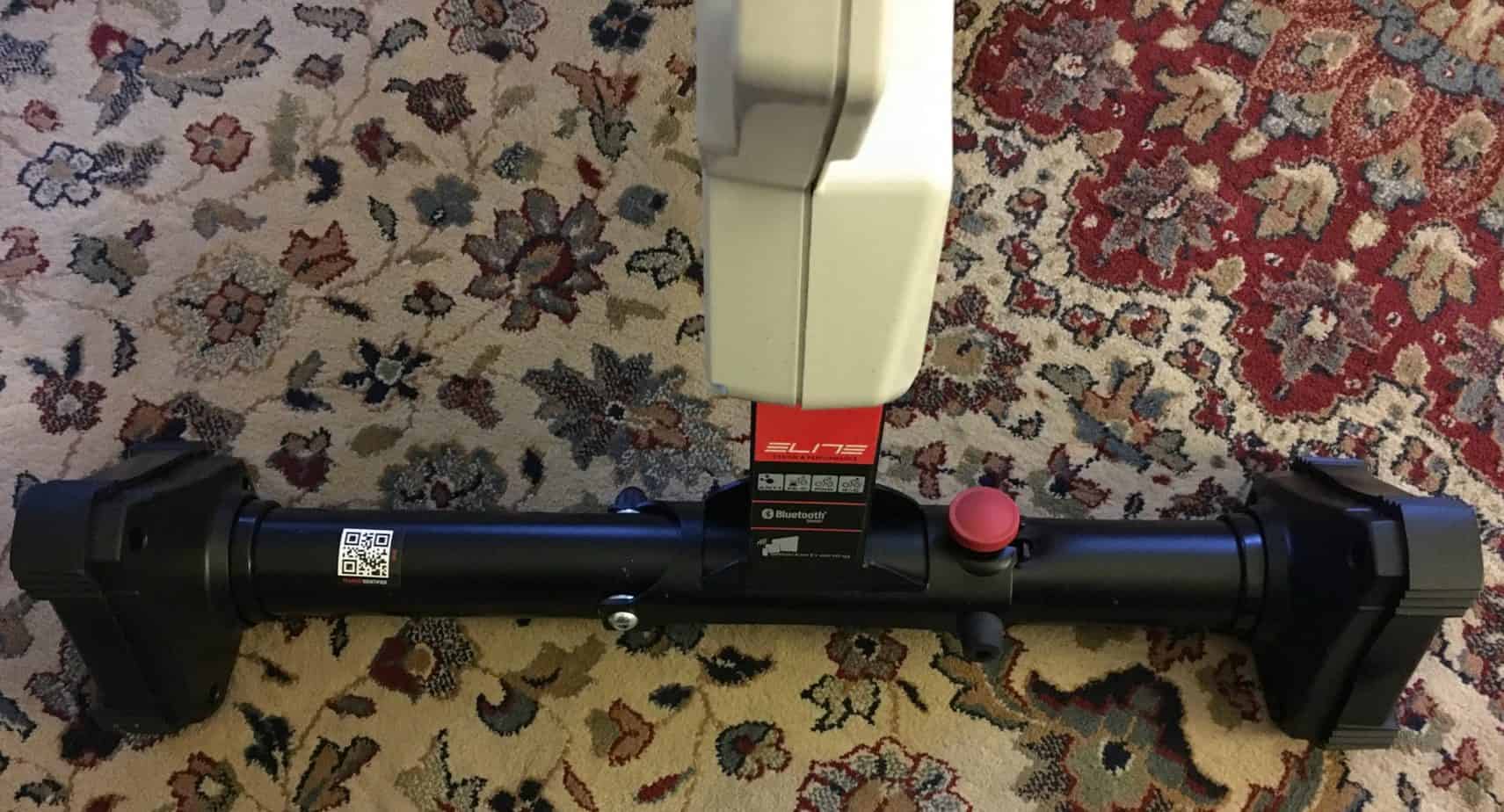 The trainer features a long leg that folds down with adjustable feet and is secured in place with a little red knob. I struggled to adjust the knob because it's a pain to properly line up. Ideally, this trainer is easiest left permanently set up in a training space.
Final Thoughts
It's hard to not give the Elite Drivo Interactive Trainer, White an excellent review. The Drivo transforms Zwift into an insanely fun and incredibly realistic training session that's about as close to riding outside as you can achieve in your living room. 
Price wise, at $1,279.95 (as of publication on Amazon), Elite has found the sweet spot, sitting just higher than the KICKR ($1,199) and a few hundred dollars lower than the Tacx ($1,599). If you're the kind of person who enjoys all the bells and whistles, than the Neo is still a worthwhile splurge (it will simulate downhills and varied road surfaces on Zwift). But for the money, the Elite Drivo is a solid, worthwhile investment that's a snap to use, provides highly accurate metrics and will give you a heck of a workout — while having a blast in the process.
[easyazon_infoblock align="none" identifier="B01GA6Z8FO" locale="US" tag="newcyclinghacks-20" type="single" link_id="7301"]
Elite Drivo Compatibility:
Compatible with bicycles having hubs 130-135×5 quick release and 142 x 12mm thru axle

ANT+ and Bluetooth Smart wireless transmission

Total interaction with app, software and devices with ANT+ (FE-C trainers) and Bluetooth Smart protocol

The installed free hub is compatible with standard Shimano-SRAM 9/10/11 speed cassettes
The Elite Drivo vs the Current Competition: How it stacks up:
Here's how the Elite Drivo compares to the Tacx Neo, Wahoo KICKR and newly released CycleOps Hammer
Elite Drivo vs. Tacx Neo
The Drivo retails for $1,279.95, the Neo for $1,599 on Amazon
Neo has no height or position adjustment (Drivo does)

By far, the Neo is quieter

Drivo has a smoother ride (yes, this is highly subjective)

Neo will work without it being plugged in (Drivo will not)

Both have similar power data accuracy

The Tacx Neo Smart has a motor that drives speed downhill (Drivo does not)

The Neo is the only direct drive trainer that simulates the feel of road surfaces
Elite Drivo vs. Wahoo KICKR
The Wahoo KICKR currently retails for $1,199 at Competitive Cyclist 
Some users noted a smoother ride feel on the Drivo than the KICKR

KICKR provides power and speed, but not cadence (Drivo provides all 3)

Some KICKR users report more lag in the ride when hitting virtual terrain and noticeable resistance changes.

Wahoo provides a cassette with the KICKR. With the Elite Drivo, you must buy and install a cassette yourself.

KICKR doesn't need a power source for use, unlike the Drivo

The KICKR has a shallower maximum hill incline (20% vs the Drivo's 24% and the Neo's 25%)

Drivo's power is 1% more accurate
Elite Drivo vs CycleOps Hammer
Drivo is quieter

Hammer has integrated legs, making it a little more compact

Power is slightly less accurate on the Hammer 

The Hammer's maximum simulated include is 20%, Drivo is 24%
Need to compare noise levels? Check out this video by DC Rainmaker

You can find complete Drivo specs, firmware updates and the Drivo manual at Elite's official site
Related: Smart Trainers and more: Find Current Cycling Gear on Sale