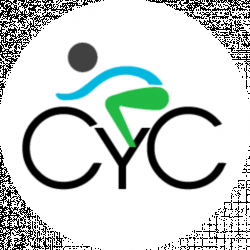 Latest posts by Cycling Hacks Team
(see all)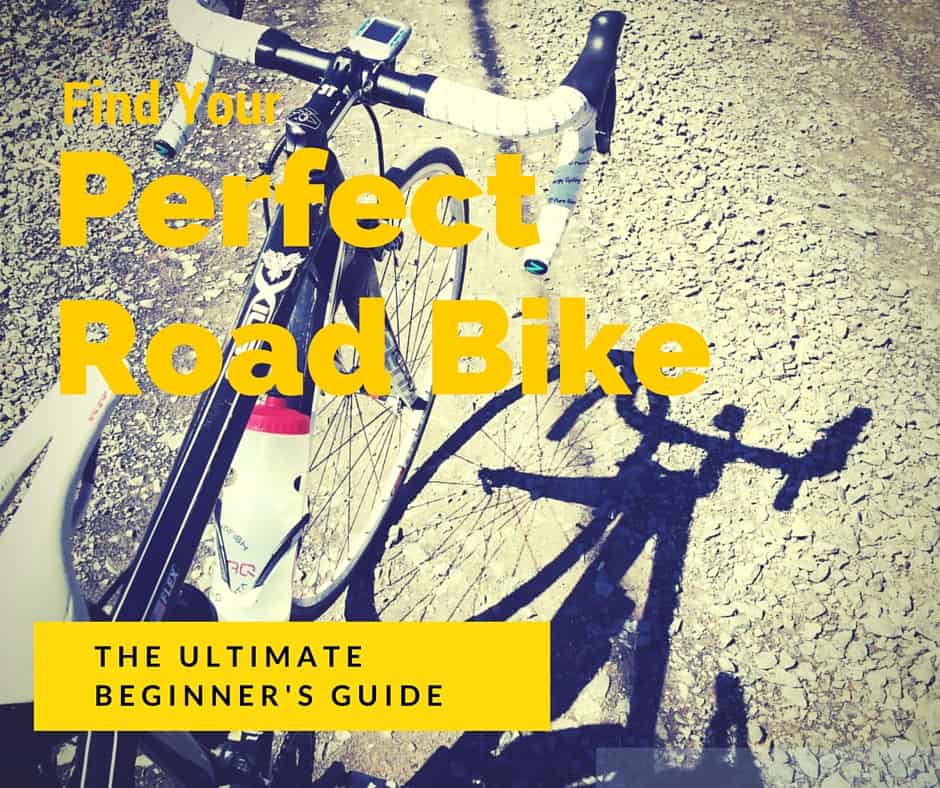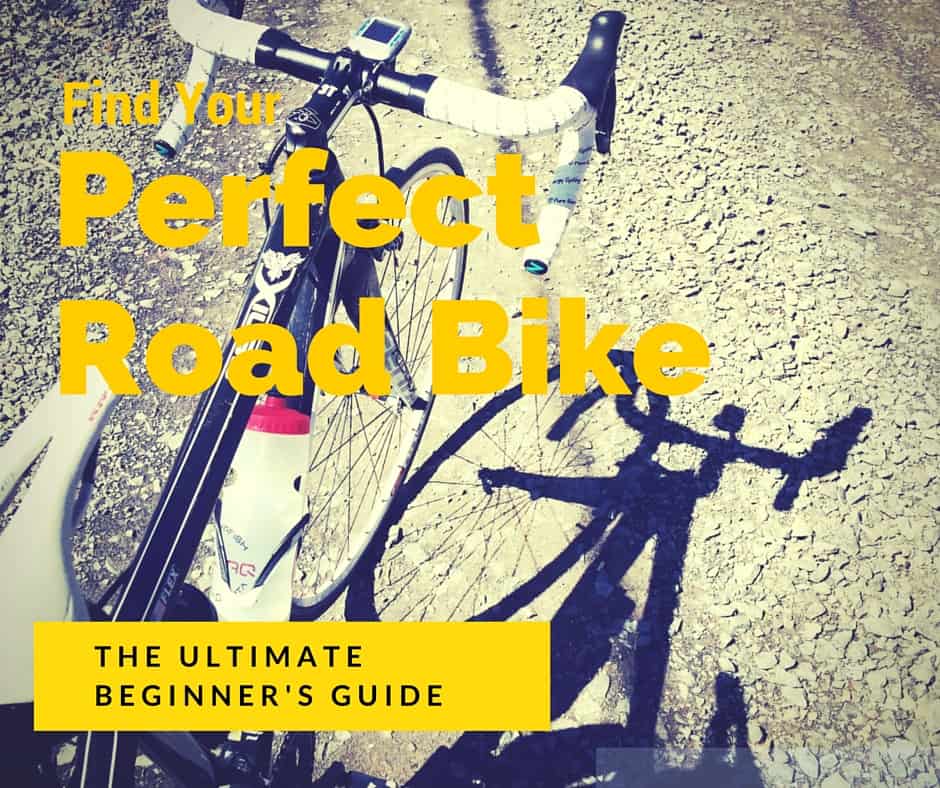 I can give you my reviews, but buying a road bike is ultimately a personal decision. To find the best beginner road bike, it's important to consider more than just the cost. Choose a bike that fits you well, is a joy to ride and best applies modern technology at that price.
Sounds a little intimidating, right? Don't worry. I've got you covered.
I've included easy-to-navigate guides to help you understand the difference between component groups and frame materials and to answer questions such as"do I really need disc brakes on a road bike?"
Then I rounded up the best bikes for your budget and riding style.
Below you'll find our complete lists of top entry-level road bikes 

Beginner Road Bike Buyer's Guide
Why are you buying a bike anyway?
You're interested in a bike that will be fast, efficient, and fun on tarmac, but you're not sure what to buy. "Road" is a surprisingly broad category of bicycles that all have one thing in common: they all rip on pavement. Narrowing down the right choice is just a matter of picking out the features that make a bike idea for you.
Is it a means to get to work? Or could you see yourself entering a race or riding a Gran Fondo at some point? Look down the road and plan for the future. Invest in a road bike that will grow with you as your fitness and interests evolve.
For example, starting out with a cheap, heavy bike won't serve you well if you end up on day-long adventures that require lots of climbing. A bike that is not a joy to ride will just gather dust in your garage, so think of a new bike as a somewhat long-term investment in your health and happiness. Do your research, compare prices, and buy a bike that's perfect for you.
Just starting out? Use these tips to navigate the bike shop and find the right kind of bike for your riding style.
What You'll Get for the Money
Less than $1,000: An aluminum frame and a lower-end drivetrain, typically 8- or 9-speed. You'll also get rim brakes or mechanical disc brakes that work just fine but lack the cool factor and precision of hydraulic disc brakes. These bikes may have an aluminum fork intead of a carbon fiber one, which tend to make the bike heavier and not was smooth-riding.
$1,500: This is the starting point for a full-carbon frame. Carbon fiber generally offers a smoother ride and is generally lighter and more responsive. Expect a lower end drivetrain (Shimano Tiagra or 105, or a mix of them).
$2,500: Carbon fiber frame and a high-end drivetrain like Shimano Ultegra. The shifting is considerably smoother and more reliable at this price point. Bikes at this price will be considerably lighter and designed with superior comfort and competition-level performance in mind. 
*When budgeting for a new bike, keep in mind that you may need a new saddle, stem or bars in order to achieve a comfortable fit. You'll also need to pick up a helmet, bottle cages and a pair of pedals.
A Quick Guide to Bicycle Frame Materials
For an endurance road bike, which is what you'll find at the entry level, you'll have a choice between aluminum and carbon fiber frames. Before you rush to jump on the carbon fiber bandwagon, consider the benefit and downside of both materials.
Frame materials, cost, ride feel and bike fit are all major considers. Take the time to find the best-fitting frame, regardless of components and frame material. If you have a choice, I always recommend investing a little more in a quality frame over a component upgrade. You can always upgrade components down the road, but it's more of a headache and expense to swap out the frame. 
Aluminum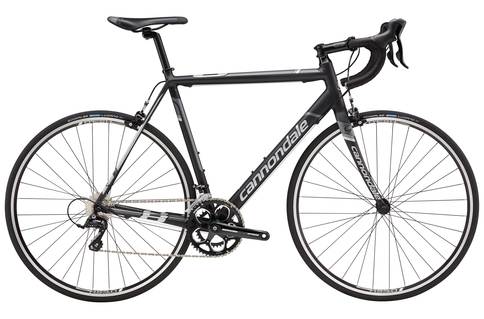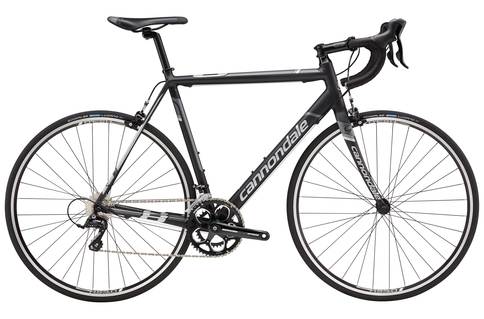 There is so much demand for carbon fiber, that it has pushed down the price of aluminum. As a result some very well engineered aluminum frames can now be found at low prices.
Aluminum frames have become more responsive and comfortable than their ancestors, which gave aluminum frames a reputation for having a "harsh" ride.
When choosing an aluminum frame, consider the quality of the metal tubes used. "Butted" tubes, usually described as double-or triple- butted, have varying wall thickness and tube shapes to enhance comfort and reduce weight. These are an alternative to straight-guage tubes and are usually found on higher end bikes.
To increase comfort and reduce vibration, look for a carbon fiber fork, which can also decrease the bike's overall weight.
Bottom Line: For an ideal balance of performance and value, it's hard to beat aluminum. However, aluminum doesn't damp vibration like carbon fiber, so I suggest upgrading to a carbon fork for a smoother ride.
Carbon Fiber
Carbon fiber is made from thin fibers that are then woven into fabric-like sheets. A glue-like resin creates a composite material that can then be shaped into what looks more like a bike frame. You can read more about the process here. In most cases, carbon fiber is lighter and stiffer than aluminum, but also pricier.
When you hear a bike described as stiff, this refers to the direct power transfer between your body and the bike, so a stiffer frame will offer a more responsive power transfer. The bike's overall comfort has more to do with the way the carbon fiber is laid up and the overall geometry.
Carbon fiber can be molded into a variety of shapes that greatly enhance the ride feel and aerodynamics. It's also incredibly strong, yet light. Fortunately for entry level cyclists, high-end carbon fiber technology continues to trickle down, making carbon frames more affordable than ever.
One downside of carbon is that in the event of a crash, the integrity of carbon can be compromised, whereas aluminum can suffer more dents and dings without compromising the integrity of the entire structure. Carbon fiber can be repaired by a professional, but carbon fiber usually results in shopping for a new frame. With this in mind, I still recommend buying carbon fiber if your budget allows. Many manufacturers offer a crash warranty, so look into this before purchasing a bike, if you're concerned.
Bottom line: If you can afford it, carbon fiber is super light and offers a responsive, smooth ride.
Other Materials: Steel and Titanium
In the past, steel was a commonly used in bike frames. Though it tends to be heavier than other frame materials, it's comfortable, absorbs road vibration and is easily repaired.
Some people just prefer the "classic" aesthetics of straight lines and round tubes found on a steel frame. Today most steel frames are "boutique" frames and custom builds, making them a pricier option. Several manufacturers like Kona and Raleigh are still committed to making steel-framed bikes for the masses.
Like steel, titanium is also a strong material that's comfortable to ride. But it comes with a cost. The raw materials used to make titanium are expensive, as is the extra labor needed to produce the frames, making titanium another common choice for "boutique" and custom bikes built to order.
The hidden costs (and dangers) of a cheap road bike.
Entry Level Road Bike Components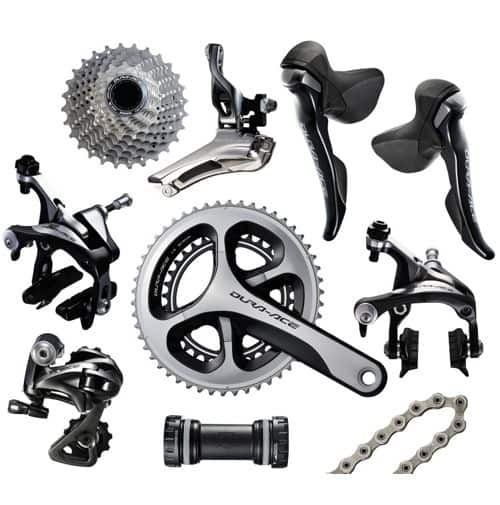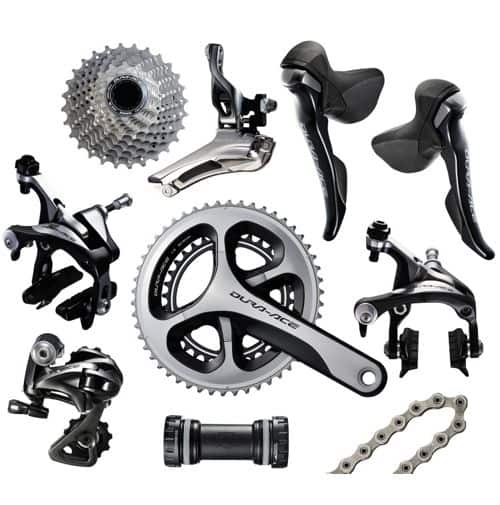 Also known as groupsets and drivetrains, components are all the parts that work together to keep your bike moving along. They include:
Crankset

Front and rear derailleur

Shifters (which have integrated brake levers)

Brakes

Rear cassette
Components vary greatly in ease of use, durability, weight and cost. On beginner road bikes, you'll most likely find Shimano components. One important factor to keep in mind is that components can always be upgraded later on. Buy the best you can afford initially, ensuring that the bike shifts well and that the shifters are comfortable in your hands.
Check out our complete guide to road bike components.
Shifting
Components vary greatly in ease of use, durability, weight and cost. On beginner road bikes, you'll most likely find 8- and 9-speed components made by Shimano, FSA, and SRAM. Although components can be upgraded later on, it will be more cost-effective to buy the best you can afford initially, ensuring that the bike shifts and brakes with confidence.
Brakes
Brakes are another huge consideration, especially considering that disc brakes come stock on many entry level road bikes. While they're still a topic of hot debate among the pro circuit, they do instill braking confidence in new riders and increased safety in wet weather. The downside? They are heavier than traditional rim brakes and require extra maintenance.
Need help deciding if disc brakes are for you? Discover the difference between disc and rim brakes.
Endurance Road Bikes
Finally, most of the bikes listed below are designed as "endurance" road bikes. This means that the bike is designed more for comfort than aerodynamics. Instead of a low, aggressive, "racing" position, an endurance bike will be more upright and comfortable for pedaling long distances. Endurance road bikes are great all-around, everyday rides that will suit you well for beginner races and Gran Fondos.
What's the best beginner road bike?  
Now that you know what to look for, here are my top picks with in-depth reviews of each road bike.
Road Bikes Under $500
What constitutes a "rational" budget for a bicycle varies widely based on disposable income. If your current budget allows for $500 for a road bike, I cannot recommend any new, retail-priced bikes in that category for reasons we have outlined in our Cheap Road Bikes article. However, the used market is ripe with quality, previously-loved bikes at to fit any budget, if you have the research skills and patience to find your bike.
Our 2019 Top Entry Level Road Bikes:
Go fast for less: Top road bikes under $1,000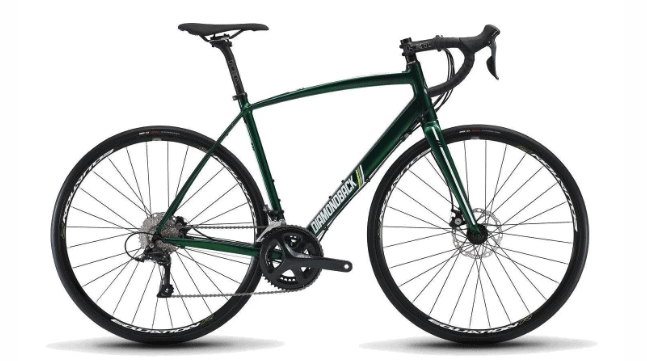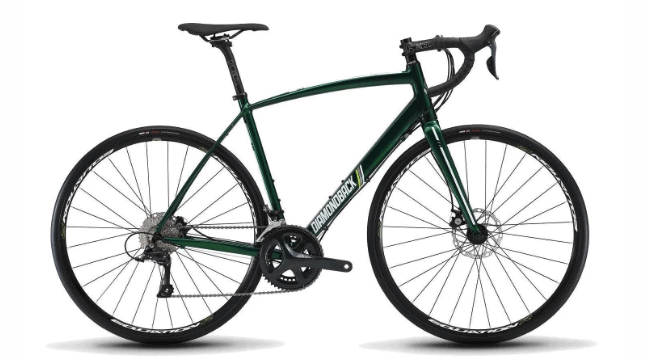 Diamondback Arden 2 (women) or Century 2 (men) – Diamondback's entry-level bikes always pack a lot of features into a small price tag: aluminum frame and fork, mechanical disc brakes, Shimano Sora 2×10 drivetrain. This can be your first-time time trial bike, charity ride bike, commuter (rack- and fender-friendly), or a go-fast social ride bike.
Diamondback Bicycles Arden Women's Endurance Road Bike | Amazon
The Arden 4C is a women's road bike that is completely at ease on long solo rides but likes to mix it up at the occasional organized event or informal group ride. Featuring the same state-of-the-art carbon fiber frame and fork as our top-tier model, the Arden 4C has a slightly more relaxed riding position than a full-on race bike.
Buy at Amazon.com
We earn a commission if you click this link and make a purchase at no additional cost to you.
Liv Avail 1 (women) or Giant Contend 1 (men) – Giant has a rich pedigree that extend to their sister company, Liv. The Contend 1 and Avail 1 bikes feature a Shimano Sora 2×9 drivetrain, tubeless tires, and a carbon fork.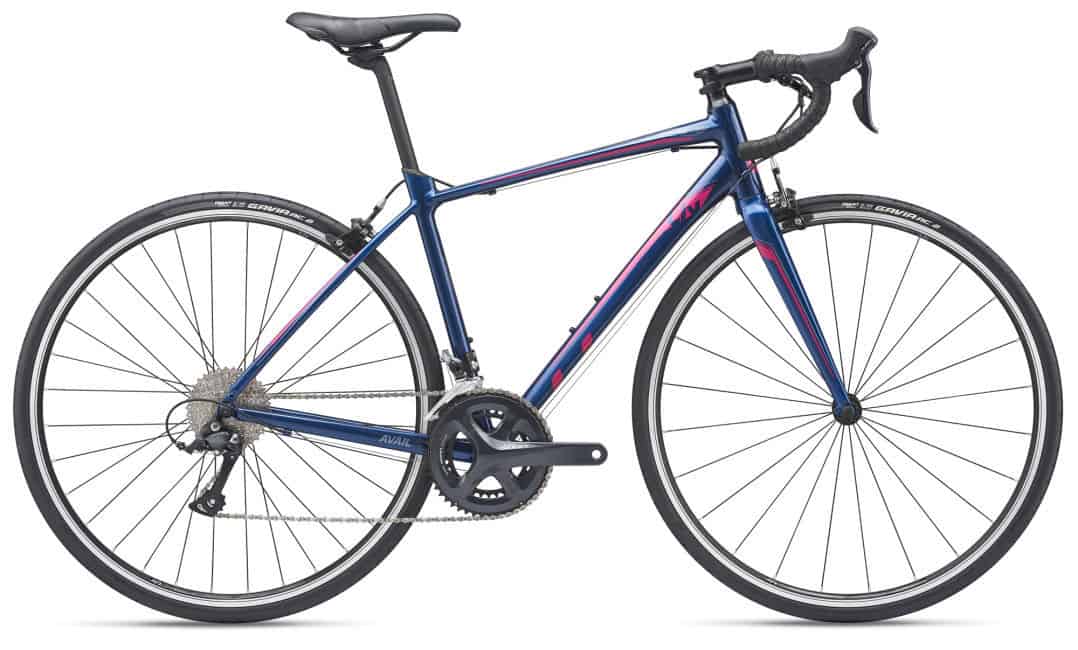 Liv Avail 1 | Jenson USA
The 2019 Liv Avail 1 Bike is a lightweight road bike that is comfortable and built for female riders. The frame geometry is built for endurance riding and the Sporting OverDrive and PowerCore technologies provide superior stiffness without compromising compliance.
Check Price
We earn a commission if you click this link and make a purchase at no additional cost to you.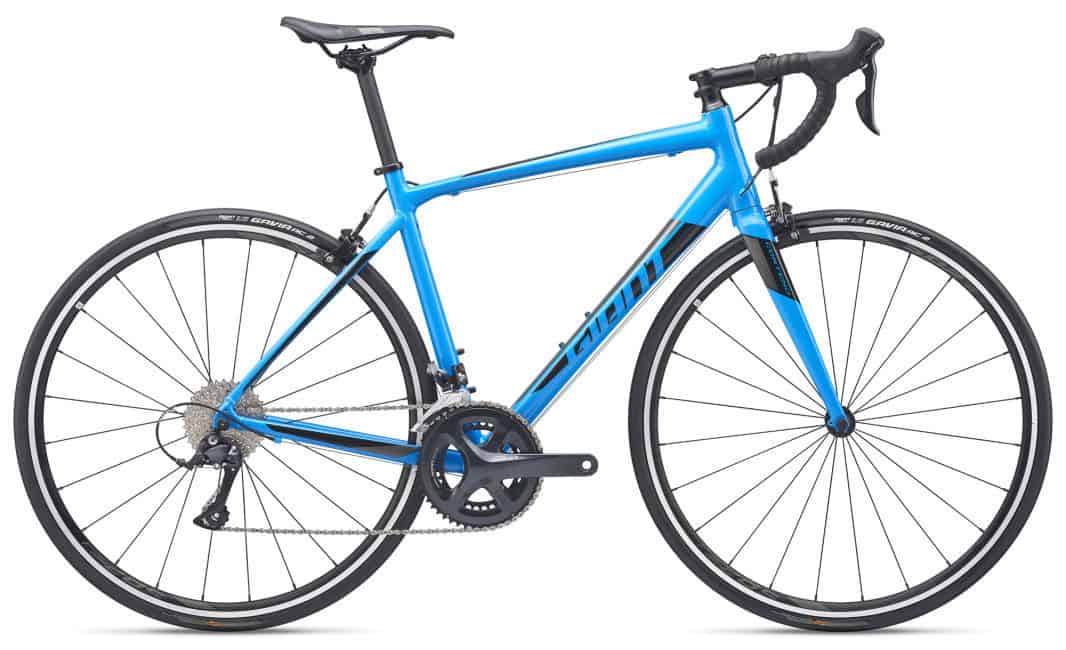 Giant Contend 1 Bike | Jenson USA
Take your riding to the next level with a true road bike. Built around a hydroformed ALUXX-Grade aluminum frame, composite fork, and Shimano Sora groupset, the Contend will make you fall in love with the sport of road cycling.
Check Price
We earn a commission if you click this link and make a purchase at no additional cost to you.
Raleigh Addison (women) and Grand Sport (men) – for those who prefer the classic look and ride quality of steel, Raleigh is keeping tradition alive with modern steel road bikes. Modern features like a tapered steerer tube and carbon fork, Shimano Claris drivetrain, and Clement tires are matched with shiny silver components and a Brooks saddle.
RALEIGH Bikes Addison Womens Steel Road Bike | Amazon
The Raleigh Addison steel heritage road bike is a budget-friendly take on classic Raleigh style. The Addison features women's-specific sizing and touchpoints to let you go the distance in comfort.
Buy at Amazon.com
We earn a commission if you click this link and make a purchase at no additional cost to you.
Raleigh Bikes Grand Sport Road Bike | Amazon
The Raleigh Grand Sport doubles as a road bike ready for hours of training and a commuter bike for daily trips to work. With the rack and fender mounts built into the frame and fork, you can haul your gear and stay dry in wet weather.
Buy at Amazon.com
We earn a commission if you click this link and make a purchase at no additional cost to you.
Read our in-depth reviews of our top road bikes for under $1,000
Best Road Bikes Under $2,000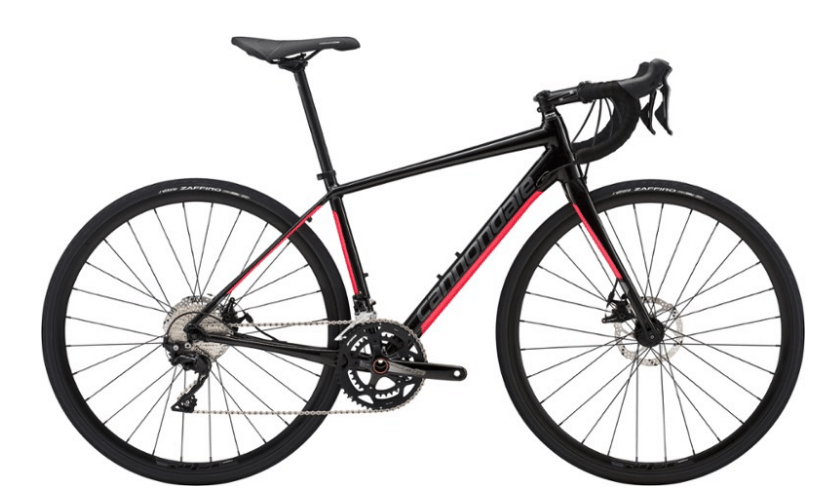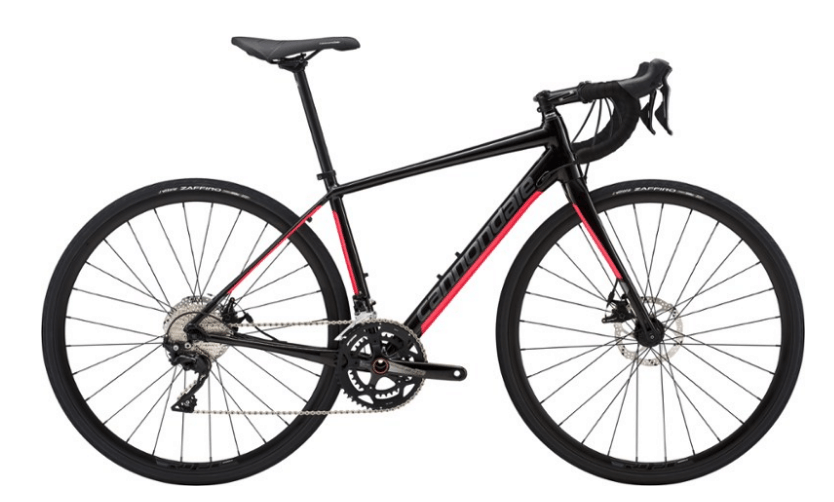 Have a little more cash to spend or looking to upgrade? Here you'll find carbon fiber and generally a Tiagra or 105 drivetrain.  These bikes are generally lighter than the $1,000 models and are designed with more performance and comfort considerations.
Road Bikes for Enthusiasts (under $2,000) 
Cannondale Synapse AL Disc 105 (women) or Synapse AL Disc 105 (men) – Cannondale pioneered lightweight aluminum construction from the beginning. The Synapse family is designed around Cannondale's SAVE "micro suspension" technology, which smooths out imperfections in the tarmac. A Shimano 105 drivetrain (2×11 speed with a wide range) , 28mm tires, and flat-mount disc brakes all make this is fast smoothie of a bike.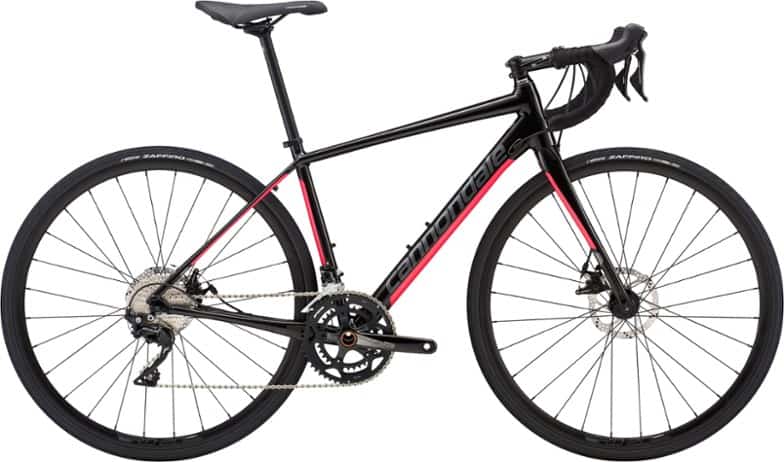 Canyon Endurance WMN AL Disc 7.0 and Endurance AL Disc 7.0 – Canyon's business is based on skipping the middleman, shipping bikes directly to riders. This means you generally get more bike for your buck, and this model gets you a lightweight aluminum frame and carbon fork, Mavic tubeless wheels, hydraulic brakes, and an 11-speed Shimano 105 group. Canyon offers this bike in many sizes to fit a just about any rider.
Trek Émonda ALR 5 Disc (women) Émonda ALR 5 Disc (men) – Trek designed the Émonda line to look and perform like a carbon fiber bike at the cost of aluminum. The ALR 5 level includes Bontrager tubeless wheels and tires, Shimano 105 2×11 drivetrain with hydraulic brakes, and features steady 12mm thru-axle wheels.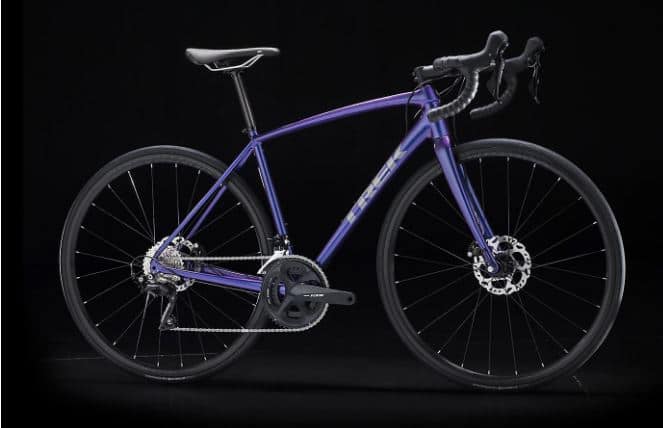 Émonda ALR 5 Disc | Trek Bikes
Émonda ALR 5 Disc is a lightweight aluminum road bike with powerful hydraulic disc brakes, a reliable 2x11 Shimano 105 drivetrain, touchpoints designed for women, and an advanced alloy frame that gives it the sleek looks and handling of a far more expensive carbon bike.
Check Prices for Women
Check Prices for Men
We earn a commission if you click this link and make a purchase at no additional cost to you.
All three brands offer some of the top entry level women's road bikes.
Read more in-depth reviews of the top bikes under $2,000
Related: The Best Bikes for Women (that aren't pink-colored men's frames!)
Unsure where to start? Use these tips to find a bike that's your size and tweak it to fit you.
Want even more cycling hacks or to connect with a community of like-minded cyclists? Join us in our free Facebook Group.