Let's begin by clearing up one common misconception: Just because you're a woman doesn't mean you have to ride a women's specific design (WSD). If you're struggling to find a bike that fits, trying a WSD model is a great first step. After all, companies try to design the best bikes for women to address their specific needs like a shorter reach and torso. Remember that it's always best to find a bike that fits well over one that was chosen just to save a few bucks. You want to buy a bike you'll still love to ride years later.
Though some women's specific frames are the same as the men's version, just repainted or with slightly different components, a true women's specific bike is more than just a pink version of the men's and those true WSD bikes are the only ones I'm recommending here.
To find the best bikes for women, look for varied frame geometry and components that are specific to a woman's smaller hands, narrow shoulders, and shorter reach. Whether you're looking for an entry-level road bike or a bike fit for racing, you'll find the cream of the crop here.
Up Front Summary
How to find a bike that fits and perform an at-home bike fit
Best Entry Level Women's Road Bike Under $1,000: Cannondale Trail 5
Cannondale is a well-known American manufacturer of both road and mountain bikes that has been around since 1971. One of the newest additions to their collection is the women's Cannondale Trail 5 (version 2021), a perfect budget-friendly option with a price tag under the $1,000 mark.
This lovely mountain bike has a light and durable aluminum frame, powerful hydraulic disc brakes, Tektro M275, 10-Speed shifters, and numerous quality components provided mainly by Shimano. 
The bike is widely acclaimed for comfort even by those who prefer the bumpiest mountain trails in rough terrain. It is also great for beginners who will surely appreciate the confidence of this perfectly balanced and easy-to-use mountain bike. 
As a beginner on the road, you probably will appreciate a decent all-rounder that can take up pavement just as well as gravel and dirt. New TREK Checkpoint ALR 5 is perhaps one of the best value all-road bikes you can currently find on the market. 
It's built to last and offers various engaging features, including the adjustable horizontal sliding dropouts, huge tire clearance (this bike can accommodate tires up to 45c), and even extra mounts that allow further customization.
The ALR 5 is also packed with high-quality components, including the Shimano GRX RX600 11-speed shifter and Shimano RX400 hydraulic disc brakes. Given the reasonable cost of this bicycle, this is both a perfect beginner and budget-friendly choice.
If you're a road riding novice or need to save some cash, check out my list of top road bikes under $1,000.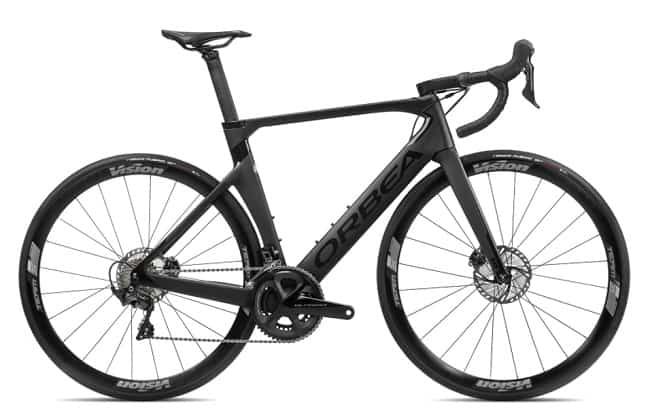 ORBEA Orca Aero M20 Team Bike (2021) is a sophisticated carbon frame road bike perfectly fit for both training and racing. Although this is not a female-specific bicycle, choosing the right size according to your inseam length and height is all you need to do to adapt this ride to your specific needs. Additionally, thanks to its lightweight construction, you won't have any issues handling it even if you're petite.
This exquisite bicycle focuses entirely on performance and speed. It feels exceptionally nimble while also being somewhat firmer than most of the other bikes from this category. As the name of this Spanish ride suggests, it boasts a perfectly aerodynamic design. The shorter tail on the bike also allows flatter tubing, which results in softer airflow towards the bottles.
The 2021 version of this model comes equipped with Shimano ST-7020 shifters and Shimano R8070 hydraulic disc brakes. It comes in sizes 47 to 57.
Learn how to choose the best road bike components
Need to stay on budget? The Hiland Road Bike 700C is a perfectly affordable racing bike made in Taiwan with a durable steel frame, aluminum rims, and Shimano 14-speed gear (Shimano SY20). It is available in sizes 50 to 58, and it truly costs just a fraction of the price you would pay for most of the other bikes on our list. According to the users, this bike is surprisingly good value for money.
Other bikes to check out
REI currently offers two more models of the great Cannondale women bikes: Quick Disc 5 Remixte (2020) and SuperX Force 1. Both have great features and top-quality components, and their prices are also reasonable. 
While the first one is a great recreational all-rounder with 14 gears and a light aluminum frame, the latter is an ambitious sprinter designed mainly for cyclocross. Check out their current prices – since these models are entirely new, you might be able to get them at reduced prices.
Is Your Seat a Pain in the Butt? How to Choose the Best Bike Saddle
Frequently Asked Questions
Here's more information on what to seek and avoid when you're looking for the best bikes for women:
These are just a few of our favorite WSD bikes. Share your list of the best bikes for women in the comments.
Looking for your first bike or ready to upgrade? Start here for an overview of what to look for in an entry-level road bike. You can also read my 5  best tips on how to navigate the bike shopping process.