Latest posts by Alison Ingleby
(see all)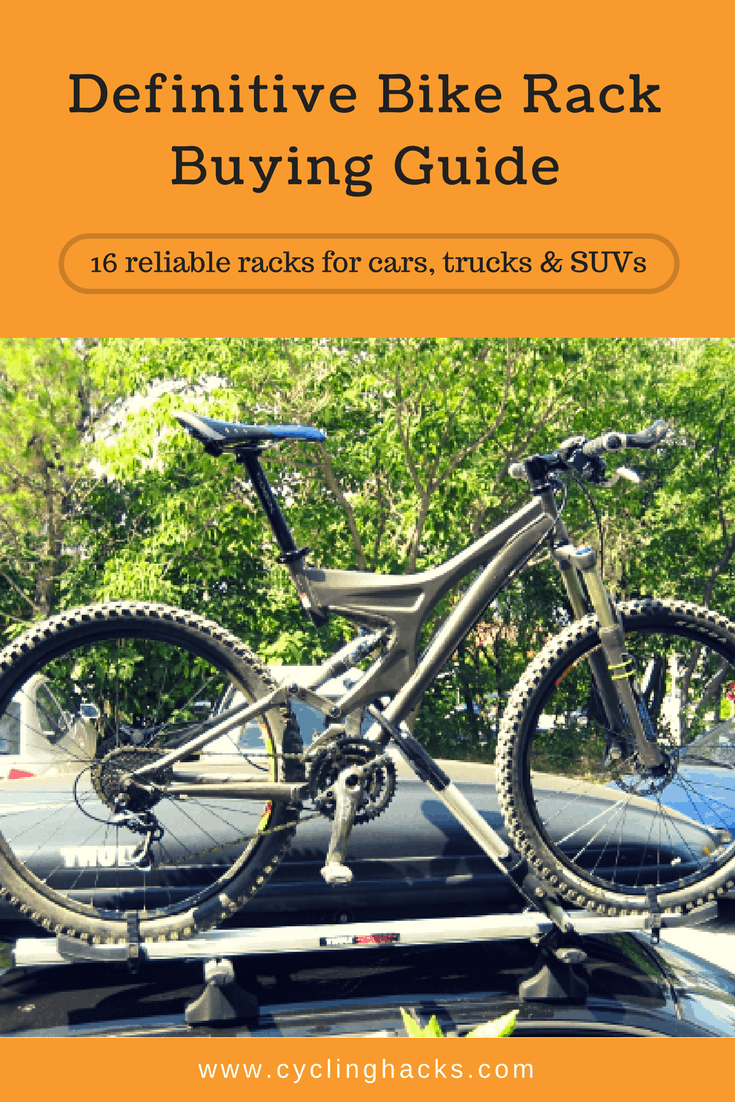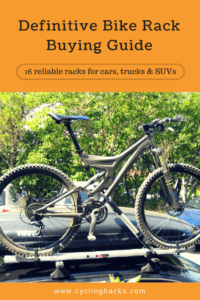 Unless you have an endless supply of perfect roads and trails on your doorstep, at some point you're going to want to carry your bike on your car. If you don't have a huge trunk and a love of taking your bike apart and putting it back together again, this means you'll need to buy a bike rack.
With hundreds of different styles and models of bike rack available, choosing the right one can be harder than picking your perfect bike. (And let's face it, not nearly as exciting.) While you can ask your mates for recommendations, their needs are likely to be different to yours. The right bike rack for you will depend on your vehicle type, the number and style of bikes you need to transport and a whole host of other factors.
The good news? We've gone through the bike rack market to pick out the best racks across the five most common types: hitch, roof, trunk, truck bed and spare tire. Plus, we've summarised the pros and cons of each rack type to help you figure out which style will work best for you.
Best Bike Racks: The Winners
| Best hitch rack | Best roof rack | Best trunk rack | Best truck bed rack | Best spare tire rack |
| --- | --- | --- | --- | --- |
| Thule T2 Pro XT | Yakima FrontLoader | Allen Deluxe 2-Bike Rack | Pipeline Racks 3-Bike Rack | Yakima SpareRide |
| $$$$$ | $$ | $ | $$$ | $$$ |
| Top-performing model that will carry almost any bike safely and securely | Great value single-bike rack that won't damage carbon frames | Low-cost model that can transport most bikes safely | Easy to fit and load with a wheel-mounted design to protect your bikes | Easy-to-fit hanging rack that's quick to remove from your SUV |
*All racks and full reviews are listed below
What To Consider When Buying a Bike Rack
Here's a quick summary of some of the things you'll want to take into account when deciding on the type of bike rack and the individual model that suits you best:
The vehicle(s) you want to use it on: The height and power of your vehicle and any special features it has (spoiler, rear-mounted spare tire etc.) will determine what type of rack will work best. If you want a rack you can use on more than one vehicle, then a trunk rack or roof rack (presuming you have roof bars) will usually be easier to move between vehicles than a hitch rack.
Number of bikes: Most bike racks are designed to transport up to four bikes at a time. If you're transporting multiple bikes of different sizes and types, then tray-style racks are usually easier to load than a hanging rack.
Type of bikes you want to transport: Different rack types suit different bikes. For carbon-framed road bikes or mountain bikes with odd geometries, a rack that grips the wheels will be better than one that clamps on the bike frame. If you have a specialist model, such as a fat bike, tandem or electric bike, this will limit your choice of rack.
Ease of assembly: Some bike racks can be put together in minutes, others can take hours (and may lead to teeth gnashing and hair pulling). This goes for both the initial assembly and how easy it is to take on and off your vehicle.
Ease of loading and unloading bikes: This is a really personal choice as it'll depend not only on your height and build, but also the size and weight of your bike(s). It's definitely worth considering as the last thing you want to do is injure yourself before you've even got on your bike.
Security: Most bike racks (with the exception of trunk racks) have some kind of locking system, but the position of the rack will also affect how willing thieves are to try their luck.
Weight: If you drive a large SUV this isn't likely to be an issue, but if you have a small car, then the weight of some racks, particularly hitch racks, could be a limiting factor.
Potential for damage to bike or vehicle: Of course, no manufacturer is going to say that their rack will damage your bike! But some designs of rack are more likely to scratch your frame or car than others. There are things you can do to mitigate the risk, but if you're precious about your bike (or car), it's best to avoid these racks altogether.
Cost and durability: Budget will usually be a factor in your decision, but bear in mind that low-cost racks may not always work out cheapest in the long run. That's why we've looked at durability as well as cost when deciding our top picks.
Phew! That's a lot to consider. Fortunately, we've covered each of these aspects in our summary of each bike rack type. Read on to find out more…
Best Hitch Bike Racks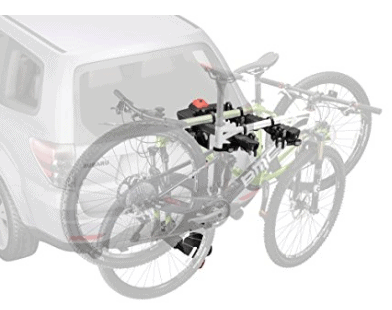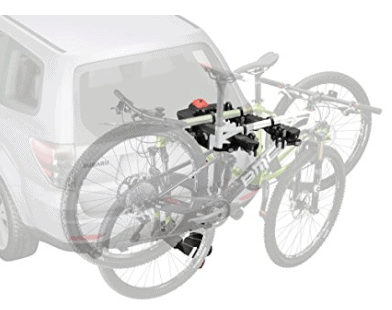 Hitch mount bike racks plug into a 1 ¼" or 2" receiver that's permanently mounted on your vehicle. They're the easiest racks for loading and unloading bikes and are a popular option for all types of bike, but good racks are expensive.
There are two styles of hitch rack: platform racks where bikes sit in a tray similar to a roof rack, and hanging racks, where bikes are suspended by their frames. Platform racks can provide better protection for bikes from the ground and each other but tend to be heavier.
If you don't already have a hitch receiver on your vehicle, you can usually get one fitted, but be sure to factor this into the overall cost. Hitch racks are often heavy and smaller vehicles may not be able to carry larger racks. As they usually cover your license plate, you may need an accessory light and license plate board to attach on the back.
Vehicle compatibility: ✔Hatchback ✔Sedan ✔SUV ✔Pickup
Bike compatibility: ✔Road (carbon) ✔ Urban/hybrid ✔Mountain ✔Kids ❌Tandem ✔Recumbent ✔Fat bikes ✔Electric
Price range: $$$$–$$$$$
Hitch Rack Pros and Cons
Pros
Cons
● Easy to load bikes
● Bikes sit in vehicle's slipstream, giving better fuel economy
● Can carry up to 5 bikes with a hanging hitch rack
● Platform racks can be used with almost any type of bike and keep bikes separated from each other
● Most racks are lockable

● Impedes access to trunk of vehicle (some racks pivot or tilt to allow access)
● Expensive
● Heavy (usually 30-50lbs)
● Requires hitch receiver on vehicle
● Bikes more likely to pick up dirt from road
● Some bikes can be hard to rack on a hanging hitch rack
● Covers license plate
● Bikes may be damaged if you get rear-ended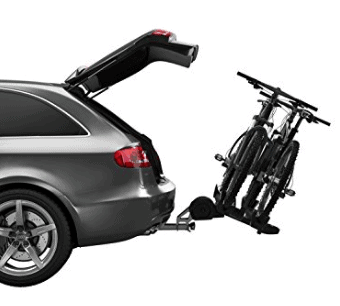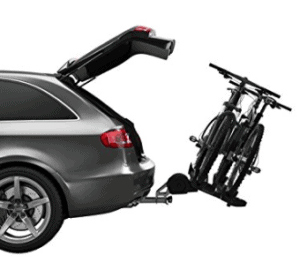 The Thule T2 has long been a cyclist's favorite. It's been through various iterations, but the latest model, the T2 Pro XT, is the best all-around platform hitch rack on the market. With increased spacing and longer trays, it's designed to take all sizes of bikes up to, and including, fat bikes without the need for additional adapters. It's also sturdy enough to take the extra weight of an electric bike.
There's no frame contact and the generous spacing eliminates any rubbing between bikes. The rack folds away when not in use and the tilt mechanism allows access to your trunk when the rack is loaded. You can buy an optional add-on unit to increase the capacity to four bikes. The only downside to this rack is the cost – it's one of the most expensive on the market.

If your dollars won't stretch to the Thule and you want to be able to transport four bikes, the SportRider is a good alternative, as long as you don't mind a system that clamps the bike frame. You can set it up to carry either two or four bikes and loading is super easy. Just place each bike into the wheel holders and slide the padded, self-locking clamp down onto the frame. The clamping system is flexible enough to hold almost any shape and size of bike securely (maximum tire width 3").
It's a solid, stable rack but very heavy and only fits on a 2" hitch receiver. The 2+2 design helps here as you don't have to lift the full weight of the rack onto the hitch receiver at once. A great value option for a family of bikes.

One of the lightest models on the market, the Helium Aero is perfect for smaller vehicles as it'll fit on either a 1 ¼" or 2" hitch receiver. Thule's build quality is excellent and the cradles are designed to absorb road shock and minimise swaying to stop bikes knocking into each other. It nicely folds away when not in use so you can access the back of your car.
It can take three bikes (there is a 2-bike version), but the cradles are quite close together so you may struggle if you're trying to rack three large mountain bikes. As with most hanging racks, you'll need a top tube adapter for women's bikes or those with non-standard frames. The adapter clamps between the seat post and bike stem, giving a horizontal bar you can hang the bike from.
There's an integrated cable lock, but it's fairly lightweight, so you may want to back it up with a more heavy-duty bike lock if you're concerned about security.

Unlike many hitch racks that tilt to allow access to the trunk, the FullSwing, as the name suggests, completely swings around to the side of the vehicle. This gives full access to the rear of your vehicle making it a great option for family days out, camping trips, vans or if you have dogs jumping in and out.
It'll carry up to four bikes, but women's and children's bikes may need a top tube adaptor. Installation is straightforward, though as with many hitch racks, it's heavy (more than double the weight of the Helium Aero), so it may be a two-person job. There are integrated locks for security.

Best Roof Racks
Roof bike racks are a deservedly popular option. They're mid-price, stable and secure and don't block access to the rear of your car. If you transport bulky outdoor kit such as skis or surfboards, then a roof rack is likely to be the most versatile option for your car.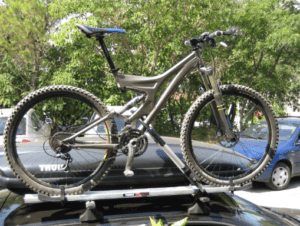 The trade-off? You have to lift your kit onto the roof. Depending on the height of your vehicle and your height and build, this could be a dealbreaker. But there are a couple of racks which make loading and unloading your bikes a little bit easier. The wind resistance from having bikes (or other equipment) on the roof will also affect your fuel consumption and can be noisy when driving.
Most roof bike racks attach to your vehicle's cross bars. You'll need to check if your chosen bike rack is compatible with your rack and bars (many have a universal fitting). If you don't already have cross bars, this could add $125-$200 to the overall cost.
There are a couple of different types of roof bike rack. Fork-mounted racks are more aerodynamic and easier for loading and unloading, but you have to remove and stow the front wheel or buy a wheel fork for the roof rack. With frame and wheel-mounted racks, you have to lift the full bike onto the roof and secure it to the rack by the frame or the wheels.
The main risk with roof bike racks is driver forgetfulness. If you forget what's up top when driving into the underground parking lot, well, let's just say it'll be an expensive mistake!
Vehicle compatibility: ✔Hatchback ✔Sedan ❌SUV* ❌Pickup
Bike compatibility: ✔Road (carbon) ✔ Urban/hybrid ✔Mountain ✔Kids (depending on rack) ✔Tandem (depending on rack) ✔Recumbent (depending on rack) ✔Fat bike (with adapter) ❌Electric
Price range: $$–$$$ (per bike)
*Not impossible, but typically more difficult to load/unload. Safety reports have suggested that heavy loads on top of some SUVs can compromise emergency handling.
Roof Rack Pros and Cons
Pros
Cons
● Can carry a number of bikes of different types (depending on weight and vehicle type)
● Doesn't affect access to rear of vehicle
● No visual obstruction for driver
● Height means that bikes are less tempting to thieves (many racks are also lockable
● Versatile option for transporting bulky outdoor equipment

● Hard to load bikes. Not really viable for heavy bikes or high vehicles
● Wind resistance affects gas consumption
● Can be noisy
● Driver must remember the extra height when driving under obstacles
● May struggle to fit small kid's bikes (depending on model)

You could be forgiven for being slightly dubious about the SeaSucker Talon. A handful of little suction cups are supposed to keep your precious bike stable when driving on the highway in a crosswind? But here's the thing: it works.
It'll fit on pretty much any car, including some sports cars. You can even mount your bike upright on the back of an SUV – a great alternative to a hitch rack. It's also a handy option if you fly and cycle as it's small and light enough to fit in your carry-on luggage and can be used on almost any rental car. Installation is quick and easy and it accepts standard 9mm dropouts (with optional brackets for 15mm and 20mm thru-axles)
The downsides? Number one is the cost – this baby is expensive. Although if your car doesn't have a roof rack and bars, it's comparative to the full setup cost of other models. There's also no way to lock the mounts to your vehicle, so take it off when you're not using it.

The Inno Multi-fork supports 9mm quick release and 15mm and 20mm through-axle bikes, making it a versatile option if you transport different types of bike. It'll fit tire sizes from 20" to 29" with a maximum rear tire width of 2.7".
It's lightweight, easy to mount (no tools required) and will fit most factory crossbars. There's a lock at the fork end to keep bike and rack secure. If you don't mind taking the front wheel off your bike, this is a secure and highly-rated fork rack that'll set you back less than an expensive Thule or Yakima rack.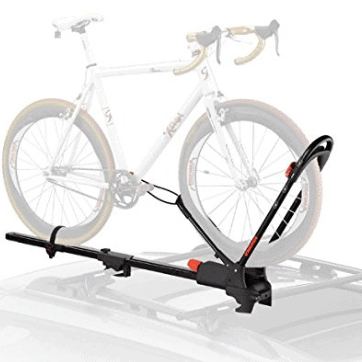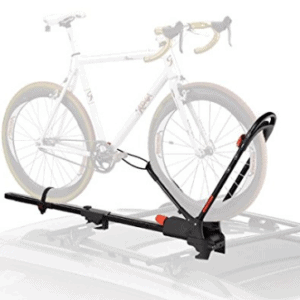 One of the easiest-to-use roof racks on the market, the FrontLoader has a wheel-mount design the doesn't contact the bike frame. It's easy to load as, once you've got the bike up, the front hoop holds it in position while you fasten it to the rack. Helpful if you're short!
The universal mounting system fits most crossbars and the rack is pre-assembled and can be installed in five minutes. The FrontLoader can carry most road and mountain bikes with tires up to 3".

The great thing about the TomaHawk is that it fits almost any type of bike, from kids' bikes (20" wheel and up), road bikes, mountain bikes and even fat bikes (up to 5" tires). It also claims to fit any make of crossbar, making it one of the most versatile models out there.
It's a wheel-mount rack, so there's no frame contact and the low-profile design means it's more aerodynamic than other roof racks. It doesn't come with locks, but you can buy these separately. If you like to mix up your riding and want a rack that can transport different bikes (albeit not at once) this is a great option at a good price.

Best Trunk Bike Rack
If you're after a cheap option that can be used on different vehicles, a trunk bike rack fits the bill. They're lightweight and rest on the back of your trunk or hatch with straps that clip to the top, bottom and sides for stability.
Trunk racks are usually easy to install, but you need to get it right. Double check the rack's fitted correctly before loading your bike to make sure you don't lose your rack and bike during a sharp turn. You'll also need to make sure the rack doesn't obstruct your taillights or license plate.
There are a couple of downsides to using a trunk rack. No matter how careful you are in fitting it, over time, you'll notice some marks on your vehicle. They're also not that secure – cheaper models use webbing straps that are easy to cut and don't have a locking system.
Trunk racks will fit most hatchbacks and sedans, although if your vehicle has a trunk spoiler this may prevent it fitting correctly. Some will also fit SUVs and vans. As they clamp the frame of the bike and there's a risk of bikes rubbing against each other, trunk racks aren't the best option for carbon-framed bikes.
They're great for infrequent use or short journeys, but if you do a lot of long trips with multiple or heavy bikes, you may be better off investing in a hitch or roof rack to prevent damage to your car. If you're looking for a rack to use with rental cars, then a trunk rack is your best – and in many cases only – option.
Vehicle compatibility: ✔Hatchback ✔Sedan ✔SUV (some) ❌Pickup
Bike compatibility: ❌Road (carbon) ✔ Urban/hybrid ✔Mountain (depending on bike) ✔Kids ❌Tandem ❌Recumbent ❌Fat bikes ❌Electric
Price range: $–$$$$
Trunk Bike Racks Pros and Cons
Pros
Cons
● Low cost
● Easy to switch between vehicles
● Easy to remove and store when not in use

● Can scratch vehicle
● Potential for bikes to rub against each other
● Not as secure as other racks
● Recommended for max. 2-3 bikes
● Can't open trunk with rack installed
● May block driver's rear view
● Bikes may be damaged if you get rear-ended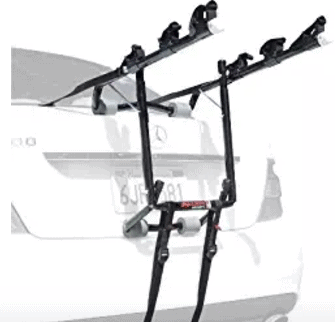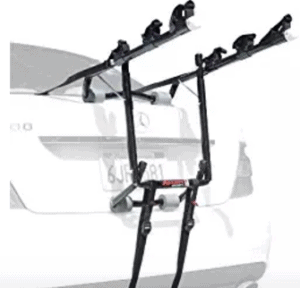 Many people opt for trunk racks as they're a low-cost option. If that's you then the Allen Trunk Rack is worth a look. It's less durable than alternative styles of rack and doesn't have a locking system, but it'll do the job of carrying your bikes from A to B and back again.
The carry arms will take most bikes, though you may want some extra bungee cords for security. It has side straps for lateral stability and setup is easy. If you're not sure if it'll fit your car, you can check using Allen's handy rack finder.

The Thule Raceway 9001PRO is at the top end of the trunk rack market. It's easy to install, stable and will hold up to two bikes (the 9002PRO holds three). If a trunk rack is the only option for your car and you want to protect your bikes as much as possible, this is the best rack for you.
The ratcheting strap system prevents straps working loose and it has an 'anti-sway' cradle to minimise rocking. Unlike most trunk racks, you can lock the bikes to the rack and the rack to your car, so it's more secure than most. But you pay a high price for it.

The Saris Bones is a deservedly popular trunk rack that often comes out top in reviews. For adult road bikes, it's great, but trying to get anything with a compact front triangle (such as many mountain bikes or children's bikes) onto it is a bit more tricky. It's also quite pricey (though admittedly, not as much as the Thule!).
The straps are sturdy and the metal buckles are more durable than the plastic ones found on cheaper models. It's also designed to fit cars with spoilers, though, as ever, double check before you buy. As with most trunk racks, there's no lock.

Best Truck Bed Bike Rack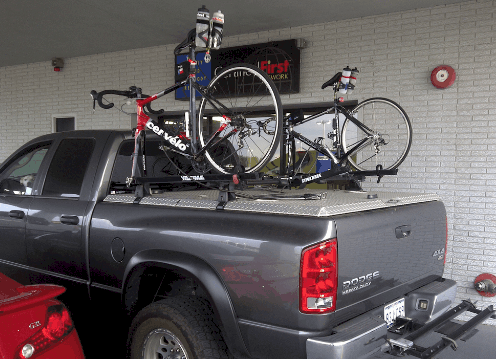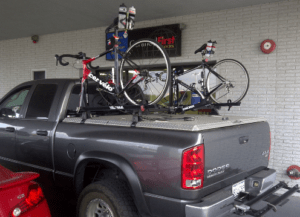 If you drive a pickup, you're not short on space to carry bikes. But this creates a different problem: how to stop your bikes banging together during transit.
There are various models of truck bed bike racks available which provide varying levels of protection for your bike and truck at different price points. The two most common options are a bracket system, which you screw to the truck bed, or a slot style rack, similar to traditional sidewalk bike racks.
When choosing a rack, think about how permanent and secure you want the fixture to be, how many bikes you need to transport and what else you use the truck bed for. It's worth considering how much jolting your bike (and rack) is going to get – if you do a lot of off-road driving, invest in a stable model that'll prevent your beauty bouncing around.
Vehicle compatibility: ❌Hatchback ❌Sedan ❌SUV ✔Pickup
Bike compatibility: ✔Road (carbon) ✔ Urban/hybrid ✔Mountain ✔Kids (depending on model) ❌Tandem ✔Recumbent (not long wheelbase) ✔Fat bikes (certain models) ✔Electric
Price range: $–$$$
Truck Bed Bike Racks Pros and Cons
Pros
Cons
● Easy to load and unload
● Uses existing space in the vehicle
● Can carry up to 5 bikes
● Some racks are lockable
● Some models require drilling into the truck bed and will be a more permanent fixture
● Lose space in your truck bed for other kit
● May not protect bikes as much as a hitch rack
● Can affect driver's visibility

Pipeline Racks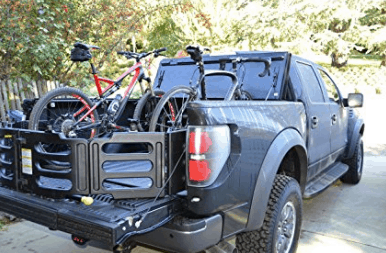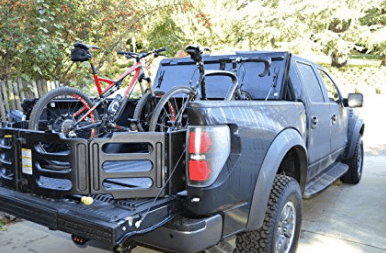 make racks for truck beds. And that's it. Which means they're pretty good at it. This model holds up to three bikes without requiring clamps or drilling. Bikes are super-quick to load and wheel mounted, though if you're on bumpy dirt roads, you may want some extra straps to prevent bouncing.
You'll need to check the sizing carefully to make sure the rack will fit in your pickup. Pipeline has models for different sized trucks and to accommodate different numbers of bikes (up to five).

A 4.2-pound bike rack? Yup, you heard right. The Inno Velo Gripper system consists of two mounts which attach to your truck bed side rail and clamp the front fork and rear seat stay of your bike. It's cheap, keeps your bike out of the driver's line of sight and leaves plenty of space in your truck bed.
Because of the design, there's no option to lock the rack to your vehicle, but the tiny mounts can be removed and stashed in the truck when you're out riding.

The bike carrying solution that's not a rack. A favorite of off-road and mountain bike riders, it's basically a giant crash pad that you strap onto the tailgate of your truck. Bikes go in with the front wheel hanging over the pad.
It doesn't offer as much protection for your bike, but if you want a low-cost, simple way of transporting bikes that's bombproof and still gives you some space in the truck, this is it.

Best Spare Tire Bike Rack
SUVs can be a problem when it comes to bike racks. They're a bit high for a roof rack (which can also make the vehicle unstable) and if you've got a spare tire on the back this can prevent you using many trunk and hitch racks. The solution is the spare tire rack.
Spare tire racks fit directly onto your spare tire bracket. Most racks will fit a range of brackets, but it's worth checking for compatibility before you buy.
Bikes are held neatly in the slipstream of the vehicle and most racks are lockable. The downside is they can only take one or two bikes and most racks use frame clamps, so aren't suitable for carbon-framed bikes. It's also worth being aware that some manufacturers recommend you don't open the rear door with the bikes on board, due to the added weight on the door hinges.
Vehicle compatibility: ❌Hatchback ❌Sedan ✔SUV ❌Pickup
Bike compatibility: ❌Road (carbon) ✔ Urban/hybrid ✔Mountain (depending on bike) ✔Kids ❌Tandem ❌Recumbent ✔Fat bikes (certain models) ❌Electric
Price range: $$$–$$$$$
Spare Tire Racks Pros and Cons
Pros
Cons
● Possible to access rear door (though check manufacturer's guidelines)
● Bikes held in slipstream of vehicle
● Lockable for security
● Fairly compact for storage
● Easy to load

● Can only carry one or two bikes
● Not suitable for all types of bike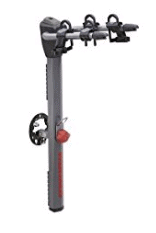 The Yakima is durable and quick and easy to install. The SuperCrush cradles and zipstrap fasteners hold your bike securely, but gently, and the cradle design minimises bike-to-bike contact. There's an integrated locking system to prevent theft and the carrier is easy to remove when not in use. It even has a bottle opener to, err, open bottles…
If your bike doesn't have a standard triangular frame, then you may need a top tube adapter.

This is the spare tire rack that throws away the rulebook. It's a platform design and bikes are wheel-mounted with no frame contact. Your carbon-framed bike will be transported safely and it can be adapted to carry fat bikes (you'll need to replace the wheel trays with fat bike cradles). It's pricey but is more versatile than most spare tire racks.

Best Bike Racks Comparison Table