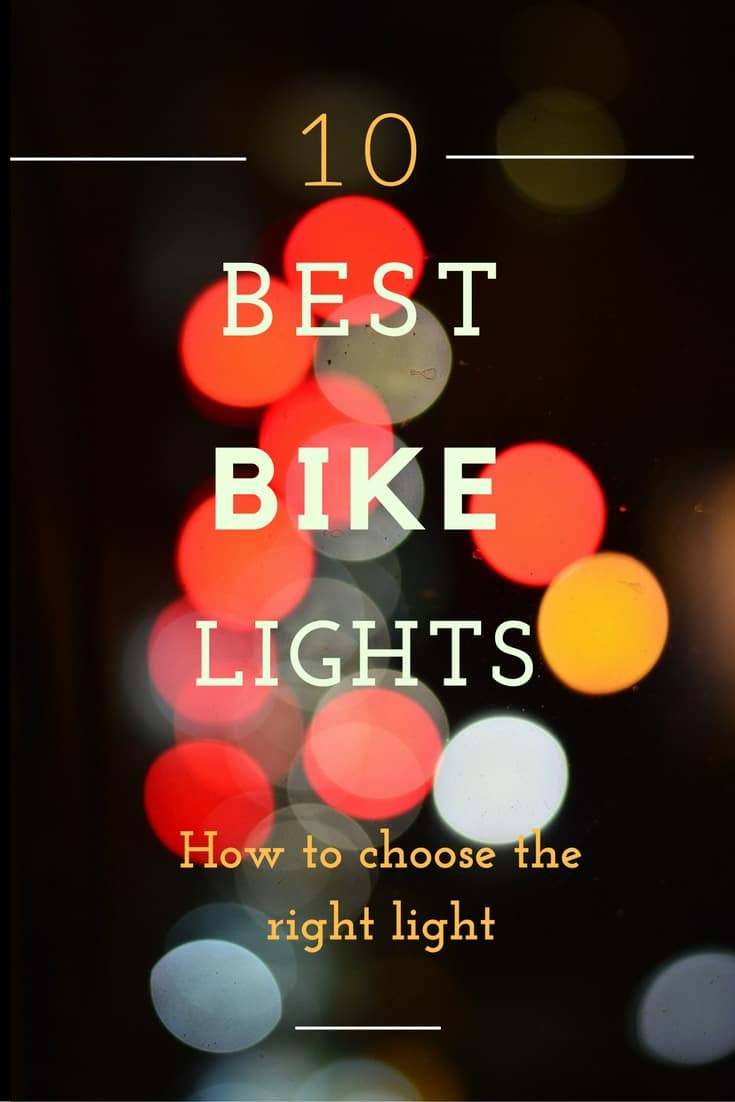 Updated 7/14/17
Whether you're a commuter or a cyclist looking to add some fun and fitness after work, bike lights are essential accessories. Their use doesn't have to be reserved for after dark. Since 80% of cycling accidents occur during the day, adding lights to your daytime use is also a bright idea.
Fortunately the latest LED light are non obtrusive, fairly inexpensive and easy to use and recharge. Here are the best bike lights to see and be seen. 

Our Top Light Picks:
Full reviews are posted below or click product link for current price and sales and to read customer reviews. 
Characteristics of a great light:
Here are some of the main things to consider before choosing a head or tail light for your bike.
Durability
Does the light stand up to the elements? Taillights tend to collect more road spray, so ensure that the model is well constructed and waterproof. 
Optics
When you're trying to distinguish shadows from potholes, the characteristics of the light cast matter. Things tend to look flat and undefined after dark, but a good light can help identify potential hazards. Beam patterns vary between models and a cast different light. 
Mount and ease of use 
How does the light attach to the bike and is it secure and easy to use? You want a mount that holds firmly and won't slide or rotate on the bars as you adjust a setting or fumble for the power button.
If potential theft is an issue, consider how easy it is to pop the light off and carry it with you or consider picking up an anti-theft light such as the Fortified Bike Aviator and Afterburner Boost.
Finally, is it easy to adjust the settings through a pair of bike gloves or without taking your eyes off the road?
Battery life
There are a plethora of cheap bike lights out there. Many run on disposable batteries that can freeze or have a short life-span. Unless you're only using a light occasionally, I suggest investing in a better model that's rechargeable and has at least 4-6 hours of continuous use per charge. That may not seem like much, but when you divide your commute into chunks, it generally covers a week's worth of riding.
Number of lumens
Companies can be misleading about the number of lumens a light contains. If you want to know exactly what you're getting, look for a light with an FL-1 certification, which certifies that the number advertised is what the product contains.
How many lumens do you need?
Bike lights tend to range from 100 to over a 1,000 lumens. The lower end tends to be too weak, leaving a motorist hard pressed to identify a cyclist. On the other hand, the higher end can be eyeball-searing to drivers and should be reserved for mountain biking. The sweet spot is 300-500 lumens for cycling in a city and you can go a little higher if you're riding solo on back roads.
We took all of these considerations in mind when choosing the best lights for the job.
The Best Bike Headlights
1. Best Value Light for City Commuters: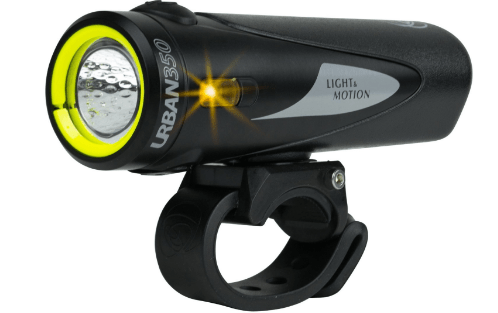 If you need to light up the night, the Urban 350 is a solid choice for the money. Four modes offer continuous light, flashing or both light and flashing, providing the ultimate way to see and be seen.
This light gets extra points for style, but it's also very practical.
It casts 350 lumens for 1.5 hours, is FL-1 standard and charges via micro USB. A silicone mount fastens the light securely to the handlebars via an easily adjustable strap that can be swapped between bikes, no tools required. One of my favorite features is that the light also emits a bright amber glow for better side visibility.
2. Top Light for Day and Nighttime Use: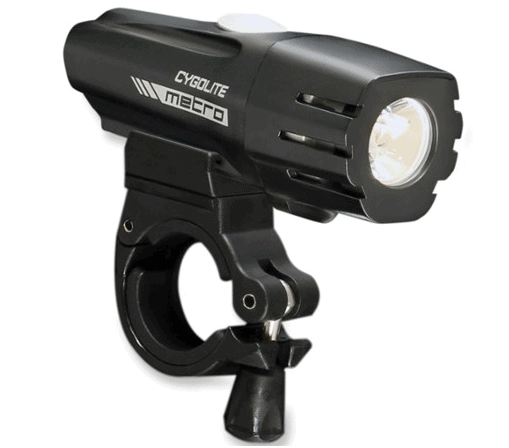 If you want something a little more attention-grabbing, the Cygolight Metro 400 is a strong contender, offering a daytime 400 lumen headlight and a blinding 500+ lumen lightening bolt-like blinking pattern that's way too bright for nighttime use, but clearly alerts motorists of your presence during the day.
It offers more modes and a brighter light than the Light & Motion Urban 350, but doesn't feature a side beam. It's also rechargeable.
Size-wise, the two are comparable, however the Metro 400 mounts via a quick release, which is very sturdy. It also comes paired with a tail light in this package
3. Best Light for Dark Backroads or Long Commutes: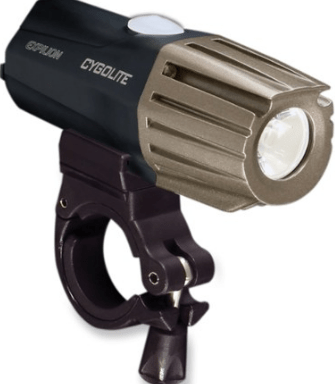 An ultra-bright light with eight modes and up to 850 lumens with a long battery life makes this little light a powerhouse. It's probably overkill for most city commuters, unless you use it on low, but perfect for those who travel through pitch-black areas.
The Expilion runs for three hours on 425 lumens, making it a standout among other commuter lights.
On it's Boost mode (850 lm) you'll get an hour and fifteen minutes of light. Another plus is that the battery pack can be swapped out for a freshly charged one. Riders with long commutes should consider this light for it's infrequent charging. You can buy extra batteries on Amazon.
4. Best Automatic Headlight: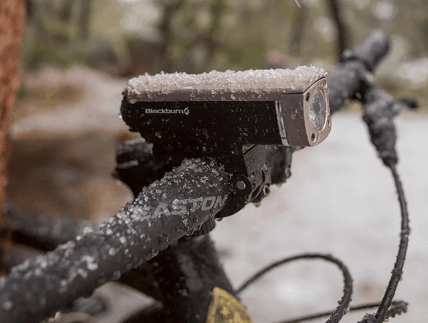 Blackburn's Smart Light truly is bright. It auto adjusts a focused beam to the current level of ambient light, reacting in real-time to the current commuting conditions.
Ranging from 18-500 lumens, the Central Front Smart Light is the perfect companion for dim city streets and deserted back roads. The rechargeable battery life is good too, running for an estimated 12.5 hours in smart mode.
5. Best Theft Deterrent Bike Light: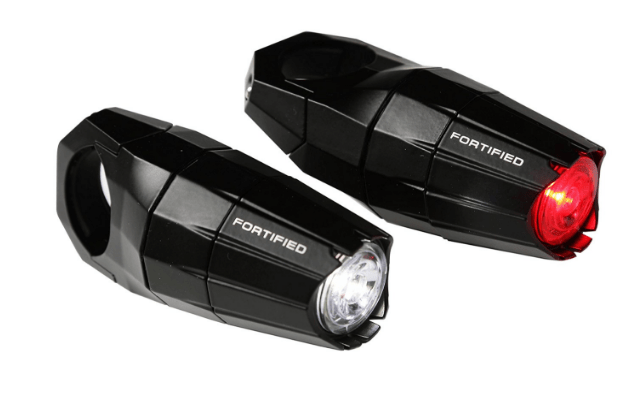 Head and taillights attach to your bike frame, making theft very difficult. So difficult that Fortified pledges to replace your lights should they be stolen.
Installed via a torx wrench, they come with secret instructions for battery removal and charging.
At 300 lumens for the headlight and 30 for the taillight, these will get the job done, while providing piece of mind.
6. Most Stylish Headlight: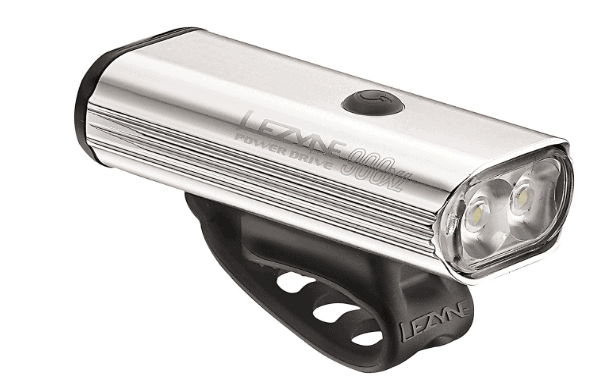 Add style points to your bike as you light up the night with this ultra-bright 900 lumen light encased in a sleek aluminum casing.
Two modes: overdrive and economy lengthen the battery life of this rechargeable model.
7. Best overall taillight: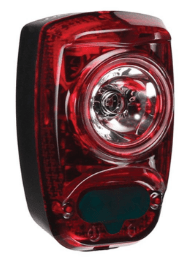 Cygolite's Hotshot 50 and the even brighter Hotshot 80 ($42) have highly visible flashing patterns and a beam intensity that make them instant attention grabbers.
They're also insanely easy to use, have a long-lasting battery life and ultra-reliable mount that won't cause you to worry about what's going on behind you. Running for 300 hours in blink mode, this taillight is also easy to recharge via micro usb.
If you want a small, more affordable light that's fairly comparable (but with a silicone mount), check out the Cygolite Hotshot Micro.
8. Most Versatile Rear Mount: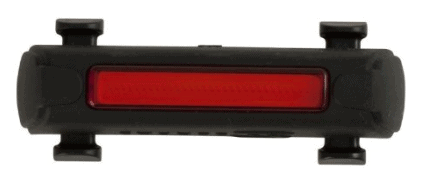 Need to mount a light in a horizontal position or attach it to a seat bag, helmet or top tube? The Serfas mounts in all these hard-to-reach places. It's multi-directional 35 lumen beam produces more of a flood light pattern than a spotlight.
9. Best Light for an Aero Seatpost:
Lezyne's attention to detail shows. The Strip Drive Pro is a bright light, featuring five LEDs with 9 settings and 100 lumens. It easily attaches to a variety of seat posts, including aero posts, via a rubber strap that won't leave any marks on your precious carbon.
This rechargeable light is molded with the lens and body as one piece to deter any water.
10. Top taillight that automatically turns on: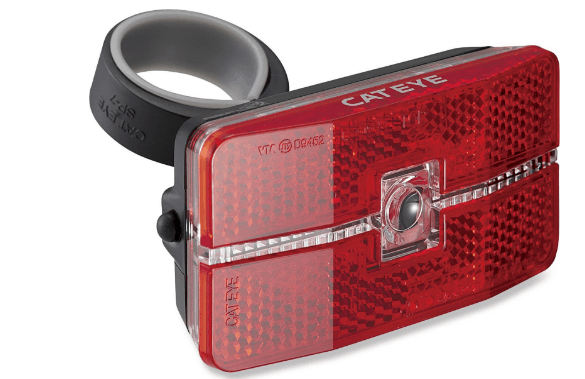 Can't remember to turn on your taillight? CatEye has a solution for that. The CatEye Reflex automatically turns on when it detects motion and darkness.
This saves some battery life and gives you one less thing to remember. The only downside is that the light isn't rechargeable and is only activated at night, so daytime commuters will have to find another alternative.
11. Best Smart Lights: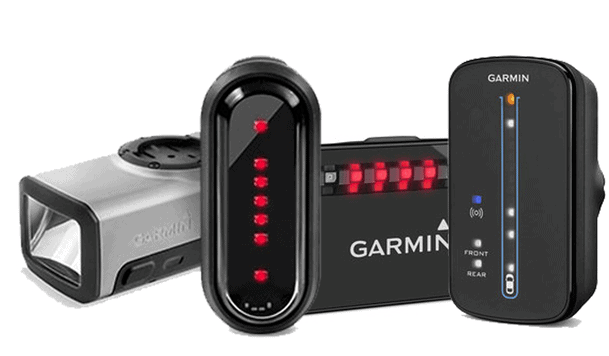 If you're after a light that you don't have to think about, Garmin has a solution for that. The Varia headlight and tail light automatically brighten and dim to adjust to your surroundings and the headlight projects closer or further down the road depending on your speed. The headlight will also dim its high beam for approaching cars.
If you've ever wished that your bike had a turn signal, Garmin also has a solution for that. The Varia Rearview Radar alerts you to vehicles approaching from behind and can also act as a turn signal.
Note that these must be paired with a Garmin Edge and some of the more high tech features (like the light sensing auto-dim) are only compatible with the Edge 1000.
Related: How to Stay Dry: 9 of the Best Waterproof Cycling Jackets